Well hello there! I've been so excited to share this blanket with you. I have to keep quiet about all the things I make as gifts now because all of my friends and family read my blog, and I do really like things to be a surprise. Even if the recipient knows that I'm making them something I prefer to give it to them before they see photos on here.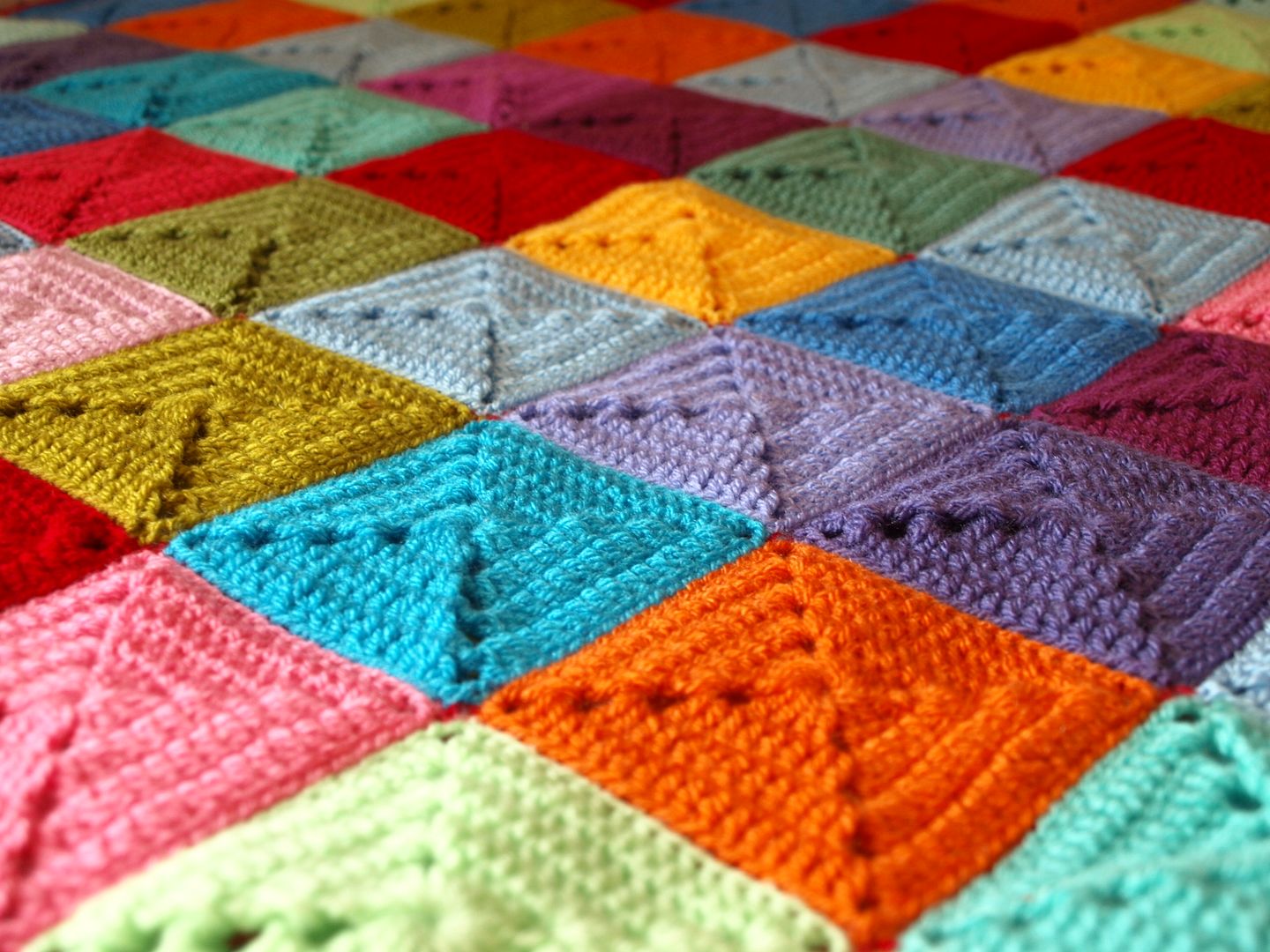 I started working on this blanket when Tiny Tin Girl was about six weeks old. I'm not quite sure how I managed to get it all done, mainly by sneaking in a square any time I had five minutes with free hands, a few in the evenings, and one rather wonderful weekend when my father in law came to stay and entertained Tiny Tin Bird for ages and I managed to make a whopping FOURTEEN squares in one day. That was such a good day!
The blanket was made for my friend's little boy's third birthday. He is one of TTB's best friends and we think he's rather wonderful and definitely deserving of a birthday blanket.
I made this blanket to the same dimensions as the Cottage Squares Blanket that I made back in February, so I knew that I needed 120 squares. I used most of the colours that feature in the Big Elmer Blanket that I made for my son, but I omitted the "Shrimp" and added "Spice", "Sage" and "Lime". I used my Elmer Squares pattern like usual, and made each square 4 rounds in size, using a 4mm crochet hook.
As usual, I used Stylecraft Special dk, which is just perfect for making blankets from, especially for children. It has a wonderful range of colours, is soft and easy to work with and washes well at 30 degrees. I used the following colours:
Meadow, Lime, Magenta, Plum, Pomegranate, Fondant, Sherbet, Cloud Blue, Spring Green, Aster, Aspen, Saffron, Sage, Clematis, Violet, Lavender, Lipstick, Turquoise and Spice. I can do a chart showing colour placement if anyone would like one.
I didn't measure how much of each yarn I used because I work from stash rather than starting with full balls of yarn each time (I'm all thrifty and that), but you'll need a ball of each colour and will probably have some left over. You'll probably need two of Lipstick if you're joining and bordering with that colour.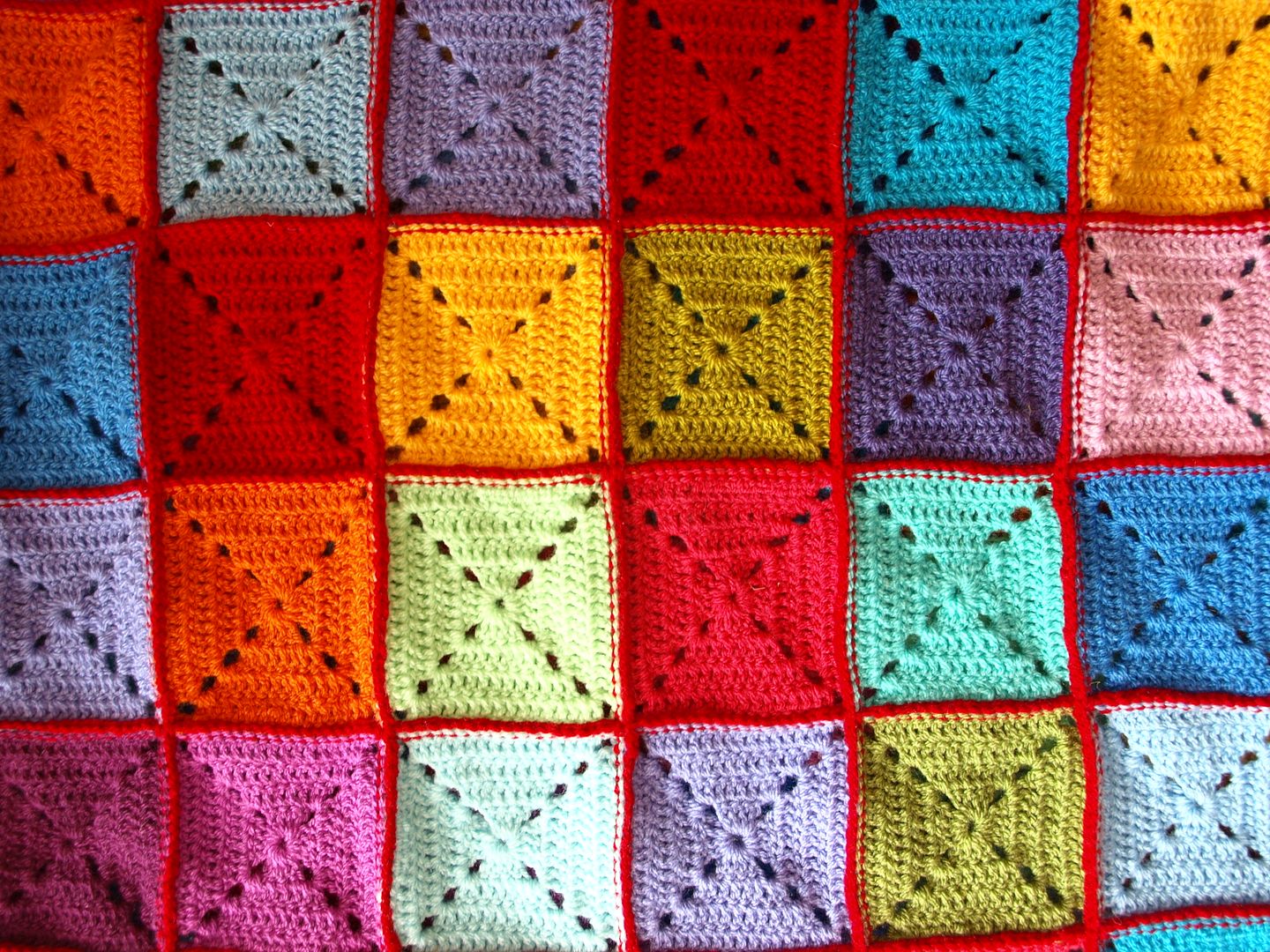 I chose the red "Lipstick" as my joining colour. It's sometimes hard to choose which colour to join with but I feel like this red is a very neutral colour (and I don't mean neutral like for a girl or a boy), in the same way that black and white are. There's a proper explanation for it but I can't remember what it is. The red here doesn't detract from any of the colours, it simply sits as it's own colour, framing them all. This is the back of the blanket and I like the effect it gives. It would also look nice on the front, but I prefer it on the back.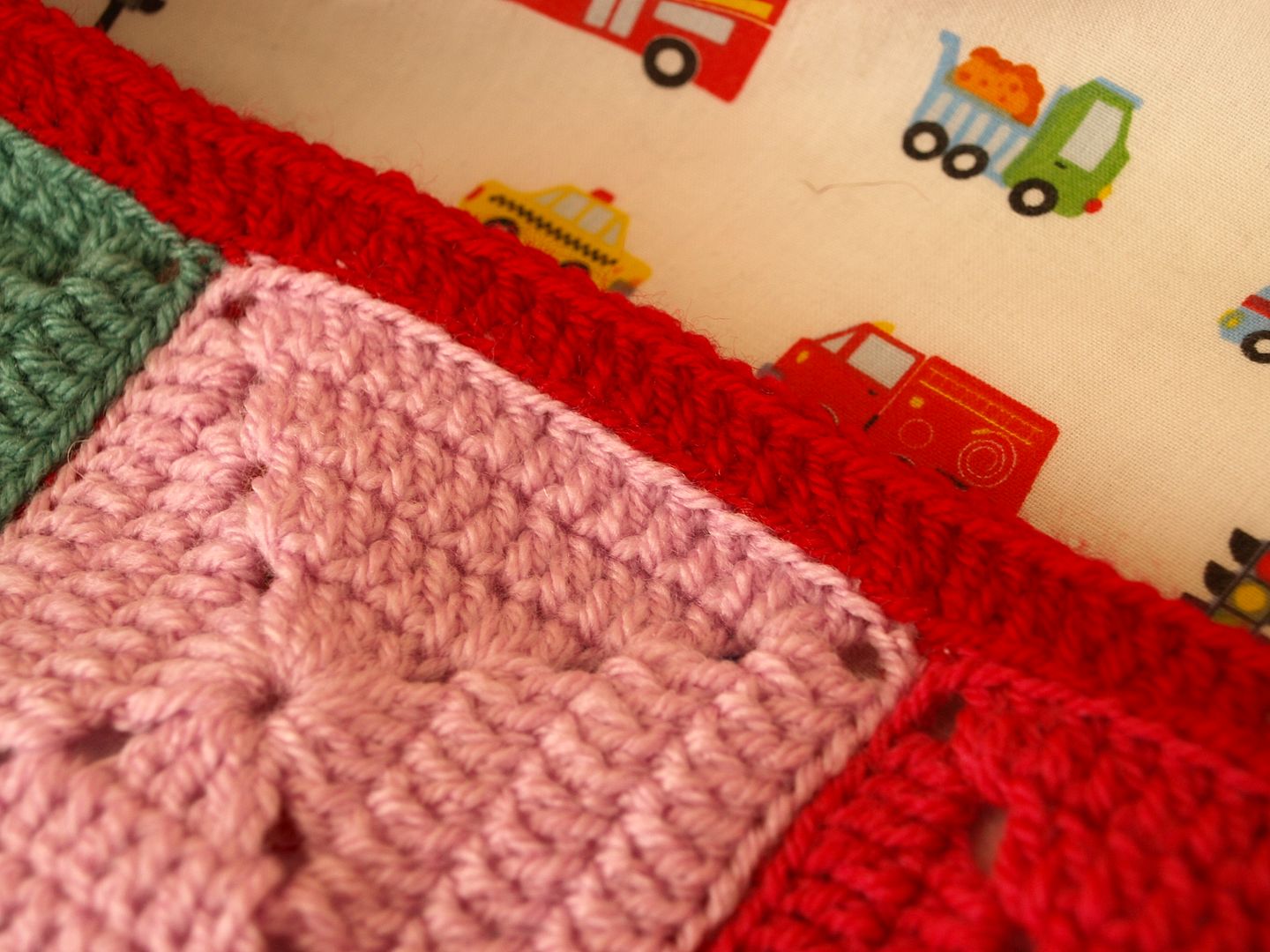 I like to go around the blanket once in the same colour as the joining colour so that all of the edge is framed. I did a round of slip stitches in red here before I'd decided what to do about the border. I deliberated about it for a while but eventually decided to just keep it simple and do a round of UK TR stitches in the same red. If I had decided that beforehand I wouldn't have done the slip stitches, but actually I really really like the effect: it makes the border sit on top of the squares rather than going into them. It makes the squares look really square!
I tried something different on the corners as well. Instead of making a chain space like you would do in a granny square, I did 2TR in each stitch of the corner, and those three increases made a nice neat corner.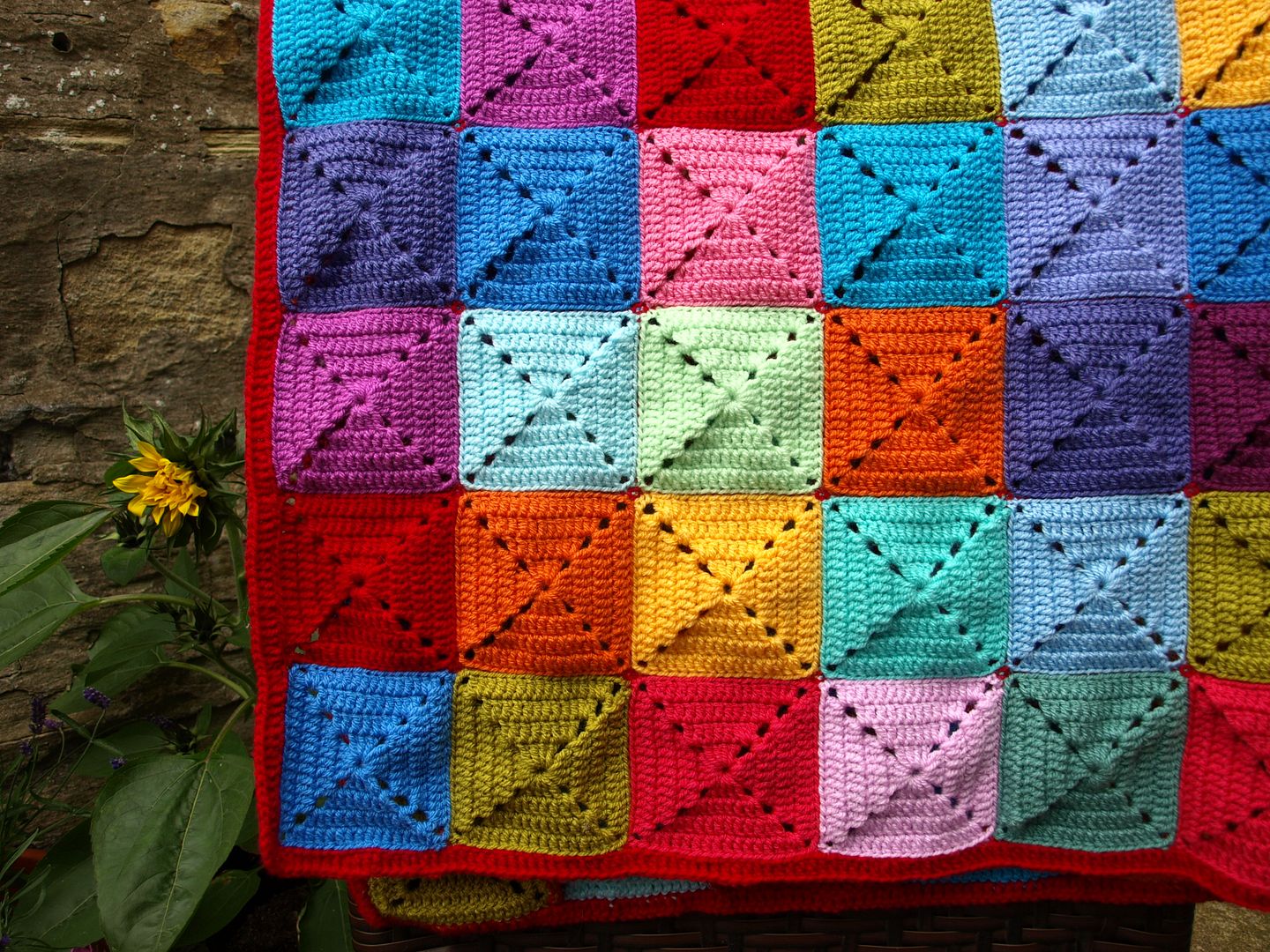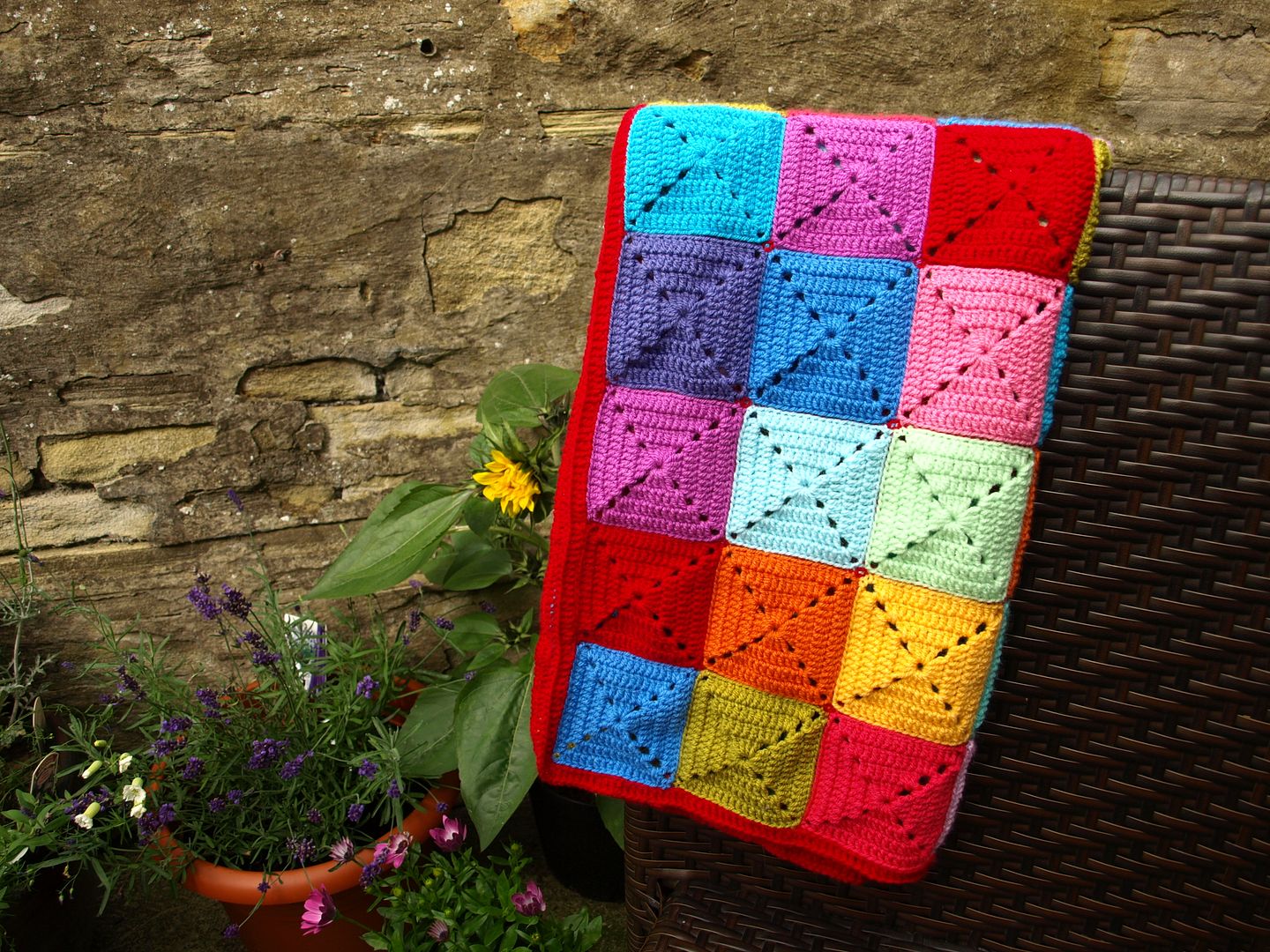 I'm really pleased with how the simple red border frames the blanket neatly, without detracting from all of the different colours. I had considered doing 7 rounds and making a rainbow border of Magenta, Violet, Turquoise, Lime, Saffron, Spice and Lipstick but I'm glad that I decided against it as it would have been far too fussy.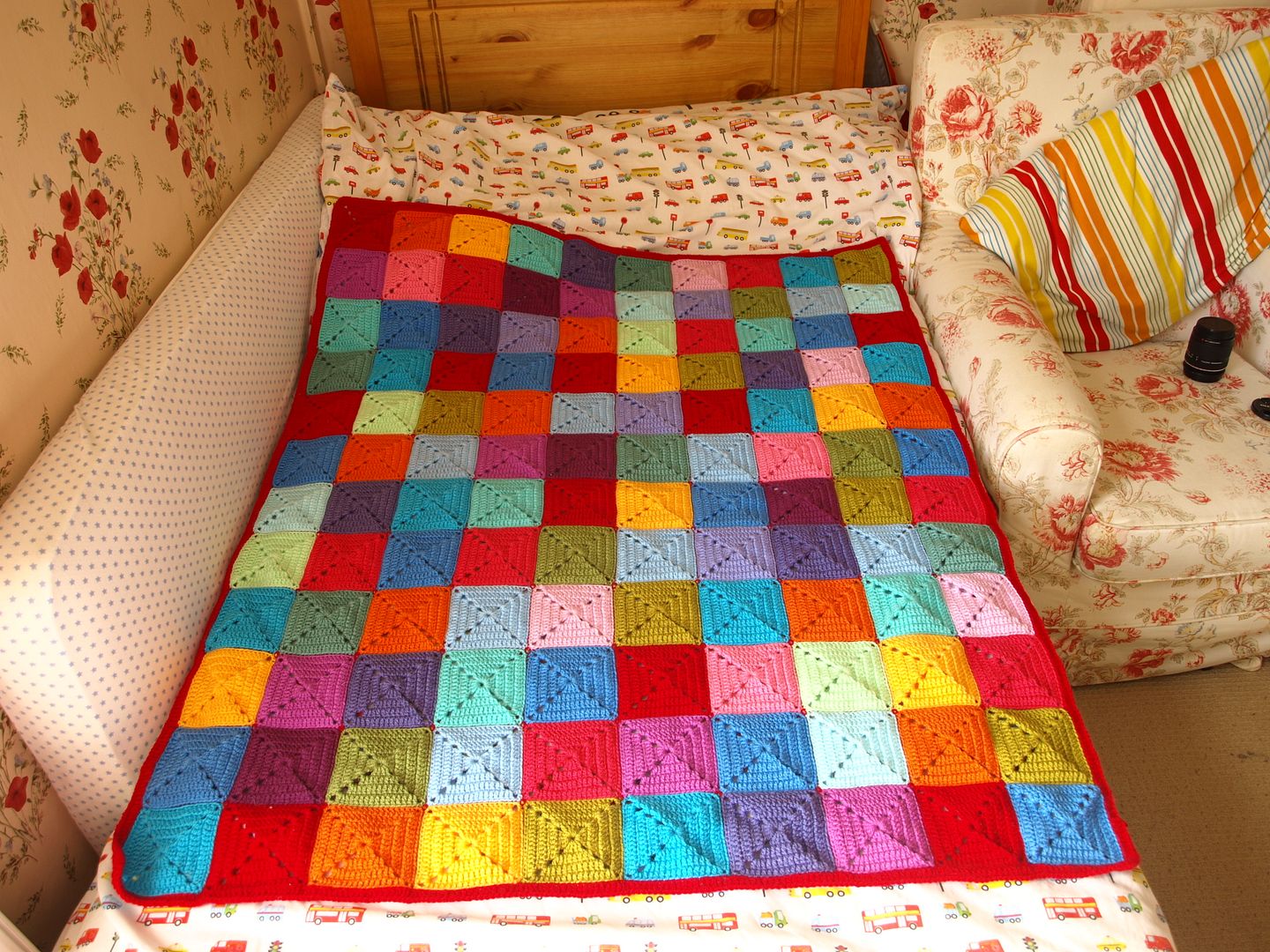 The blanket measures 94 x 114cm and is a perfect fit for a toddler sized bed but as you can see it sits nicely on top of a single sized bed too. I hear that it is currently being used as the roof for den building! I really love it when things I make are appreciated.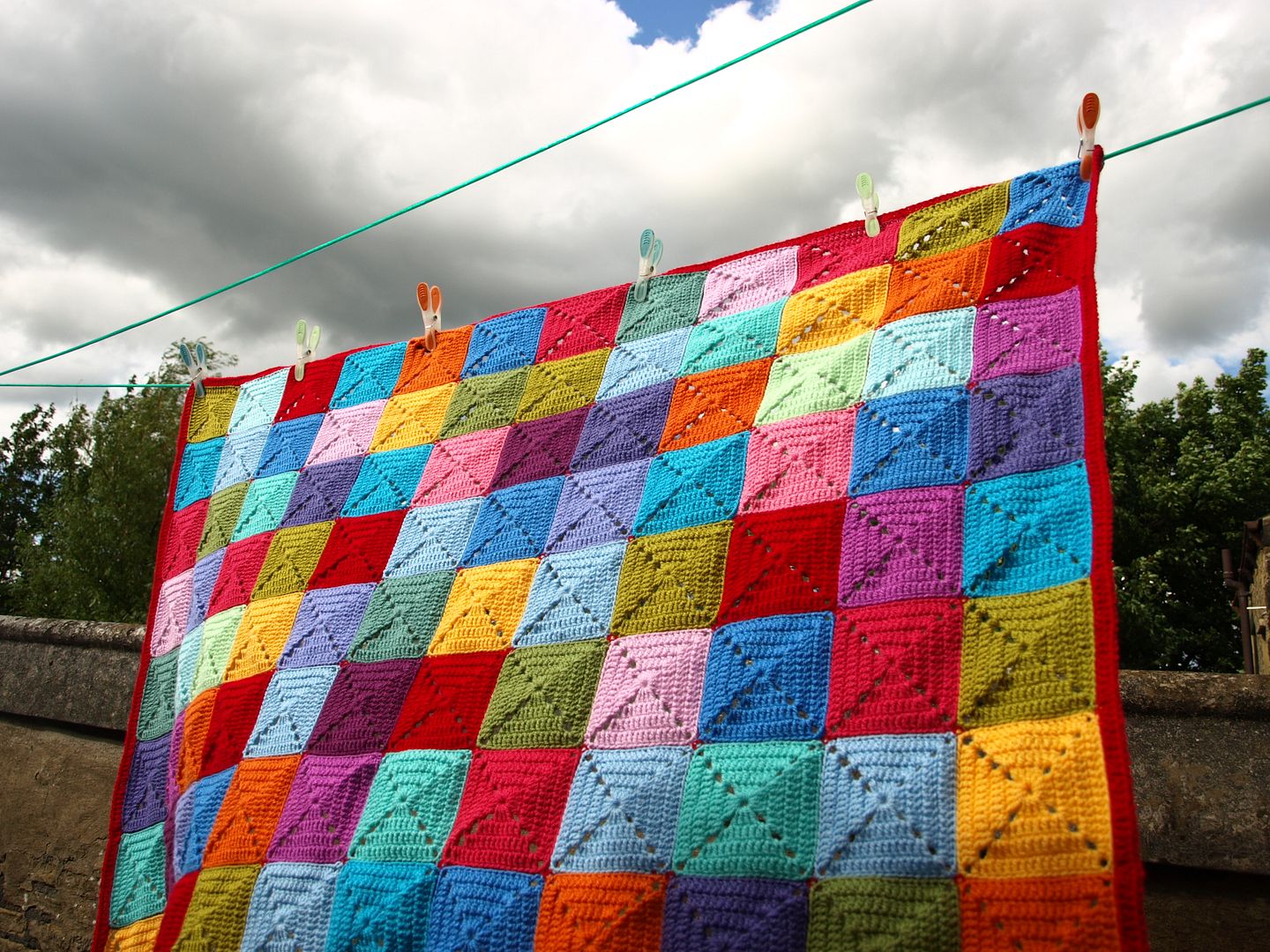 And there we have it: one Birthday Blanket for a lovely little boy. A pleasure to make and give!