When I first started crocheting, I saw so many wonderful and inspirational blankets on other people's blogs, and I wanted more than anything to be able to make blankets that were as brilliant as those. But I was no good at choosing colours! I had never done anything creative at school or university, and crocheting was really the first time I had wanted, or needed, to work with colour. The colours I picked didn't look great together and I didn't have a local yarn shop to see the colours in person. Ordering colours online was a bit hit and miss.
In the end I started using the exact colours and yarn as the beautiful blankets I saw online, which did give me what I wanted: blankets as beautiful as the ones other people had made. It also helped me to learn more about how colours worked and over time I became much more confident in my own colour choices.
One of my favourite things to do now is to come up with my own colour combinations; I make a lot of blankets as gifts and it's great fun to create colour combinations that I know the recipient will love. I enjoy that challenge, and I frequently play about with my yarn pegs to make new combinations and it's a good feeling when I come up with something that looks just right. I love it when other people like these combinations as well! I love it when people send me photos of blankets and other projects that they have made in my colour ways. My favourite one recently is a queen bed sized version of my Beth's Rainbow blanket. It looks fantastic!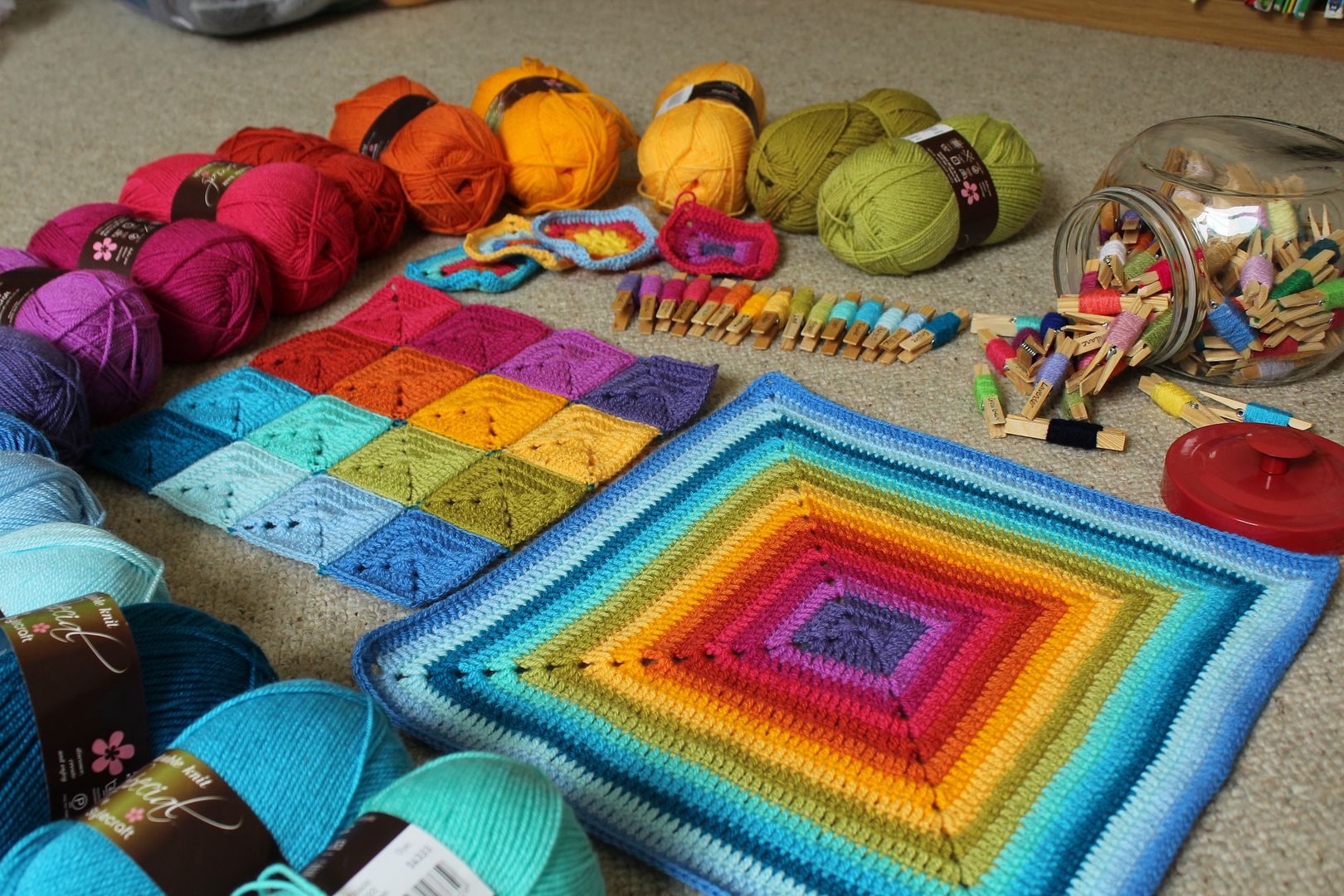 Since having my children, I have had to be more efficient in how I use my crocheting time and I find that I am far more productive if I already have my colours picked out, as I can use my crocheting time just for crocheting instead of wasting time deliberating about which colours to use and where. I've been thinking about this a lot recently: if I find it helpful to have a colour scheme already picked out, maybe other people might find it useful as well.
I have also been wondering how I can start earning again too. It feels a bit uncool to talk about money and making an income from blogging, (nobody seems to talk about it!) but honestly: I have the potential opportunity to go abroad for a few days next summer, and I need to be able to fund it myself as there isn't enough flexibility in my budget to save up without some extra income. I have been toying with the idea of colour packs for a while but kept bottling the idea. But, bolstered by encouragement from my friends, I contacted Wool Warehouse to see if they would like to work with me. I held my breath when I opened their email reply as I really expected them to say no, and then I jumped up and down when they said yes! (Tiny Tin Girl was not impressed and did not understand why I was excited.) Wool Warehouse will give me commission on each of my packs – it's important to disclose that.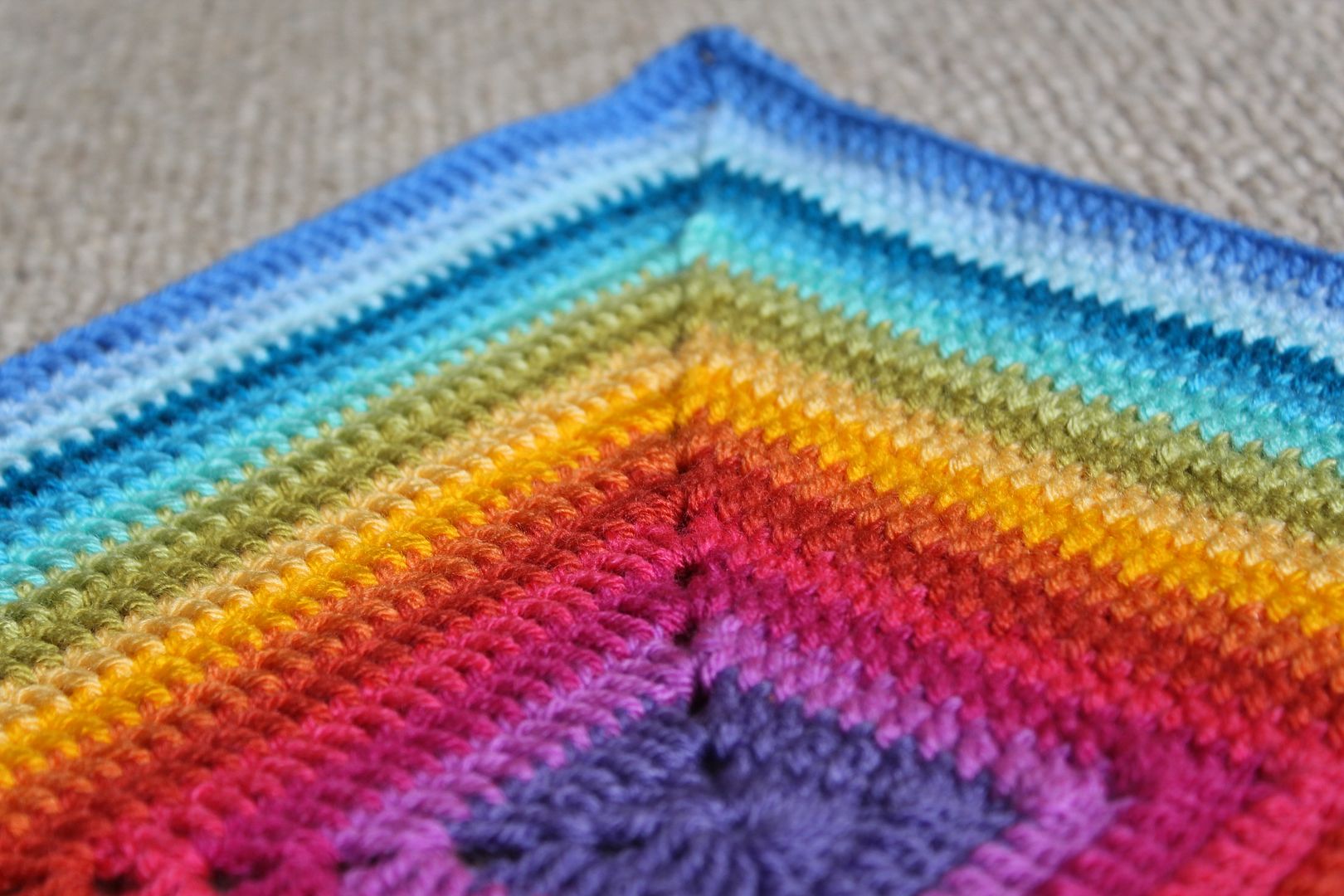 I am hugely excited (and actually quite nervous) to present to you my first colour pack with Wool Warehouse: Bright Rainbow by Little Tin Bird. 16 bright colours of Stylecraft Special dk for you to enjoy, create, and love. It really makes me happy to provide this inspiration and I can't wait to see how you use this colour pack. I'm full of ideas of how I would like to use it and have lots of plans to share with you on my blog!
My preferred way to create a project is to use simple patterns such as stripes and granny squares to really show off the colours of the yarn. I find it fascinating to see how colours can look so different just from changing their placement, quantity, frequency, or simply changing the neighbouring colours. One more stripe or round on a granny square can change the feeling and appearance of it completely. The colour pack doesn't contain a printed pattern, nor does it make one specific blanket: it is an inspiration pack, a starting point for your creativity.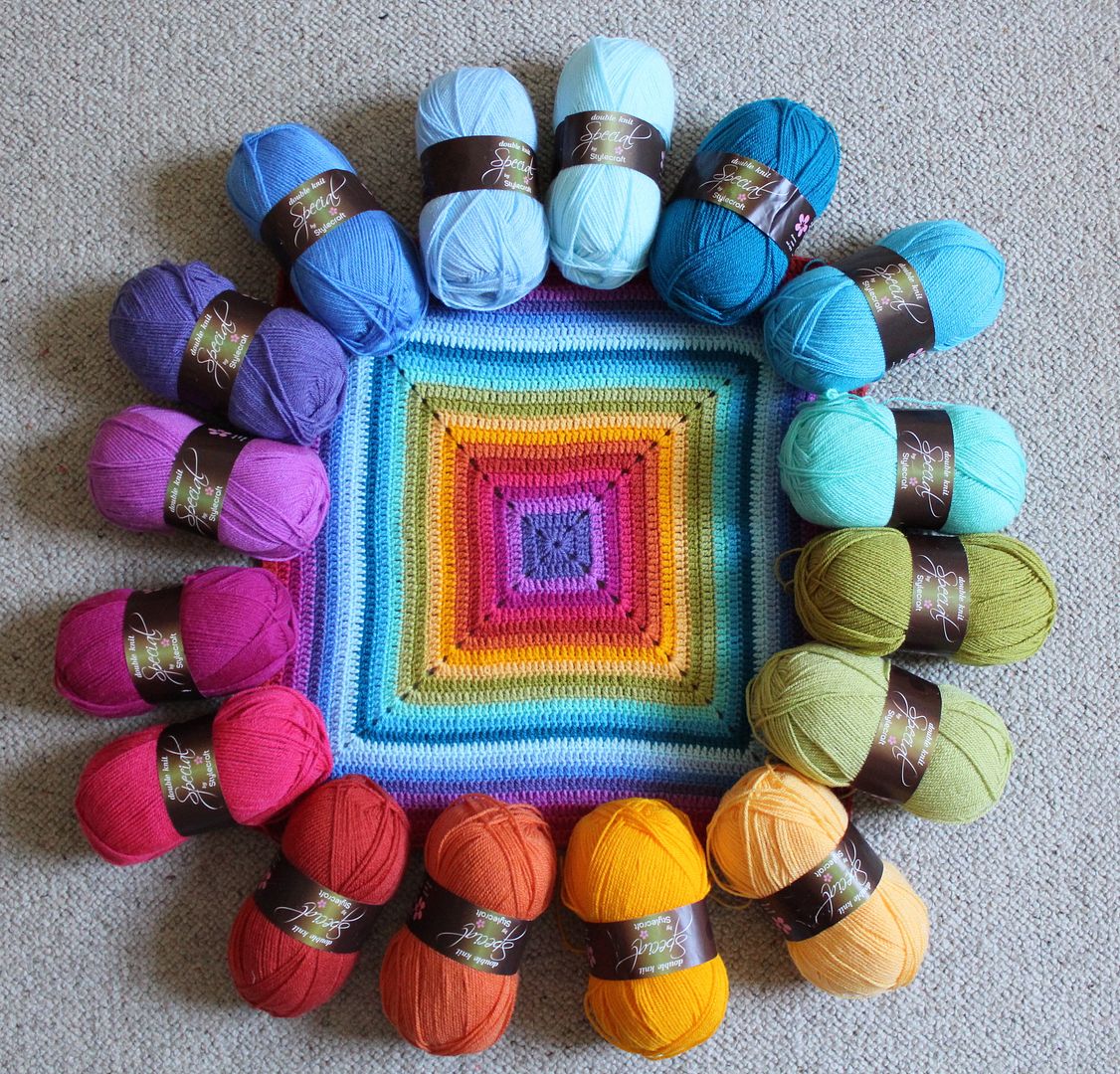 I hope that having a colour pack like this will give people the starting point to make something they love and are proud of too, and maybe even encourage people to pick up some needles or a hook and have a go as well.
I can't wait to see the projects that everyone comes up with!