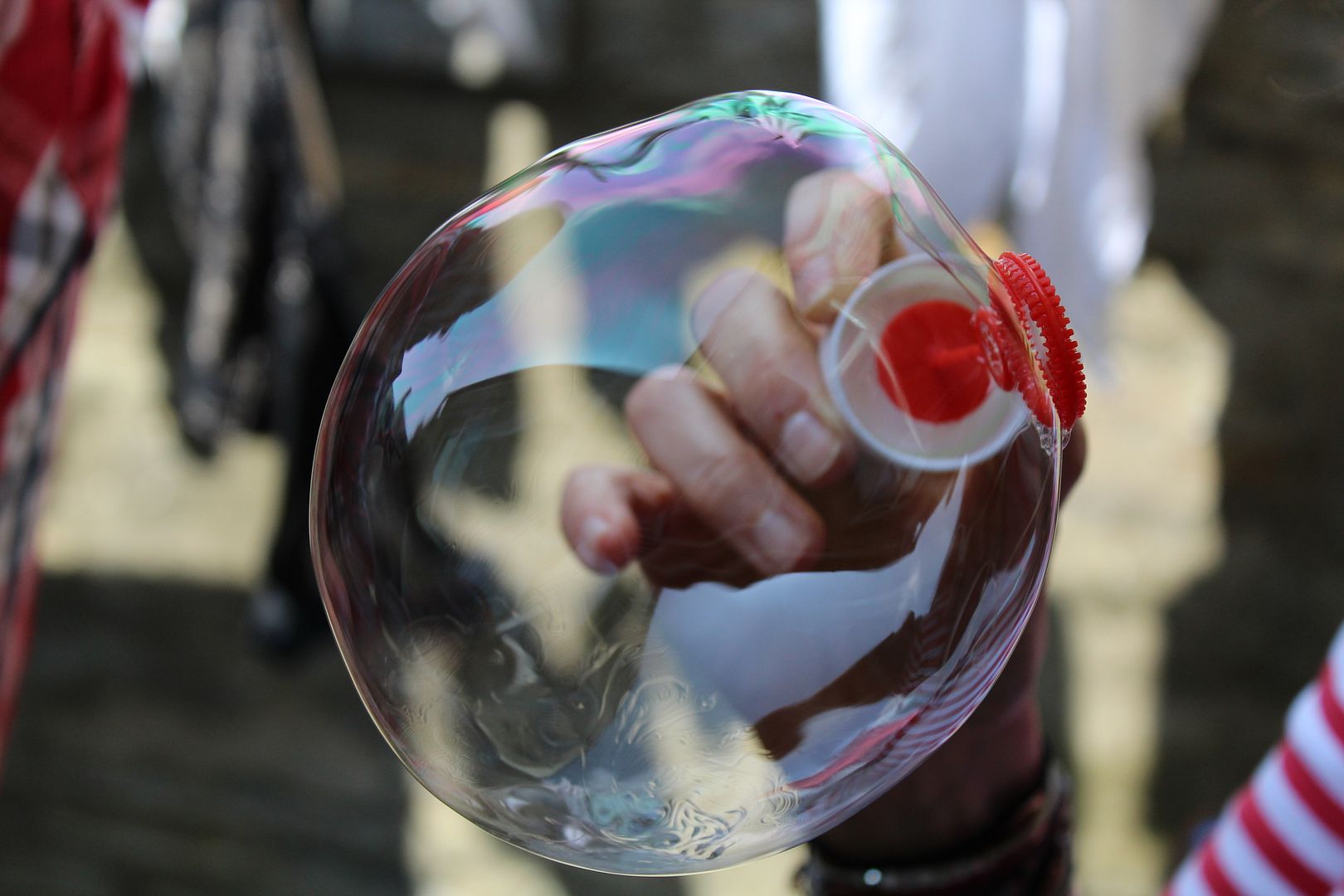 Looking at these photos now it's hard to believe the glorious weather was only a week ago; the weather now is raining and humid and grey. I'm glad the weather was so perfect last week though as it made my birthday into a wonderful three day celebration. Hurrah! My mum arrived about midday on the Saturday and my father in law arrived mid afternoon. From then on we all just had the most easy and delightful weekend. We began at home, playing with my children in the yard (and using my new camera of course, which brings me huge amounts of joy), and then we all walked up to Keelham Farm Shop for a birthday meal. We walked back through the park, laughing as TTB and TTG ran around happily. I usually give them their meal about 5pm and so being out of the house after that time feels like an enormous treat, and on a beautiful summer day it just feels like we are making the most of the day. Instead of being stuck at home washing the high chair tray and looking longingly at the blue sky out of the window.
On Sunday morning we all got up quite early and had a really rather decadent picnic breakfast in the park. TTB had been desperate to take his scooter on the skate ramp and bike track, but every time he's mentioned it it's been full of older children. I wanted him to have a clear go at the track as he's only three and he is still developing his confidence on the scooter, so I thought that early morning would be the best time. We packed cereal, fruit, brioches, sour dough bread, orange juice and milk (and grabbed some coffees for everyone but me and the children on the way), and generally had a great time devouring that while TTB scooted around proudly. I think he will need a bigger scooter soon, he's growing so fast.
I always underestimate just how much of a pest TTG can be during a picnic, she invariably wants to sit on my lap or tread on my plate of food or cover me in banana or something!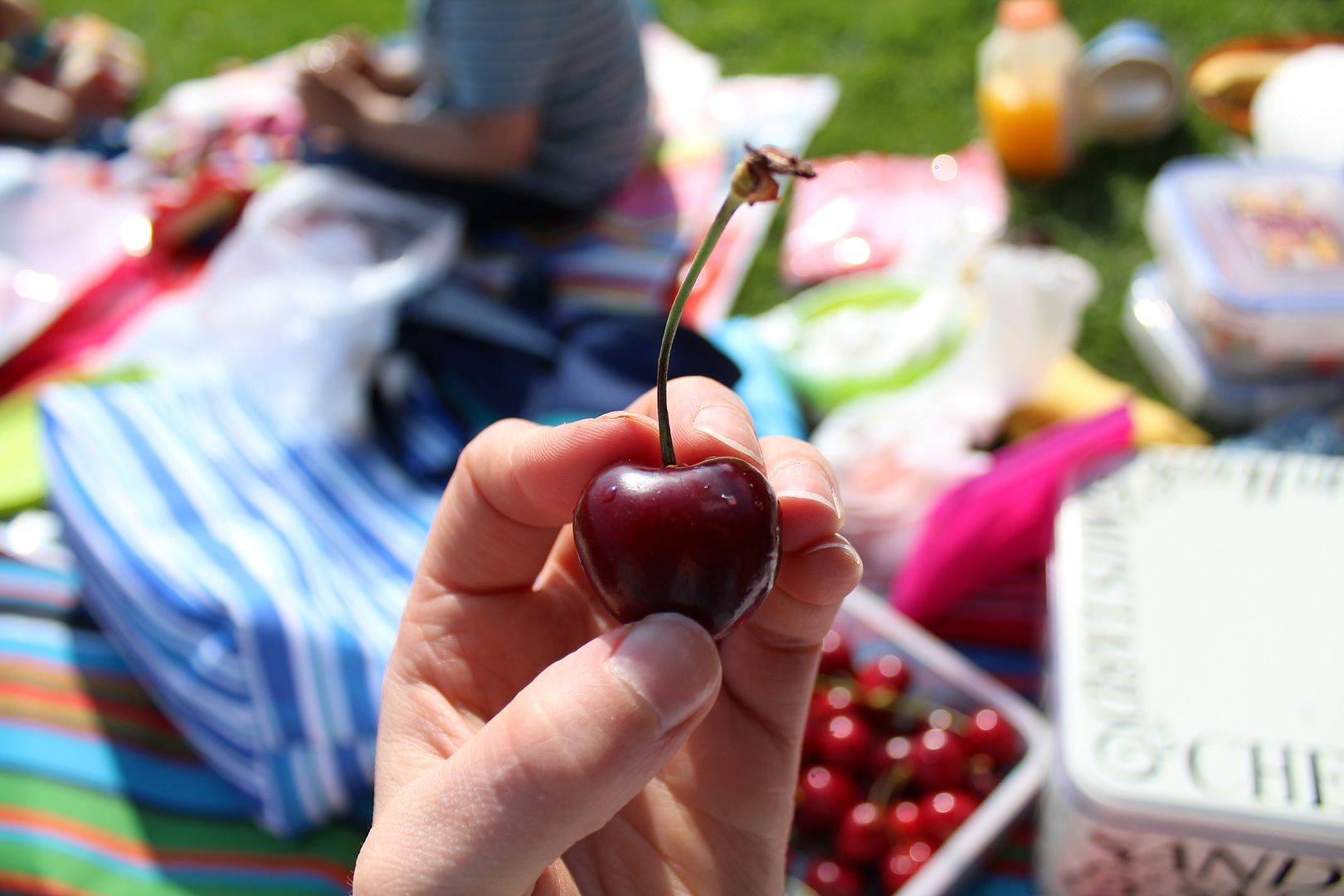 It is traditional to have cherries for my birthday.
Side note: LOVE my camera. It can just do so much more than my old one!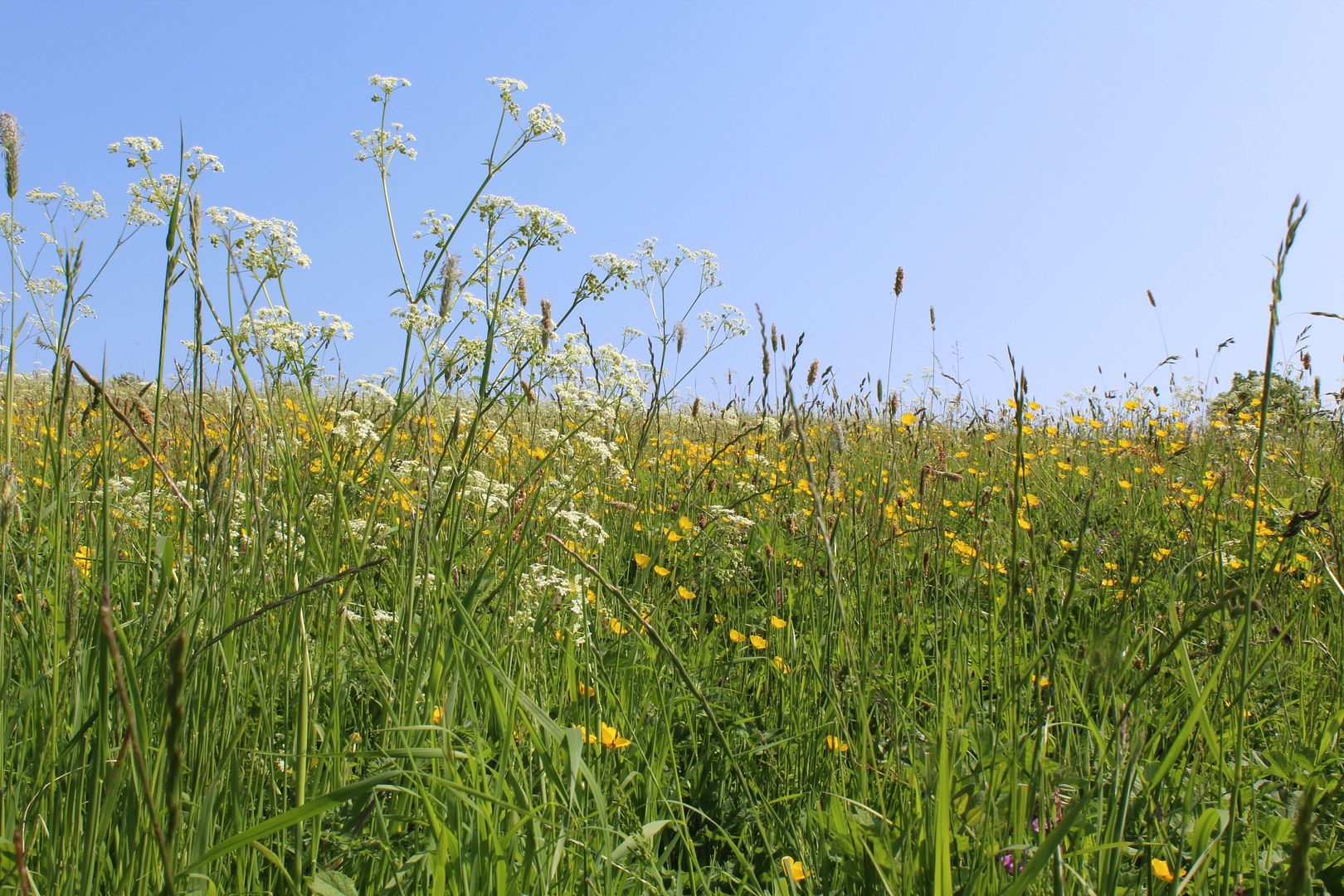 Andy and my father in law took TTB into town to see the car show, but I wanted to show my mum the lovely meadow so we took TTG for a walk round there. She walked around the whole thing! Lovely girl. I took some gorgeous photos of her there, in her little hat.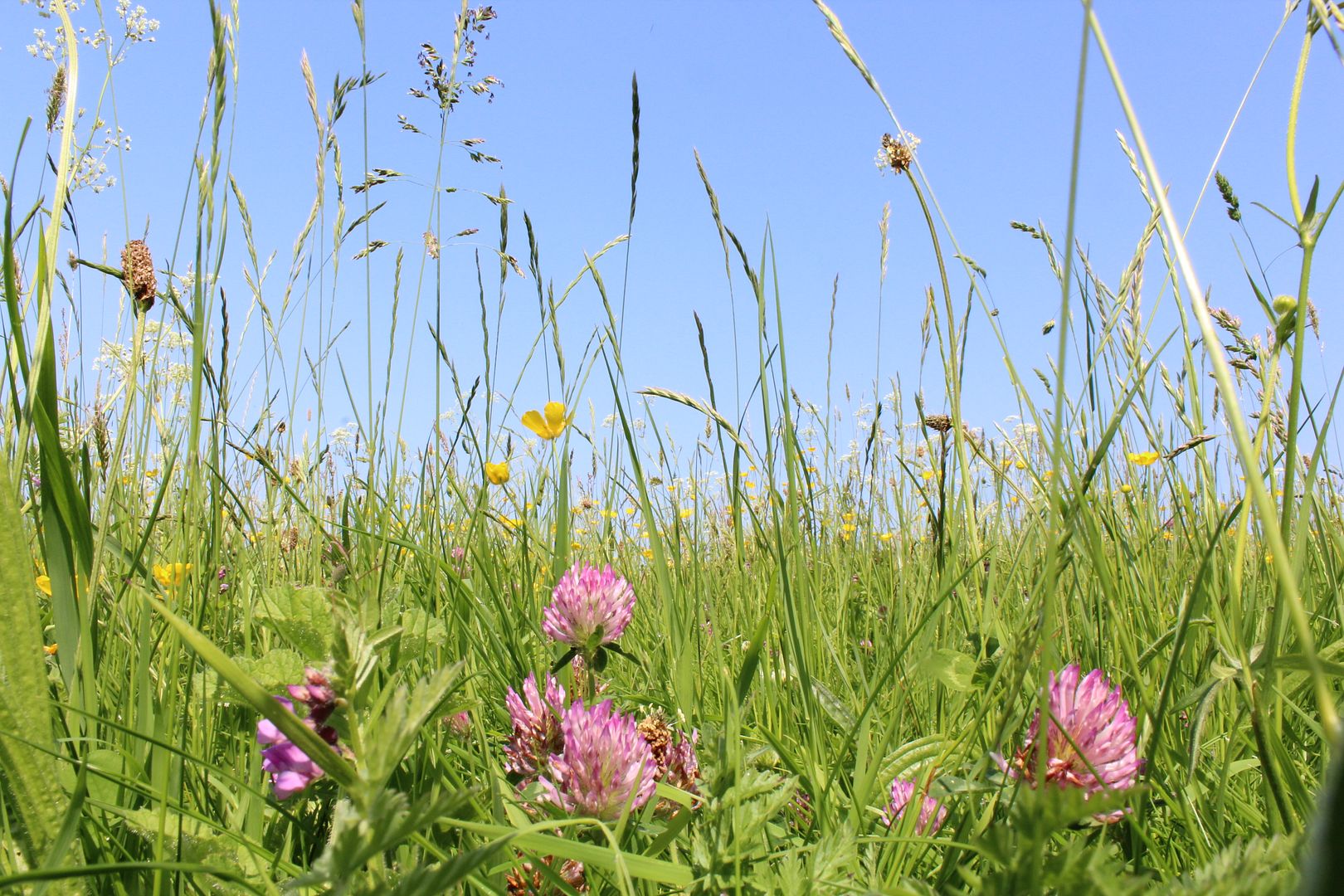 I'm very pleased with the clover photo above, the colours are just perfectly summery.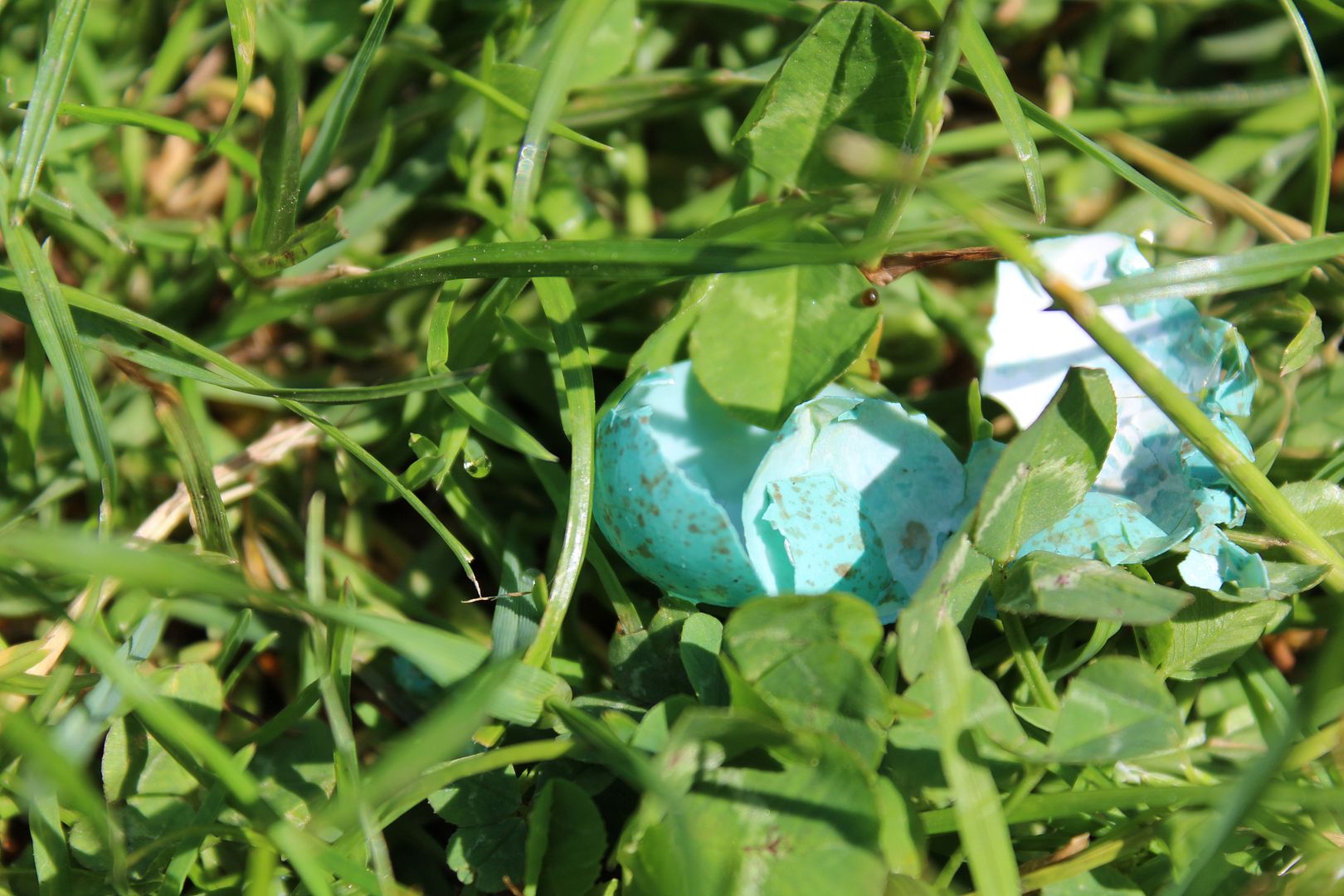 We found a recently hatched eggshell in the meadow, I'm undecided as to whether it's a songthrush egg or a robin egg (or something else!) so please enlighten me if you know.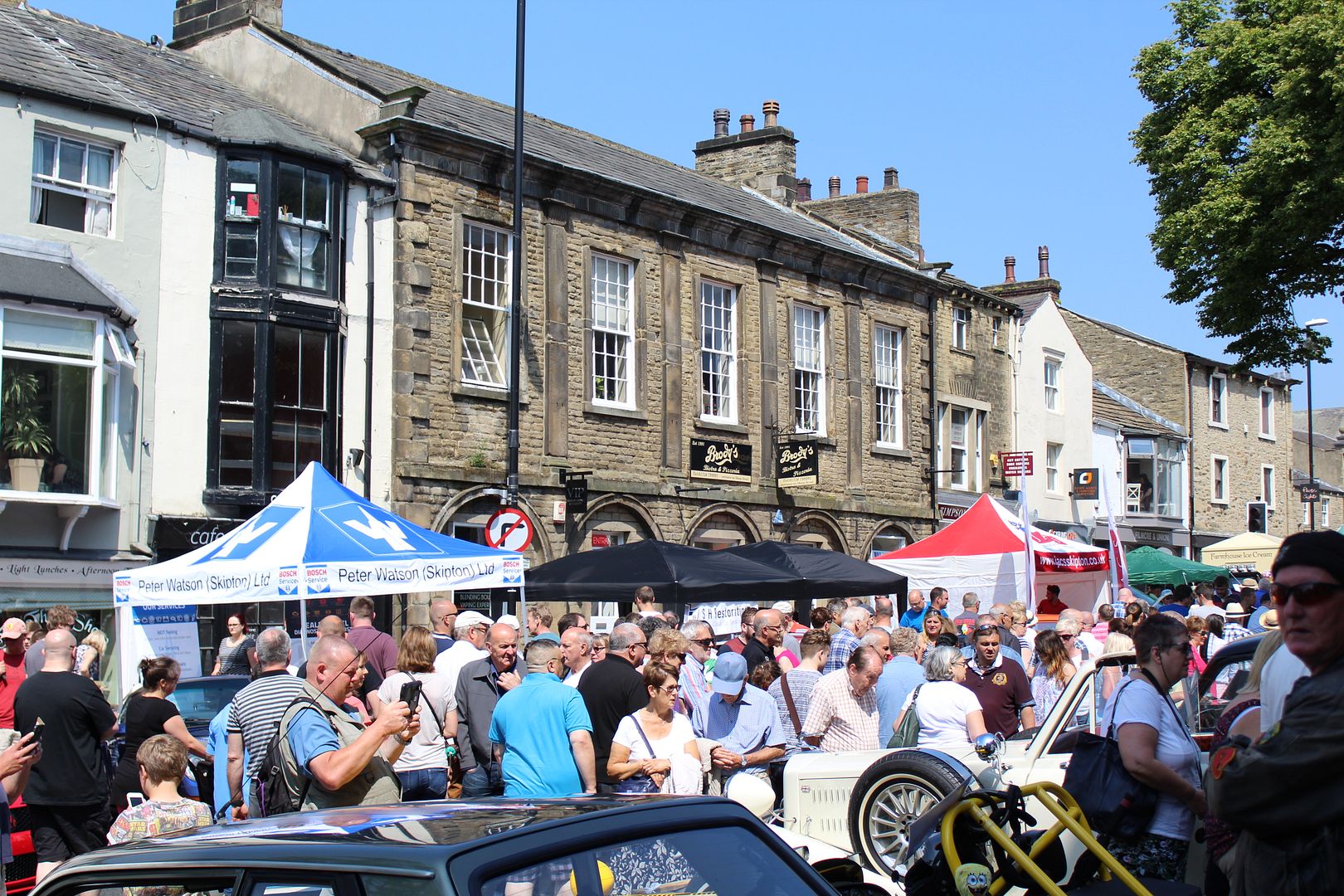 After we'd taken all of the picnic things home we went back into town and joined the throng of the car show. The high street was heaving as there were just so many people! Brilliant, it's great to see such a huge turnout. I do love the way that the town management do this kind of thing: it's only the second year of the event but it really draws people into the town which has got to be good for the shops (especially the cafes I'd imagine.)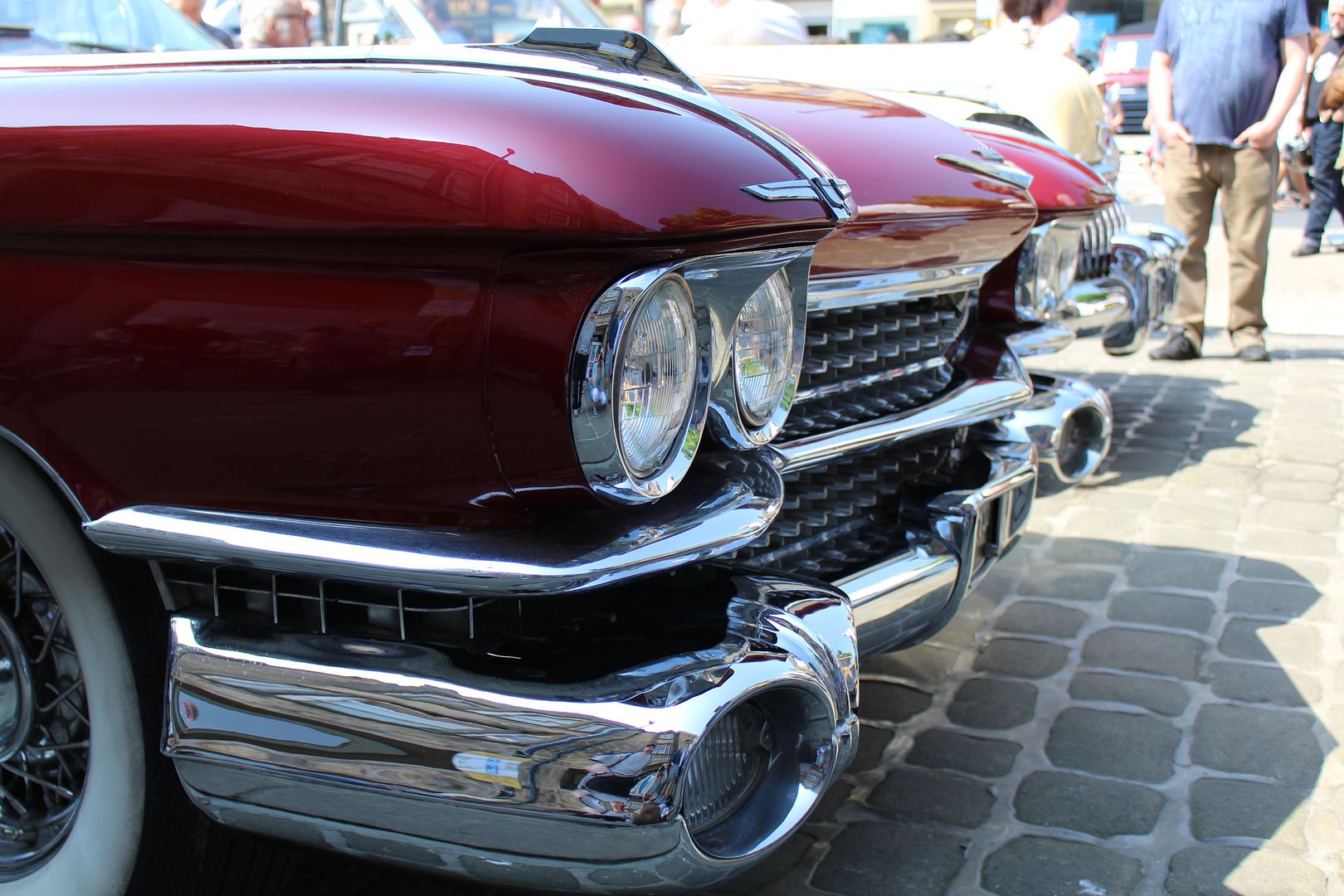 I didn't spend as long looking round this year as I did last year, nor did I take so many photos but I was really pleased with the one above. The big old American cars are really impressive. I can't see myself every having a vintage or unusual car, but I can really appreciate the care and attention that goes into owning, maintaining and showing them and it's lovely to see how proud the owners are.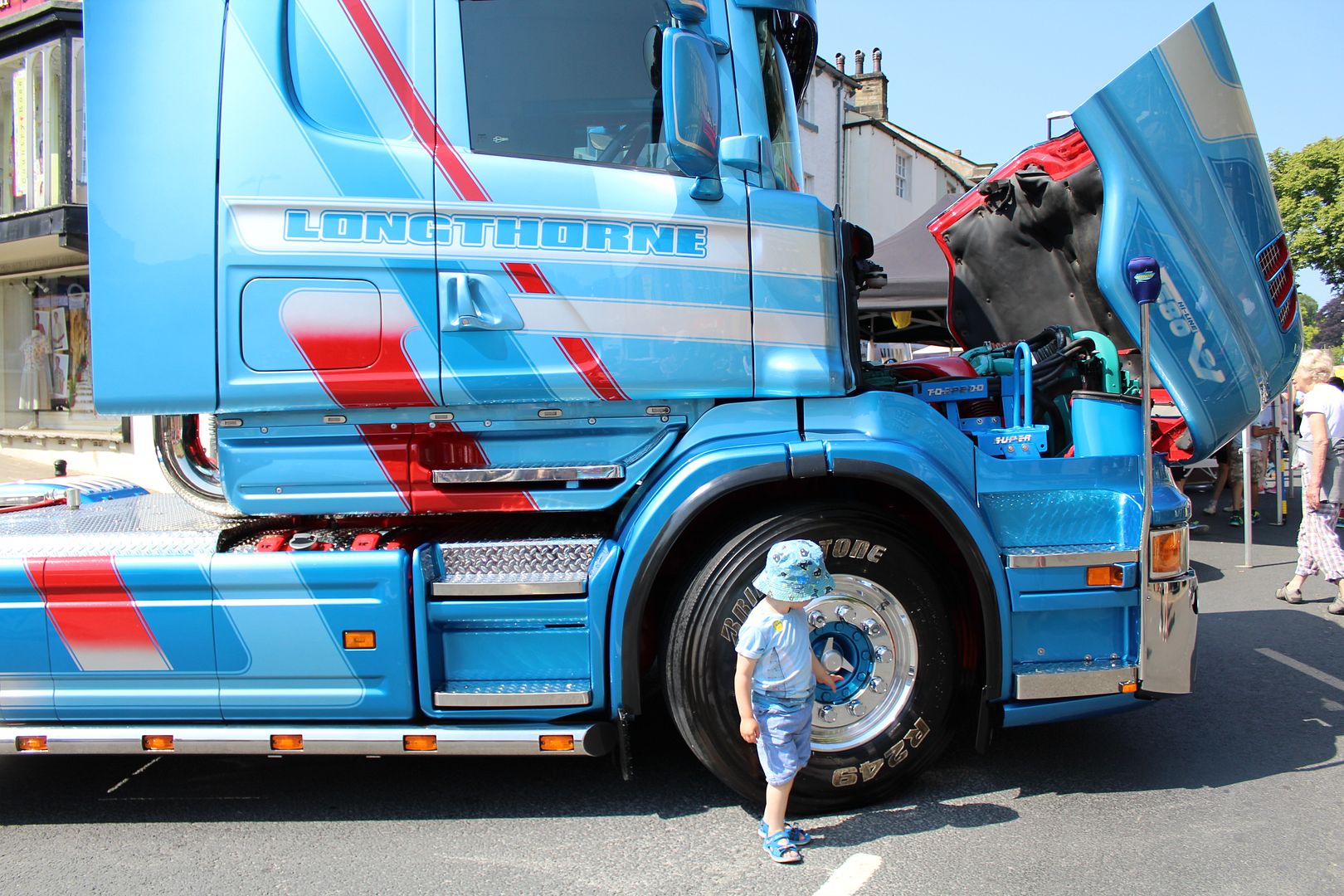 TTB is a bit camera shy (argh! I hope he gets over that at some point!) so I asked him if he would mind having his photo taken, I'd just do it with one vehicle, and he could choose which one. I think he saw that as a good option (one photo and mummy won't nag me anymore) and he chose the big Scania truck, which is so shiny I can't believe it's actually used for anything other than events like this! He was really interested in this truck last year as well, I remember that he was determined that it was a Saab truck and wouldn't have it that Scania and Saab have the same logo! (I think they were part of the same company).
After that, we all had ice creams – hurrah! You might notice that the back cone has no ice cream, and that is because TTG is still young enough that I can give her a plain cone and then turn the pushchair round so that she can't see we all have ice cream in ours! Ha. It's probably the last year that I can get away with doing this though so I'm making the most of it before I have to share with her.
TTB was very ready for his bed that evening – he'd walked such a long way. In the end we had to push him home in TTG's buggy (and carry her)!