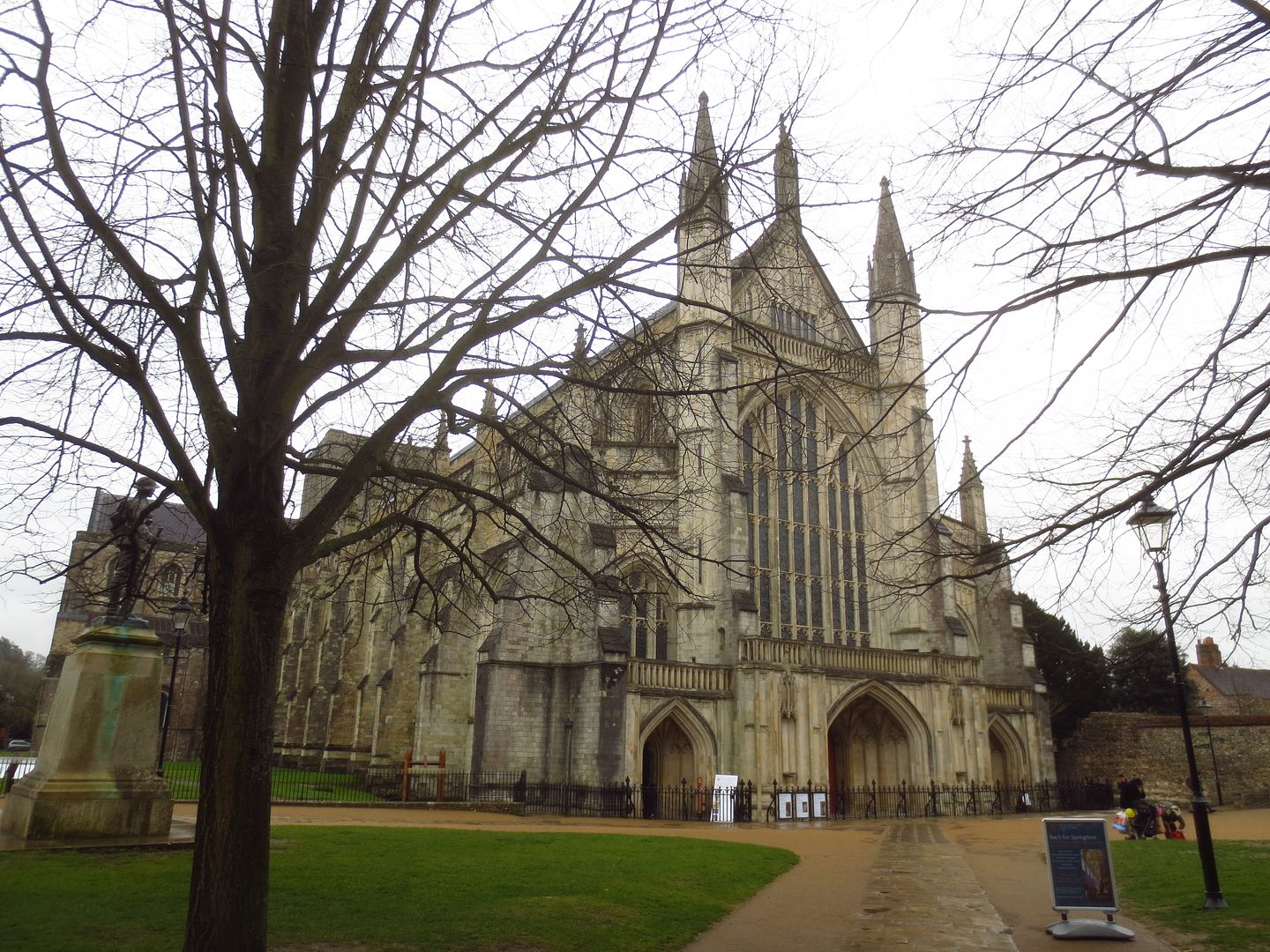 My sister moved to Winchester recently, and I was itching to visit her in her new flat so I hustled my children onto a train and did just that. These two are pretty good at train travelling now, and it gets easier as they both get older. Tiny Tin Girl did try and pinch a packet of peanuts from the refreshment trolley when it was stopped next to our seat but apart from that, the journey down was pretty good. Of course, I have to spend my entire journey doling out snacks (always bring snacks. Always! And wipes. Snacks and wipes, that's my motto.) and answering ten thousand million questions about all of the things that TTB could see!
Rachel's flat is great, so light and lovely and she's so happy and settled there already. But we'd been on a train for a long time and two small children in her flat wasn't going to work for long so we decided that as it was raining, we'd go and visit the Cathedral.
It wasn't until we were inside that I went "Wow!" The first thing that struck me was just how vast it is inside. The next thing I noticed was how beautiful and symmetrical it was (and how I wished I had my other camera with me!) and the third thing I noticed was the wonderful stained glass window.
Rachel had promised TTB that we would see a really big window but he was unimpressed because he said it was not a big window, it was lots of little windows. He's right really isn't he! But it certainly is stunning. The light was streaming in through some other windows further down, just gorgeous. The golden images along the side of the wall gleamed in the sunlight.
Then I looked up … just LOOK at the ceiling!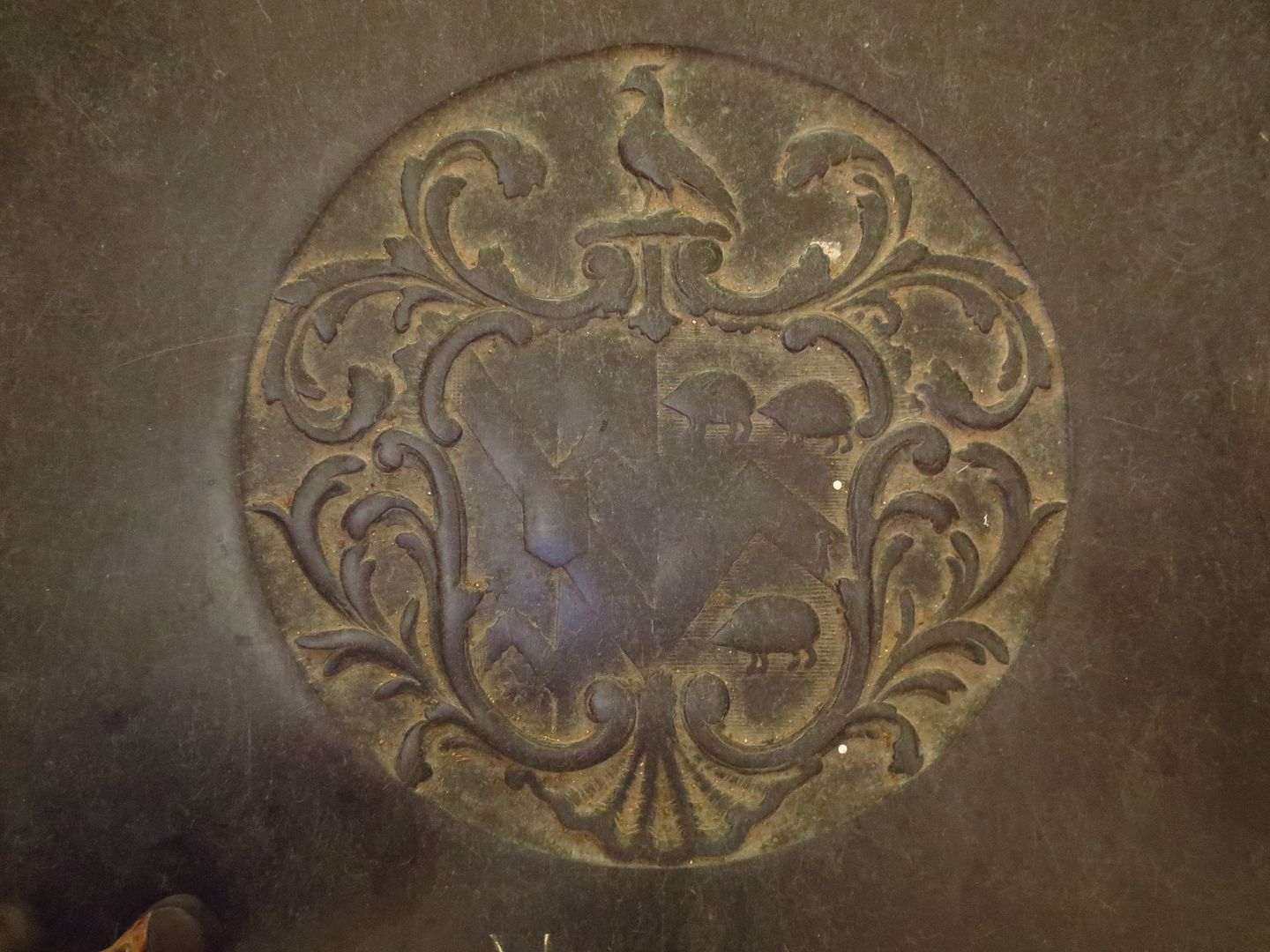 There is so much to see at the Cathedral that you'd never see it all on one visit, especially not when you're accompanying small children around so I decided to just snap photos of all the little details that leapt out at me, like the patterns on some of the stone carvings on the floor (I'm sure this one has hedgehogs on it!) and the wood on the pulpit and lectern.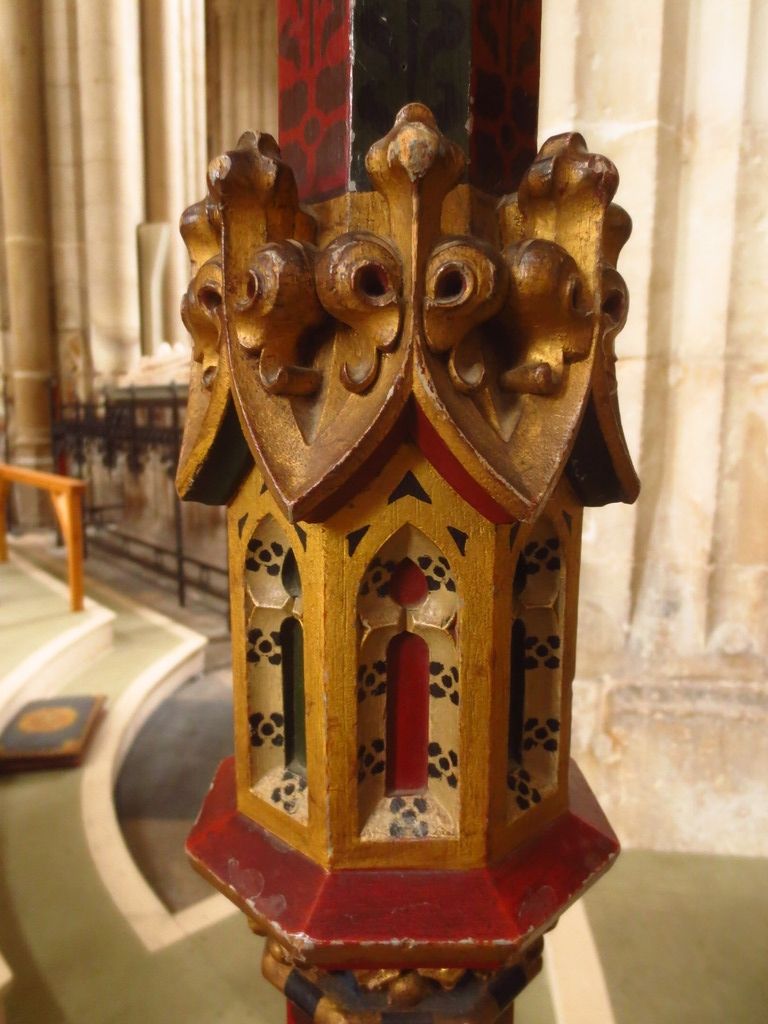 The lectern had brass gryphons at it's feet and TTG wandered over, declared them to be cats and leant down to stroke them. Funny girl.
My favourite finds were the small repair works that have been made, like this one: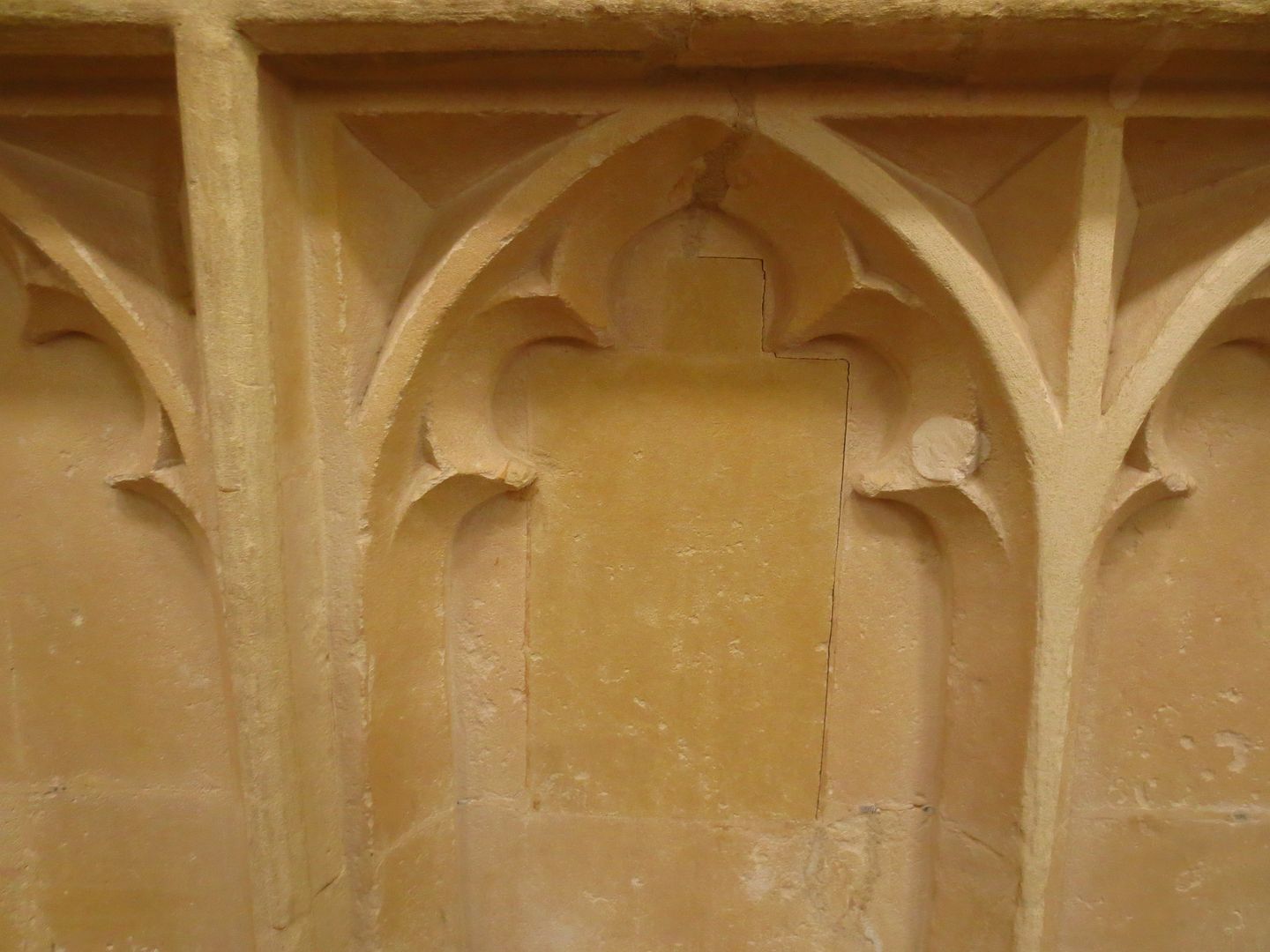 the belemnite fossils that are inside this piece of stone,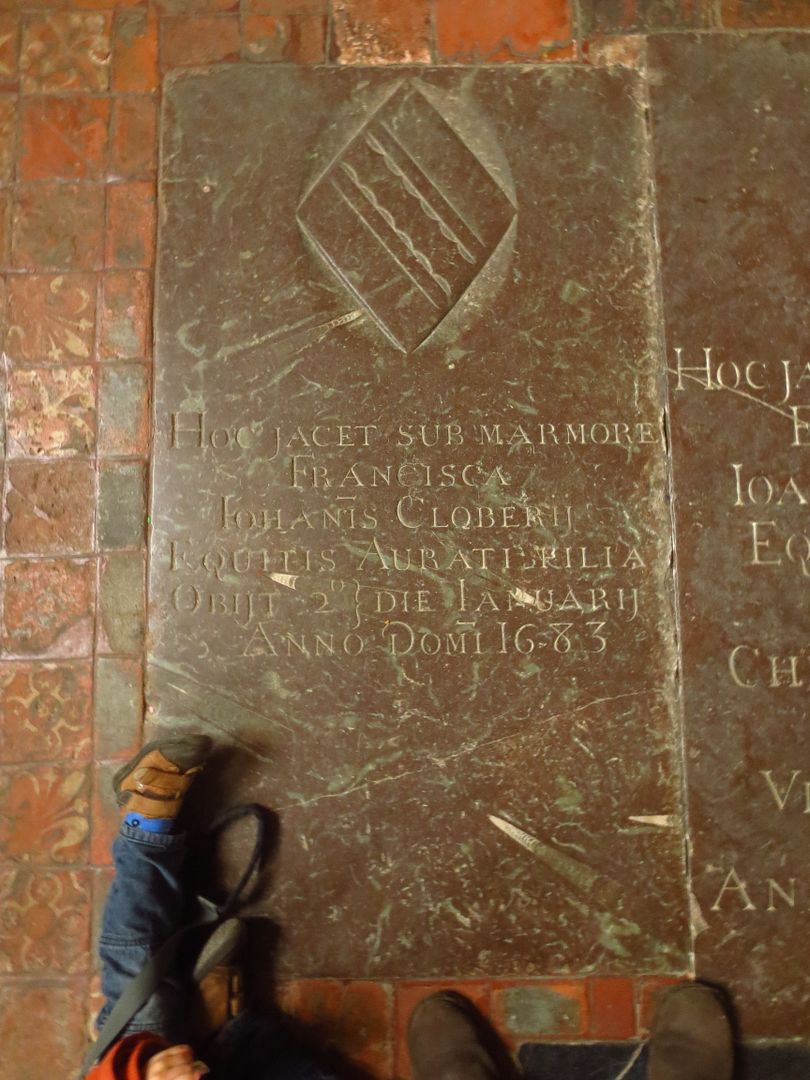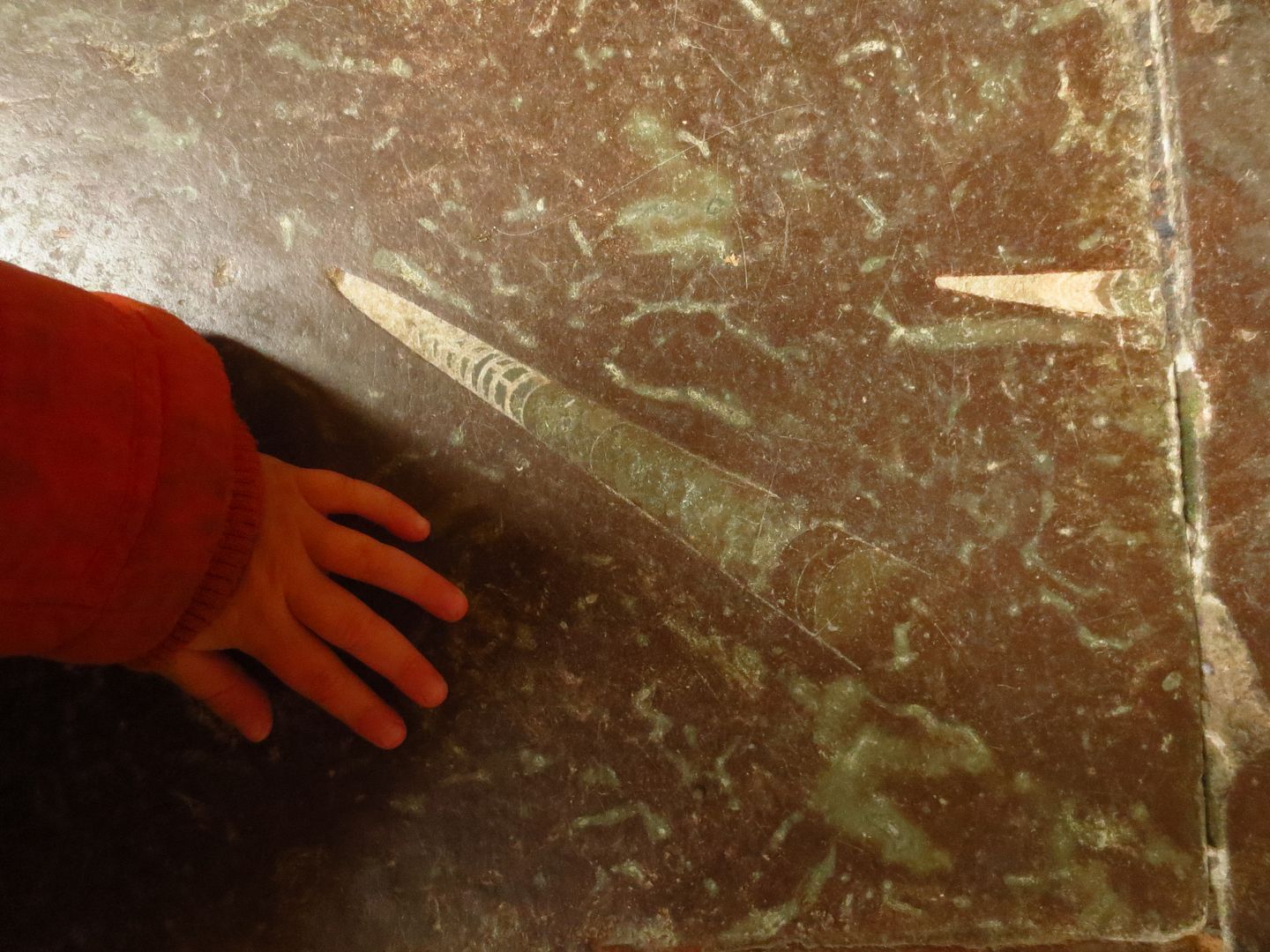 (Tiny Tin Bird's hand for scale),
this very very very old graffiti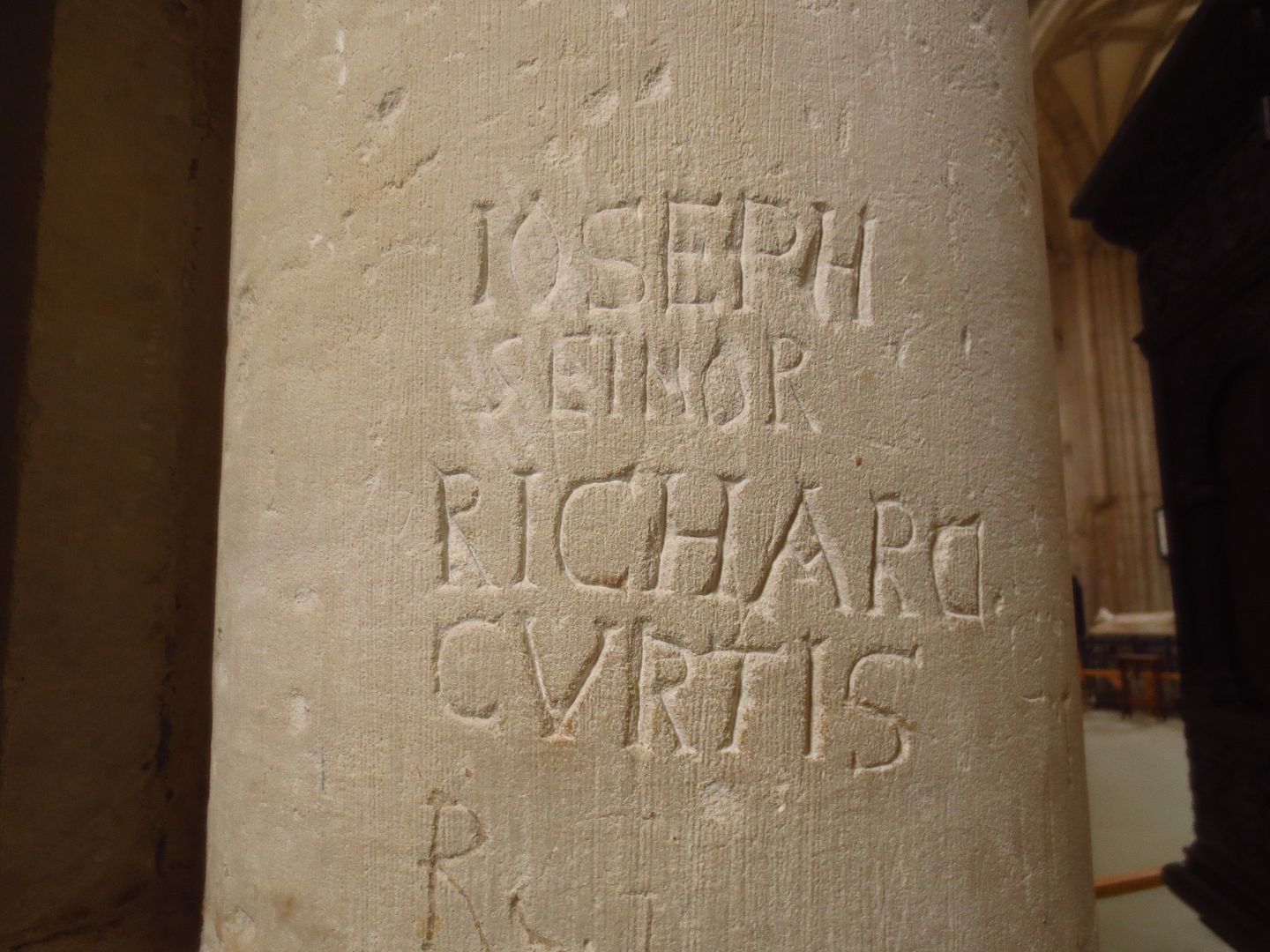 and the wonderful patterned tiles that make up the floor in part of the Cathedral. Some of them are really shiny and some of them are much older looking. I'd like to find out more about them; are the shiny ones later reproductions or are they original? What do all the motifs signify? I'd like to go back with a sketchbook (and a better camera) and draw them. Maybe when my children are with someone else hahaha.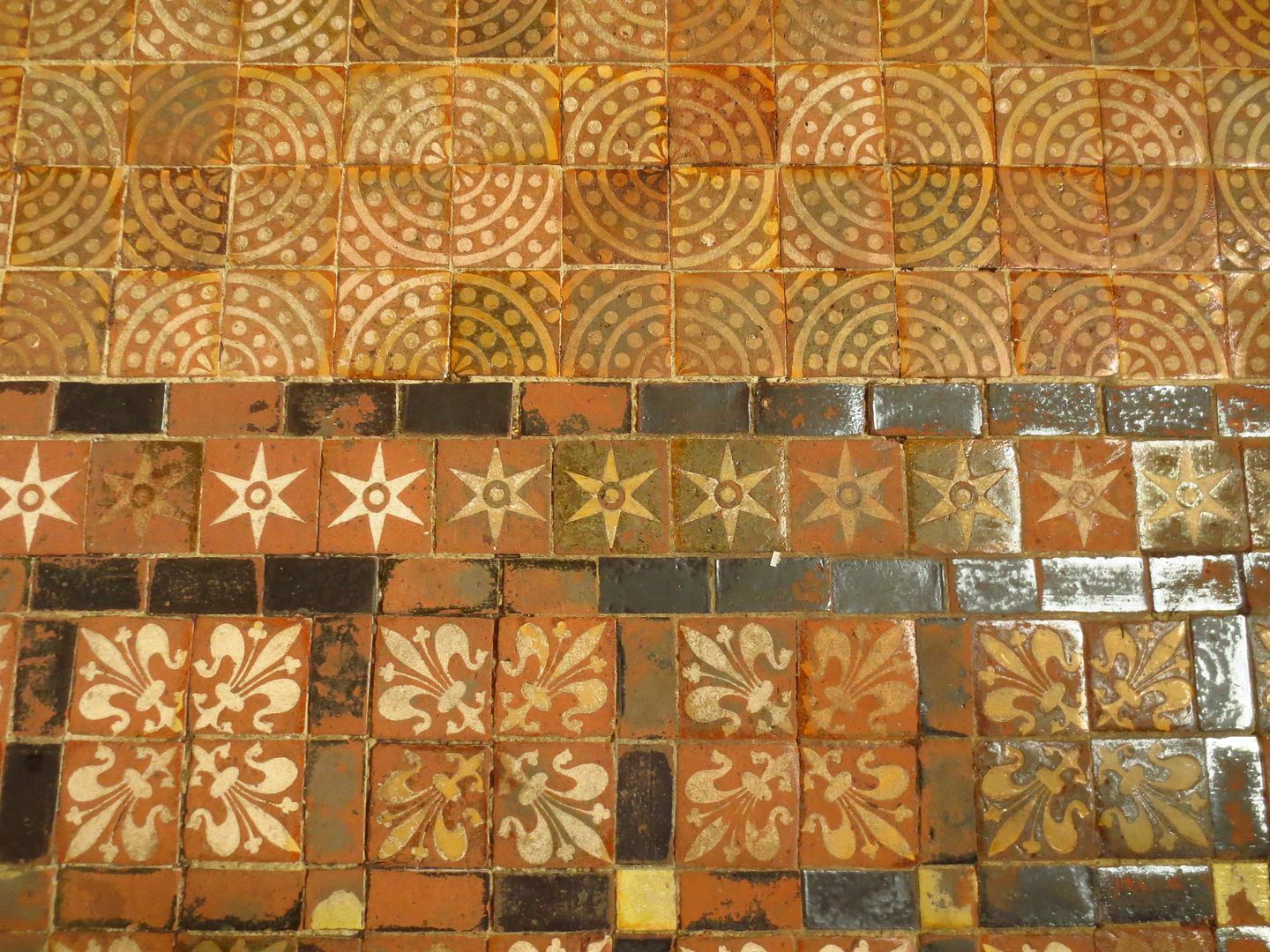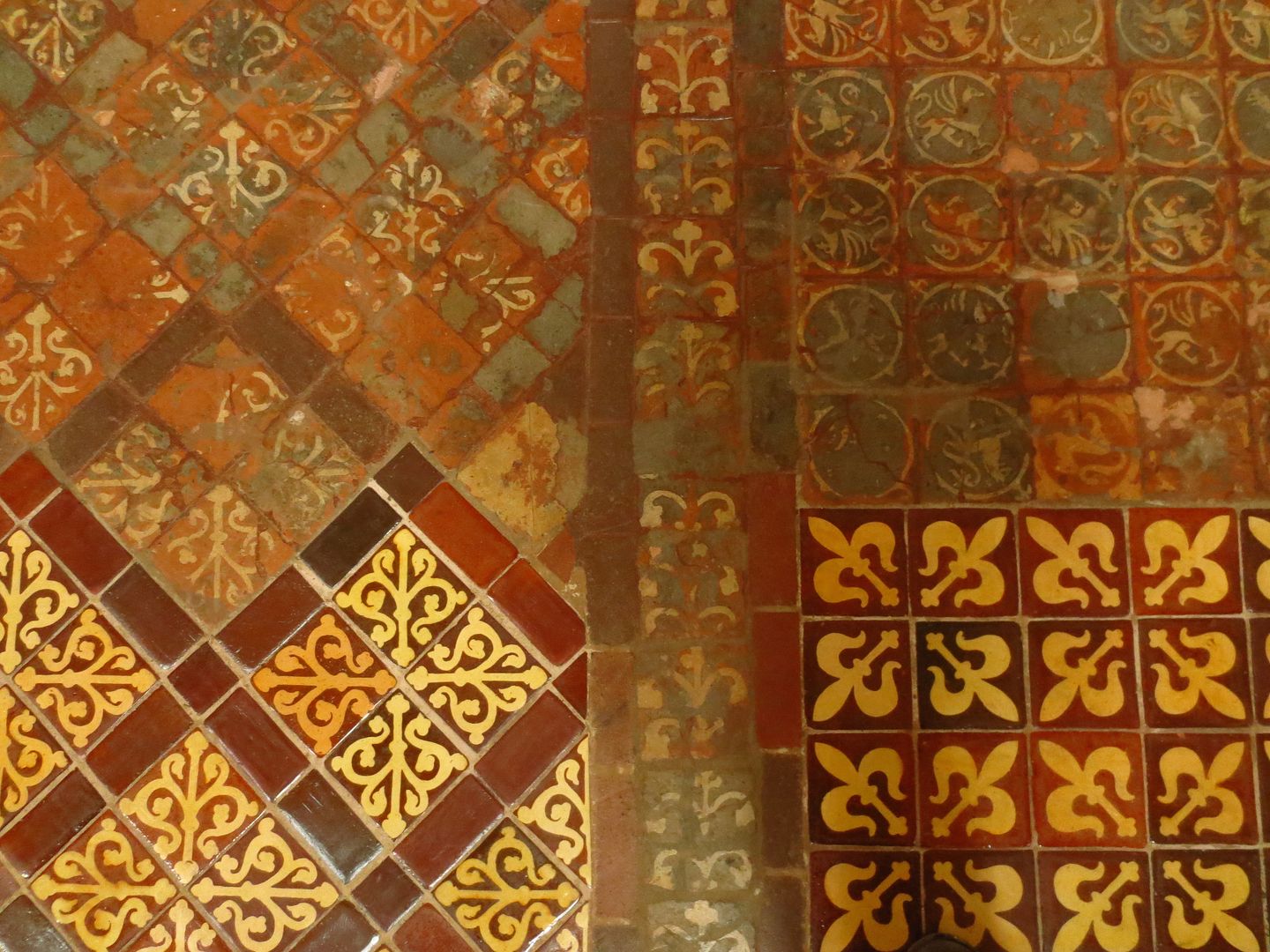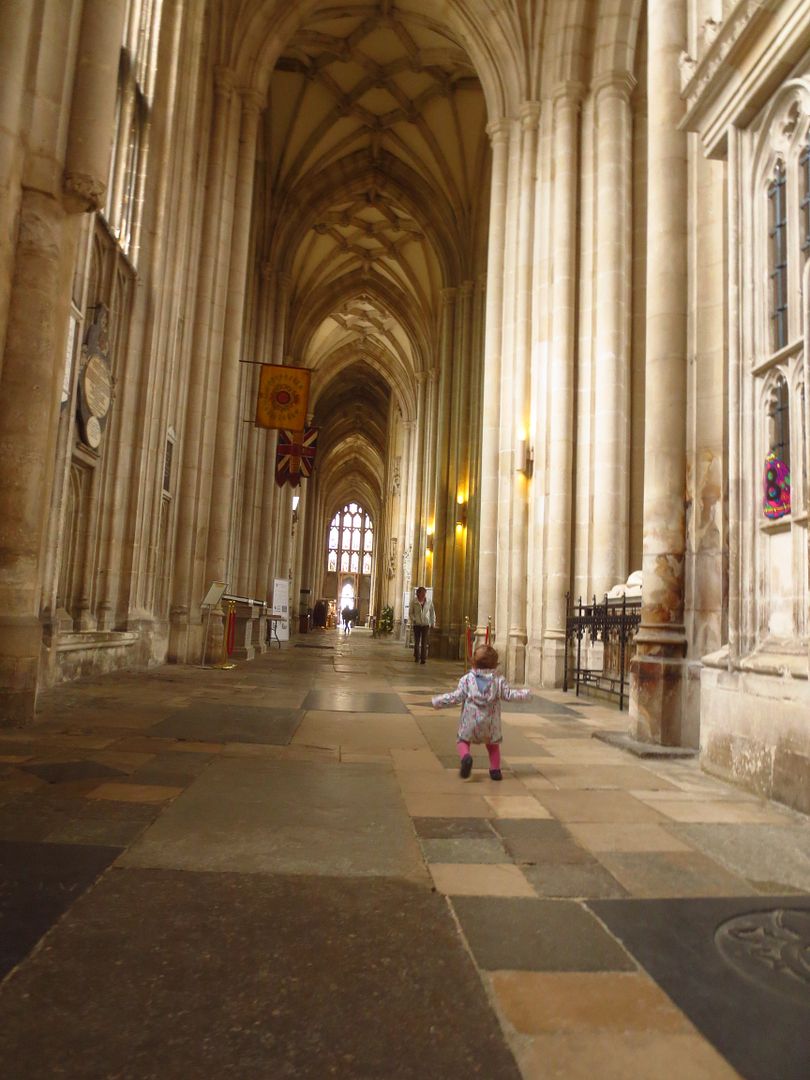 Tiny Tin Bird and Tiny Tin Girl were really well behaved though, I was pleased. The staff were all very friendly and didn't mind TTG's happy laughter as she was let out of the sling and allowed to walk. I tell you what, she's a tiny girl and it's an enormous Cathedral but she certainly filled the place with her joy. She loves to walk and she loves to hear the sound her shoes make by tapping her feet on the floor. There was something rather special about seeing her walking over a floor so old and that's seen so many feet. It's funny the things that move you isn't it.
I was interested to find that you could go down into the crypt, or at least a little part of it.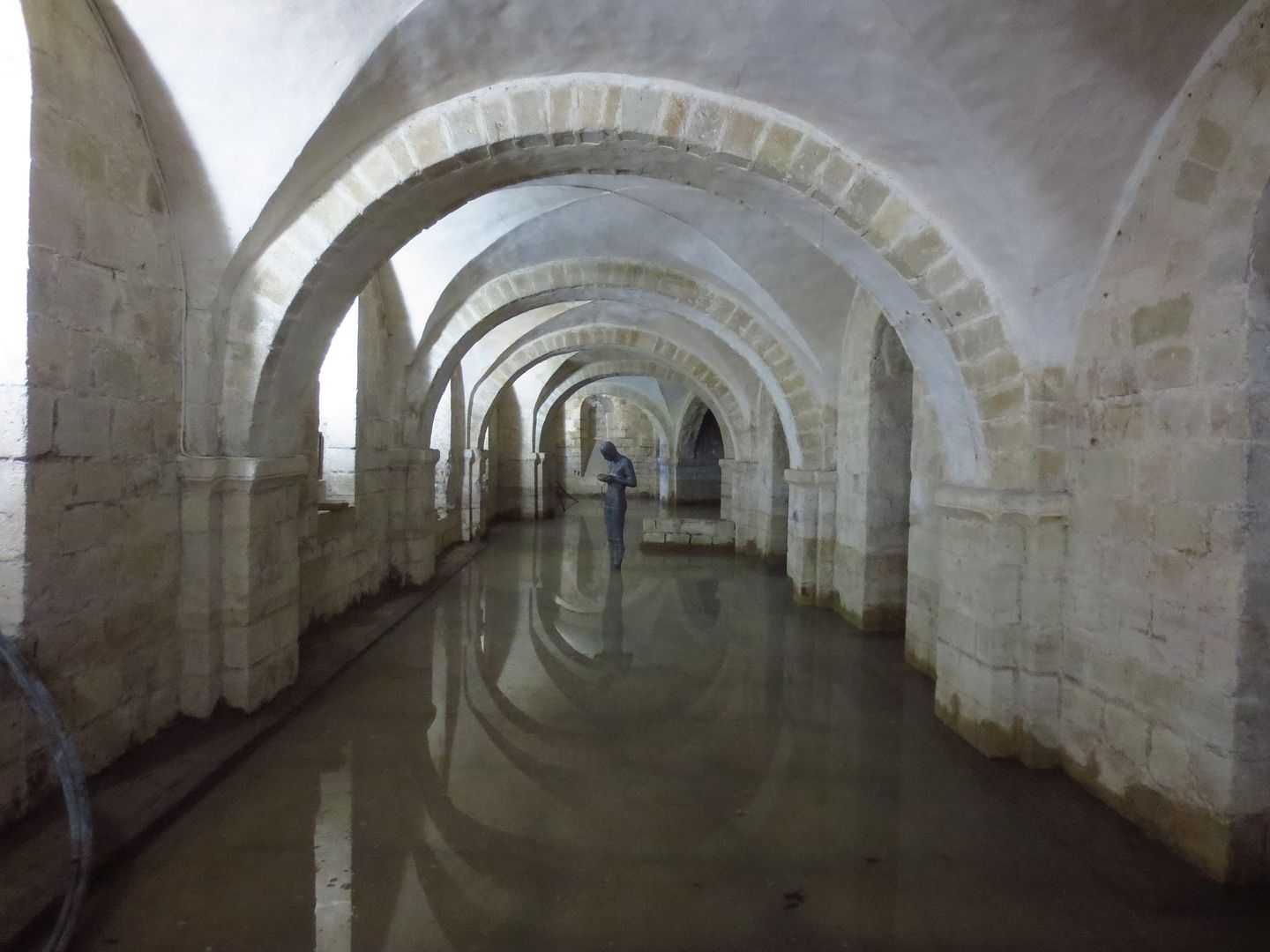 I was surprised to find that it was flooded! It would be fascinating to go exploring properly. Rachel said that the whole area that Winchester is on is really wet and that the Cathedral can't have a spire as it would make it too heavy and cause it to sink into the ground!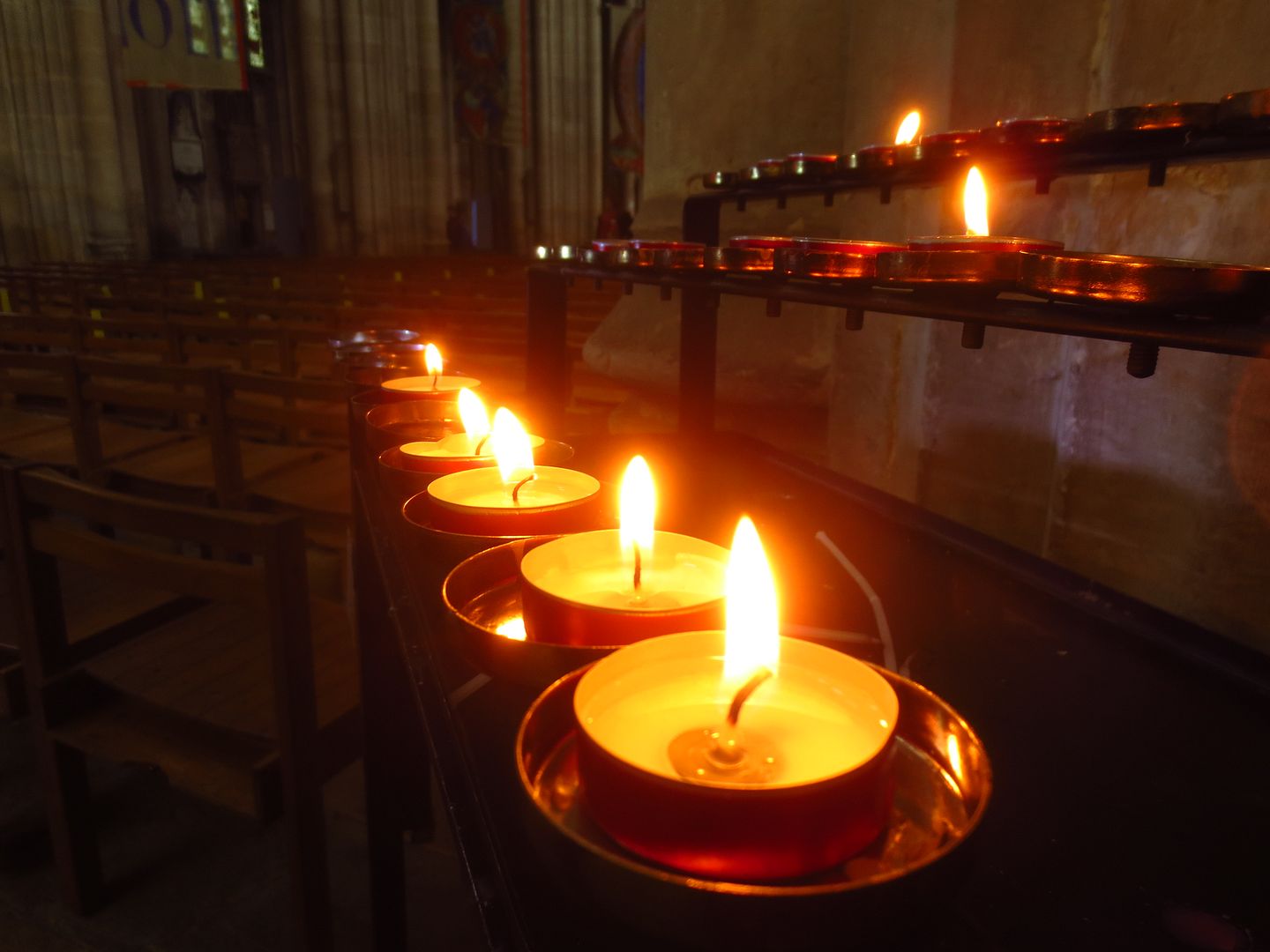 There is so much more to the Cathedral that I haven't even touched upon, I know. I'm really looking forward to going back again sometime and I think I might treat myself to this book Cathedrals & Abbeys of England (Pitkin Cathedral Guide)
 as I'd like to learn more about Cathedrals generally – I've been to York Minster and I think I went to Coventry Cathedral when I was in primary school but there are so many more and it would be fascinating to visit more and to learn more about the history.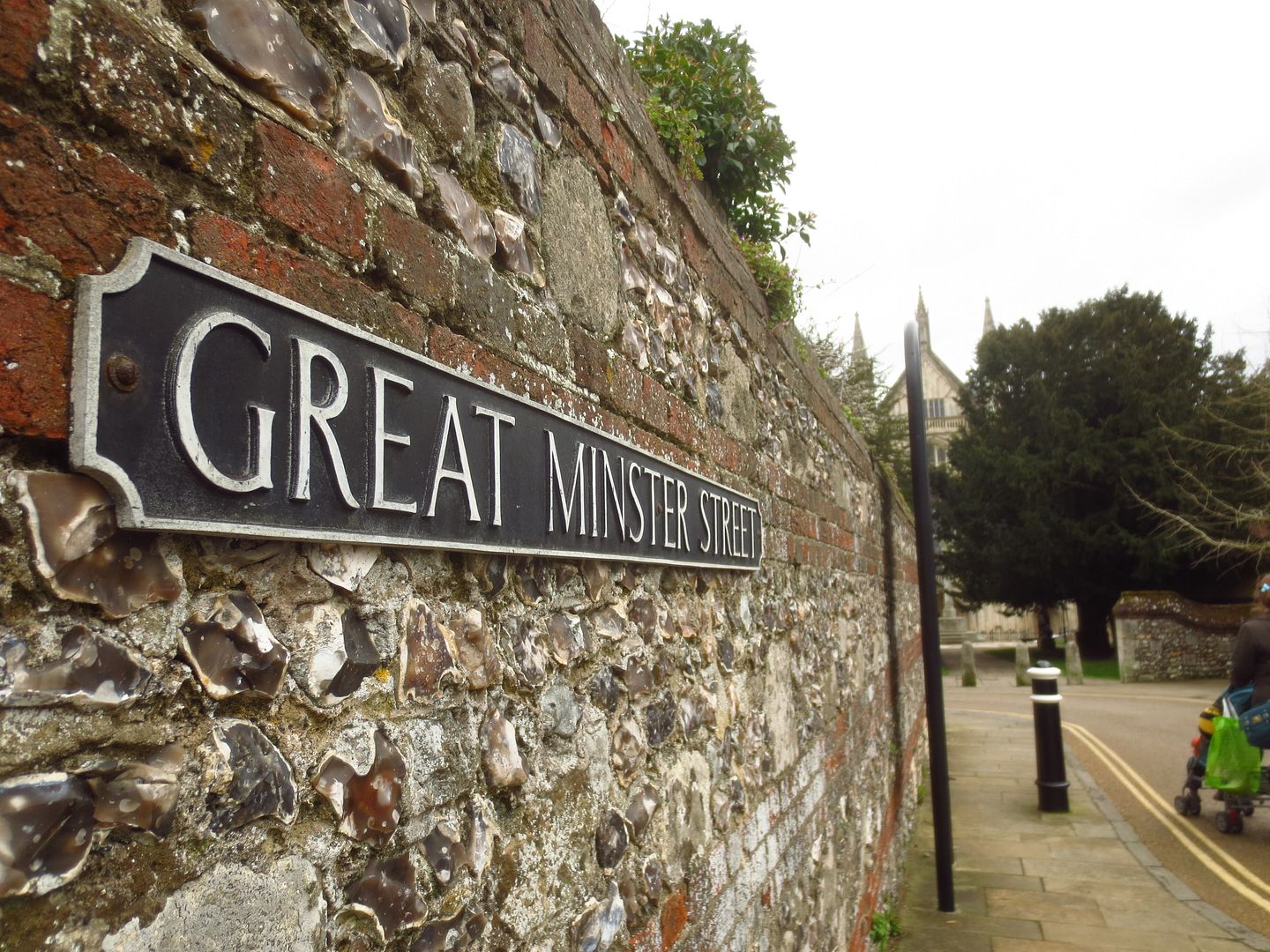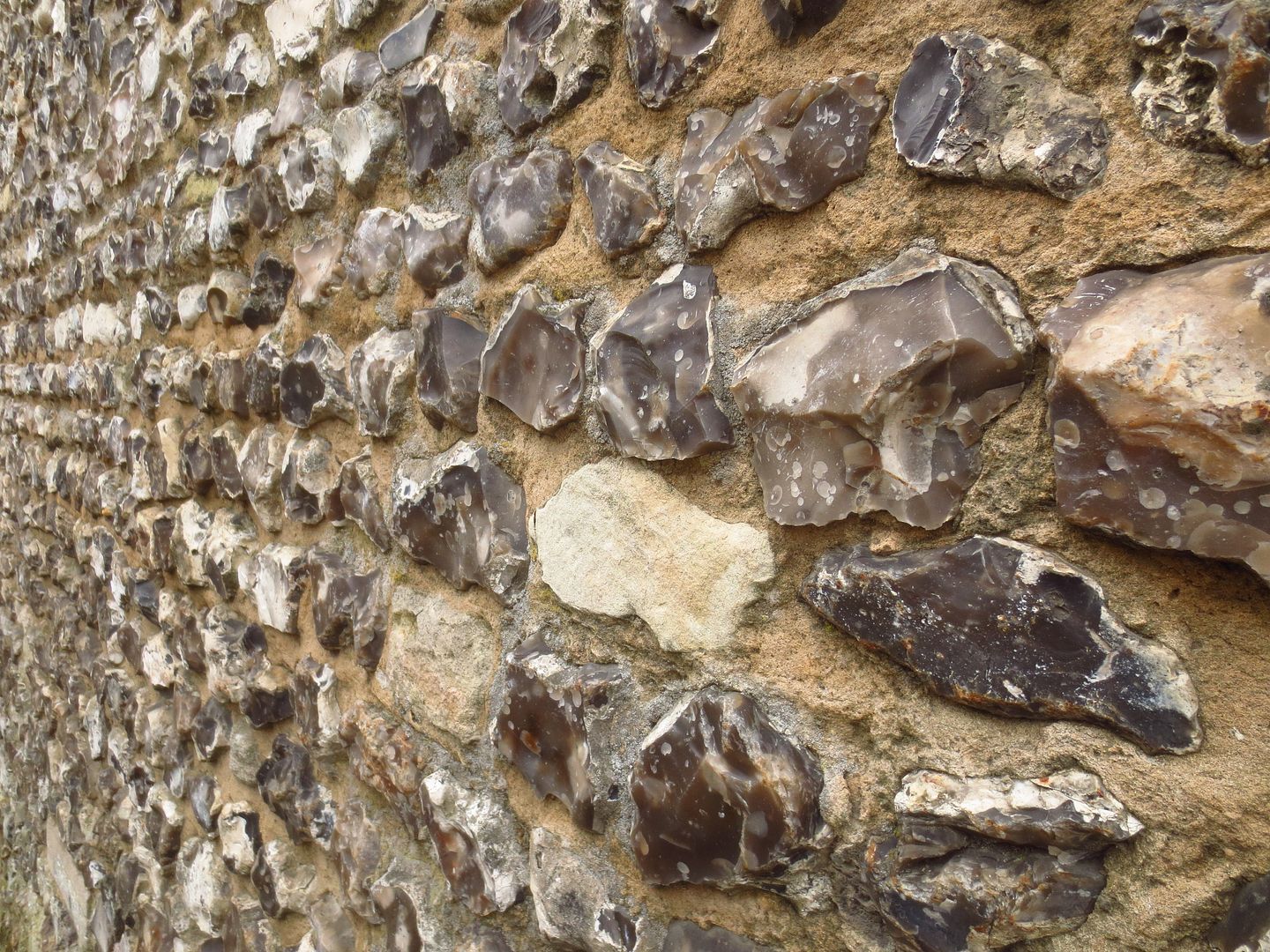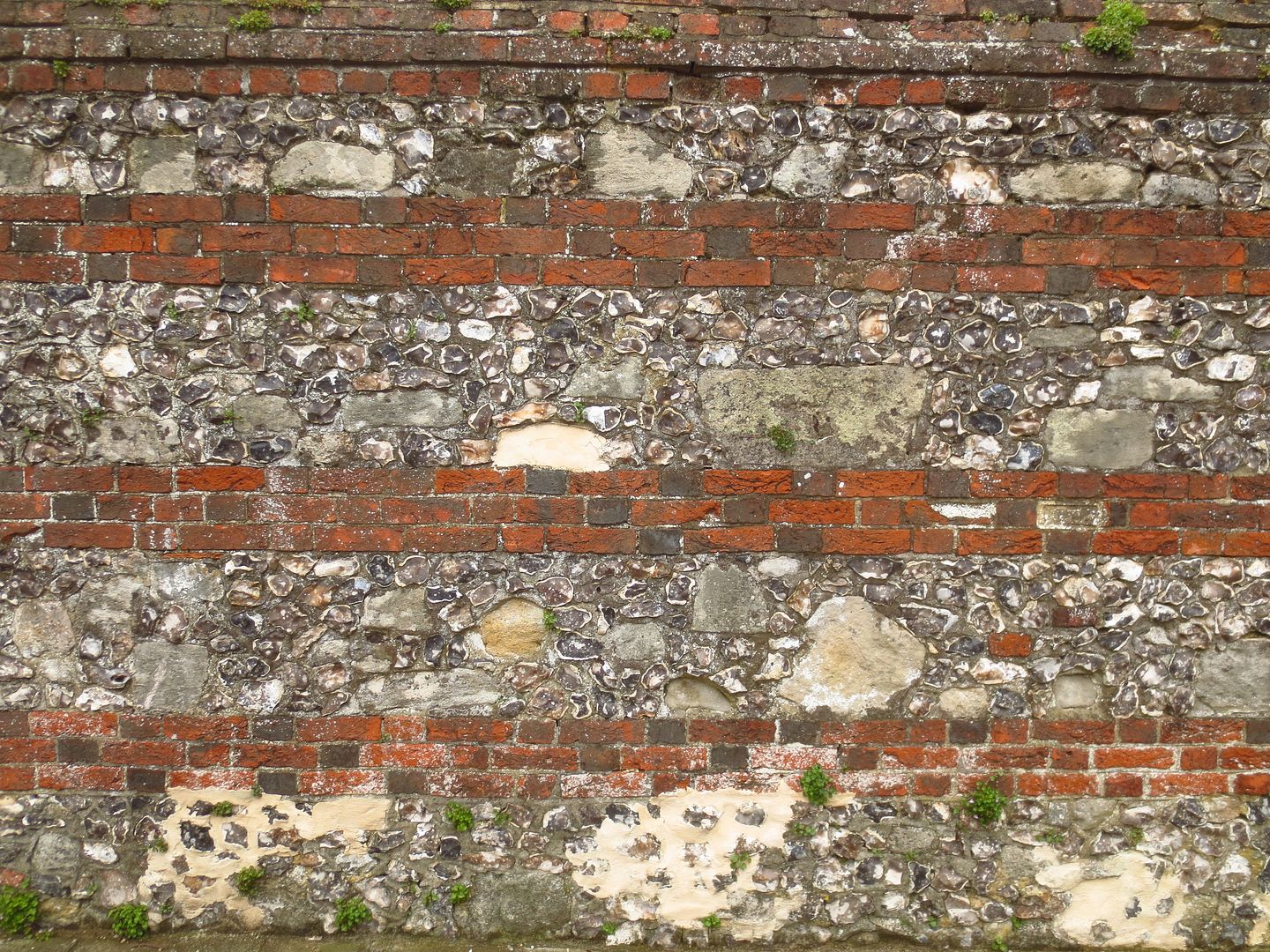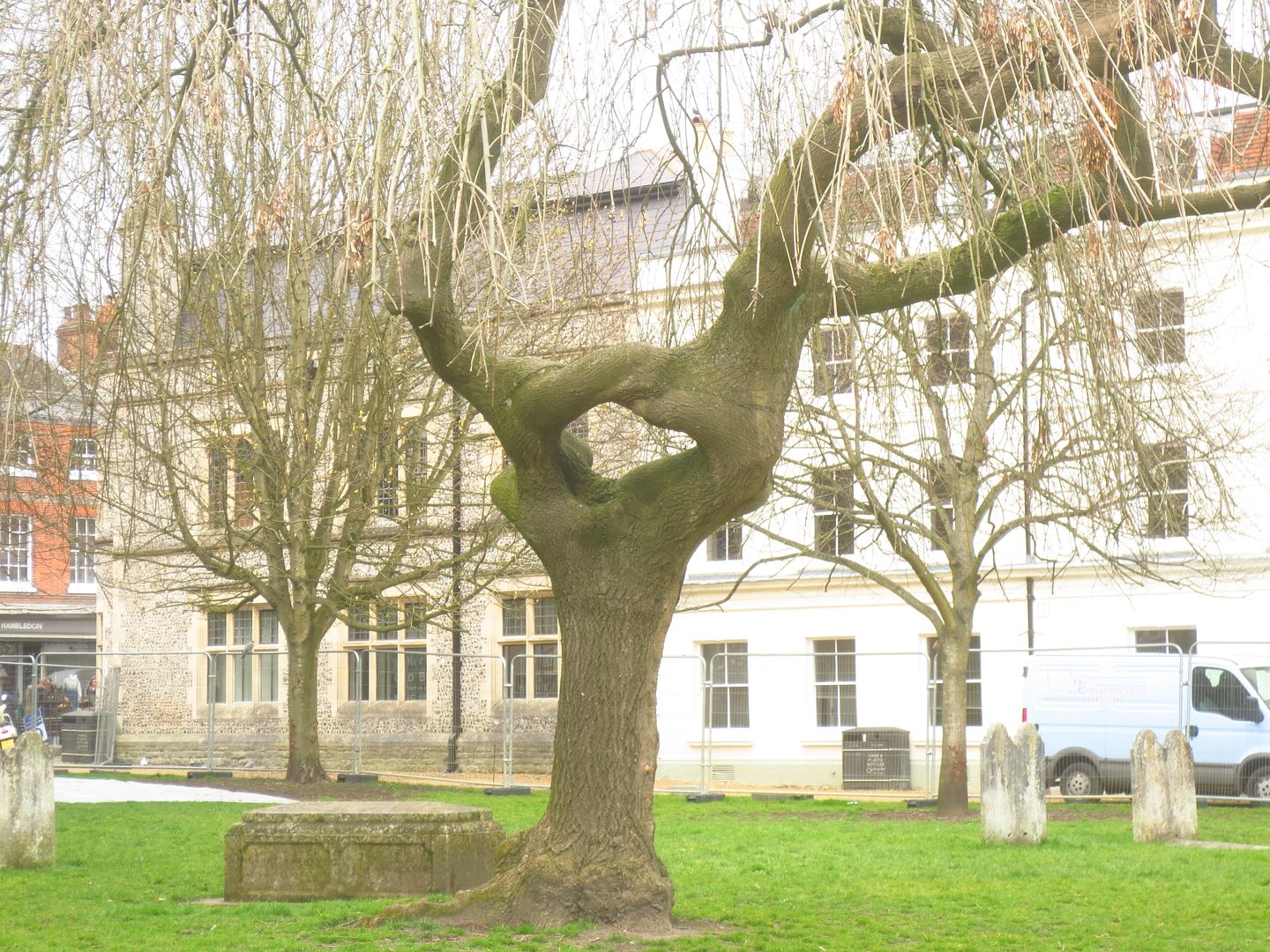 These are just a few photos from outside, I loved the use of flint in the walls as it reminded me of Pevensey Bay (the buildings there also feature flint), and the stripes made with it. And this tree! It has grown to form a hole!
It cost us £7.95 each to visit the Cathedral but the best part is that it has free return for the whole year, which is a bit of a bargain really.
This post contains an Amazon affiliate link. You can help support my blog by shopping using this link
.