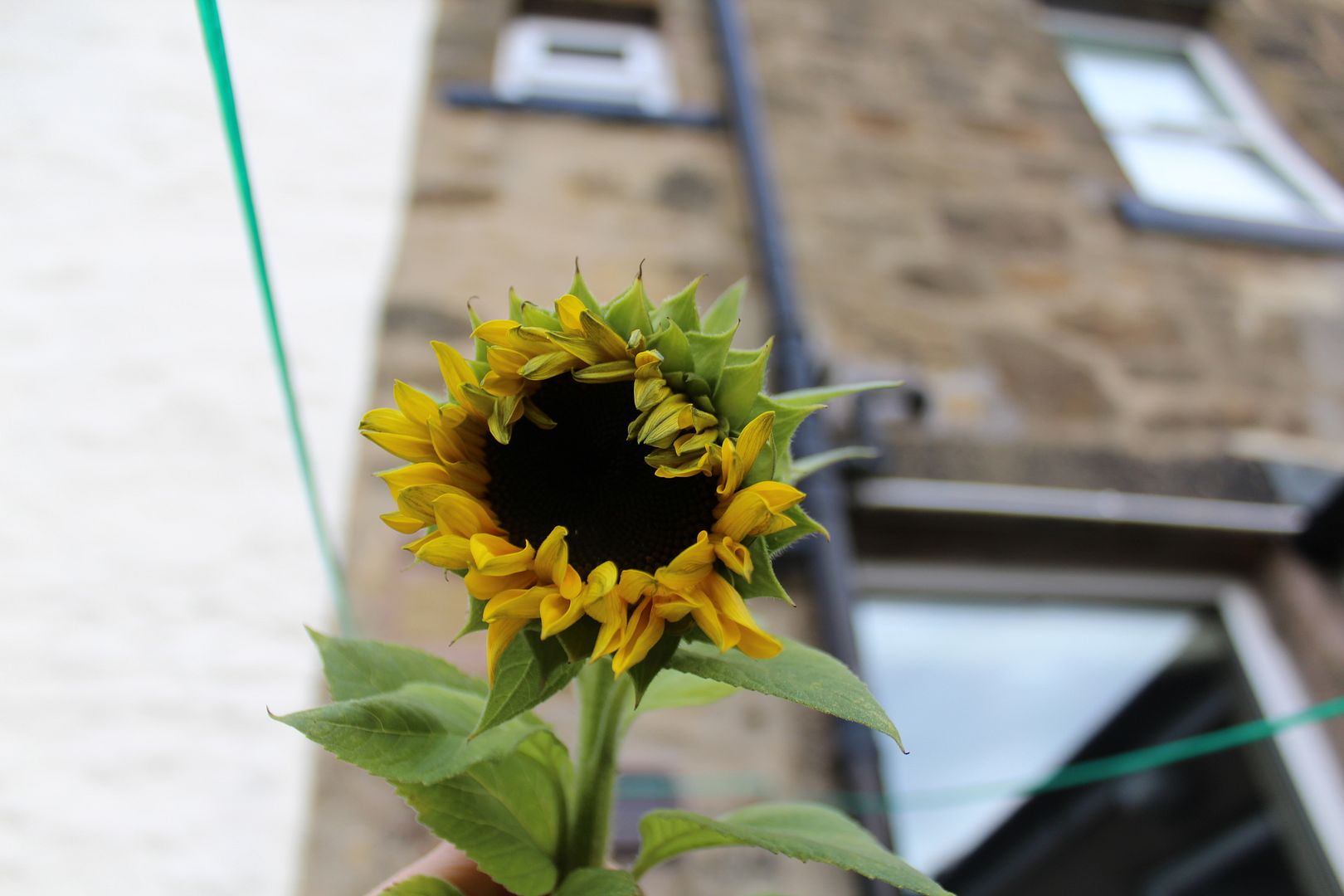 I can't even remember when we planted our sunflower seeds this year. I know that the kitchen windowsill was full of soil filled yoghurt pots for quite a while and I was beginning to think that they would never sprout. Then, one evening, the first one did! The next day, 7 of the 8 seeds had started to grow. Over the next few weeks they grew from spindly little two-leafed seedlings into little sunflower plants that were large enough to plant out into pots in the yard. Some succumbed to slugs. One did pretty well, standing on top of the dustbin and out of the reach of slugs and snails and Tiny Tin Girl, aka "Destroyer of Plants". It grew strong and tall and eventually we had to move it off the dustbin for fear that it would be blown off in the wind.
We waited and waited and waited for it to flower. It grew taller than Tiny Tin Girl, then taller than Tiny Tin Bird, taller than me, and taller than Andy. Still no flower.
Eventually, at the beginning of September when we came back from our holiday, it had started to flower! OH how exciting. I lifted TTB up to see it and he exclaimed, "Oh it's BEAUTIFUL!" I took a photo (above) and we eagerly awaited the day when it would be in full bloom.
We didn't have to wait long. A few days later and the sunflower smiled it's bright yellow smile and I couldn't wait it to stop raining so I could go and take a photo.
It's at this point that I should mention that the sunflower was tall enough to touch the washing lines, which stretch from one end of our yard to the other.
Oh.
And that the rainy day turned very quickly into a very windy day.
Oh again.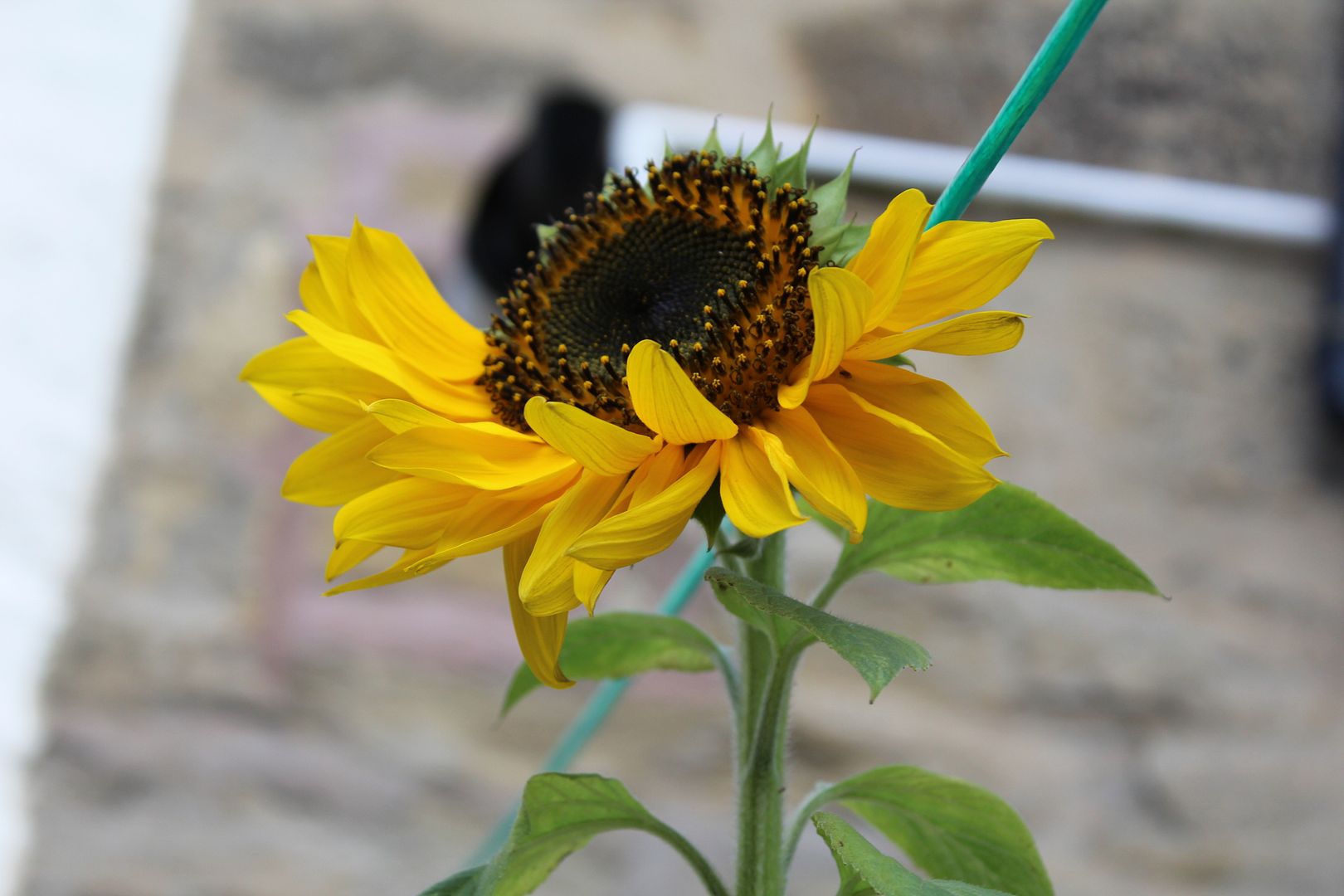 In fairness I can't really blame the windy day too much, as the sunflower probably would've weathered it ok if it hadn't been next to the washing lines. As it was, it is now a prematurely bald sunflower, after being battered against the washing line so much in the wind.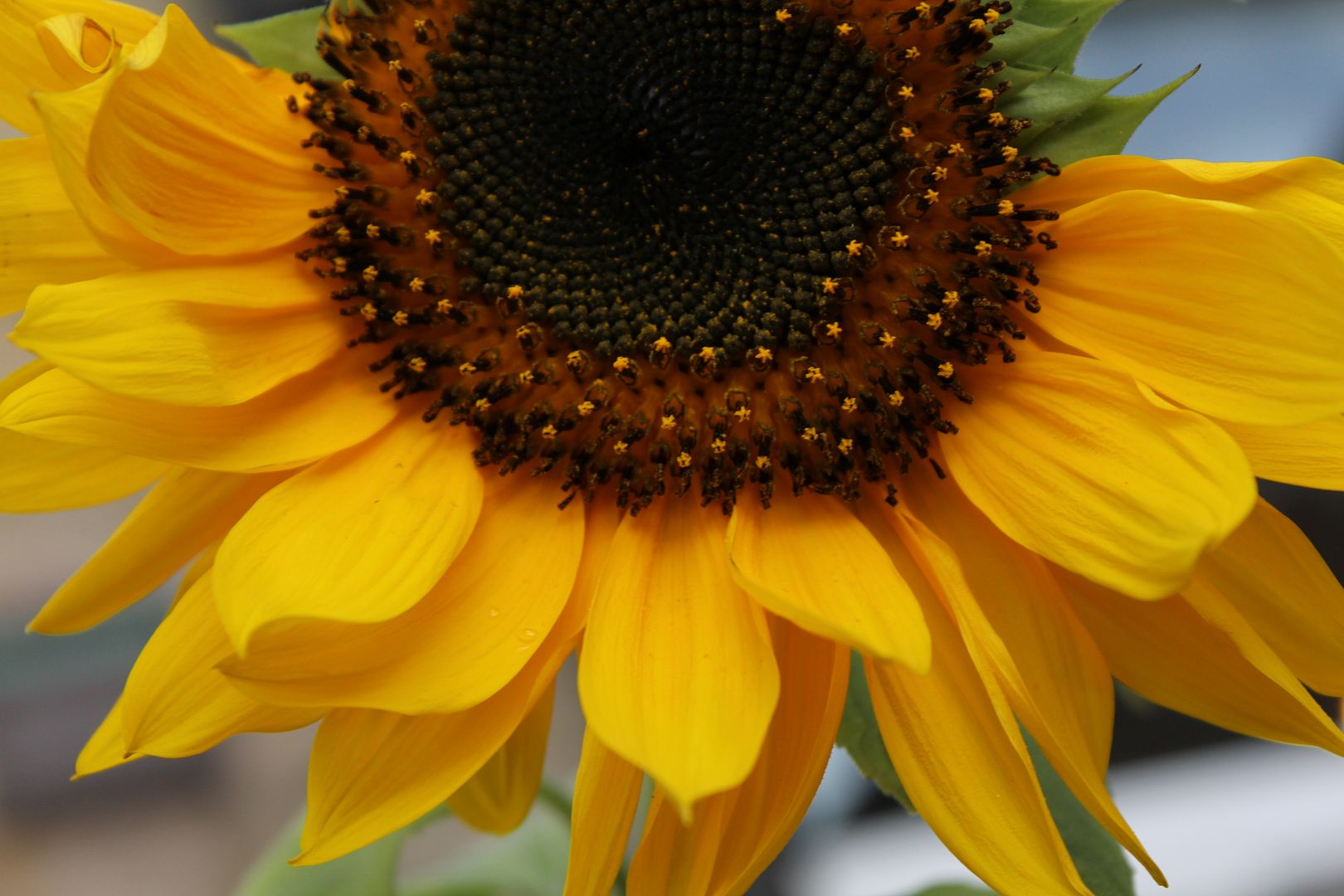 Poor sunflower. Next year, I shall move the pot further away from the washing line!
Disappointing though it was that the petals were knocked off before I could take a photo, the process of growing the sunflower has been great for Tiny Tin Bird. He's learnt about how things grow from a seed and what conditions they need to grow, how plants make food from light from the sun, and also that slugs and snails really like to eat sunflowers. We don't have a whole lot of space in our back yard, but it's enough for some pots and hopefully a raised bed at some point too. I believe that it's so important for children to experience how plants grow and I'm so glad that we can do that even just in this small way. When you think about it, it's absolutely incredible that one tiny little seed can grow into marvellous things.
The title of the post is because it reminded me of the baby books in the "That's not my …" series. "That's not MY sunflower, it's missing half it's petals!"