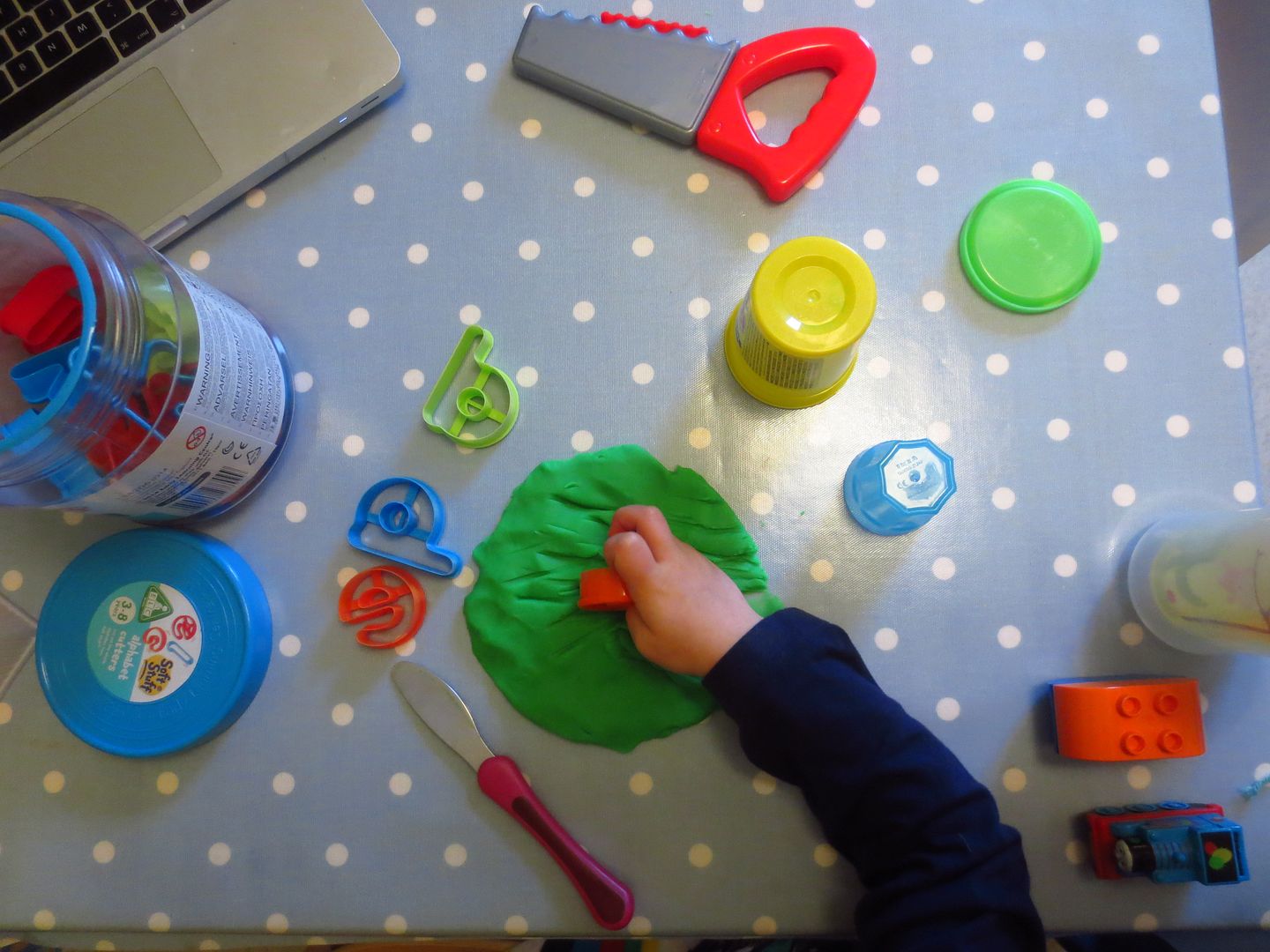 Hi! How are you? We are ok, feeling happy today because it's SUNNY and cold with a blue sky – my favourite winter weather. There's been a dusting of snow on the Dales that I can see from my kitchen window, although none in the town thankfully.
Thank you for your comments lately! I'm glad that so many of you like to see photos from our every day … just as well as I have a whole post of "every day moments' today :-)
TTB has really been enjoying play doh lately. It's one of those things that will occupy him well for about a week and then he just loses interest. Then a few weeks later he will want to do it again. He can be quite intense with his activities in that way. Right now, play doh is definitely IN, next week it won't be, and then that gives just enough time for him to be excited about the play doh cutters and rollers that Father Christmas will put in his stocking.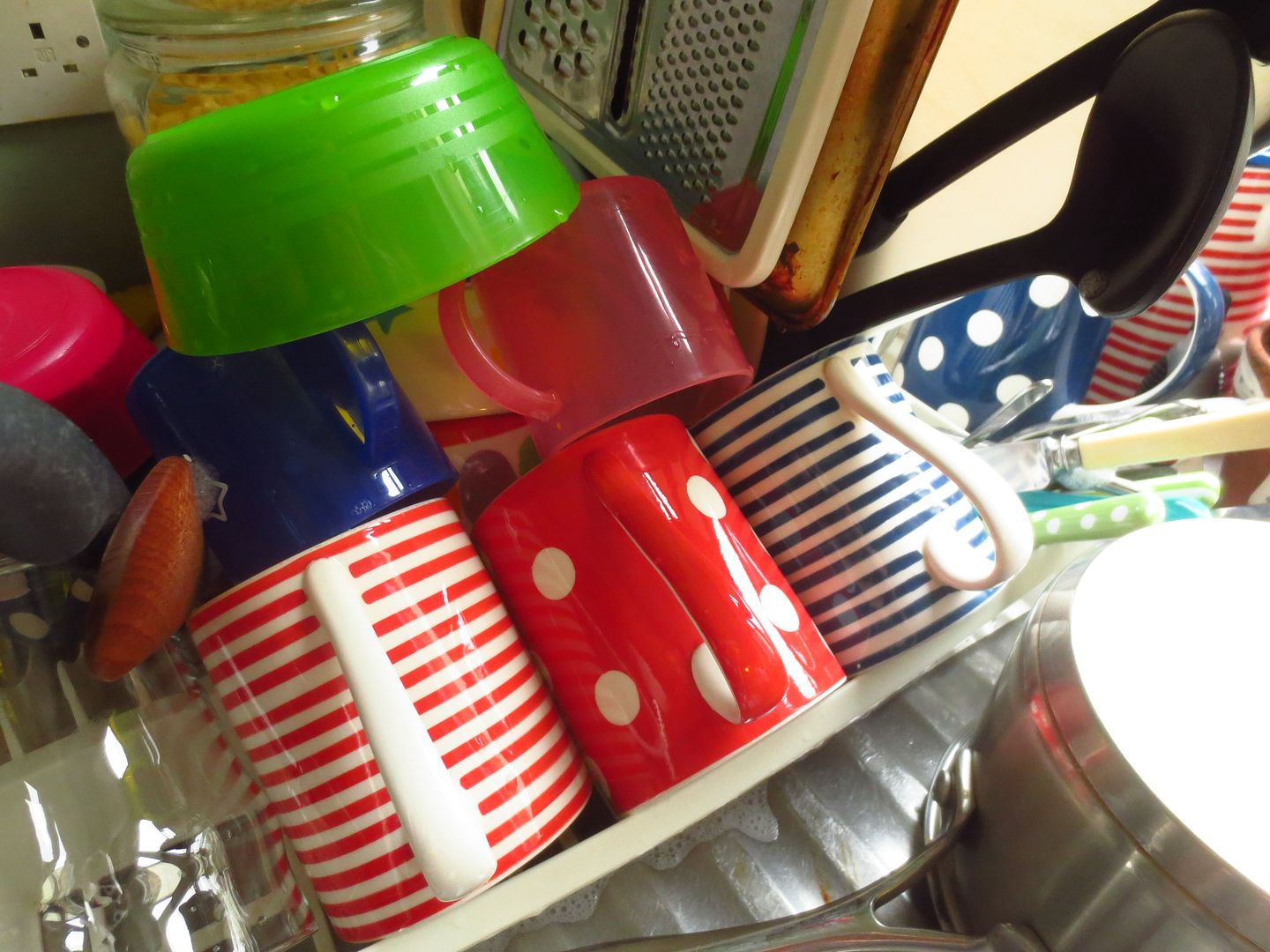 Washing up. I spend far too much of my time washing up! I like it when everything is clean and I make sure I stick to my routine if when I do it otherwise it gets out of hand but yes, I spend too much of my day doing this task. Pretty cups though ;-) (Boring fact: I can only fit 4 cups or glasses into my dish rack so if I have guests and we use more, it totally throws my washing up schedule out and I have to try and balance them precariously which I really don't like doing.)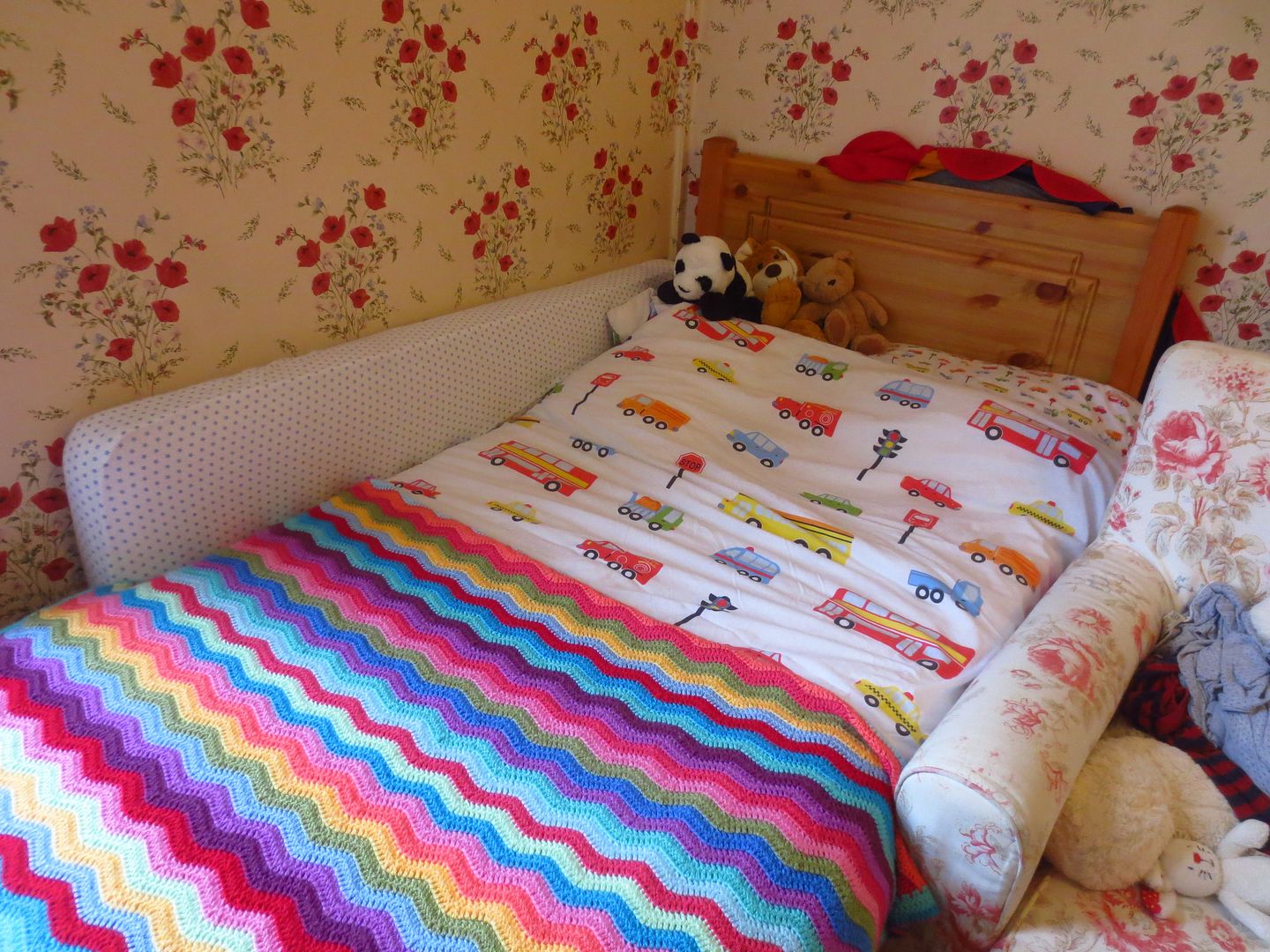 Between me and my friends we have a phrase "proper mum moment". It doesn't mean that "by doing this I am a proper mum and anybody who does not do this is not a proper mum", it means that doing something makes me feel like I'm a proper mum because I'm doing something that I remember my mum doing for me, and it reminds me that I'm actually a mum, doing mum things, and sort of seeing the significance of what I'm doing from the parent's perspective whereas I previously saw it from the child's perspective.
Anyway, putting clean bedding on the beds and making it all cosy with a blanket and favourite teddies is a "proper mum moment" for me, and I like that a lot. (I fold this blanket in half so he can get in and out easily from the top end, but it does cover the whole bed.)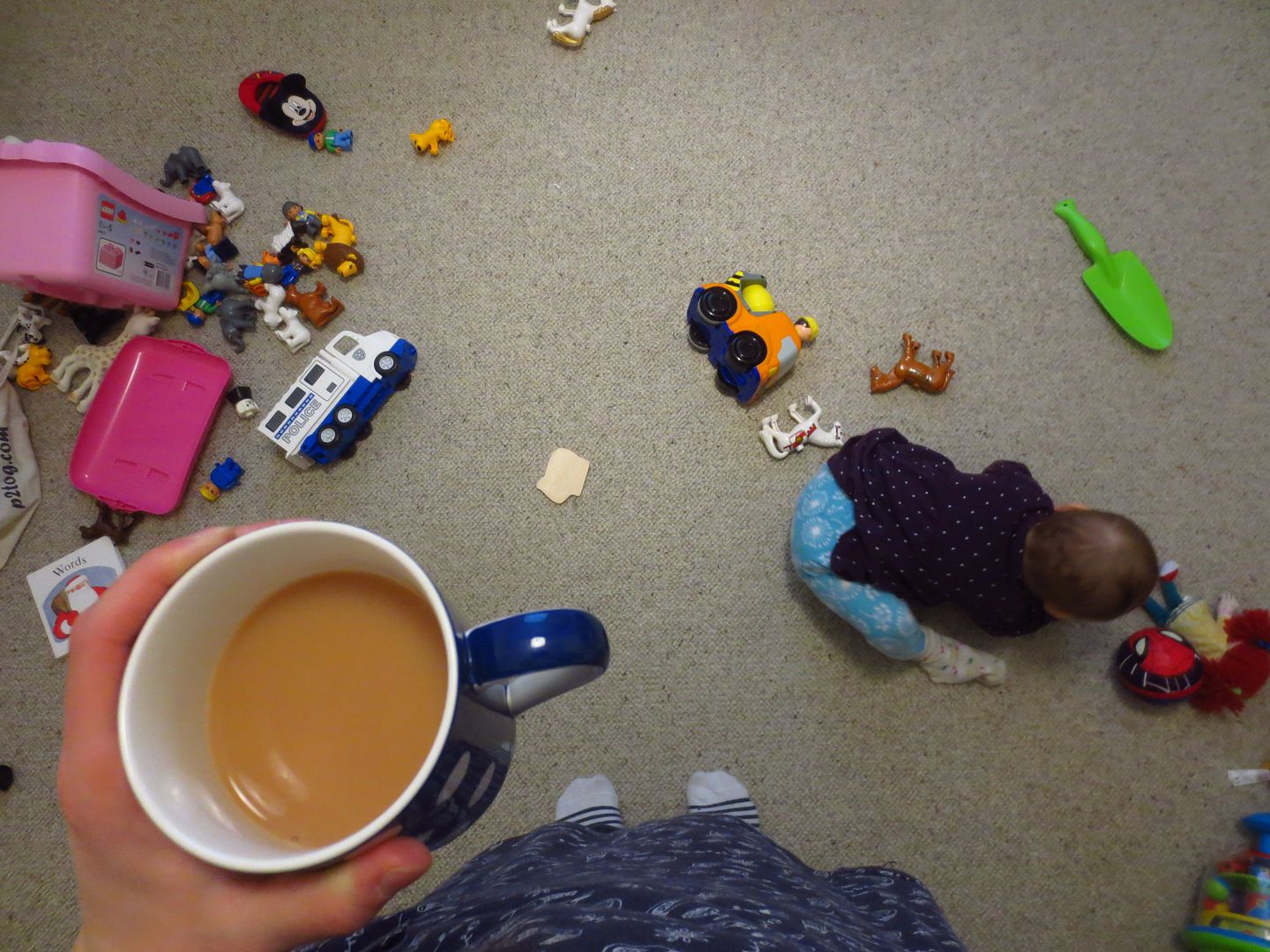 Tea. All the time. I drink approximately 950 cups of tea a day, all decaf because I'm so used to it that when I had a normal tea at breakfast the other day I couldn't handle the caffeine rush it gave me and my heart was racing! Which is a bit of a lightweight thing to admit but there you go. Glad I don't drink coffee, I'd fall apart!
Play doh stuff is permanently out on the table at the moment and just shoved aside when another activity inspires him. He's not much of a drawer or a painter so I'm gently trying to help him with that. I wasn't too bothered until I realised that he couldn't hold a pen properly! I also think he doesn't know what to do with a blank page, so I drew a small circle for him and said to turn it in to something else. Maybe it could be an eye? So it became a fish and he added some fins and a tail after I prompted. That felt good, being able to make it a bit more accessible for him.
Measuring for storage boxes. At the moment, I have far too many "everythings" and not enough places for them all to be in. I'm launching a combined attack of donating lots of things to charity shops, and trying to sort out better storage for everything else.
Lunch time! Hurrah, I always like lunchtime. This apple was a perfect heart shape when sliced in half which pleased me.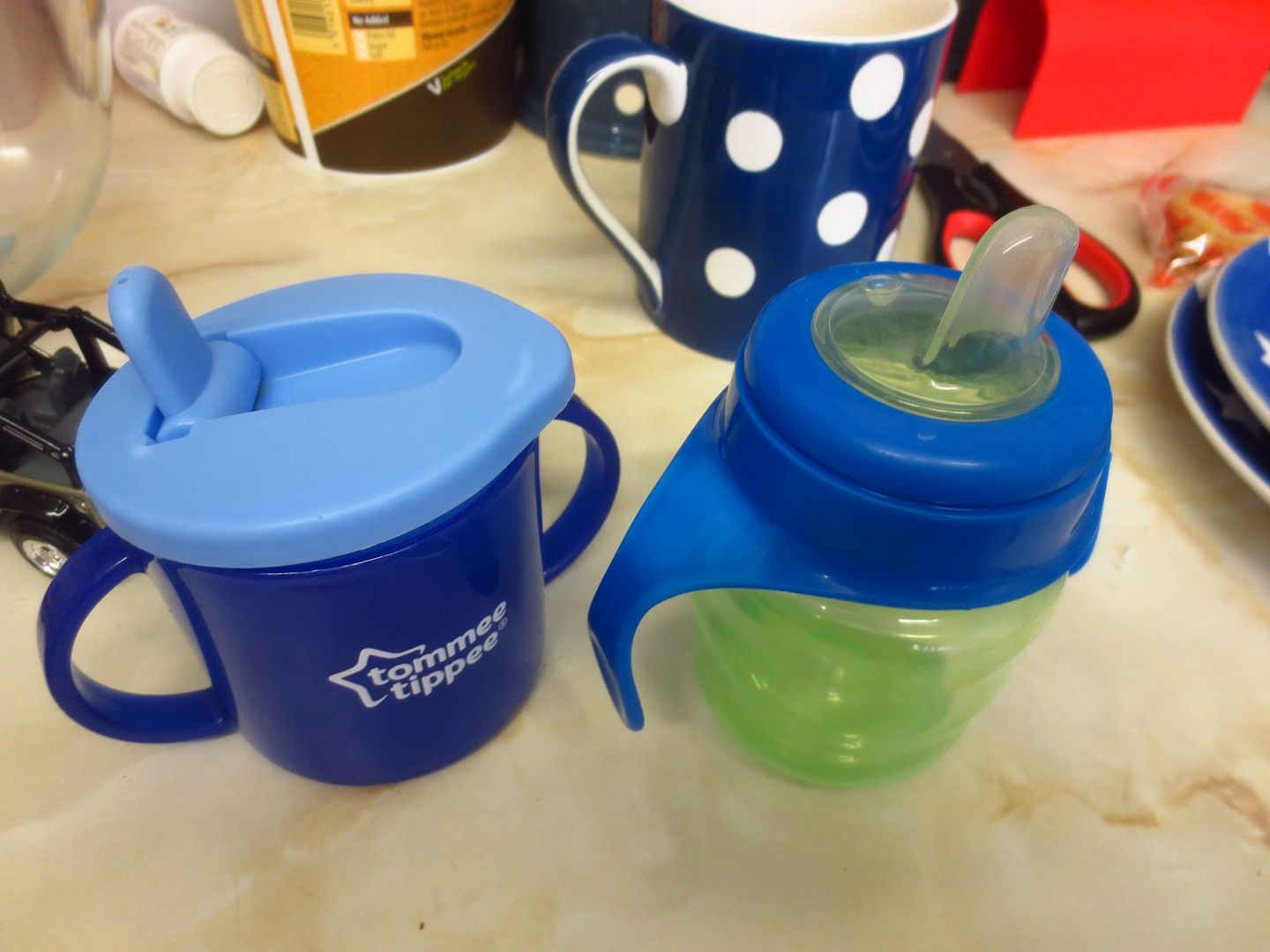 Baby cups are my nemesis. Why are there so many pieces? Why are they so hard to clean? Why are they so flinging flanging hard to open? I've had to downgrade TTG from the Avent cup on the right to the Tommee Tippee cup on the left because the sneaky thing figured out that if she chews on it at the top she can pop the seal and tip the water out in one big gush. But the Tommee Tippee cup has a habit of bursting open anyway when she chucks it on the floor (they seem to be hard to open only when you want to control the contents). So I can't win. Roll on the day when they can both be trusted with open cups or something. I've tried Tommee Tippee valve cups too by the way but I don't like the valve system they have because of all the hundreds of thousands of pieces (ok 4).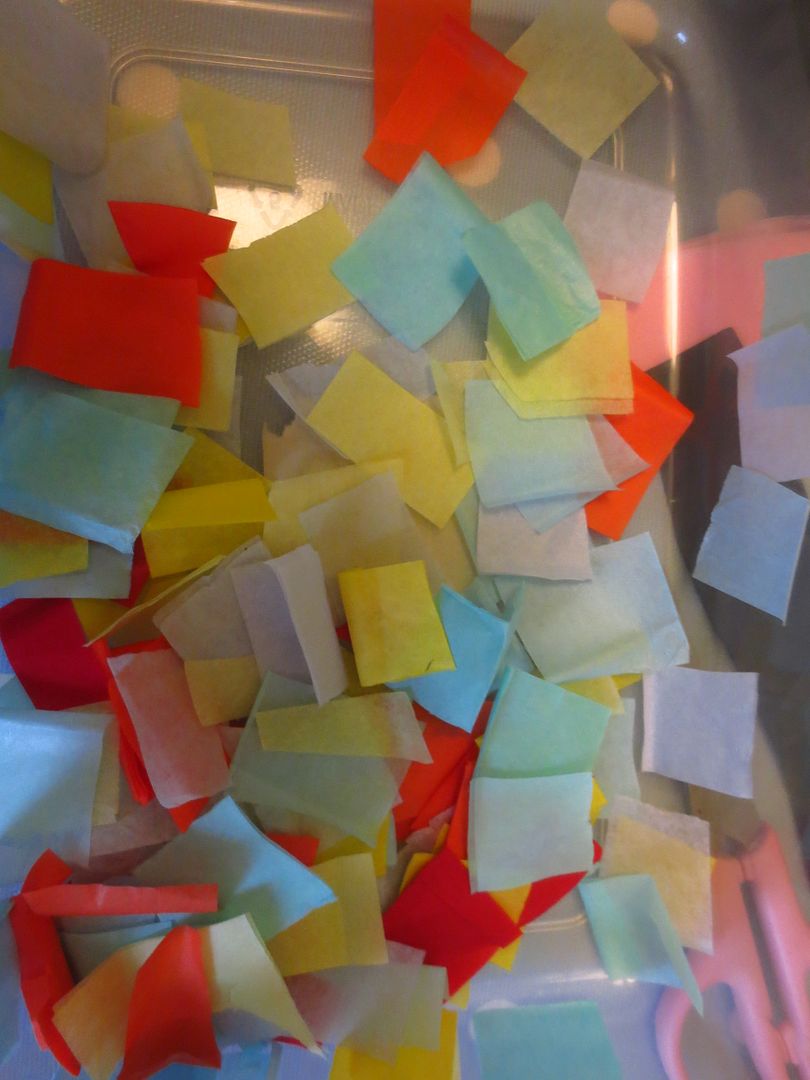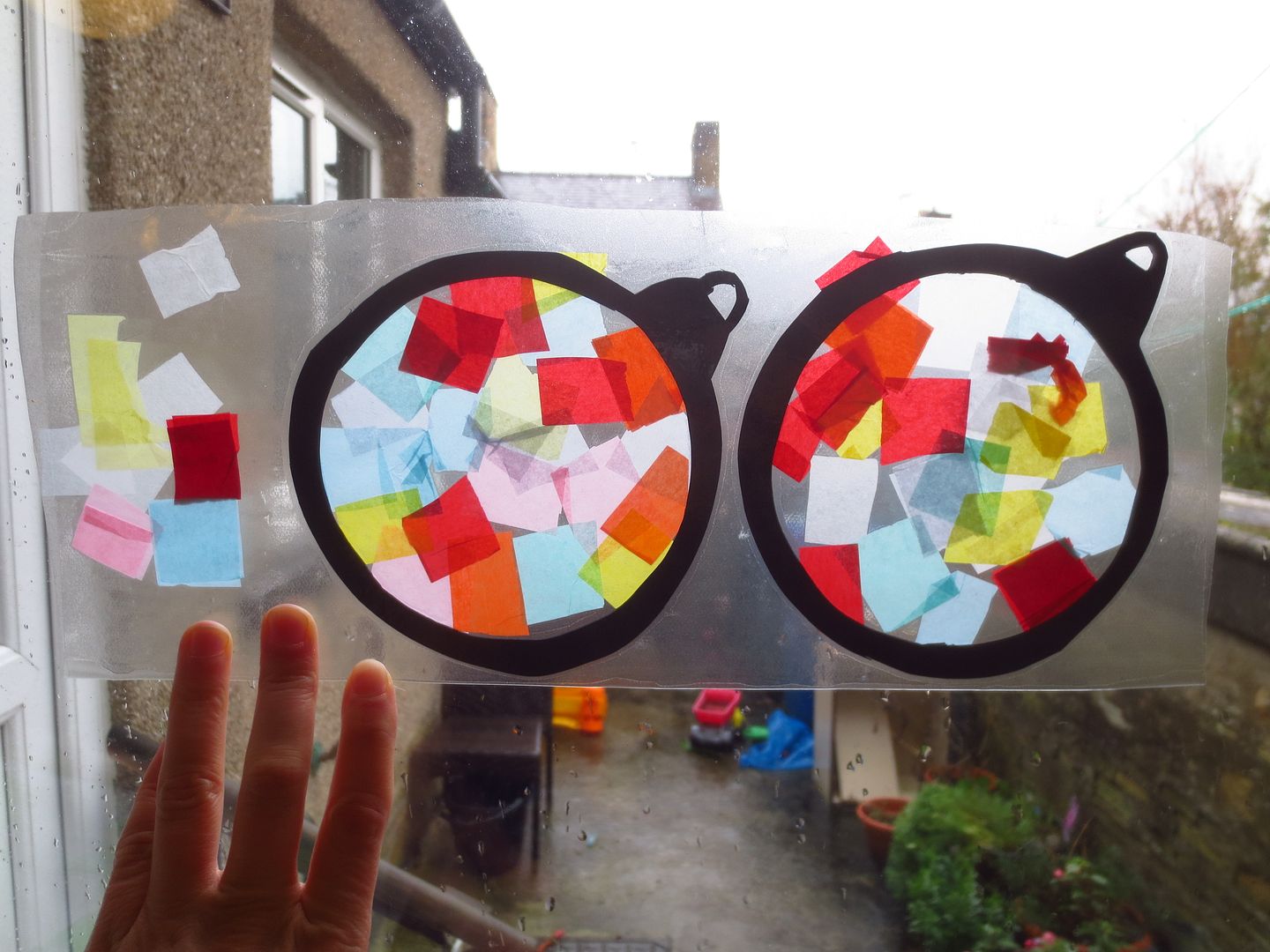 TTB also isn't hugely interested in crafting, I don't think he sees the point. He was asking me what it was and I said that it's when we make things because it's fun to make things. He very earnestly told me that he does lots of crafting with his duplo and his playdoh, which made me melt a little bit. Bless him. This was a super easy craft to do and I'm really pleased. I used black card and a scalpel to cut the outline shapes of the baubles, then stuck them to stick backed plastic. Then he filled them in with snipped up bits of tissue paper. I stuck more sticky backed plastic over the top and then cut them out. Easy peasy "stained glass window" effect bauble thingies. I have plans for some more in different shapes to adorn our windows for Christmas.
What've you done this week?
x