Way back in September, I started making 4-round granny squares (using this pattern) with the Attic24 "Cottage" colour pack. I was really taken with the colours and thought I'd make a blanket for my mum from them (although minus the Khaki as I didn't like it and my LYS didn't have it in stock anyway.) I worked hard on them for ages and amassed quite a good stack of squares.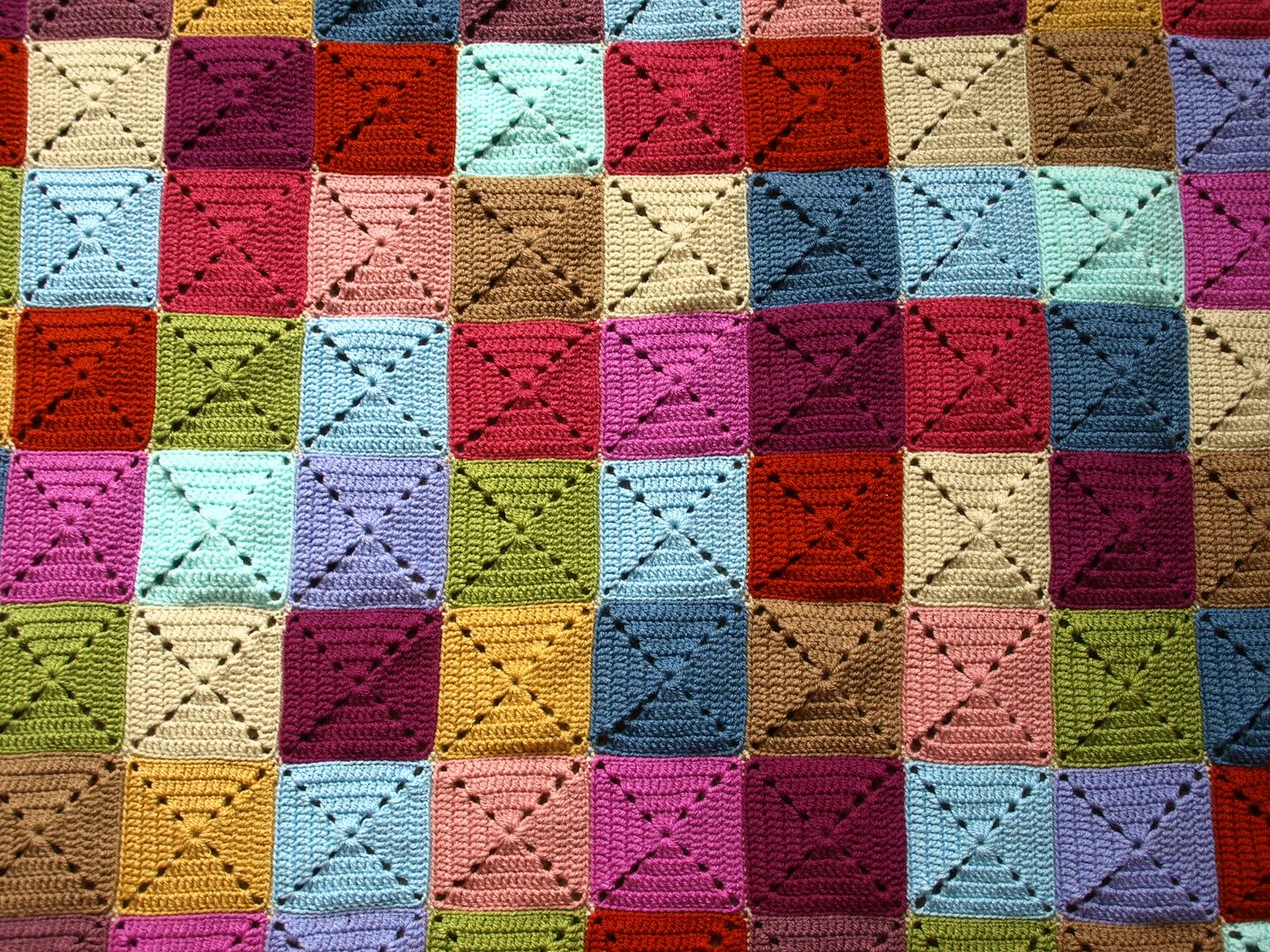 Production halted as the lounge work became more urgent (yay for having a lounge now!) and then the more I mentioned the blanket in passing to my mum I realised that she didn't really like the colour scheme. She didn't know that it was for her at this point so she was just honest about it! I stopped working on it completely then, and I didn't really know what to do with the squares. I hadn't made enough for a single bed and I didn't really feel motivated to make any more. Then one night about two weeks ago it hit me … there's enough for a toddler size bed! And there's a little girl I know well who I wanted to make a blanket for. And it's her birthday soon and I have all these squares … after a frustrating evening of trying to arrange them how I wanted them and then a happy day and evening joining them together I was really rather pleased with it.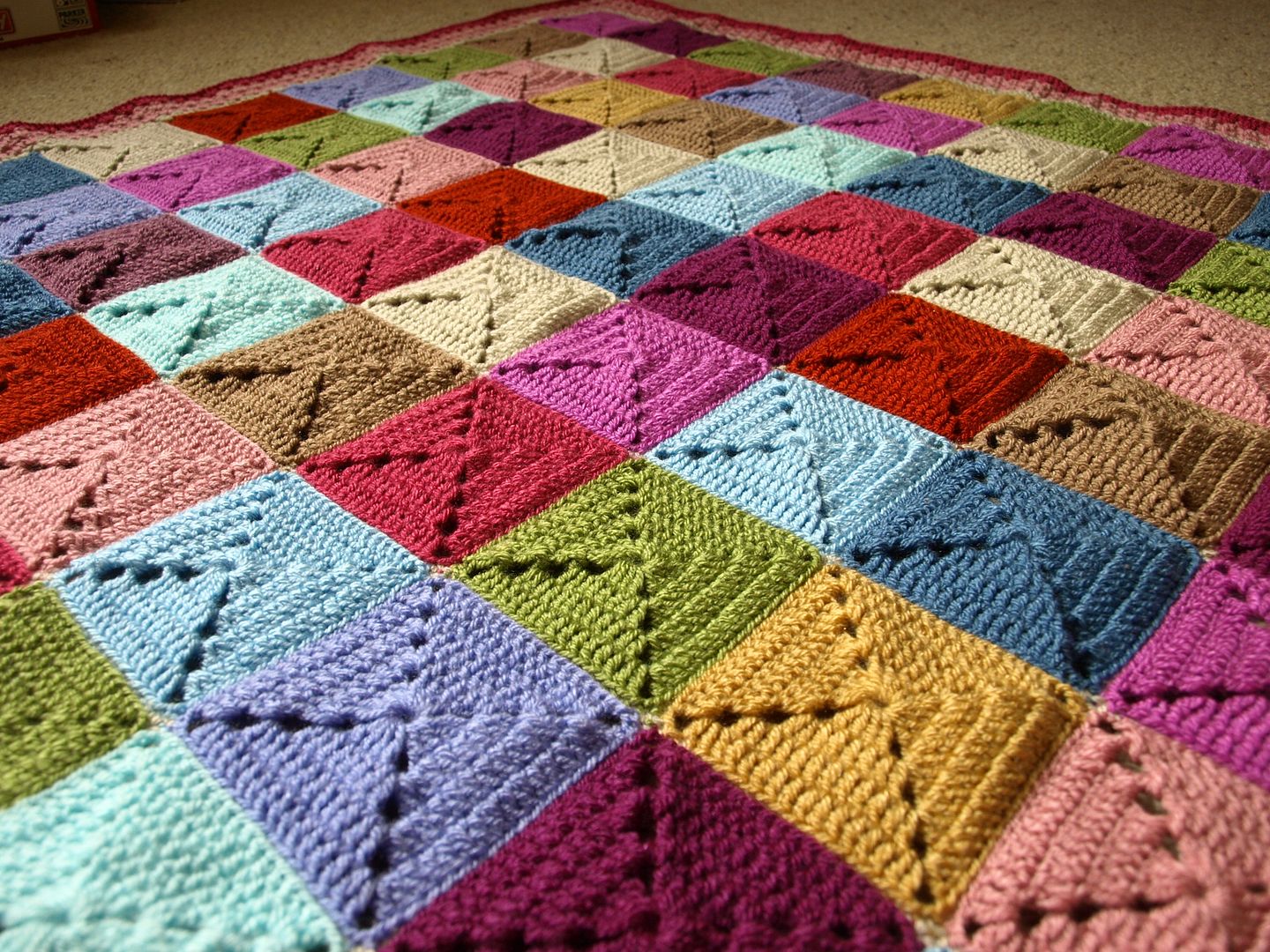 During that frustrating evening (which came at the end of a long and frustrating day) I hadn't been feeling the love for the colours and got fed up that I couldn't make it look how I wanted it in my head. When I looked at it again the next day, I realised I'd just been taking my frustration out on the blanket and I was just being silly.
I joined the squares using "parchment" – all of the yarn is Stylecraft Special dk which I'm sure most of you recognise but I'll say it just in case. I wrote a bit about how I join squares here if you wanted to see that. I like the look of the joined squares and people always say that it would look good on the front as well. I just prefer it to be on the back! I also like to do one round of htr (UK) stitches around the edge of the blanket in that same colour so that the squares are fully outlined. When I get to the corners of the joined squares, I do 2htr in the last corner of one square, chain 1, and then 2htr in the first corner of the next square. So far this has made for a relatively even and non-puckered finish.
Can you see what I mean? Oh good ;-) For the rest of the border I did two rounds of UK Treble clusters in "Pale Rose" and one in "Raspberry". Instead of working them out of the spaces like a granny stripe I worked them out of every third stitch and am really pleased with the effect.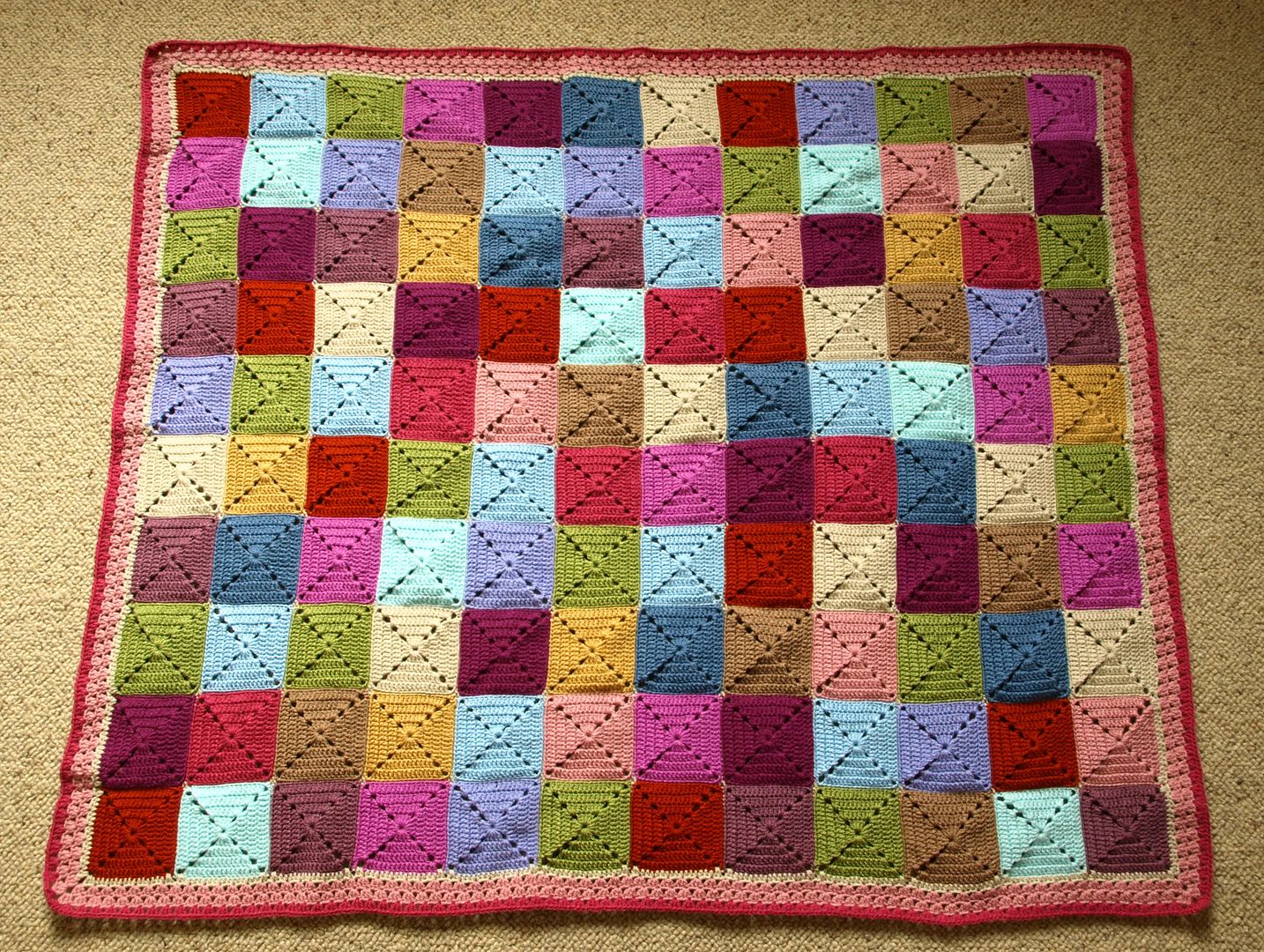 And here's the finished blanket. I am so very pleased with it, not just for how it looks but because it's going to a good home, to the daughter of someone who has been so kind and supportive of me and has also looked after TTB on at least three occasions while I've been for hospital visits etc. It could do with a bit of a gentle steam block but I'm not really able to do that now, partly because I am too pregnant to be crawling around on the floor pinning things, and partly because my friend also has my blocking boards! But she said she's happy to do the blocking so that's ok ;-)
I used less than one ball of each colour, and a 4mm hook to make this blanket. It's approximately 102 x 117cm although after blocking might be a bit bigger. A toddler bed is 70 x 140cm so it will fit over the duvet but not come over the pillows, and drape nicely over the sides of the bed.