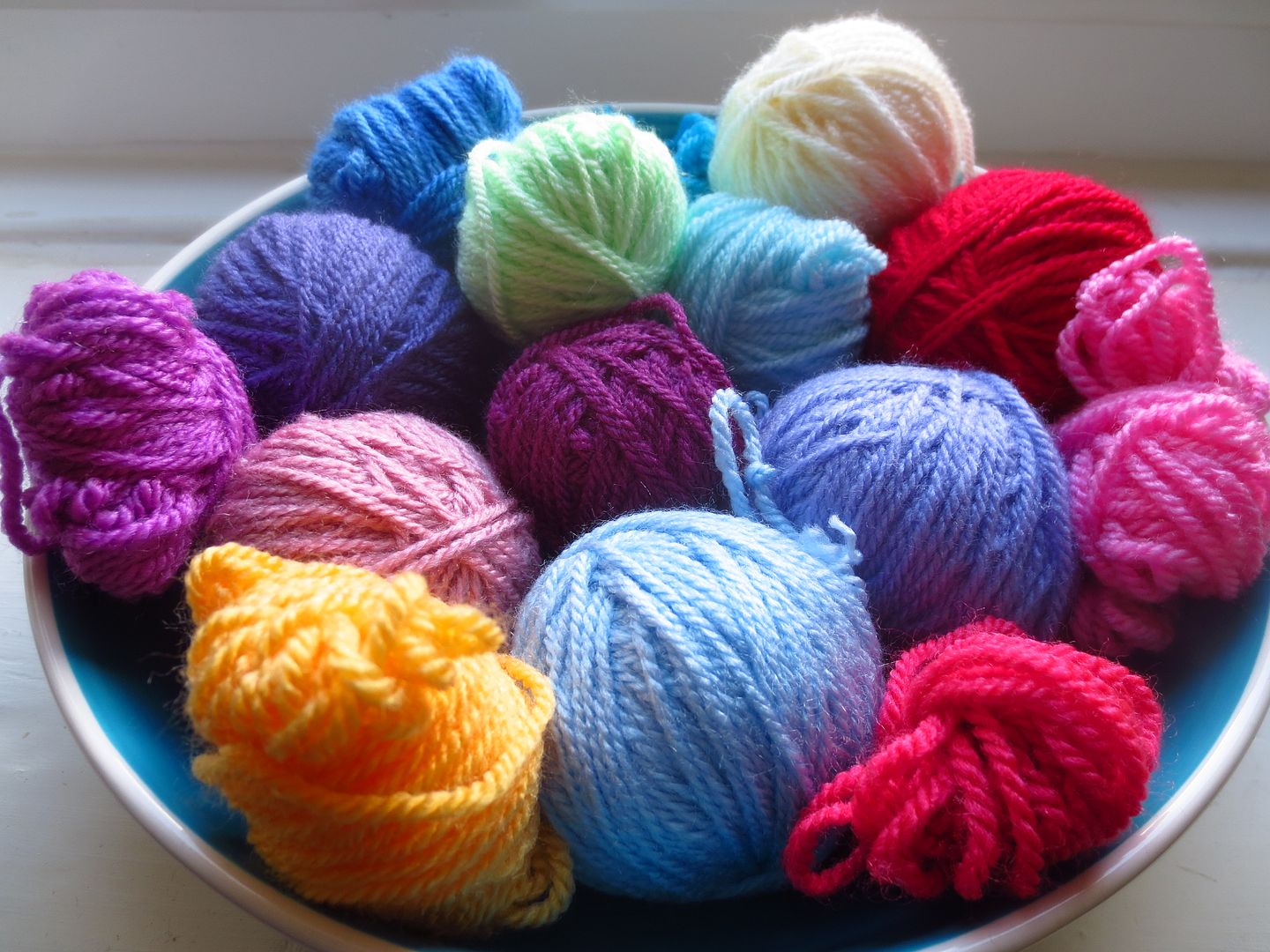 When I emptied my drawer of Stylecraft yarn the other day, I found that I had a kind of dense, spaghetti like layer of yarn at the bottom. Stylecraft balls of yarn tend to go a bit loose and floppy as you get about 3/4 of the way through them and they do turn into spaghetti when you shove them into a drawer!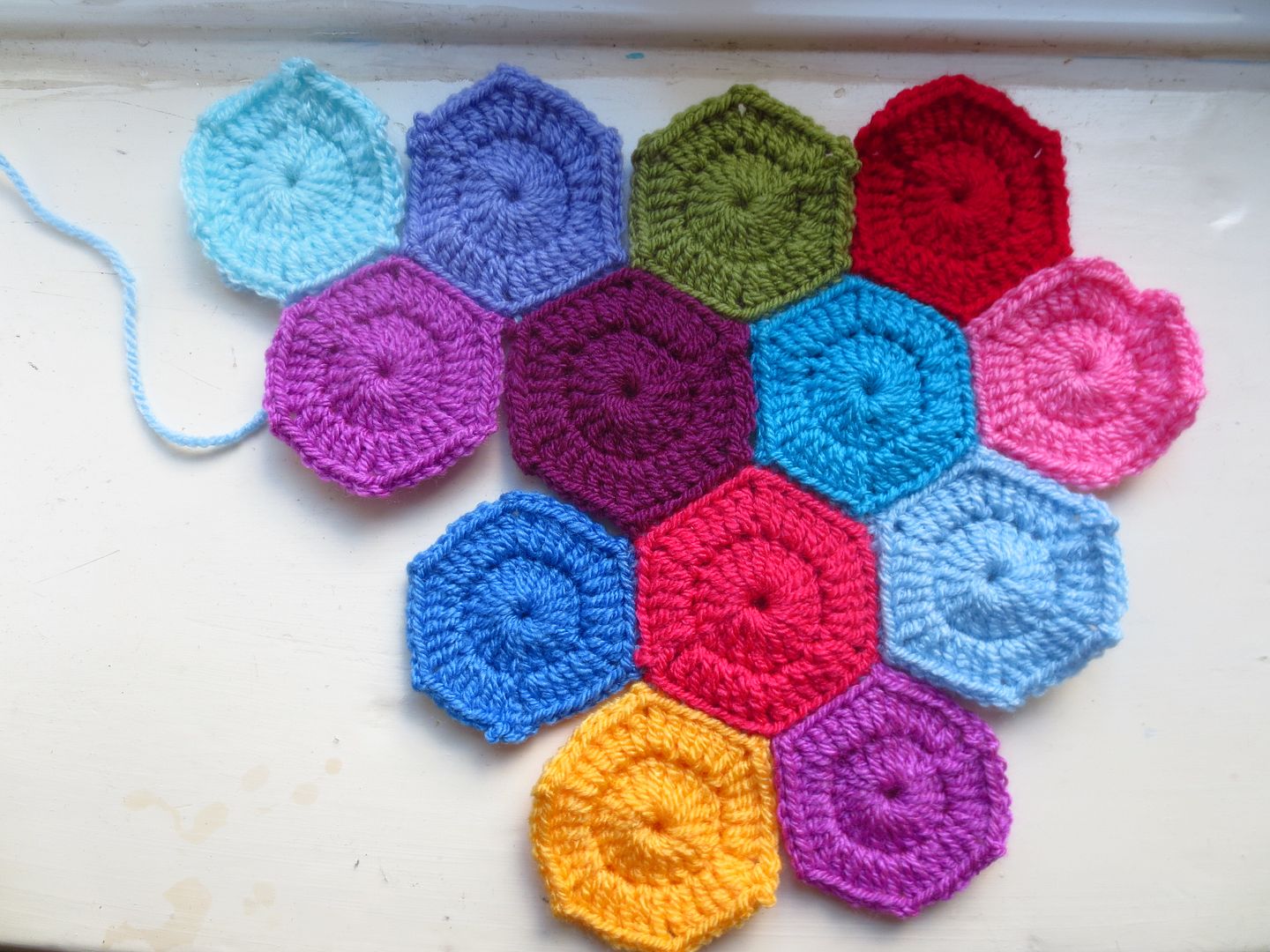 After untangling the yarn-spaghetti mess, I wound them into little balls (just by hand, I don't have a winder) and thought I would have another try at this pattern that I have had in my head for a while. I came up with it about a year ago but I couldn't make it work (colour wise) the way I wanted to. I wanted to make a polka dot blanket and thought that hexagons would provide the best vehicle for that because they are staggered. I had planned to do the centres all in white and then the outers all in red and make a dotty baby blanket. Or the centres all in bright colours and the outers in white or cream. That kind of thing.
Try as I might though, it just didn't look right, despite the pattern being really nice and simple. I think it was changing the colour after such a tight first round, it didn't look neat and it left a bit of a hole. I'm sure someone more proficient than me wouldn't have a problem but I just couldn't get it right.
That and I made a pale pink and white one and my friend said it looked like a nipple. >:-(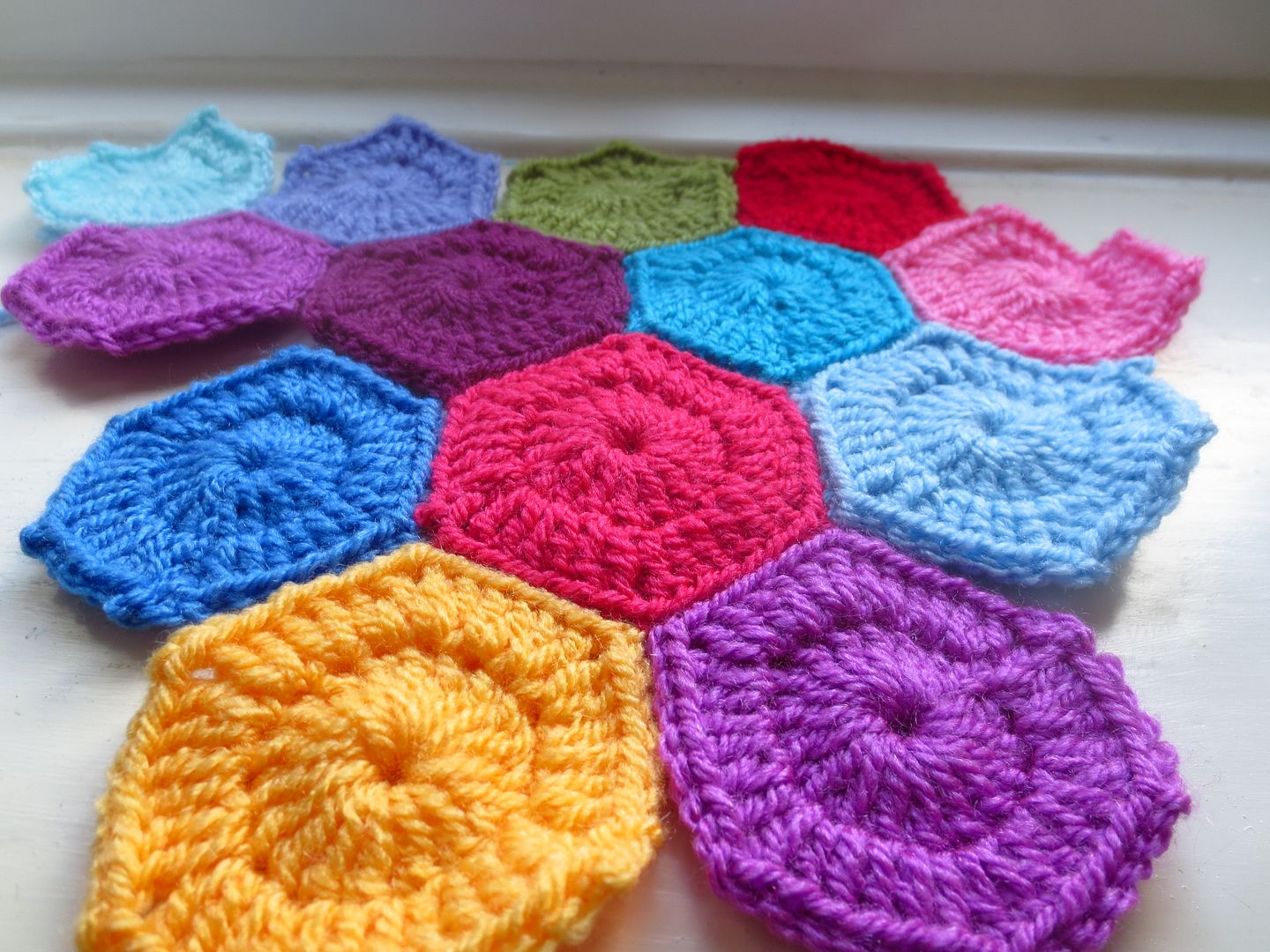 They're really very simple to make and I don't think you'll need a big photo-heavy post in order to make them. If you're not already familiar with working in the round, making UK TR stitches and the basic concept of granny squares you may want to have a look at some of my other tutorials for the pictures and explanations of that.  (Elmer Squares for example)
To make tiny crocheted hexagons:
Chain 4 and join to make a ring. (By the way, this works with my tension. If you're struggling to fit all the following stitches in, try ch5)
Work 18 UK trebles into the ring. Your first stitch will be a ch3 as usual, so it's ch3 and then make 17 UK trebles into the ring.
When you've made the last treble, slip stitch into the 3rd chain of that first stitch.
The next round is all increases in the tops of the stitches of the first round. Again, chain 3 to start (a chain 3 is equivalent in height to a treble.) and then make 1TR next to it, in the same stitch, to make the increase.
Each 3 increases are separated by ch2. This makes each side of the hexagon.
I hope that makes sense!
Basically your first round has 18 stitches. Then you do increases separated by ch2 on the next round to make the 6 sides.
Joining them is a bit interesting as it is not in the simple lines that squares follow. I thought you could work around a central one and join 6 to it like petals, but I think you'd end up with a lot of tail ends to sew in. As you can see above I tried that with the pomegranate hexagon (just to say again, this is leftovers of Stylecraft Special dk and I'm just going to talk about the colours by name so you can see what I mean. The pomegranate one is the pink one in the middle of the 2nd row.) I joined 6 hexagons to the pomegranate one and then went off on a voyage around the cloud blue, turquoise, fondant etc. This is all very well but it's left a gap between the turquoise and the plum which I'll need to stitch individually. I wonder if working in a zig zag fashion in long rows may work? I will let you know!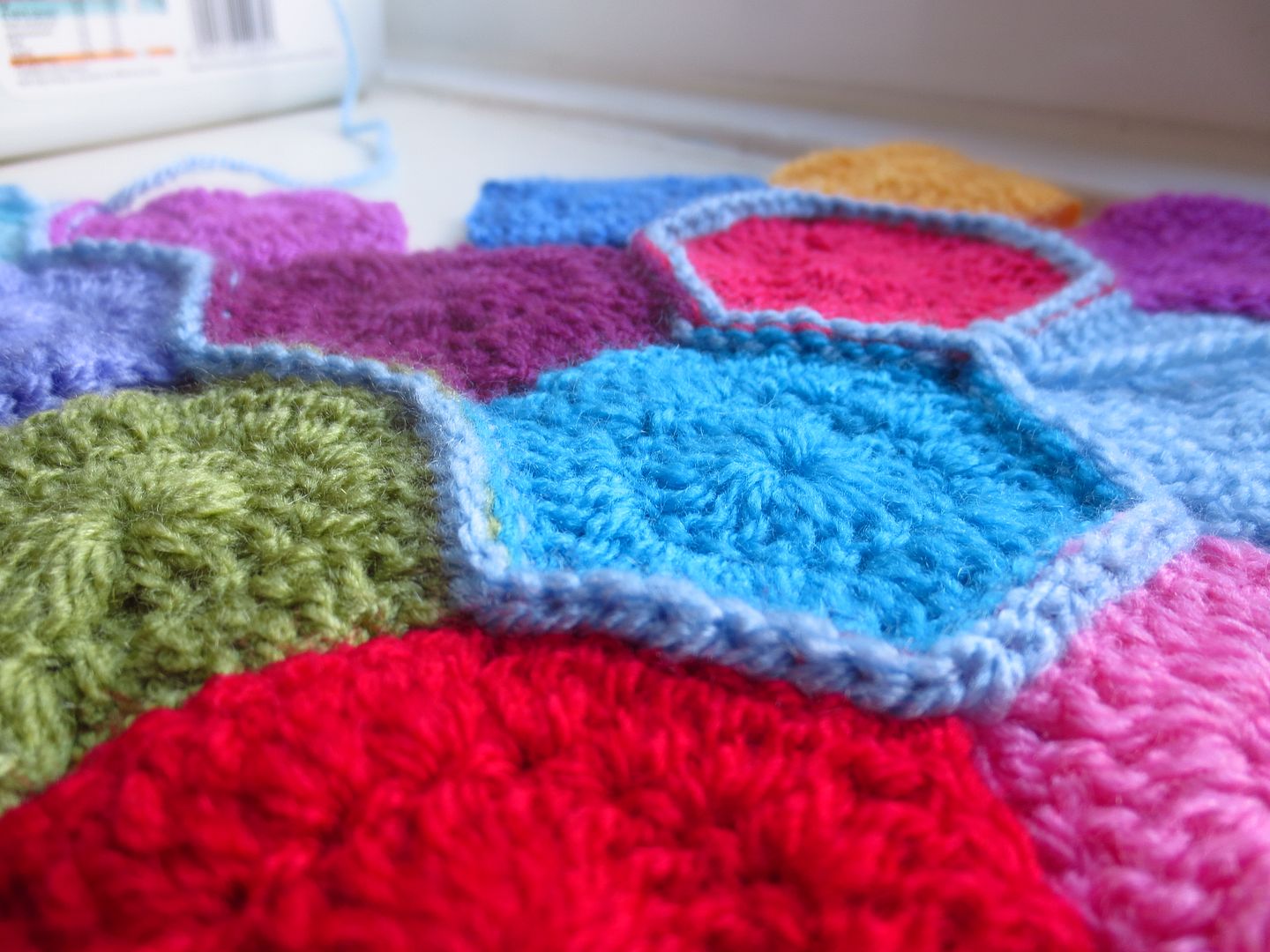 I do like the raised look the joining gives, and how dense the fabric of it is. I join using the back loops only, as per this post.
Oh and it's a 4mm hook. I'm often asked what size hook I use, and it's 99% of the time a 4mm hook because 99% of the time I work with dk weight yarns.
The yarn you use should have a suggested hook (and knitting needle) size on the ball band, but a general rule of thumb is 3mm for 4ply, 4mm for dk, 5mm for Aran. (The exceptions to this are Rico and Katia yarns which I find are quite light and need probably a half size smaller than what you'd think, so 3.5mm for what they label as a dk weight yarn.)