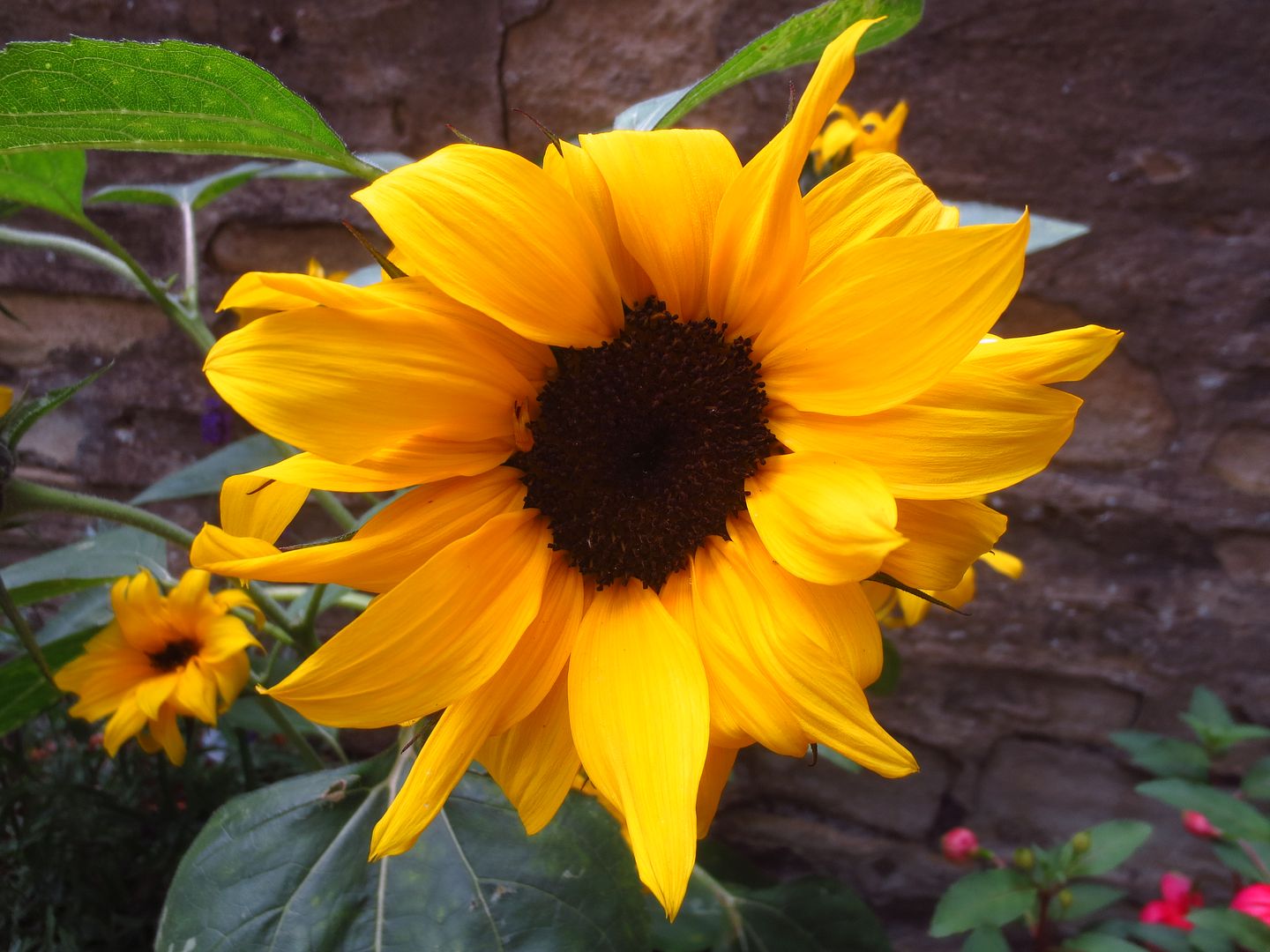 Do you ever get that feeling that time is moving slowly and quickly all at the same time? We don't do a great deal with our days at the moment, spending most of it at home, just pottering about and enjoying each other's company. All three of us (not including Andy as he's at work all day) are happy just being right now and I see no need to force activities and days out on ourselves when everyone seems happy. Time does seem to pass very quickly though, despite being full of simple, slow things. It's mid- August already and it feels like this year is going past very quickly. Already there's a slight sniff of Autumn approaching … the air coming through the bathroom window in the morning is cool rather than dry and hot, and I have that sense of foreboding again that I'm coming to associate with the turn of the season and the approach of TTB's September birthday.
We are really enjoying our flower pots in the yard. I was so happy to get them, but I hadn't anticipated the joy that they'd bring to my little boy. He knows the names of all of them and hops up and down with excitement each time a bee or hoverfly visits. One time there was a butterfly and he nearly kerploded with the excitement of that! He loves to deadhead the flowers as well and has a little paint kettle with a handle that he collects them up in and then saves them to put into the compost bin. I really want to grow more things; we're discussing building a raised bed planter to see if we can grow a few vegetables. I think it's important for him, and his sister of course, to know that things grow and to see where food comes from. I think it's amazing, looking at that bright sunflower, that the tiny seeds we planted back in April have turned into big, healthy plants. Amazing that the tiny seed contains all the information to know how to grow. Seeing TTB's delight at the growth of these plants makes me want to hug him so tightly!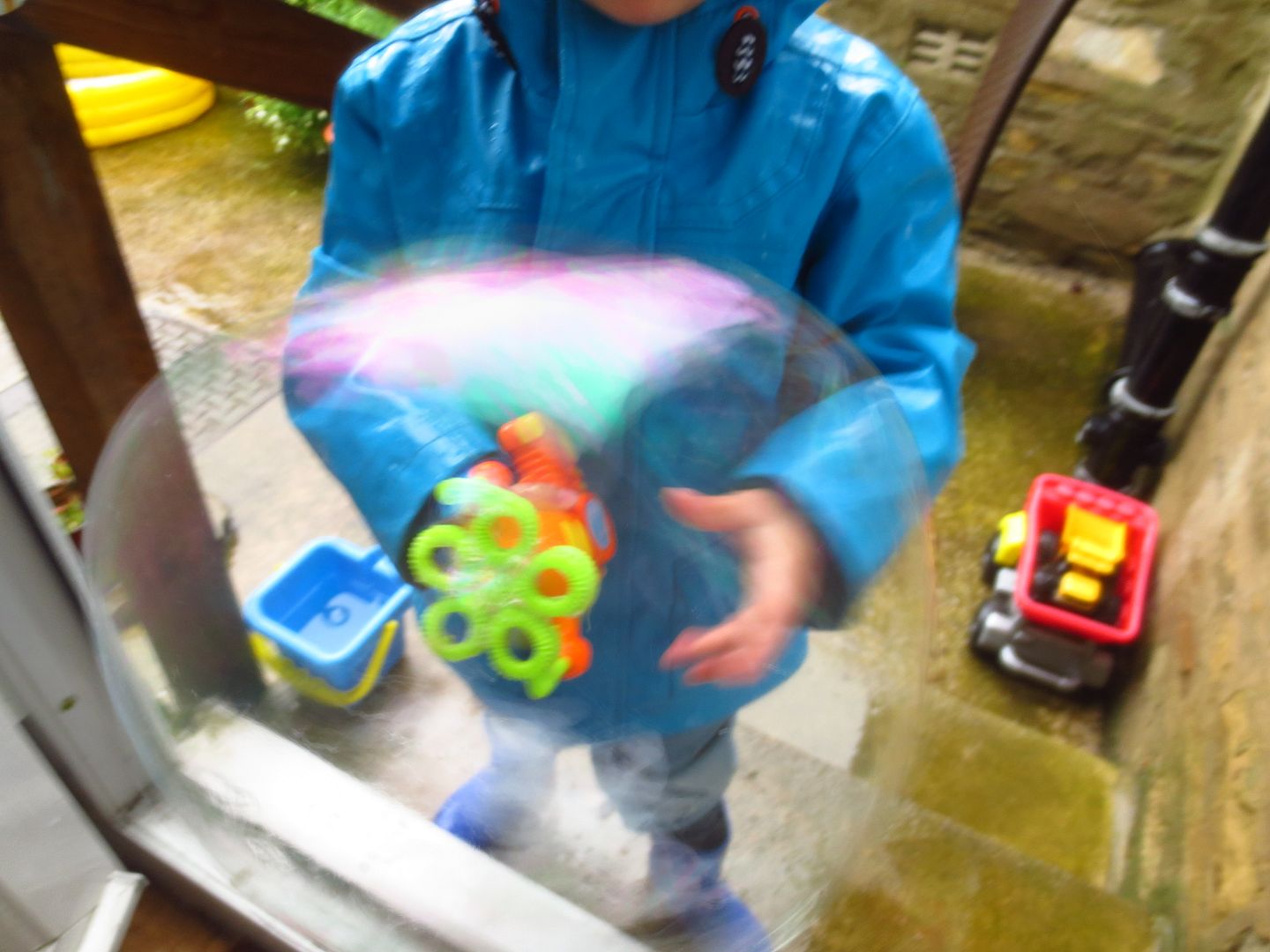 We use the yard rain or shine, really. The other day was raining and he wanted me to come out with him but I couldn't because I had TTG in the sling on my back and had no protection for her from the rain. In the end I stood in the doorway and we made lots of bubbles with the bubble gun I bought a few weeks ago. It's the best thing! It's just a little handheld fan behind a few bubblewand circles (you know what I mean!) that you dip into a little tray, turn on the fan, and voilà, many many bubbles!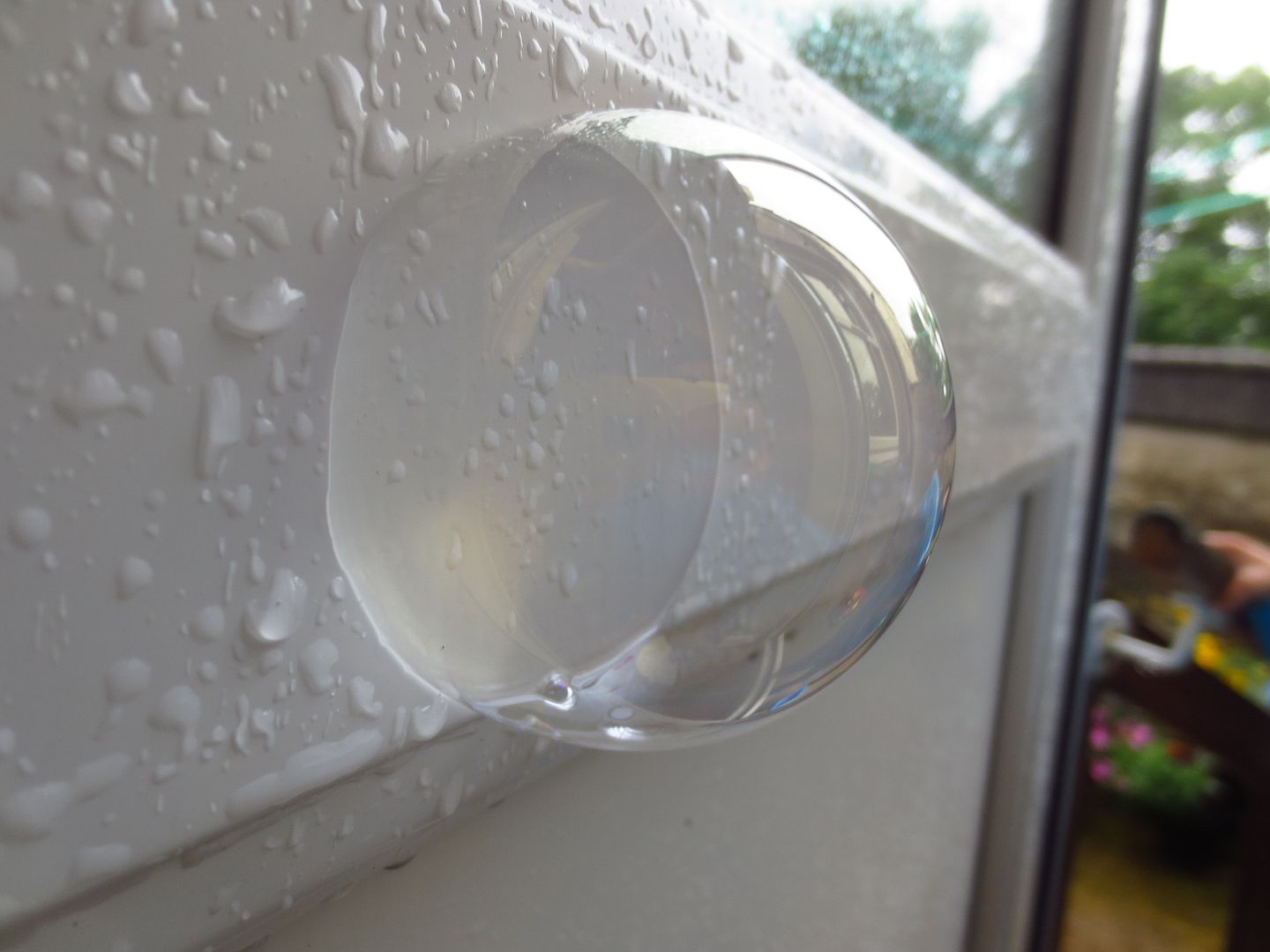 Extra points if you can make them stick to the wet door or make a really big one.
It is sometimes tricky to get him to come back indoors though, so I suggested a hot chocolate. "Oh yes please!" Hot chocolate for two on a rainy day: perfect. We have a new dining table now, and chairs, and it's just WONderful. It's made such a difference to our dining room and our lives really! Our previous table was a round one with one pedestal leg; my mum very kindly leant it to us but it became less practical as time went on as it wasn't big enough and TTB kept knocking things onto the floor because the shape of it meant there was only a small bit of table in front of him. Andy bought a new table and chairs as a surprise while we were away and I LOVE them. And my dotty table cloth! It's really changed the room and it's made me so happy.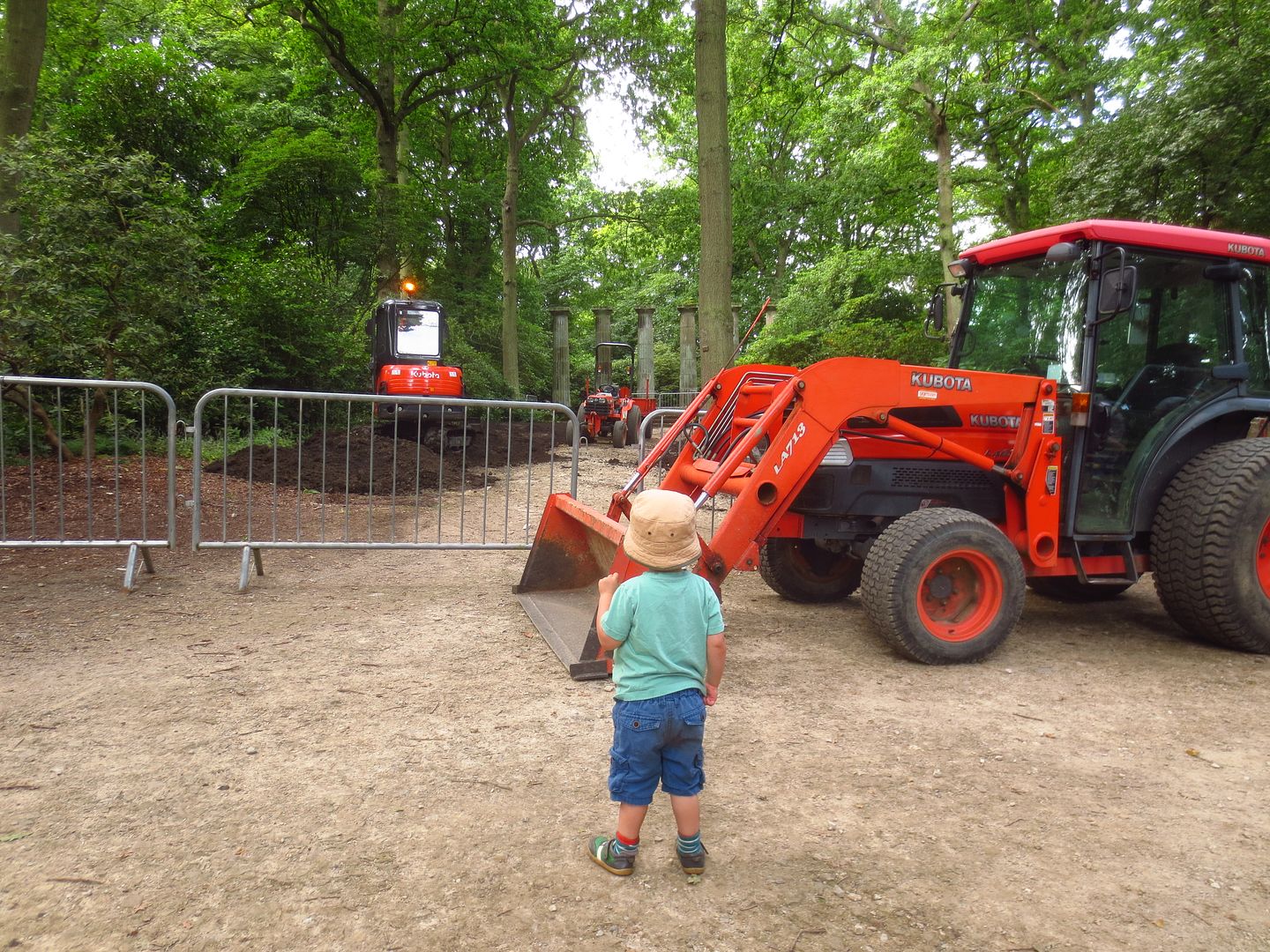 Lastly … we had a really good day out at Harlow Carr last week with my friend and her daughter. It's beautiful place and I want to go there sans children some day so I can look at all the plants and take lots of photos. There's an Alice in Wonderland theme at the moment with lots of activities and things to do but … all TTB wanted to do was watch the gardeners doing the landscaping with heavy machinery! SO much excitement: a mini excavator with caterpillar tracks scooping earth into a trailer, among other things. My knowledge of heavy machinery has come on in leaps and bounds since this boy developed an interest in them. He's too clever for words. He can even tell you about the hydraulic cylinders and hydraulic hoses and whatnot. He was rather disappointed that he wasn't allowed to climb in and drive the ones that were unattended though!