This week has been rather lovely (and I took many more photos to share!). We have spent lots of time each day out in our backyard, pottering around. Wellies and a puddlesuit were needed for the first couple of days but the weather was lovely as the week went on. I've been using my dSLR more this week and I'm chuffed to bits with some of the photos, particularly some I took at the park of TTB and his friend on Thursday. I'm so glad I went on the photography course back in March.
We visit the market almost every day that it's on and I try to buy all our fresh produce from there, and only buy from the supermarkets when I run out, or the market doesn't have what I need that day. Can you see that sneaky hand trying to pinch a lettuce? The men that run the fruit and veg stall are friendly and always say hi to TTB. On this day we were buying sweet potatoes, carrots, swede and white potatoes to make into vegetable and lentil soup …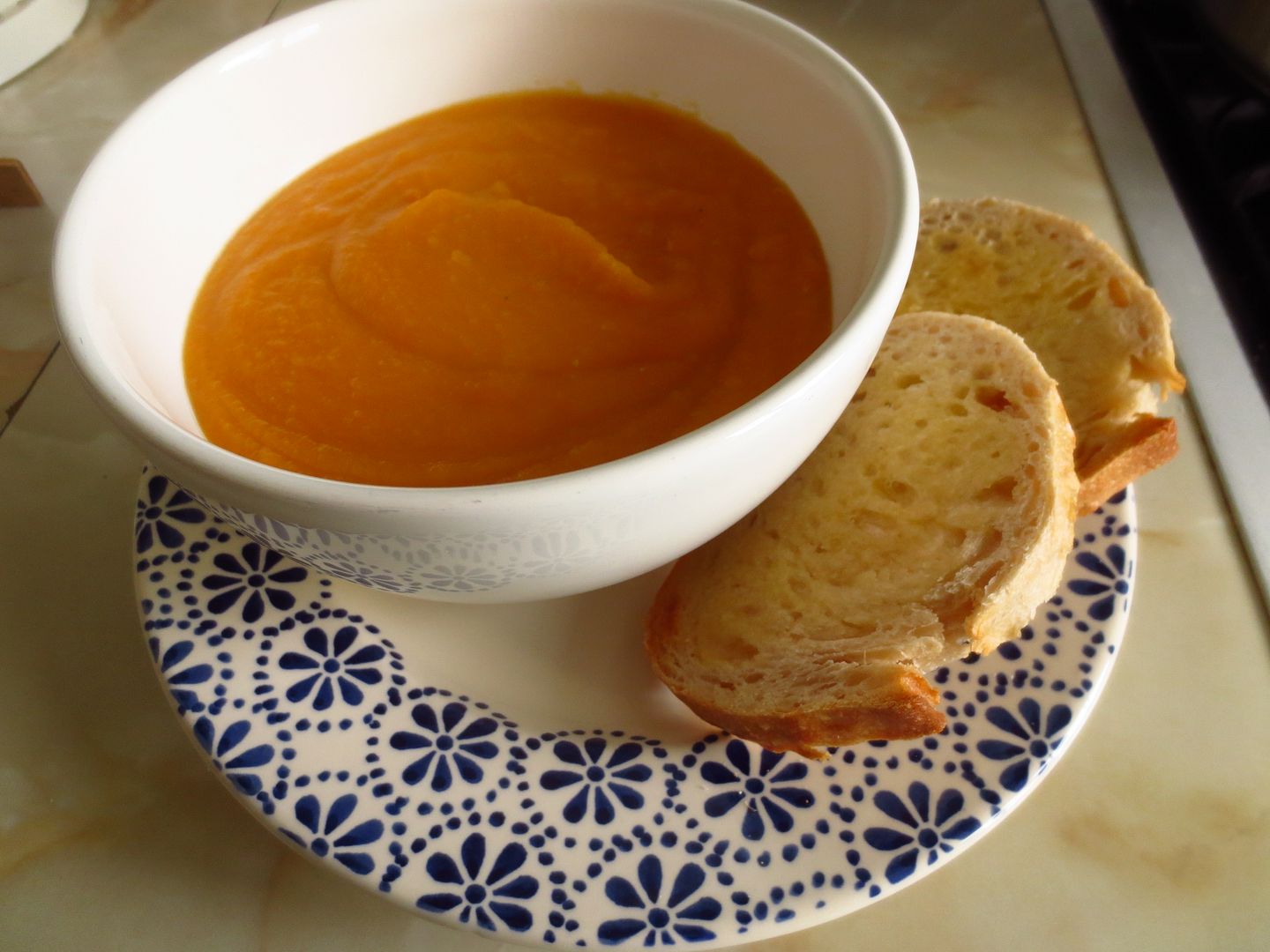 I make a big batch at the start of the week and then have it for lunch each day. I like doing this as I know I've got a tasty no-effort lunch already made and I can just heat it up in a pan while I'm making TTB's lunch (usually scrambled eggs with toast- he likes the same sourdough bread that I do which is good because it means I only have to buy one type of bread, but also bad because he thinks he's entitled to my toast as well. This is not how it works! Baby led weaning had a lot to answer for in this area, he just thinks all my food is his too.)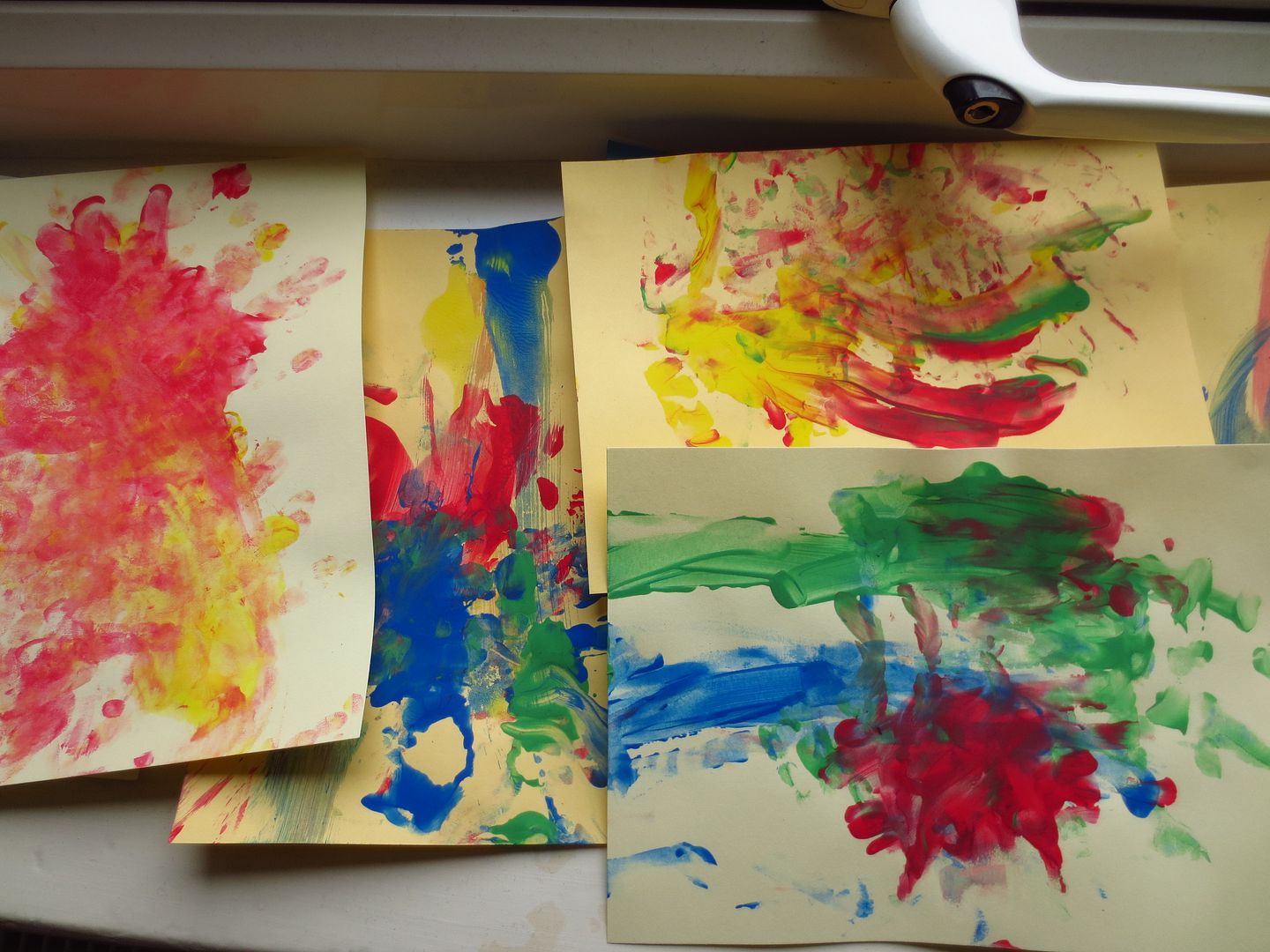 One thing I am really enjoying is doing painting with him. It can be a bit frantic and I have to do a lot of speedy wiping and moving before he can get down afterwards but he really enjoys it. I bought a pack of 4 crayola paint bottles and after trial and error, the easiest way to paint is to squeeze a small blob onto the paper, let him smoosh and spread it around and then give another blob. I did try putting paint on a plastic paint and giving him a brush but it was a bit hazardous – paint travels quite far when flicked from a brush! Finger painting is a lot more manageable. We sent some paintings to his grandparents. I like doing that because it's nice for them and also I don't have to keep ALL of his artwork. In a 15 minute painting frenzy he produces a lot of "work"! I would love to have an easel for him but we don't have the space at all. Perhaps when he is older and not so flappy with the paint we can see about making space for one, but for now it's easier to have him sat at the table with a lot of supervision.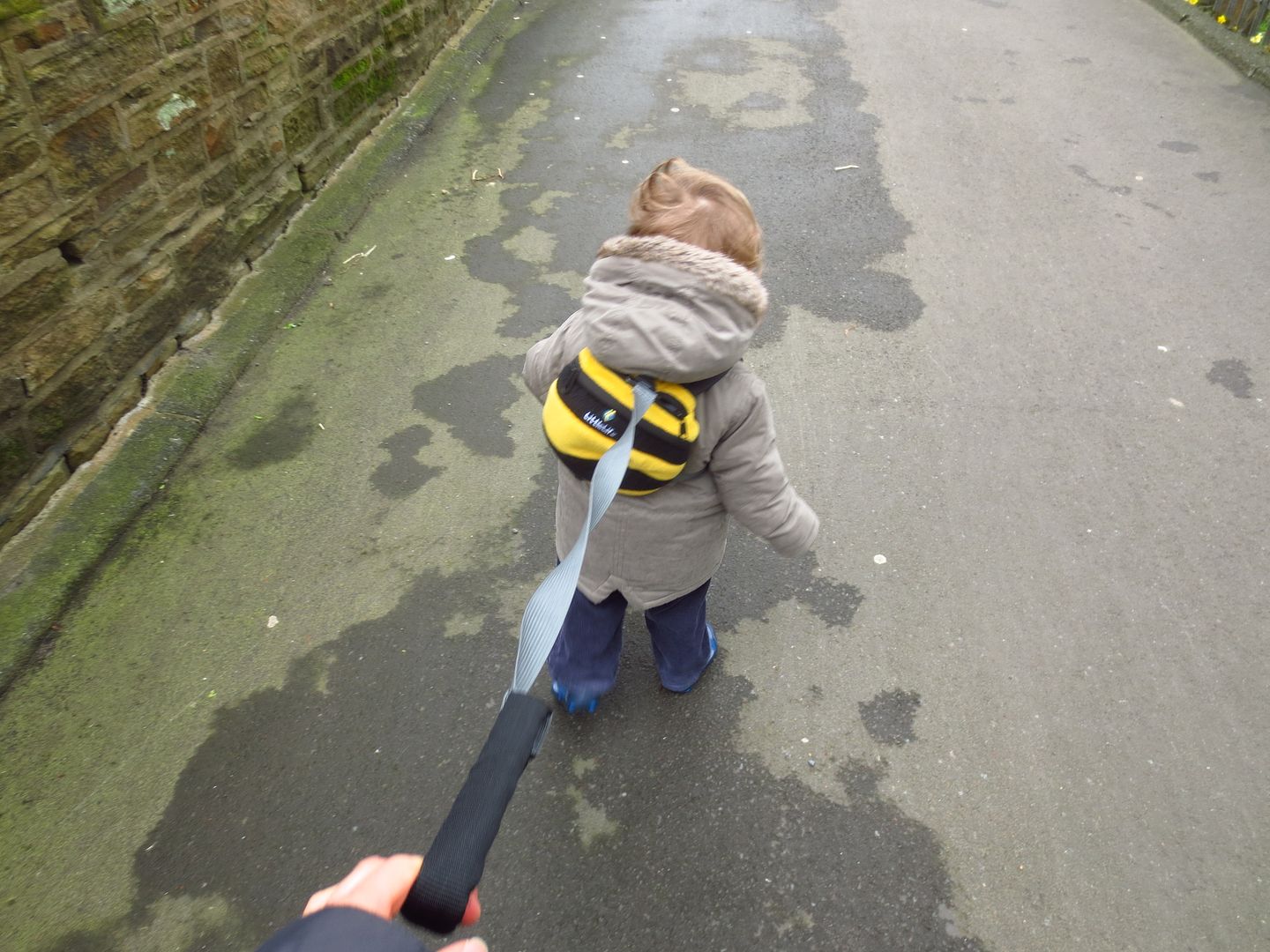 I'm trying to get TTB to do more walking because he needs the exercise and to get used to not being pushed around all the time. It's hard to motivate myself to do it though! It's just easier with him in the pushchair and I have errands to do most days, like food shopping (I shop every couple of days in small amounts as I have to carry everything) and I can't carry bags and manage an unruly toddler who more often than not just wants to be carried. With the lighter days though our compromise seems to be errands in the pushchair in the morning and then walking in the afternoon. It's working quite well.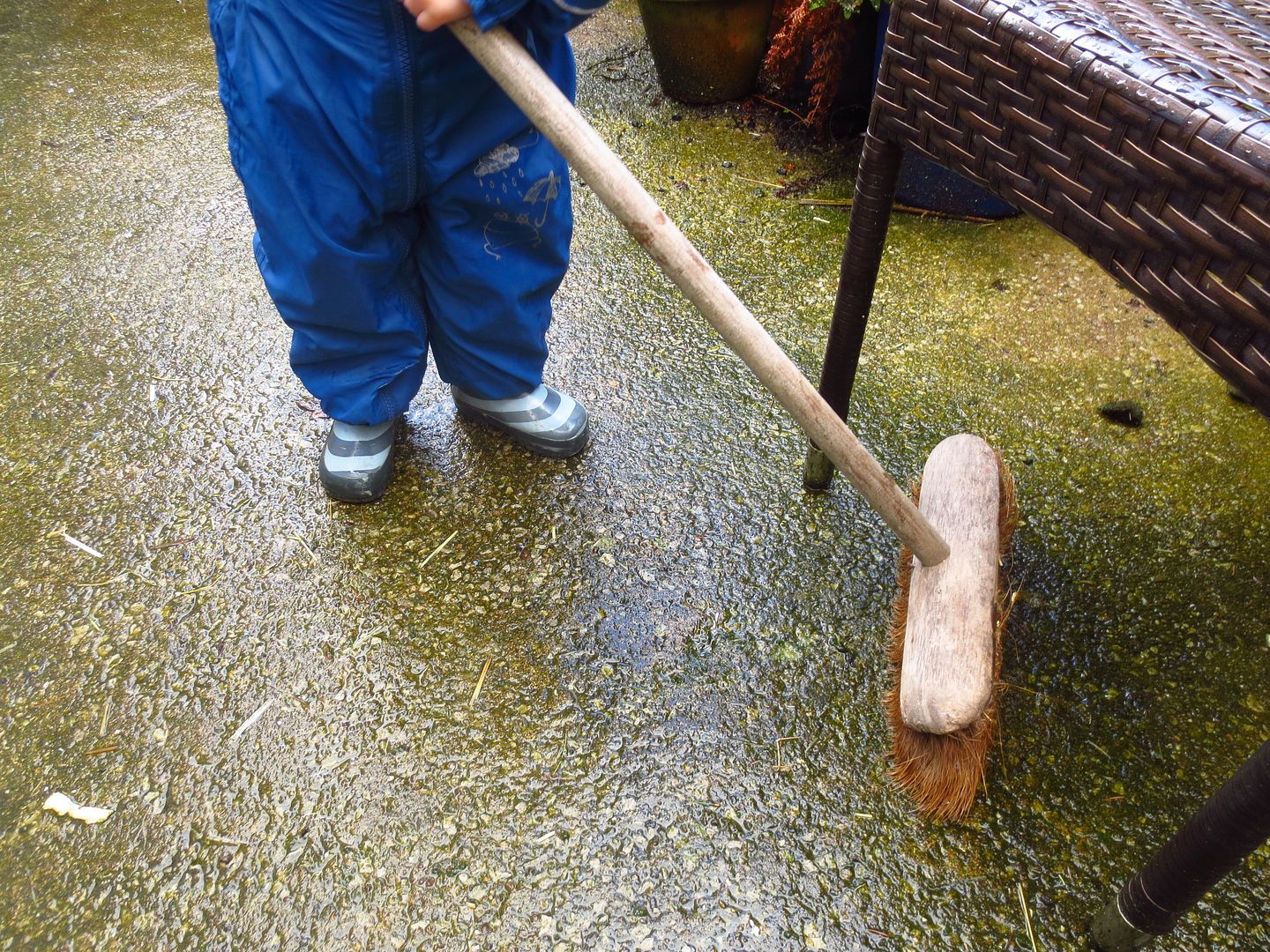 The yard is proving invaluable for wearing him out though. He hasn't bored of it yet and he keeps finding new things to do, like sweeping. I thought about getting him a toddler sized broom but he'd probably just want to use this one anyway.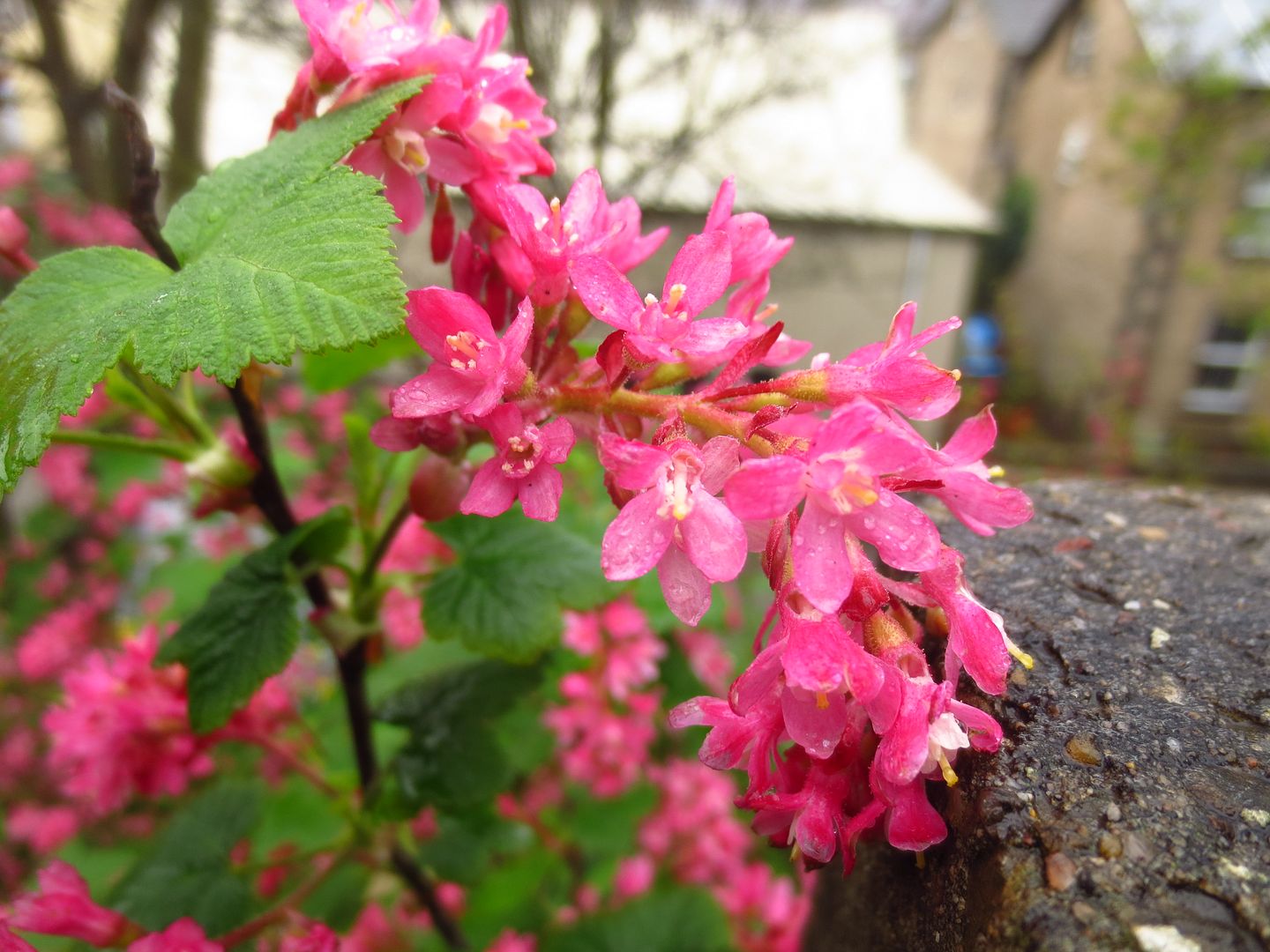 I think my mum must have grown either blackcurrant or redcurrant bushes in the garden at some point (I'm not sure if these are black- or redcurrant bushes) because the smell of them is very nostalgic. I'm enjoying all the spring flowers that are popping up, and these ones were a lovely burst of colour on a rainy day.
One particularly lovely afternoon we spent outside was on Wednesday. I used up a whole pot of bubbles and it was wonderful seeing TTB's face as the bubbles swarmed the yard. It was really windy and the gusts of wind made loads of bubbles each time I held the wand up. I would have loved to have captured it on camera but you can't blow bubbles AND take photos! TTB was fascinated by the bubble wand which meant I had to open a second (small) pot of bubbles and continue using the tiny bubble wand that came in there. He tried to copy me but just held the wand to his lips and made a huffing sound. He's so funny when he copies the action but not the true mechanics of it. I find the way he learns so interesting.
The weather on Thursday was glorious and we spent the morning at the park. He has started to show an interest in the slide and the climbing frame but isn't very good at the slide: he won't lift his feet and he gets stuck halfway.
I've added a few rows to my ripple this week too, it's totalling 53 stripes now. I think I'm about half way.
I found these beautiful chocolate eggs in the local chocolate shop the other day. I don't think I've ever seen such pretty ones!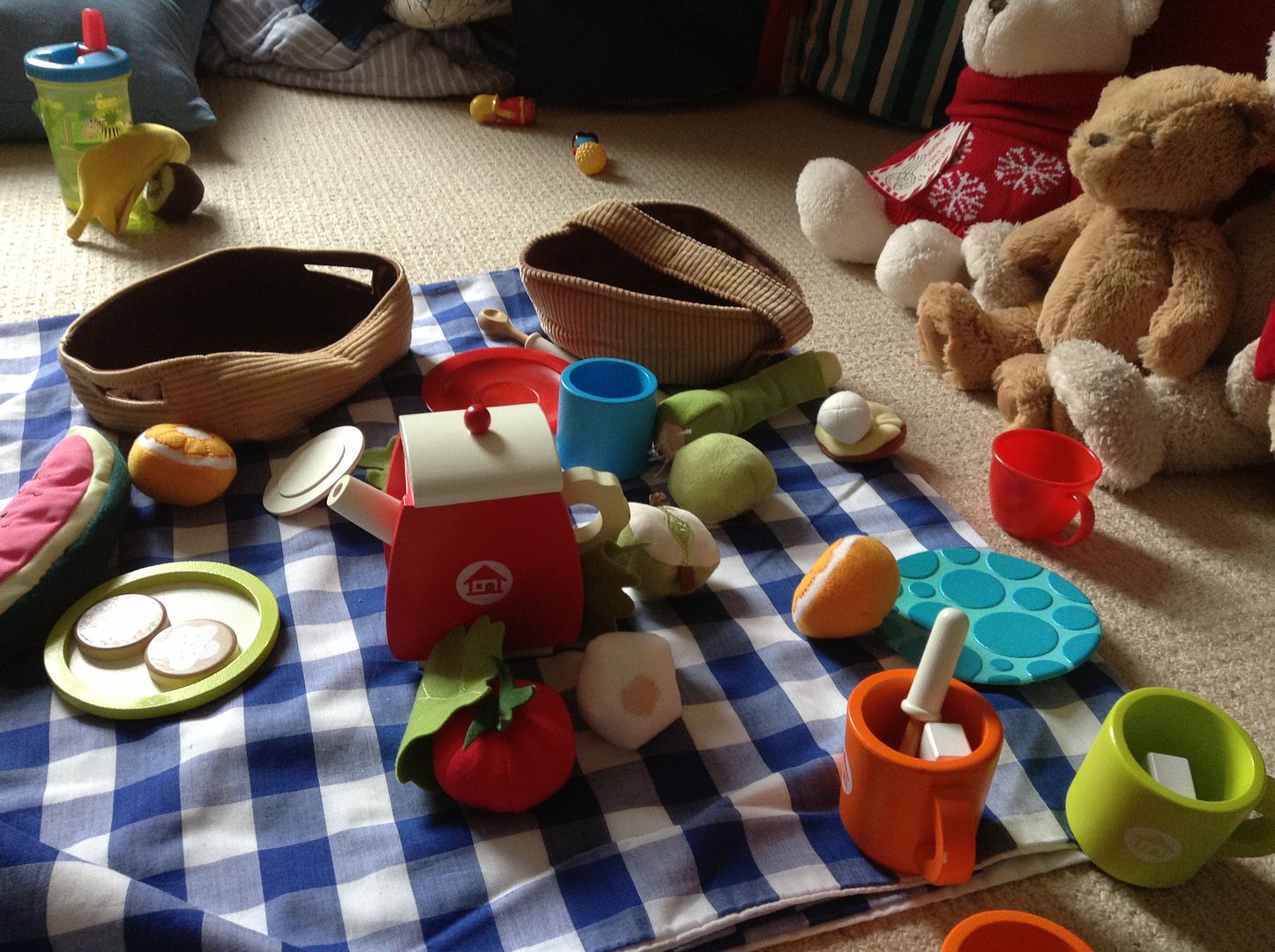 If I could pick my favourite thing of the week it would be the teddy bear's picnic we had. I set out the tablecloth, food, bears and tea set after his nap and he was so excited about it. He made cups of tea for all of the bears and offered them biscuits and oranges and leaves from the lettuce. When he pretends to drink he makes an exaggerated sipping sound, and this time when he was making his bears drink he did the same noise, and then looked at me with a funny conspiratorial expression (if he would wink he would have done) as if to say, "look Mummy, I'm playing and pretending to make bear drink!". My goodness he makes me burst with love and pride.
Yes, it's been a really good week.
x
EDIT: the tea set is from the Early Learning Centre, but they don't stock any of the lovely bright coloured ones on their website (only the ridiculously twee baby pink ones). You can order it online from Boots , who also stock the nice toaster set in the same range. There is also a dinner set available which I managed to buy actually in the ELC on Tuesday. I've no idea why they aren't available online. TTB is getting these sets for his birthday in September. Oh and there is a saucepan set too which Argos are stocking.
FYI, Early Learning Centre, if you're reading this: not everything needs to be pink. Just saying.