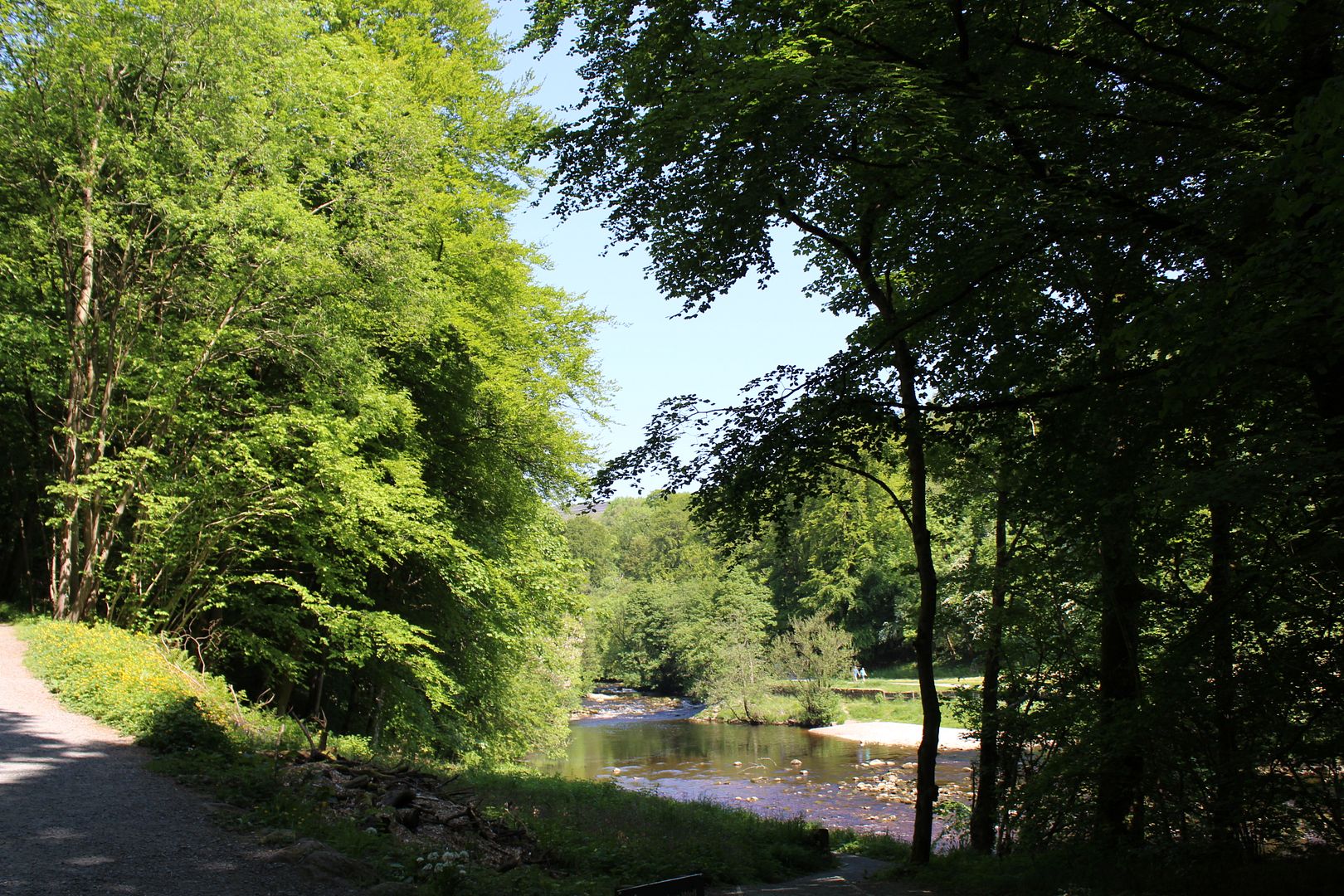 My 30th birthday (two weeks ago now) was, I think, my most bestest birthday yet. I know I've done two birthday posts already, but they were the two days preceding my actual birthday, which was Monday. I can't quite believe we had such perfect weather for the three days! Such a treat. On my birthday, Andy had to work which was a shame but that's the way things go unfortunately. The remaining five of us – me, my mum, Andy's dad, TTB and TTG – set off to Bolton Abbey for a walk and lunch. Oh and to take one billion photos of wild flowers and my children with my new camera. Of course.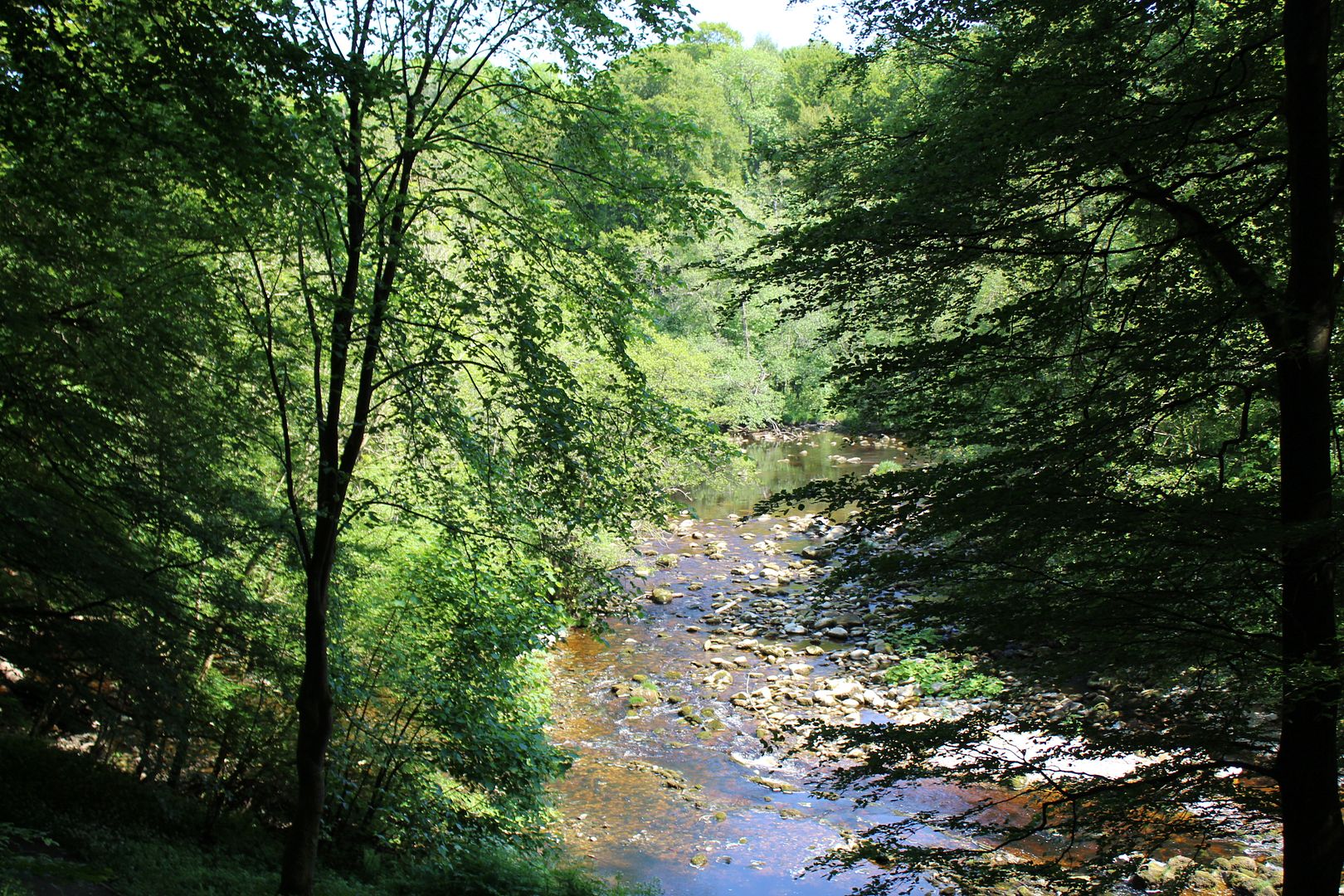 We parked at the Cavendish Pavilion car park and headed along the path through the woods up to The Strid. I'd've liked to go up the high path to the money trees or up to the Valley of Desolation, but it was really hot and sunny and taking the shaded path just seemed like a better option overall. Both children were worn out after the busy weekend and we had to do a fair bit of cajoling with TTB; in the end I put TTG in the sling on my back (she fell asleep so that was nice!) and TTB rode in the pushchair, intermittently grumbling about how he was not having a very nice day.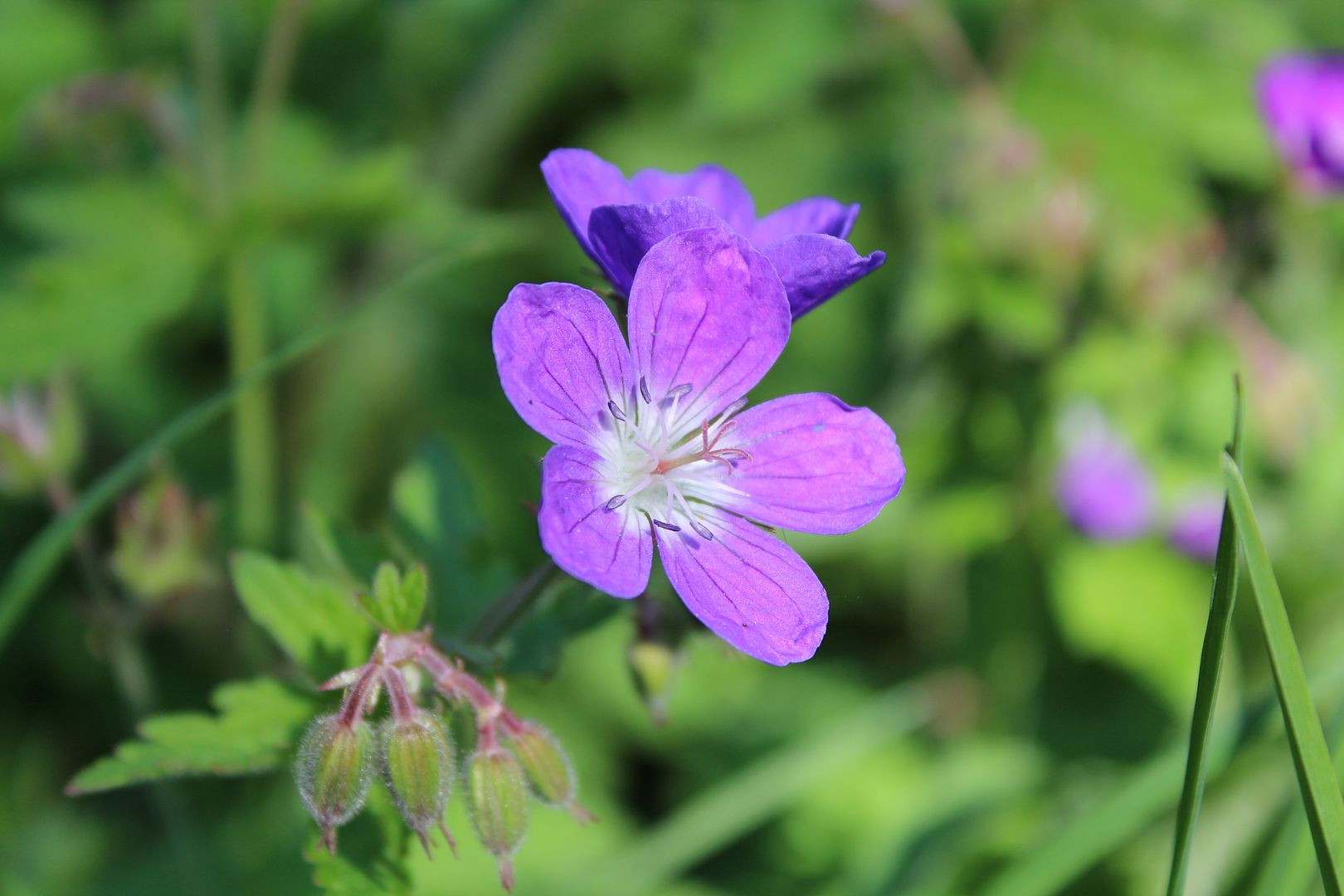 I delegated Grumpy Child duties to Grandad Simon, who is most excellent with said Grumpy Child, and wandered happily along with my mum. She was quite happy for me to take my quota of wild flower photos while we chatted about everything and nothing.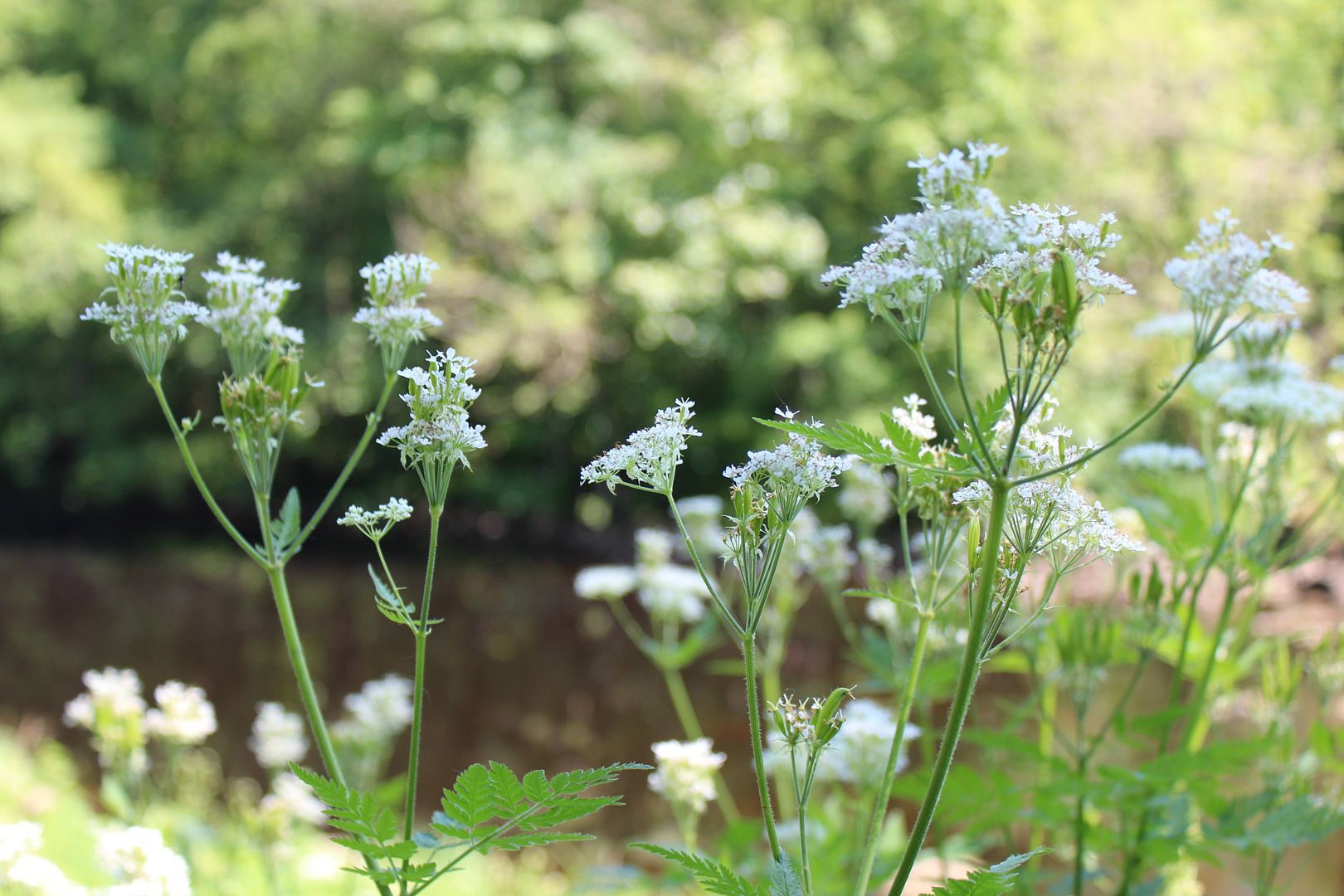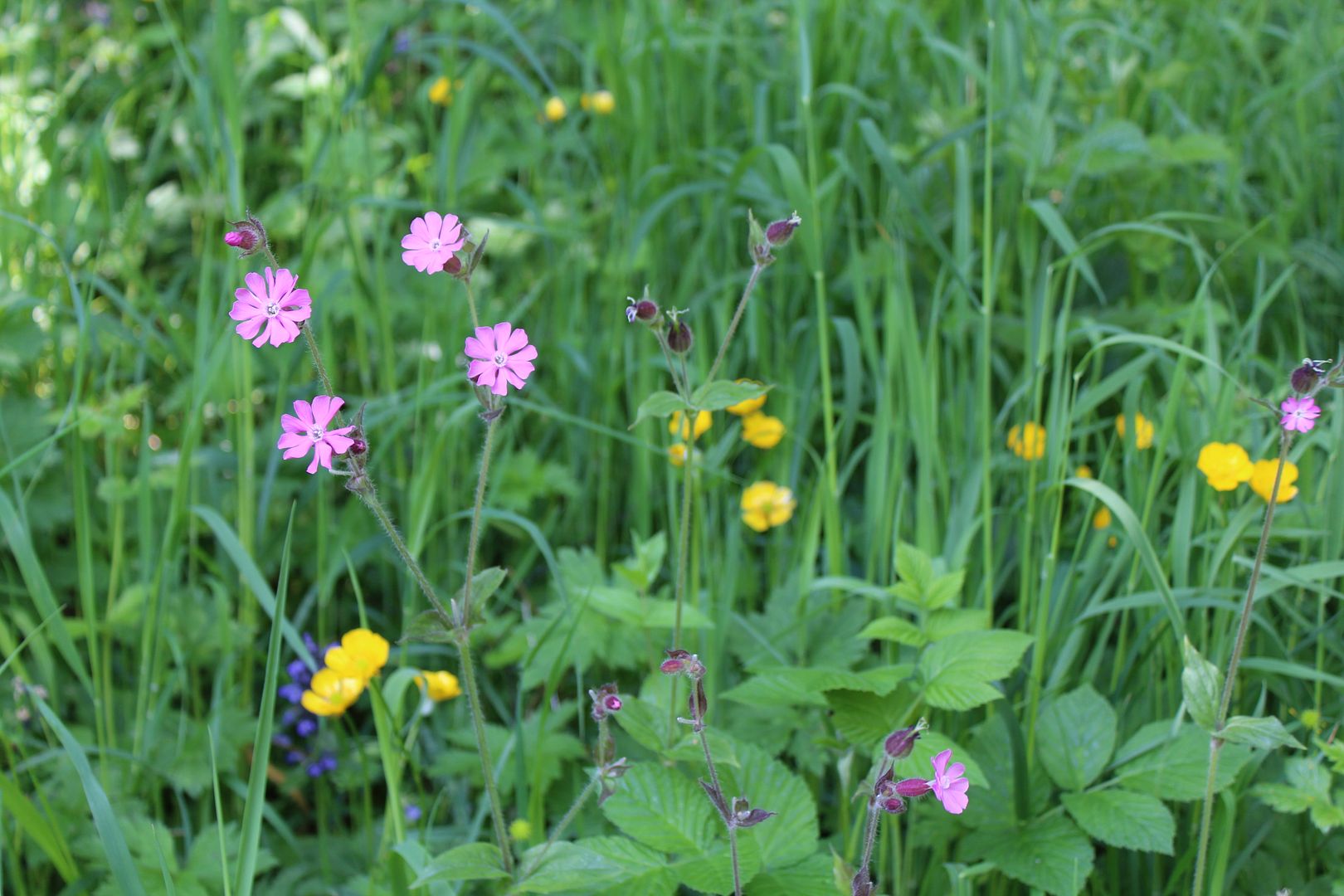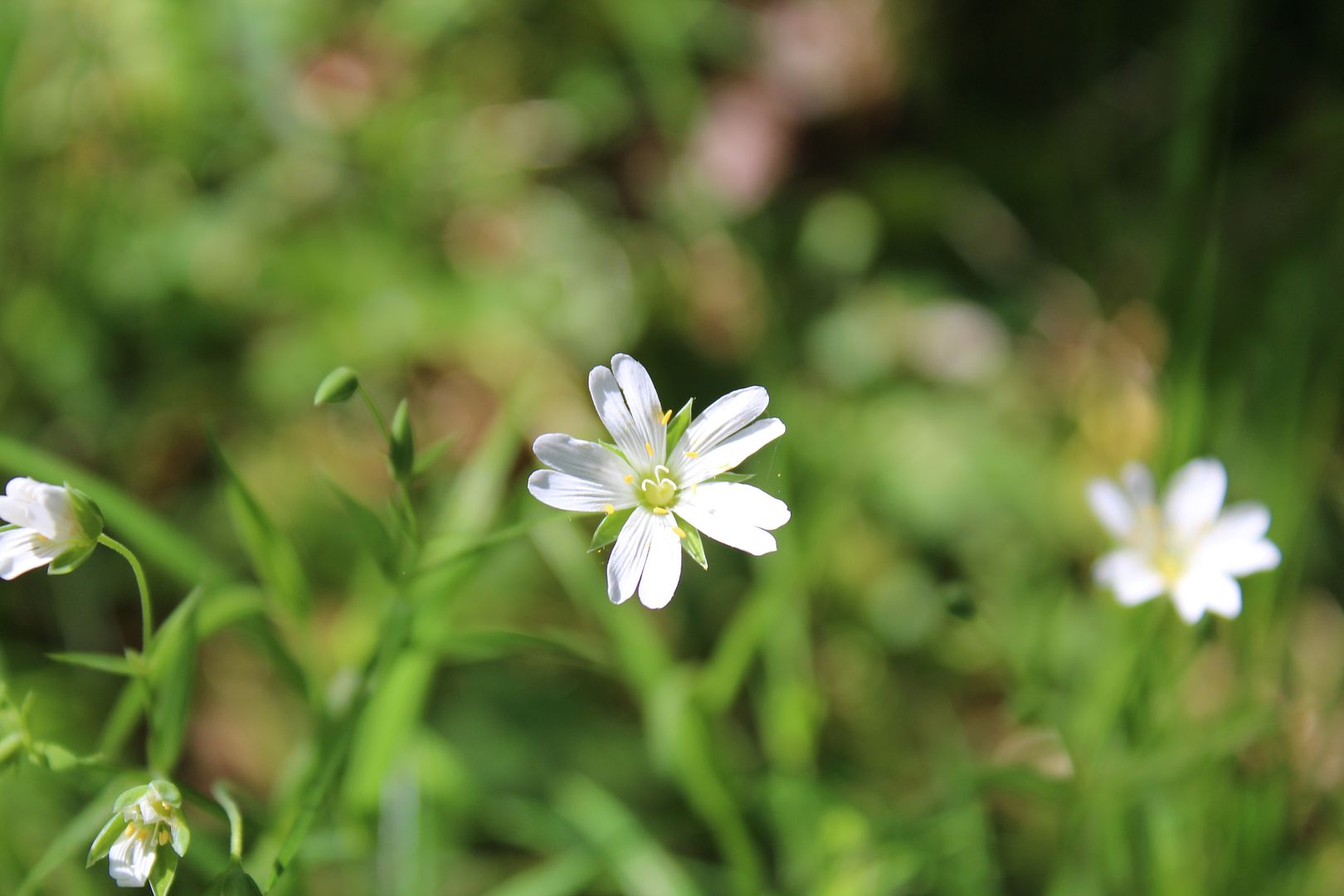 I mean, who doesn't want a billion photos of wild flowers? I know I do. I took more yesterday as well, so you can look forward to that ;-)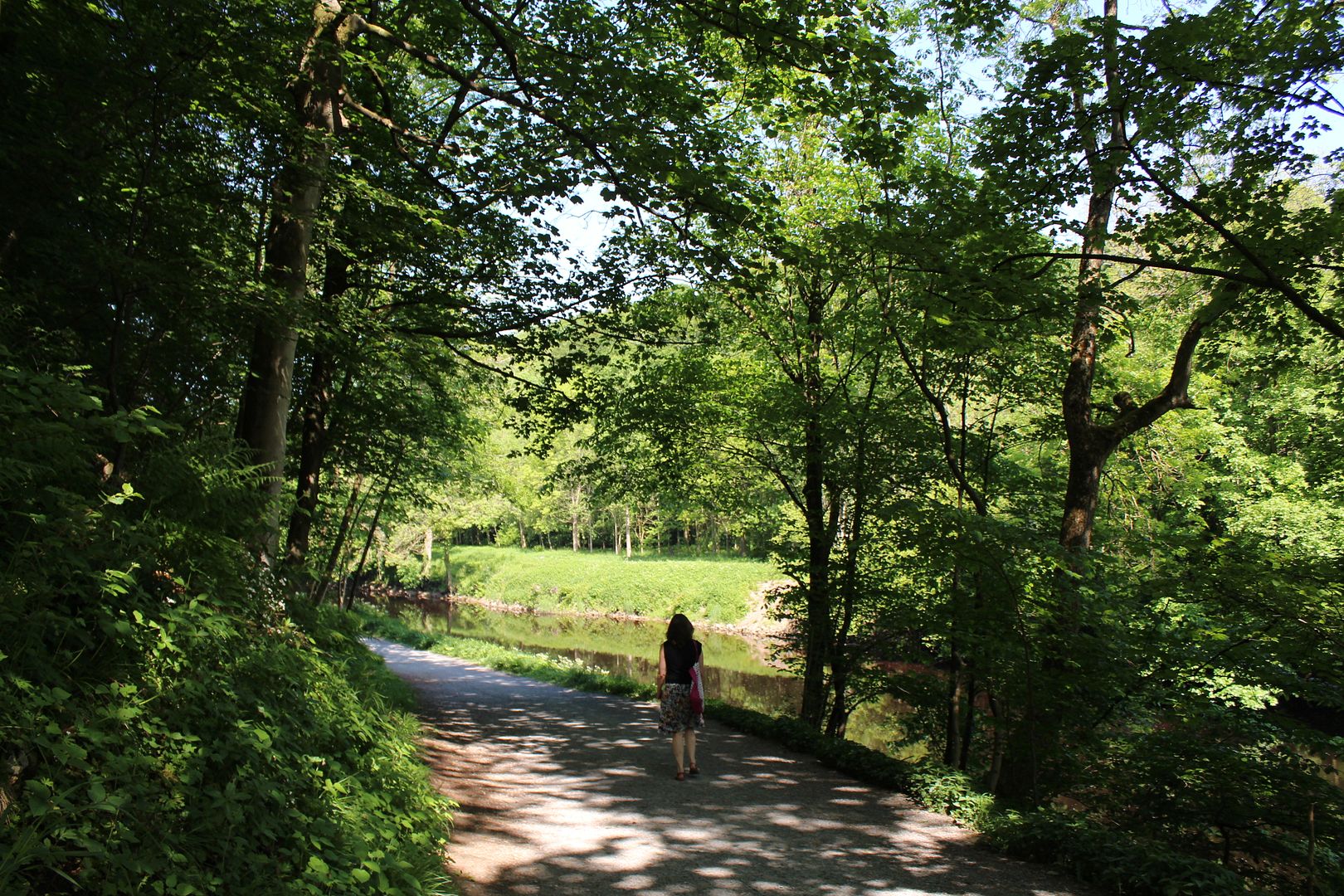 My lovely mum. Happy 30 years of being my mum!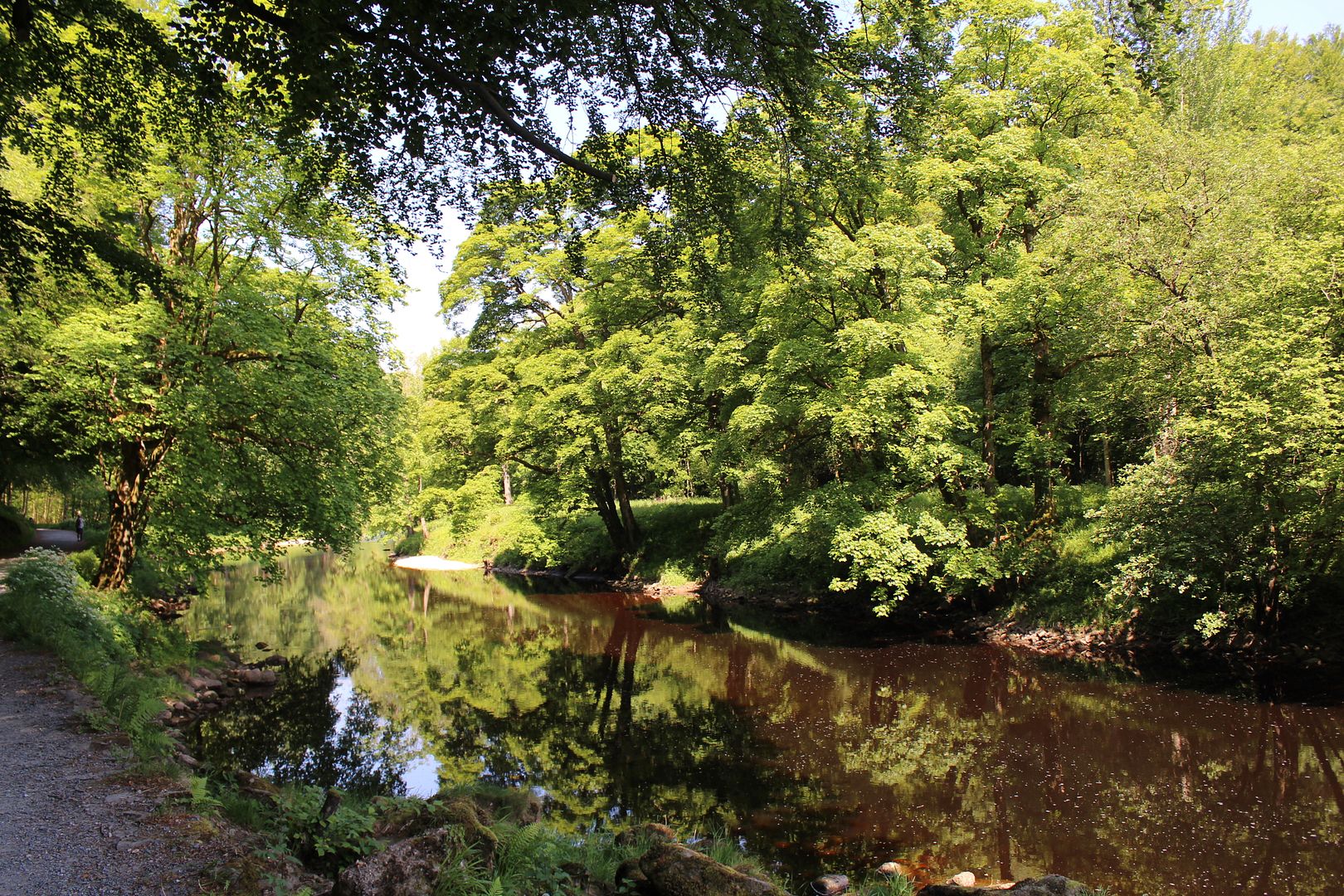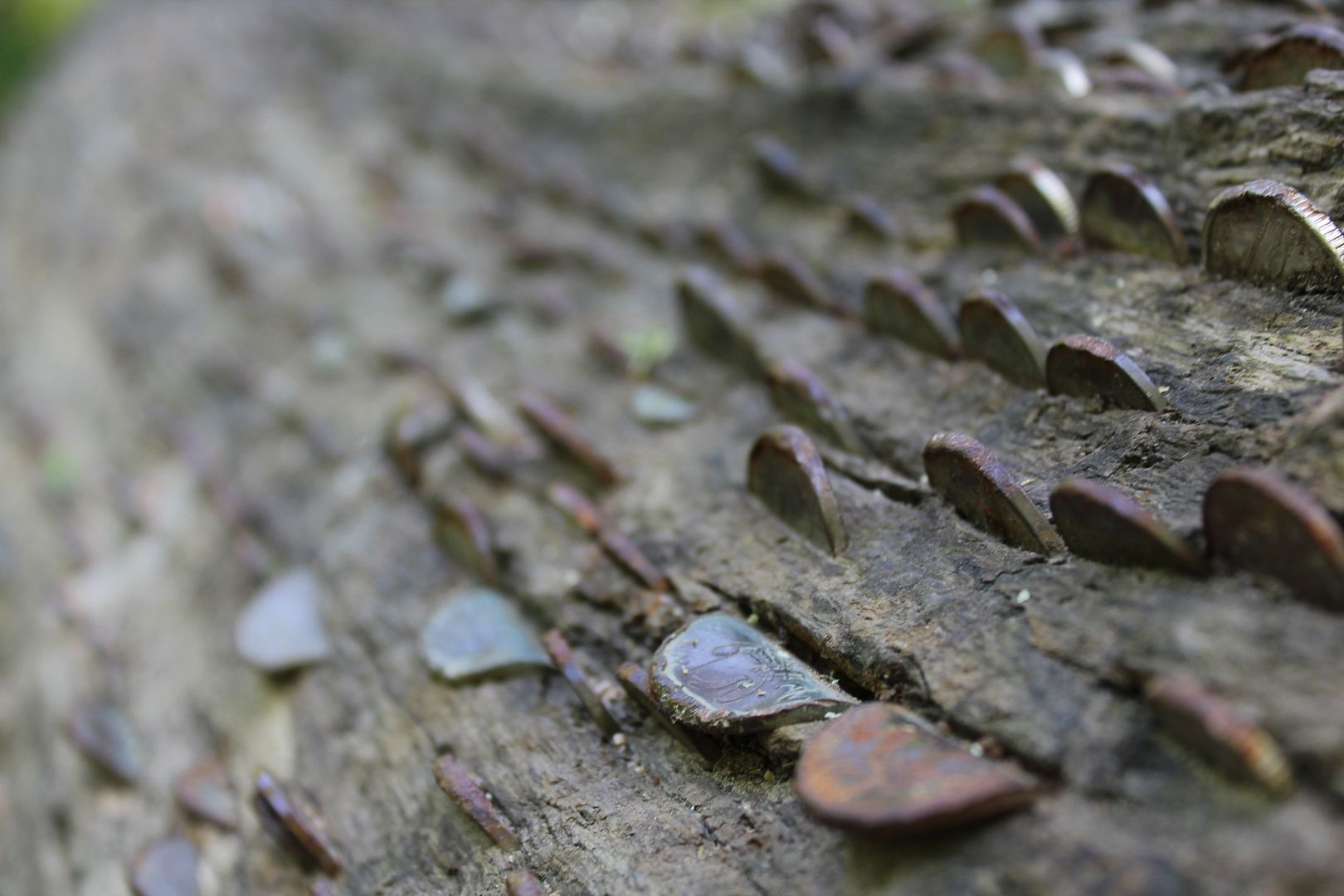 Well what do you know, there was a bit of a money tree along this walk, although I think it was intended to be a bench. I can't find much about money trees online and even the Bolton Abbey website is a bit vague but basically people have hammered coins into trees brought down by storms. I wish there was some more information about why they did this, I mean presumably it's for good luck but you never know.
Ah yes, leaves. Leaves come a close second to wild flowers in my "top things to photograph other than my children" list. Leaves are great.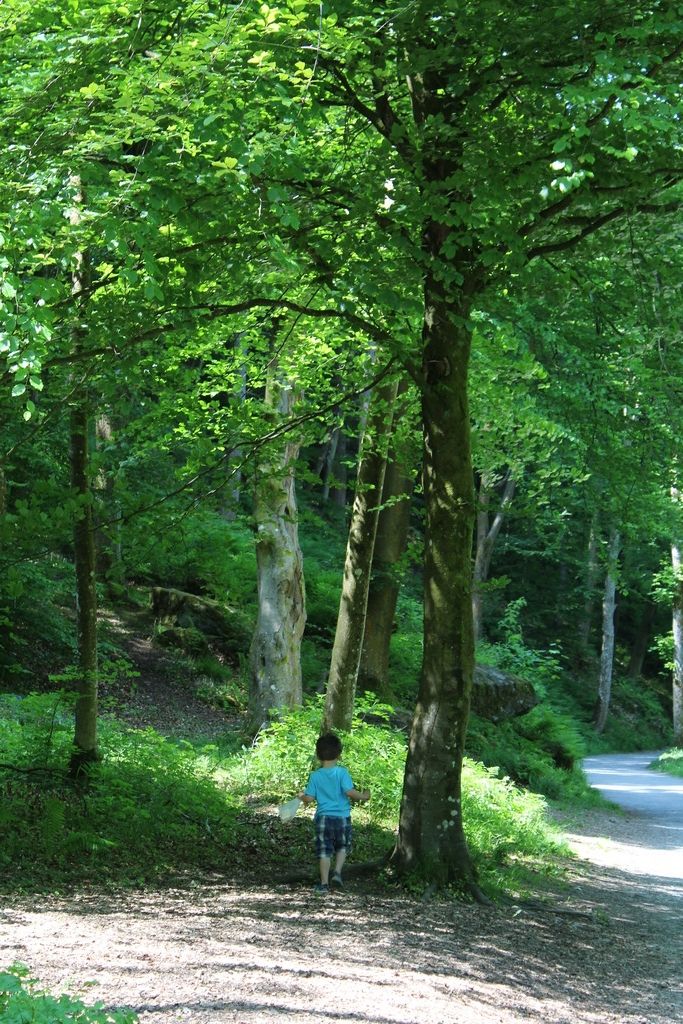 Grumpy Child walked for a bit in exchange for a bag of crackers, which he dropped by accident, and then fed to Grandad Simon.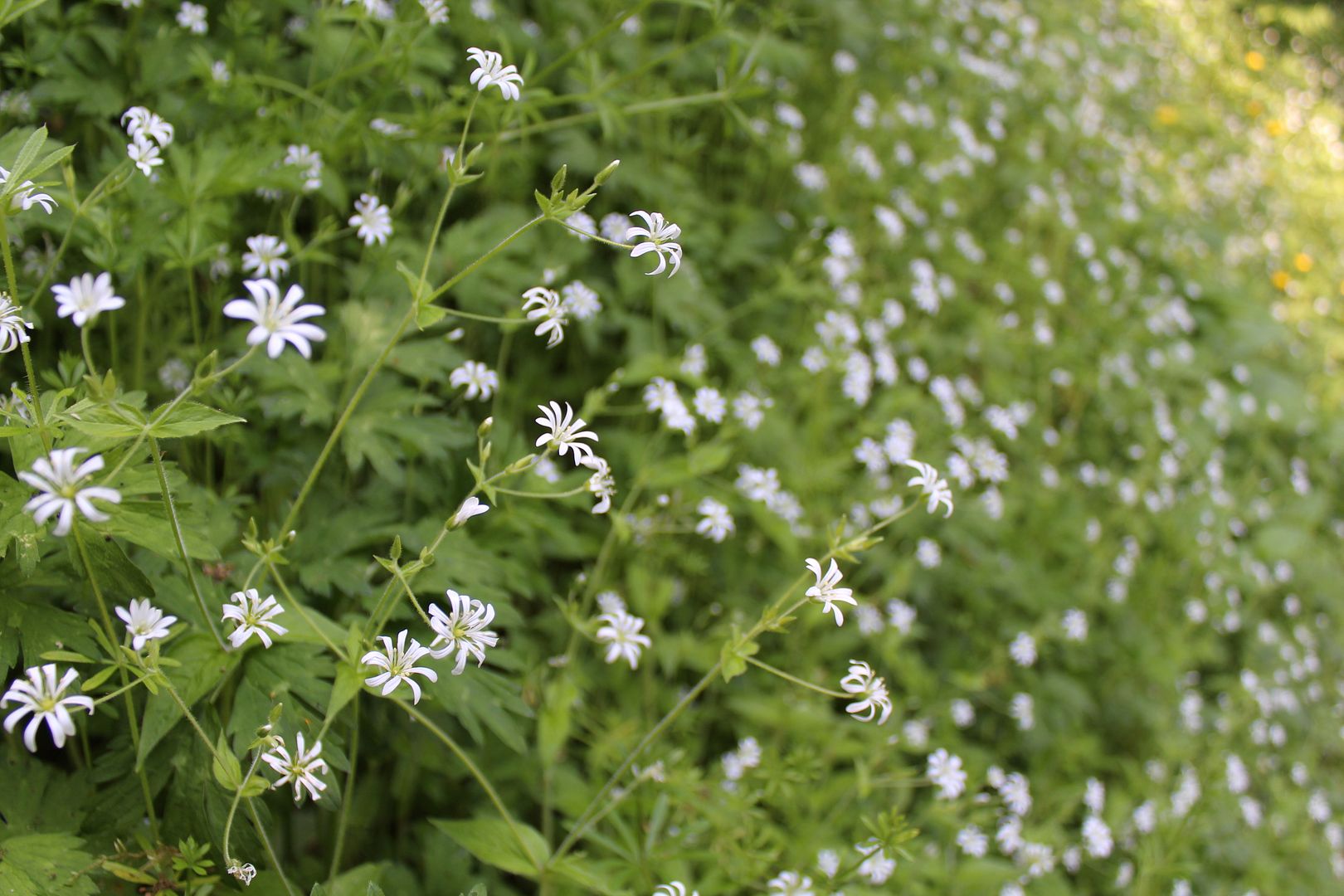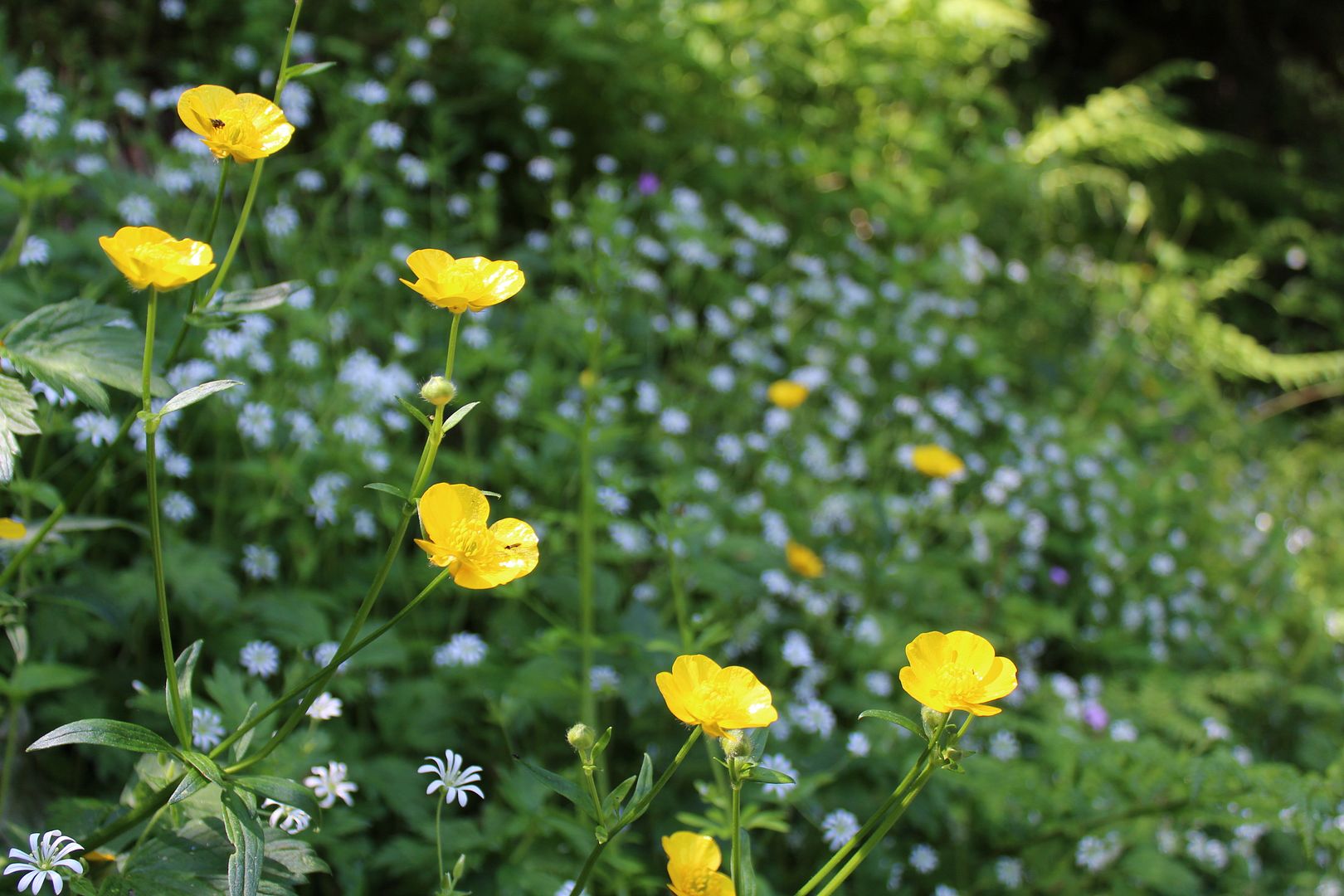 More flowers!
Ah here we go, we are approaching The Strid in this photo. It's weird walking along, it seems to take quite a while to get to The Strid but when you do get there it feels really sudden. The river is almost eerily calm despite having quite a flow to it, and you can see it start to narrow and the rocks that form the gorge are peeping out.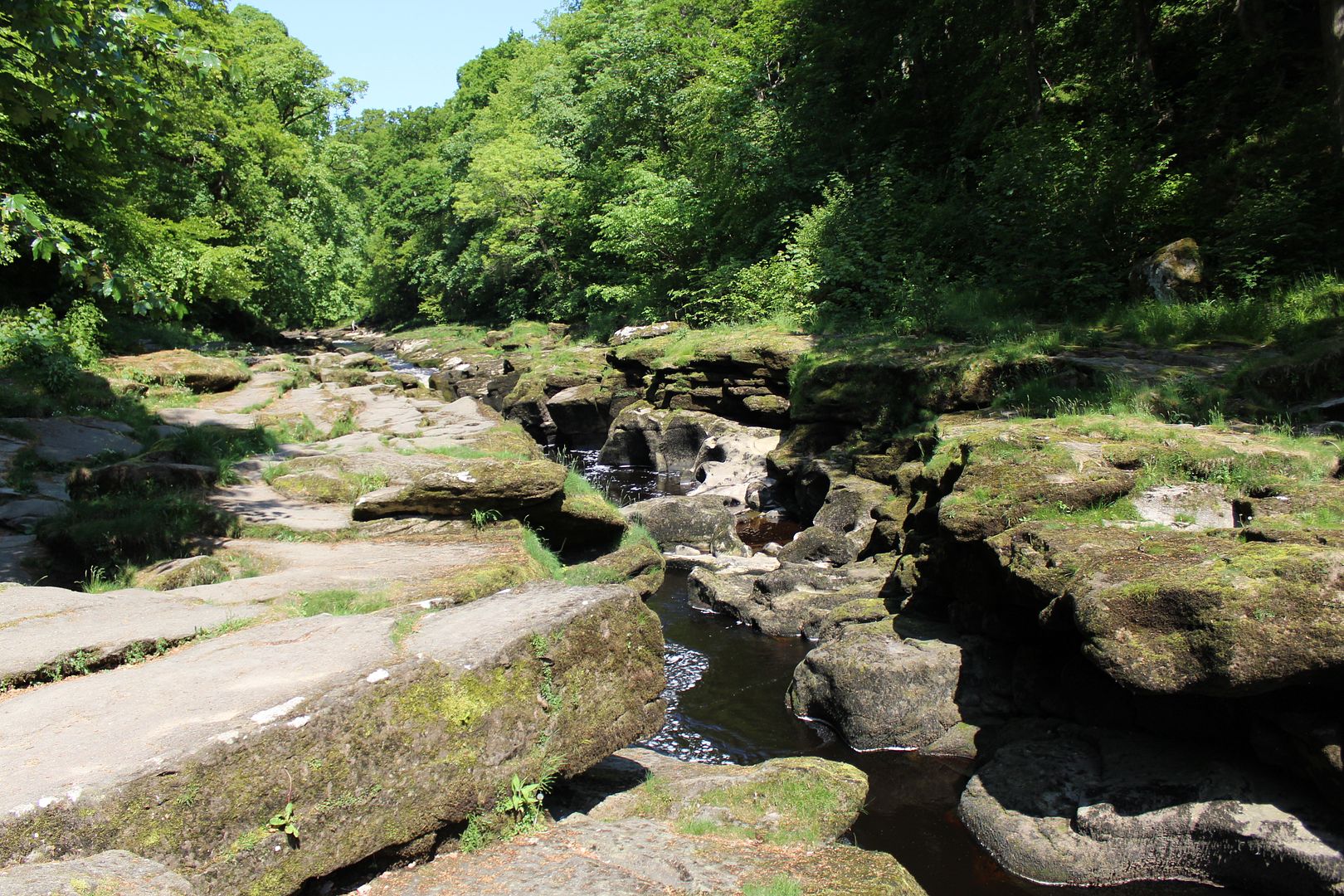 I've written about The Strid before on my blog, shortly after I discovered that it's hideously dangerous. I couldn't get it out of my head for weeks after I found it out. I've been back a few times since but I hadn't gone on the rocks or near to them at all. But it was dry and the water was low and I was curious to see what it was like in low water. (Believe me when I say I trod very cautiously and I don't believe I put myself in danger.)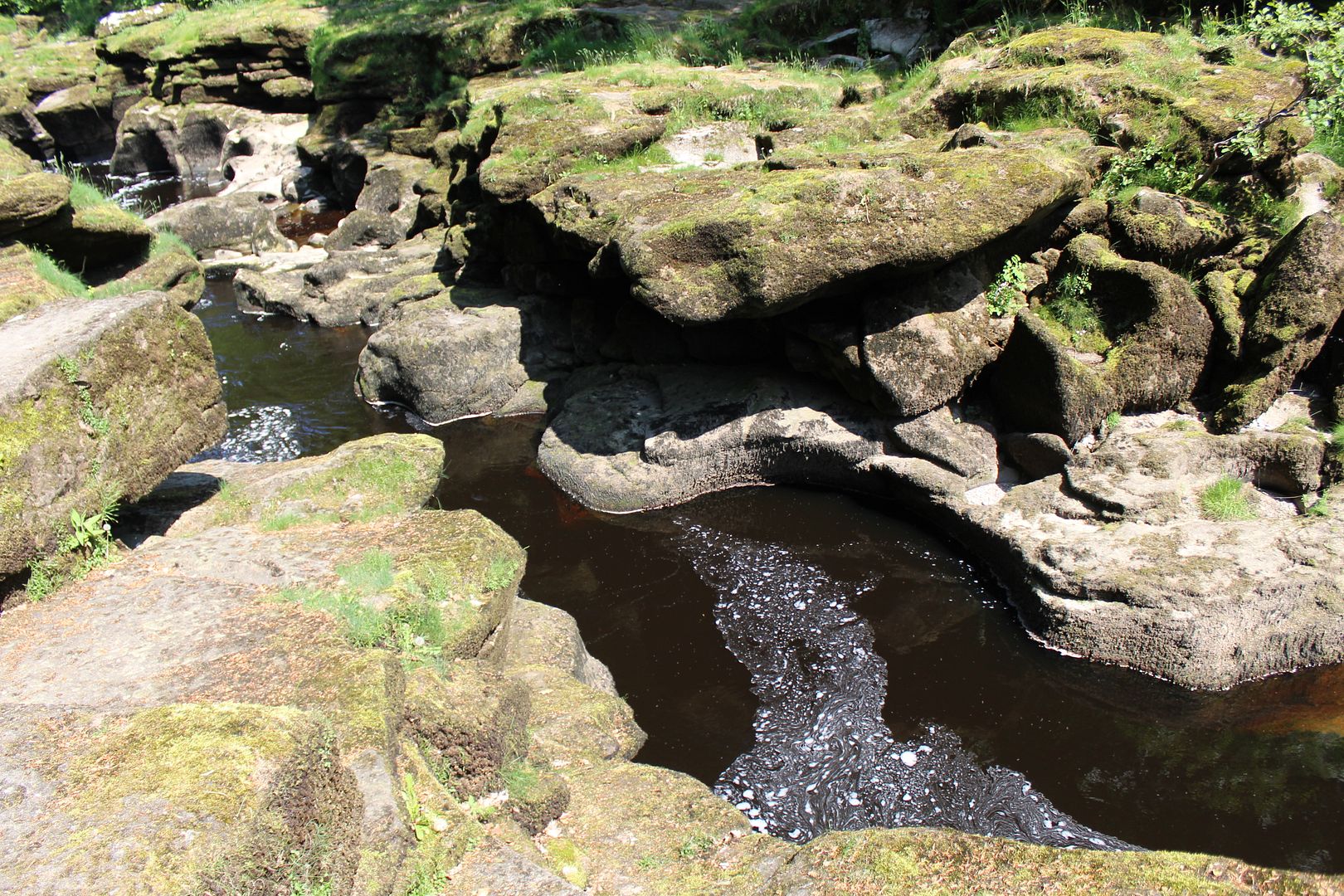 It's hard to give a sense of scale in these photos, in fact I think the photos make it look smaller than it really is. You can clearly see that there are lots of rocks and holes under the surface of where the water usually is, and then more under where it is now. I would love to know just what it really looks like under there, hopefully someday someone will send a GPS tracker down it or something and be able to plot it.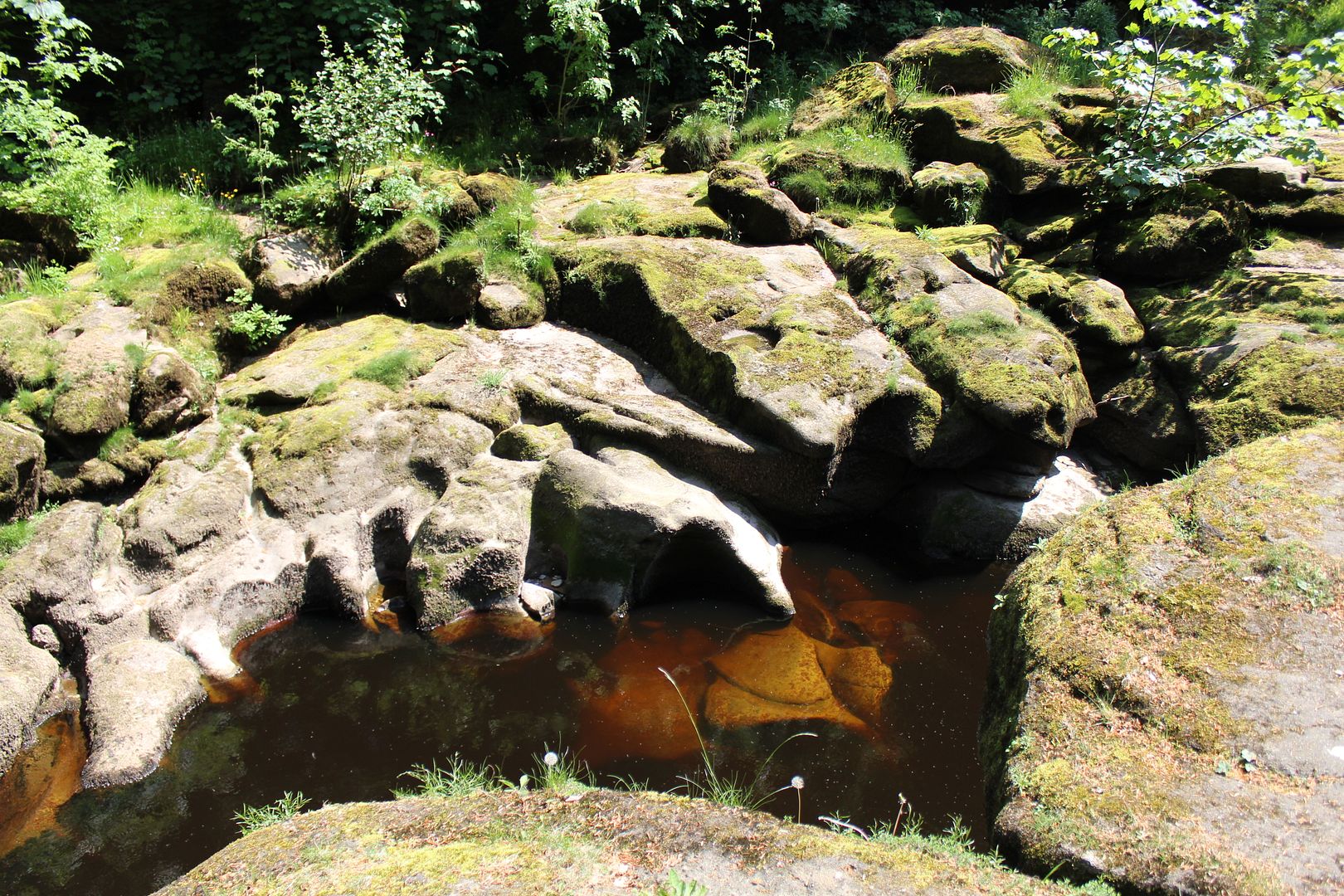 The water looks quite calm and still here doesn't it …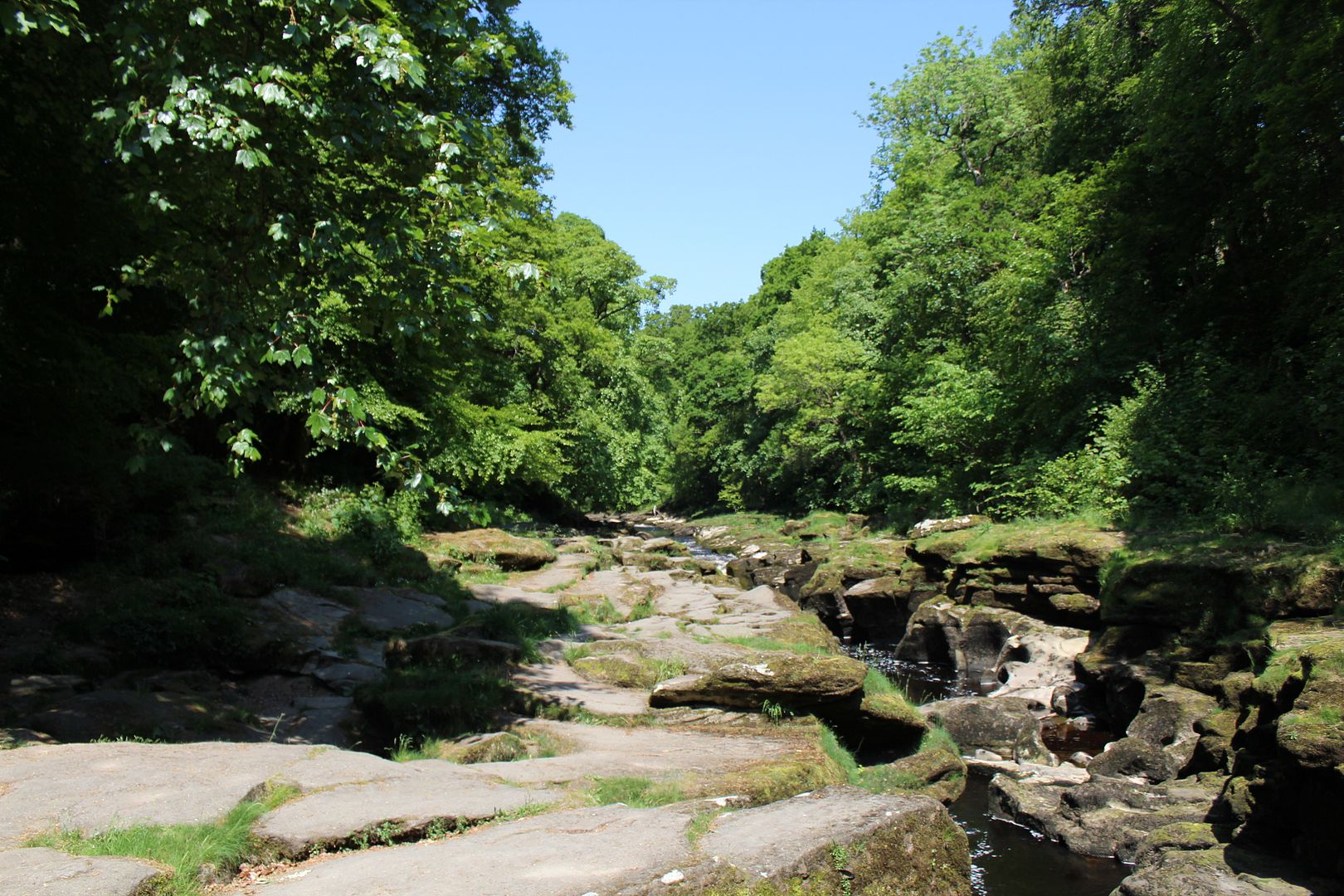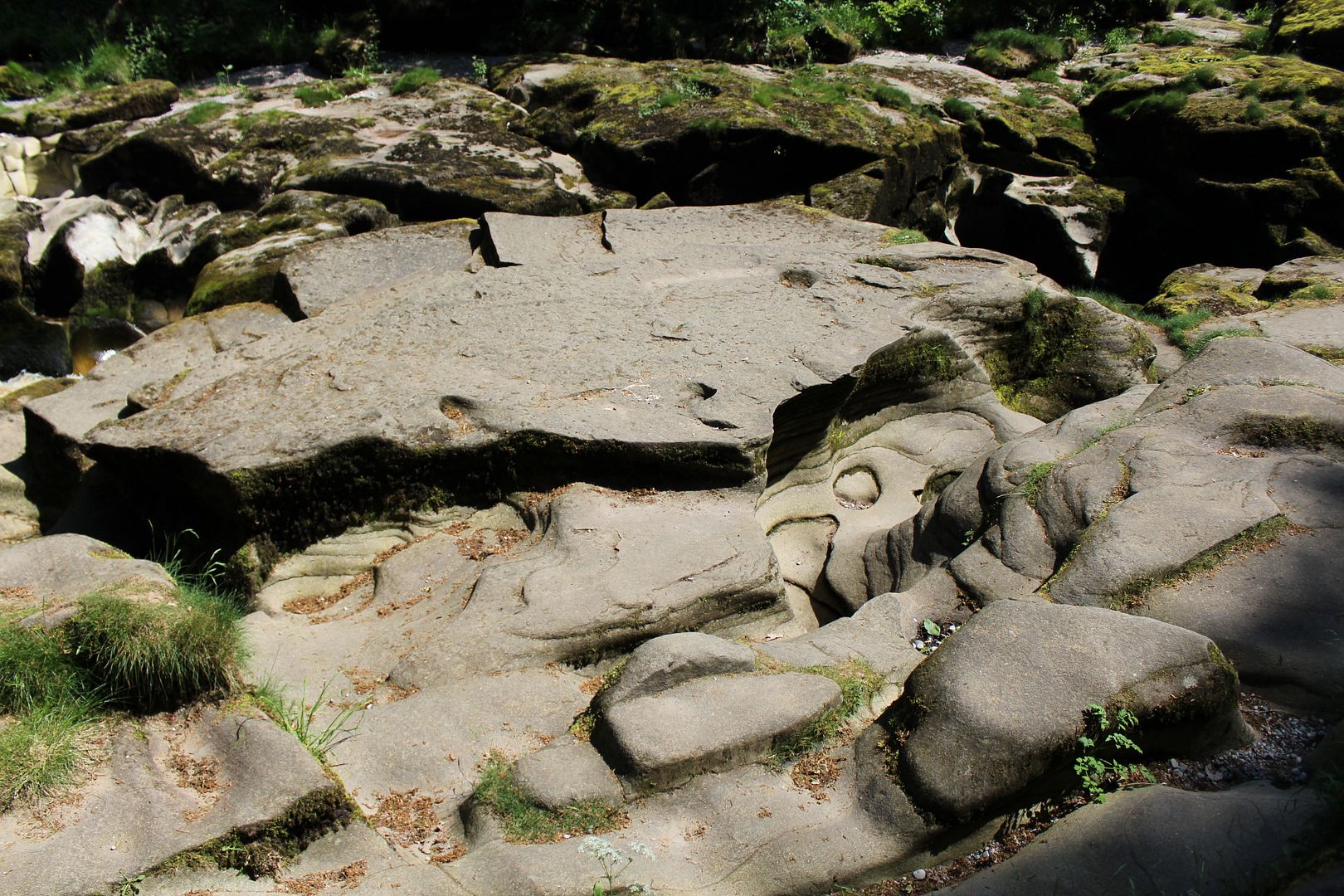 It's a very beautiful place but it really does feel like the gorge of death :-/ and I hate seeing people standing on the rocks when they're wet or the water is high.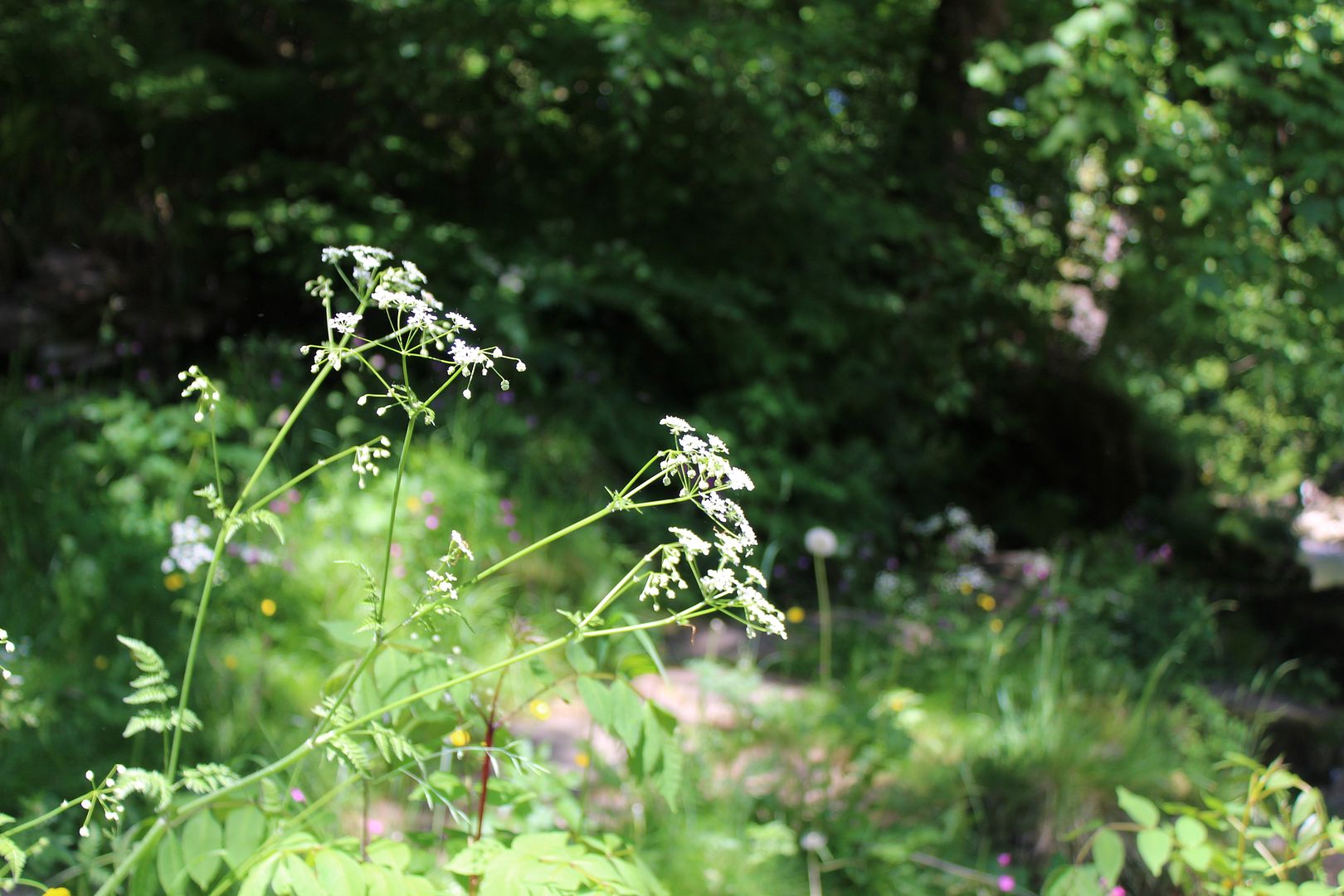 Ah quick, a bit of cow parsley to calm my nerves.
Not so calm here! It's like a churning cauldron, the water rushing in over the rocks with such force and turning back on itself as well.
I did you a little video so that you can see what it's like, not the best quality I'm afraid but you get the idea.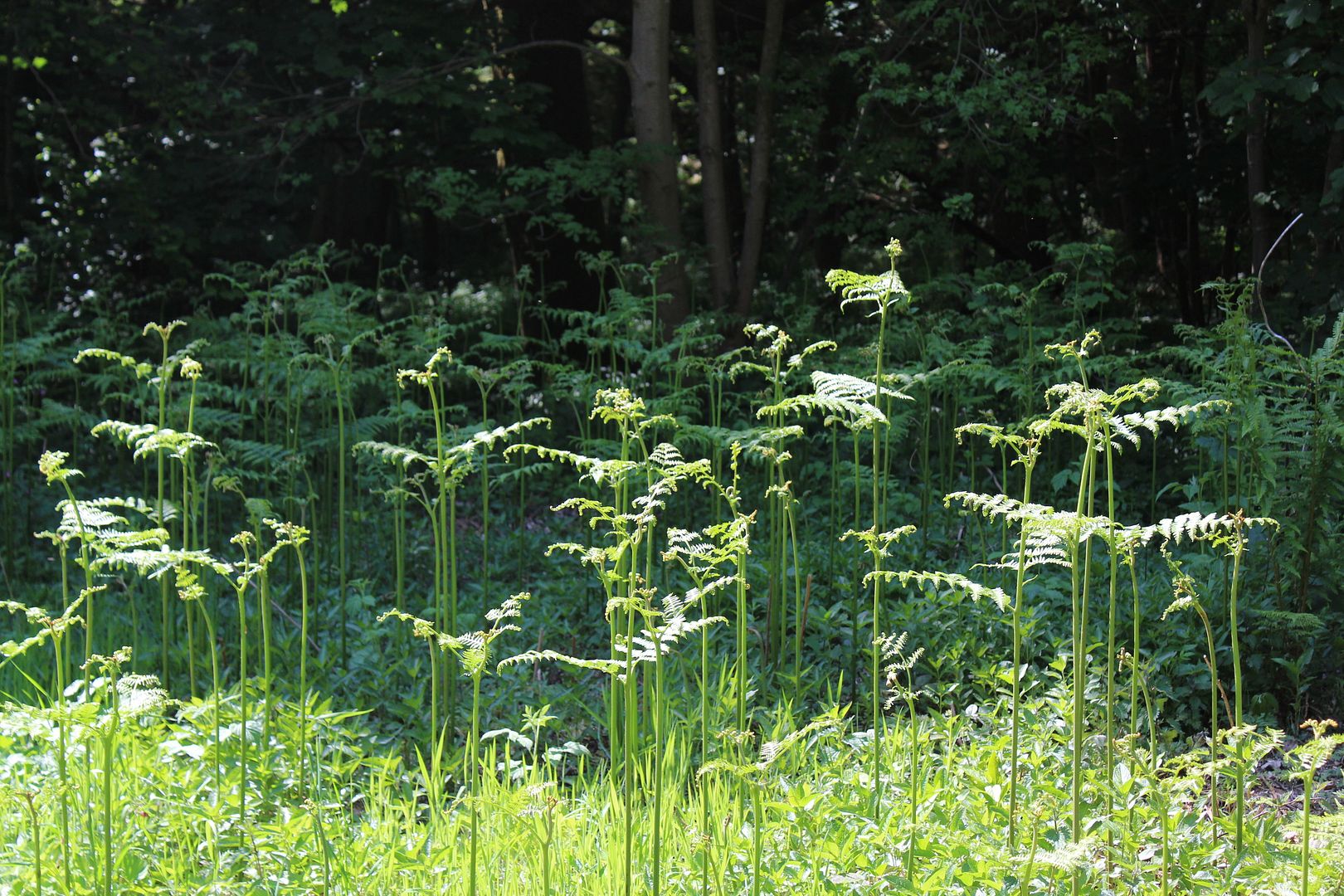 I managed to drag myself away – it's a kind of morbid fascination I think, I find it hard to stop looking at The Strid – and rejoined my mum who was doing a sterling job of looking after my children well away from the rocks. I'd unthinkingly left them with chocolate biscuits so please insert a pause here while I wiped them and the vicinity down with babywipes, before we set off again back towards the Cavendish. These leggy ferns made me smile. They're competing to be the tallest but they look a bit daft right now!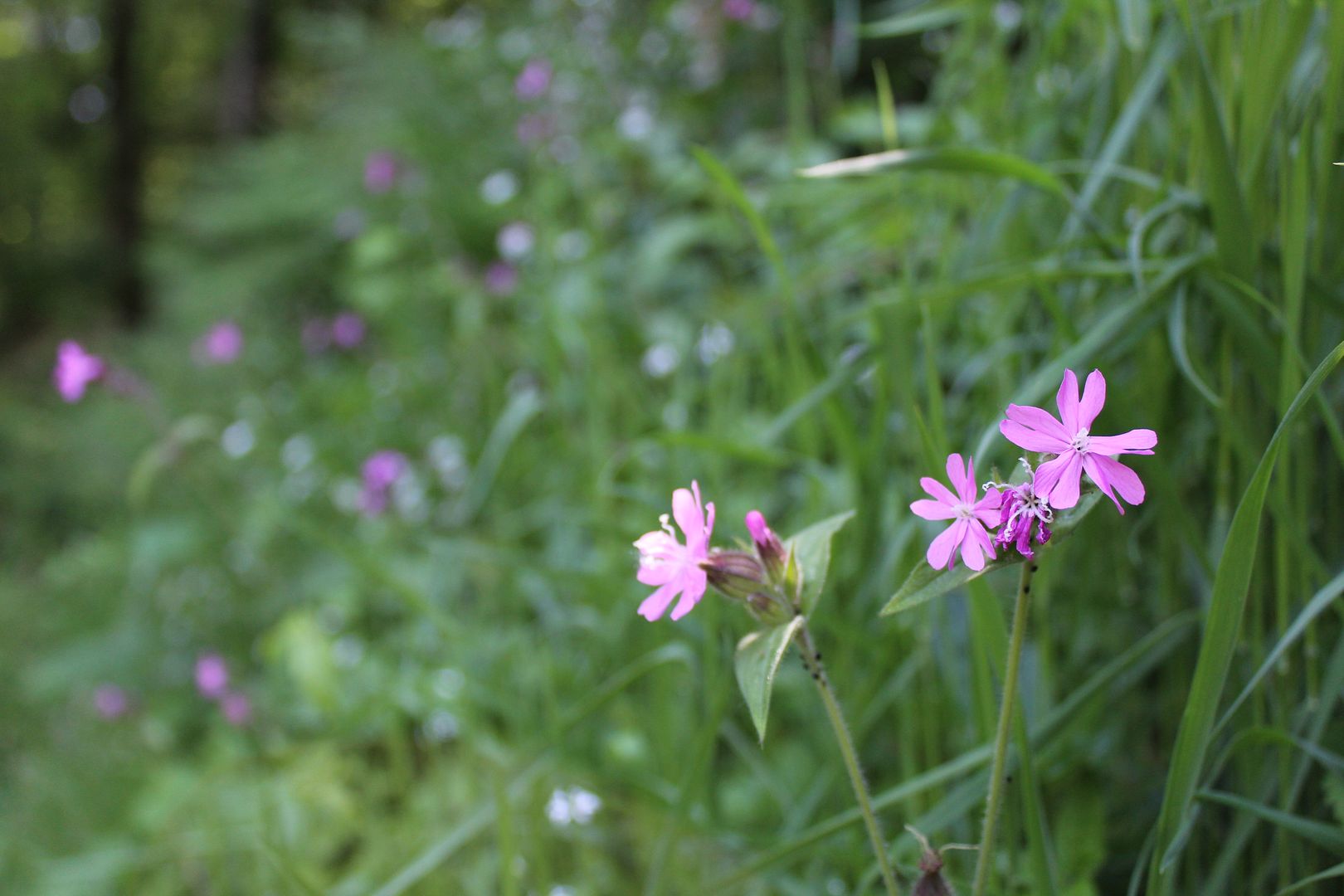 Wild flowers alert.
I don't carry TTG much in the sling these days and she naps pretty well in her cot. Gone are the days where her only sleep was in the sling – naps and evenings, the lot, so I passed my camera to my mum and asked her to take a photo. It's an angle I can't get to myself! As she pressed the shutter, TTG woke up. I was blown away with this photo, it means so much to have it. Look at the expression in her eyes! Also my hair looks nice and I'm not pulling a weird double chin or anything. Winner.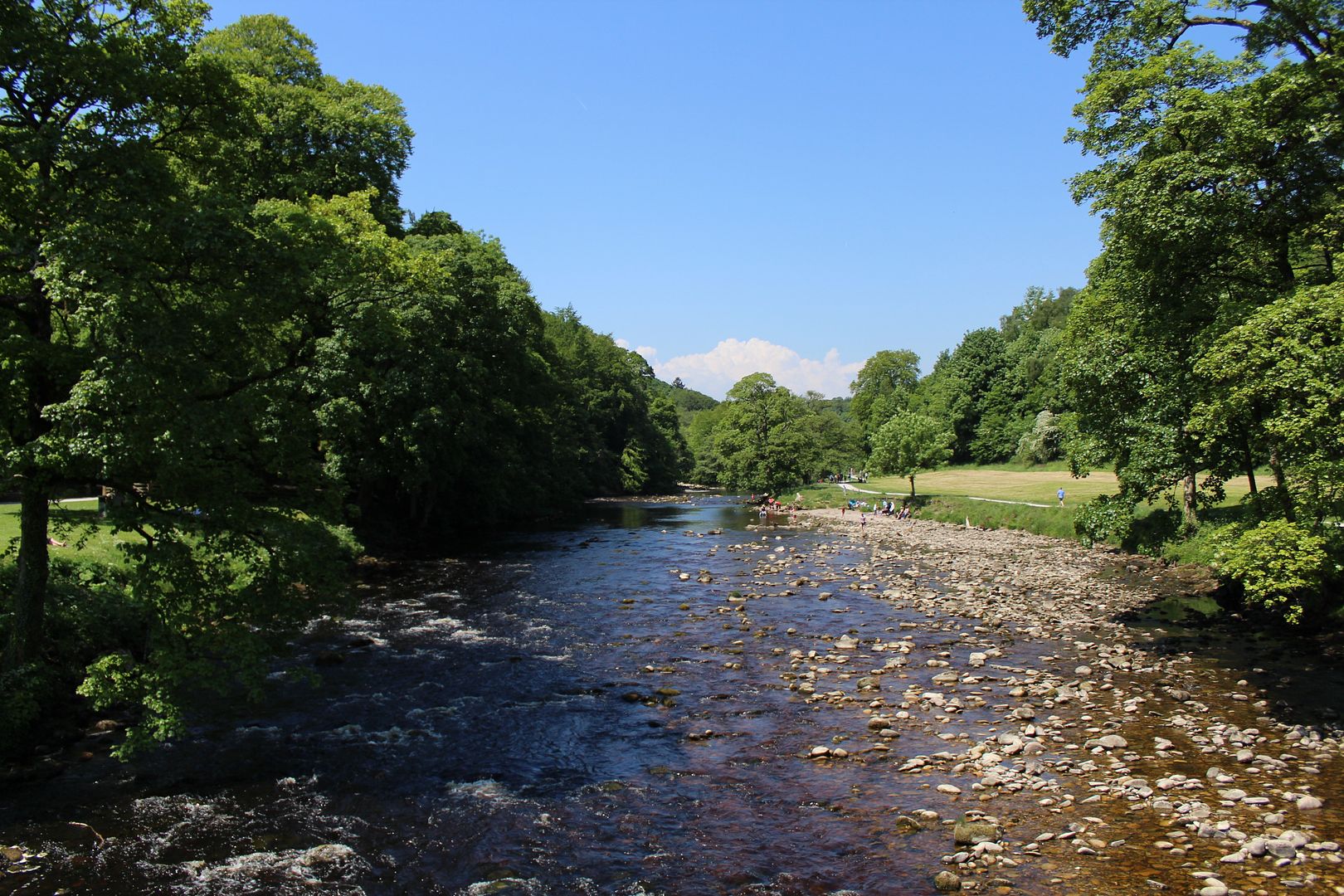 Safely back at the Cavendish, TTB wanted to go down on the little sandy beach on the other side of the river. He chickened out of having a paddle though, not that I minded as I hadn't worn appropriate footwear for paddling.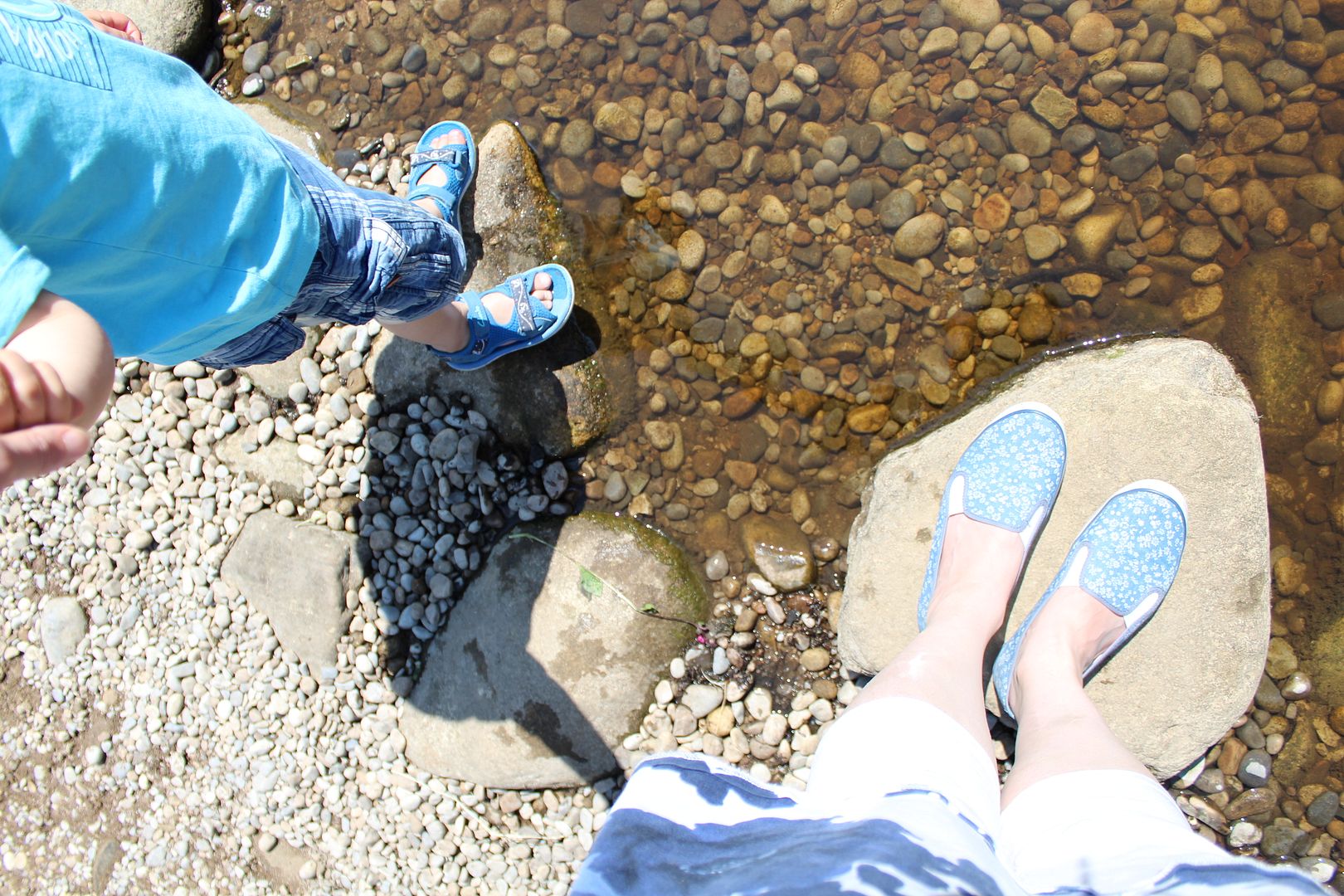 We had a deeeeeelicious lunch at the cafe and then went home, via the post office depot to collect a parcel which was my birthday present from my mum. A simply marvellous 50mm lens for my camera! OH WOW! I cannot believe how lucky I am to have had a) a wonderful birthday with b) people I love, c) a new camera AND d) an amazing lens. THANK YOU so much to my brilliant family, I love you all so much and I am so honoured to have you in my life.
Thank you to my mum for my beautiful blousey birthday peonies – photo by me with my super duper lens :-)
this post contains an Amazon Affiliate link.