Right! Blanket photos as promised. I made about 23552984 blankets in January and February (ok, slight exaggeration it was more like 9 or 10) and I feel slightly twitchy about not posting them in the order that I made them but I'm just happy to be posting them at all! Shouty baby has been very shouty the last couple of evenings which has not been conducive to blogging. Well, that and because we've been using my laptop to watch Grand Designs on. I love Grand Designs!
As usual, this is Stylecraft Special dk and I've used a 4mm hook. It's a granny stripe blanket and I used Attic24's instructions which you can find here. I used: Saffron, Spring Green, Pomegranate, Sherbet, Turquoise, Aspen, Fondant and Magenta for the main blanket body, and then I used Meadow and Pomegranate for the border.
I did a starting chain of 105 stitches and the blanket is 72 rows long. I've been experimenting with wide stripes and colour blocking because it works up SO quickly and I only had to plan out one set of colours and just work through them, rather than having to choose 35 or so colours if I was doing 2 stripes per colour. Each colour block here is 8 rows. I did have measurements for the blanket somewhere but I can't remember where I put them and TTG has just started to cry. Bear with me! I'll edit them in if I can find them. Aha ok, it's about 72 x 56cm. Just right for a pram or carseat and general snuggling.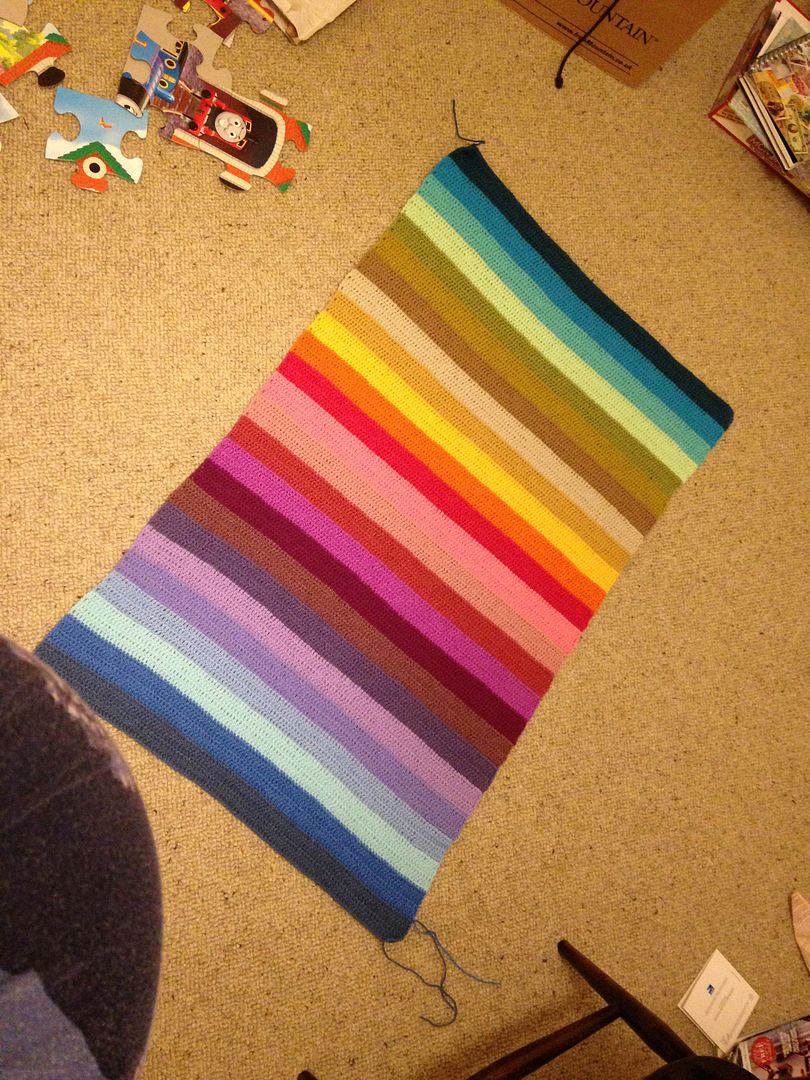 The second blanket I made for TTG is bigger, I did a 120 starting chain and it's 25 stripes long. Each stripe is made up of 3 rows of TR stitches. Proportionally I think it's a bit too narrow for how long it is, but I miscounted my colours: I thought I had 20 colours but I had 25 so instead of being 80 stripes long it's 100. It doesn't matter though, I use it all the time to bundle TTG up for sleeping.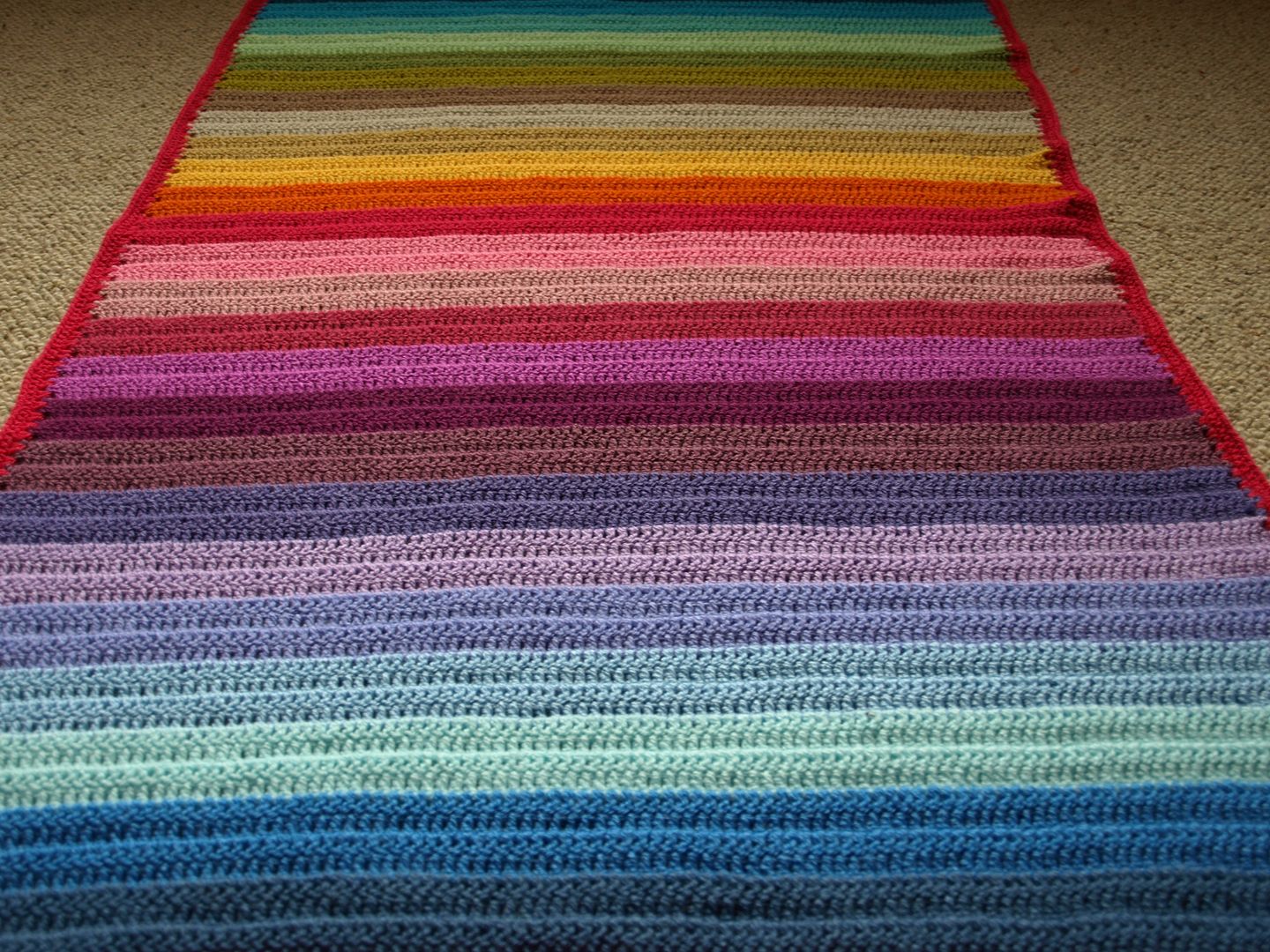 The idea for this blanket came when I was making yarn pegs of all the yarn colours I had. At that time I had all my usual bright colours as well as a whole lot left over from the Cottage Squares blanket. They are two quite distinct palettes that don't sit completely harmoniously with each other but the more I looked at my yarn pegs the more I just wanted to go for it and make a stripy blanket with every colour that I had. I think it would look great as tiny squares too, an every colour blanket of tiny squares. That would be ace.
I was unsure for a while about adding a border but in the end I went with a simple pomegranate one – just two rounds of HTR (half trebles) and I think it finishes it off really nicely.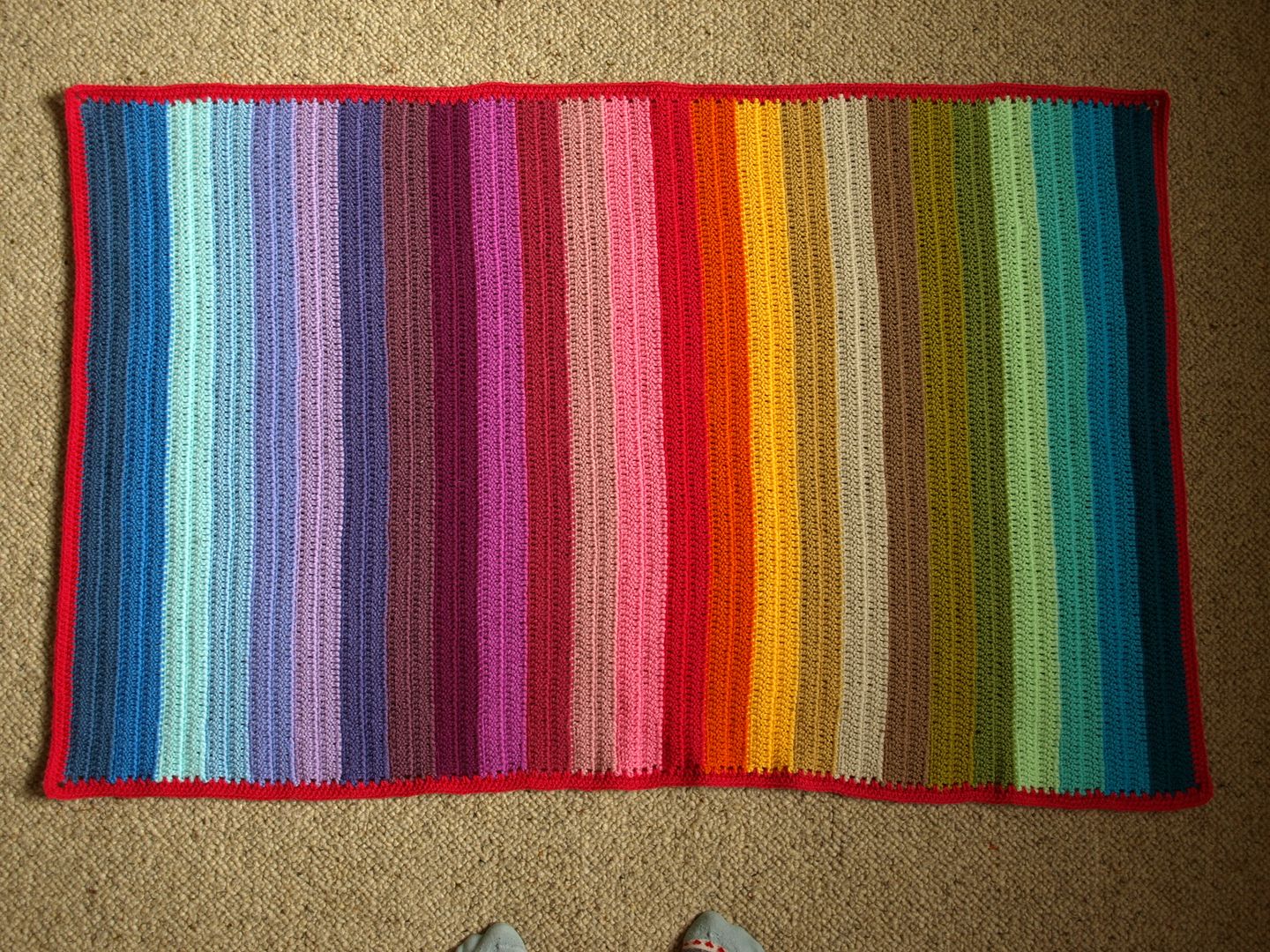 Let's talk about the colours then! I like to think of this as a kind of rainbow gradient, but I started and ended with blues because I had the most of those and it looked more balanced to bookend the blanket with them rather than have it effectively half blues and half everything else.
From left to right: denim, aster, sherbet, cloud blue, lavender, wisteria, violet, grape, plum, magenta, raspberry, pale rose, fondant, pomegranate, spice, saffron, camel, parchment, mocha, lime, meadow, spring green, aspen, turquoise and petrol.
I hope this post is coherent, I wrote half of it last night and half of it just now and then when I tried to publish it, wordpress just deleted the half I've just written and I had to write it again, pausing to settle Grumpy "I want to sleep" Baby and I just hope I haven't missed anything! Quick summary: I made two stripy blankets, one with lots of colours that don't quite go but they kind of do. And I like stripes. But I think you knew that already.
x