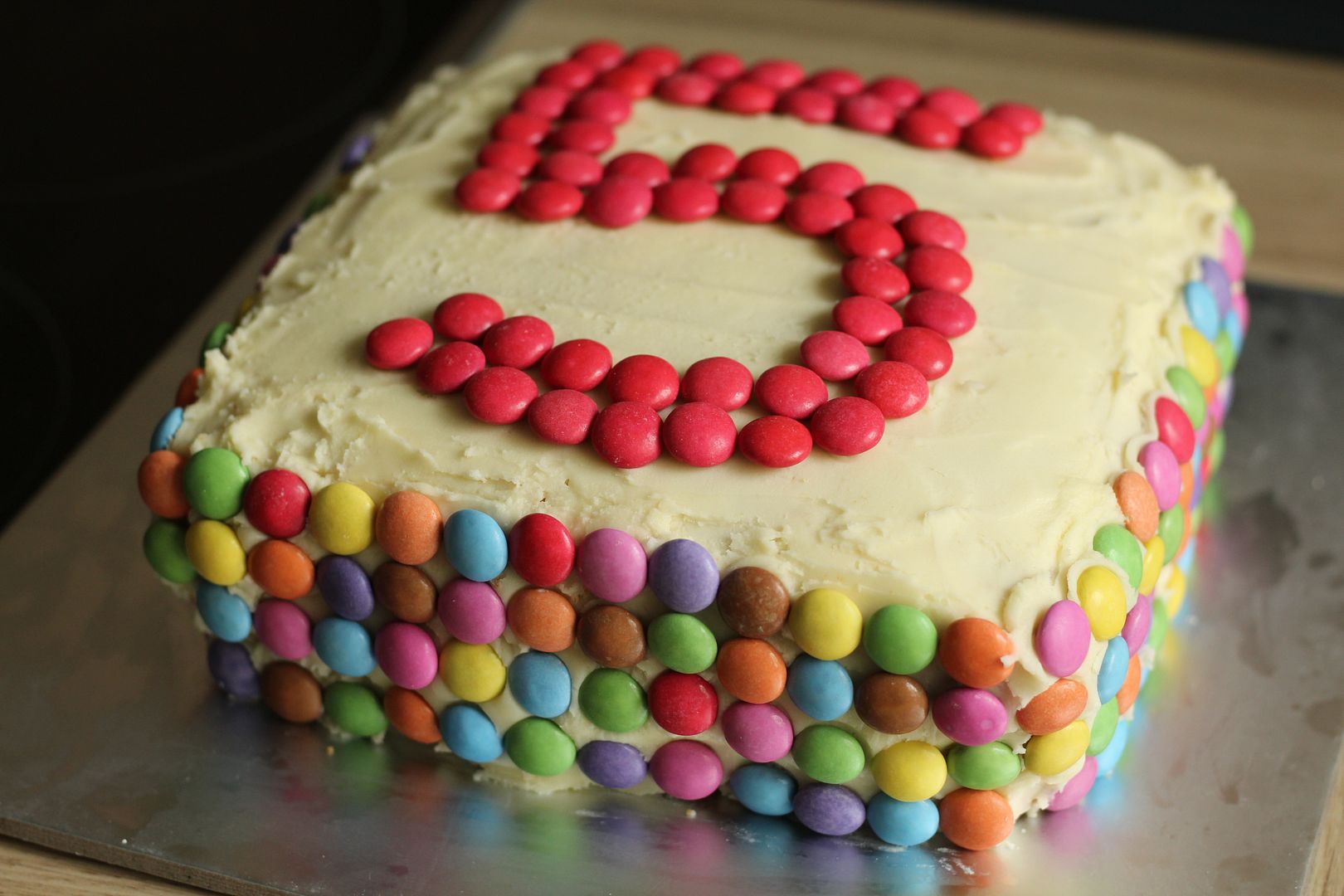 There's been a birthday in the house. A certain little boy turned five, and for the first time I was able to make him a birthday cake. That's right friends, for the first time since January 2014 I have a fully functioning kitchen! I know. Amazing. It's not finished yet but I'll share photos when it's all done. There's still a lot to do (and we haven't even chosen tiles yet) but all the main stuff is in and working and it is utter bliss. This cake feels significant not only because it celebrates TTB's fifth birthday, but because it's the start of a new "kitchen" era for me. It's been so stifling not having a proper kitchen, and for so long, that it feels a bit like breathing again. I'm discovering the joy in baking with my children, how happy it makes me feel to do that and also the pleasure in giving away tasty baking to friends. I've been the recipient of many a banana loaf or slice of sponge cake in the past and it makes me feel like I'm glowing inside to be able to give things I've made to my friends.
It's the largest cake I've ever made and really the first time I've decorated one as well, at least in the last 8 years or so. It turned out so well and I'm really, really happy with it. TTG was at nursery for the morning, TTB was at school, I had two hours, 4 big tubes of smarties and a bowl of buttercream and I was ready to go. I listened to a Guilty Feminist podcast and had a very enjoyable – if slightly time pressured – morning slapping buttercream about and poking smarties onto it. (Really wish I'd had enough different coloured bowls to match the smarties though.)
"Five" feels like a really significant birthday. I think it's partly because it's coincided with starting school, but also because I remember being five and starting school, and I have so many memories from that point onwards in my life that five feels more like the start of his own life as *him* and not *my baby*. Not in a bad or morbid or "I'm wallowing about this" kind of way, quite the contrary, I am very happy for him to grow up and he's doing a sparklingly good job of doing so. But five years is also a substantial chunk of my own life, and the thing about birthdays that I didn't realise until I was the mother of a baby turning one, is that they're hugely significant for mums* as well, and so there's a lot of emotion and introspection on that level as well.
*I say "mums", I know it's significant for all parents but I'm writing from my point of view and it was me and my body that went through a fairly lengthy and unpleasant physical and mental ordeal to get him here, so you know.
Five years seems to have been a long enough stretch of time that this year, I didn't get that feeling of impending dread as though I'm teetering on the edge of A Dark Place, as I have done each previous year since his birth, as the season changes from Summer to Autumn. I didn't have a showreel of "This time X years ago!!!" playing constantly in my head either, and I had to give conscious thought to remember where I was at which point as well. I'm taking these things as a sign that the birth trauma is finally leaving. Thank goodness for that, it was quite exhausting to lug that around all the time.
A lot has happened in those five years. I feel as though having TTB broke me, and I had to build myself back up again, better, stronger, and more fit for purpose. It's taken a while.
I remember seeing him for the first time, lifted up above the surgical screen by the consultant. Being in recovery; feeding him for the first time. My family visiting us in the hospital. Needing a blood transfusion, not being able to sleep and not being able to get my baby to sleep either. Anxiety. Pain. Being too scared to go home. The torrential rain and the pain of a car journey after a c section. The rain pouring through the kitchen roof, because it would be another four years until we could afford to have that replaced. Feeling utterly besotted with my baby but terrified of how to cope. More anxiety, worrying, no sleeping. Feeling so cold, all the time. Wondering just how on earth I was going to sustain this baby by breastfeeding. Nighttime anxiety and birth flashbacks, feeling too scared to leave the house. Andy going back to work and just feeling so alone. My mum visiting with my Grandma, and never wanting either of them to leave. Knowing even then that I would treasure forever the photos of the four of us together.
I remember the day when he was 3 weeks old that we had central heating fitted and feeling warm for the first time. I will never forget that first morning, waking up and going into a warm bathroom. Life changing.
I remember writing about my loneliness on my blog, and receiving an invite in the comments to go to Rhyme Time, from someone who I now consider to be one of my very best friends, and to some NCT groups as well, meeting my ace gang of friends. That 7 week point where I left the house and met other people was life changing.
I remember cuddling my baby all the time, and smelling his glorious newborn baby smell, and taking so many photographs, and just feeling so flipping lucky to have him. Taking in his every feature, watching him sleep (in the day haha), the curve of his cheek and his little chin, his perfect little nose and the way his fingers curled around one of mine. I remember his first smiles, and managing to get a most precious photo of them, and the deep warmth and joy and happiness and overwhelming love that I felt when he smiled. He smiled at me. At ME!!!! And then it wasn't quite so one sided, he liked me too!
I remember him starting Playgroup as if it was yesterday. Then Nursery, and now all of a sudden he's at school, looking as though he's been there forever, and coming home full of chatter about everything he's done that day. He's tall and strong, he loves to run and climb and do ballet. He's thoughtful and intelligent and has such a wonderful "engineering and mechanics and science" brain which astounds me every time he asks me about bevel gears and atoms and capacitors. He loves his sister and (sibling bickering aside) is so kind to her and likes to help her do her zip up and do her teeth. He loves books and stories and always wants to read with me. He loves his grandparents and aunts and uncles so much and is always talking about them. I look at him when he's engrossed in Lego, inventing some machine or making something out of pipe cleaners, see the skill and dexterity with which he cracks the eggs when he's baking with me, and I think, "Yes, you are doing very well at this growing up business, and I am doing ok with it as well. Well done to us." We have had our battles and our difficulties but we've reached a good plateau now and there is balance and harmony and we enjoy each other's company. We are so lucky to have him.
Five years is a long time, and my goodness it's been a good five years. Happy birthday TTB, you are most excellent.