Good morning! It's raining and cold here today. I've come back to bed (with my laptop, why not) and I'm writing this while the children are making a very noisy and fairly stressful den on one of their beds. I'm fairly at risk of being jumped on by one of them at any moment so I'll keep this brief.
I made this little blanket for a member of staff at TTG's nursery, who started her maternity leave last week. It's the third baby blanket I've made for staff there and I love doing it. I didn't post the first one I made because I didn't photograph it properly but I have some snaps of it somewhere, I'll try to find them and show you because I loved the colours of that. The second one I made was the granny stripe blanket that featured in this post.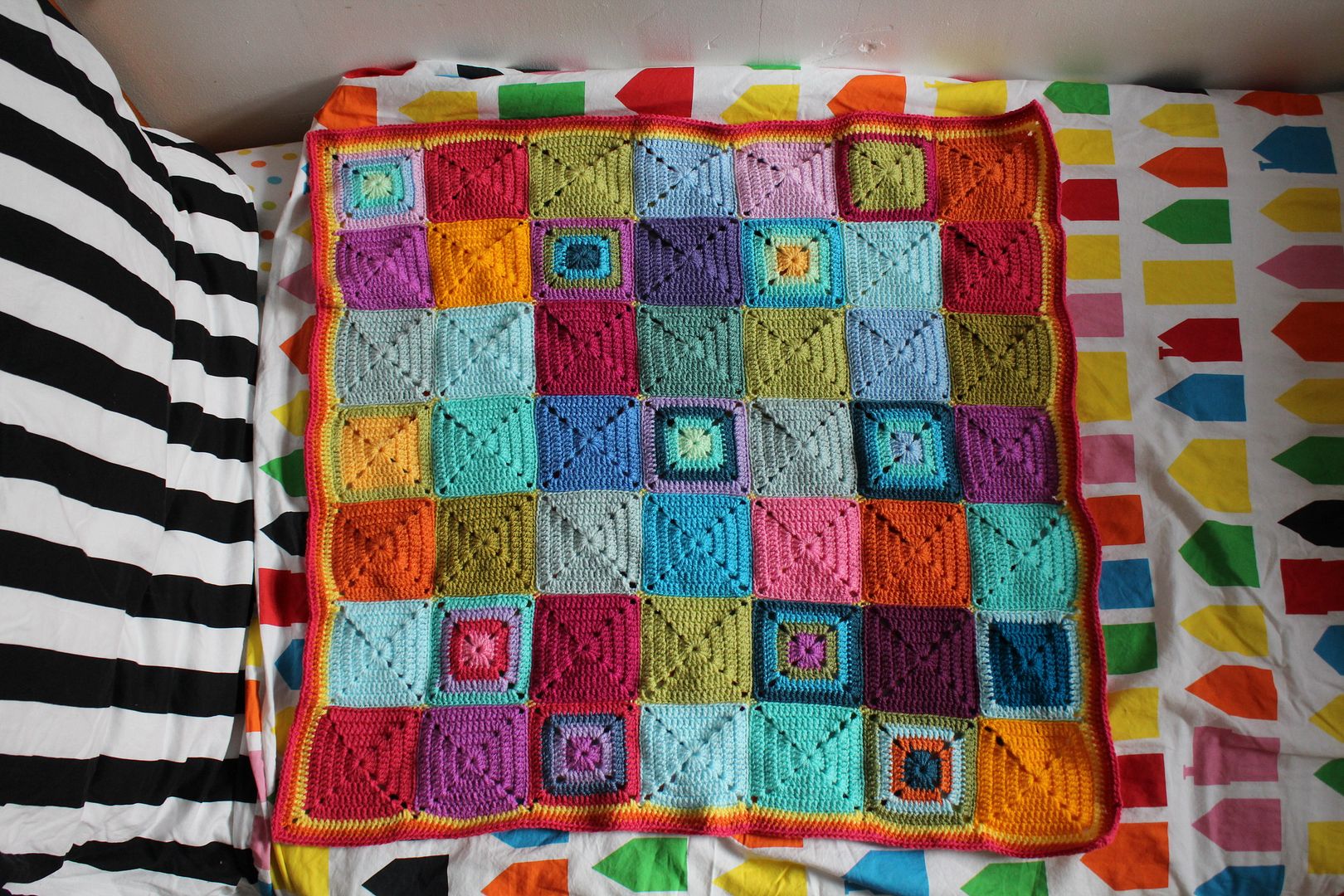 I'd left it quite late to start a blanket really, just 6 days between wanting to do it and her maternity leave starting so I knew I had to work quickly. My mother in law was visiting and on that morning, TTG was in nursery and TTB was in school. We walked home from drop off via Caffe Nero and then had a very decadent morning with a hot chocolate, watching "Fantastic Beasts and Where to Find Them" together and working on our crochet and knitting. (My mother in law is a very talented knitter.)
A while ago, when I was between projects but still wanted to make something, I made a bunch of squares from scraps of yarn and then put them away again when I started a proper project. Now I feel very happy at my excellent forward planning and I highly recommend making squares when you want to make something but not commit to a big project. I had a few that were different colours leftover from another project and I threw those in as well. I had to make about 6 squares to complete the blanket and then I laid them out without too much thought and just started joining.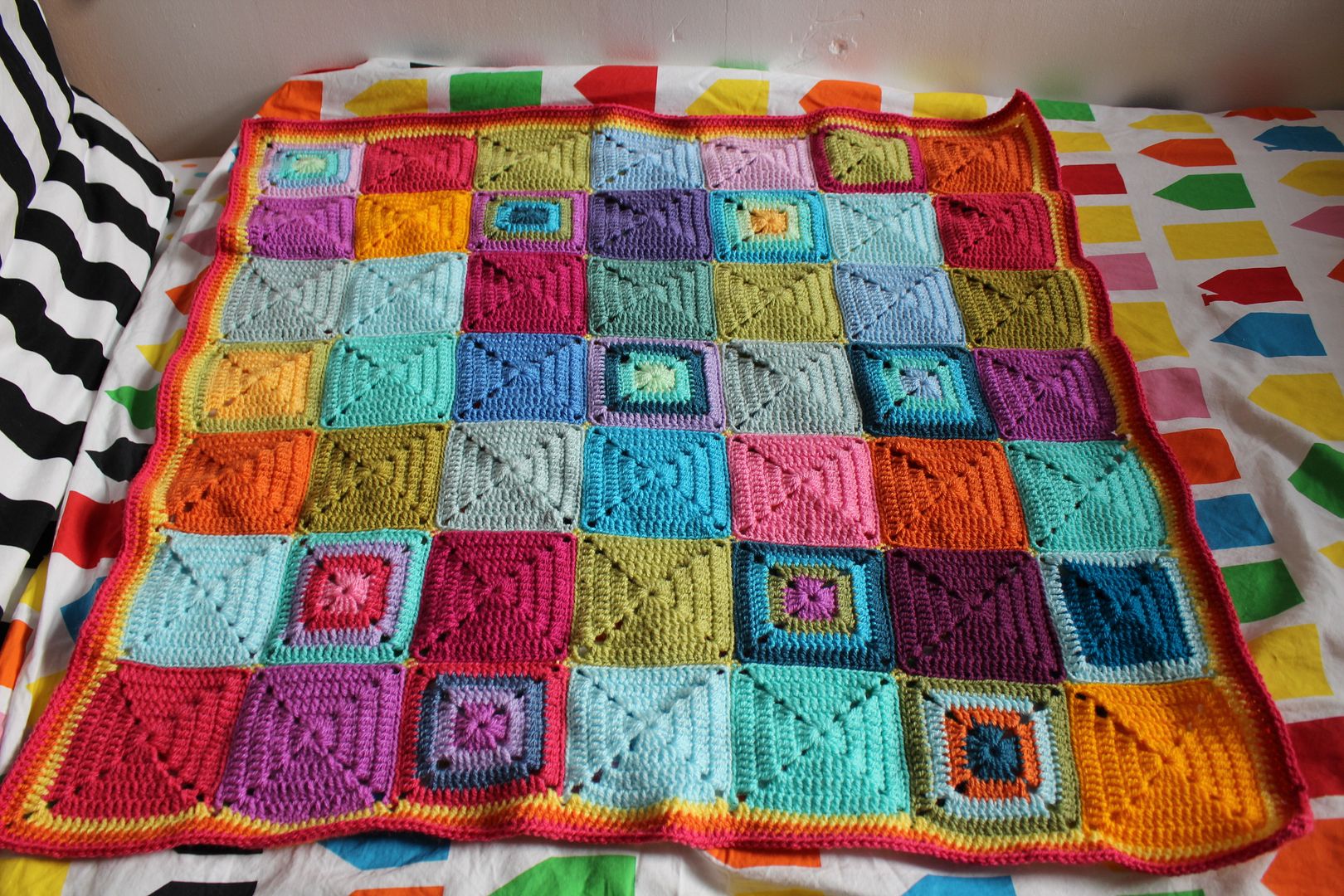 And you know what? I adore it. The colours sing, despite mainly being a random, unplanned selection of ones I had already made, I love the addition of the multi coloured squares, which is always something I've wanted to try but haven't been sure I could pull off. And, I am very happy with the joining colour (Citron) – I think it really adds something else to the blanket. (TTG has just climbed into bed with me and is asking me questions). Every square I joined together just made me think "Ah wow this looks so great with the Citron as well. Who knew?!" I was a bit hesitant when it came to the border; I had done the first round in Citron as well but then noting really seemed to fit comfortably with it as a border colour. So I went rainbowy, and put Spice and then Pomegranate after it and that worked ok. I think it looks all glowy like a fiery sunset.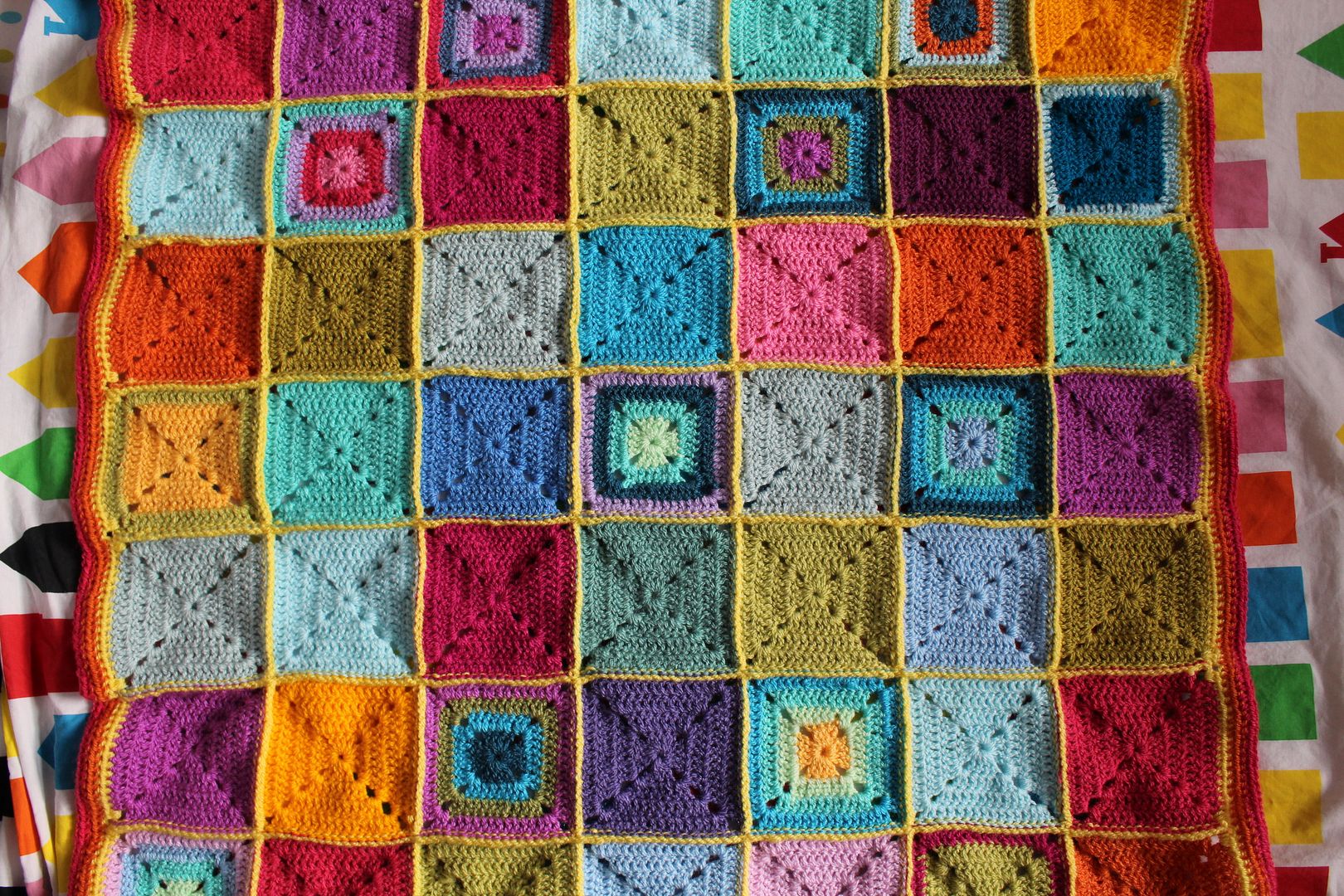 This is one where I could happily have joined it slightly differently and had the Citron showing on the front; look how perfectly it frames each square and makes the colours stand out!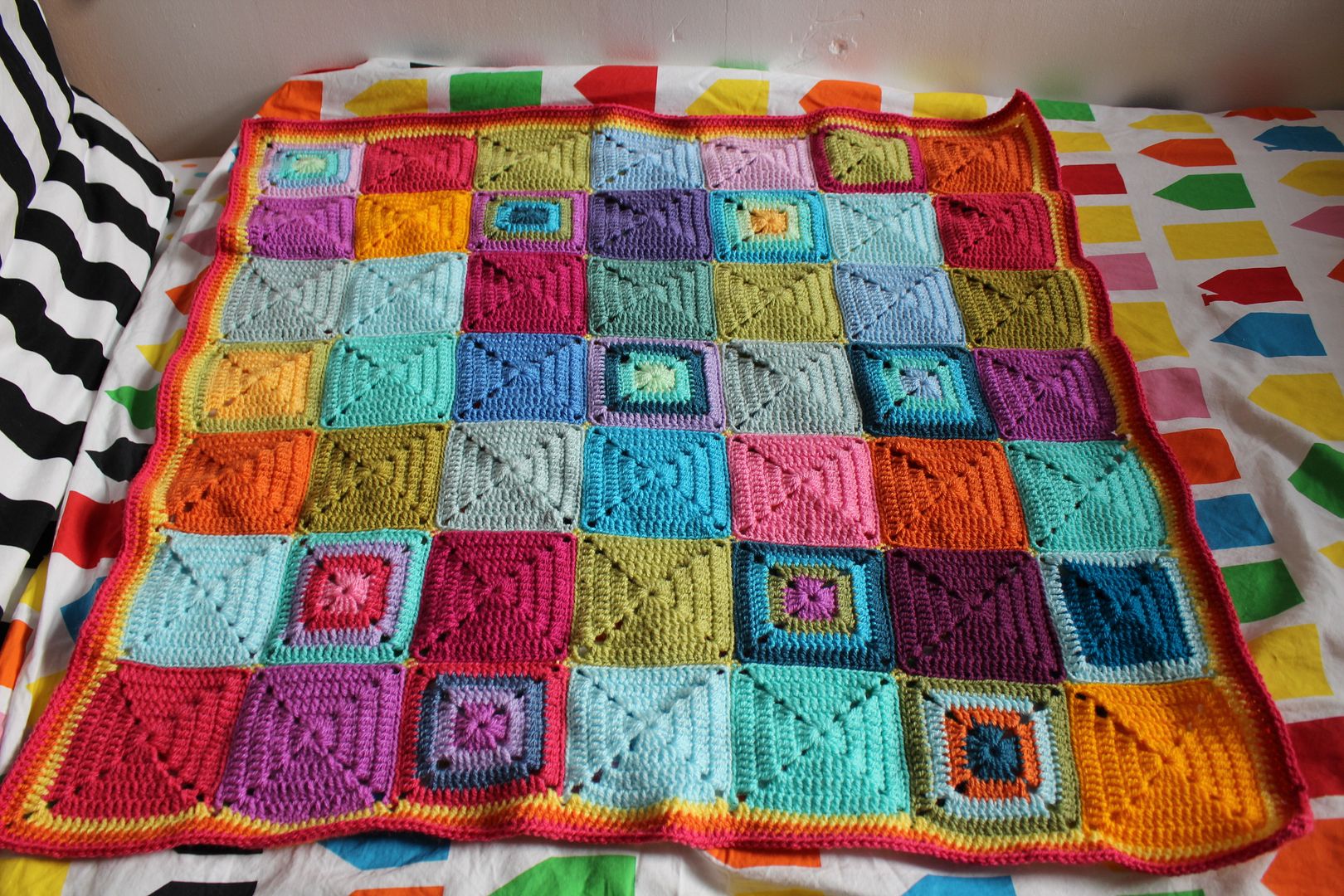 I didn't have time to block it. I took these photos while getting the children ready for school and then we rushed off to nursery to deliver it immediately after so there really wasn't time. It could've done with blocking because I think I put too many stitches in the first round of the border which has made subsequent rounds go a bit wibbly. I don't think it matters too much (I'm sure many will disagree, I always seem to attract attention for my lack of blocking.) because it's for a baby and these blankets are meant to be used and snuggled and cuddled and I don't know about you but I only ever spread my blankets out for taking these photos, after that they just get used. So wibbly edges aren't too bad. If I was doing it again, or had more time, maybe I'd've pulled the border back and done it again. Maybe. But, I didn't have that time, and the person I gave it too was really pleased with it and that makes me really happy.
Blanket Details:
Size: approximately 60cm x 60cm (I didn't measure it but it's on a cotbed which is 70cm wide in these photos.)
Hook size: 4mm
Pattern: Elmer Squares
Yarn: Stylecraft Special dk (all leftovers, so I don't have exact amounts for you) in lots of colours.
Colours: Pomegranate, Spice, Sunshine, Saffron, Citron, Pistachio, Meadow, Lime, Sage, Spring Green, Cloud Blue, Aspen, Turquoise, Clematis, Sherbet, Duck Egg, Magenta, Plum, Fondant, Petrol, Violet, Aster, and I think there may be Wisteria in there as well. You can buy Stylecraft Special dk from Wool Warehouse (this is my affiliate link.)