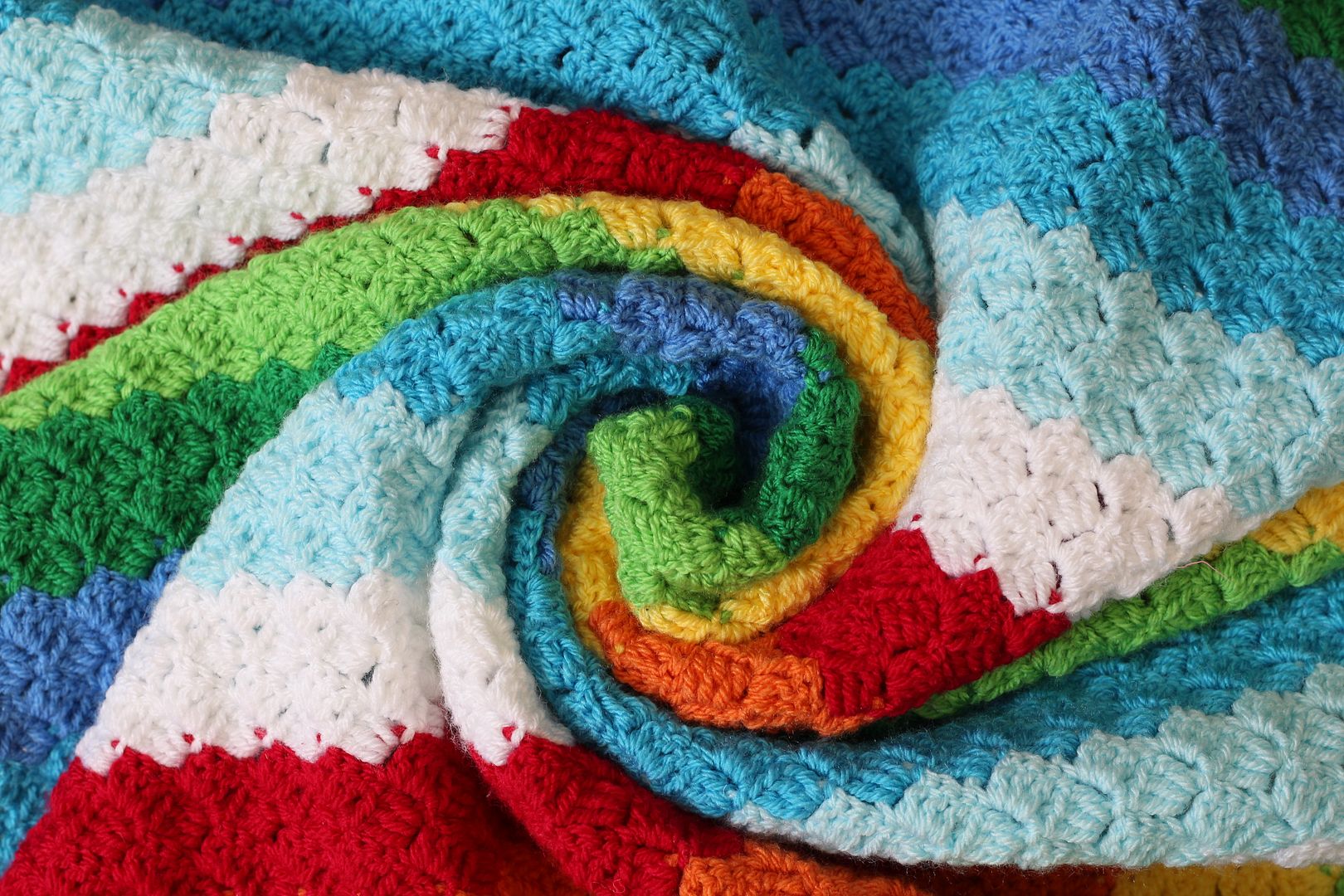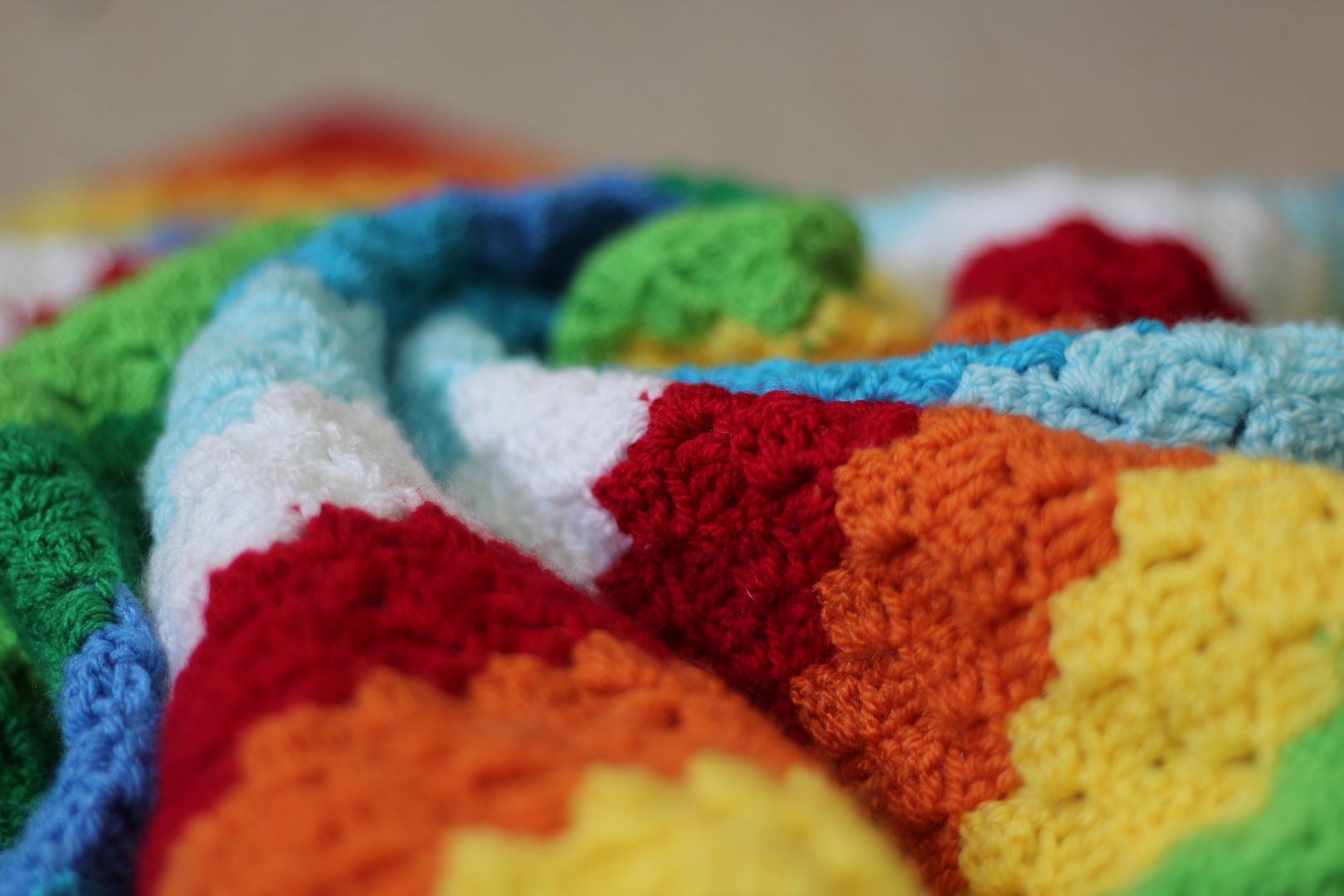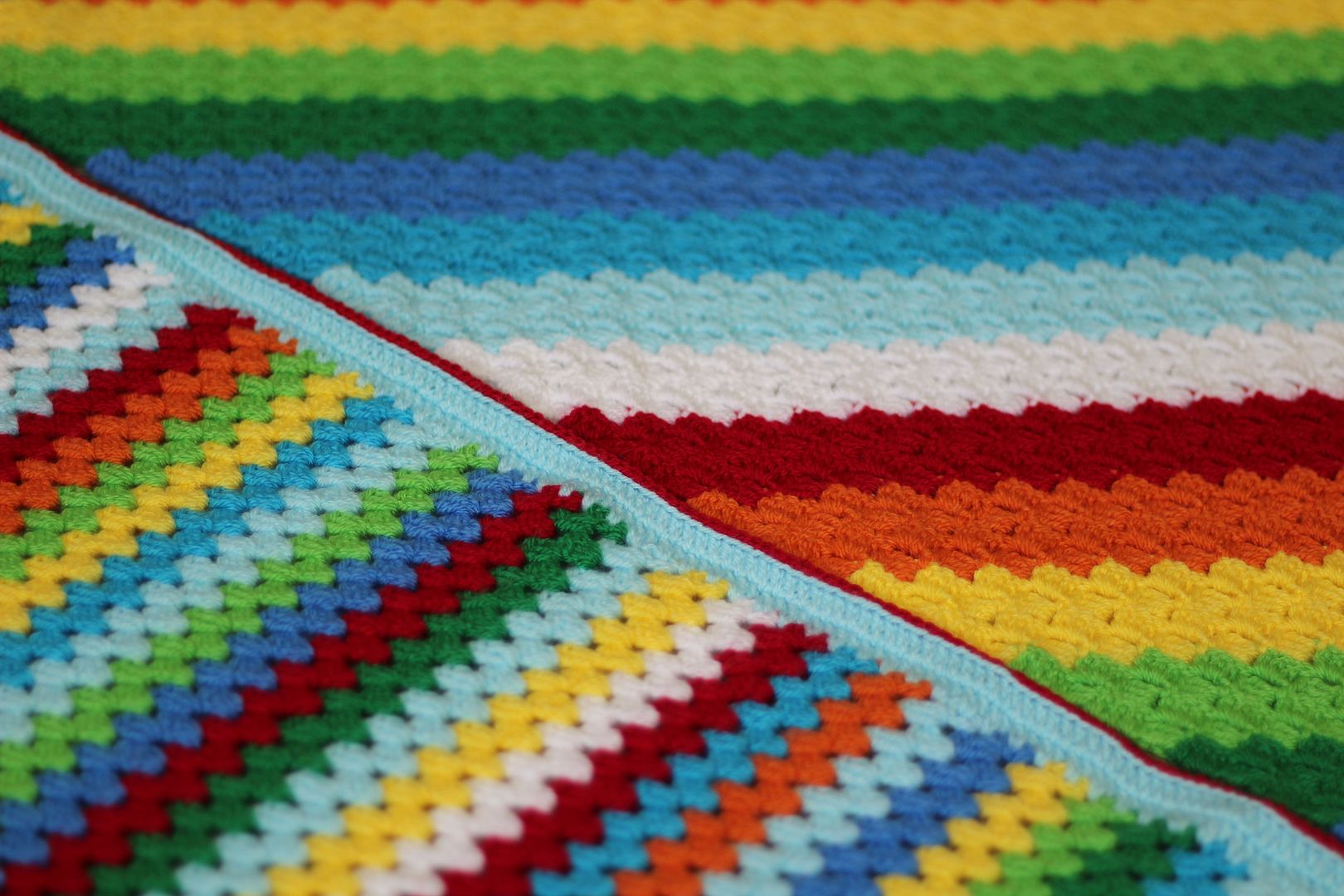 Feast your eyes on those colourful beauties!
I made the corner to corner blanket (on the right) last year and it took less than half of each ball to make it, and I was curious to see if I could get another – but different – blanket out of the rest of the yarn.
Some time passed … and eventually I made the granny stripe blanket with the rest of that yarn. Speedy progress, I'm sure you'll agree.
I don't know about you, but I am finding it a challenge to balance everything that I want to do right now and the first things to be cut when I don't have much time are crochet and writing. Every so often the lure of crochet is too great and I have to cut something else, usually housework, from my list of things to do so that I can listen to the call of the yarn. Then, with toys and clutter and un-put-away piles of washing all around me, I sneak moments of crochet into my day. Just a row or two here and there, when I'm waiting for the children to finish their tea, and then a few more rows while they sit in the bath. A little bit when I'm waiting for meetings at nursery, and two whole stripes during TTG's ballet lesson. (I have never felt more "Mum" than whipping out my crochet from my handbag while I wait for my child to participate in an extracurricular sport lesson. I both love this part of my life because TTG adores ballet, and I like the 30 minutes of free time while I wait, but it's also the antithesis of the young, cool, interesting person that I wish I was.)
Little baby blankets like this are the perfect size for "sneaking time" crochet, because they work up really quickly and it's easy to do one or two rows here and there. I love seeing the stripes growing, and the magic of how one new stripe changes the feel of the whole blanket. I didn't plan the order of the colours beforehand, and just chose each one as I went, but I did keep an eye on the placement of the lipstick and citron stripes as they felt the most salient and I wanted them to look right. I was conscious that I wasn't working from full balls of yarn and so I did make sure that I didn't use up one colour too quickly and that I had enough left so that the colours were sort of even throughout the blanket.
Here's the list of colours for the whole granny stripe blanket (1 being the first row, at the bottom):
| | | | | |
| --- | --- | --- | --- | --- |
| | 1 | turquoise | 23 | white |
| | 2 | grass green | 24 | lipstick |
| | 3 | white | 25 | turquoise |
| | 4 | lipstick | 26 | spice |
| | 5 | turquoise | 27 | sherbet |
| | 6 | citron | 28 | aster |
| | 7 | kelly green | 29 | citron |
| | 8 | aster | 30 | grass green |
| | 9 | white | 31 | kelly green |
| | 10 | sherbet | 32 | turquoise |
| | 11 | lipstick | 33 | sherbet |
| | 12 | spice | 34 | white |
| | 13 | grass green | 35 | citron |
| | 14 | citron | 36 | spice |
| | 15 | turquoise | 37 | lipstick |
| | 16 | sherbet | 38 | grass green |
| | 17 | grass green | 39 | turquoise |
| | 18 | aster | 40 | white |
| | 19 | lipstick | 41 | aster |
| | 20 | kelly green | 42 | kelly green |
| | 21 | sherbet | 43 | citron |
| | 22 | citron | 44 | lipstick |
The border is made from two rounds of UK Treble stitches in Sherbet, and then one round of slip stitches in Lipstick.
The colour order for the Corner to Corner blanket, on the other hand, was predetermined and I think it looks great. I'm really happy with how they both look, and how they look so different despite using the same colours.
The colour order for the Corner to Corner blanket is:
White, Sherbet, Turquoise, Aster, Kelly Green, Grass Green, Citron, Spice, Lipstick.
If you want to get two blankets out of ten balls of yarn like I have done here, you'll need to buy one ball of each Lipstick, Spice, Citron, Grass Green, Kelly Green, Turquoise, Aster, and White, and then two balls of Sherbet. It's Stylecraft Special dk and you can buy it at Wool Warehouse. (This is my affiliate link.) I highly recommend following the colour order for both blankets, as I can't guarantee you'll get two blankets out of this amount of yarn if you don't. If you have very loose tension you might want to size down a hook here.
I learned how to make Corner to Corner blankets from the Bella Coco youtube tutorial. However, I have found that I have more success with chaining 5 in the places where she says to chain 6. This may just be my tension, but give it a try and see what works for you.
When you start to decrease the blanket, you'll need to increase for just one row of the colour that you decrease with. So in this blanket, the colour I decreased on was 'Aster'. There are 4 rows in each stripe. For the first row of that decreasing stripe, increase as usual. Then for the remaining three rows in that stripe, and for all subsequent stripes, decrease. Here's an older video on my instagram that shows you. It means that the last stripe will also be 4 rows wide, instead of 3.
I absolutely LOVE these blankets and I'm delighted with the way the colours have worked. I think they're bright and fresh and happy. They're also unisex so they'd work well if you're making for a baby that you don't know if it's a boy or a girl.