I watched the London Marathon this year and I was so inspired by the runners that I decided that I wanted to DO A RACE and BE AMAZING, so I entered the Runforall Leeds 10k. My brilliant friend Jo said she would do it with me. Yes! I was so excited. Then I had another running injury and had to rest my feet and legs for two months until I could run again. That wasn't great and I was worried that I wouldn't be able to do the race. I've worked hard over the last 3 weeks or so to get myself back to running strength, and I've been swimming as much as I can as well, and finally on Thursday last week I had a really good run that I felt READY for the 10k on Sunday.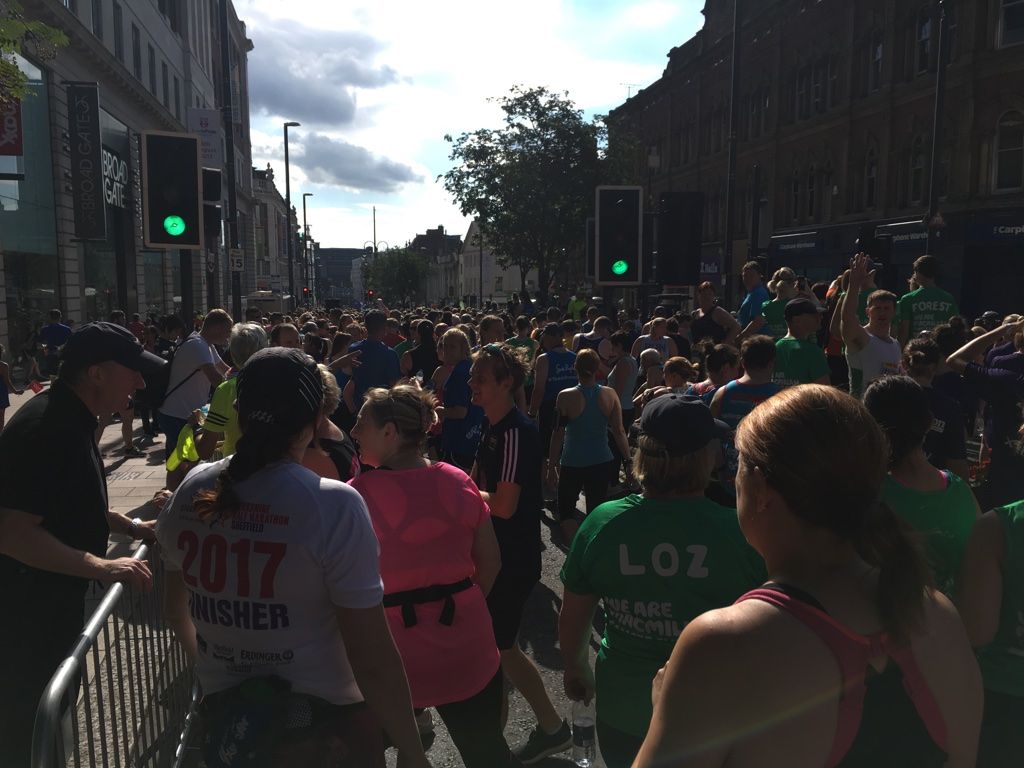 Jo collected me at 7:30am and it was already hot with no sign of cooling down. I was excited and ready to run but I still felt like a nervous jelly; I think that was the anticipation of waiting to get going. This was my first running event, but I have done quite a lot of races in the past when I used to do kayaking. I thought, "No matter what happens, there is zero chance of me falling in the River Thames today!" which helped my confidence. Falling in the river when you're doing marathon kayaking is so frustrating. The pre-race starting block was easier as well for the same reason, standing and waiting on dry land is much easier than trying to keep a wobbly boat still on a river!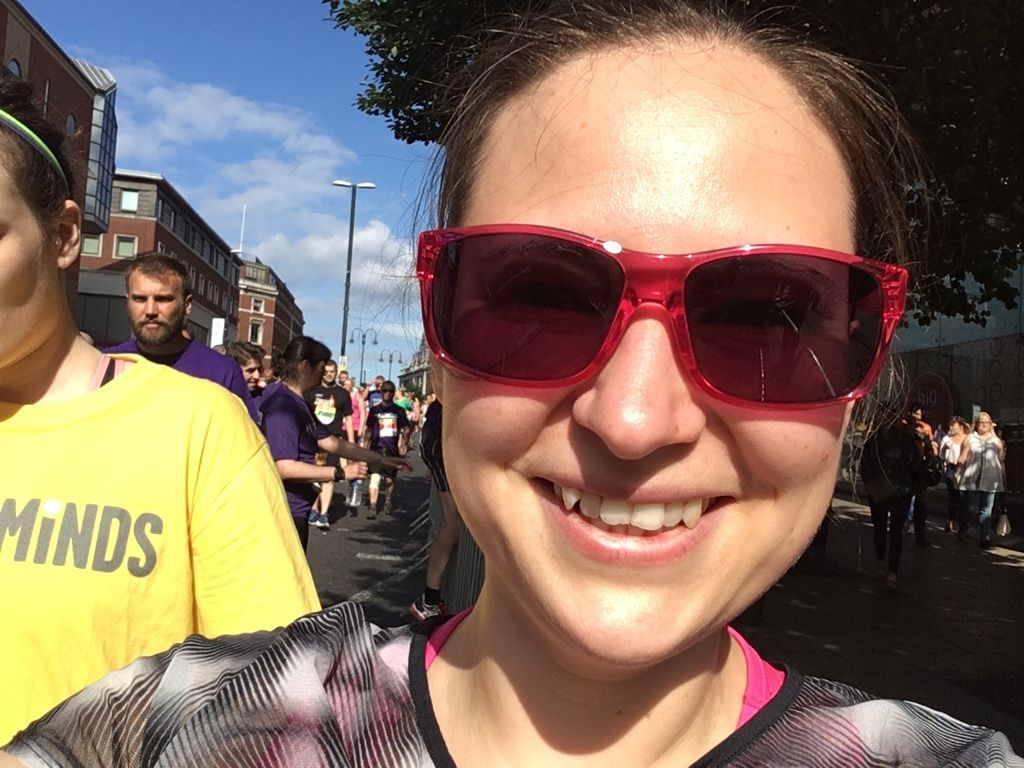 It was so hot! The atmosphere was amazing. Jo is a much faster runner than me so she had a different start time. We hugged each other good luck and then went to our separate starts. The beat of the music blasting out made me just want to get going and run! Before long, we'd made our way along the Headrow and New Briggate, around the corner and we were off. I've been along the city centre roads many times by bus or by car but never on foot and it felt quite surreal to run where its usually dominated by traffic. Everyone was cheering as we ran past, it was great.
Recently I discovered that I run better if I listen to a podcast, because it stops my brain filling up with ridiculous thoughts about stopping. I listened to the Standard Issue podcast which is brilliant and had me smiling most of the way round.
Did I mention how hot it was?
1km came sooner than I thought. Yeah, 1km! I haven't stopped yet! Go me! 2km felt a bit further but I was still running. Excellent! I can so do this. I missed the flag for 3km so that felt very long but a happy surprise to discover I'd don 4km not 3. Bottles of water were handed out somewhere around here – it's tricky to drink from an open topped bottle when you're running and I didn't want too much so I passed it back to another steward – keep going, keep going. People were walking, I ran round them, I wasn't walking, I was still running. 5km flag! Yes! I'm halfway and I haven't stopped or walked yet and 5km is the furthest I did in preparation for this race in the last three weeks so I am already beating last-week-Heather! The 1hr 15 pacer runner goes past me on the other side, she's already turned. How far is the turn? 400m. Turn around, there's a bit of shade on the left hand side, ah that's good but then the shade runs out and it's twice as hot. Nearly at 7km now and I'm still going. More water, avoid the water hose because I've got my phone and my fitbit and they won't like the water, oh where is 8km it must be here somewhere … it's the samba band again, I must be close to 8km, here it is, oh it's so hot, just think about the podcast, listen to that, don't think about anything, keep going. There's the 1hr15 pacer runner! I'm not far behind, I've closed the gap, that's a great time! Keep her in sight … Under the viaduct, 9km! Just one more to go and that's only 1000m YOU CAN DO THIS! It's uphill now but I am used to hills, everywhere in Skipton is hilly, more people walking, I go past them, I keep on going, I'm really tired now and I'm feeling light headed and jelly legged. 400m sign! So close, it's nearly over, I've nearly done it! Crowds of people are lining the finishing stretch. I am so close. I hear the tannoy cheer the 1hr15 pacer over the line, oh I didn't catch her, I wasn't fast enough, I look for Jo among the people and when I see her I shout "come and get me I don't feel good!" and then I cross the line and it's over, I've done it. I did it. 10km. Running the whole way. I hang onto the barrier and a nice ambulance man walks with me to stop me falling over. My legs have forgotten what to do. The heat wasn't helping. Ambulance man leads me to the goody bags and medals bit and I go and collect mine. I tell the medal lady that I ran the whole way and it's the first time I've done a 10k race. She tells me how well I've done and especially in the heat. Medal! So proud.
Then finally I find Jo and she holds my hand to stop me falling over and leads me to The Light (which is a fancy shopping centre nearby, not a light at the end of a tunnel or something!) to a bench and I can sit down and jabber on about medal and running the whole way and so thirsty.
Medals. We are amazing. My time was 1hr 13, which I am thrilled with. I don't think I could be prouder of myself if I tried.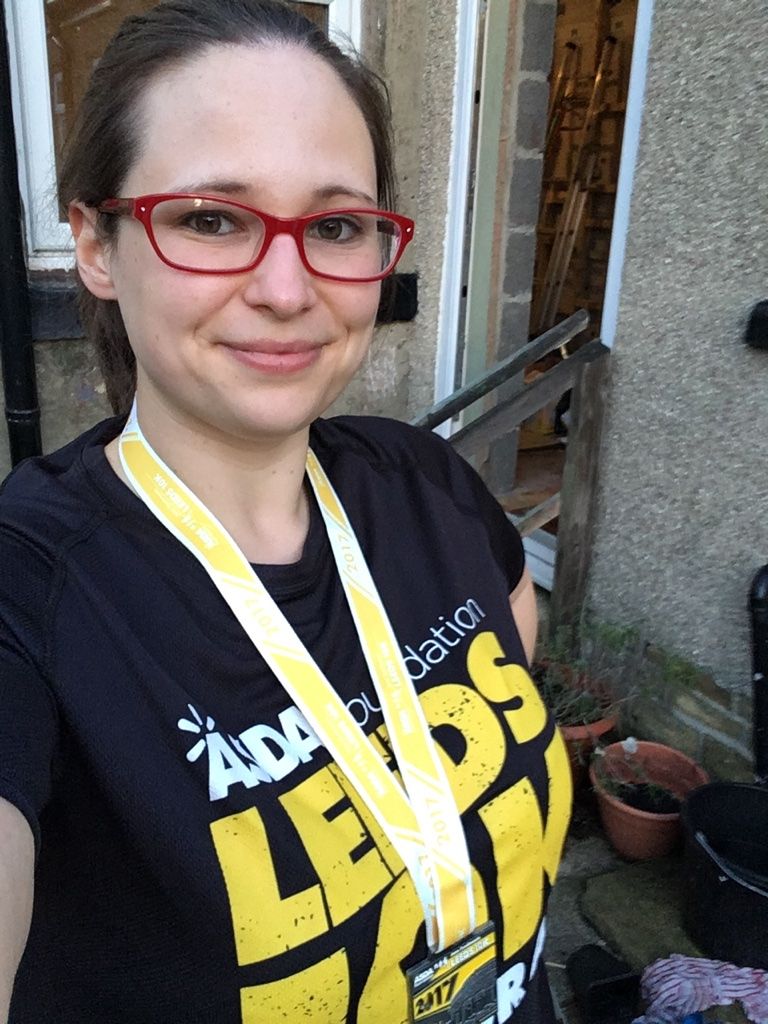 13 months ago I couldn't even run 200m and before that I never, ever would've believed that I could run at all let alone a 10km. I remember how brilliant I felt the first time I ran a whole 1km!
Running is liberating. It's freedom, strength, pride. I am runner, hear me roar.
Enormous thanks to Jo who has been so supportive of me learning to run and without whom I would not have been there on Sunday. Every time I say I'm going to do a race, the first thing Jo says is "I'll do it with you!" She's run my first 5k and my first 10k with me – maybe I'll add my first half marathon to that next year. 
I didn't run for a charity or sponsorship, but if you'd like to donate a book to our Nursery (my children attend and I am a governor), we have an Amazon Wishlist. Any book purchased via the wishlist will get sent straight to Nursery, and would be much appreciated. Thank you.