Once again I've left it an age between blog posts, please pretend that I haven't left it so long because there were only really two days between us going to Kingston Lacey and then to Canons Ashby.
Thank you to everyone who has said kind things to me about my Grandma, and who has shared memories about their grandparents with me. It really means a lot. It's still so bizarre that she isn't here now but I suppose it gets more real all the time. Memories are so important and I'm happy to have so many.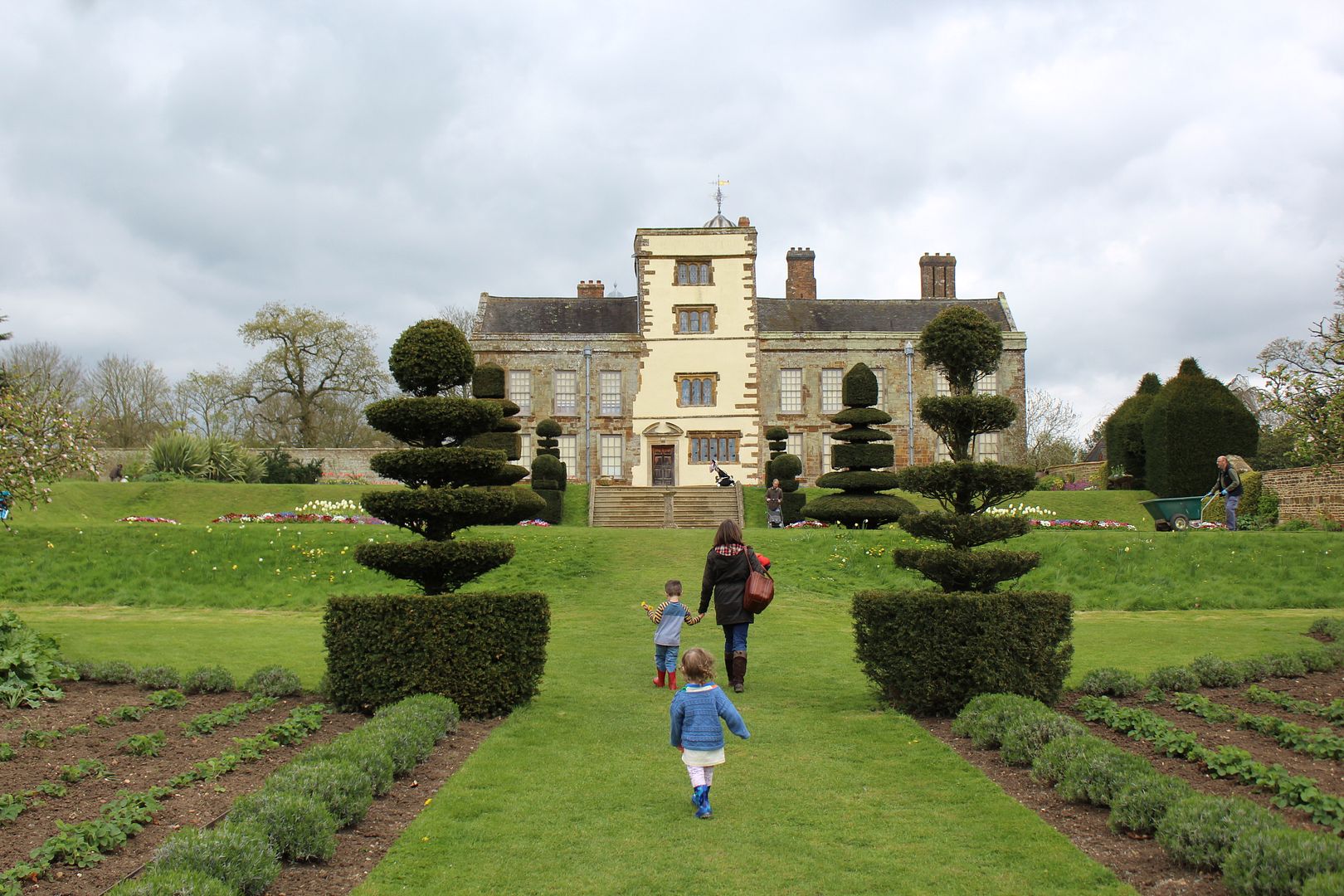 Canons Ashby is really close to where my mum lives and we have been there a good few times in the past. It's great because you don't have to be an NT member to enjoy the cafe, and they do amazing cake. It's also somewhere that we went to with Grandma a lot and it really holds a lot of "Grandma" association and memories. We (that's me, my mum, and the children) decided to go this time partly because we wanted to do the Easter Egg trail, and it's great for the children to run about in, and partly because it made going there for the first time since Grandma died a bit easier than leaving it for a long time before going. When we went into the shop (to get my passport stamped!) they asked if I wanted to join the National Trust and you know what, I just seized the moment and joined there and then. I found out afterwards that if you join at a property, that property gets all of the money from your membership so it felt really good to have done it at a relatively small place that was local to us. As soon as I had joined I felt so much better and more positive about the sad feelings I'd been having about Grandma while we were at Kingston Lacey. She was so passionate about the NT and I felt good to continue that.
Then we went to eat cake, which was delicious as usual.
The gardens are always so beautifully planted at Canons Ashby. I love the vibrant colours in the formal gardens at the top, but the part that is most pleasing to my soul is the orchard part. In the summer the beds are planted with a rainbow array of flowers on one side, and a variety of vegetables on the other side. Just look at these Snake's Head Fritillaries under the apple trees! Subtly beautiful.
We came back to Canons Ashby House the next day as well, to do the Easter Egg trail (it hadn't started prior to this). It was colder and windier and much more full of people but we still had a good time (anything that ends in chocolate!). TTG found a hold next to a tree stump that occupied her for quite a long time, as if she was looking to follow Alice down to Wonderland. Our real life Alice (my sister) was with us too and she did a great job of helping TTB to find the clues. The parkland where the clues were turned out to be much bigger than I was expecting and the children got a bit fed up with it so as soon as I'd worked out what the phrase was from the letters we had collected, we skipped the rest and just went back. Then we went home and made Hot Cross Buns.
Spending time with my family is my favourite thing.