We had such great weather last week, really hot and fairly unusual for April. As we were staying with my mother in law in Dorset, we decided to make the most of it and spend the day on the beach in Swanage. It wasn't the children's first time at the sea, but Swanage is a different kind of beach from Calshot where we spent a couple of hours last summer, and with them being older this time it really felt like their first time.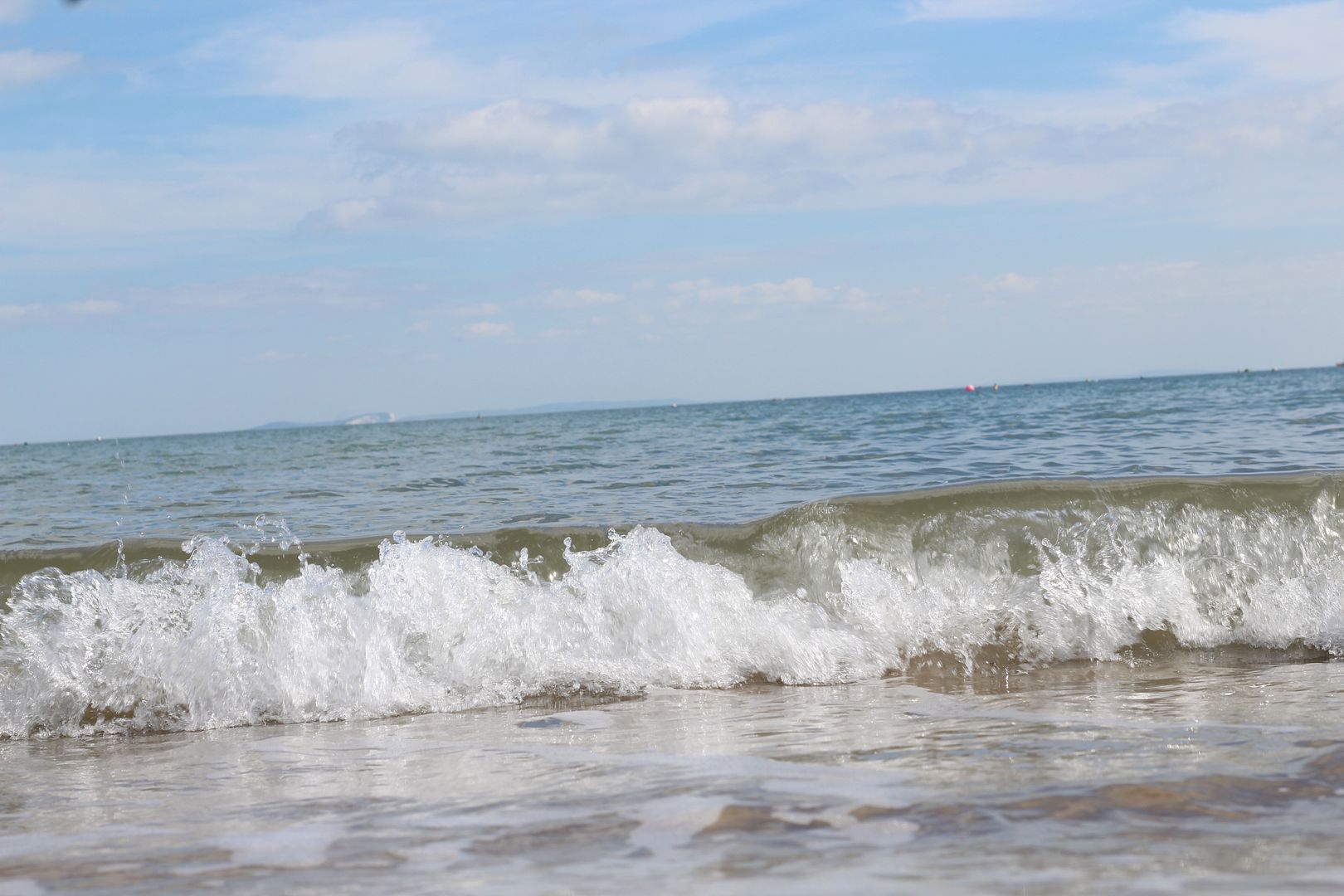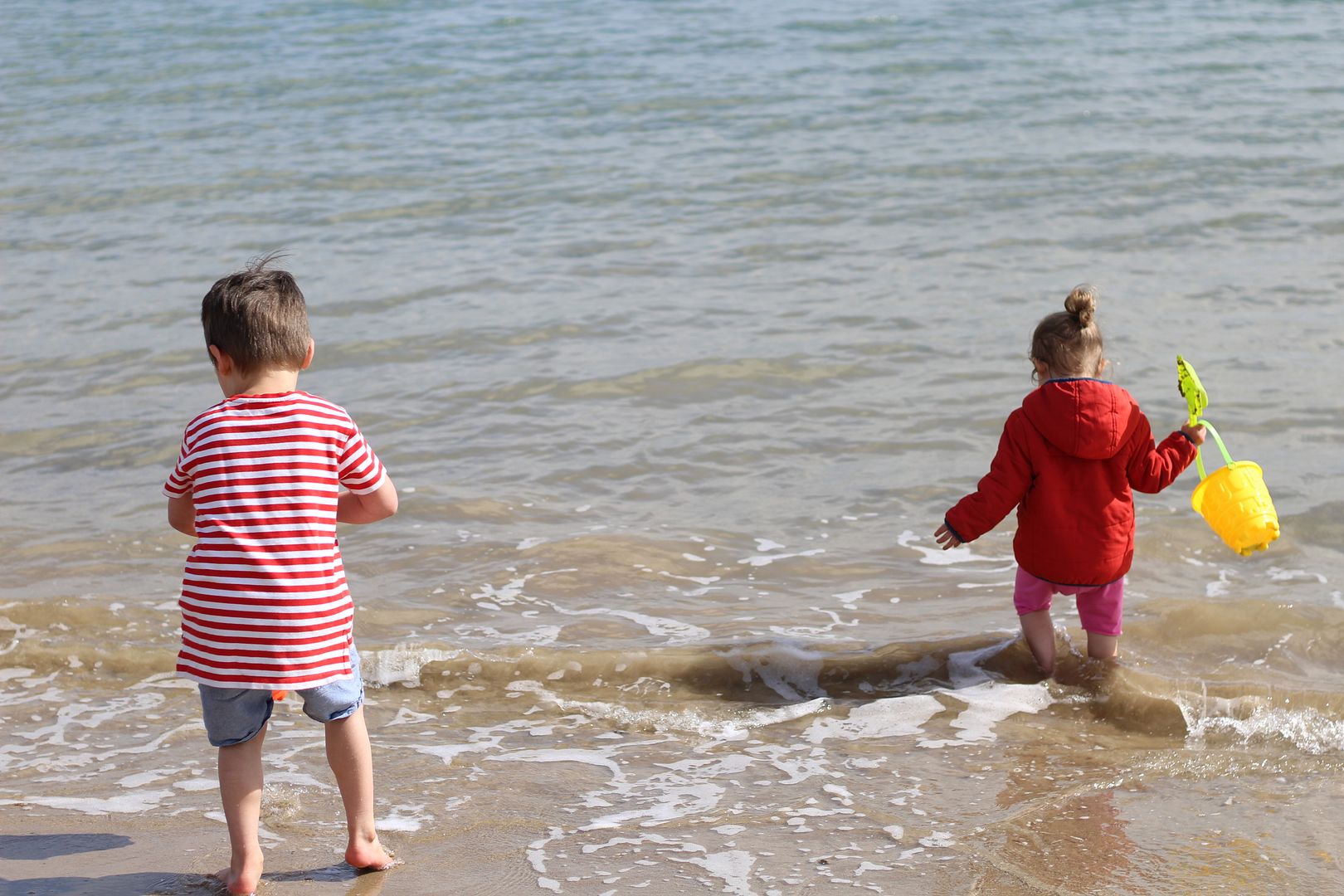 TTG is very attached to her coat, it wasn't really as cold as she's making out! She wasn't entirely sure about the feel of the sand on her feet or the way the waves ebb and flow, but after a bit of hand holding and reassurance she quickly gained her confidence and spent the day running in and out of the water, grabbing handfuls of sand and then throwing them in the water. Neither of them sat down until lunchtime, they were just so busy playing and exploring. Finding exciting things to show me and Granny.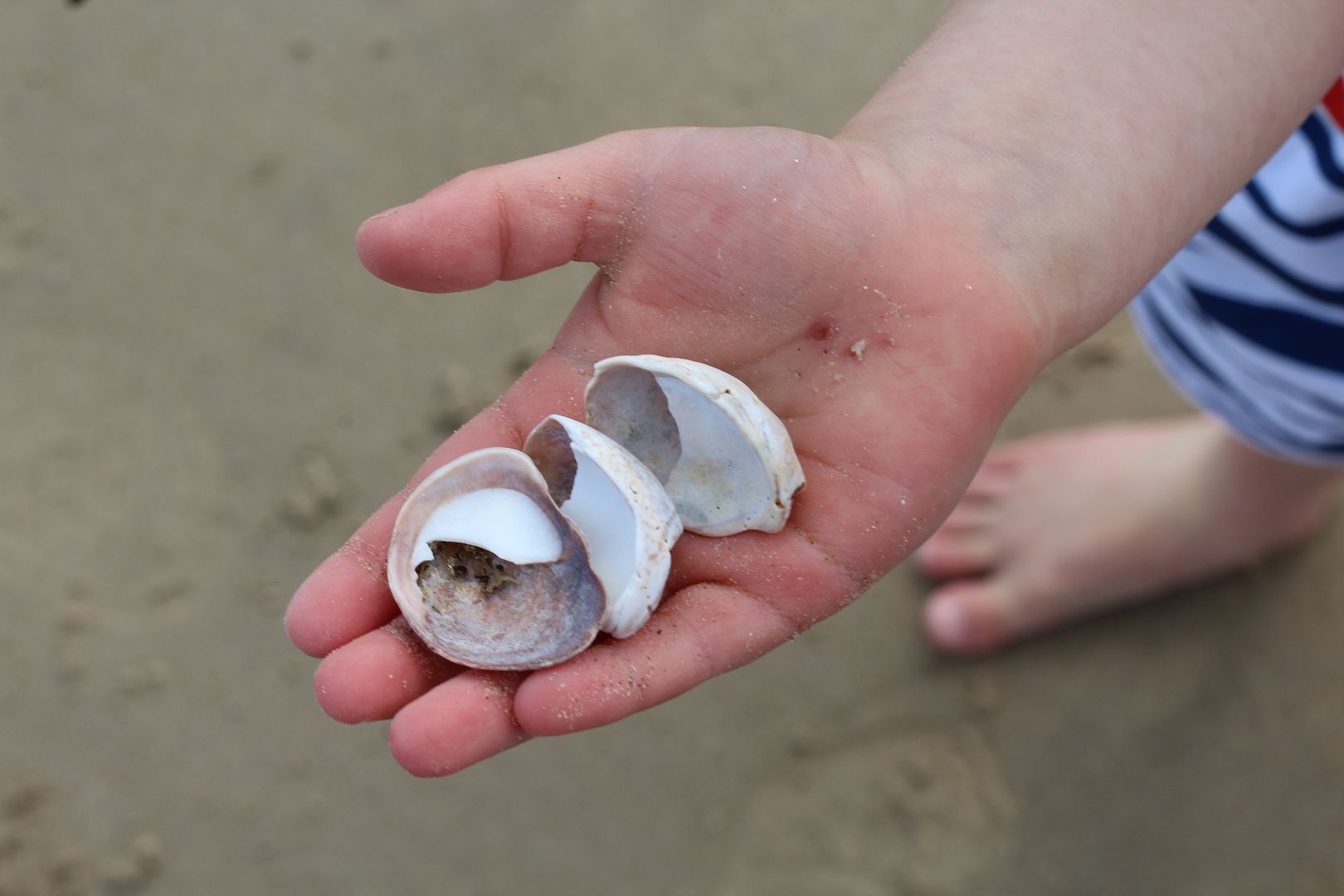 TTB found some Slipper Limpets; these were the most common type of shell on the beach at Pevensey Bay where I used to go on holiday as a child and so I always used to discard them in favour of more exciting specimens. He was very pleased with these and we had to bring them home with us. It's exciting to start his beach education: a little bit of biology and geology. We found flints and chalks, stones with holes all the way through and others eroded in funny shapes and some pieces of seaglass to add to our small collection too.
Nobody really wanted to leave at the end of the day! I find that you have to time leaving just right, because if you leave it too late they very quickly become too tired and grumpy and JUST CAN'T HANDLE IT and everything is JUST WRONG. Leaving on a high point is the best way. They both slept on the way home and were awake for hours past their normal bedtimes, but that's what holidays are for, isn't it? Even though I fervently wished that they would just go to sleep at 7pm so that I could go to bed too!
I feel so happy that we went to Swanage. It was a plan made only the night before in a fit of seizing the good weather, and I think it was all the better for that. We had chips on the beach and ice creams for pudding and everyone was happy and thoroughly enjoyed themselves. I think the children will remember the trip for a long time, and Granny was happy to have taken them as she doesn't get to see them very often.
I've just been reading back through my blog post that I wrote last year when we went to Calshot beach and this paragraph made me pause:
We have lots of adventures, me and my two little ones, and I have a great many photos that I have enjoyed taking and love to look at. Every now and again, we do something that is just so brilliant and special that I feel like I want to dance a little jig of happiness when I think about it, and I know that I will treasure these photos for always.
It's funny because I was thinking the exact same thing about this day in Swanage, and all of the photos I took. I'll look through them in the future and remember the uncertain toes on the squishy sand as the water pulls away from it, the way TTB filled his scoop with water and went back and forth to his bucket, filling it up like that and then returning the water to the sea. TTG crawling through the sand declaring "I crawl like a baby!", or when she ate the cone of her ice cream first and then returned to us clutching a ball of drippy ice cream, saying "oh no, ice cream cold!". When she realised that she could throw stones into the sea, and seeing her in her little fish patterned swimming costume so confidently running about and playing with her brother. TTB introducing himself to children of a similar age and wanting to make friends. How busy he was, digging a hole in the sand, and how fascinated he was by the different types of stones that he found on the beach – the realisation that they have different names and properties: you can draw on the pavement with a piece of chalk stone, but not with a flint. And chalk stone comes from the cliffs over there! TTG's little shorts that I made her by chopping the legs off her leggings (the hot weather surprised me and I had brought no summer clothes from home). Just how busy the children were all day long and the beaming smiles on their faces. Happy, sun kissed, sandy-footed children sleeping in the car on the way home.
Happy.