When I posted the Bright Rainbow Blanket update the other day, a lot of you (quite rightly!) commented asking for information that I had unthinkingly left out. I'm sorry for not including the pattern, the number of stripes I did before decreasing on one side or the number of stripes I did before decreasing on both sides. No excuse other than I just didn't think about it.
The pattern is the Corner to Corner crochet pattern and I don't know who created it or claims ownership of it, but the tutorial I used was Bellacoco's video tutorial on Youtube. I had not intended to write up a tutorial as I can't claim ownership of the pattern, but then again I have granny square tutorials on my blog and I in no way invented the granny square so maybe I wouldn't be breaking any laws if I did photo instructions for my corner to corner blanket.
A few weeks ago I posted a video I made on my Instagram account, talking about decreasing the corner to corner blanket. In the past, I've been really confused as to why the final stripe on my blanket is one row narrower than all the rest of the stripes and recently I discovered a fix for it, quite by chance. Here's the video: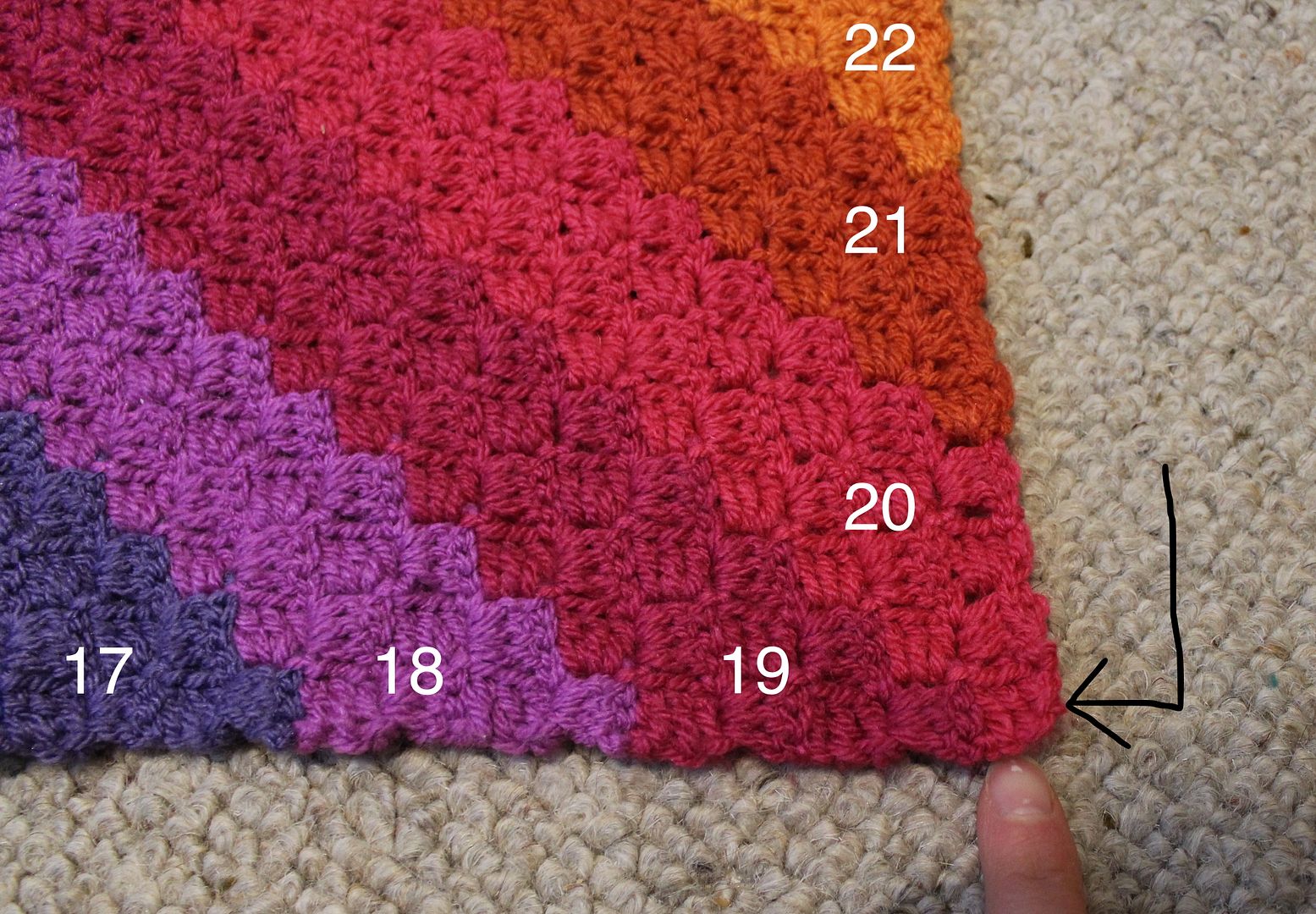 I know the colours of stripes 19 and 20 are quite similar and it's a little hard to see, sorry. You need to increase the first row of your first decreasing stripe.The video explains this more clearly. I have done 4 rows per stripe here, you can see that there are four clusters per stripe along the bottom of the blanket. Then, for stripe number 20, there is just one cluster along the bottom. This is because I have increased just this one row of that stripe. After that, I decreased the remaining three rows of stripe 20 on that side.
This will mean that the final stripe at the top right corner of the blanket will be the same width as all of the other stripes. It's not the end of the world if you don't increase that one row, but it will mean that your final stripe will have 3 rows instead of 4.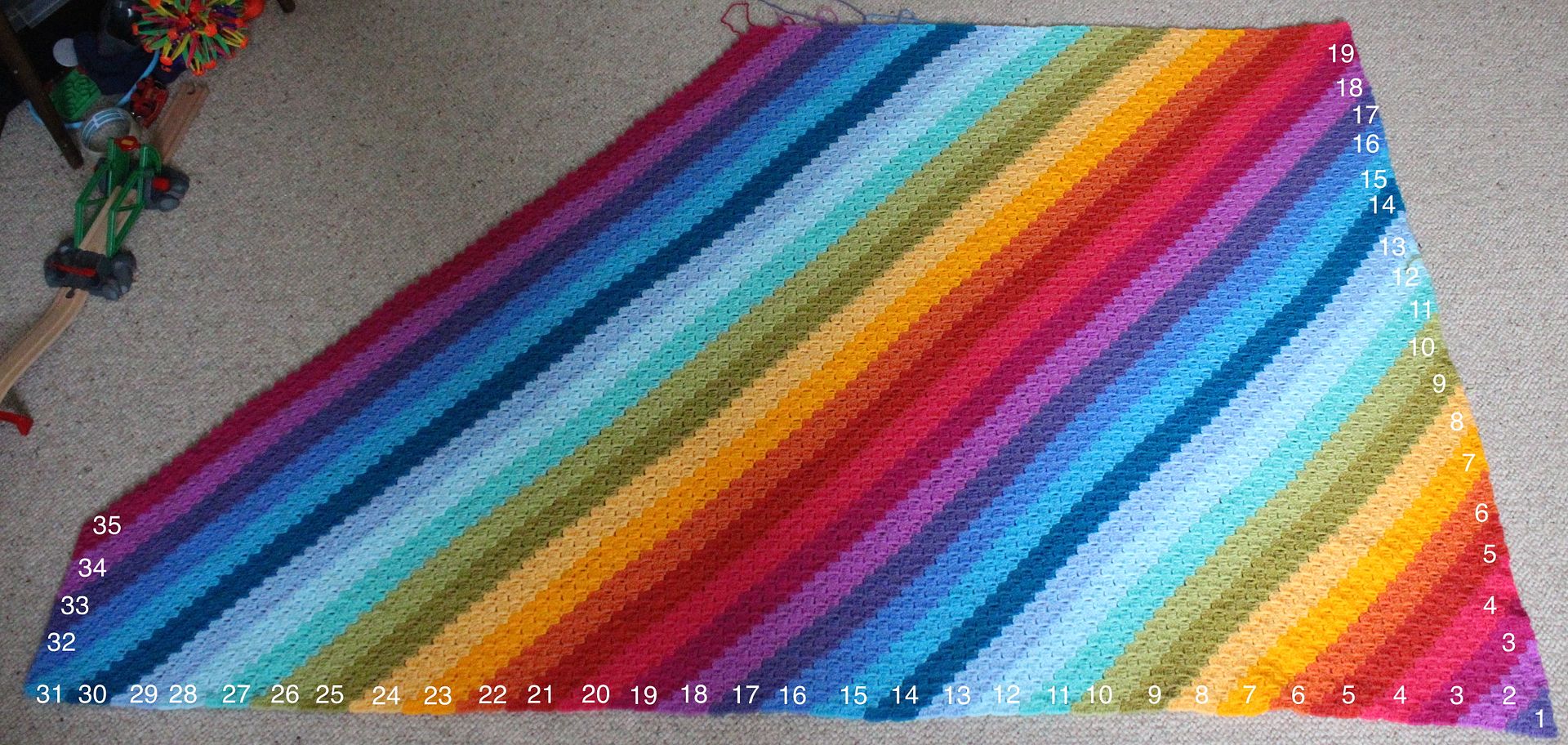 I hope you can see this clearly, if not it should let you click on it to enlarge the image.
Stripe number 1 (Violet) is the first stripe I did. I did 19 stripes where I increased on both sides. The 20th stripe (Pomegranate) was the first one where I decreased on one side and increased on the other.
Stripe 32 (Aster) is the first stripe where I decreased on both sides.
Stripes 1-19 increasing on both sides.
Stripe 20 increase on both sides for one row, and for the remaining 3 rows increase on one side and decrease on one side.
Stripes 21 – 31 increase on one side and decrease on the other.
Stripes 32 onwards decrease on both sides.
Colour Order
I have used a repeating colour order:
1. Violet
2. Magenta
3. Fuchsia Purple
4. Pomegranate
5. Tomato
6. Spice
7. Sunshine
8. Saffron
9. Lime
10. Pistachio
11. Aspen
12. Sherbet
13. Cloud Blue
14. Empire
15. Turquoise
16. Aster
and then back to violet again. Repeat this colour order until the end of the blanket.
The colour pack of Stylecraft Special dk is available from Wool Warehouse; please follow this link as it's my affiliate link and I will receive commission from the purchase.
I hope that covers everything for now, but please do let me know if I have missed anything else!