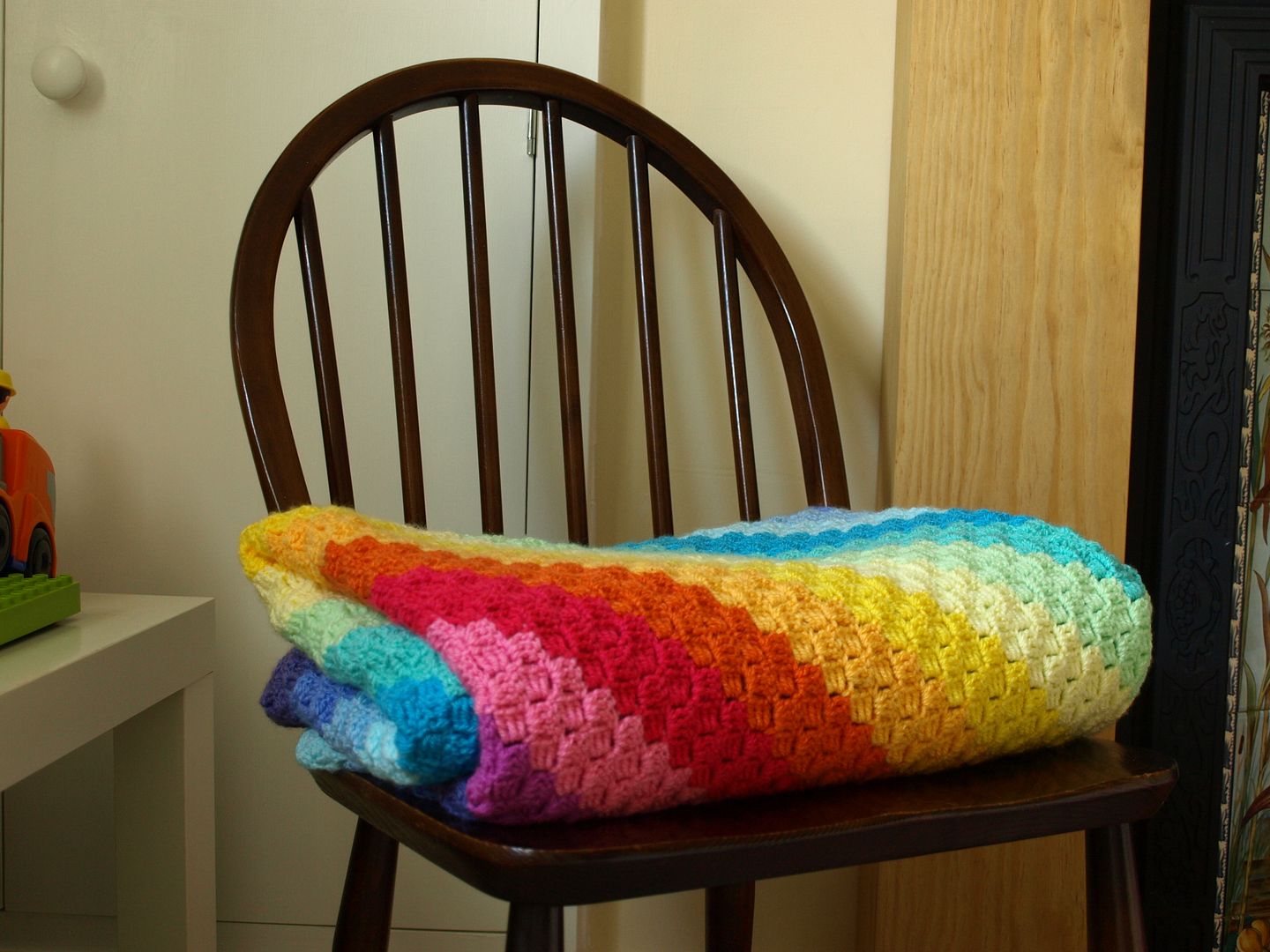 Hello! I'm so happy to share this blanket with you today. To be honest, I'm a little giddy about it. It's been the focus of every spare minute of mine for half of August, all of September, and a little bit of October as well. If you follow me on Instagram or Facebook you'll likely have seen some of my progress photos of this but I've kept the full ta-dah for here. I am really excited about this!
A couple of months ago I saw a blanket by The Patchwork Heart and fell in love with it. I couldn't stop thinking about it. And then I clicked on the hashtag on Instagram and that was it: I had to make a corner to corner blanket RIGHT NOW! I cast one on there and then. I think that Bellacoco's video tutorial is excellent.
Coincidentally I had been playing with my yarn pegs (I do this a lot) and had come up with the perfect colour combination for my friend's daughter. A "My Little Pony" inspired rainbow. Starting with Spice, then Saffron, Citron, Lemon, Spring Green, Aspen, Turquoise, Sherbet, Cloud Blue, Bluebell, Violet, Magenta, Fondant, and ending with Pomegranate. (Stylecraft Special DK of course.) Oh it's beautiful. It's bright, very bright, but it just glows and I love it so much. I'm thrilled with the texture of the blanket; this stitch is just divine, so warm and thick but still soft and drapey. I'm really pleased with both the colours and the pattern.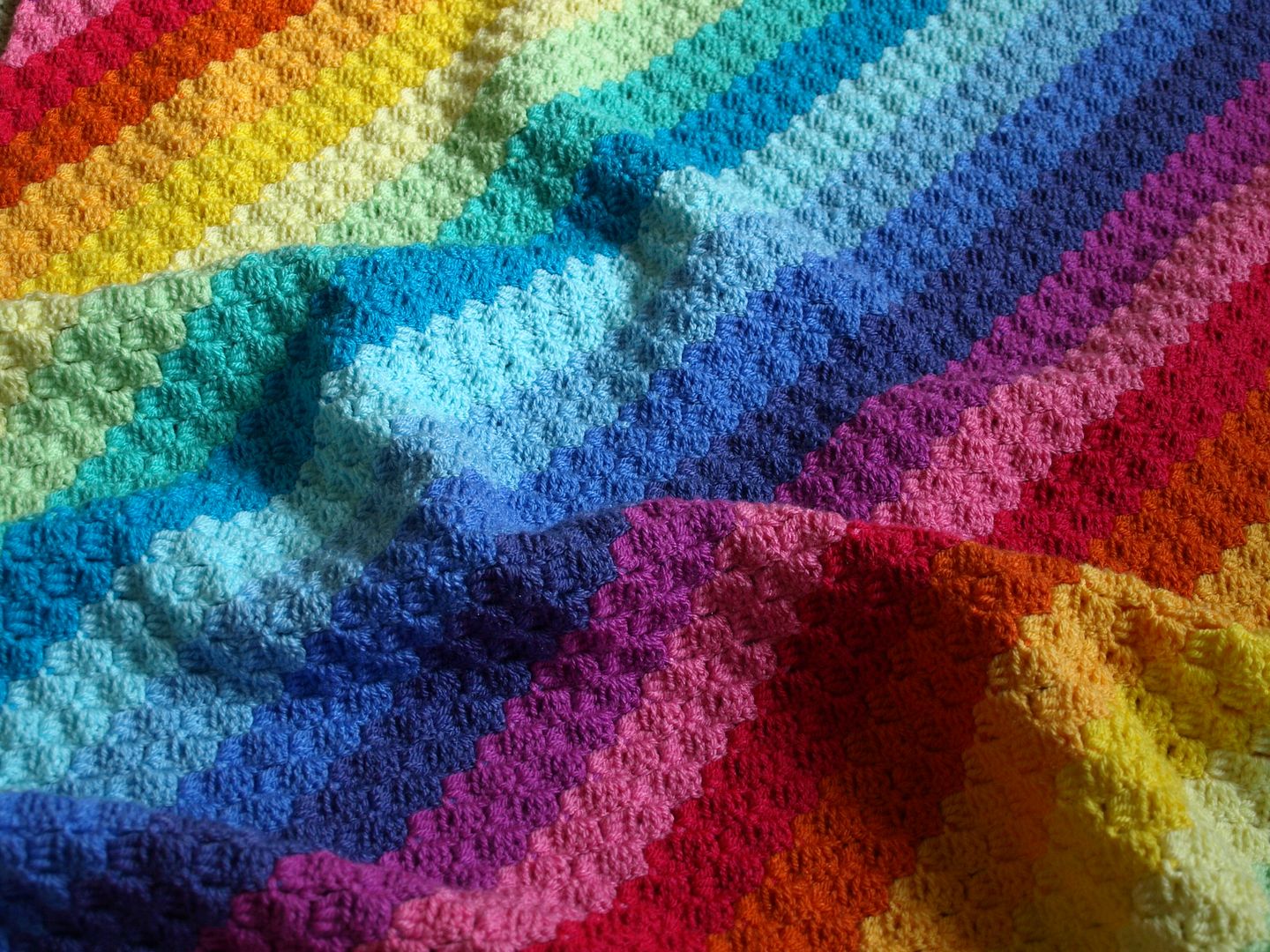 I'd love to do this as a colour pack and team up with a yarn shop (ahhh lofty dreams!) but annoyingly I didn't start with full balls of yarn. I did start with a full ball of "Lemon", and I still have a bit left from that so I would estimate that you'd need one ball of each colour but maybe be prepared to top up if you have loose tension, or want a larger blanket. This blanket is just shy of single bed size; it is single bed width but not quite length because the rows were LONG and I felt that if I didn't start to decrease it soon I would cry.
The decreasing is amazing. I've never known sweet, blankety joy like it before. Oh the decreasing! <3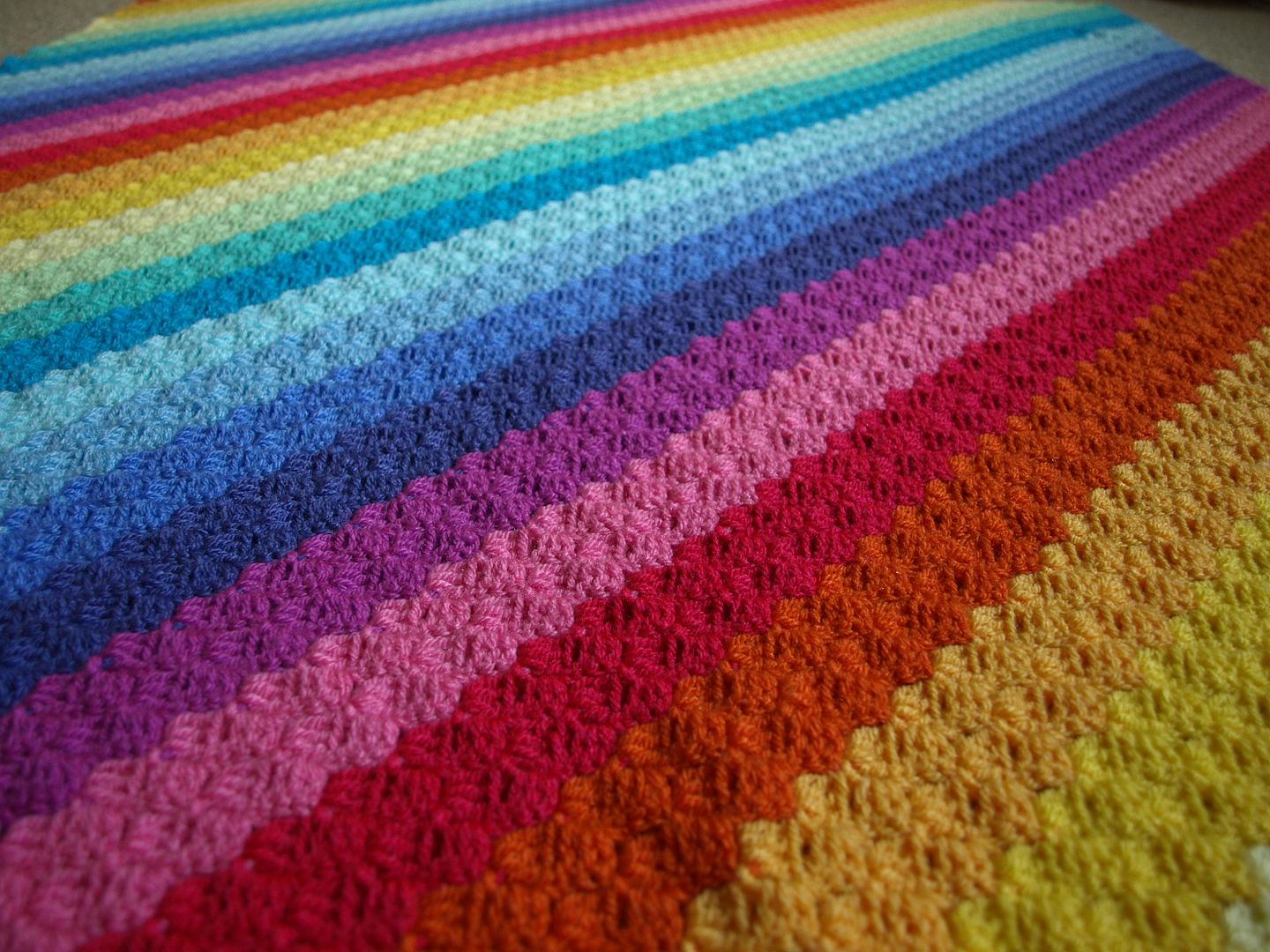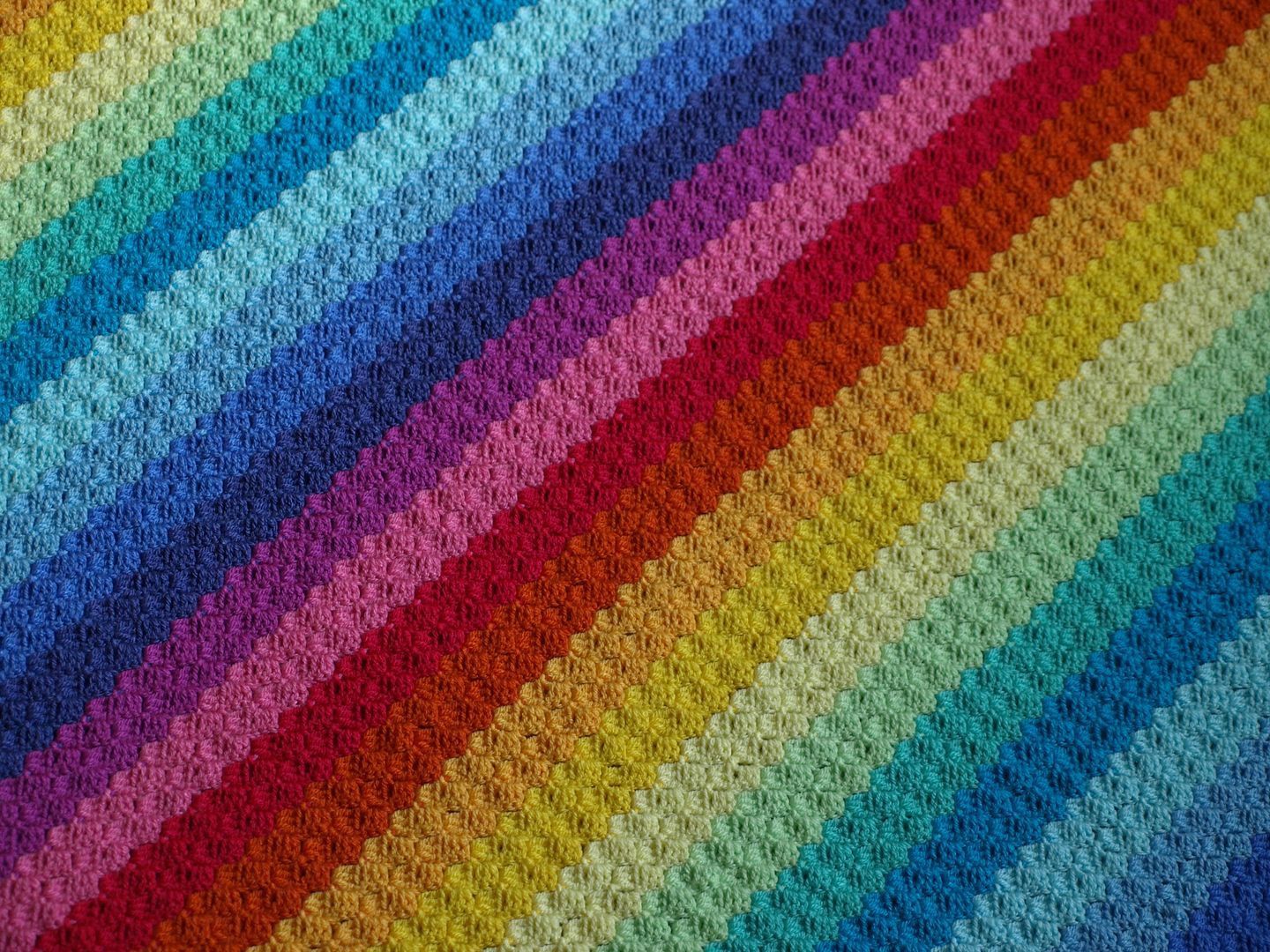 I probably should say that the corner to corner blanket typically works up as a square. On of the most bestest things about it is that you don't need to calculate how long your foundation chain should be, or indeed even MAKE a foundation chain! You just keep increasing until it is wide enough, and then decrease to make it into a square. Or you can do what I did, and decrease on one side and increase on the other, which will make your blanket rectangular.
For a while I agonised (and made several friends agonise on my behalf) about how many rows I had to do to get the blanket to finish on the pomegranate colour, (once I had already merrily started making it rectangular I mean). I spent so long agonising that I just got fed up and just did what I felt like. It hasn't ended on pomegranate and I neither care nor think it looks wrong for it. It looks BRILLIANT, even though I do say so myself!
I didn't put a border on, because I genuinely feel that it doesn't need one. The way the pattern works in a step fashion means that it pulls itself nice and straight, and with these colours I just felt anything I put around the edge would just spoil it completely.
Would you like to see it in it's entirety? Of course you would!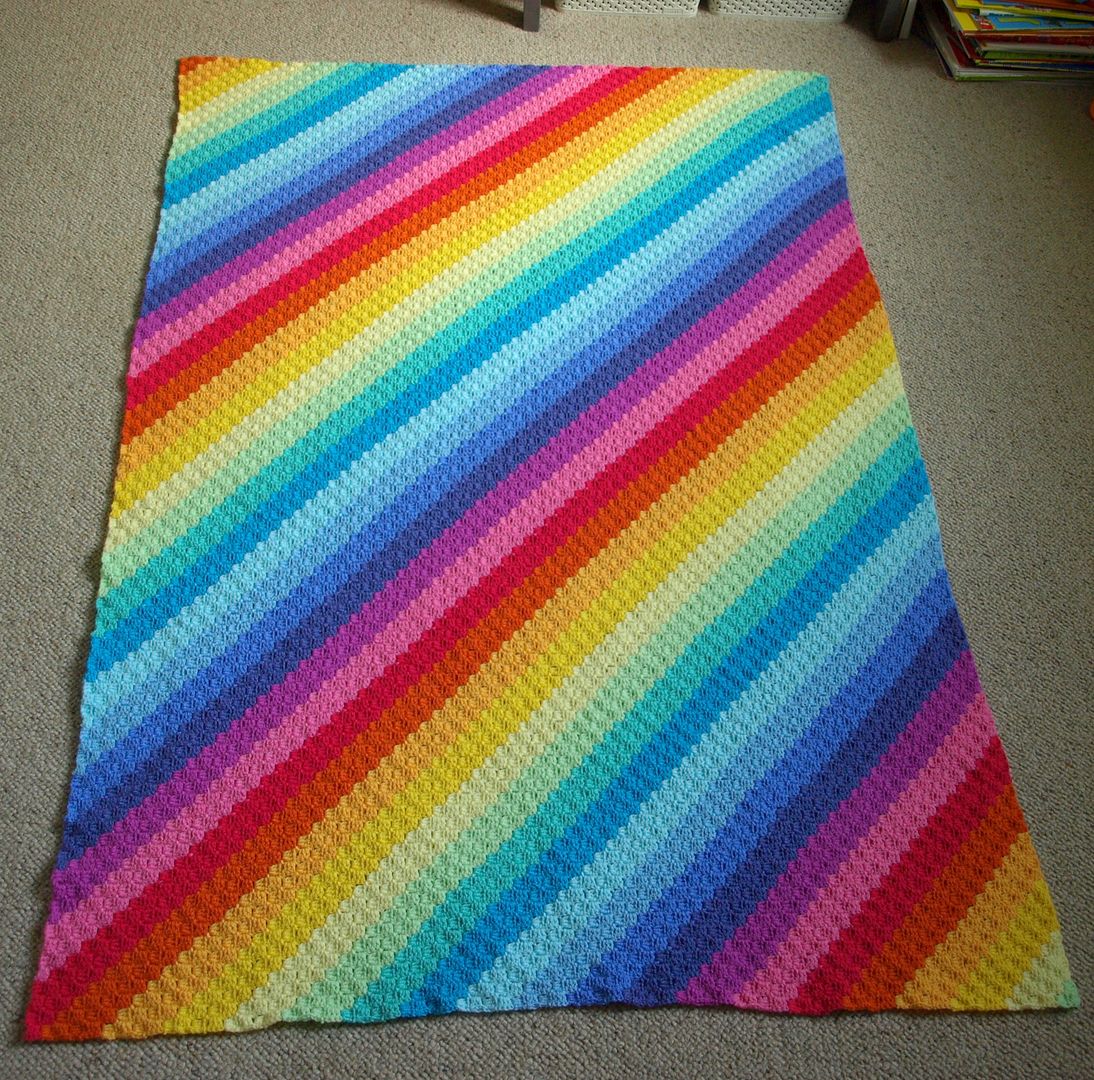 I really love it. A few of my friends were a bit surprised that I wasn't keeping this blanket and it really is quite a large piece of work to give away, I suppose, I mean I spent about 7 or 8 weeks of evenings working on it. But all the while I was thinking of my friend and her daughter (because let's face it, it's as much for my friend as it is her little girl) and how much they'd enjoy snuggling in it and the colours and everything. And it's like being able to give someone a hug that you can just keep! Really, there's no question of me keeping it. I know it will be loved and used and appreciated and that's the best thing really. I like working hard on something and giving it way. I don't keep many things I make nowadays, I made two little blankets for Tiny Tin Girl (one of which has been adopted by her brother) but everything else this year has been for other people. I just like making things and I love seeing them go to good homes :-)
x