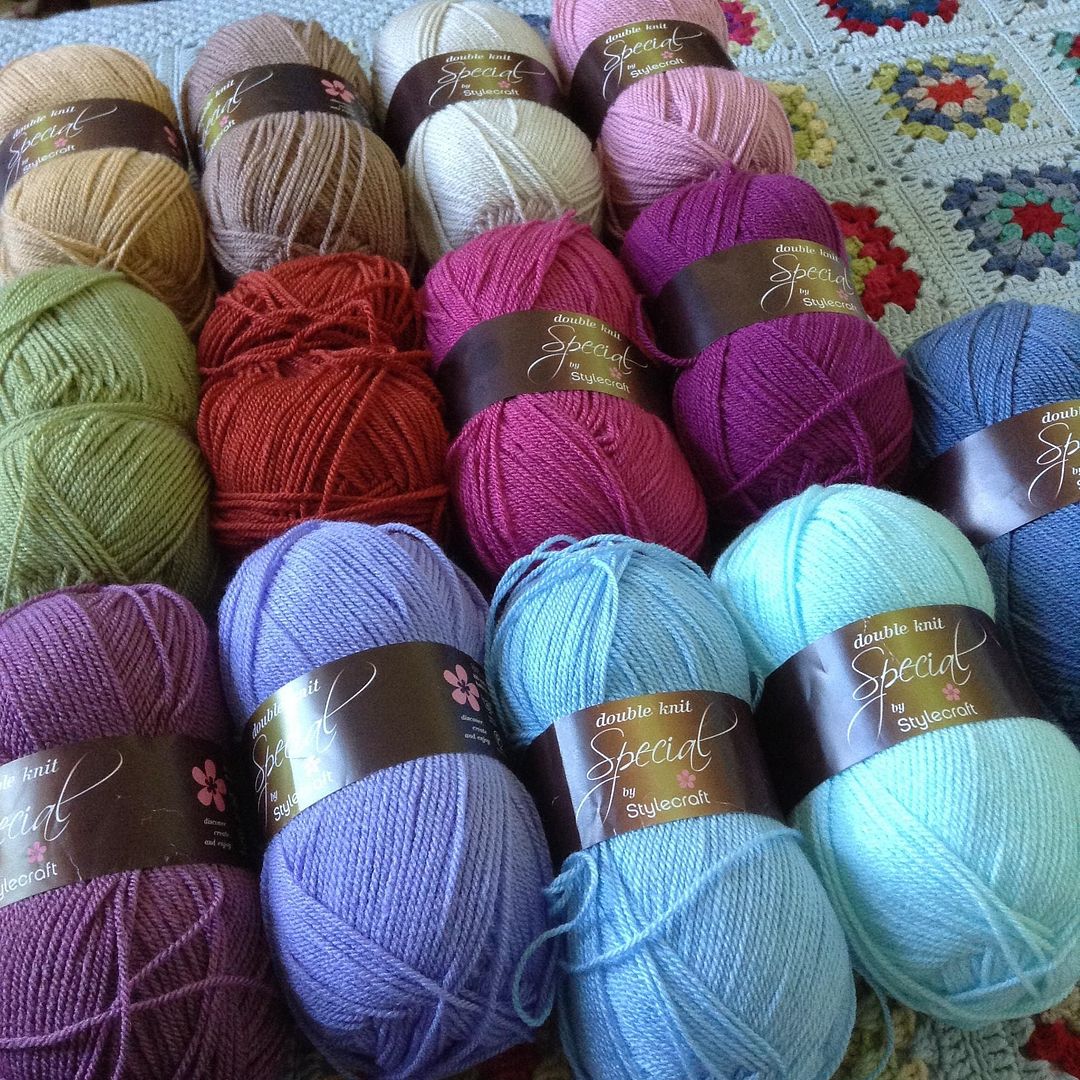 A few weeks ago, after dropping TTB off at playgroup my feet led me to the yarn shop and I came home with nearly all of the colours from the Attic24 "Cottage" colour selection. I already had some of them, and two (Khaki and Magenta) the shop didn't have. I'm ordering some Magenta today but I've decided to omit the Khaki for the time being as I'm not keen on that colour. It might turn out that I need it to make the colours work properly and if so I'll give in and get some but at the moment I like it how it is.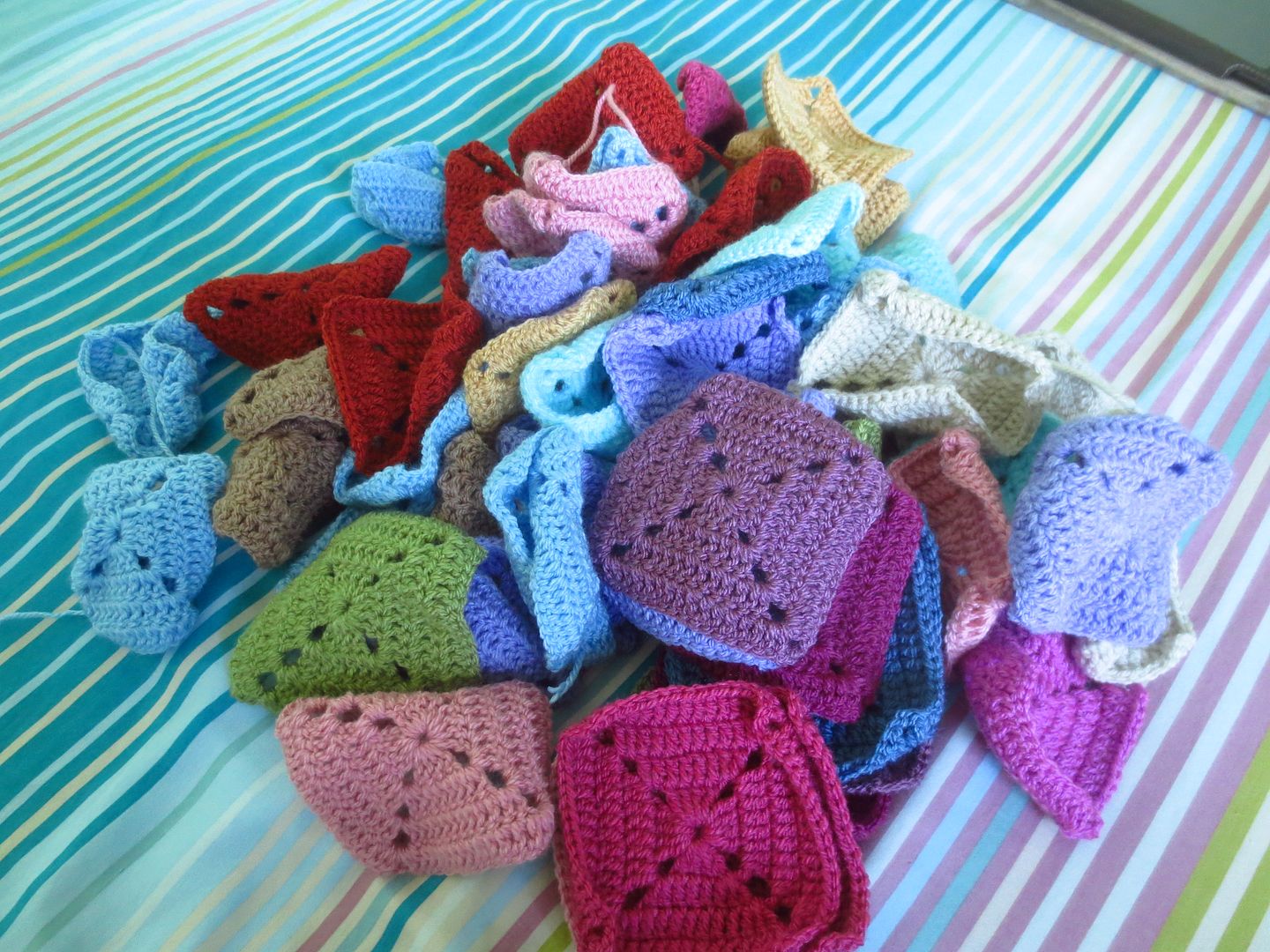 I do like ripples. I really do. But I've already made a big ripple blanket this year (that I completely ballsed up the border on which is why I haven't posted the finished thing yet. It's in the corner of shame!) And you know me, I really do like squares. I wanted to see how the colour pack would translate to a square blanket. (Big Elmer Squares, of course. My favourite.) This has the bonus of not needing to worry about colour order until right at the end and I can just work away making squares in whichever colour takes my fancy at the time, without much actual thought.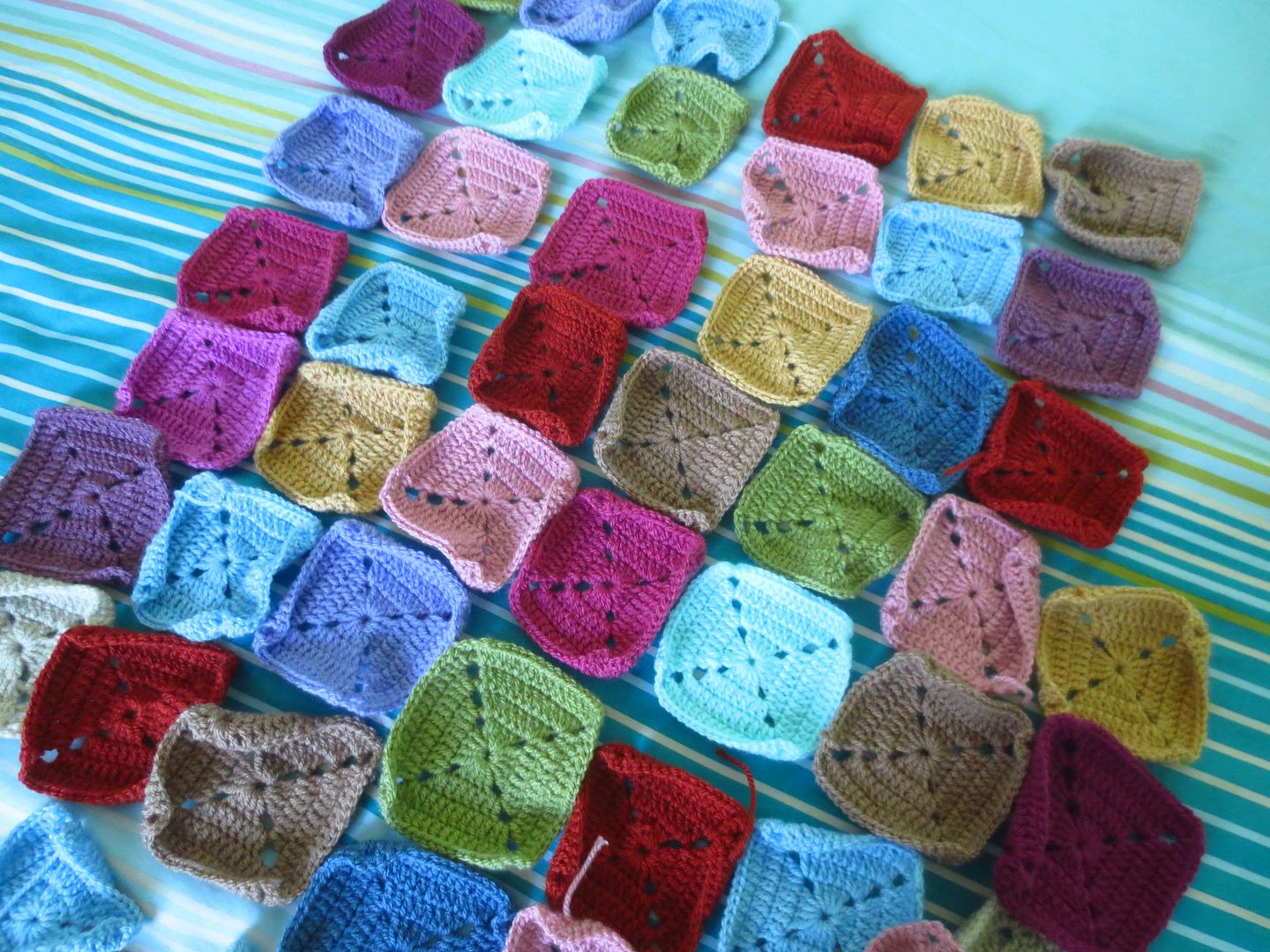 The other bonus is this: I will know exactly how many balls of yarn it took to make the blanket. I get asked a lot about how much yarn a certain blanket has taken and my answer is "I don't know!" because I never keep track, I work on several projects at one time from the same stash of yarn and if I run out I just buy more of whatever colour as I need it. But this time I am using one ball of each colour (bar khaki as stated above) and then, THEN I will be able to tell you how much yarn I used. Incidentally if you are wondering how much yarn you'll use … just buy one of each ball to start. Then see how you go. And then buy more if you need it.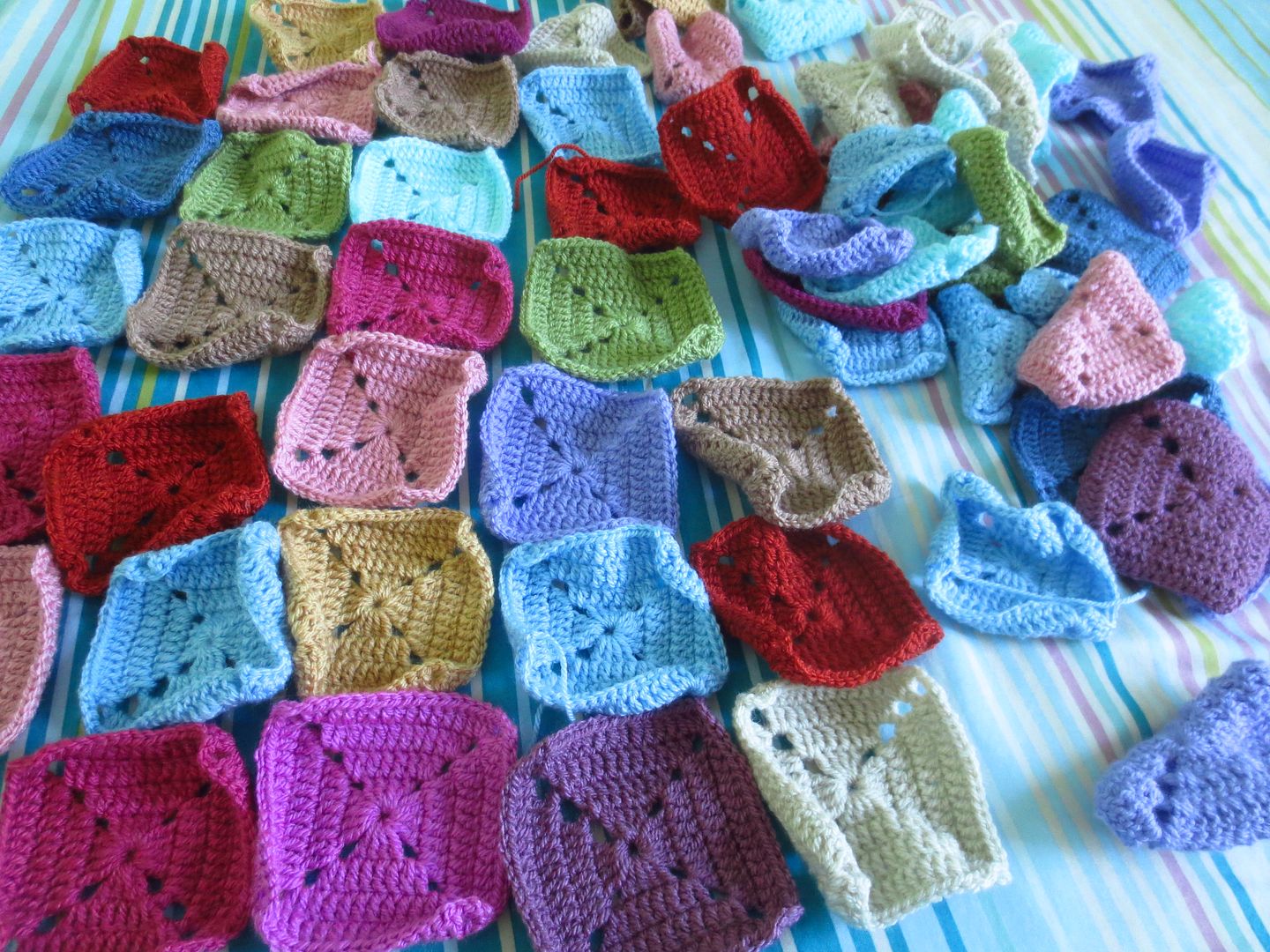 I'm just doing 4-round squares this time rather than five because variety is the spice of life, right? And it means I finish each square faster ;-)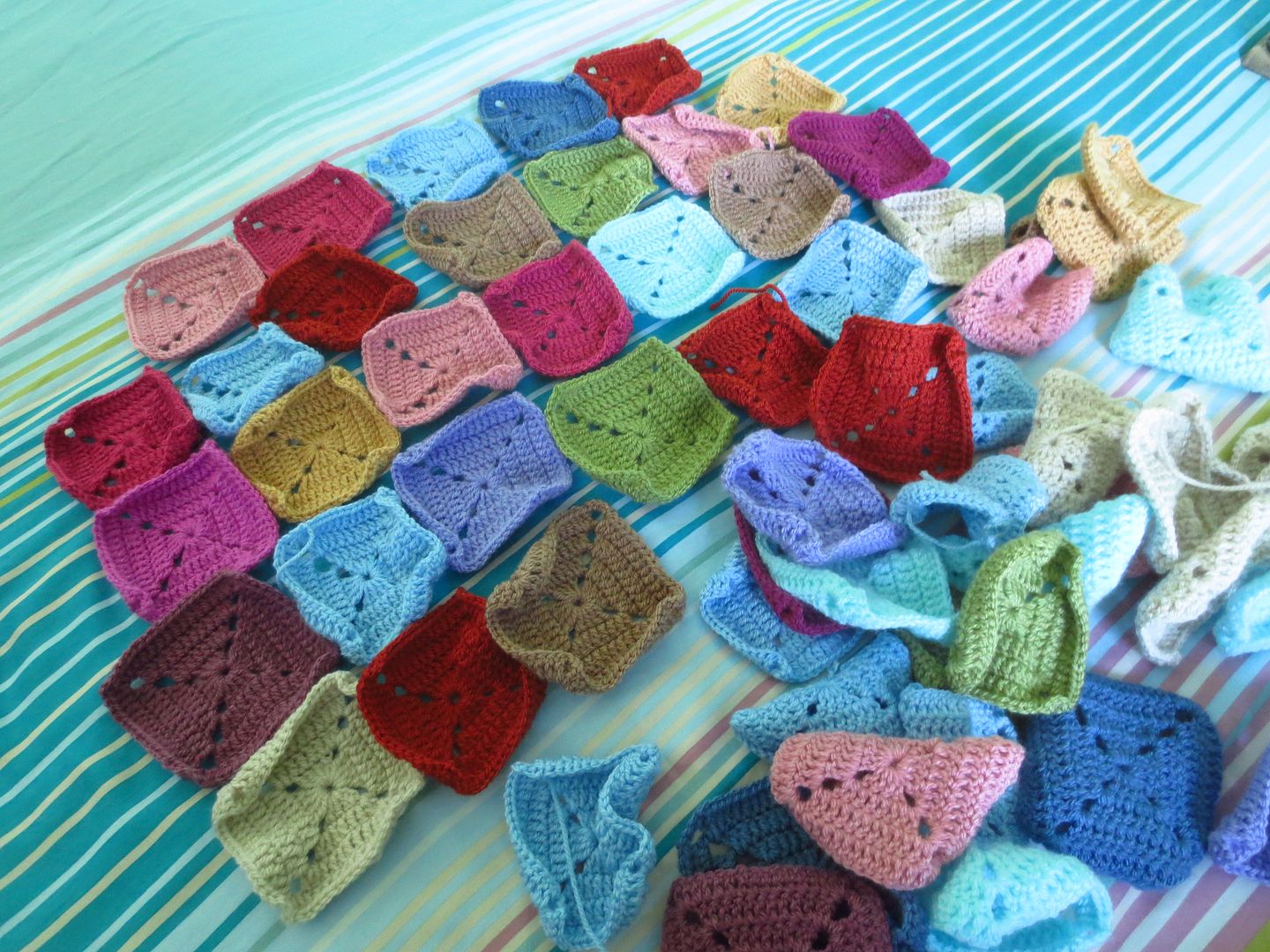 This is by no means the final order of the squares as I just laid them out a bit randomly to show you them but you can sort of see how it might look. You know, it's a beautiful sunny day today, the sky looks gorgeous and the leaves on the trees are illuminated perfectly. But none of that natural light is in my house and so the colours look dreadful but I think I'm past caring about that, you all know what Stylecraft looks like and if I waited for perfect light I'd never get any blog posts done. This is real life and quite often the light is dreadful!
I didn't really mean to start another blanket, this is a completely accidental WIP. Whoops.