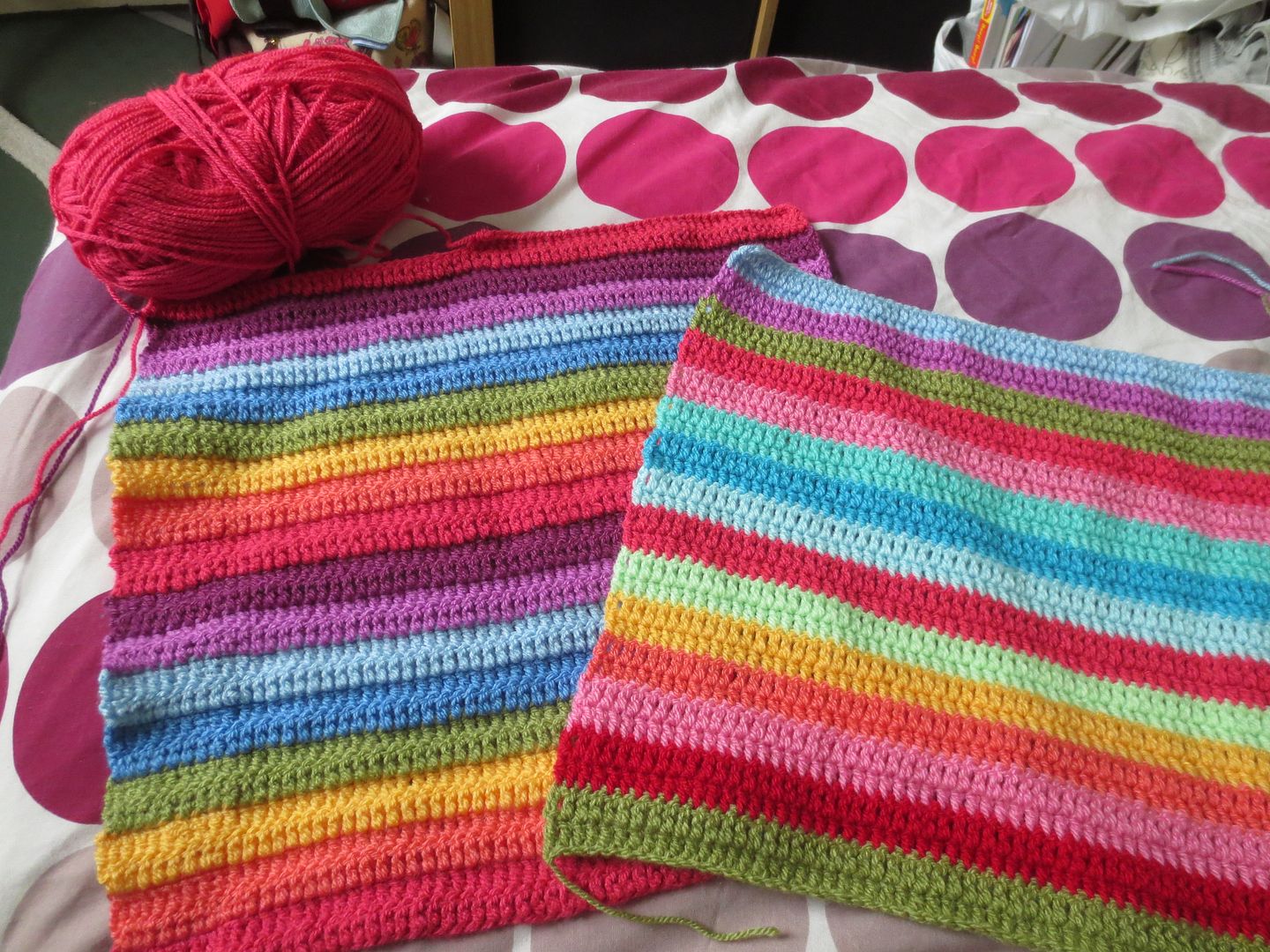 Today is the 1st of December. Hardly any time at all until Christmas! Usually I would be very excited about this but this year I feel very differently. You see, we are *so close* to finishing the living room! And we really really really want it done for Christmas. There is so much to do! Oh my. It's all we can think about, all we can focus on and our December days are being counted not really by an advent calendar but by "Ok on this day the plumber/gas people are coming so we need to have XYZ done. On this day, this is being delivered and on that day that is. And then on the 20th the carpets are being fitted so we must, we MUST be done by then!"
I'm sure lots of you haven't been reading me since we started doing this renovation, in brief we have lived here for just over 4 years and have been doing the living room renovation ourselves. (As a condition of our mortgage) we took the room right back to the original stone and brick work and installed some weird/fancy damp proof membrane all up the walls and have rebuilt the room back from that. There have been numerous difficulties along the way, most of the caused by the house being over 100 years old (late 1800's), completely wonky and unlevel in all respects and hindered hugely by any work undertaken before being rather bodged shall we say. We've learnt a huge amount (neither of us has done anything like this before) and it's come at a huge emotional and financial cost as well. It seems so simple just to write that paragraph there, I could never convey to you just how much of a toll it's taken on us and just how difficult a time it has been but our blood, sweat and tears have gone into that room.
This final push to get it completed is rather exhausting and we've been burning the candle at both ends lately. Andy spends all of the weekend working on it and we both work in there in the evenings. We didn't get to bed until 1:30am on Saturday night (TTB was up at 5:55, zzzzzz) but at least we're making progress. It does feel as though we are running out of candle so to speak!
It's always more expensive than you expect as well! Especially the last things like carpets, paint, fire surround and skirting boards. In a moment of madness I started making little doll/teddy blankets (pictured above) to sell to try and earn some money towards it but when I am going to get a chance to work on them I do not know! They are pretty though and it was nice to work on something colourful that progressed satisfyingly. I had been busting a gut to get my "Cottage" squares blanket finished as well but the person I intended it for (without them knowing) doesn't really like the colours so I've stopped working on that indefinitely. Just got a big bag of squares laying around now!
A rather lovely break from reality came on Saturday when I went to the Country Living Christmas Fair in Harrogate with my friend Nina. It was super to see so much inspiration! Really good. There were so many gorgeous things, and a lot of handmade as well.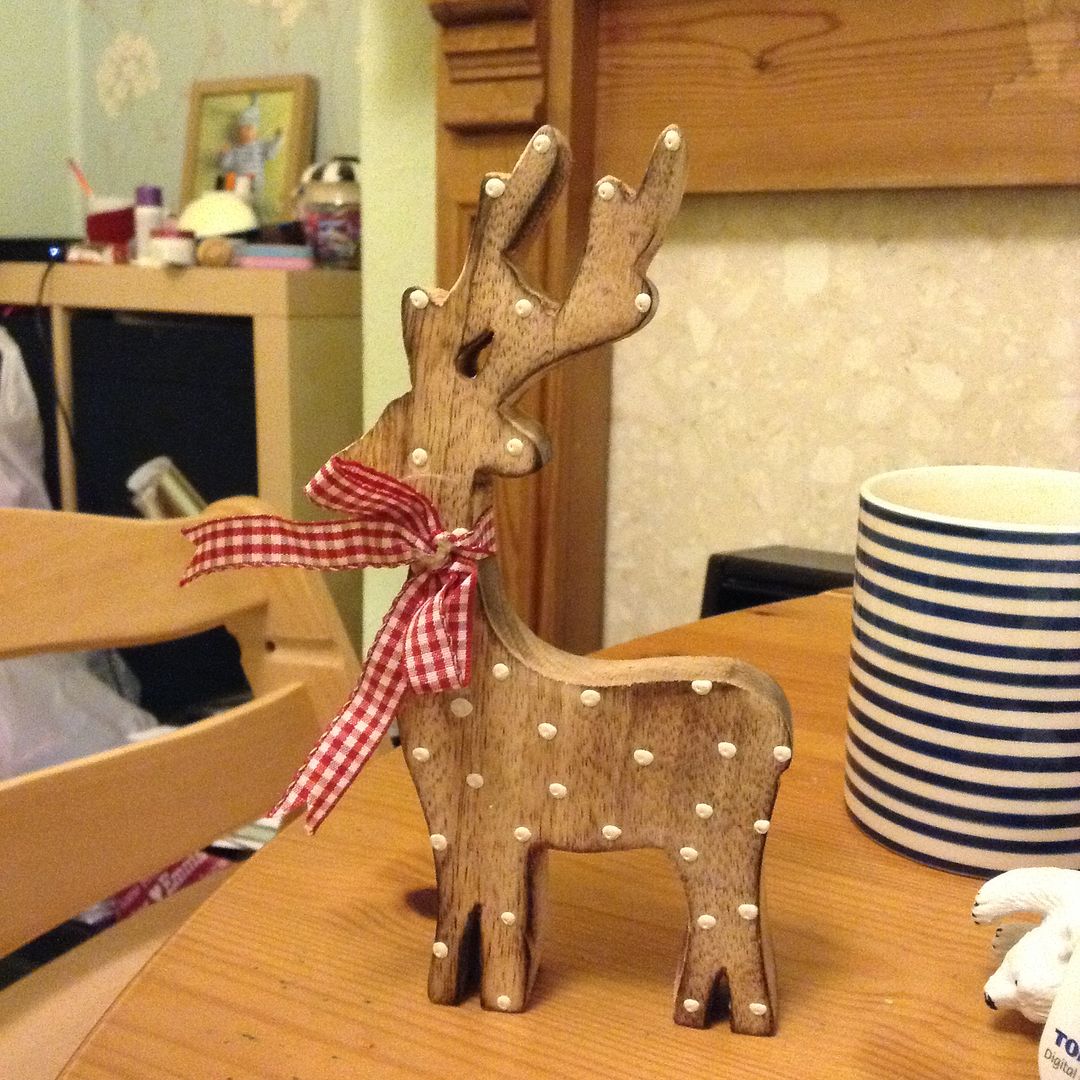 I couldn't to buy everything I wanted (as I didn't have several thousand spare pounds!) but I did fall in love with this wooden reindeer. He has come home with me to adorn our new fire surround for Christmas. But he'll have to wait until that's delivered and installed! He's cute though. I'm quite particular about what Christmas decorations I like, I don't have a theme other than "these are things that I like" but I am particular about what I buy.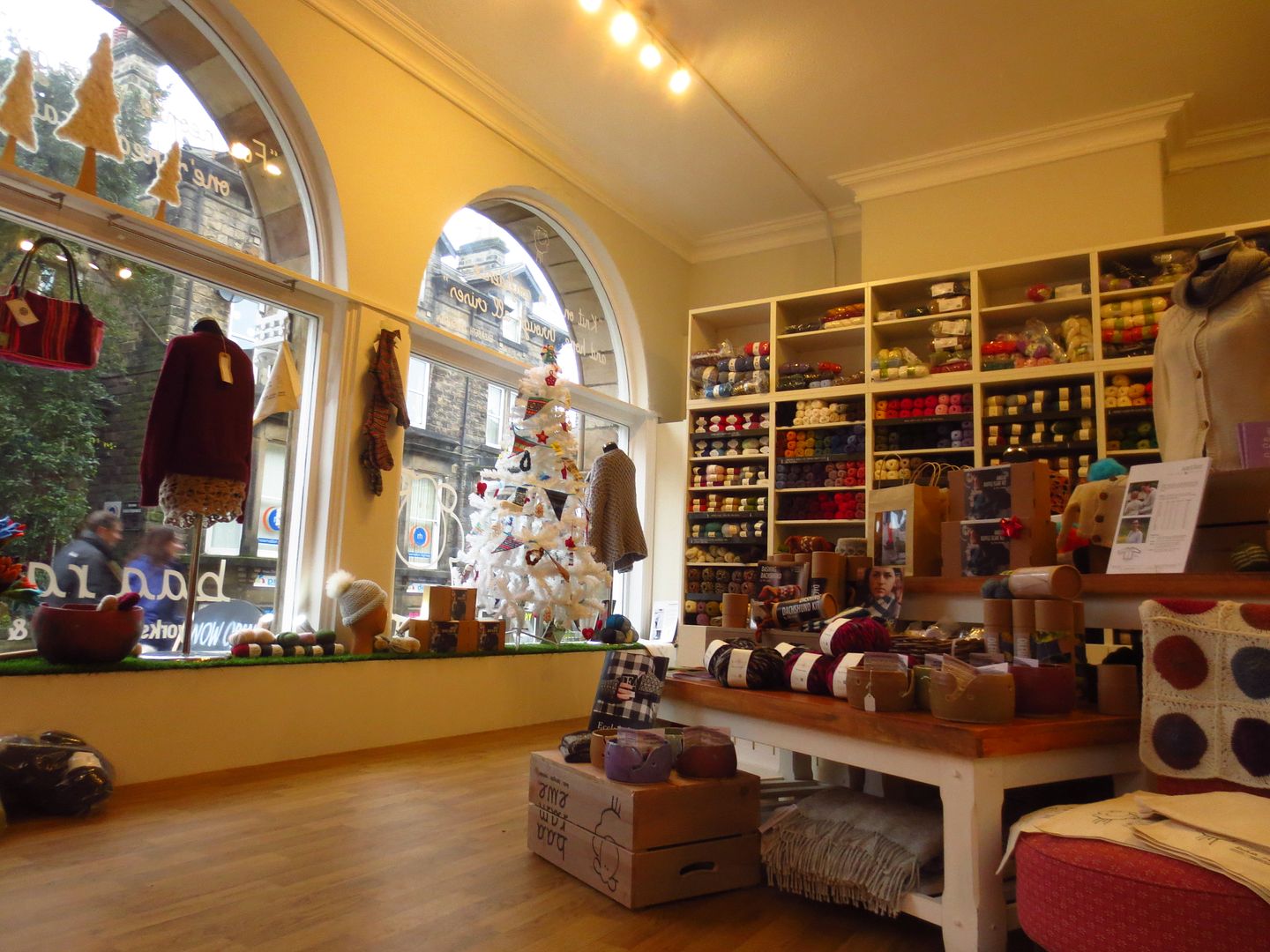 On the way back to the car we popped in to Baa Ram Ewe which is very nicely presented and happily for me had a nice sofa to sit on. I wasn't tempted by any yarn though, I think I have yarn fatigue at the moment. Actually just general "stuff and clutter" fatigue and my Stylecraft yarn is driving me mad as it won't all fit in my expedit drawer any more and is spilling out everywhere.
Here are some Decembery things to show you. Of all the little pots that were in our yard (leftovers from the last couple of years of having bulb plants inside), TTB demolished most of them and I chucked the remaining bulbs haphazardly into this pot. Rather sweetly the little tete a tete thinks that it is Spring and is trying to flower! Aww. I wish I had the same optimism about the time of year!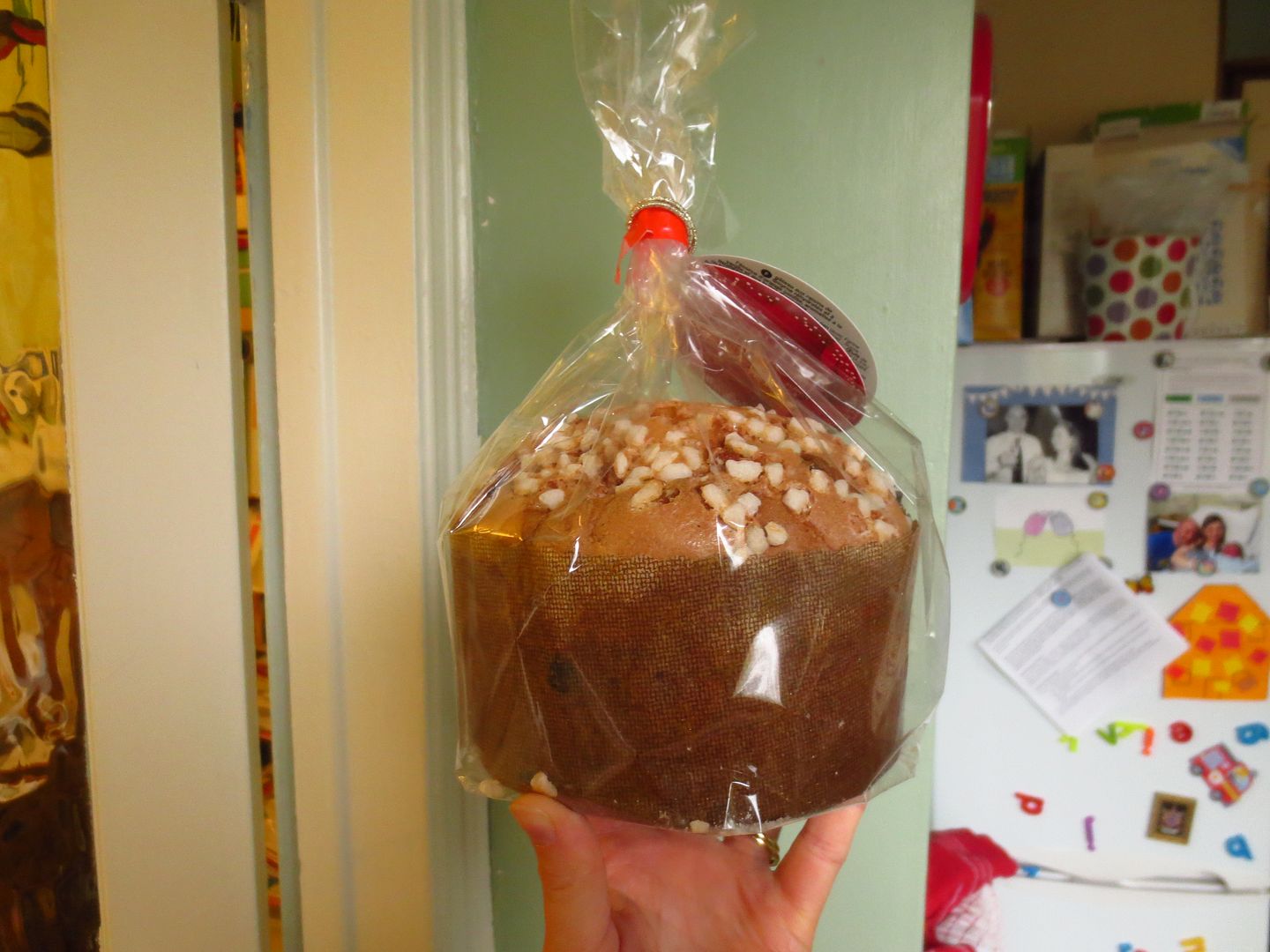 I bought our panettone today! Last year we had "pizza and panettone" for dinner on Christmas Eve and it was maaaaaarvellous and I want to do it every year. The one we had at my mum's last year was massive! We certainly don't need on that size for just me and Andy though. And as for the pizza … well that depends on whether Tesco actually deliver my new cooker. I'm going to keep this casual as I say this, because after 11 months with no oven it seems surreal to think we may have on soon and I can't even think about it until it's done. And Tesco have already delayed the delivery once, and now this week is jam packed full of plumbers, playgroup and a glucose tolerance test and I'm freaking about when it might arrive as you can't alter the delivery. But tentatively … yay oven. Man I'm going to be skint for a long time but at least I'll be able to bake things again. Hurrah!
I've found it really hard to feel excited about Christmas in amongst all the lounge stress and felt quite down in the dumps after seeing my friends' happy cosy pictures of their children with their advent calendars and Elf on the Shelf arrivals. I'm not one to decorate early for Christmas and I don't "do" chocolate advent calendars but it made me feel a bit sad that we weren't also experiencing the same child related Christmas excitement. I couldn't even remember where I'd stashed the advent calendar I bought for TTB! Happily I found it (and the Playmobil Christmas set too) earlier and when Andy came home we gave them to him. He liked the calendar and predictably wanted to open all of the doors today (but of course!) and played really happily with the Playmobil before bed, making the "Daddy", "Mumdeer" and "baby deer" all take turns to pull the sleigh.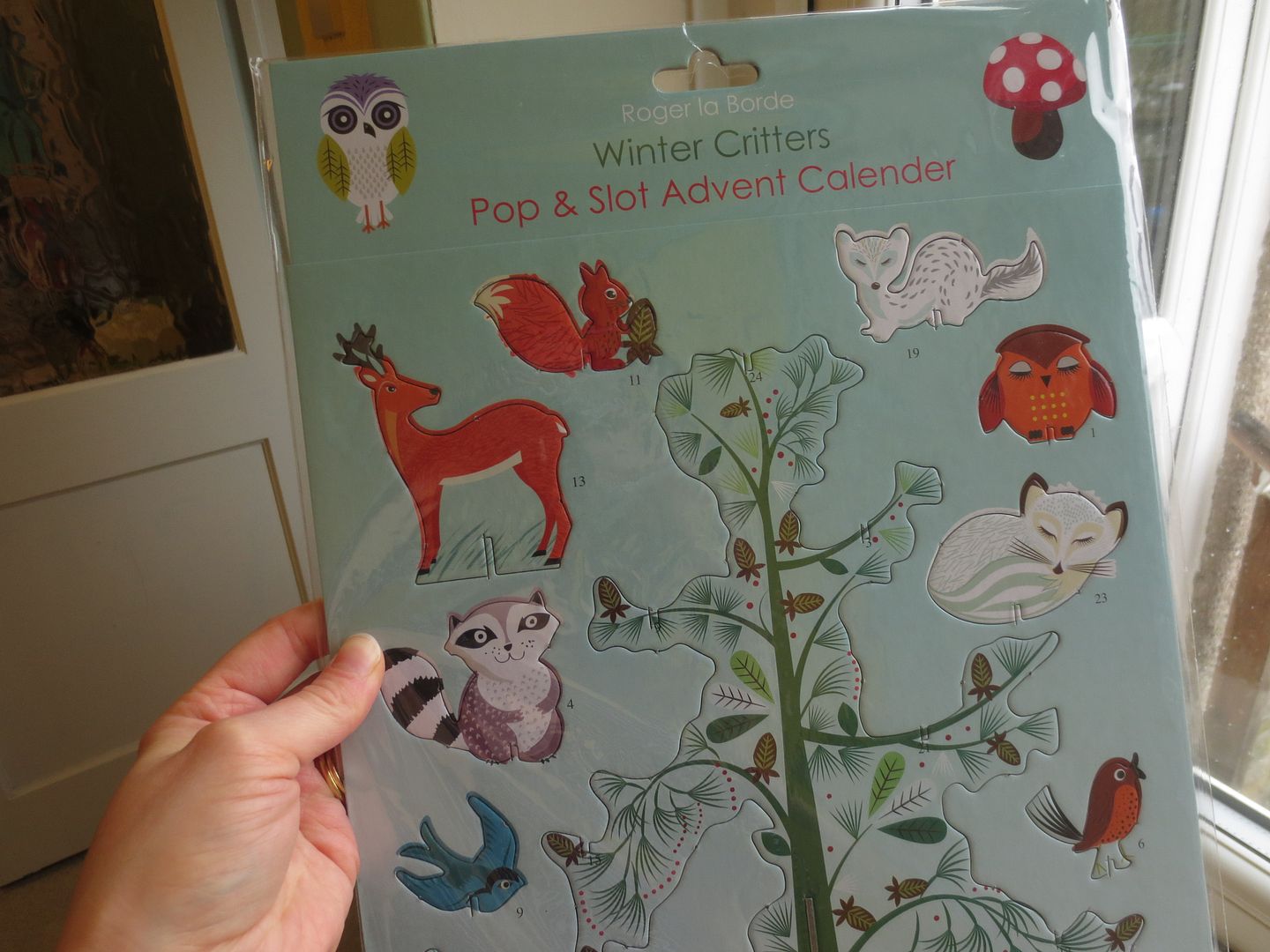 I've got an advent calender too! Last year I shared TTB's because he was too little really. This was a gift from Lucy and judging by her post it came from Salt's Mill. It's lovely and I like that it's reusable too. TTB wanted to pop all of the animals out but did settle for just the owl in the end! Although I have since moved it up to the mantle piece as it turns out that he has go go gadget arms and can reach further than I thought.
Phew. And with that, time to go and paint the second coat of paint on one of the walls in the lounge. Hopefully I'll be back to blog again soon!
x