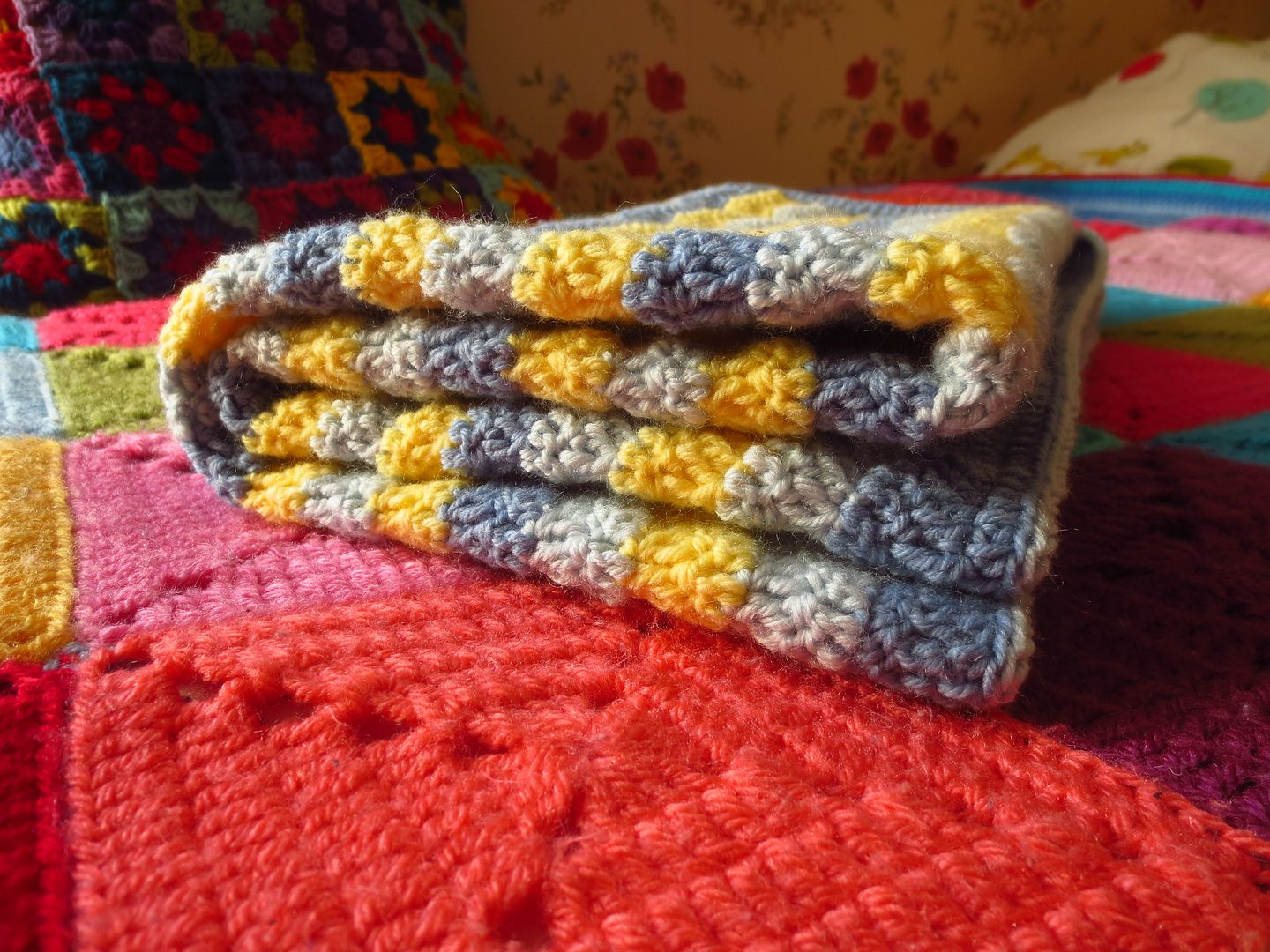 Typically, just after I posted about the light being dreadful it started to beam in through TTB's bedroom window and made it all glowy and lovely. I grabbed my camera and the little blanket that I needed to photograph and took a handful of hasty snaps – I'm glad I did, the weather has been miserable since. Let's have a bit of a "ta-daah" moment today shall we?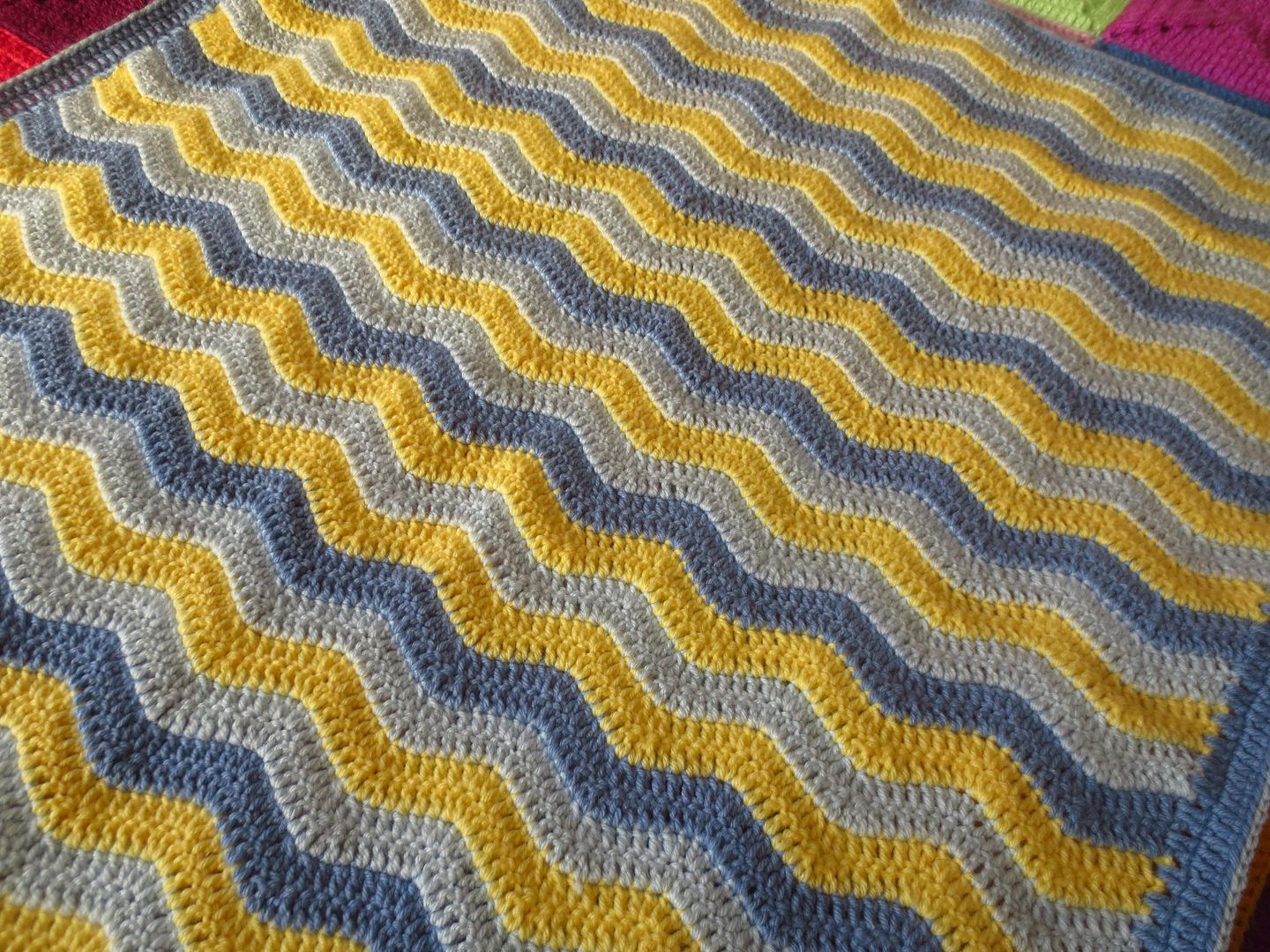 This blanket won't come as a huge surprise to any of you as I did post almost-complete photos of it a few weeks ago. Of course, it then sat around for ages waiting for me to sew the ends in. The time it takes for me to get round to doing that last bit is usually longer than making the actual blanket but hey ho, that's just me.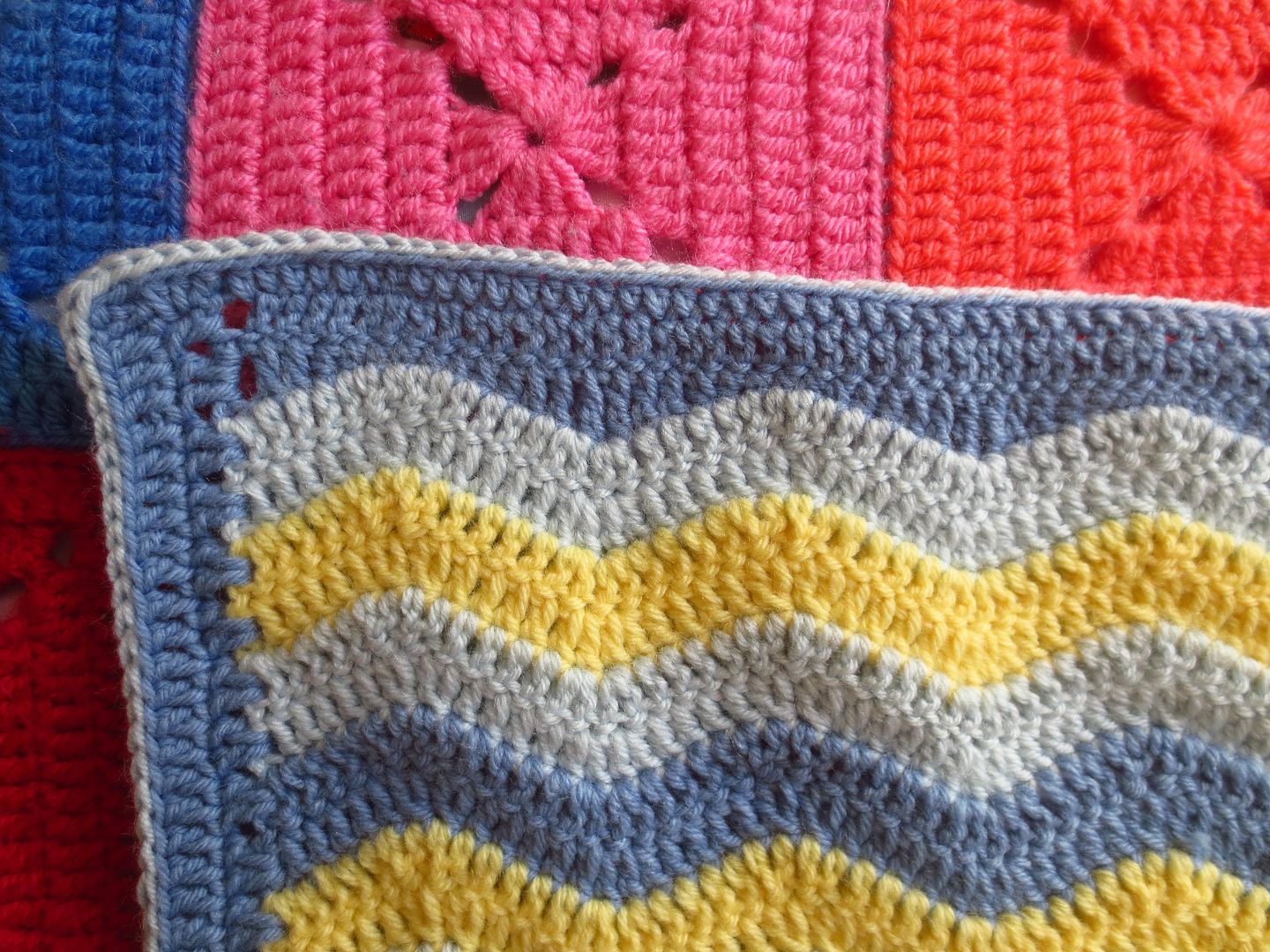 I used Rico Baby Classic dk in Vanilla, Blue, and Ice Blue, and a 3.5mm hook. (You can buy the yarn here.) I am pretty sure that I only used two balls of each – there you go, I actually made a note for you for a change!
This is the first time I have attempted to make the ripple straight at the beginning rather than straightening it afterwards and I'm really pleased with the effect. I don't have any plans to write a tutorial for doing this but if you want to try it, here's a photo of my workings out. It's not TOO hard to do, but I want to stress how important it is to do a few practice pieces and get the hang of it first, and then when you come to do it on your actual blanket you should make sure you have some quiet time to concentrate.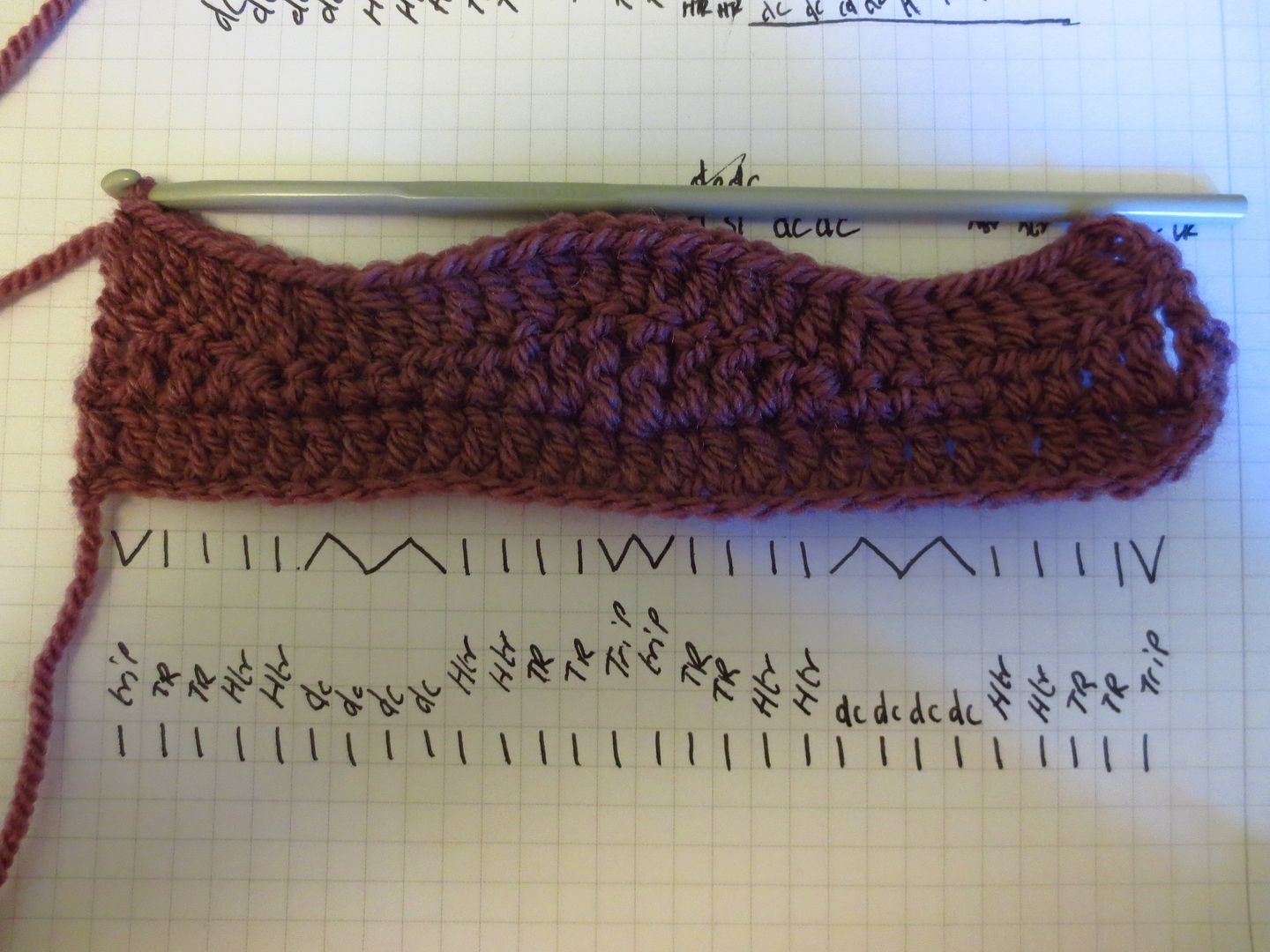 I made the foundation chain like usual, and then I worked 1TR stitch (as usual that's English terms, it's DC or double crochet in US terms) into each chain, but only out of one loop, not two.
For the next row I worked the different height stitches: triple crochet, TR, TR, HTR, HTR, DC, DC, DC, DC etc all the way along and then on the next row started the Neat Ripple pattern. I'm sorry if that sounds confusing, if you're familiar with ripples just give it a try and see what you think.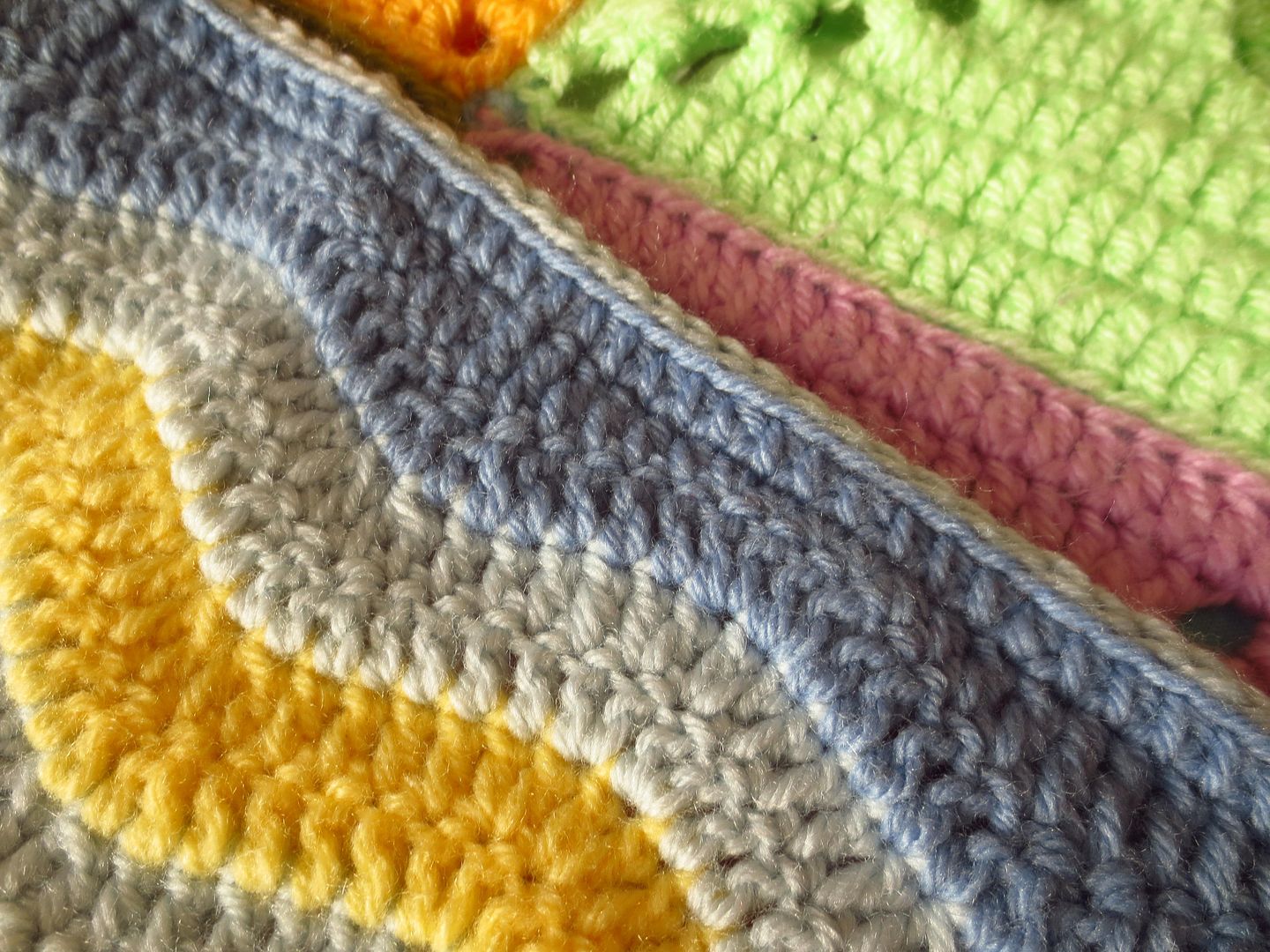 The top edge is always easier to straighen. I did write some basic instructions on how to do this, I think it was when TTB was a newborn which was fairly impressive now I think about it. Lucy also has a very thorough ripple how-to on her blog which you may prefer to follow as her's wasn't written in a baby fog!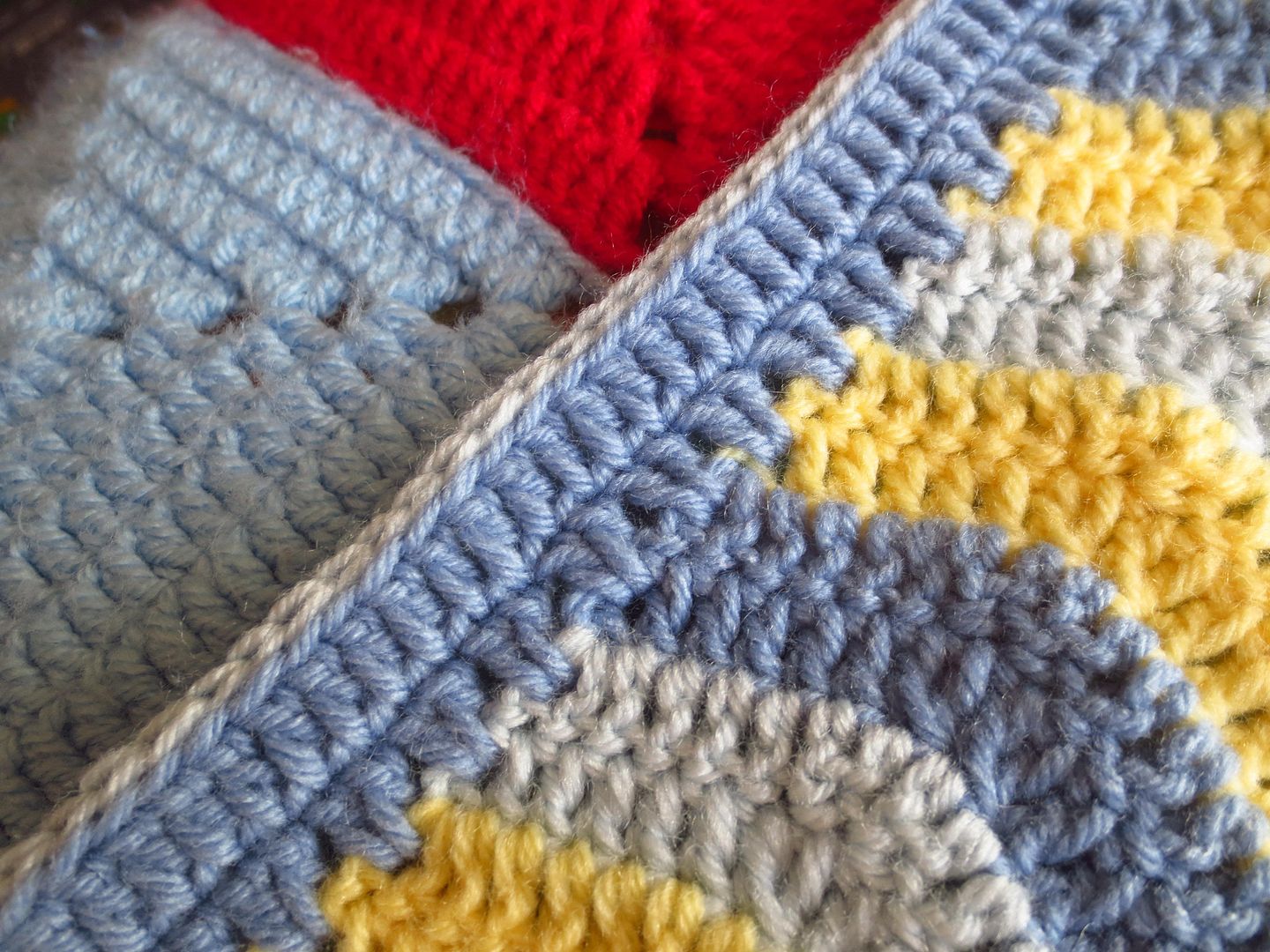 As usual, for the border I put two TR stitches into the end of each row, I just love that effect and I've done it on all my ripples. It works for me, tension wise, and doesn't make the edge of the blanket too bulgey. Then the next round of the border is simply TR into each stitch, and finally to finish it off I slip stitched VERY loosely (you must do this so loosely, like you are only laying the stitches on top, otherwise it will pucker horribly and be very tight and pulled out of shape.) in another colour to make it look finished.
There we go – finished! Perfect for a crib or a carseat. I meant to say as well, about the colour order. I did Blue for every 4th row and then alternated the other colours: ice blue/vanilla/ice blue and then Blue, and then vanilla/ice blue/vanilla. You see what I mean.
I haven't measured it but I think the starting chain was 126. It's slightly smaller than how a Stylecraft ripple would turn out as the Rico yarn is quite a light dk.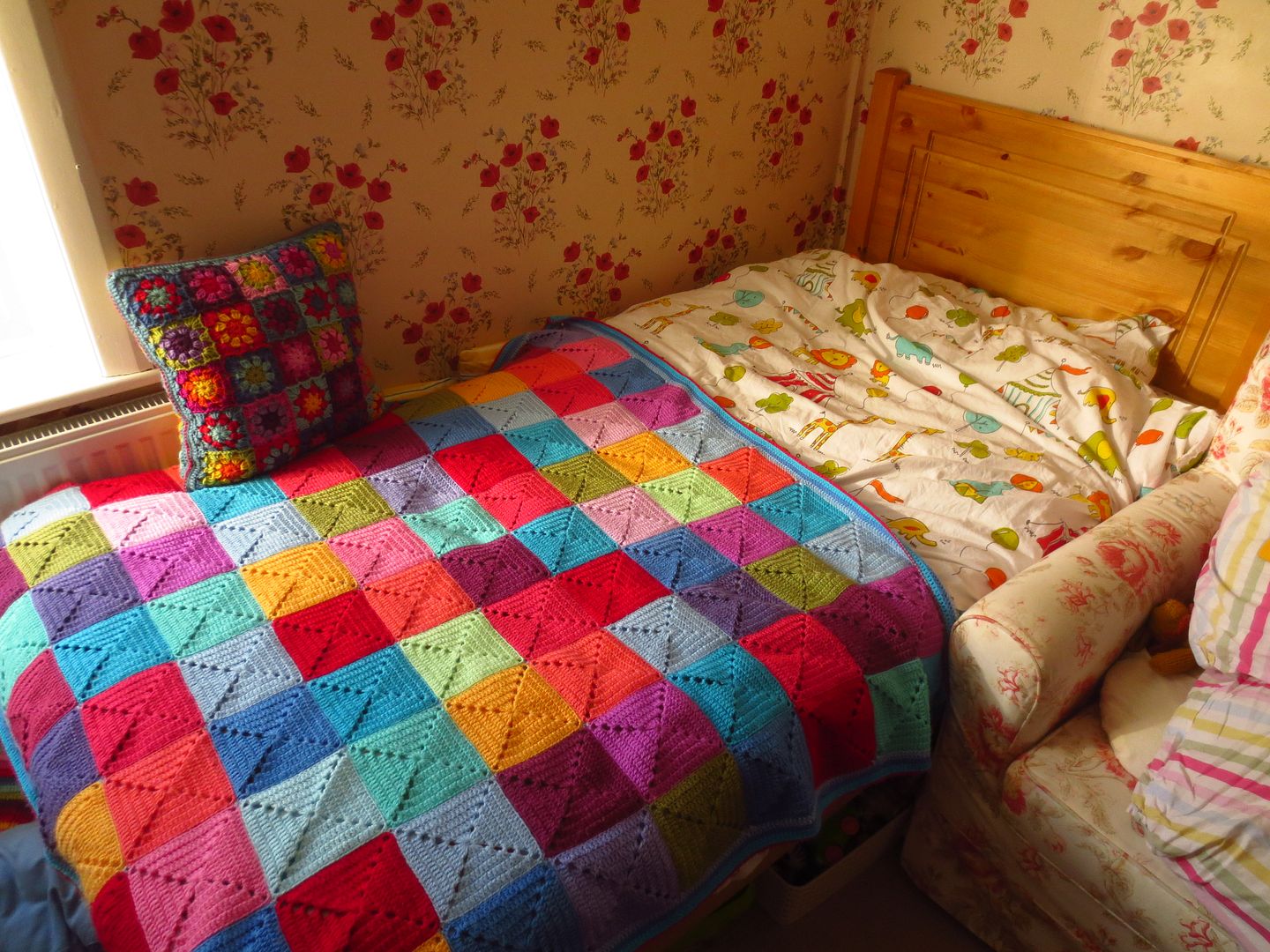 And I just wanted to show you this! TTB got a proper single sized bed a couple of weeks ago (he is SO pleased and proud) and the Big Elmer looks so good on it. He had it on the cotbed sized mattress before and it covered the whole thing and I was a bit sad that it wouldn't cover this one but actually it works really well as his legs barely reach down to where the blanket is! It just makes me smile every time I see it, and it's just really satisfying to be able to use it every day. I have made lots of blankets that we don't really use! I sent my mum home with two last time she visited. I really love this blanket.
ETA: The seaside blanket is for my cousin and his wife who are expecting their first baby in March. I know some of you thought that this one was for me … well, it's not, but she is due the week before me so I did have a bit of a chuckle to myself when I posted about it before. I couldn't believe the timing when they announced their pregnancy!