It hardly feels like a year since the first Yarndale event but sure enough it really has been a full twelve months since we last came to the Auction Mart in Skipton to celebrate all things yarny. The bunting guided us down to the Mart …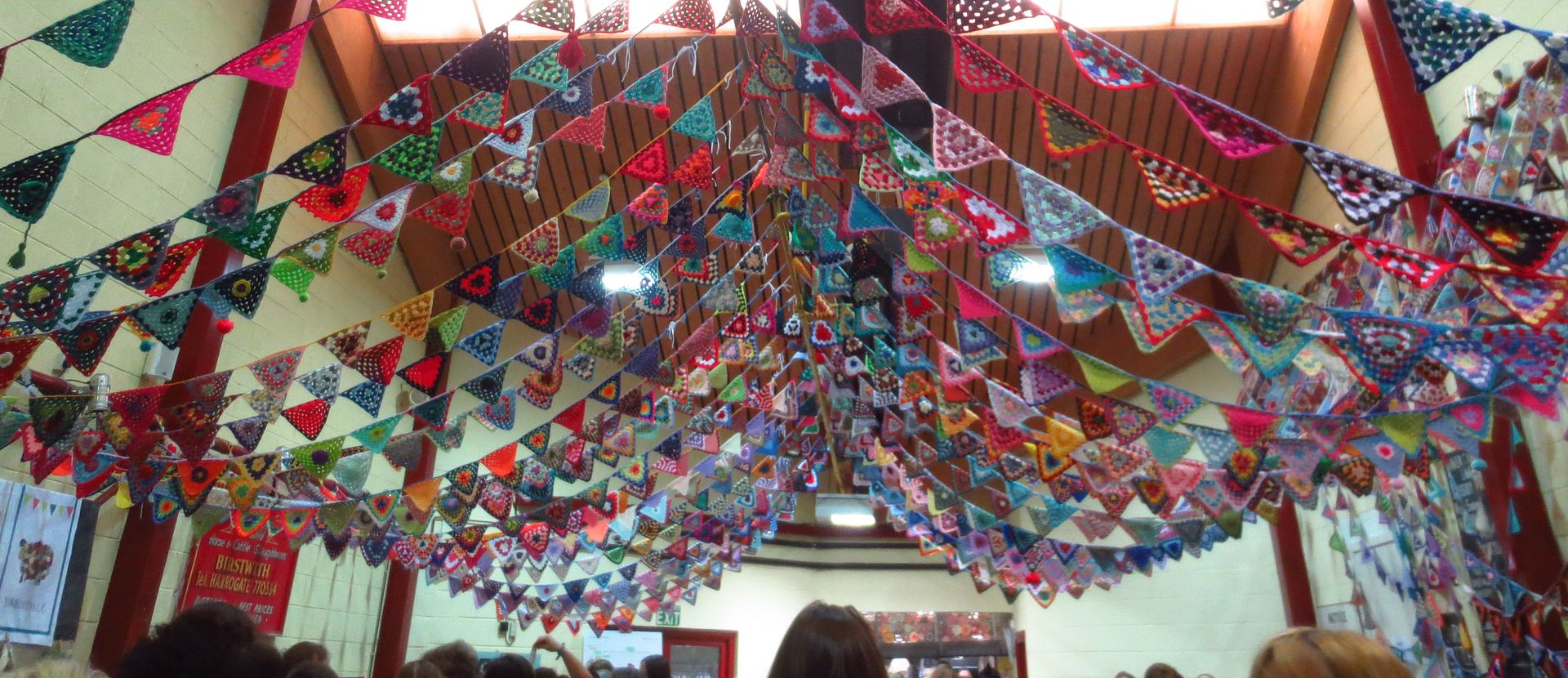 … and then greeted us in the Hub inside Yarndale. It's so hard to photograph! I think my photo from last year is better if you wanted a better idea of how it looked.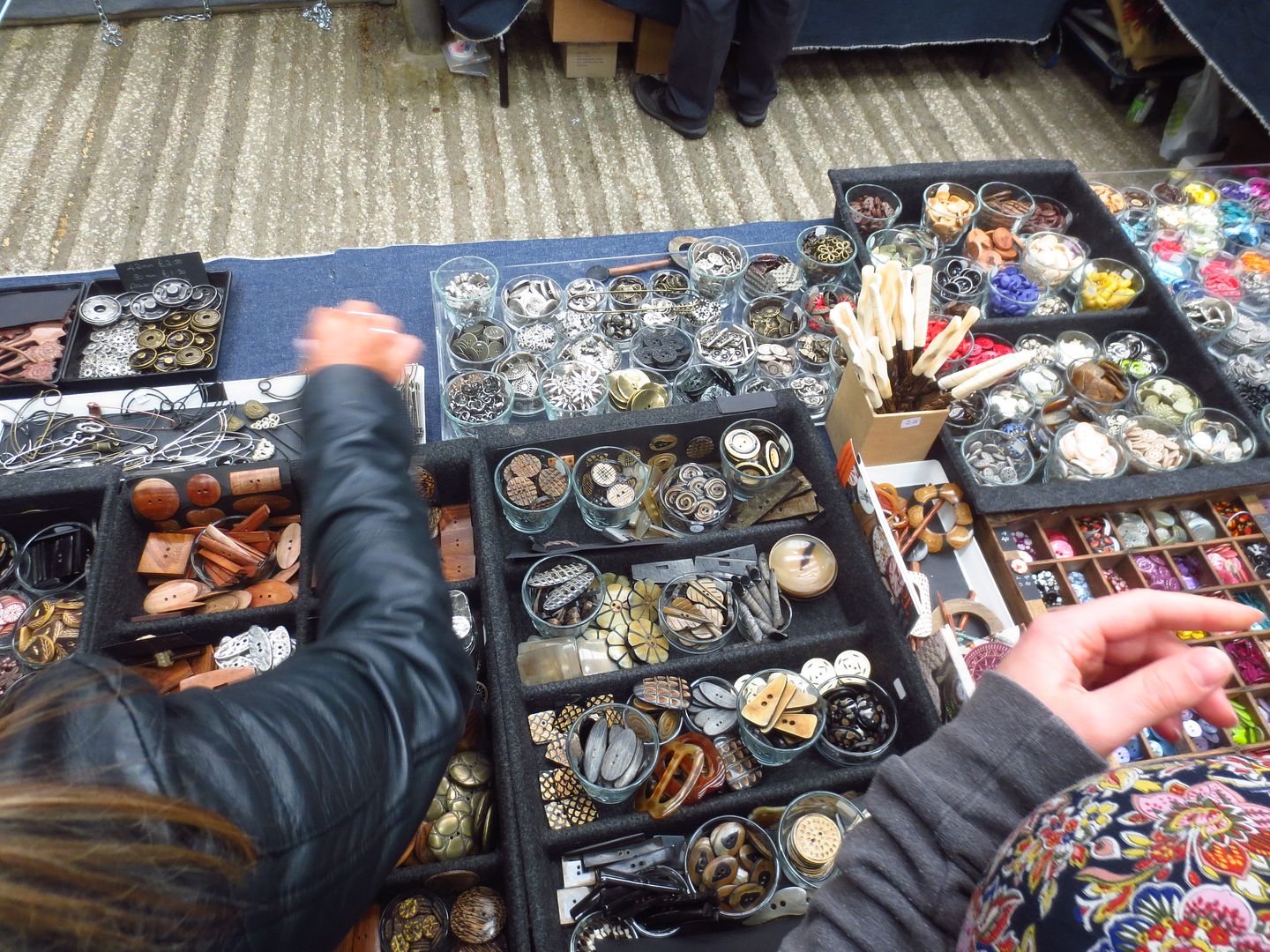 Now I must confess that I can't remember a lot of the names of the stalls to go with these photos. I thought I was keeping track in my mind but then when I looked at the programme earlier I couldn't match anything I'd remembered up with the actual stalls. Sorry about that. Also if you are an exhibitor and I've photographed your stall and you would like me to add your name to the picture/remove the picture from here, please do let me know in the comments.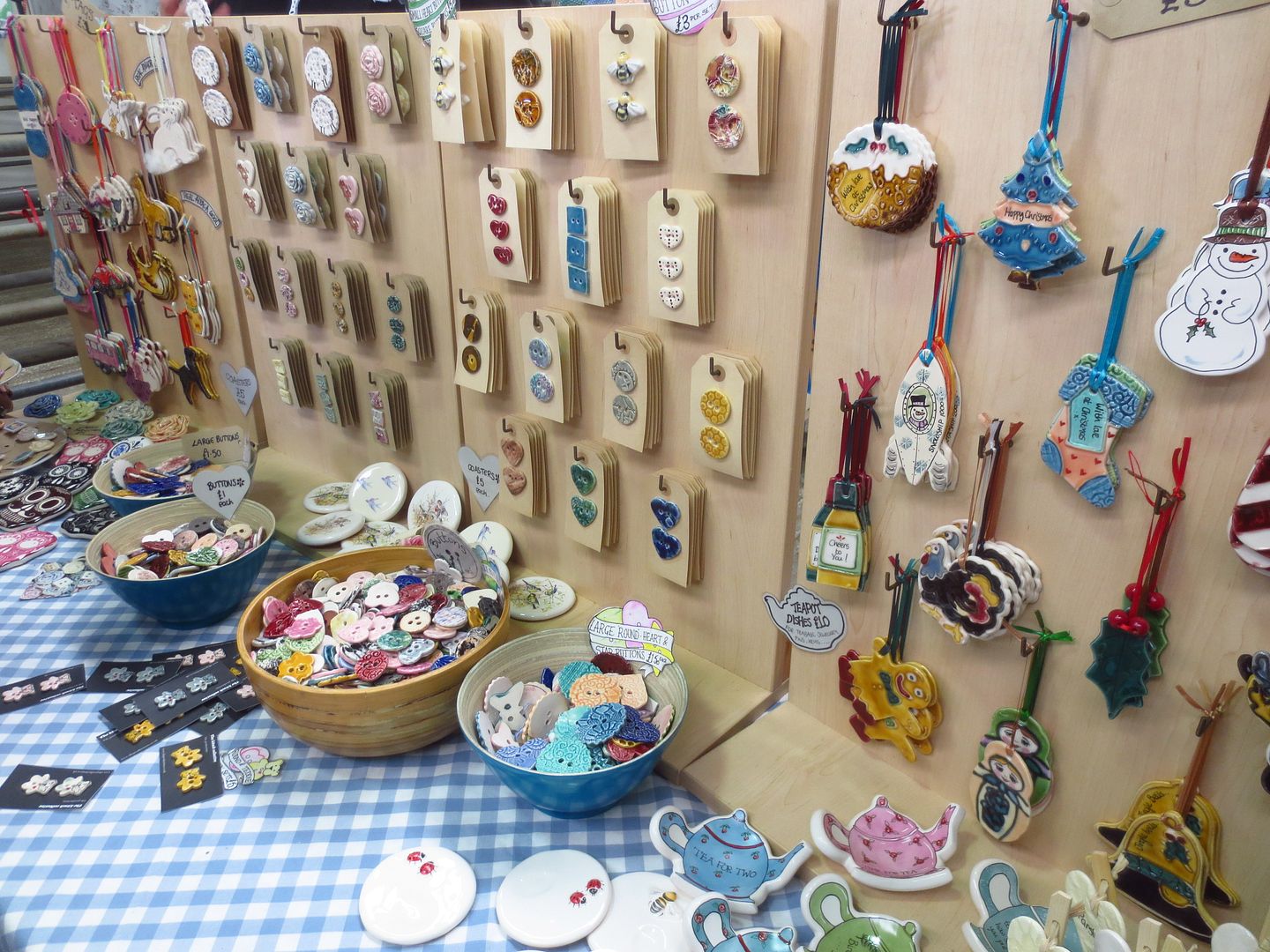 Ah now I DO remember this one! This is Tile Productions and I almost "squeeeed" when I saw the Christmas tree decorations. You know how I feel about those and now I can add a "special one I bought at Yarndale" to my collection. I've just had a quick squiz at their website and they do bespoke things and now I am wondering if they would to name ones for my tree! That would be nice.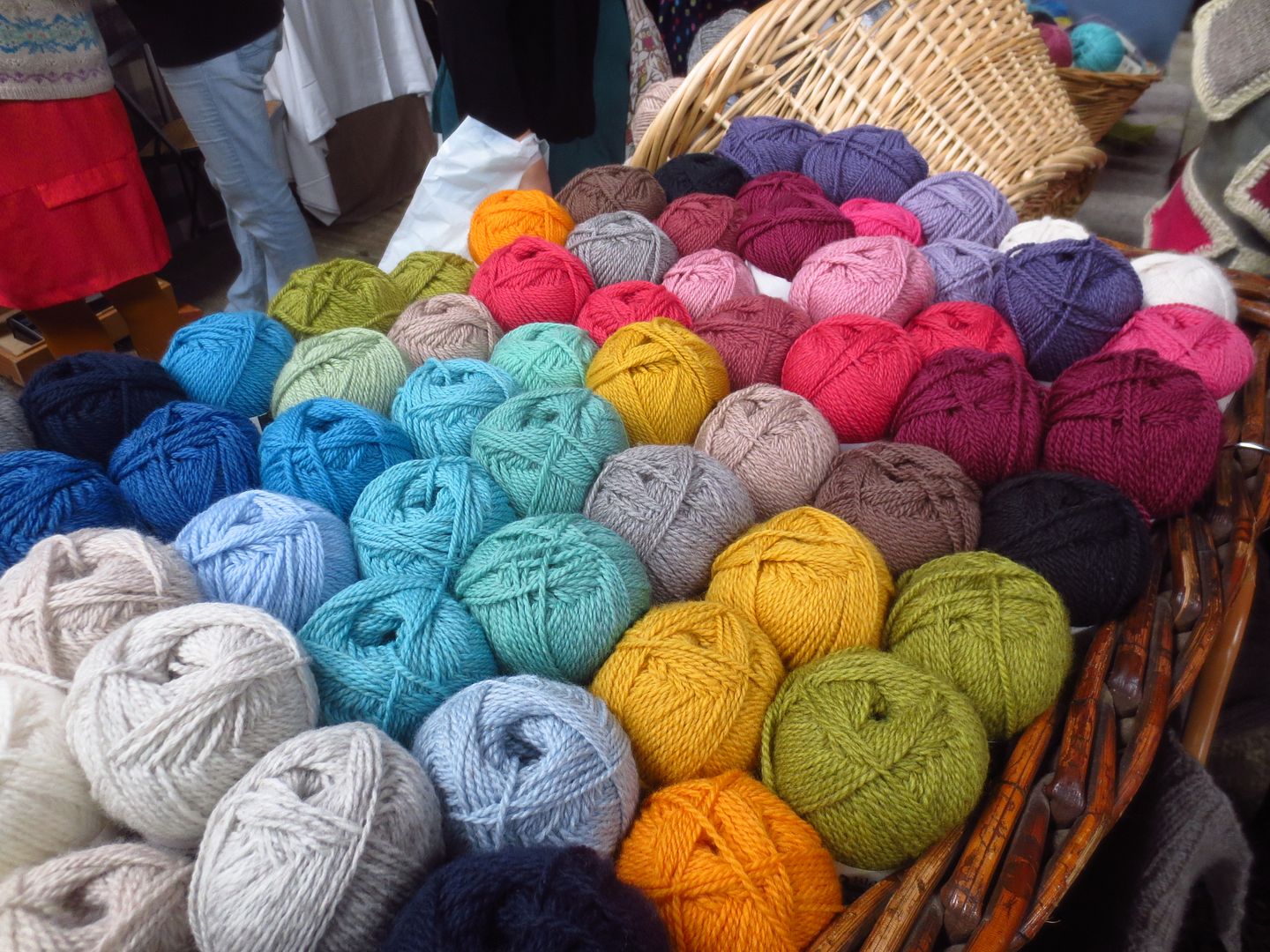 I wanted to take this basket of yarn home with me. GORGEOUS colours.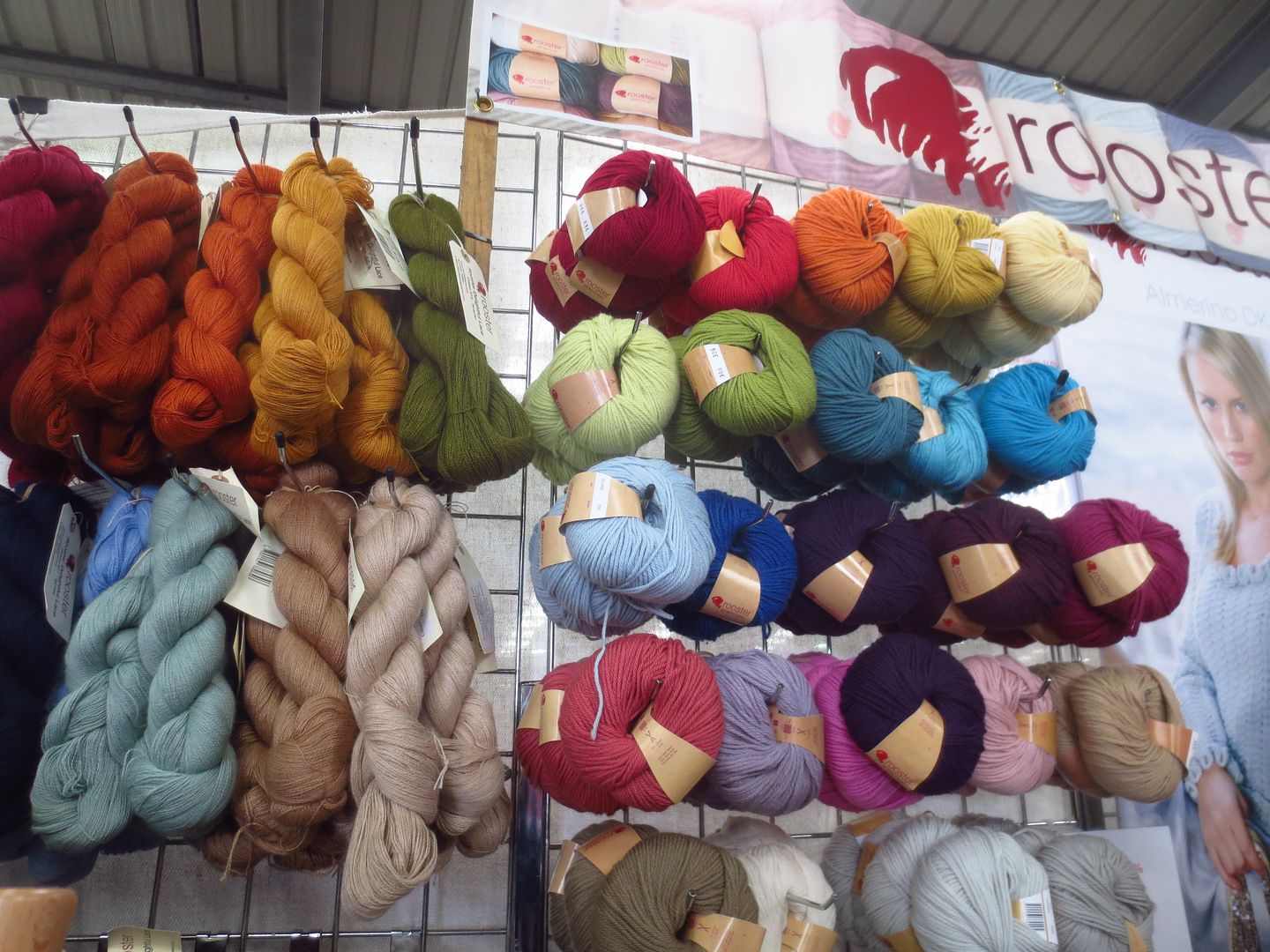 This is the Laughing Hens stall. I have had a yearning to make a Rooster Almerino blanket for a few years now (Specifically since 2010, when we moved into this house and I bought a crochet book by Nicki Trench for £5 in Morrisons. It features the most divine, soft and cosy, scrumptious looking stripy blanket made from Almerino and I have lusted after it ever since.) AND NOW that I have squished the yarn and seen the colours in person I have decided that I am going to save up/stash it for a while and then do an Almerino blanket. Probably a Big Elmer (I know I lack imagination when it comes to trying new styles of blankets but I just really really REALLY love solid squares of colour!).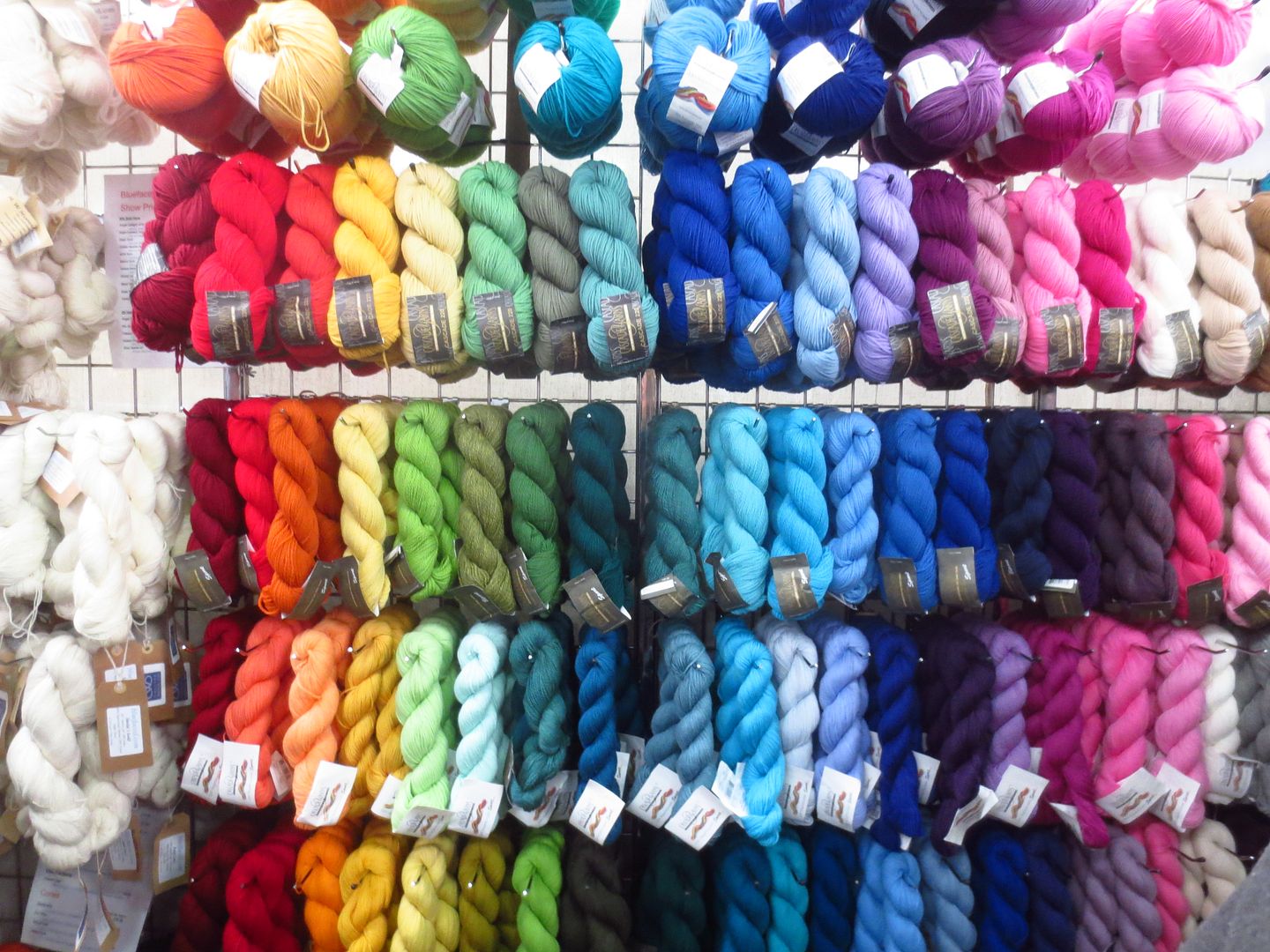 I think this was the Cascade yarn at the Laughing Hens stall and again I just wanted one of every skein.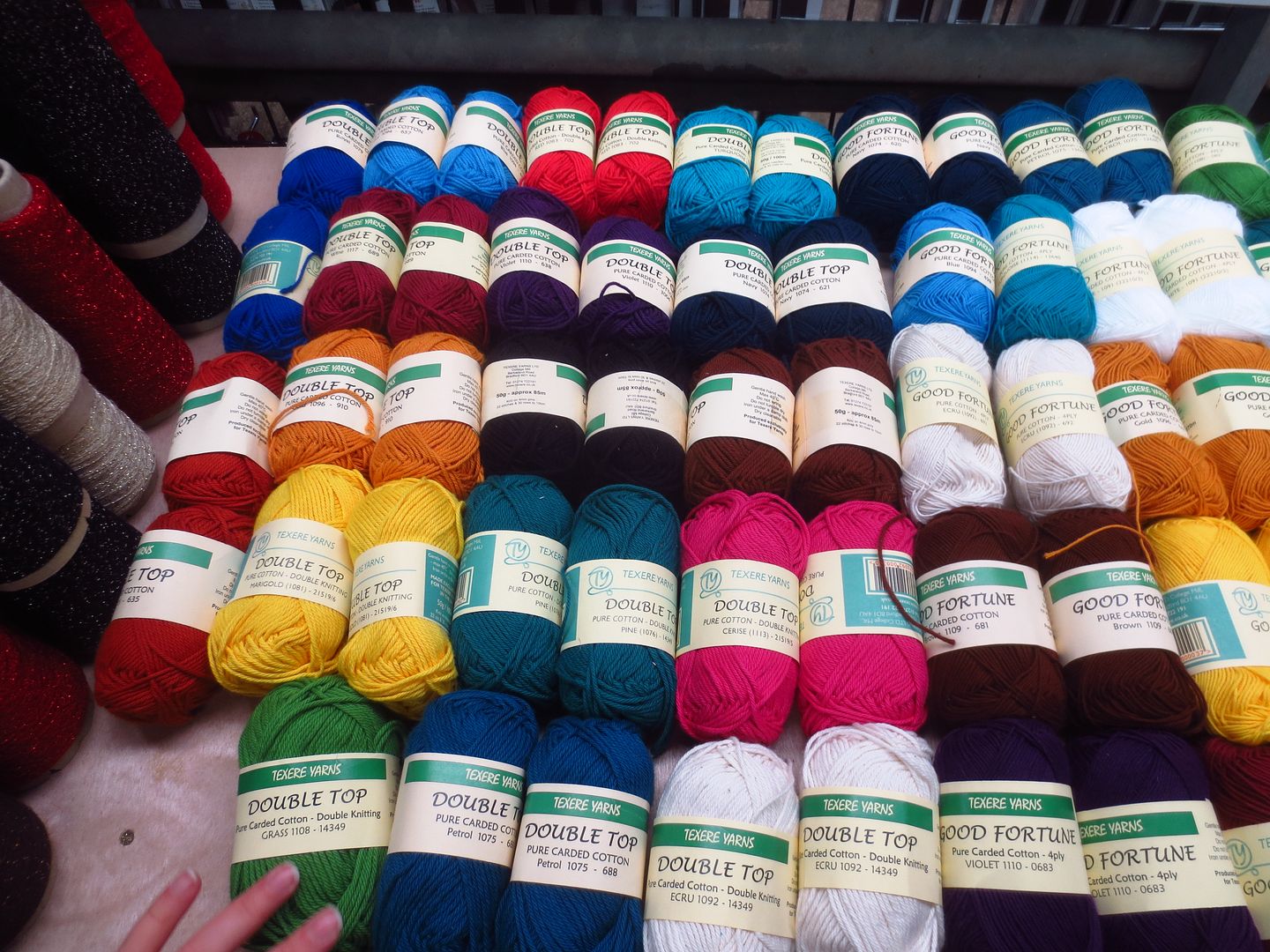 Are you sensing a theme with my photos? RAINBOW YARN! This is the Texere Yarns stall, and it's their Double Top cotton. I wish I found it easier to work with cotton, I find it really harsh on my hands and I can never get the stitches as close and dense as I would like them to be. The colours are super though – check out that true green! I long for that kind of colour green in Stylecraft!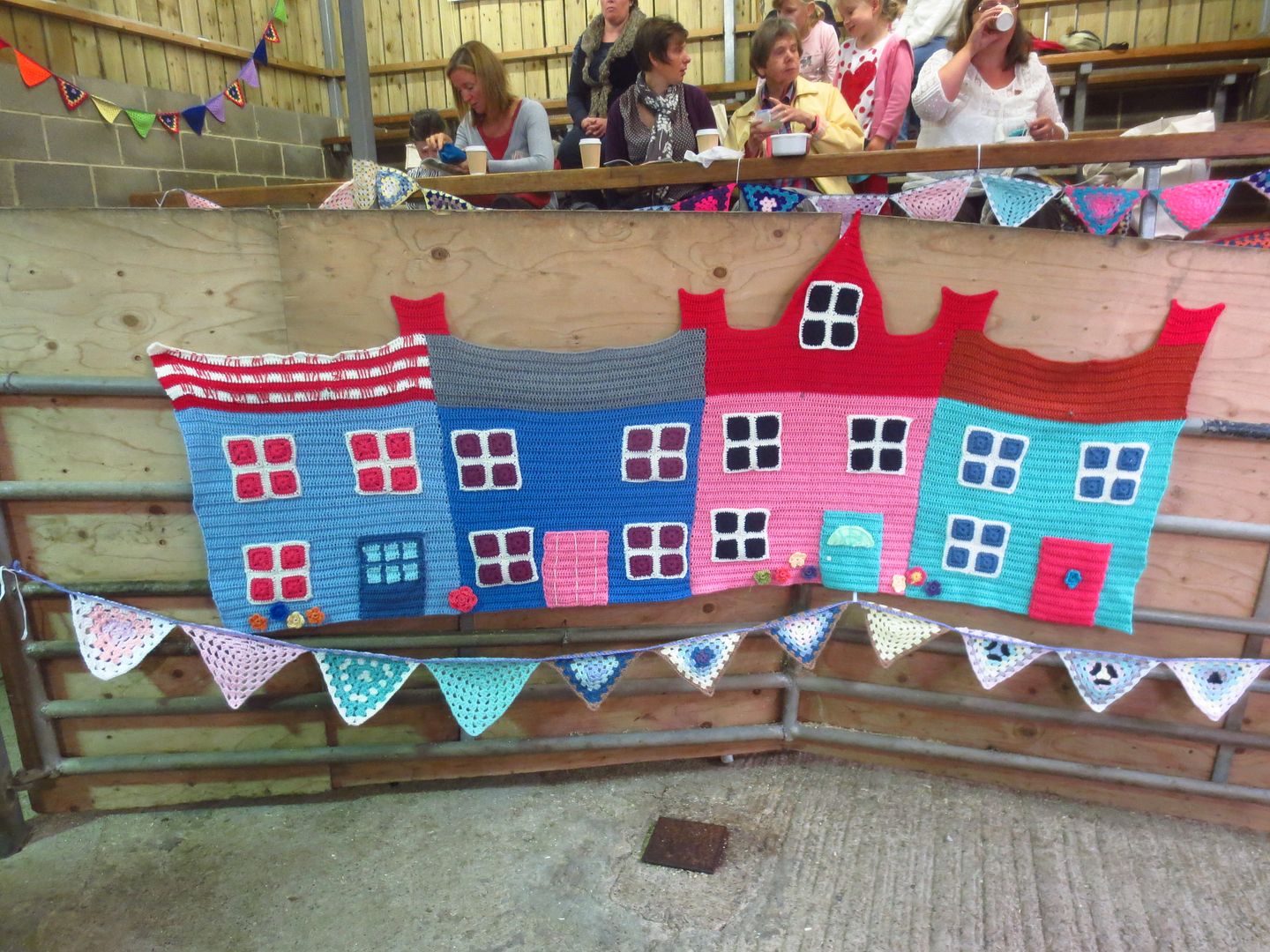 I was so happy to see my crochet houses used again this year! I still can't quite believe I completed them on time (I remember 11th hour window-stitching and boggling over just HOW to make a triangle for that dormer window!). I am so proud that I have been telling all of my friends that I MADE THOSE. :)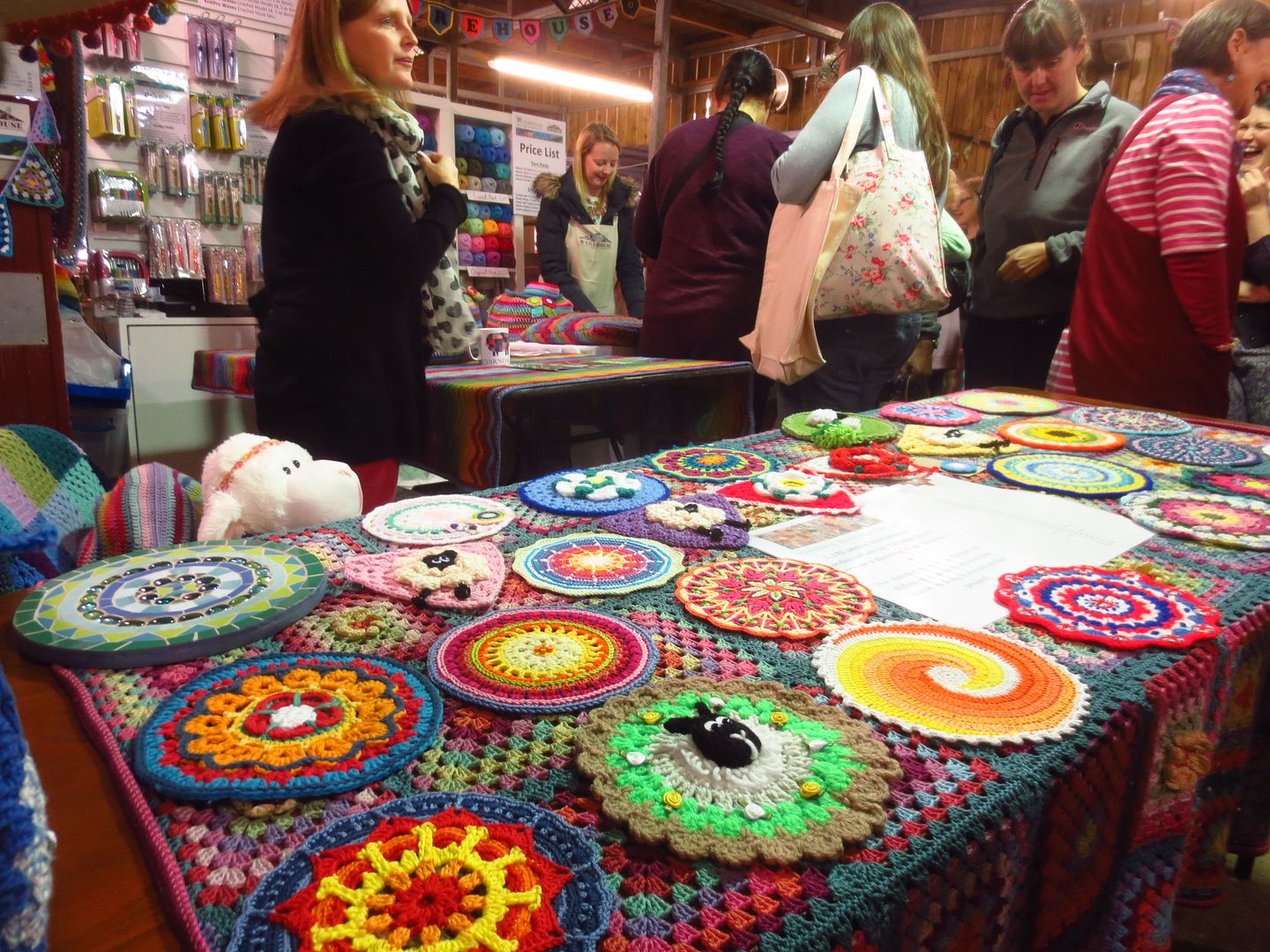 Lucy hard at work, the Stylecraft colour kits looked like they were flying off the shelves.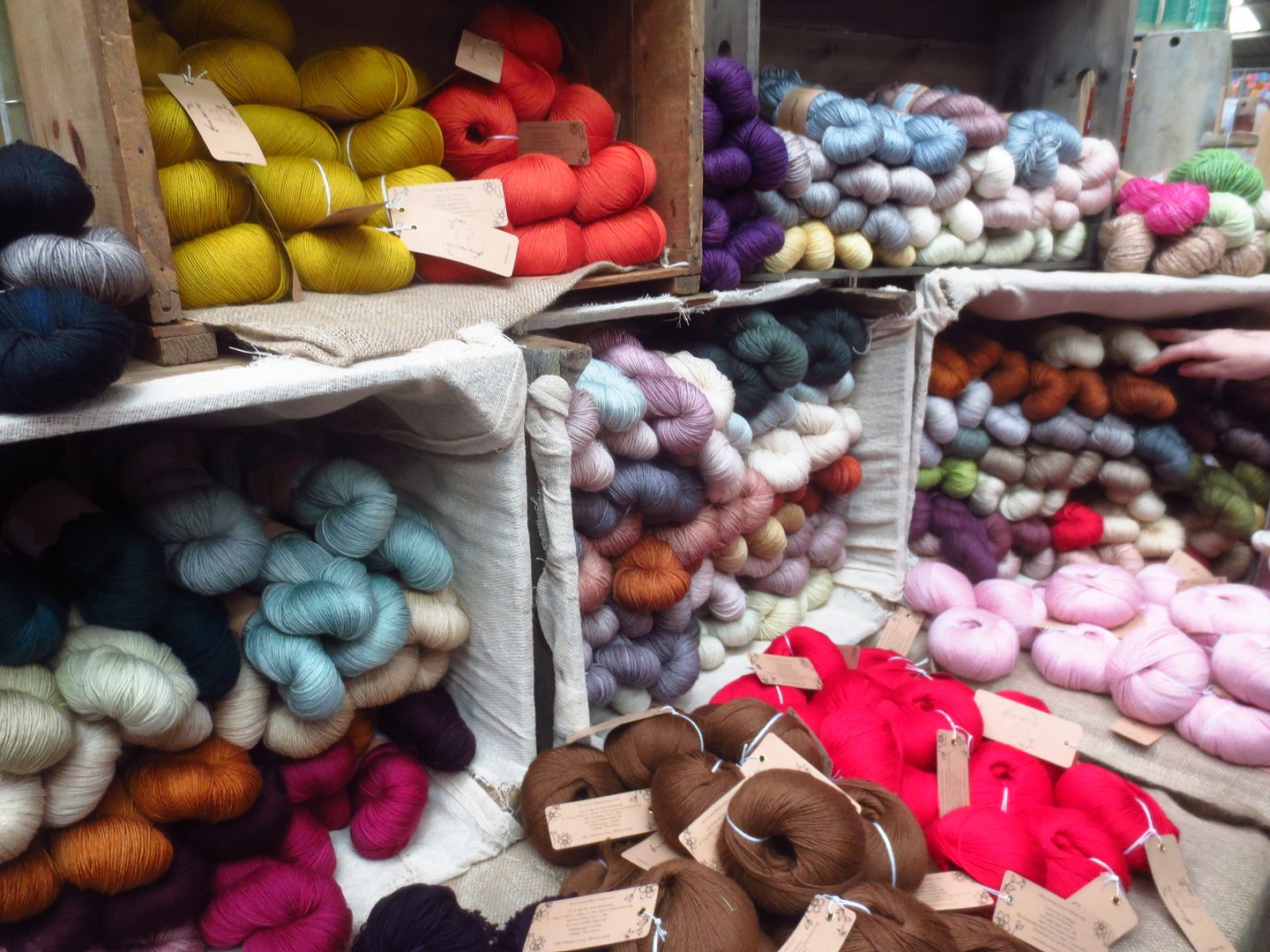 I THINK that this is Eden Cottage Yarns … correct me if I'm wrong. I thought the way the colours were grouped here was beautiful, and the yarns were so shiny and gorgeous.
I was too taken by the yarn rainbow here that I didn't get the name of the stall. Again, I will have one of everything please!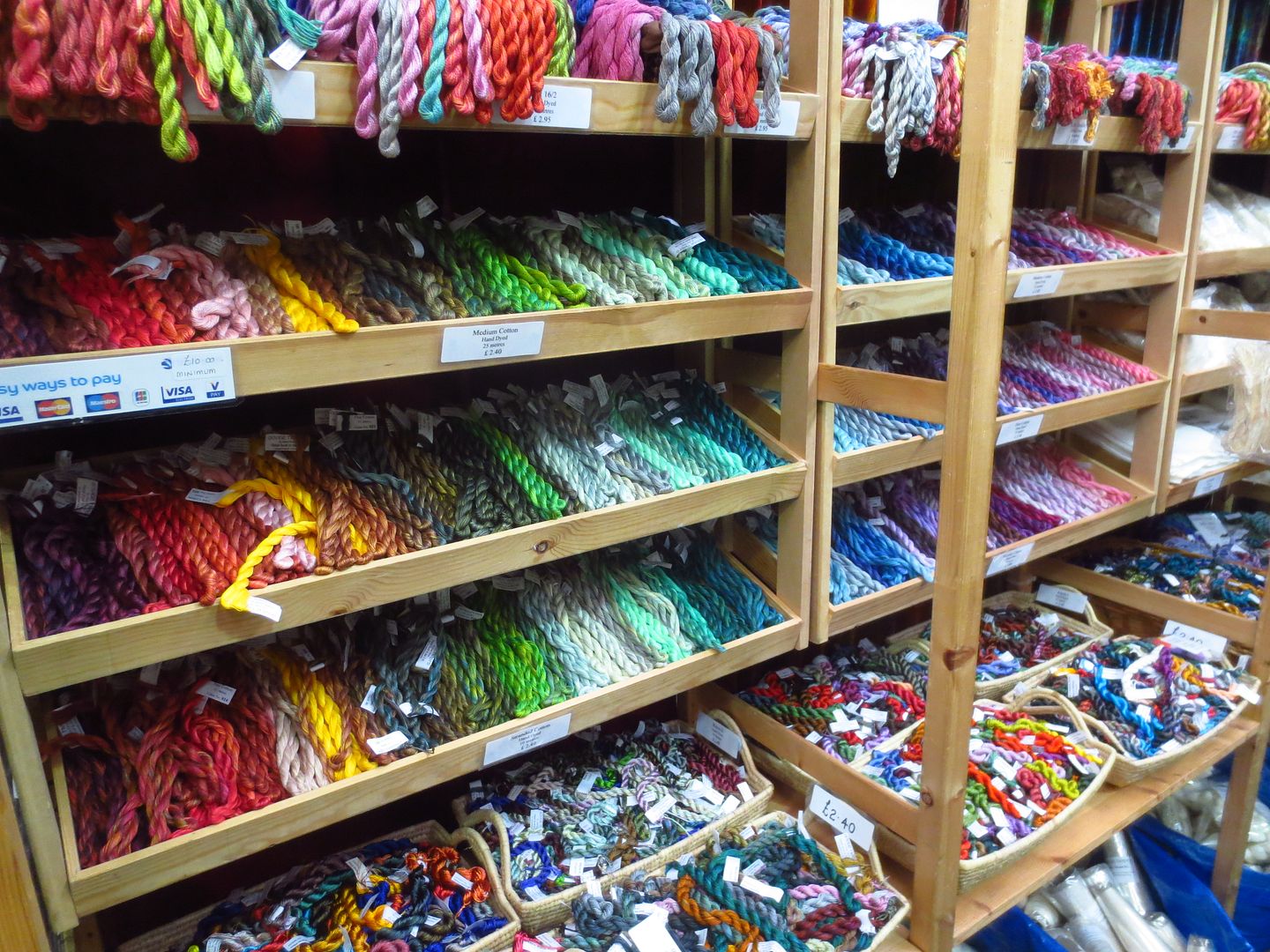 Oliver Twists … last year they'd left before I got there. This year I was not disappointed! Just look at it … how is it possible to make so many colours?! I think I'd have two of each from here please! (Fantasy shopping list…)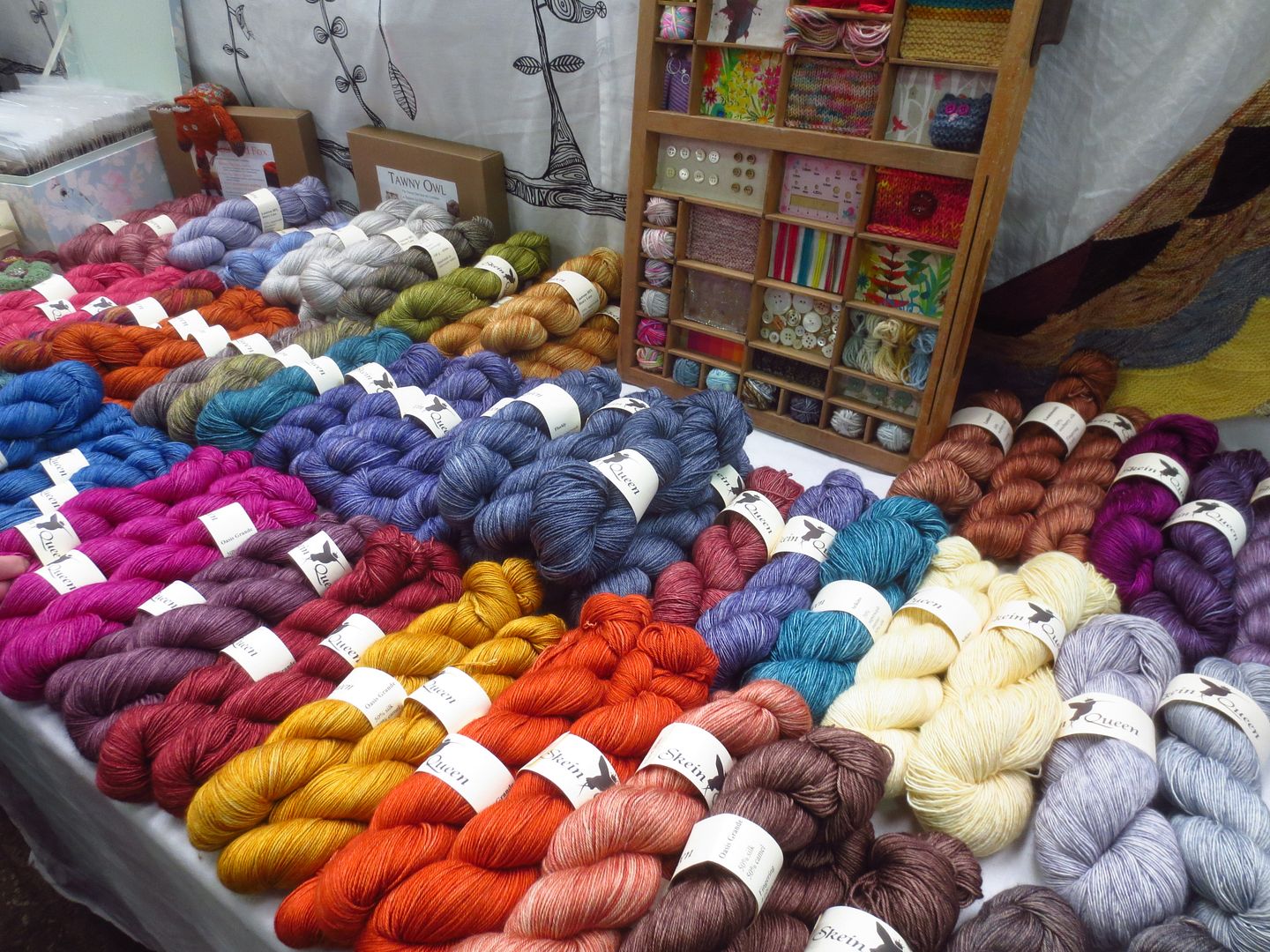 These two photos are from the Skein Queen. I bought two mini skeins of yarn from her yarn tree but honestly I wanted the whole stall. I want to knit pretty things with all of these skeins! I'm making a Christmas list for Andy! Well it might work you never know eh.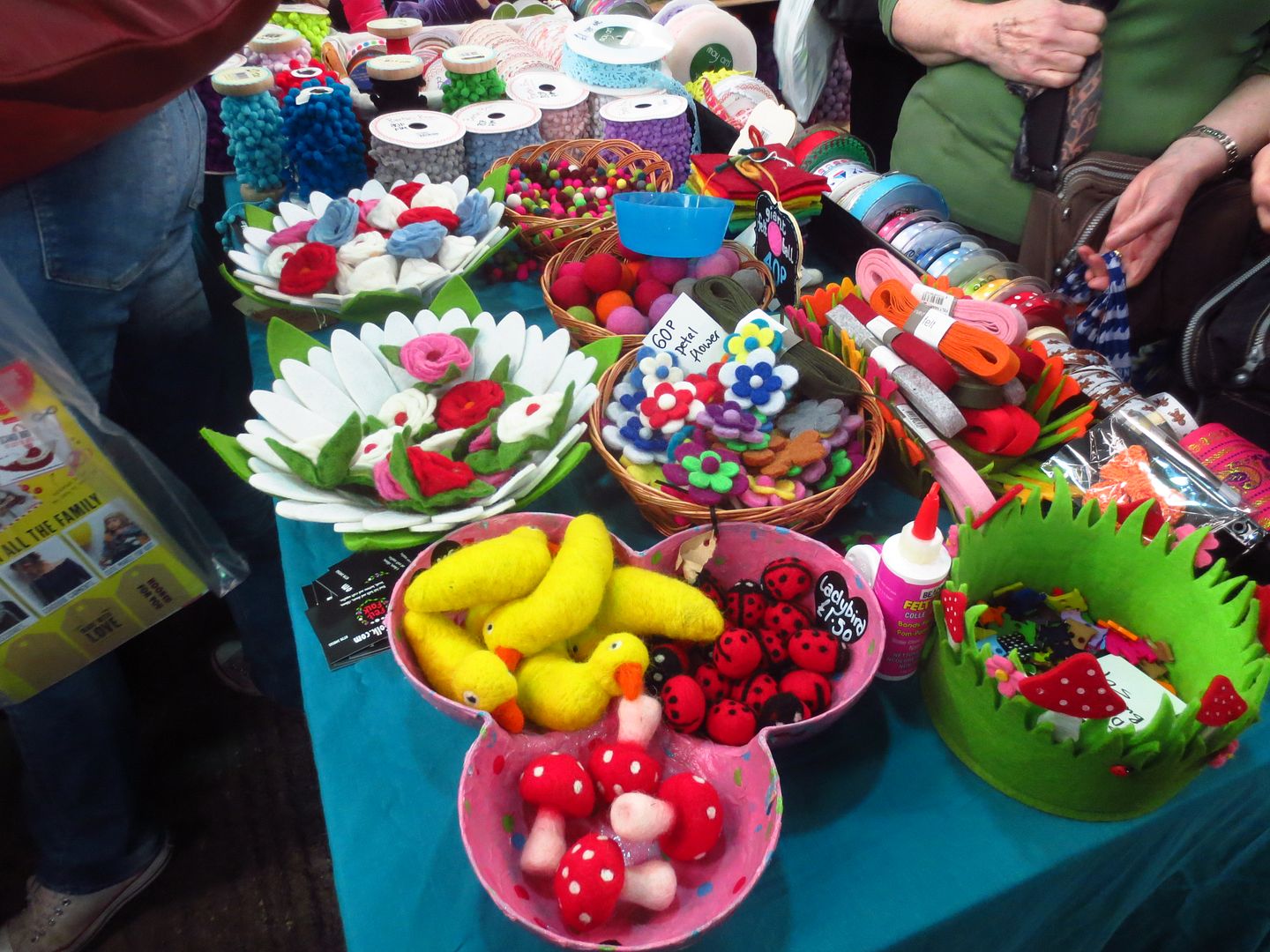 I liked this felty stall but didn't catch the name. It was very popular though!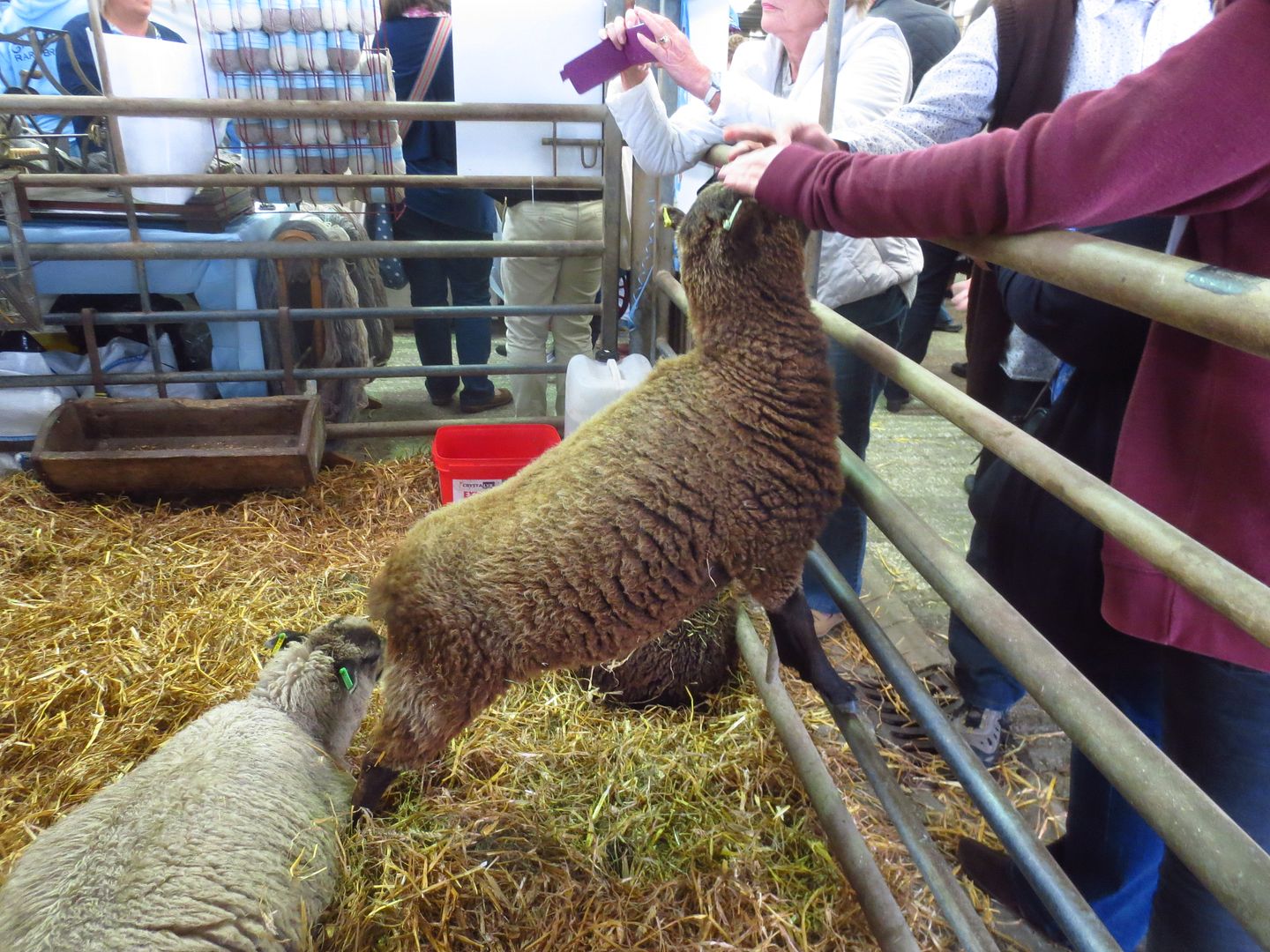 This sheep was LOVING the fuss and attention, it's tail was wagging non stop. I don't think I've ever seen a happier sheep!
The mandalas looked simply stunning but again they were simply too difficult to get a proper photograph of. If you want to see all of the beautiful work that people around the world have created then you can see them on the Pinterest boards here.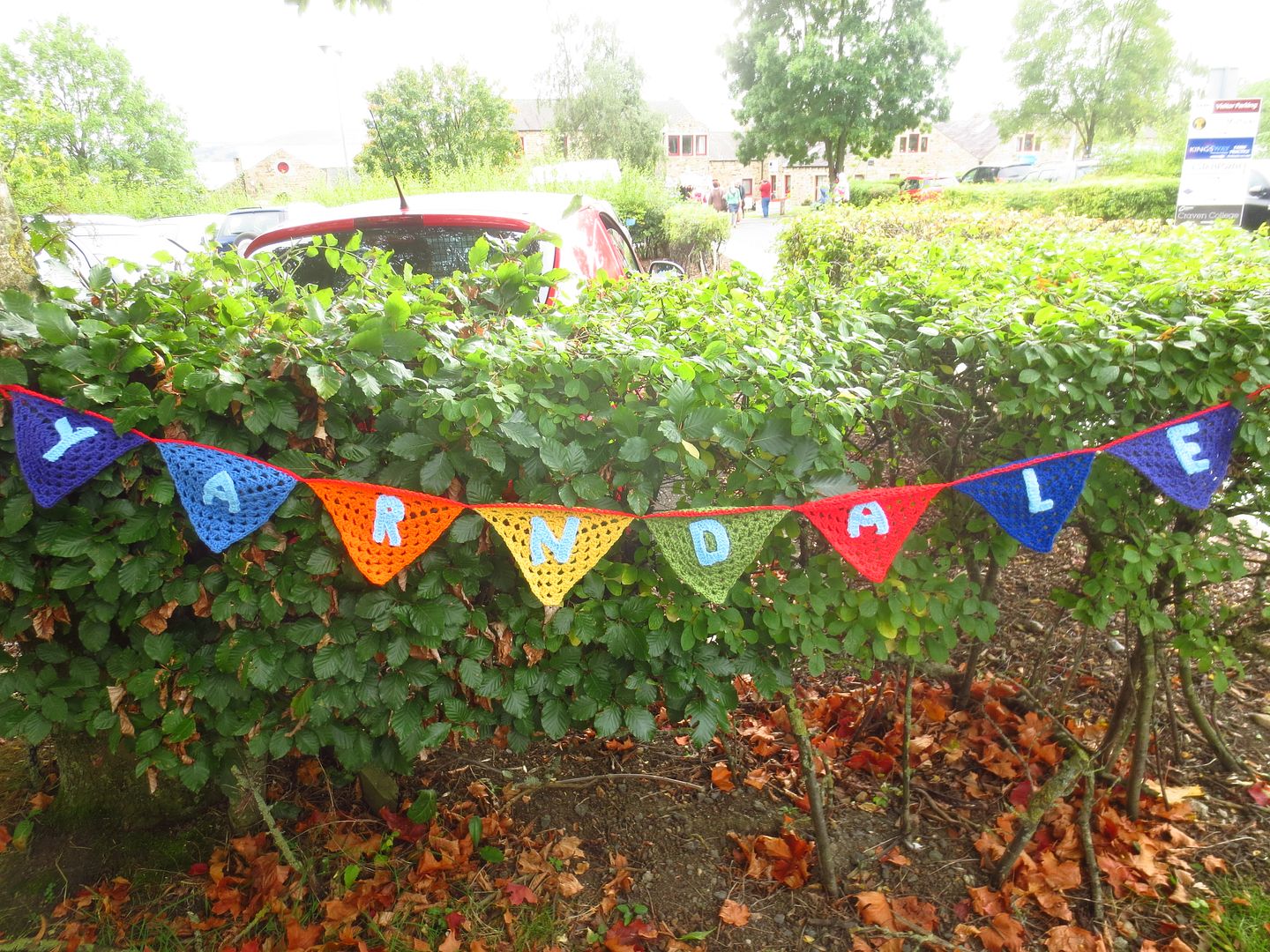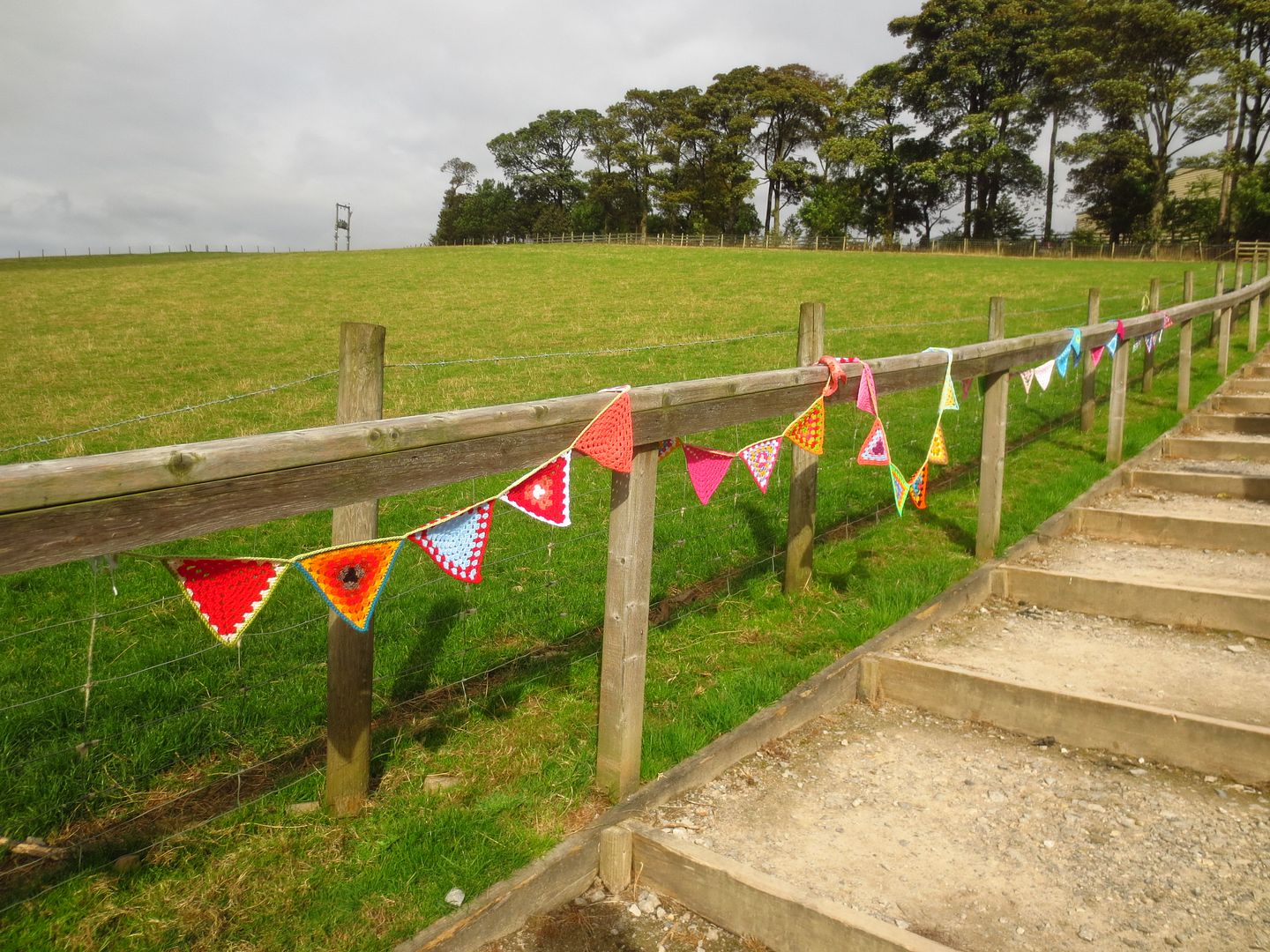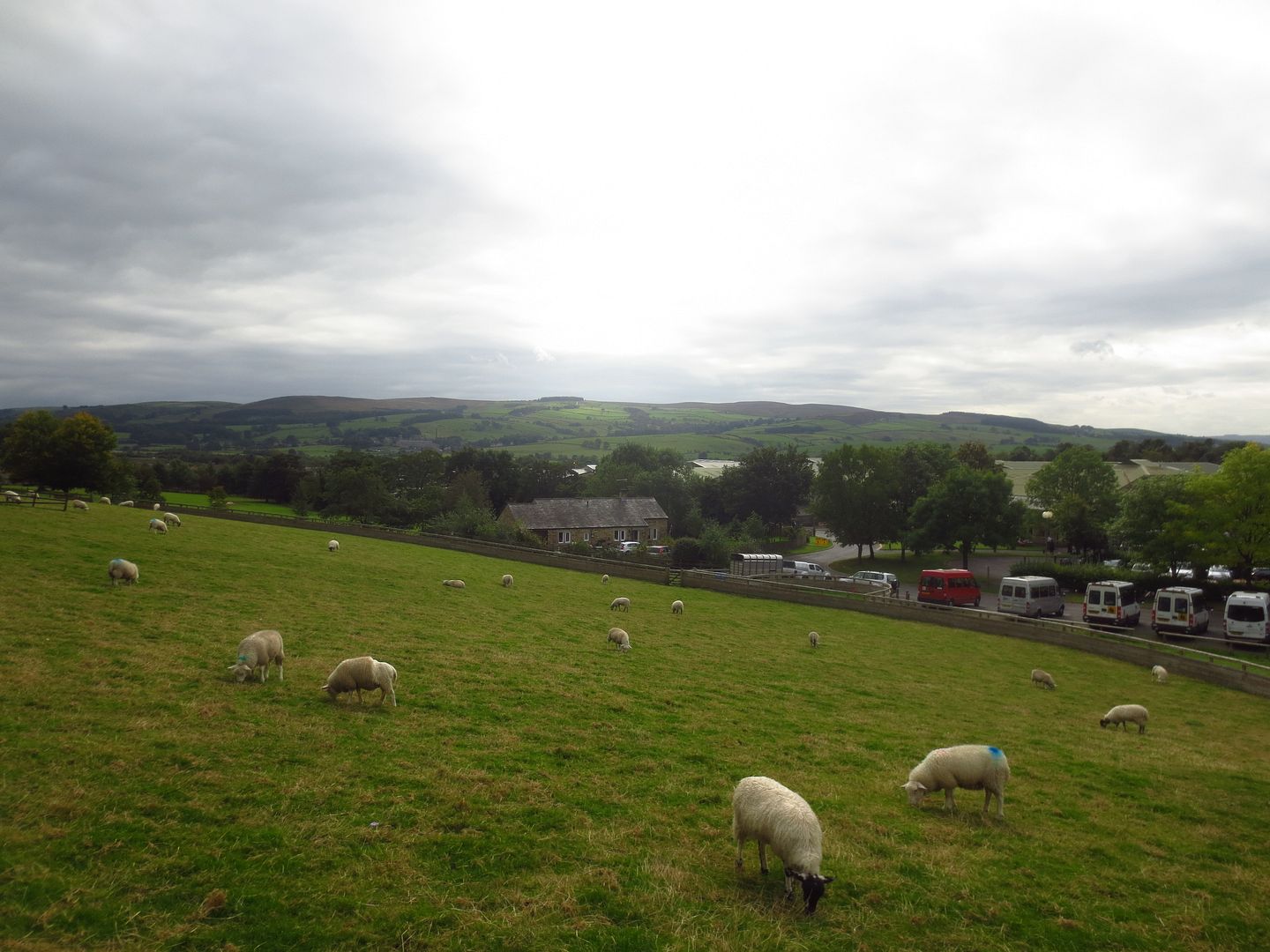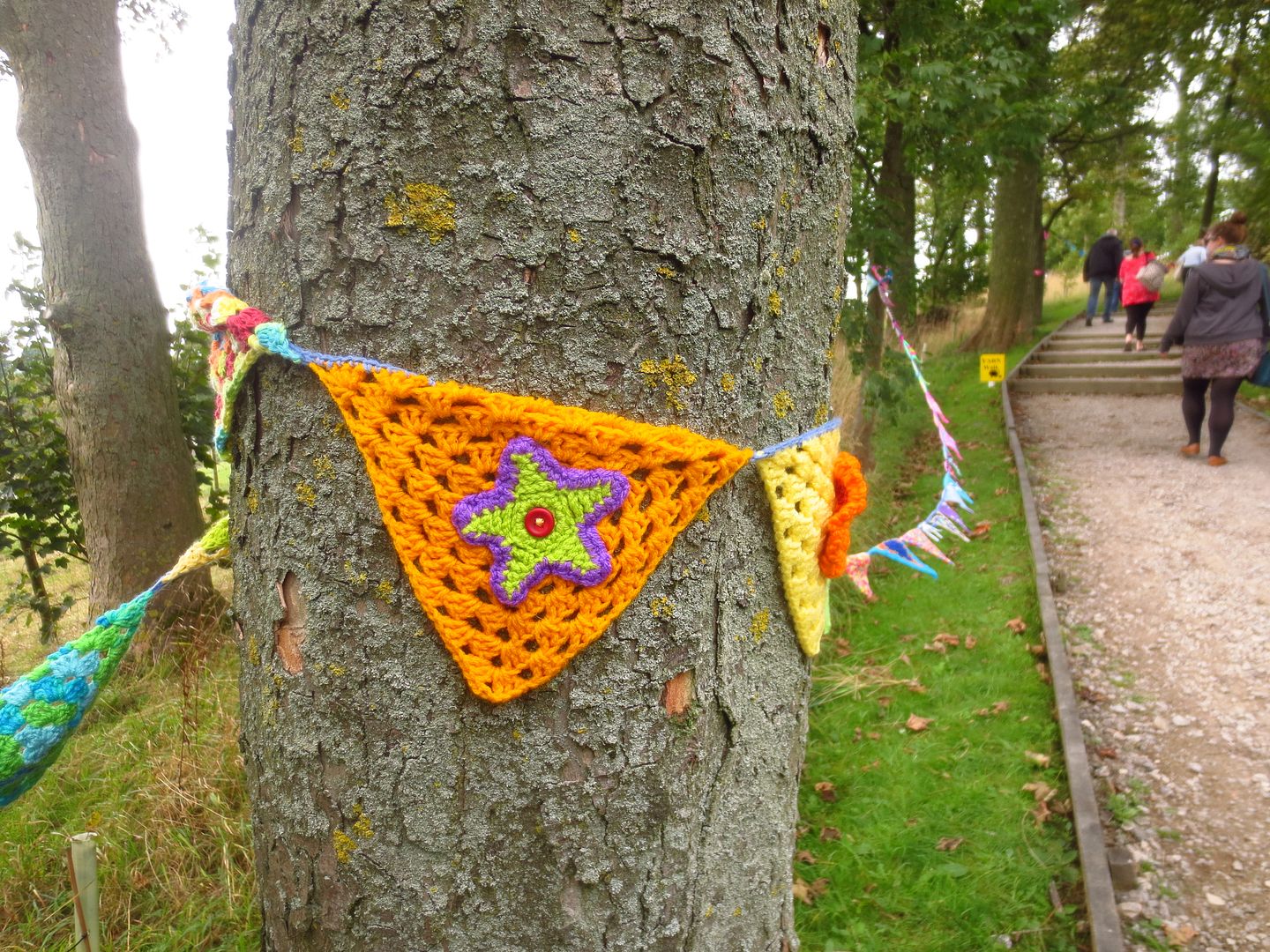 Then it was time to go and we climbed back up the steps, across the carpark and then sat on the old bandstand in the park. My feet were aching by this point! Here are my purchases: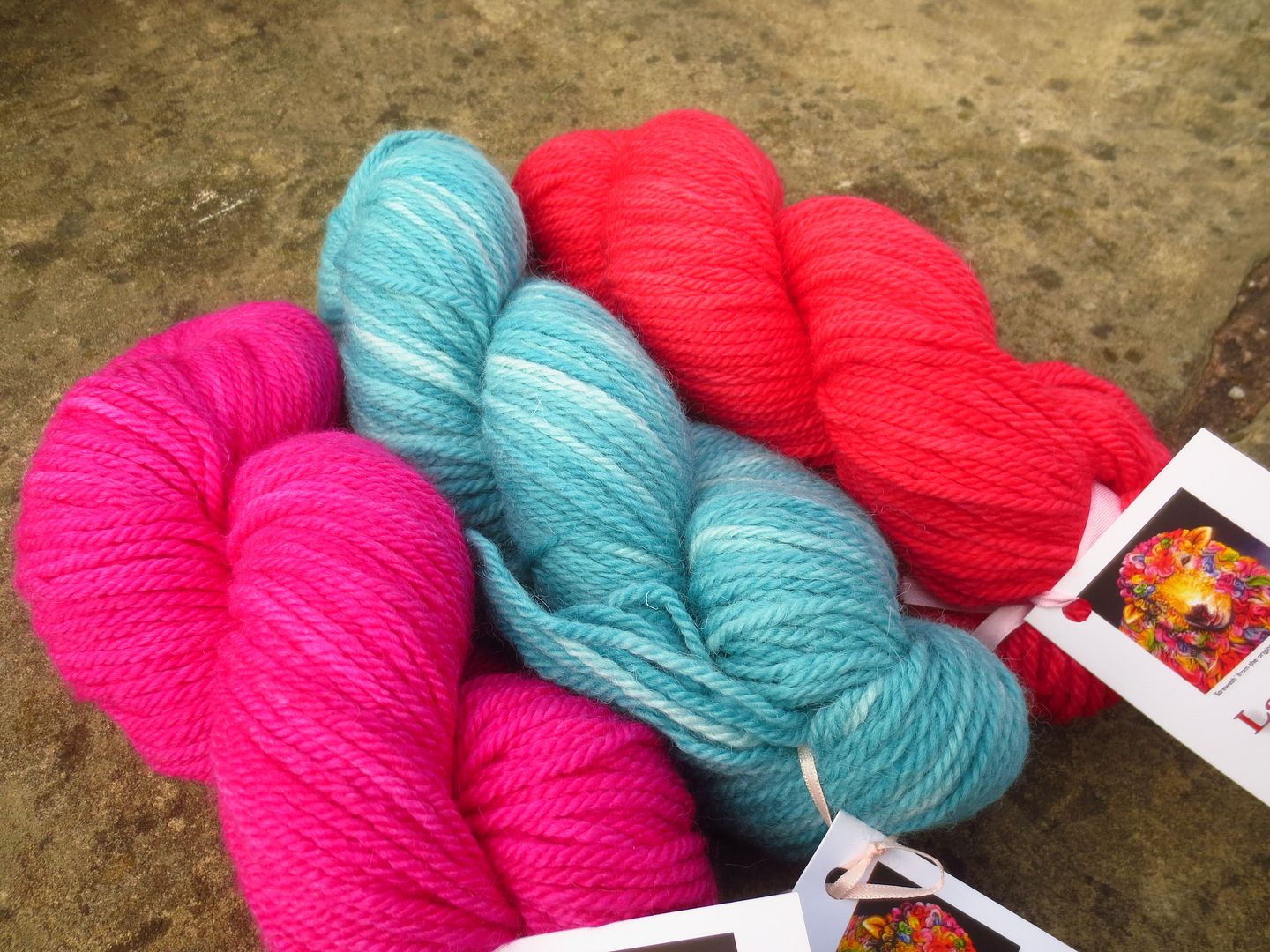 Three skeins from Laal Bear (who I believe is retiring now, this was her final show.) The pink and the red are 75% wool/25% Mulberry Silk and the blue is 100% bluefaced Leicester. I'd like to make the red into a hat for TTB, I want to stripe the pink with some grey Rowan Pure Wool Aran that I've had for 5 years and make a Baktus and I don't know about the blue yet.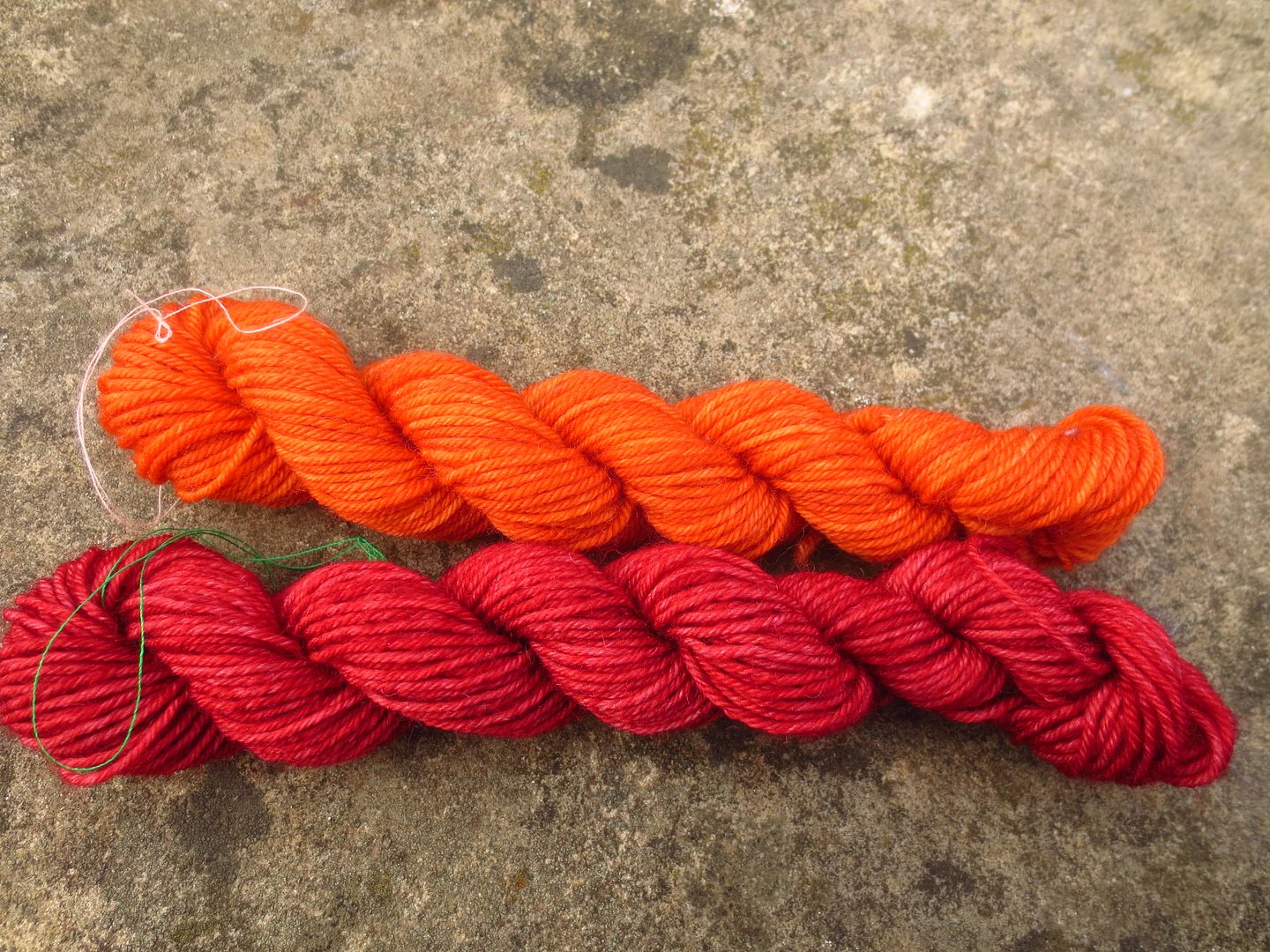 Here are my mini skeins from the Skein Queen. Gorgeous Autumn tones. I bought two mini skeins (even tinier than these) last year and I think it would be a nice collecting thing to do, collecting mini skeins when I see nice ones at events and then in a billion years I'll knit them all up into little mitred squares and join them together. Until then I will just enjoy carrying them around and squooshing them.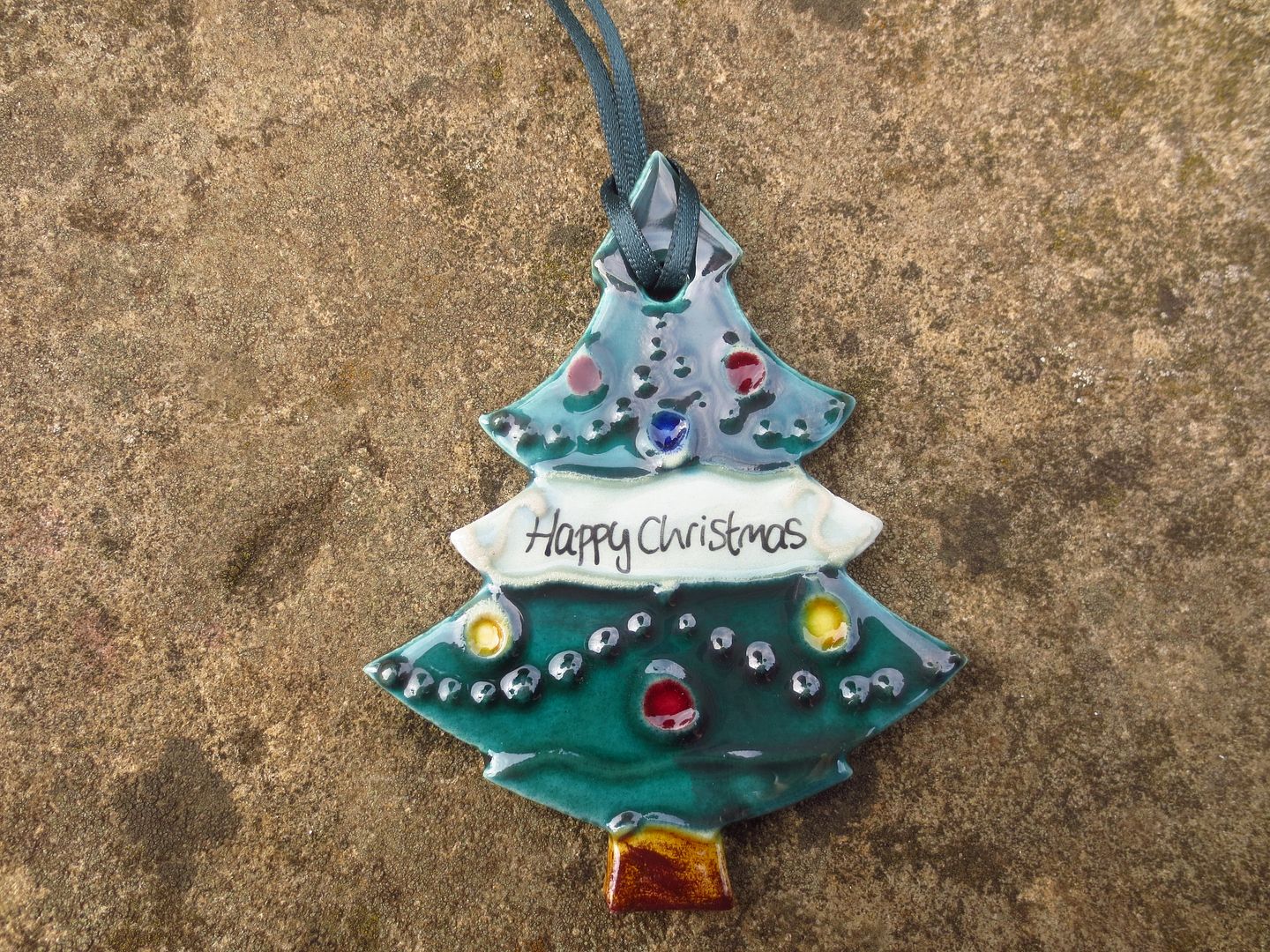 Here's my tree decoration from Tile Productions, the picture doesn't do it justice.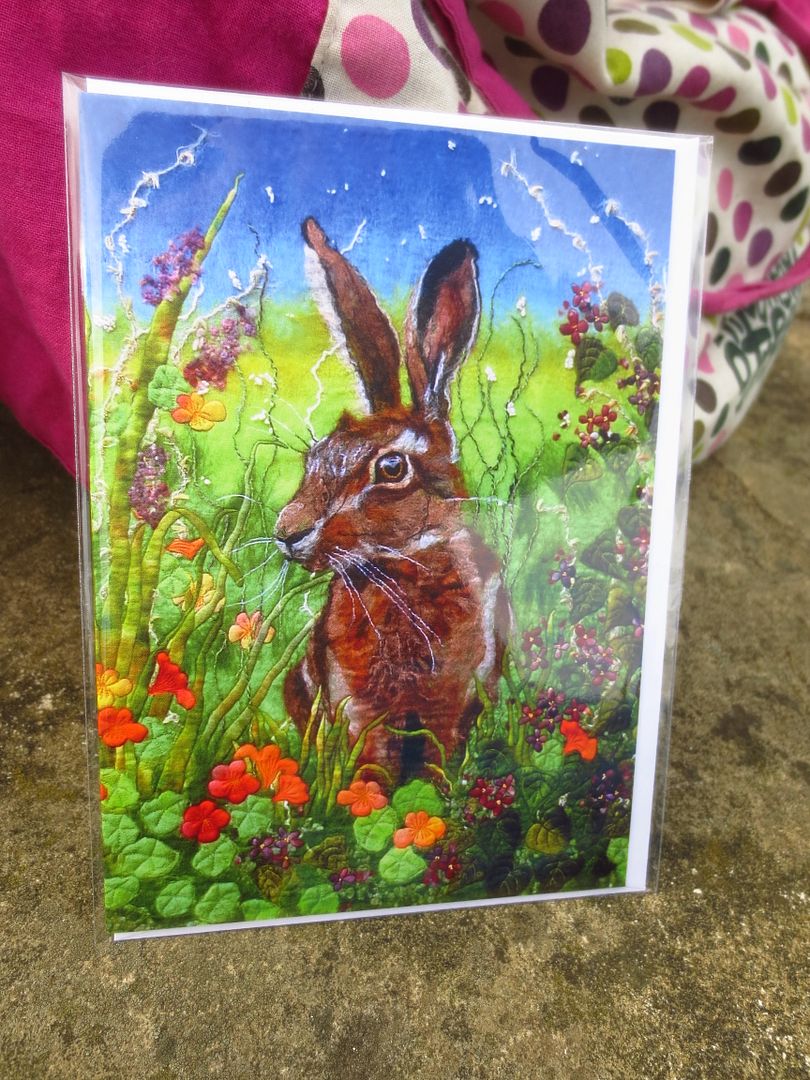 And finally my hare card from the wonderful Marmalade Rose, who's blog I've loved for years. I am so happy with this card!
Now then, link me up and show me what you bought!
xxx