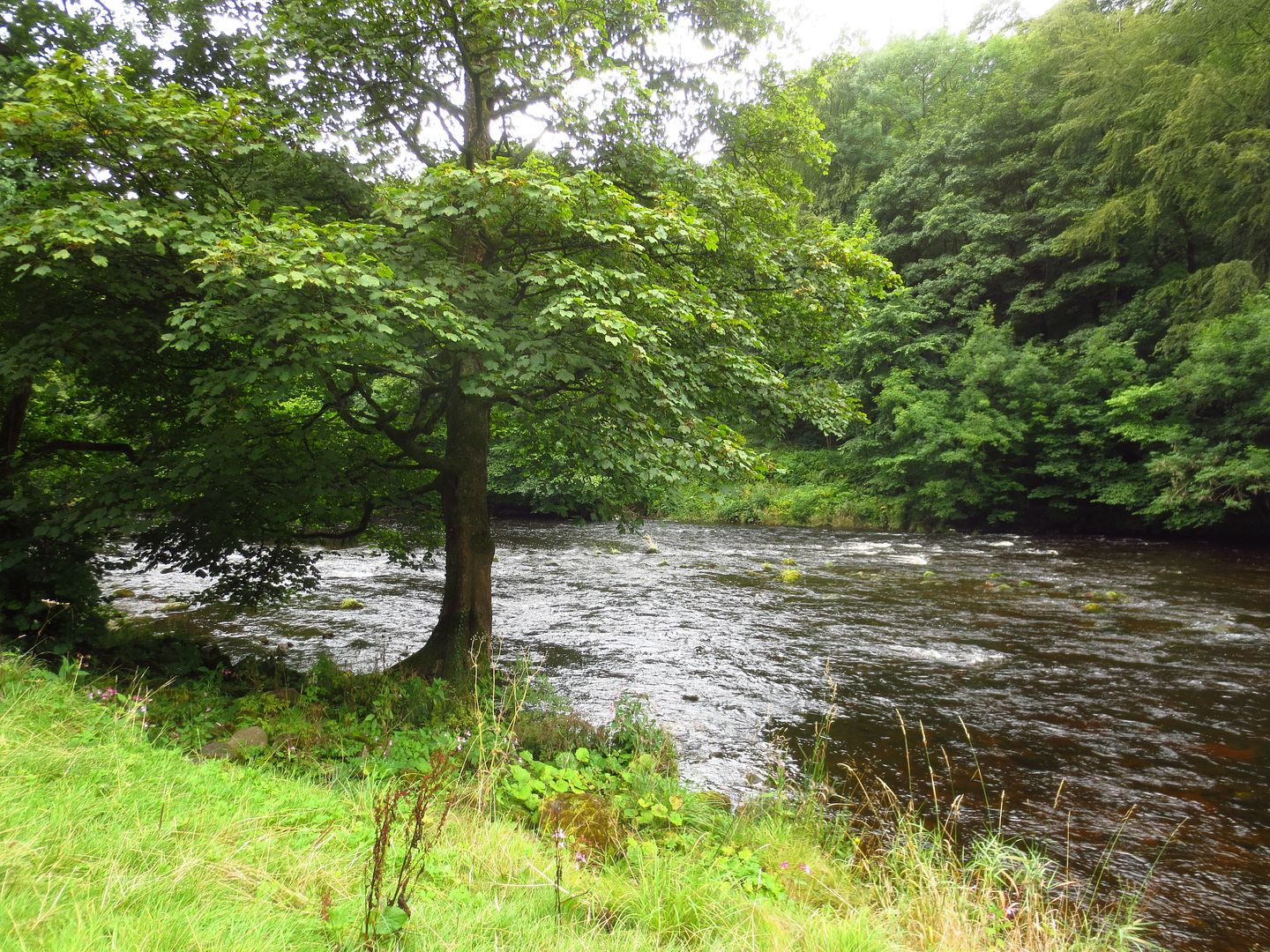 Last week marked the 5th anniversary of our wedding so to celebrate we went out for breakfast at the Ice Cream Diner. I wanted to write "5" on my pancakes with maple syrup but I hadn't realised how runny it was and I failed miserably. They tasted good though!
From there we went to Bolton Abbey for a walk. I've wanted to go for ages (it's one of my favourite places and if I could drive I would go there at least twice a week!) but it was a bit spur of the moment and we didn't have the pushchair with us. TTB walked really well but we didn't really get very far before turning around. I have to judge not on how far he can walk but how far I can manage to carry him back should he give up!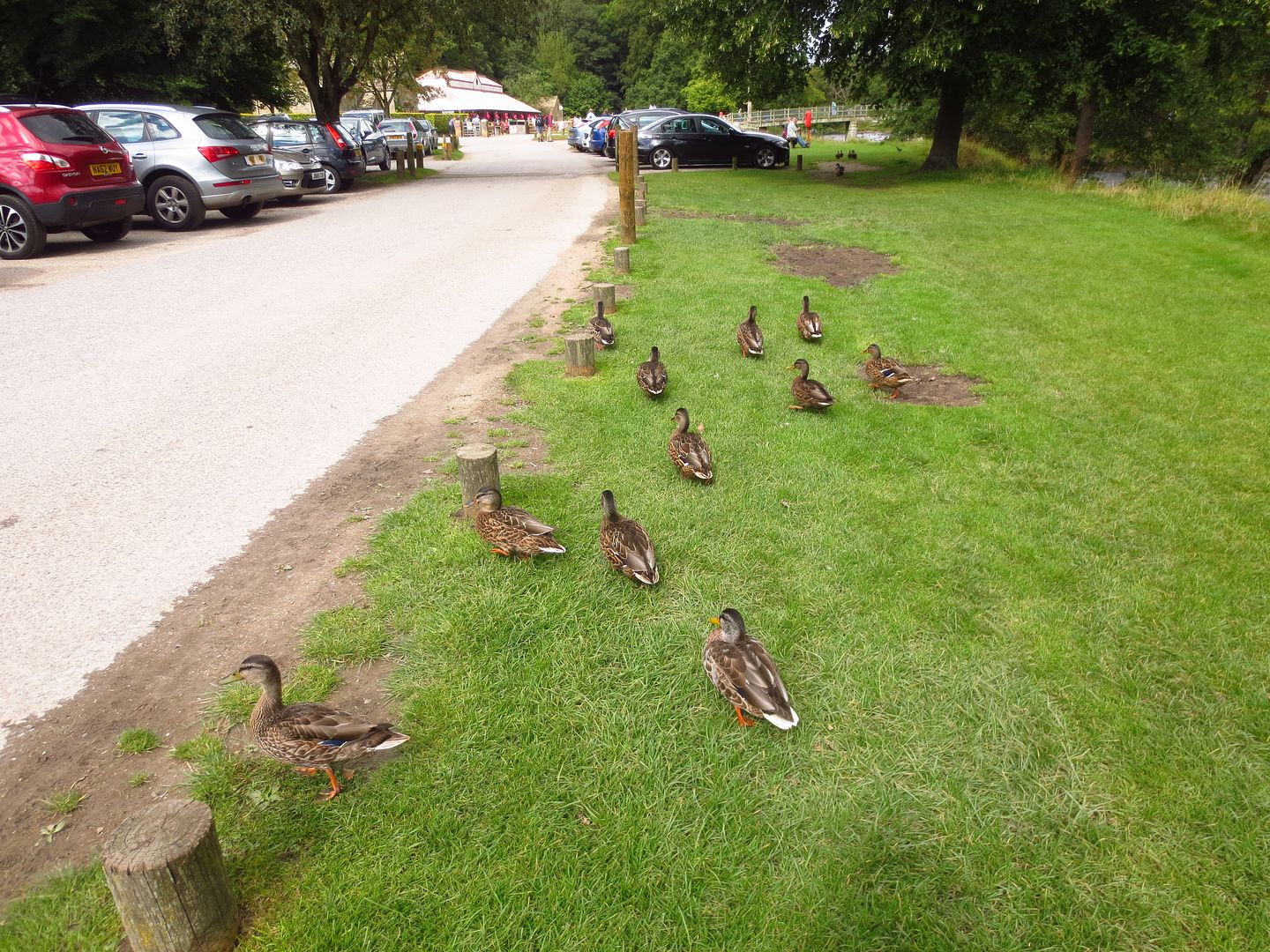 The Bolton Abbey ducks are very bold and keen to come and see you (probably in the hope that you have a picnic they can steal!).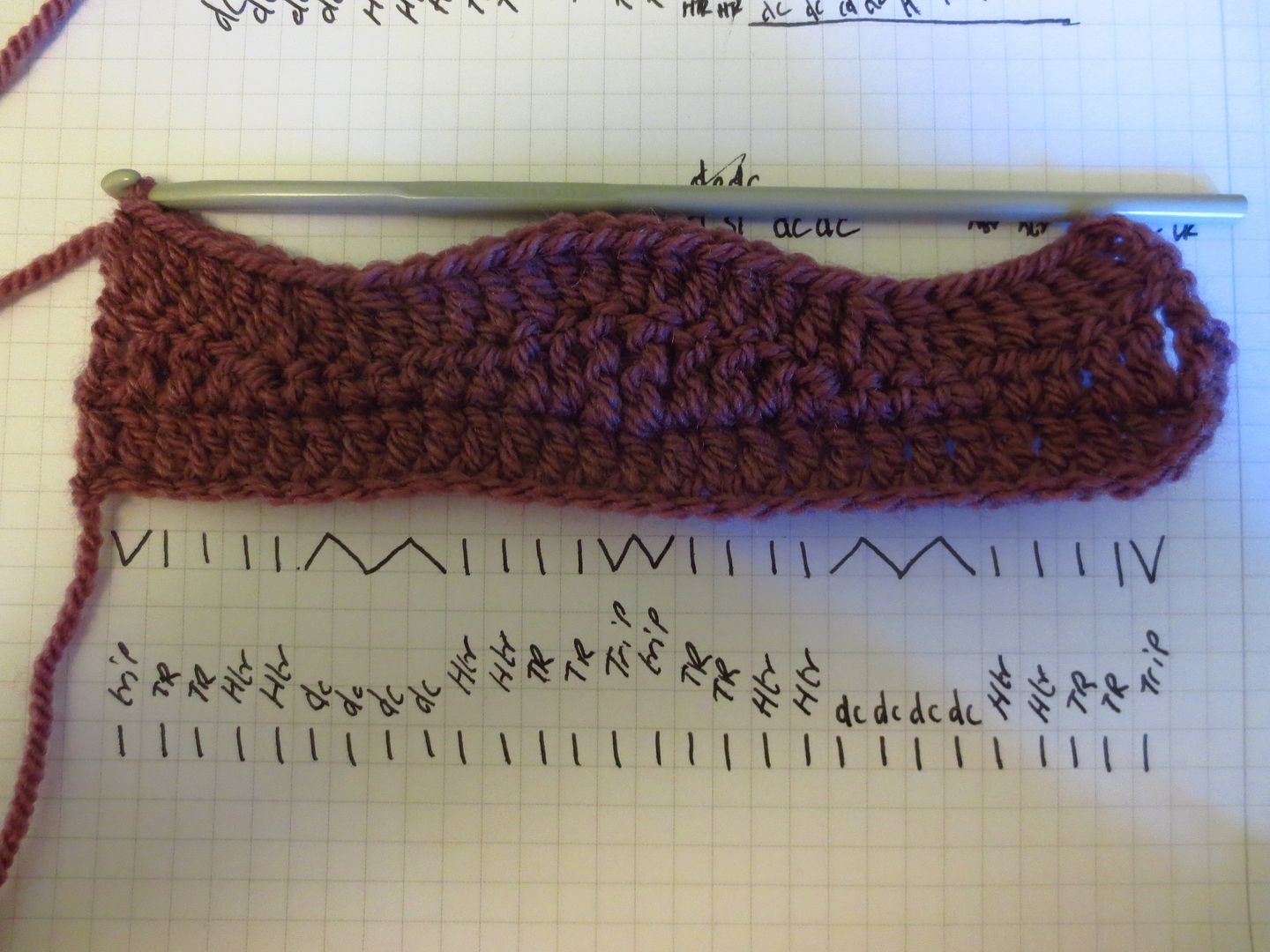 On Sunday morning I did some crochet tinkering to see if I could make a straight start to a ripple blanket rather than adding the straight part afterwards. This is because I messed up my last ripple border despite having done at least five successful ripple straightening/border operations. Three attempts and it mostly works which is pleasing.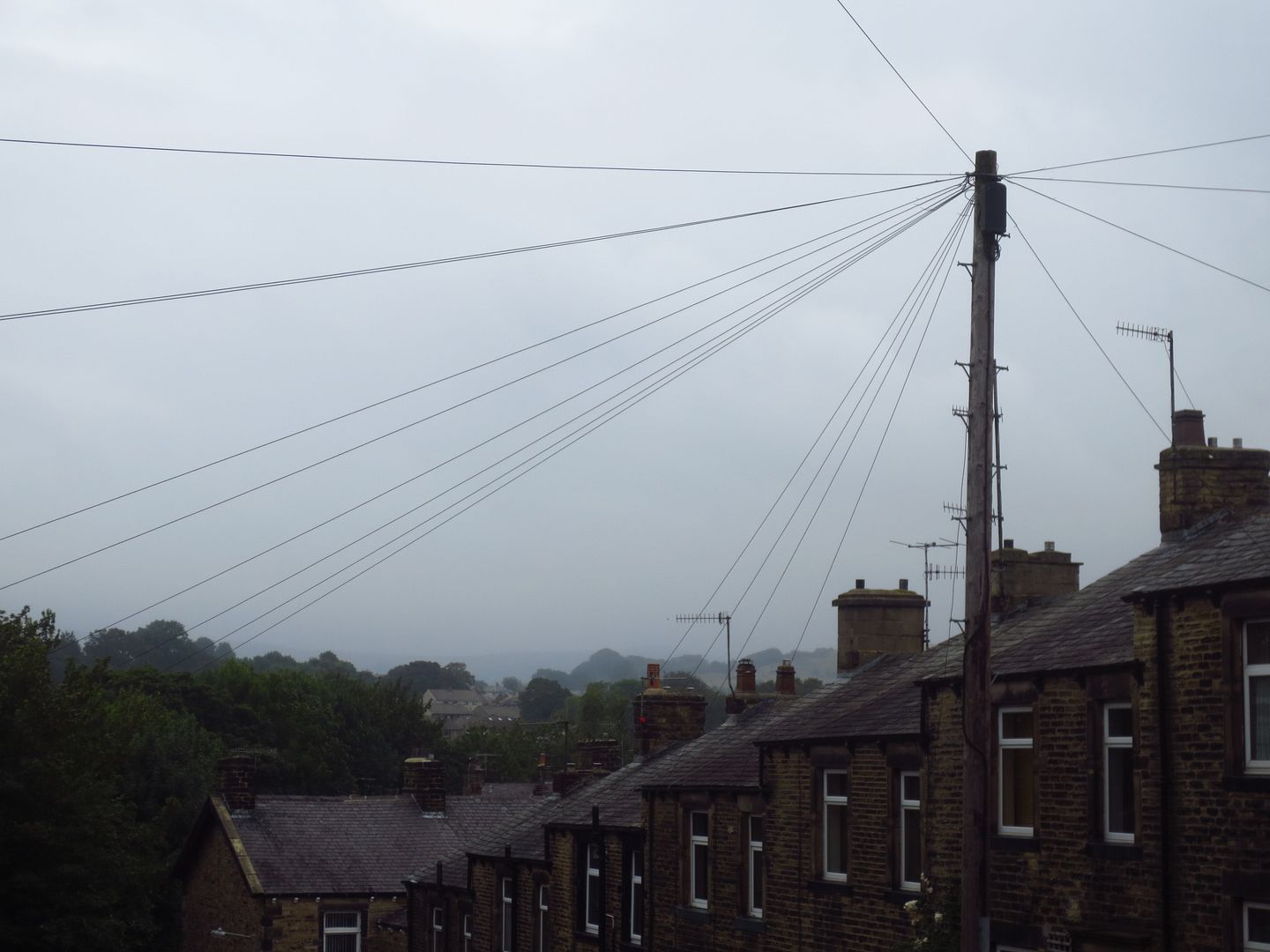 How did you spend your Bank Holiday Monday? A drizzly, mizzly mist hung around all day but that did not stop TTB from wanting to go for walks. Andy took him on a long walk in the morning and then …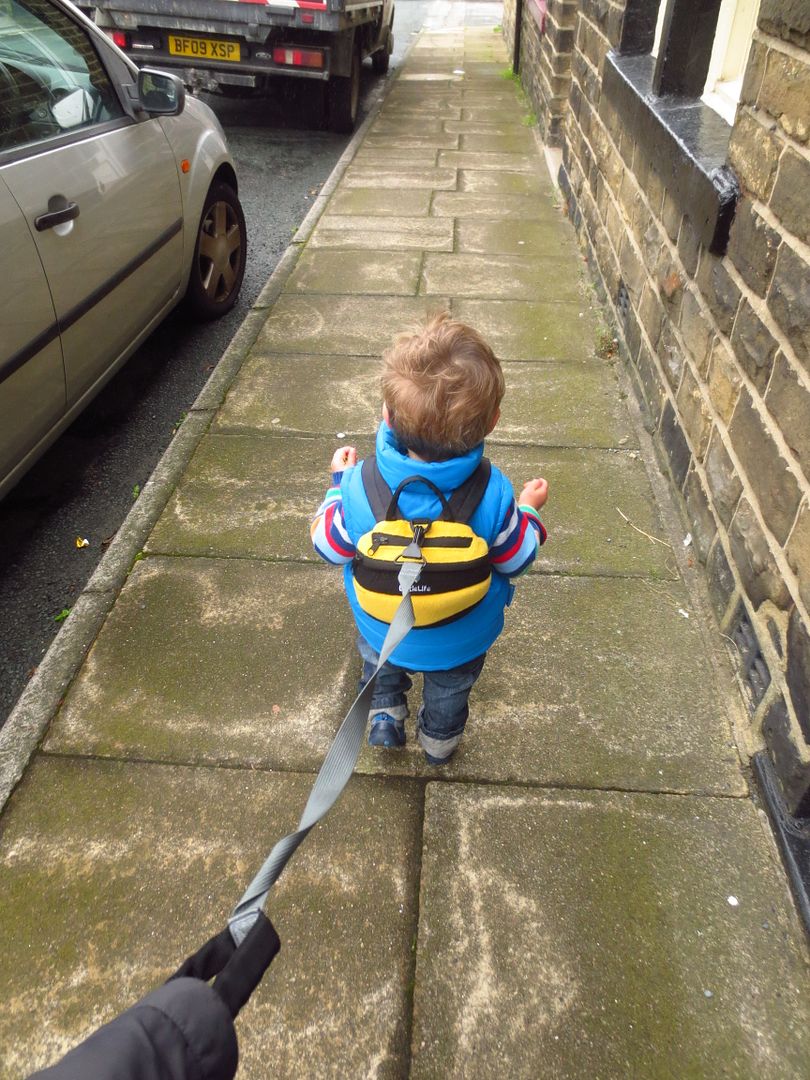 … I spent my afternoon wandering the streets (and backstreets) with him while he collected sycamore seeds, leaves, sticks, stones, and exclaimed with delight each time he saw a cat. I eventually persuaded him to come home by making a big deal about going in through the back gate rather than the front door (OoooOOOOoOoohhhh) but after his initial excitement about the gate he was mightly pissed off that he was just back in the yard again and I was showing no signs of continuing walking with him!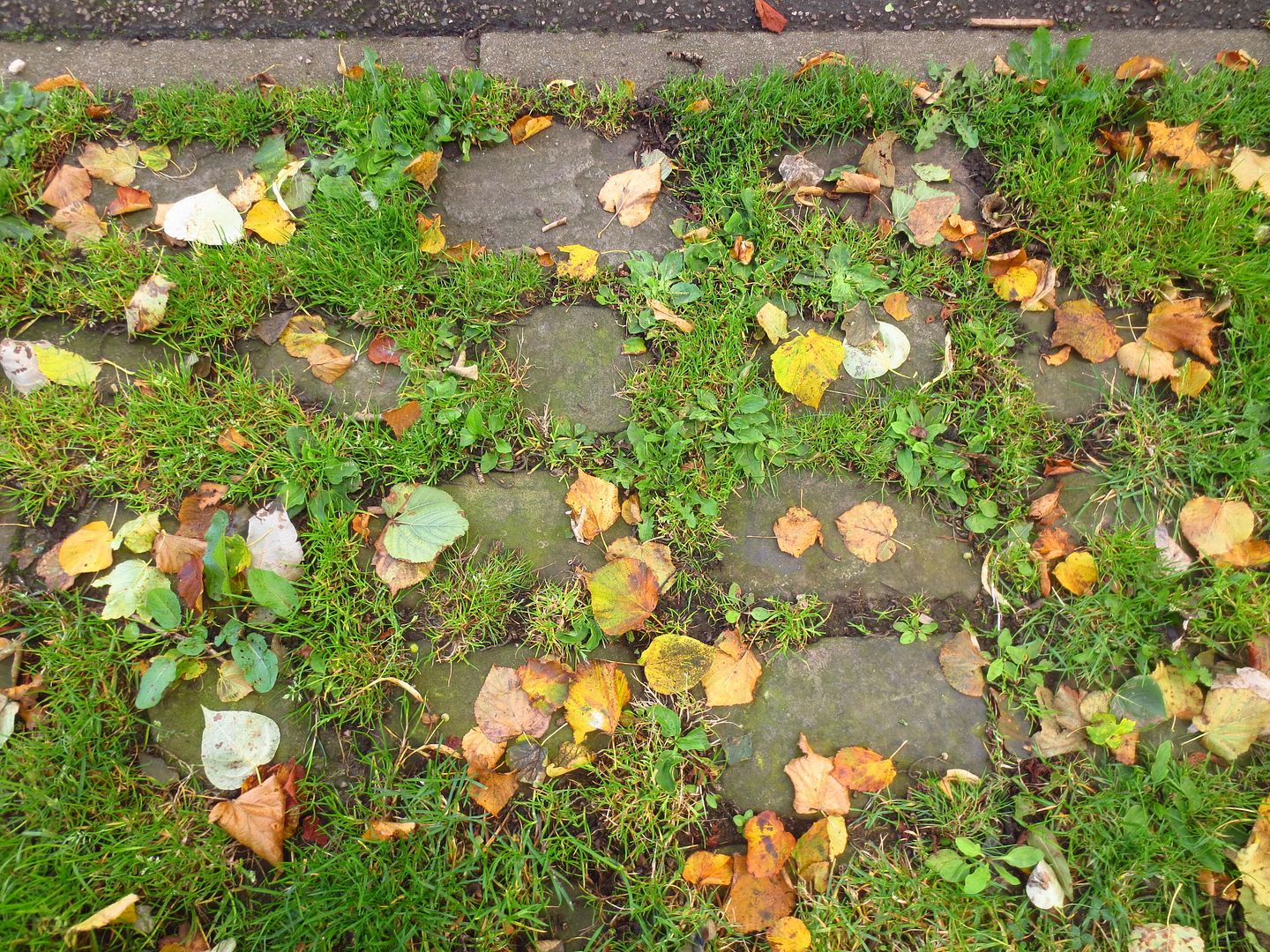 Toddler exercise is the key priority at the moment, he's like a dog and he really needs to go out walking in the morning and the afternoons as well. I'm doing my best but boy it's hard to motivate myself to do it sometimes! Anyway yesterday morning I had to walk up to the post office depot to collect my Homemakery parcel (wonderful service, I highly recommend) which means the pushchair as it's far too far for him to walk, so we stopped at the park on the way back.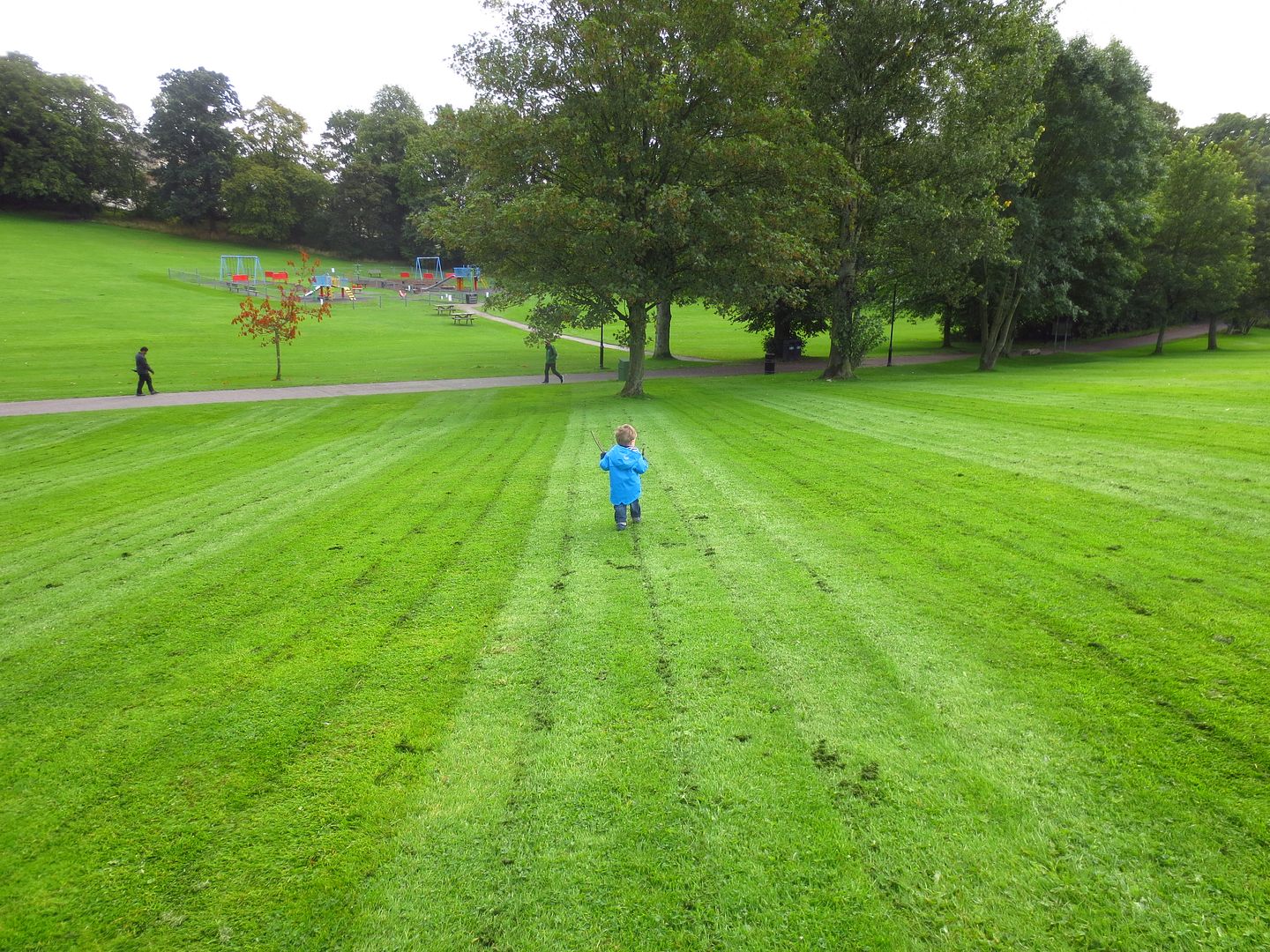 This is what my view of him in the park mainly looks like these days. He runs up the hill, down the hill, looks at the big rock, runs back up the hill … and all the while carrying sticks and leaves and things that just seem to appear in his hands as if by magic. I half heartedly follow up and down with the pushchair but really there's not much he can do wrong like this. He did get really really close to a crow though! I expected it to fly off but it just watched him. He got about 5 yards away before it flew, I am not sure who was more surprised about how close he got, TTB or the crow!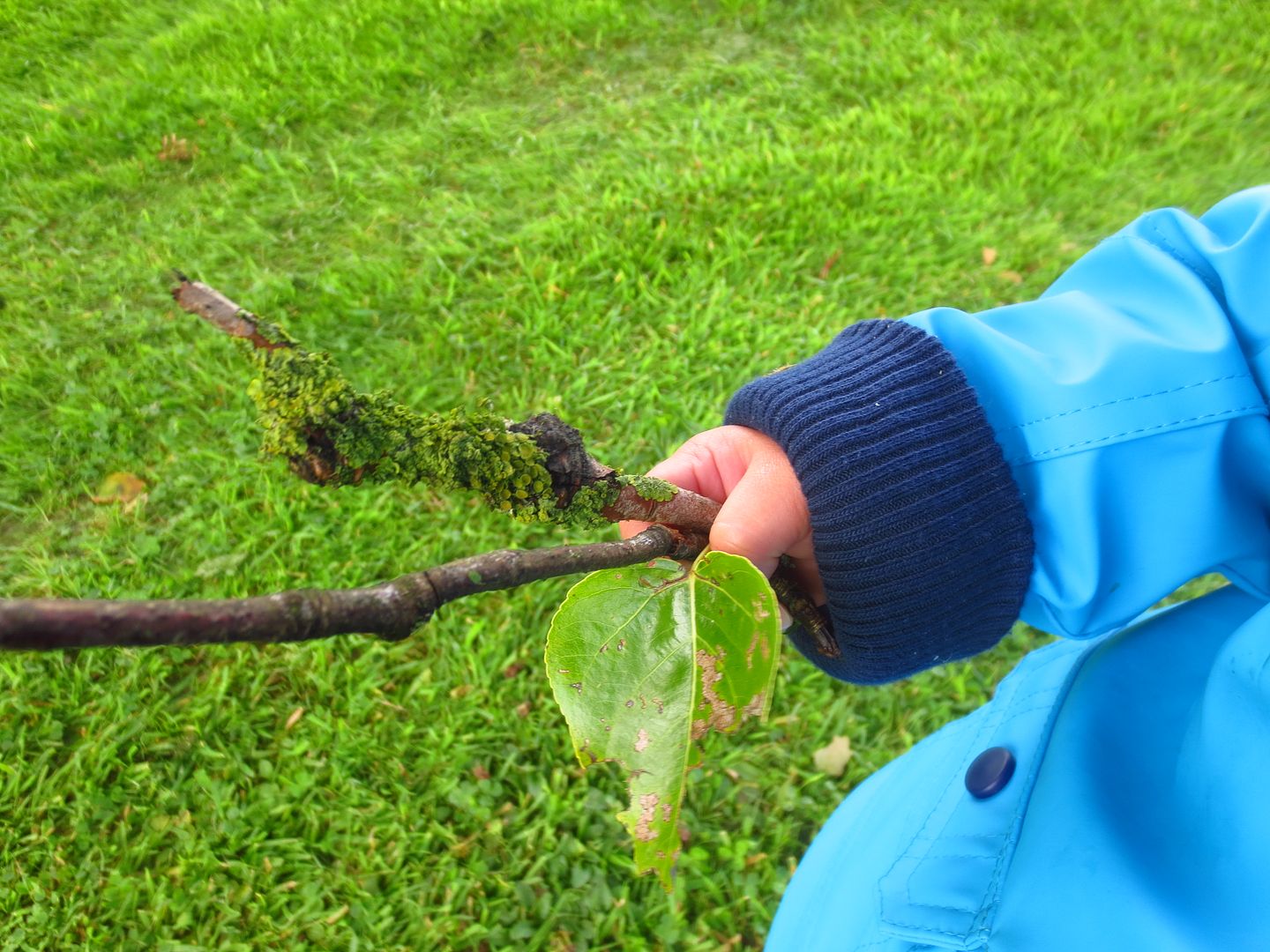 Ah yes, park treasures. I have persuaded him that they have to stay in the park rather than come home with us … I'll see how long he agrees to this.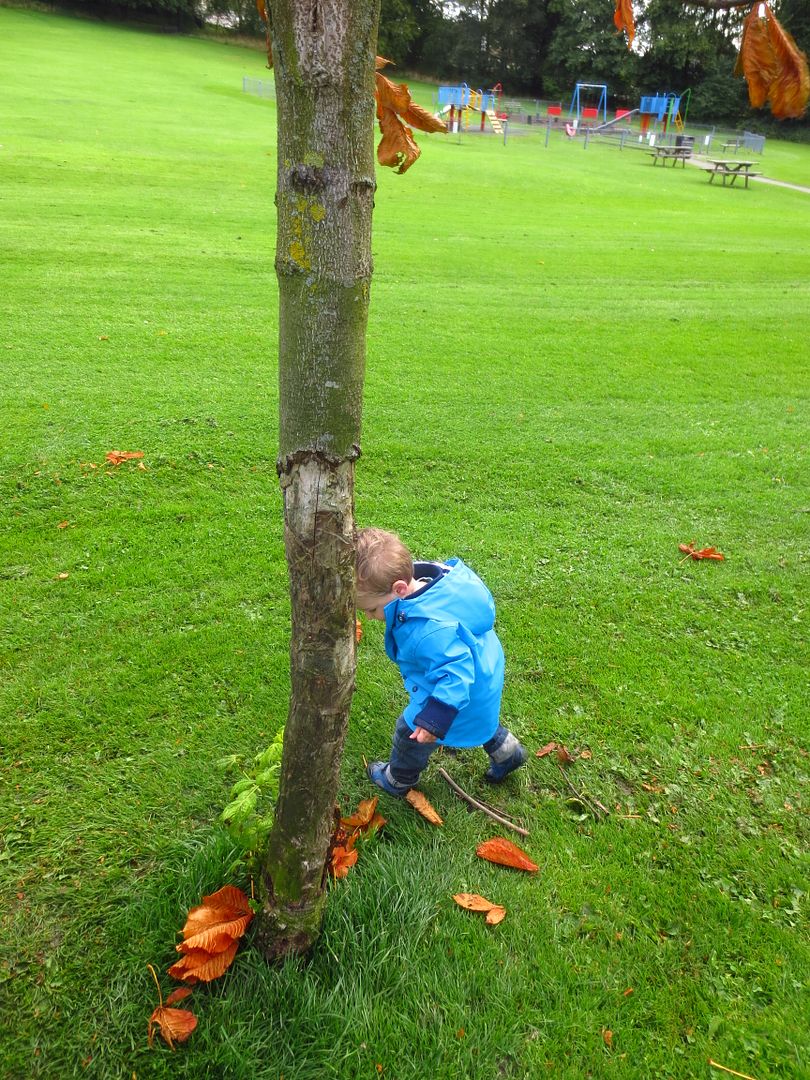 Oh and sad news, the tree that I thought was all autumnal the other week is actually dead. It's had the bark stripped off it all the way around and it's a layer in the bark that allows nutrients and water to be transferred from the roots to the rest of the tree. If the bark it cut all the way around then this can't happen and the tree dies. How very sad. I feel a bit bad for accusing it of being ahead of the game seasonally now!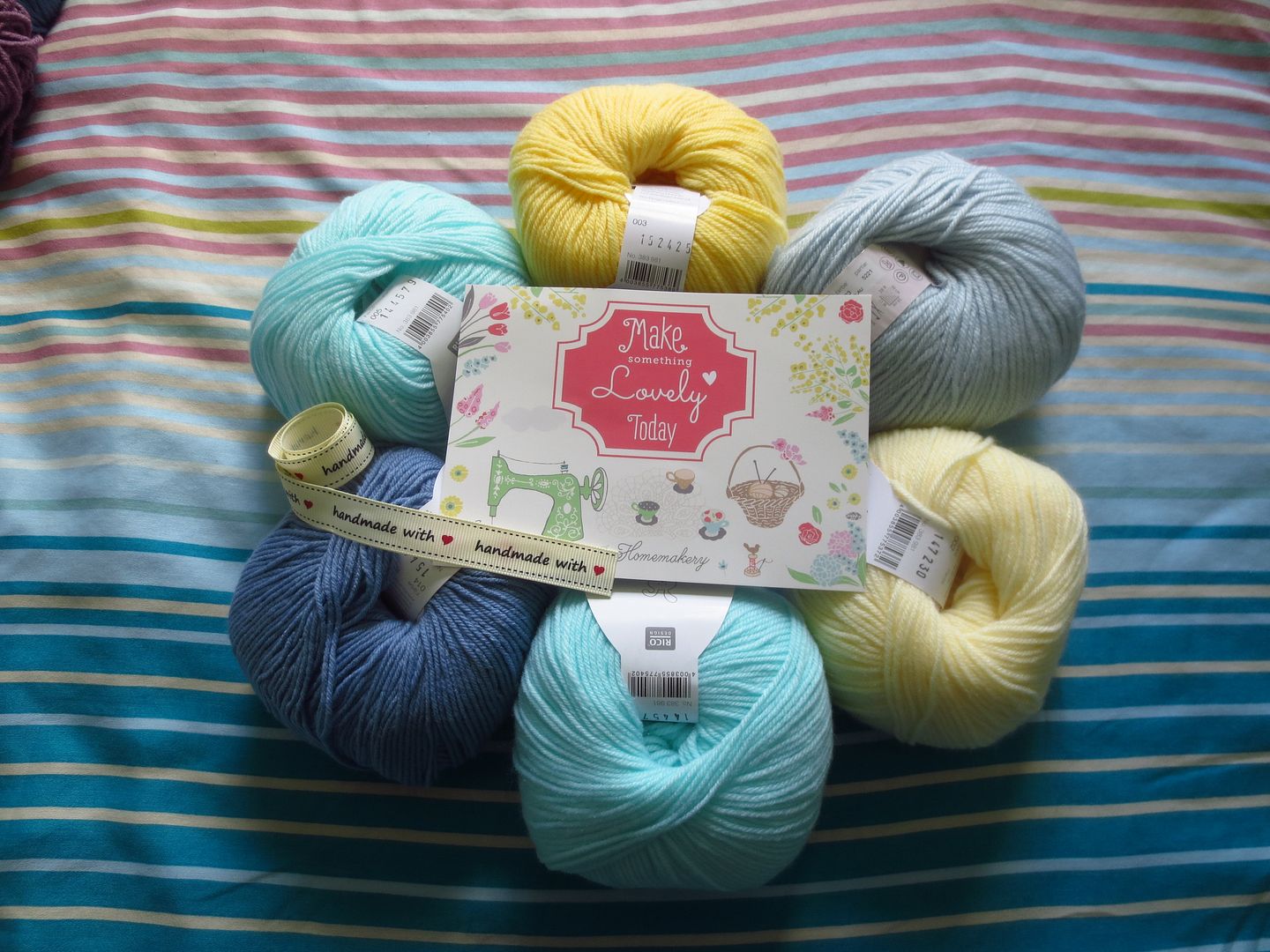 Ah this is my Homemakery parcel … Rico Baby Classic dk in Ice Blue, Pale Blue, Vanilla, Cream and Blue. Beautiful yarn and really good service and pretty packaging too. My cousin's wife is having a baby so I thought I'd do a little blanket.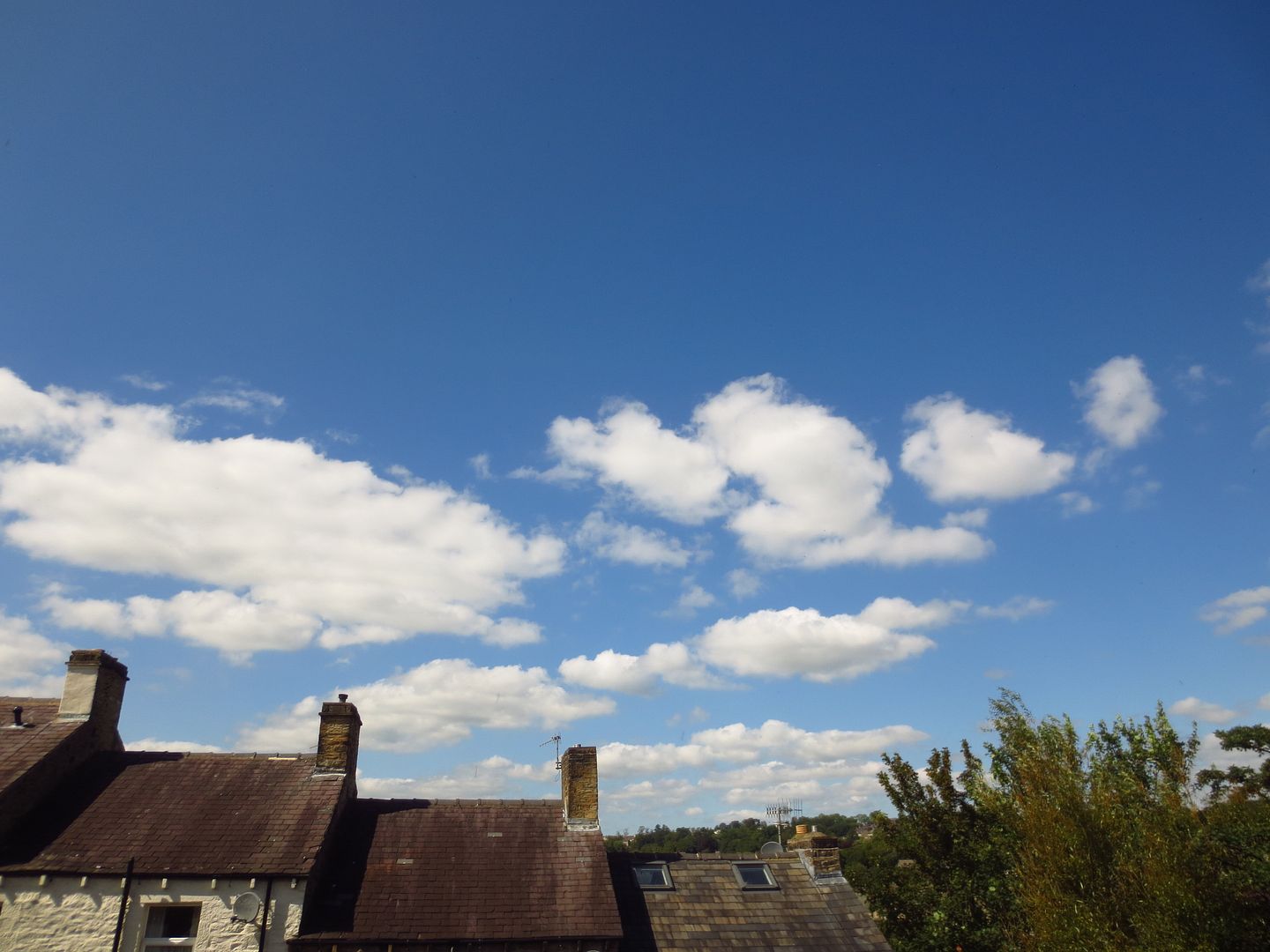 And of course, because TTB needs a walk in the afternoon too we went out again! It was lovely and sunny but still windy and cold. Pretty clouds though :)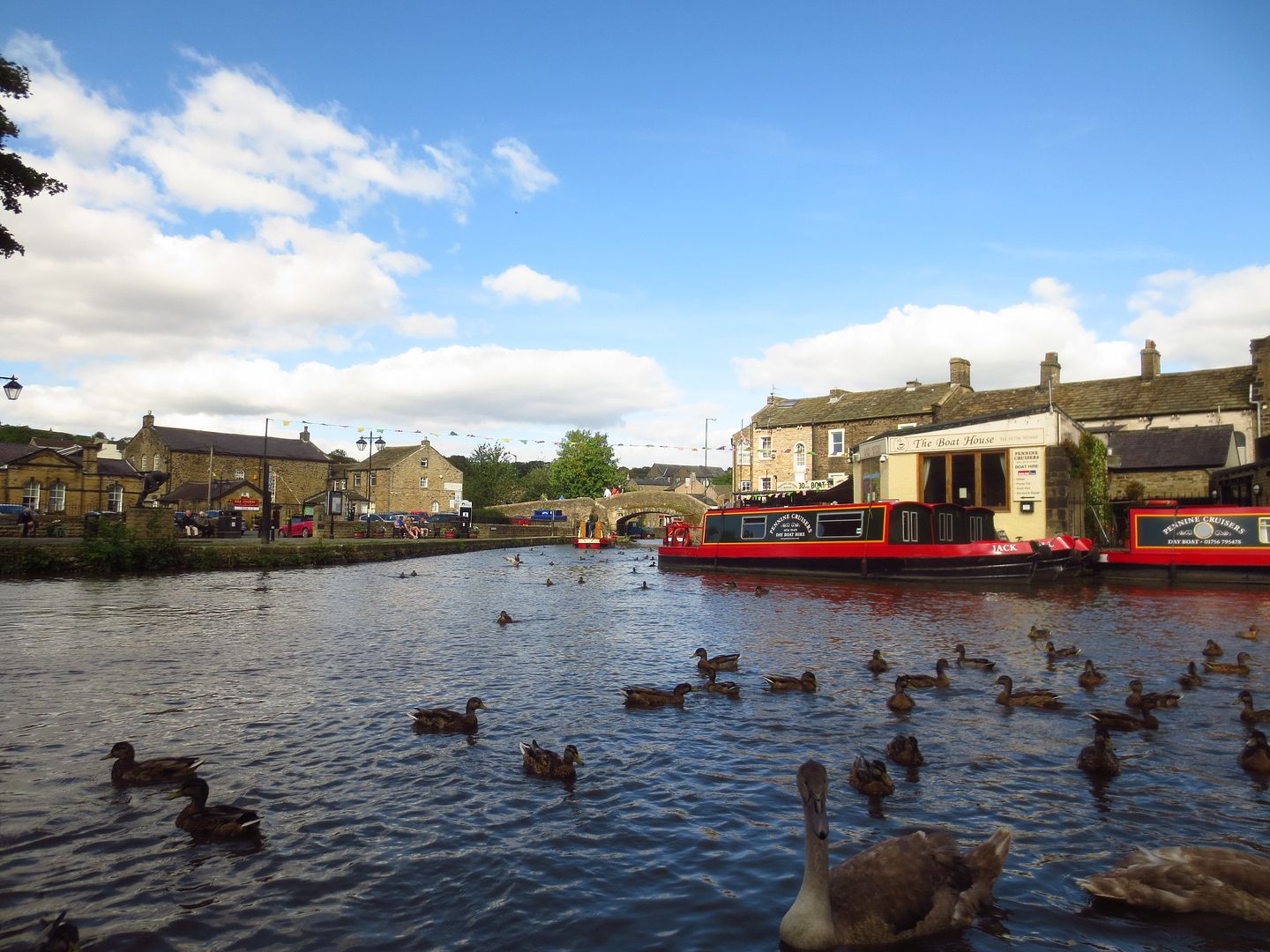 He walked a good long way, too!
Tell you what, I don't half enjoy my naptimes when I can sit down!
x