A couple of months ago, I made a stack of colourful granny squares, just for the enjoyment of making something and putting the colours together. I deliberately didn't have a project in mind for them as I didn't want the pressure of having to work on it and finish it. I had a lot of fun making them! I had the idea in the back of my mind that they would look good one day as a big "anything goes" kind of blanket.
They've been stacked up near to our wifi router since then as I've been working on other things and I had just planned to leave them there really, but our internet has been really intermittent lately and we've had to restart the router a lot and they were really getting in the way. I thought they might be easier to store if I just joined them together.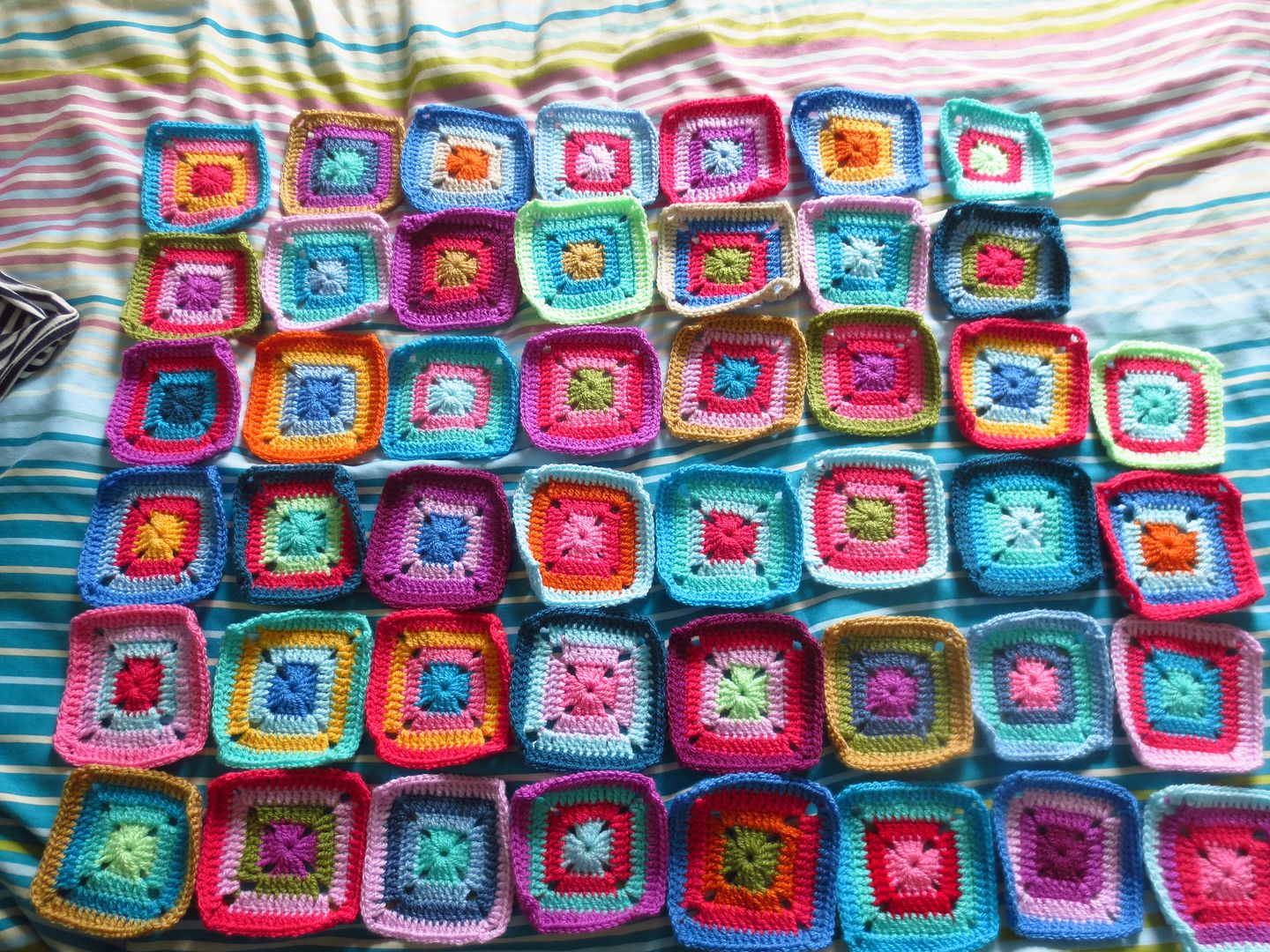 On Thursday I laid them out on the bed without putting much thought into the arrangement – I didn't put the same outer colour next to each other but apart from that I just lined them up pretty much as they came. And then I sat and joined them during naptime.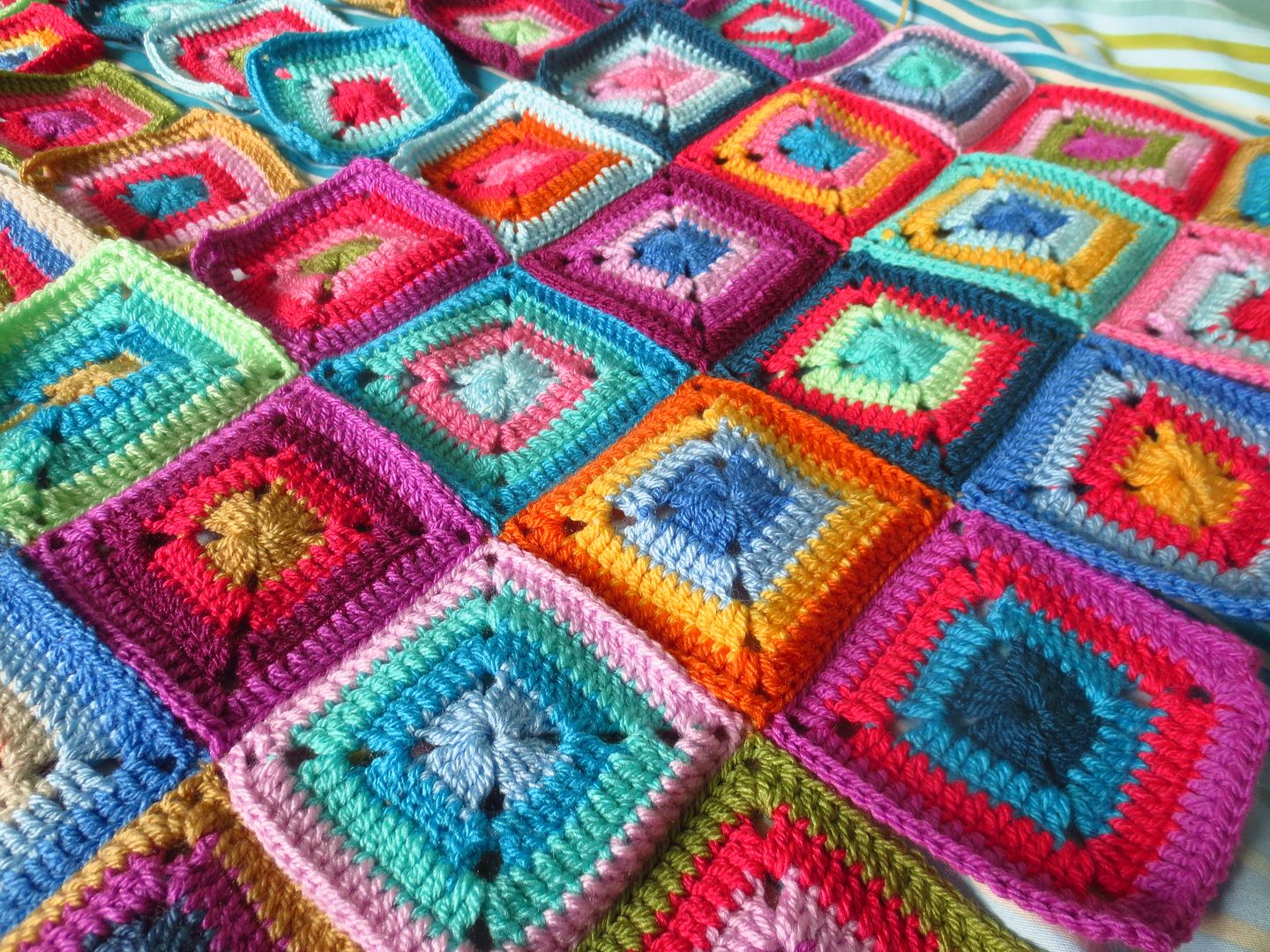 I joined about half of them before TTB woke up, and I longed to go back to them all afternoon! I sneaked another row while Andy was doing TTB's bedtime story later on and then after he was in bed I ignored all of the washing up and just did this all evening. It was wonderful!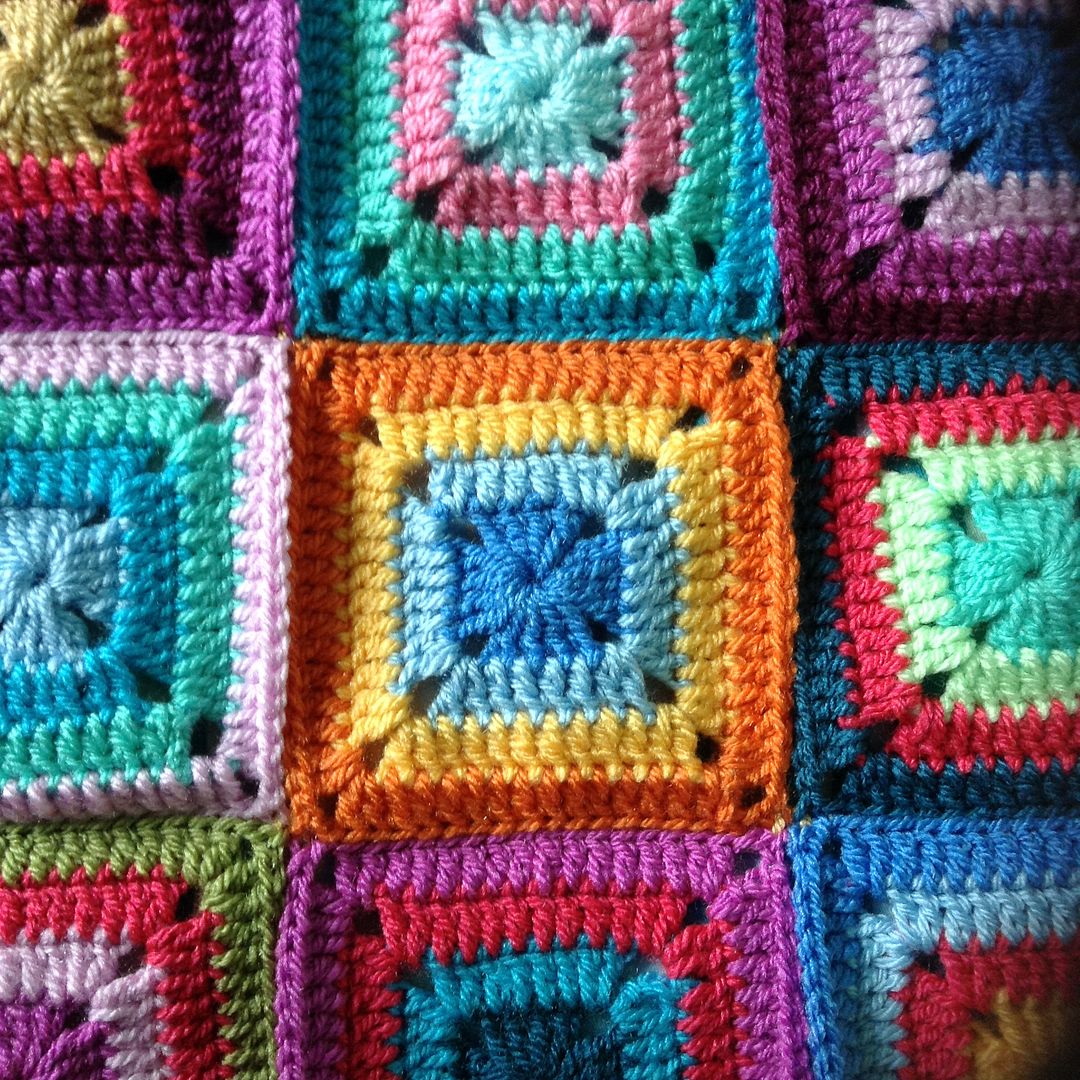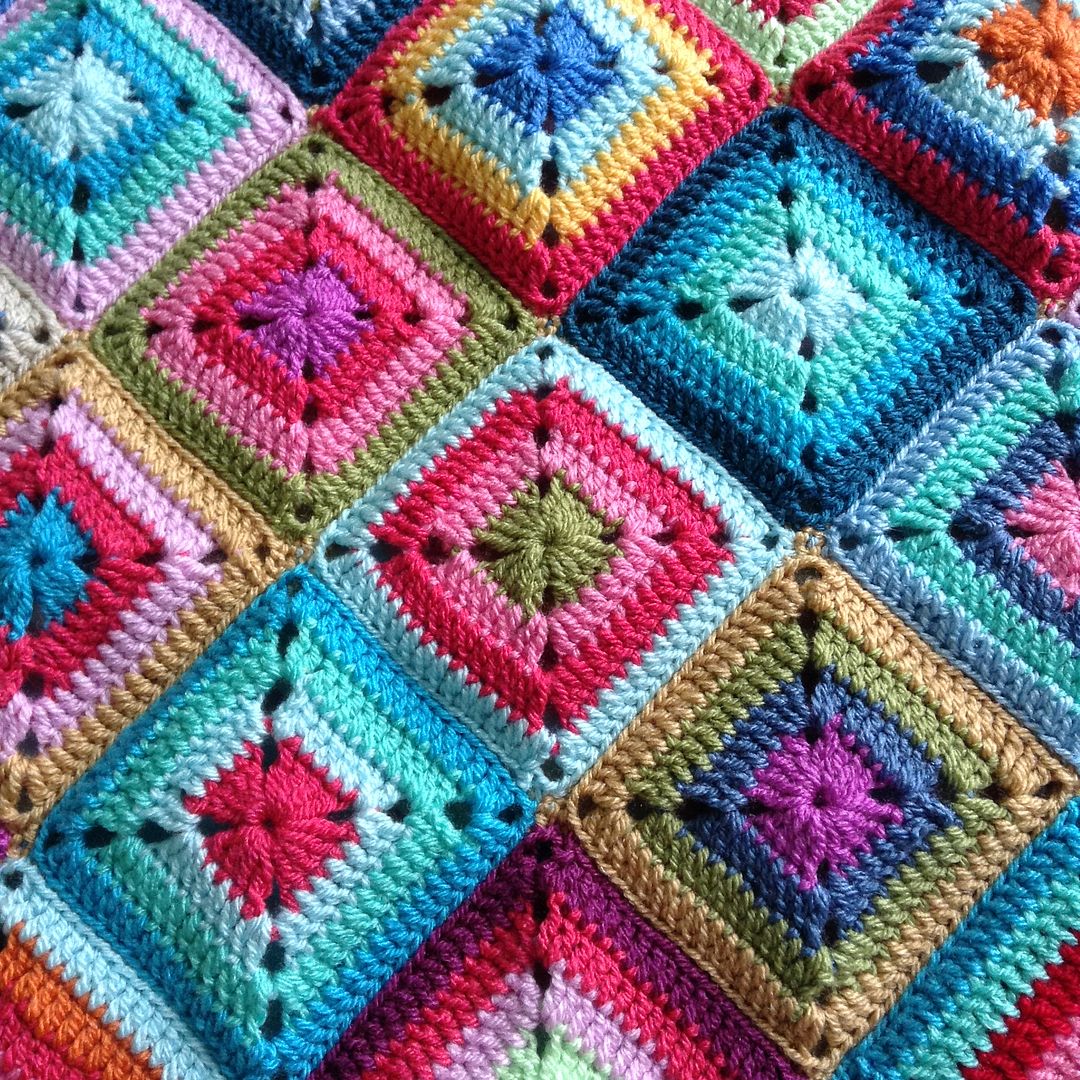 Lately I haven't been feeling very creative and that was making me feel a bit down. Joining squares that I made ages ago was brilliant instant gratification! I really like joining squares anyway but this was even better as it was like I had made a small blanket in an evening.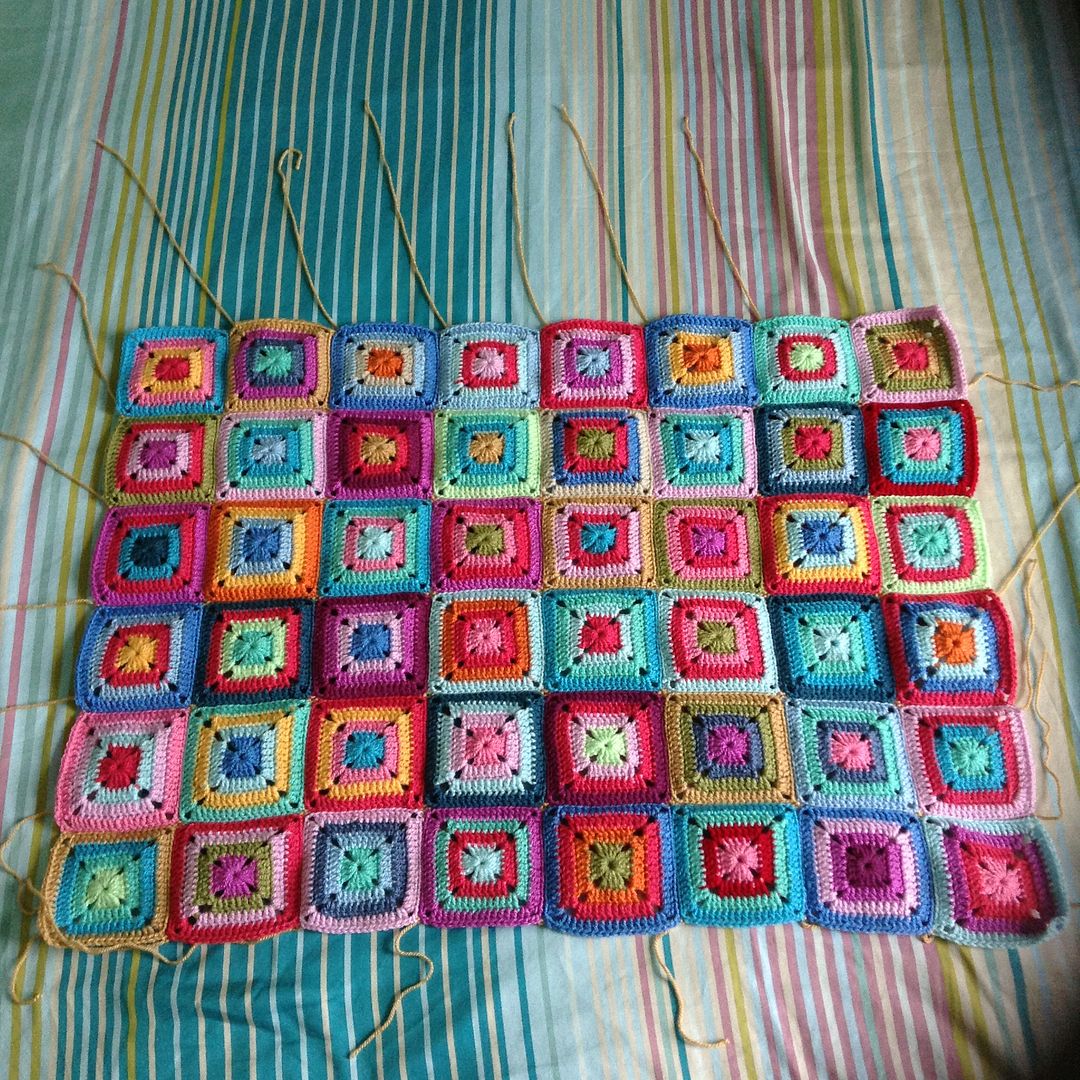 My plan now is just to put it away in a drawer because I'm working on other things and because this type of square is more fun to make when I don't have to make them: the colour combinations come easier when I'm in the zone rather than making squares to feed a blanket. I want to make more squares; this isn't a useful size (I'd call it a small baby blanket size) right now. When I make more squares I won't join them to this immediately, I'll wait until I have 48 again, join them together and then join the two big pieces together, if you see what I mean.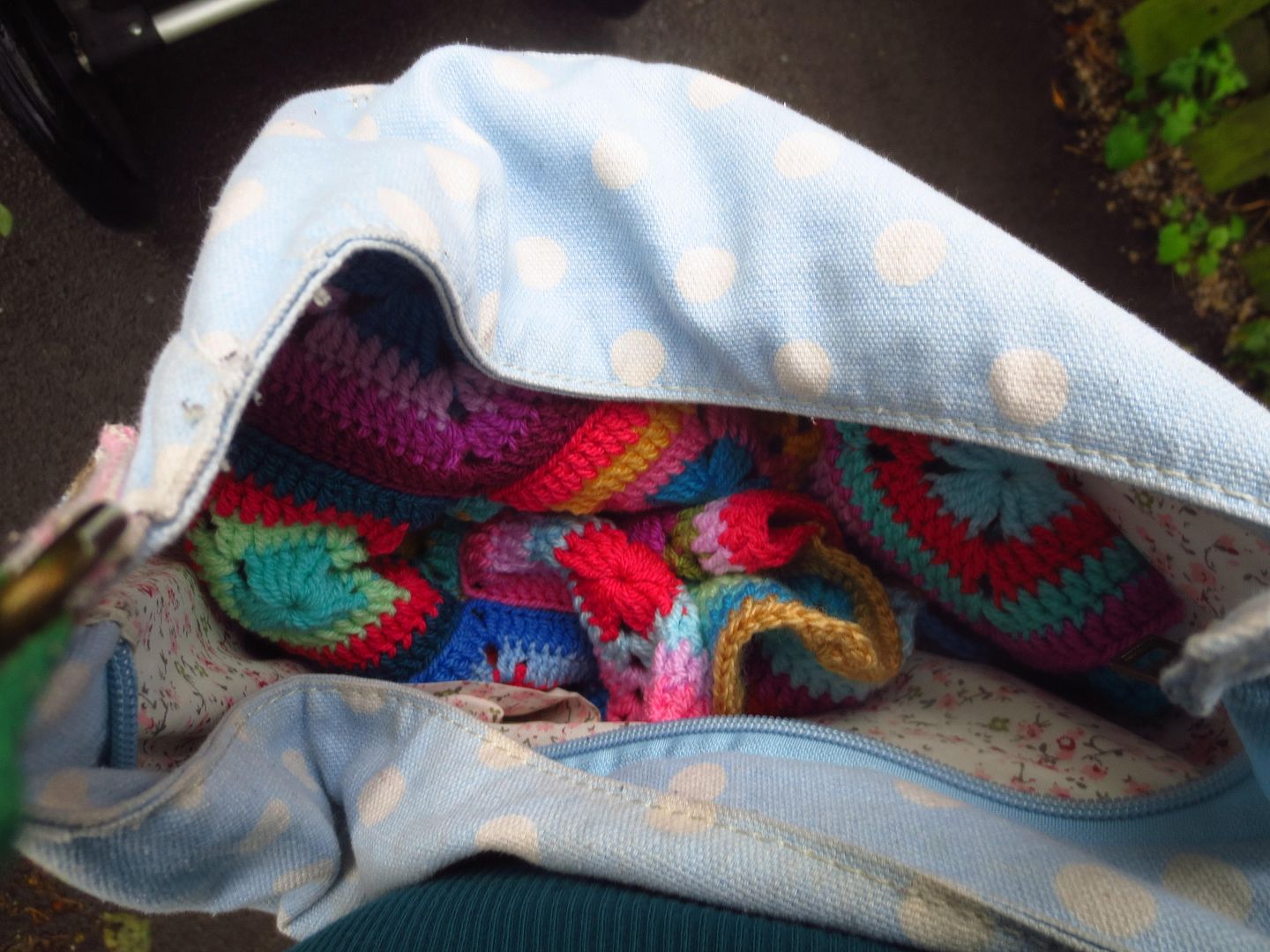 I popped up to see Lucy on Friday afternoon and I took it to show her, on the way back I caught sight of it in my bag and it made me happy all over again. I love scrumpled, soft, joined up crochet. I think I might keep it out for a few days just to look at it before I put it away!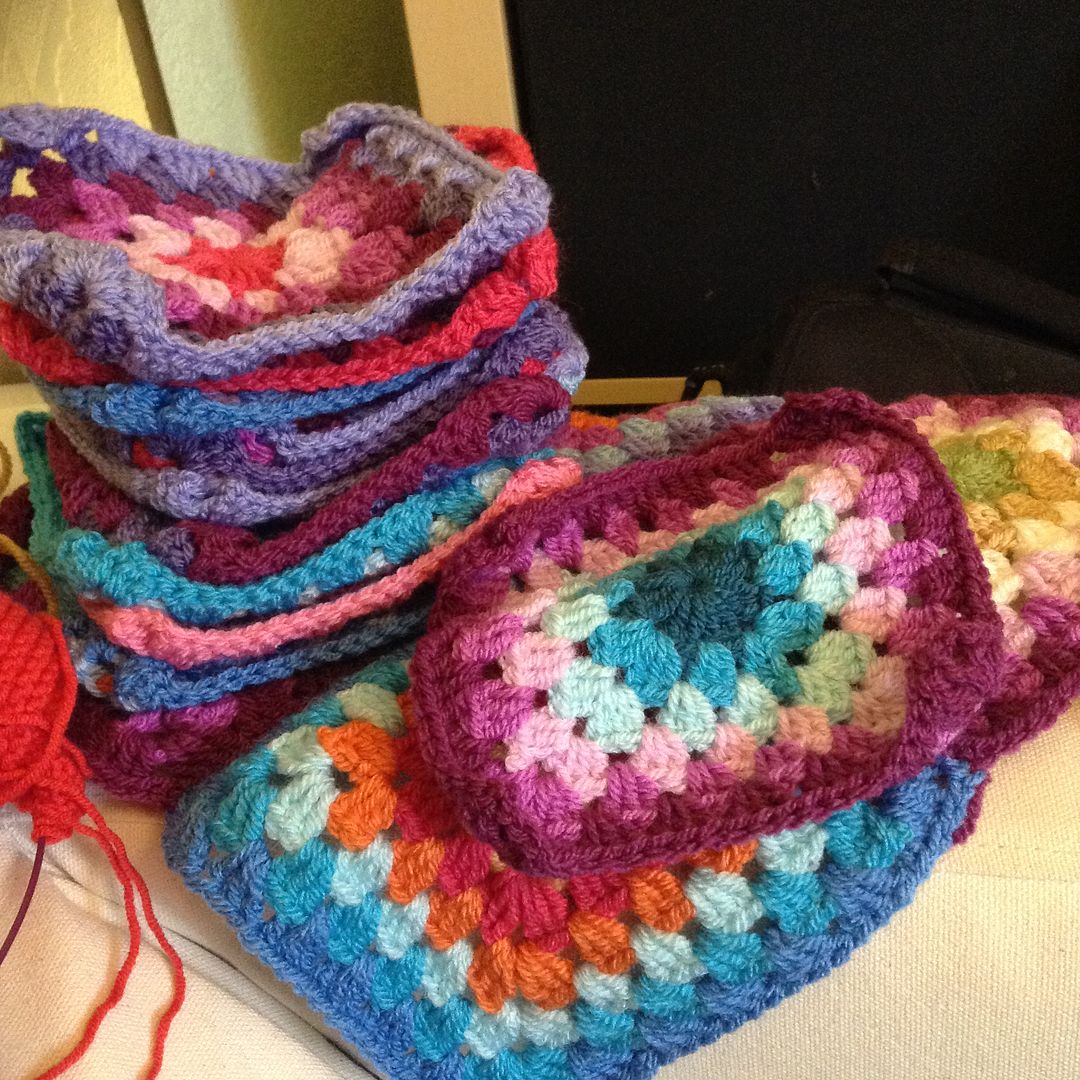 These squares are next on my list to sort out, they are also a bit in the way of the router! Again I think I'll just join them and put them away and then make more when the mood takes me. I'm not counting theses as WIPs (works in progress) because they don't really have a proper end in sight, they're just fun to work on. And THAT is a rather liberating way of working, I have to say.
x
P.S Elmer squares worked on a 4mm hook using various colours of Stylecraft Special dk. The last photo of squares are just basic granny squares (no chain spaces at the sides) apart from the first round which is 8 x 2TR clusters each separated by a chain space. On the final round make sure to do 3ch on the corners for easier joining, otherwise I've done 2ch.