Making blankety presents for friends is one of my favourite things to do, especially when the recipient is someone you know will appreciate it. You do have to work in stealth though, if they read your blog, which is why you haven't seen hide nor hair of this blanket before.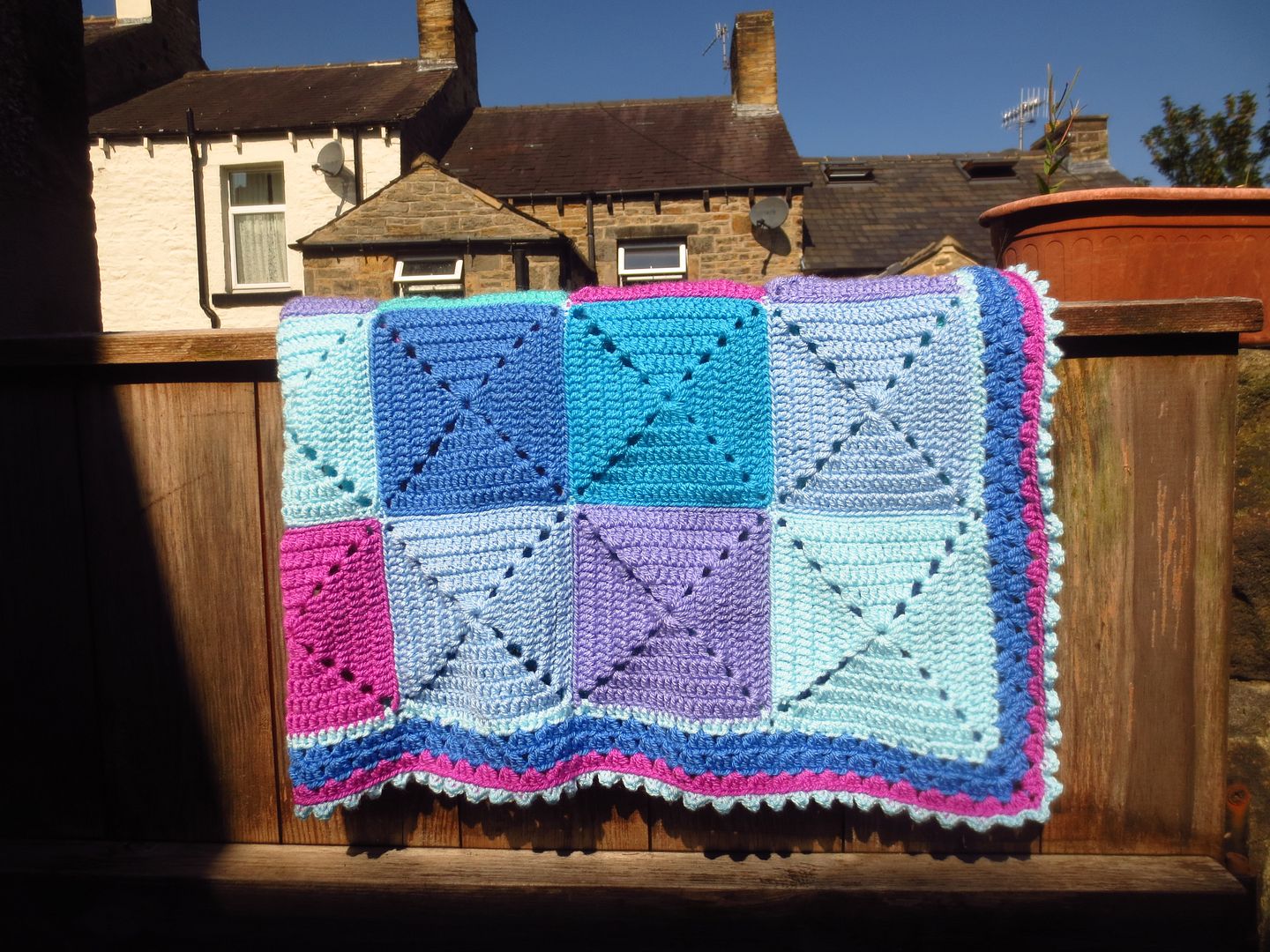 I'd wanted to make a blanket for my friend Vic's daughter Violet for a while but I hadn't been able to settle on a colour scheme; nothing I came up with felt just right. Until she developed a love of the film "Frozen" that is … then it was easy! Once again, Stylecraft Special dk had all the colours I needed and it was fairly straightforward to match them up to the colours the characters wear in the film. I've only seen the first ten minutes or so of the film, I tried watching it with TTB but he just said "no no no!" and ran away. I have used one of the many pictures of the characters on the internet as the basis of the colour here.
The colours (all Stylecraft Special dk) are: Sherbet, Cloud Blue, Magenta, Aspen, Aster, Turquoise and Lavender. It's worked on a 4mm hook using my Elmer Squares pattern, and joined with Sherbet yarn using this method. I'm sorry but I don't know exactly how much yarn you'll need to make it as I didn't start with full balls of yarn and I haven't weighed it, but if I had to guess I would say buy one ball of each but probably two of Aster.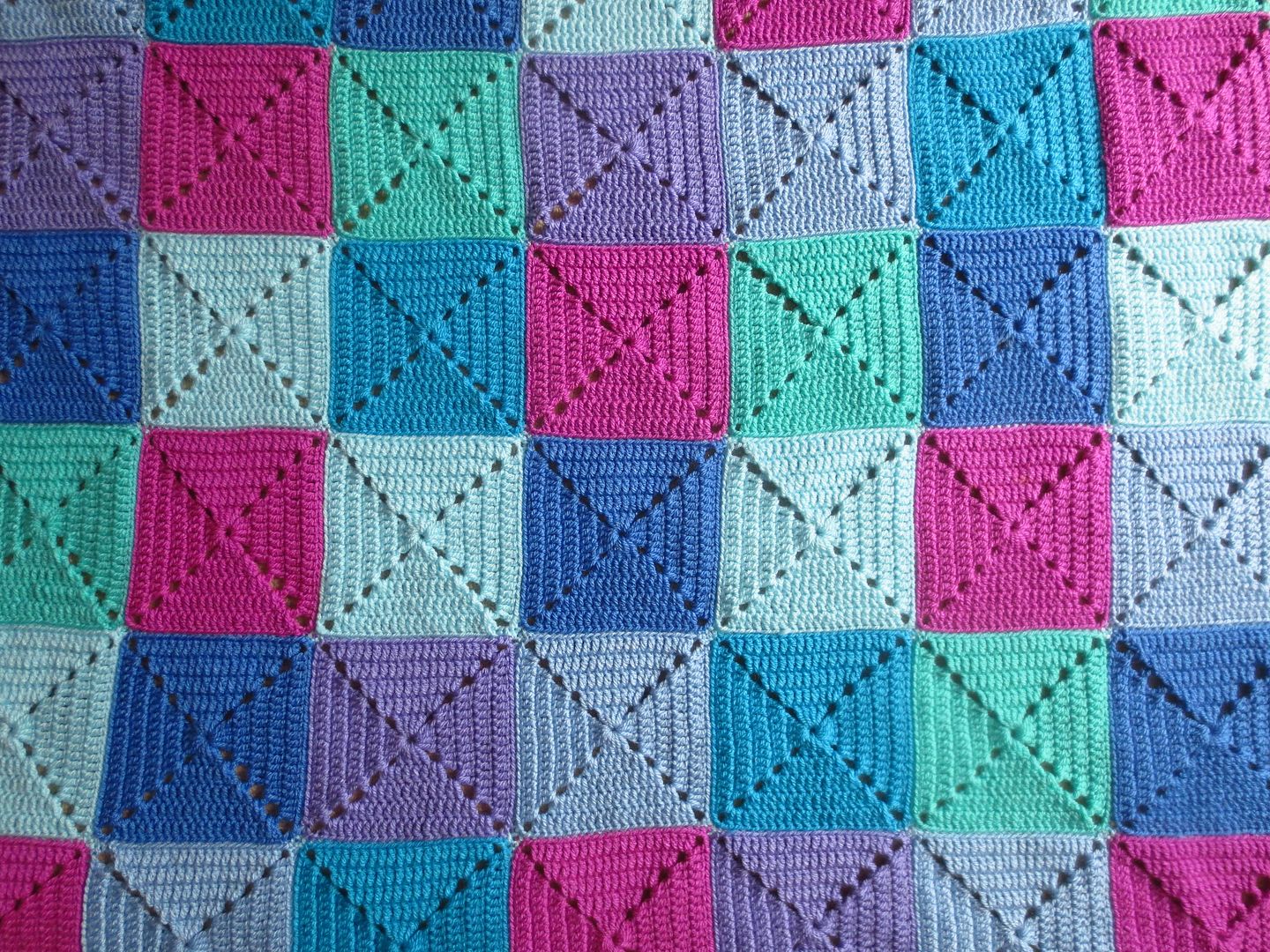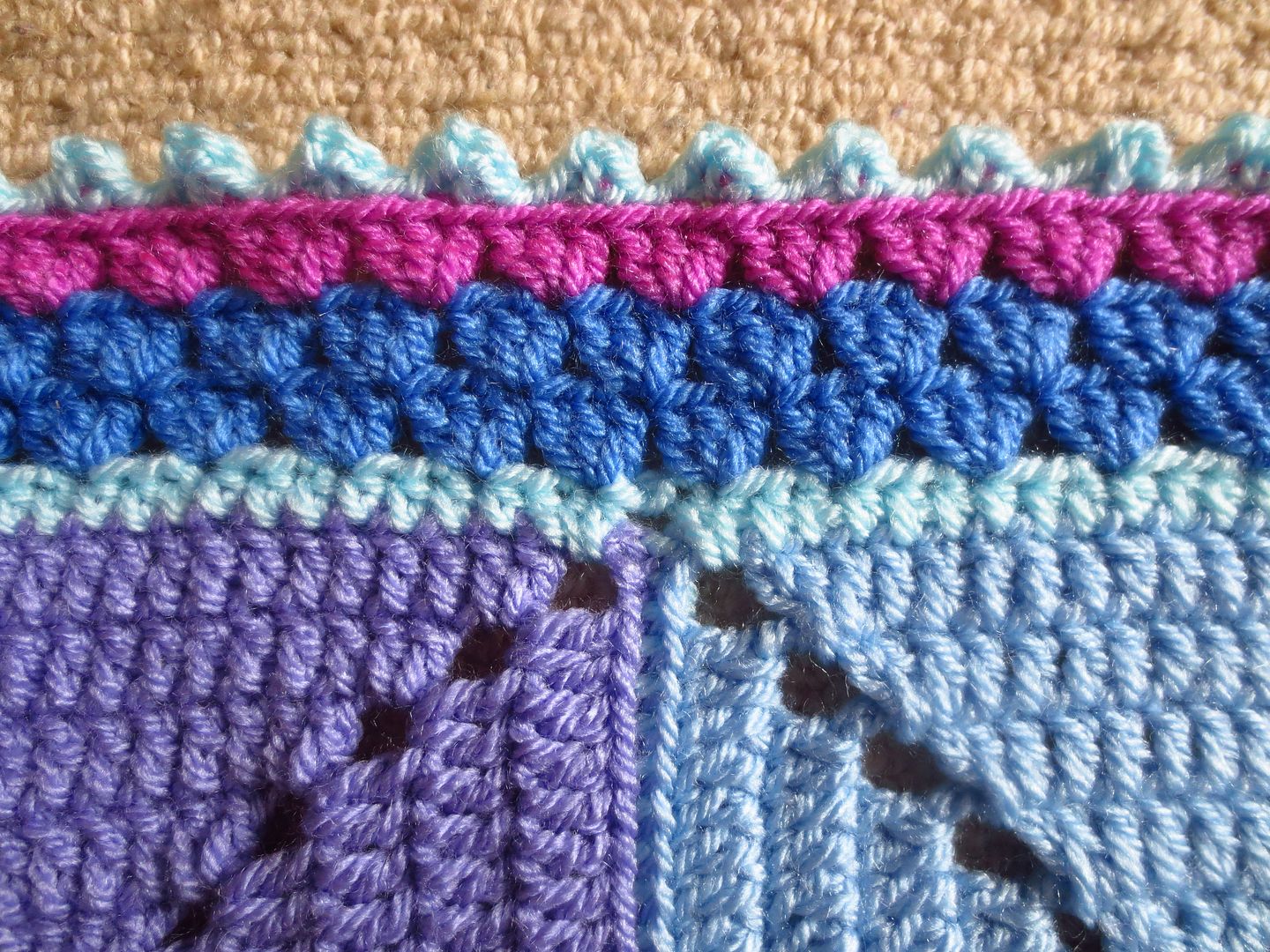 I am particularly pleased with the way the border turned out. I did a few things differently this time and they worked out very well. For example, when you look at the back of the blanket and see the colourful seams, I think it needs to have a round of the same colour all the way round the edge to make that look complete. In order to achieve this I did a round of UK half treble (HTR) stitches into the top of every stitch.
Previously when I have worked over the join of two squares (you know what I mean? Like it shows above, the bit where the two squares are joined, and you're working over it to do the border.), I have done a TR in the first corner hole, and then a decrease straddling both corner holes, and then a TR in the second corner hole. This was to stop it puckering and to try and pull it straight I suppose. This time, I did two HTRs in the first hole, chained two, and then did two HTRs in the second hole. You can see this above. I'm sorry it's not a completely crystal clear explanation and I'm just including it here for my own reference really, but if you've edged blankets like this before then hopefully you'll know what I mean.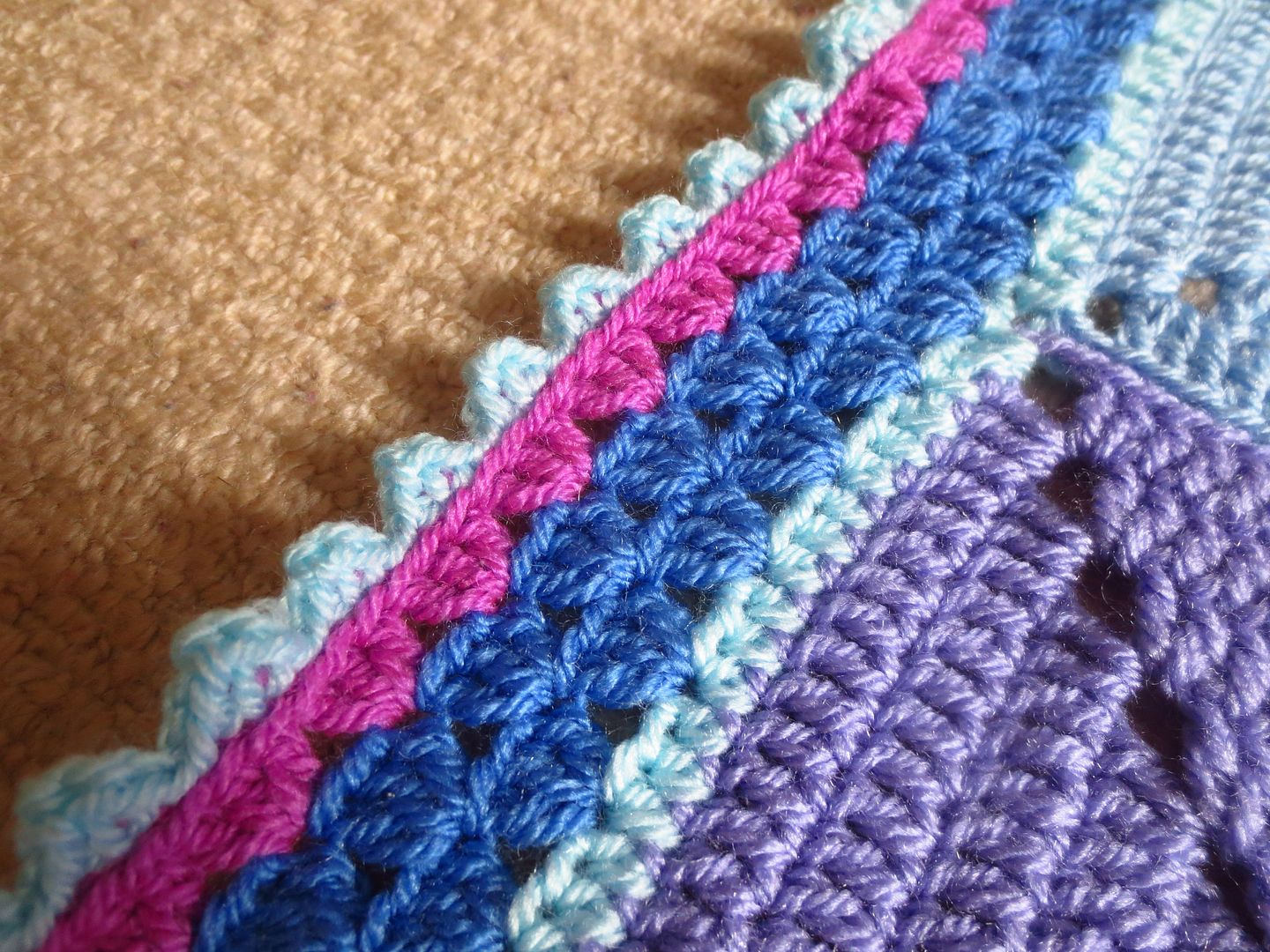 For the next part of the border, I wanted "granny" edging (clusters of 3 TR stitches) but I worked them out of the top of every third stitch instead of out of the spaces. Can you see what I mean? I think it looks really neat and I like the way they line up. I used Aster for two of these rounds, and then Magenta for the third.
The final round of the border was a pointy edging which I stole from here, it's basically "dc ch2 dc" in every third stitch, and slip stitch along the ones in between. (In the back loops only.) I like to think it looks like icicles!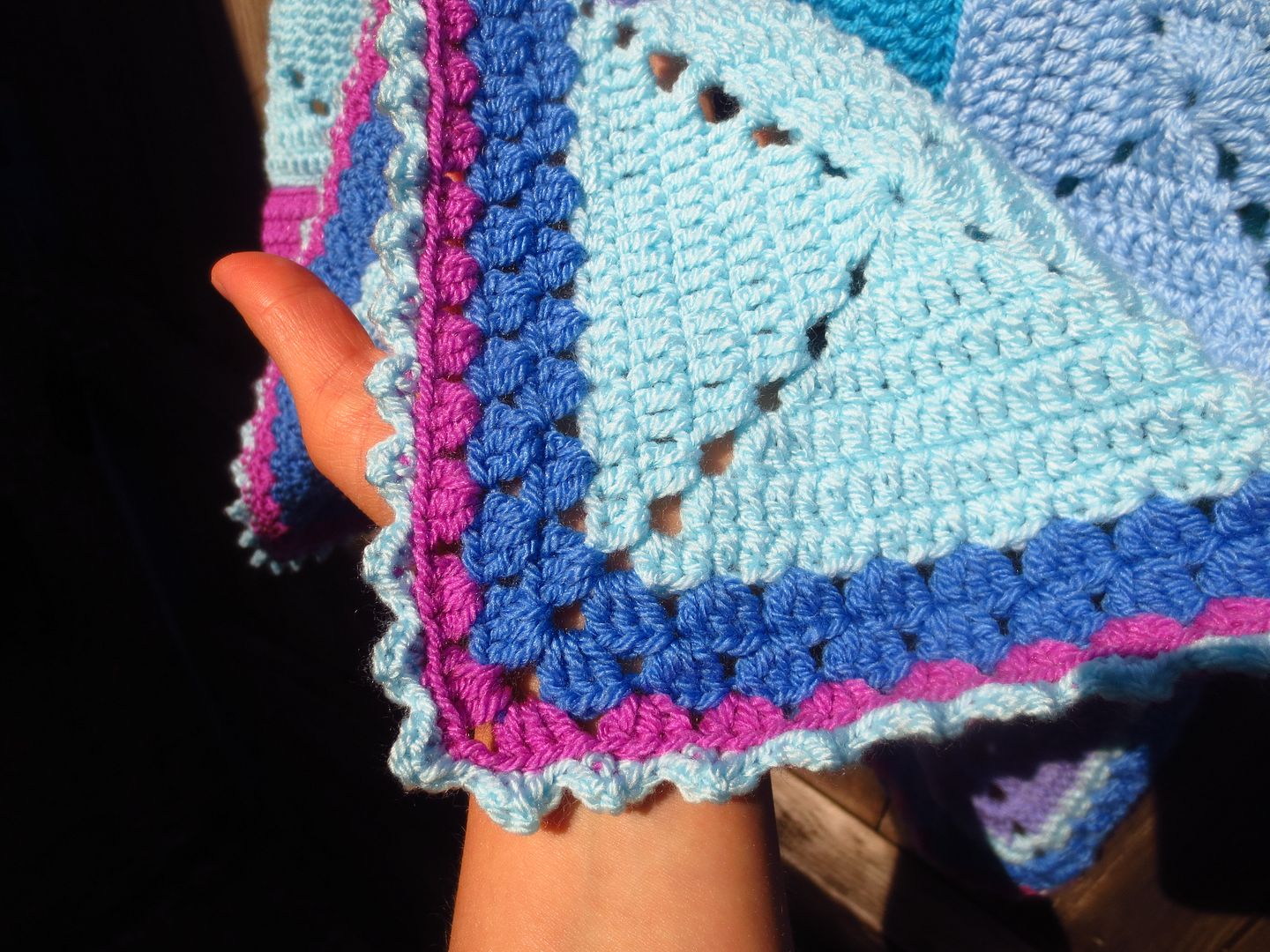 Overall, I think the border is really pretty.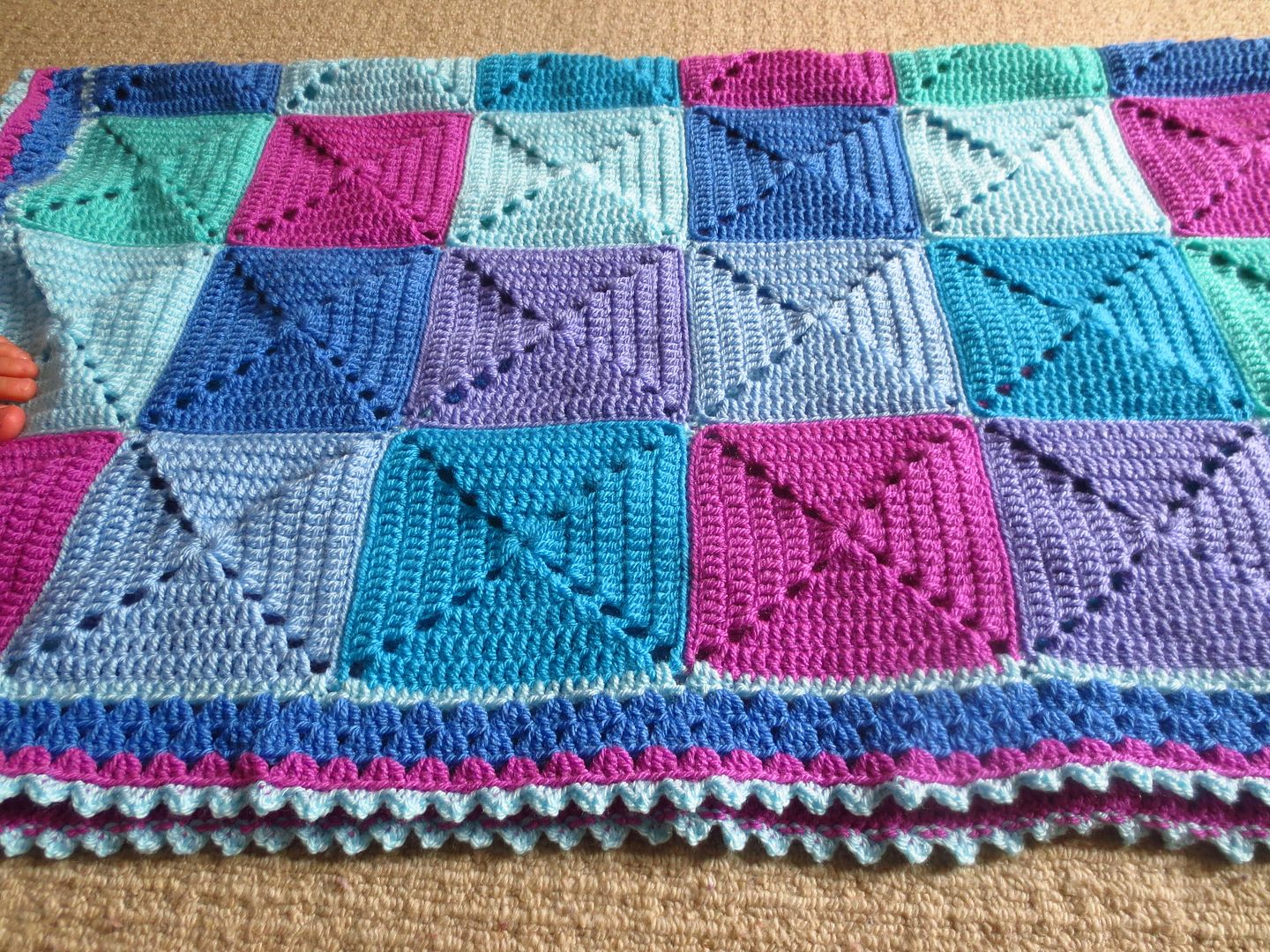 There we are … the finished blanket. I'm so pleased! I briefly considered crocheting snowflakes and sewing them onto it but I decided not to as the colours looked good on their own.
I gave Violet the blanket on Thursday and she loved it. That makes me very happy :-)