I noticed this house in town the other day, I think I would like to live in it. The rose growing over the door is pretty :-)
I don't like leaving it so long between blog posts; it makes me feel twitchy and a bit unsettled. Lately it feels like I haven't even had time to sit down, let alone do any crochet/blogging/project life stuff. Tiny Tin Bird takes up ALL of my time, and most of my thoughts, because he is changing so fast right now and I need to keep up!
For example: last week we visited two different parks on several different occasions. One of which is at the very top of town and has stunning views right across to the Dales. Wow. I spent some time just enjoying how far I could see, and how pretty it all was. I would have spent longer if I had been able to take my eyes off of my no-fear child!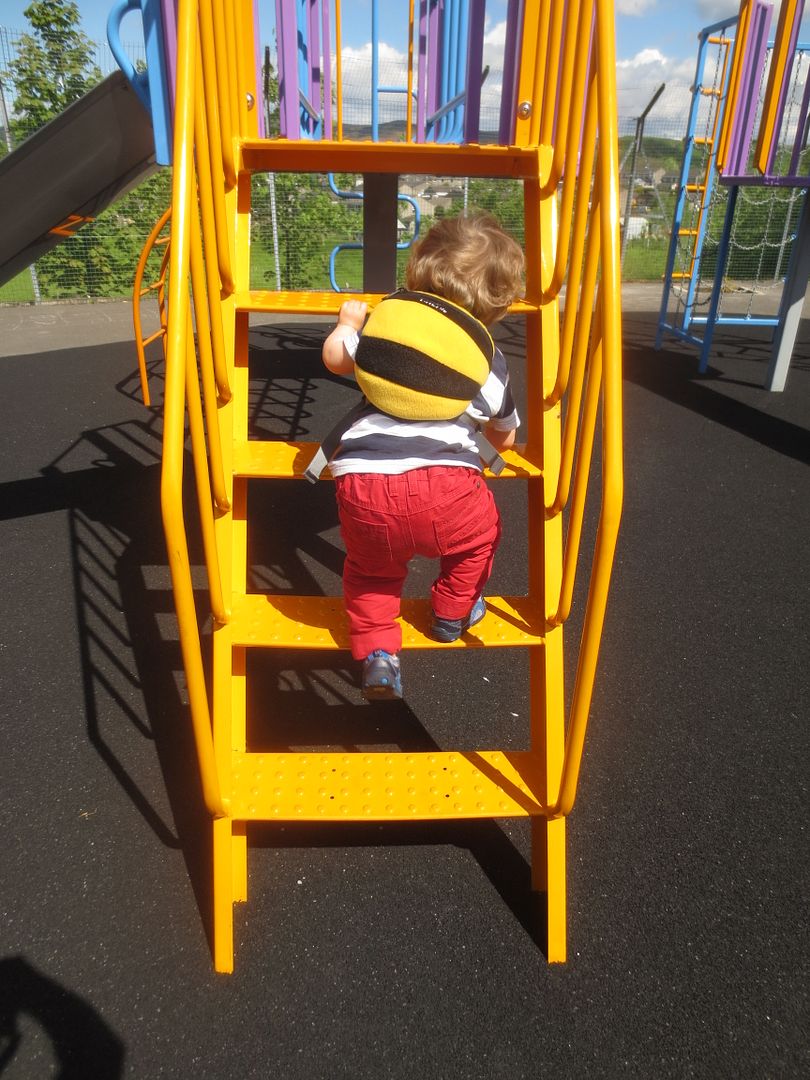 Up the steps to the slide, which is taller than my head, over and over again. And the climbing frame, and the roundabout. And the picnic bench! He has just learnt to heave himself onto chairs merely by holding on with both hands, straightening his body so his legs stick out behind him and just well, hauling himself up using his arms. Upper body strength = impressive. And yes he does have a sunhat, and he looks ridiculously cute/Indiana Jonesy in it but he's a bugger for throwing it on the floor. I'm working on it.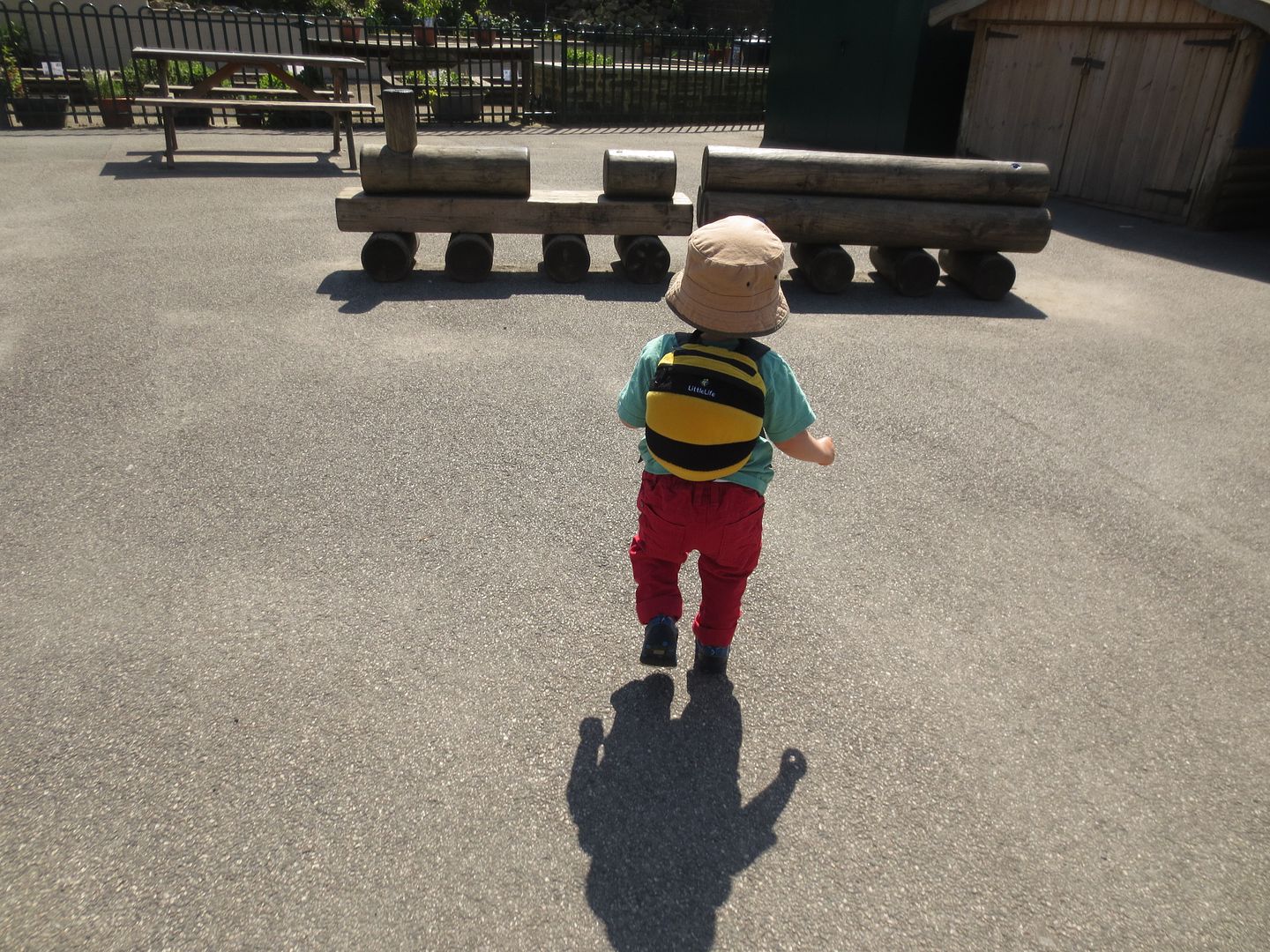 We went to "Spring Watch" at the children's centre at the weekend and he was just the same. Straight for the play equipment and the sandpit. Ah yes, there's his hat.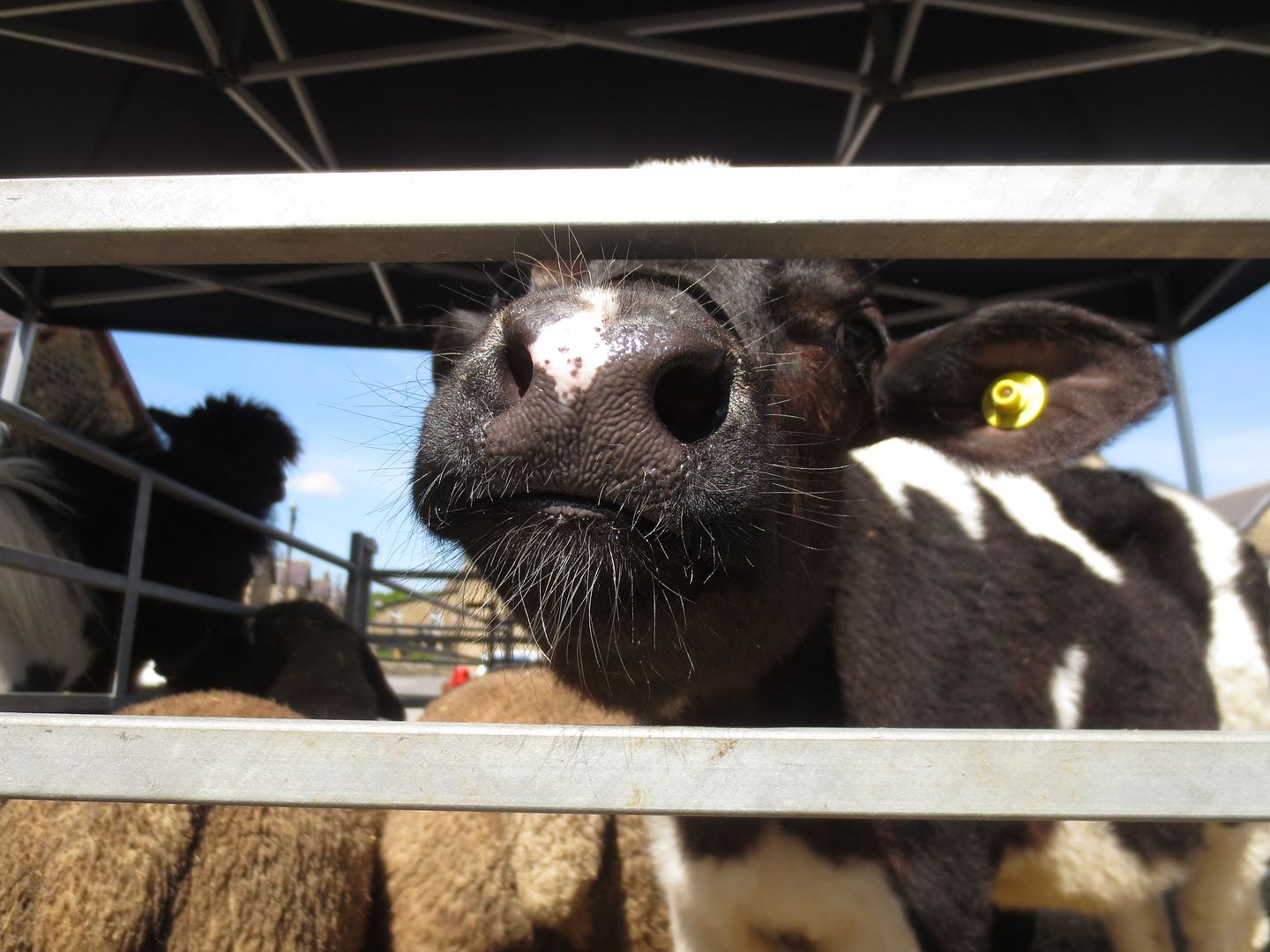 He did like the animals too, and performed his entire repertoire of animal noises which for some reason included RAAAAA. There weren't any lions there as far as I could see but I suppose you can never be too careful.
The two BIGGEST "growing up fast" moments occurred on Friday. In the morning, we went to playgroup/nursery open day and I signed him up and he starts in September, two mornings a week. He's so ready for it, he walked in and saw toy cars and then it took him about twenty minutes to look up and wonder where I was, and that was only to tell me that he'd found a digger and a nee-naw.
Nursery! My boy is going to nursery! Waaaaaah! But … he will love it, and I'm not sad really. It will be really good for him to gain some independence from me, have the opportunity for more interaction with children his own age (we have a good circle of friends and lots of playdates so he's not deprived of that but you know what I mean), and to do lots of activities that I can't provide for him here. Also I will have 2 hours a week to myself. I've cleverly arranged it so that one of his mornings coincides with knit and natter. Haha.
The second thing that happened on Friday was that he started sleeping in a bed and not the cot. Well, it's a floor bed. A Montessori-style floor bed. Does that make me sound like I'm educated on the matter and considered it carefully and made a choice do to a floor bed? Oh good. Well what really happened is that we couldn't figure out how to turn the cotbed into a bed and it got to 9:30pm at night and he still had nowhere to sleep so we just made it into a floor bed. And you know what? He LOVES it and he has made some progress at last with his sleeping. I could talk for a very long time about all of this but it's boring to anyone except me but it's going really well and he loves his bed. He keeps taking books on there to read, I'm so pleased. He's still waking up in the night, but this morning I woke up IN MY OWN BED and I had not had to sleep in his bedroom for the first time SINCE JANUARY so that feels like a miracle.
And that is why I have not blogged for a whole week. Because I am chasing my child around during the daytime and trying to make him sleep at night time. And now, as I have about 30 minutes of nap time left, I am going to try and get a row done on my ripple. Because it is soooooo nearly finished and I just want to get it done! 13 stripes to go … 13 stripes to go … 13 stripes to go …