A couple of weeks ago I was checking Twitter and saw Spun Yarn Shop tweeting that it was Yarn Shop Day. Ooh! That sounded like an excuse, nay, obligation to go and buy yarn! Count me in. Spun Yarn Shop is a bit far away for me to just pop into but luckily Purl and Jane is not very far away at all. How I love having such a gorgeous shop as my local yarn shop. I go in there when I'm feeling miserable and just stroke the yarn a bit and absorb all of the woolly goodness (while TTB makes baah-ing noises at the knitted sheep.) I bought a couple of balls of Rico Essentials Merino Aran as I wanted to try something with the little crochet hexagons pattern I made a while ago.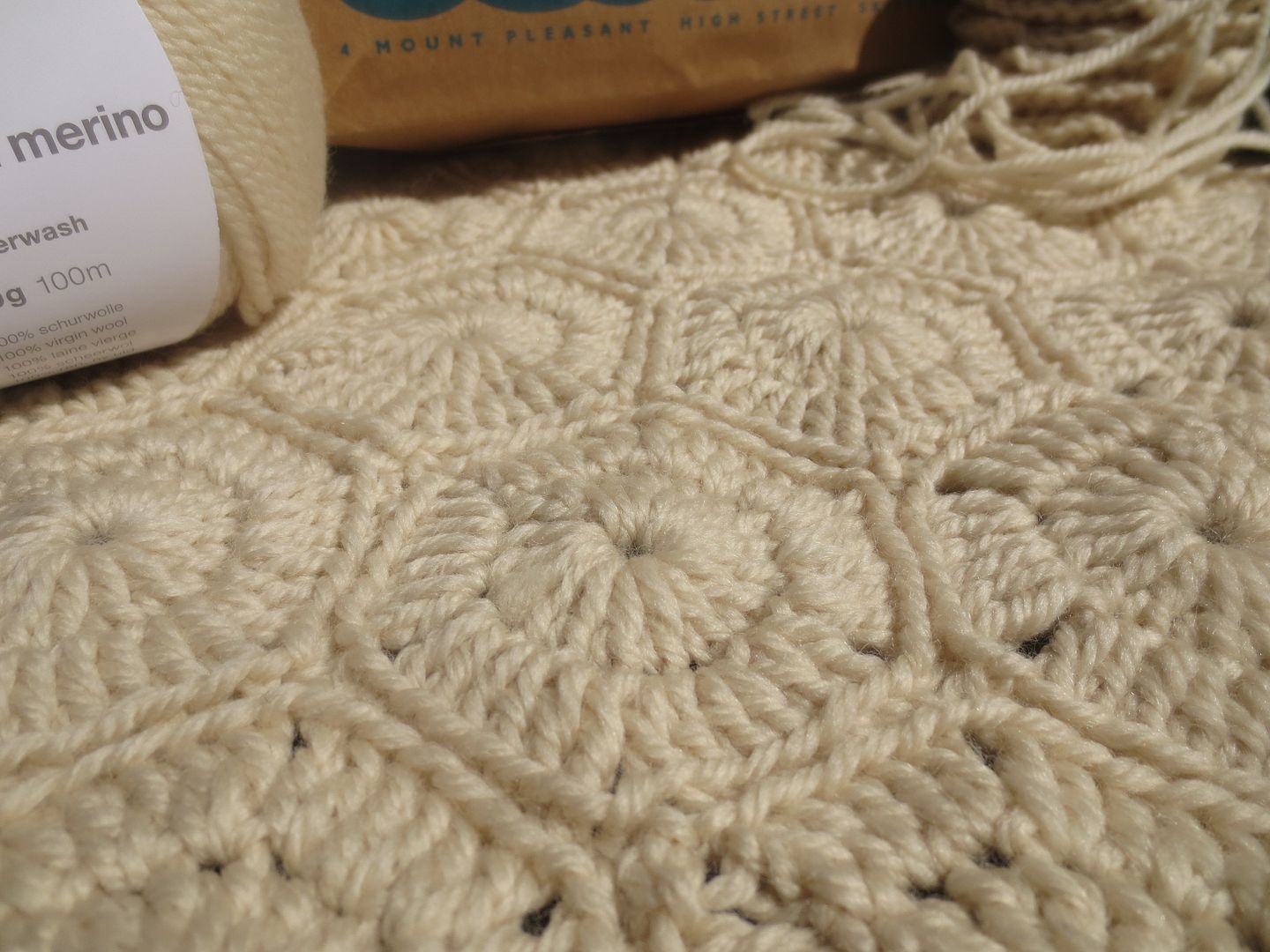 When I made these before, the joining was a bit of an issue as I found it hard to join them in one continuous go like I do with squares. With squares I like to make them all first, and then join all of them horizontally and then join all of the vertical edges after that. Fewer ends to sew in and it's just the way I like to do it. (Here's how I join squares, in photos.) Hexagons have always been a bit of a crafty nemesis of mine so I'm not sure why I keep going back to them!
Anyway, joining. I thought it might be easier to join them using the tail end of the hexagon itself and that's what I've been doing here. I cut a long tail, about 15 or 20cm long, and then sew them together using the needle I use for doing my ends. It gives more freedom to change direction and join along a different edge than joining with a crochet hook. It's not perfect and I don't think I could write you a tutorial and show you in photos exACTly how to do it because I have a rough idea of how to do it and then just bodge the bits that look a bit loose with another bit of yarn.
I adore this yarn though, it's so smooshy and squishy and a little bit sheepy in the best possible way. It reminds me of the Rowan Pure Wool I used for my 400 Squares, Granny Alice and Big Blue Blankets. It reminds me as well of the Aran cardigan my mum used to have when I was a child. I hated the cardigan then! It felt scratchy and the buttons were a bit scary. But now I just remember it fondly and the feel of this hexagon crochet is just like that cardigan.
The fabric it's made is really nice and dense, but not too tight. I've been chaining 5 in the first instance just to help with the tension and it's working well. I had thought that it might make a nice little baby blanket but that idea didn't last long: it's true calling is to be a cushion! Possibly round, possibly square. I have cushion pads of both shape so I will try it on both. I would also like to do a proper photo tutorial for these hexagons because the instructions I did previously could be improved with photos. I hope we have some nice weather soon, it's pouring with rain and that's never good for indoor photographs!
———
I'm using Rico Essentials Soft Merino Aran in shade 061 "cream" on a 5mm hook and working from this pattern.