I've had to pause working on my ripple this weekend because the only colour I don't have is the only one that I want to use next – how typical! The yarnshop is open again tomorrow though so I will be there lickety spit for another ball. I think I have about 20 (or probably 22 so that I end up with an even number) of stripes remaining on this blanket.
Working on a ripple blanket is something I find very therapeutic; the rhythm of the pattern, how choosing the colours makes me feel, having something "to show for" my day ("I haven't done XYZ but I've added two stripes" kind of thing) and just the general enjoyment of making a something. I didn't have a crochet project on the go earlier in the year and I felt utterly lost and couldn't work out why!
I haven't pre-planned the colours for this ripple like I did with Jenny's baby ripple. I've made so many things with these colour yarns now that a lot of my colour placement is very similar: Pomegranate, Magenta and Plum, for example. I have tried to broaden the colour placement that I use though, and I'm pleased with the results. Sure, the same familiar ones do occur (and although I have tried to stay away from the typical rainbow ones, one of them did sneak in before I noticed), but I'm pleased with the result.
 I've not used yellows and pinks together before but I think it's quite effective, quite summery.
One combination I was pleased with was Spring Green, Pomegranate, Sherbet, Aspen and Magenta. They looked so nice that they inspired me to make some granny squares using the colour sequences from the ripple blanket.
… and a Magenta, Pomegranate, Fondant, Meadow square …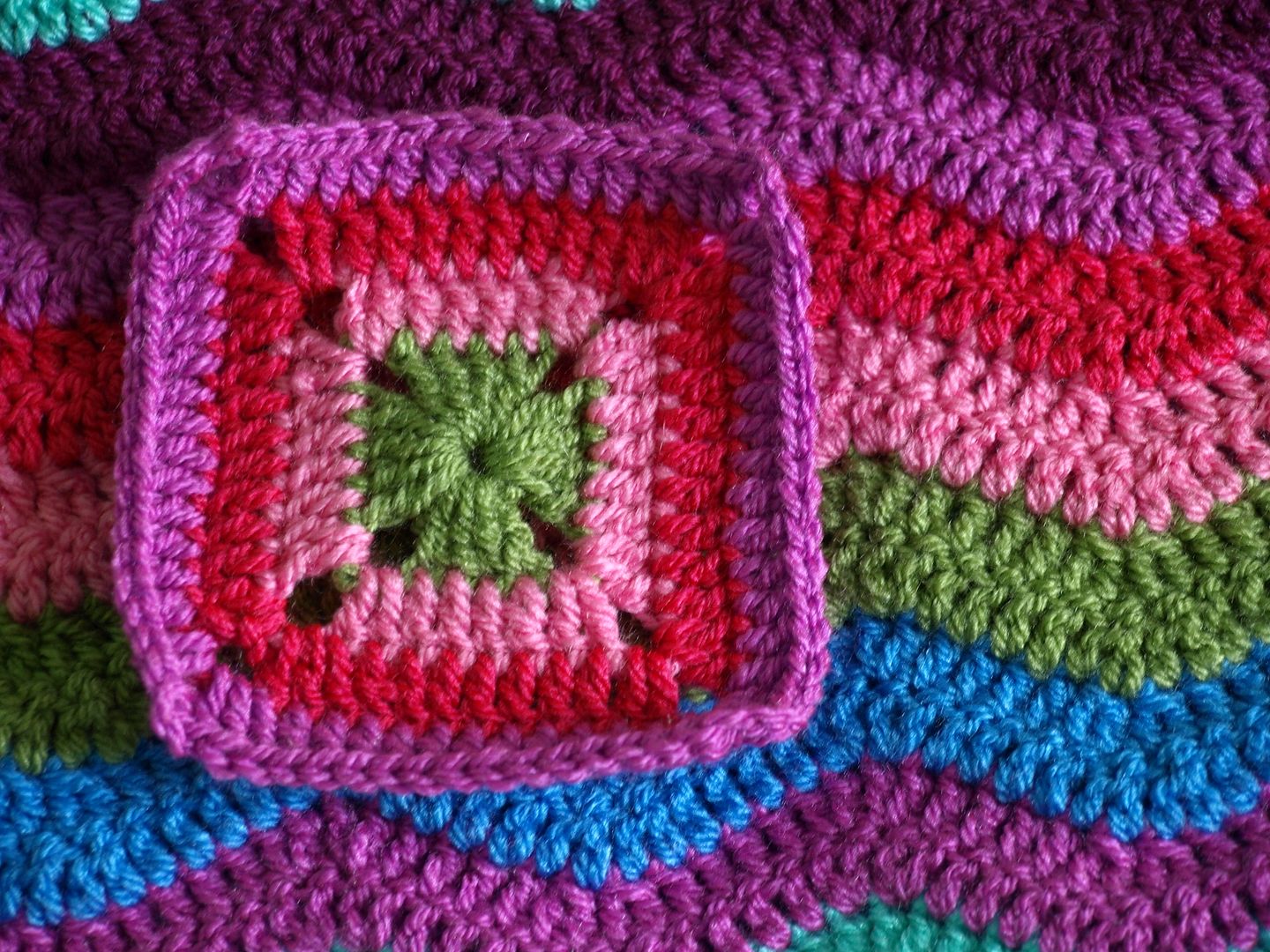 … and the same colours in the reverse order.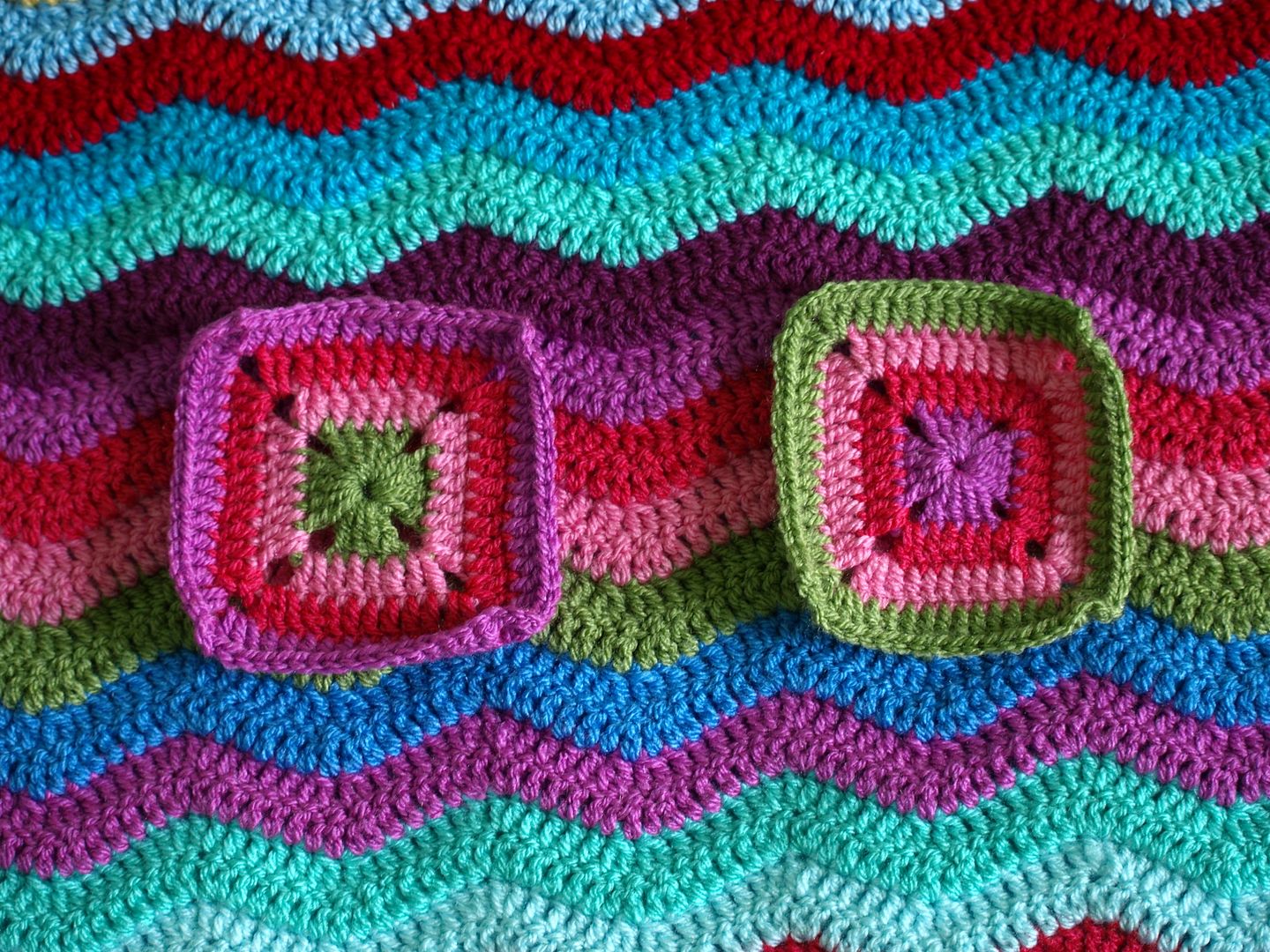 I think it's fascinating how the same colours in different quantities can look so different.
Making squares was really rather enjoyable. Just simple, 4-round Elmer squares with a different colour on each round, purely for the enjoyment of making them and not with any project in mind.
Ultimately I'm sure it will become a blanket. I've always quite fancied a big granny square blanket with no colour scheme, just lots and lots of different colour combinations but I've never had the patience for it or been relaxed enough to be "anything goes" about the colours.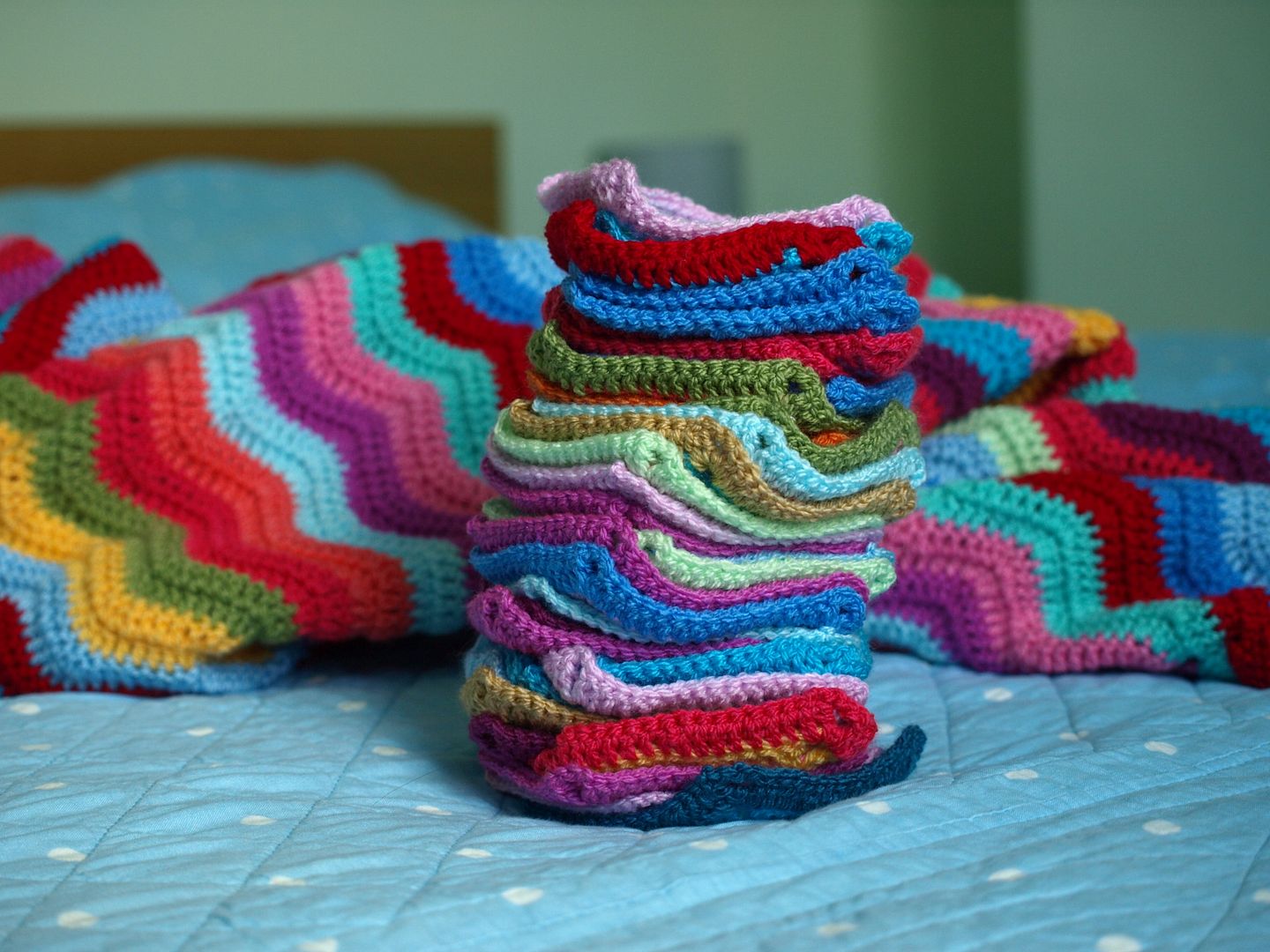 Making squares for fun, with no pressure and no target and just for the enjoyment of testing and playing with colour has been so liberating and fun. It turns out that "no pressure" is a great motivator for me and because I didn't *have* to do it, I wanted to make lots. Sooooooo this little stack only took a week!
——————————————-
Yarn: Stylecraft Special dk
Squares pattern: Elmer Squares
Ripple pattern: Attic24 Neat Ripple Pattern
Hook size: 4mm