Did you all have a good Easter weekend? We crammed so much into ours that I'm sure it was about six days long. I had told Andy that we were having a good day together on Good Friday with no jobs – just to enjoy ourselves and spend time together. It was a really sunny day and we went for a walk, intending to go to the park. On the spur of the moment we decided to go out for lunch instead! How exciting! It was still a bit early and TTB had restless legs so we let him loose in the grassy churchyard for a bit. He loved it! Lots of people congregate in this space and toddlers running free is perfectly ok. I let Andy chase him about and they both had massive grins on their faces when they came back to me (I was guarding the pushchair and of course taking photos.)
We went for lunch at our favourite restaurant: TTB was very well behaved, I was so proud. He also discovered that the complementary olives are definitely NOT the same thing as grapes, despite how grape like they may look. Yeeeeuch!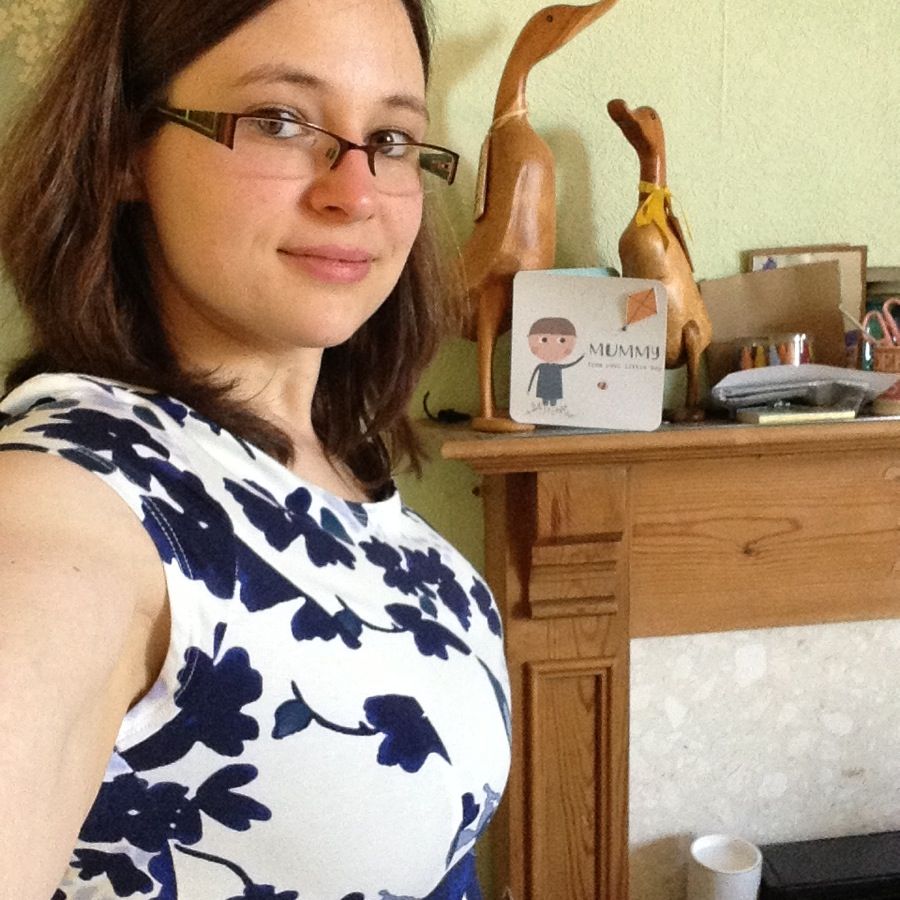 On the way home I popped into Dorothy Perkins as I'd seen a dress I wanted to try on. TTB wasn't keen on this so I suggested to Andy that he took him home. Hurrah! Child-free clothes shopping. Brilliant. I bought two pretty dresses in a size smaller than I had been expecting to, and floated on air all the way home, where I discovered that Andy had put TTB down for his nap (with more ease than I do) and was making a pot of tea. Brilliant!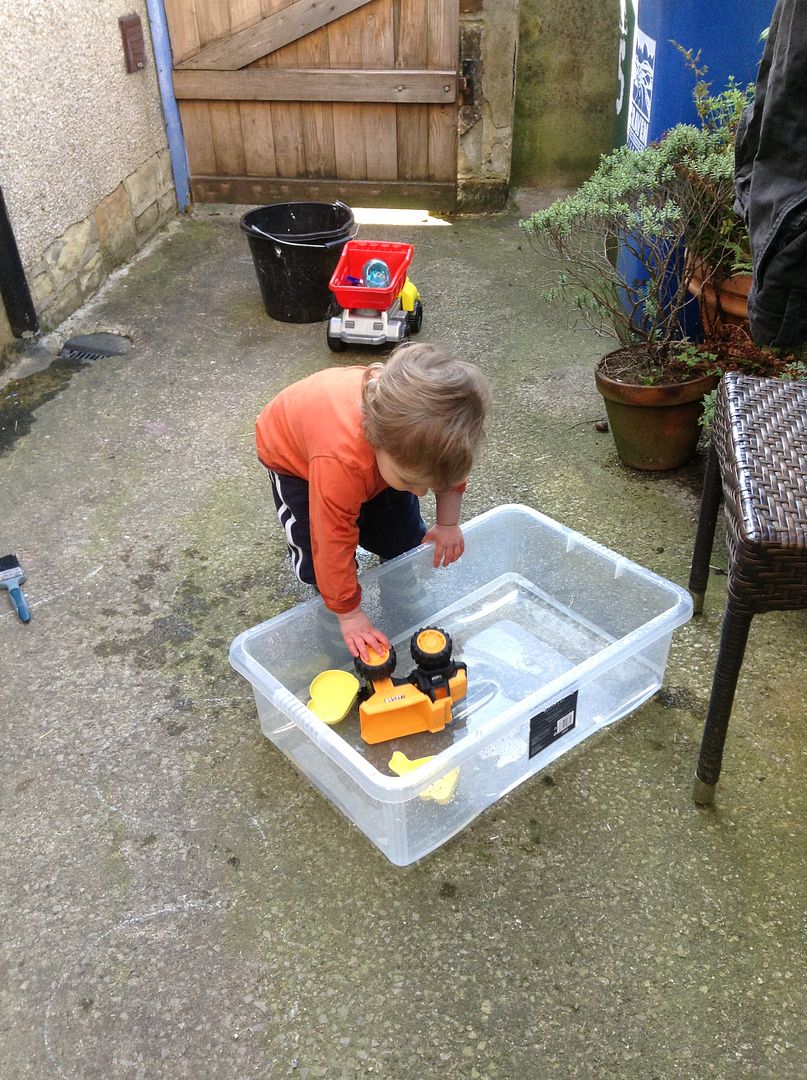 In the afternoon we did some tidying and sweeping up outside, and I went to Tesco for dinner things and managed to carry this big box home with me, too. Thank you to whoever suggested the underbed storage boxes for sand/water play! Brilliant idea. TTB was really happy to play with his truck in the water. For the record I should point out that it also made him very very angry, because his truck ended up on its side when he threw it down, and I wouldn't pick it up for him. Toddlers are very all or nothing, temper wise!
On Saturday morning we went to a soft play birthday party for one of TTB's friends, which was great as it meant we got to see our friends too, and have yummy cake (thanks Helen!). In the afternoon, Andy's mum and her husband arrived, much to the delight of TTB who thinks that they are brilliant, and loves the attention they give him.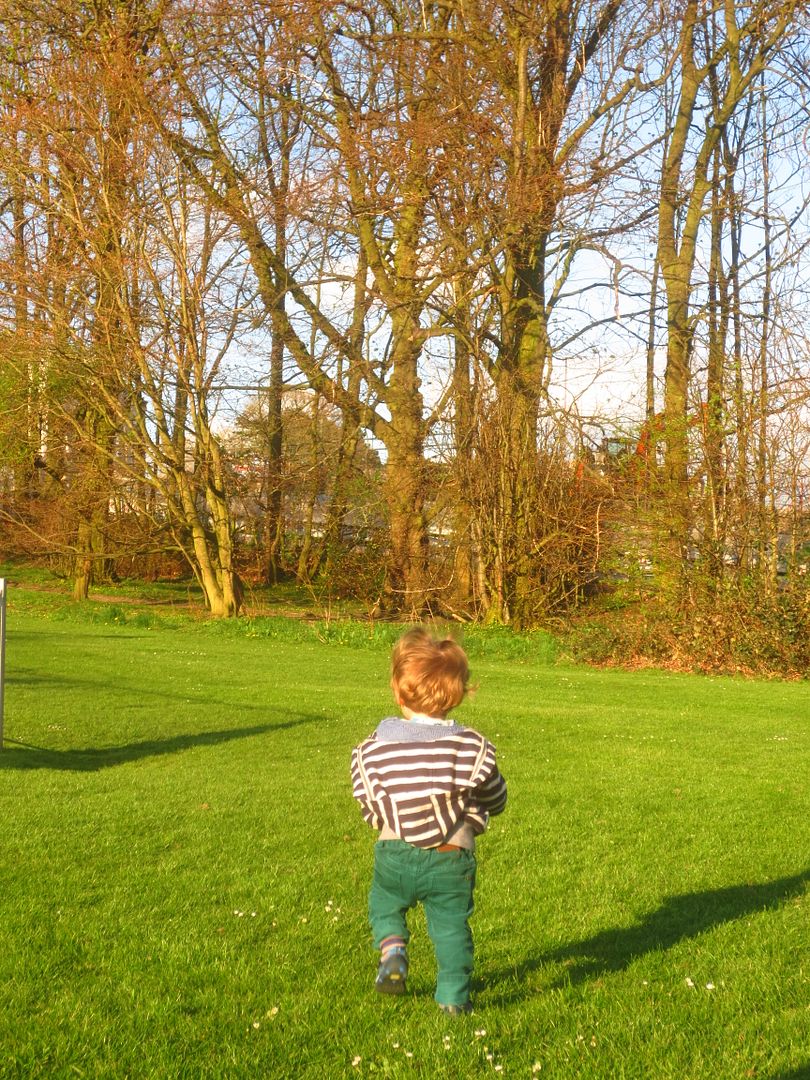 After dinner, we headed to the park instead of doing TTB's usual bath and bedtime. The evening was so nice that it seemed a shame to miss it, and it's worth having a later bedtime for TTB to make the most of days like this. I was so glad in hindsight that we did do it, as the weather on Sunday wasn't nice at all and we didn't get an opportunity to go out. This way, TTB had a fun half an hour running free in the park with his grandparents – they loved seeing him there too.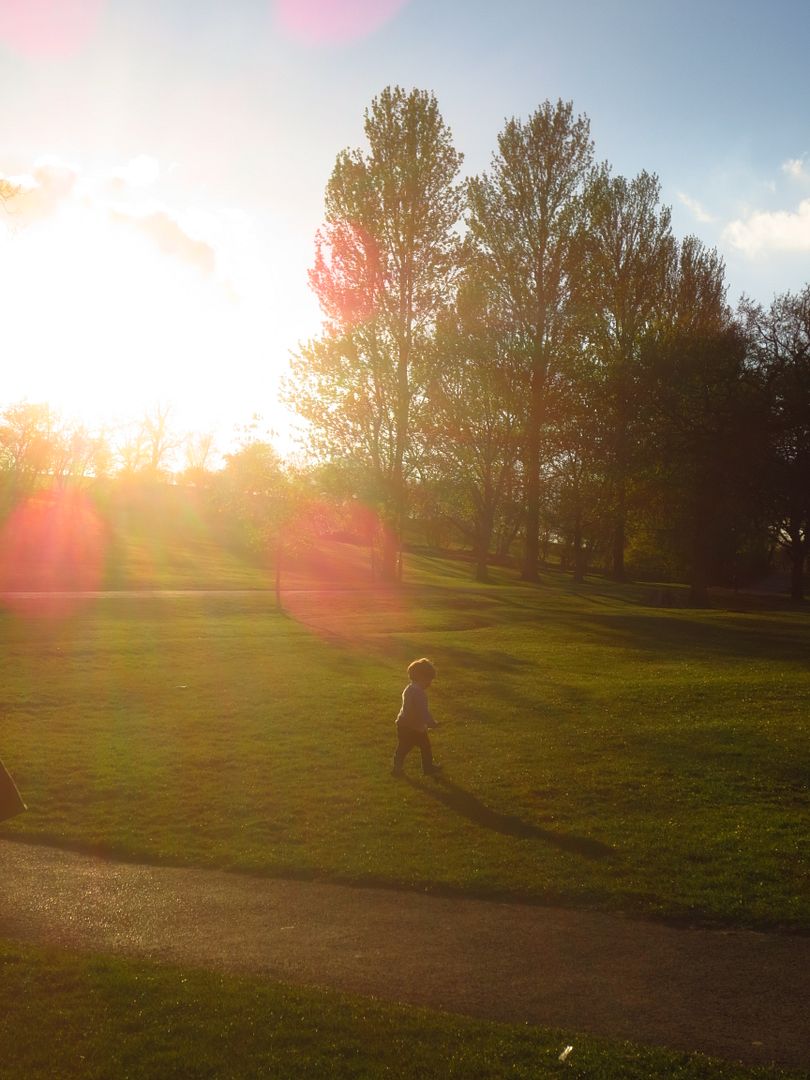 The light was amazing, but really hard to take nice photos in. I like this one though.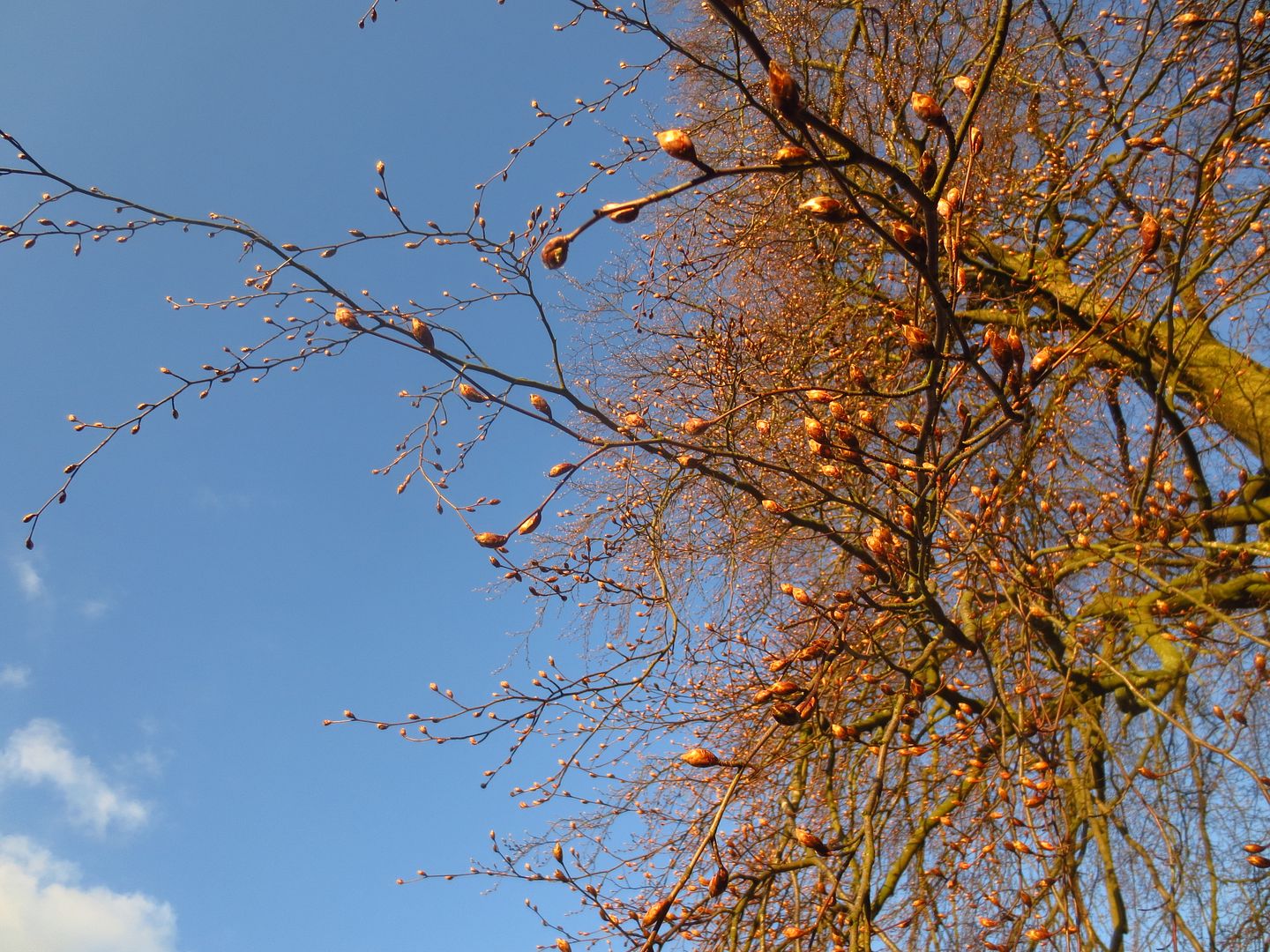 Instead of retracing our steps to get home, Andy wanted us to go and look at the view across the park from the other side. We walked under the avenue of blossom trees … they are nearly ready!
The view is definitely worth the circuitous route home.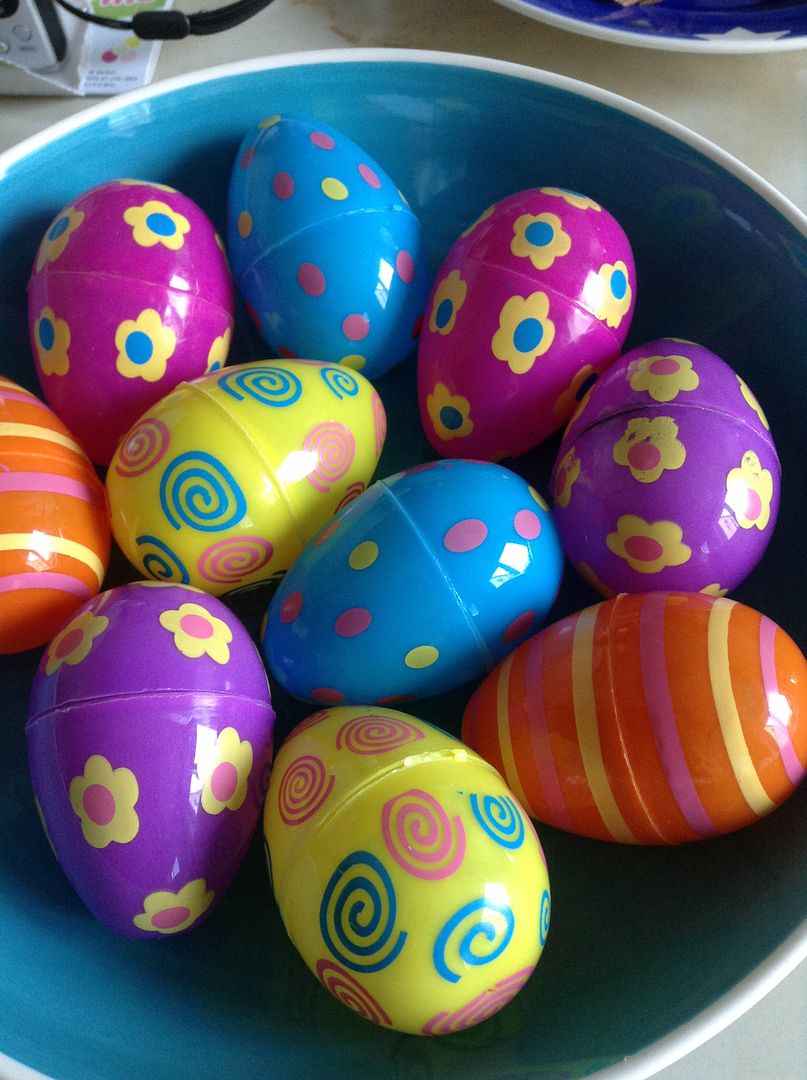 On Sunday morning I tried to do an Easter Egg hunt for TTB in the yard using these unfilled plastic eggs. Well that failed because the wind blew most of them away and he was so thrilled when he found the first one that he wasn't bothered about looking for the rest! Next year he will be older and appreciate it more. I just wanted to do "something" for him on Easter Sunday, we used to have treasure hunts with clues for us to find out Easter Egg on Sunday morning and I loved that.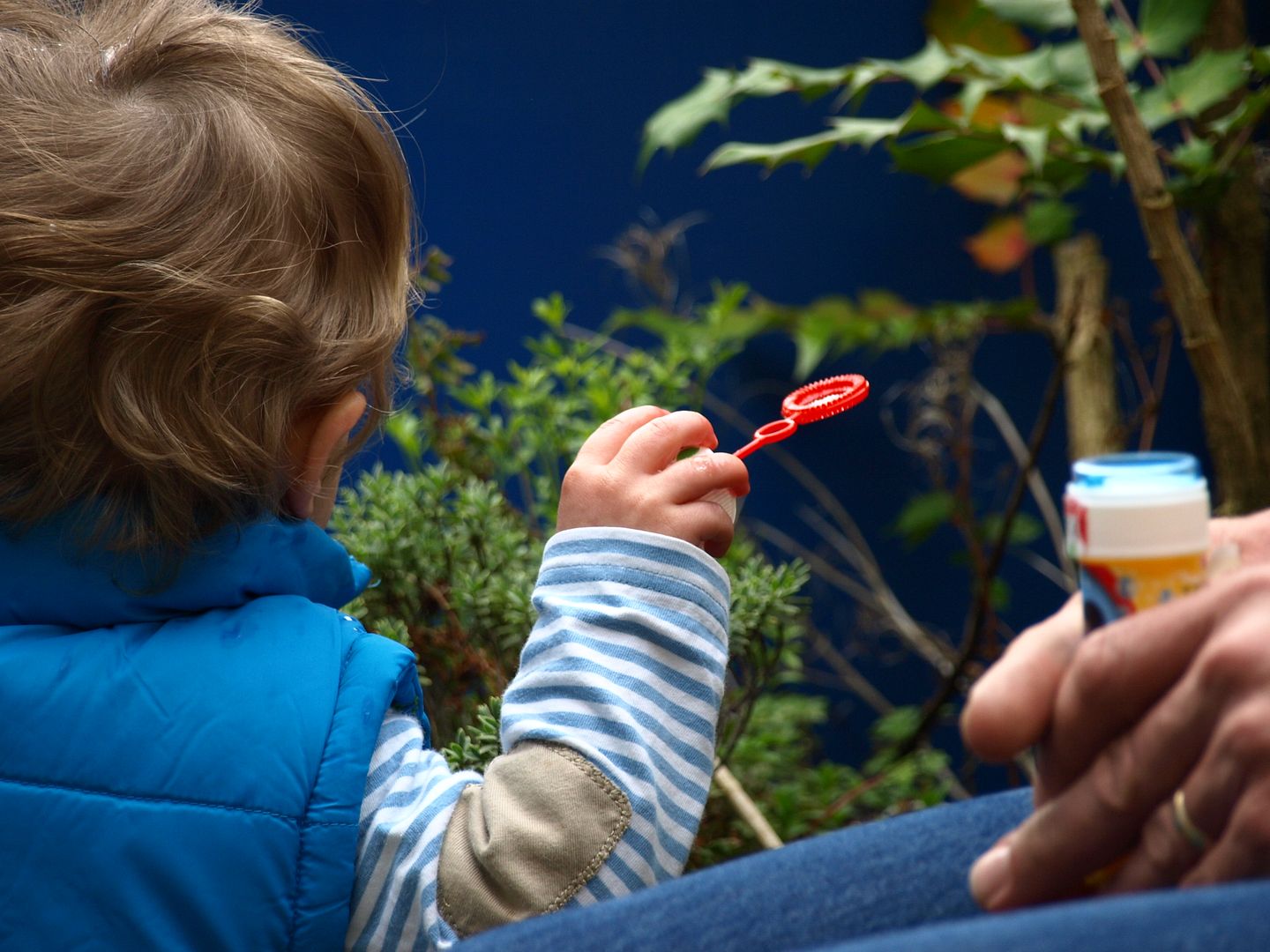 We all went out for Sunday lunch. I timed it really wrong and TTB fell asleep in my arms at the table. I felt really guilty about it, I should have fed him at home first. He was struggling with his teeth as well and it was all too much for him. When we got home he had a picnic late lunch and was happy with that. He certainly perked up with some bubble fun in the yard! Ah the luxury of having grandparents to stay who will blow bubbles with you for ages.
On Easter Monday I was shattered! I made 2.5 granny squares (no plans, I just wanted to make some for the sake of playing with colour.) before TTB stole my yarn, little bugger. I made a batch of soup and we generally just lazed about all day. I think we all needed it. Bring on the next Bank Holiday weekend!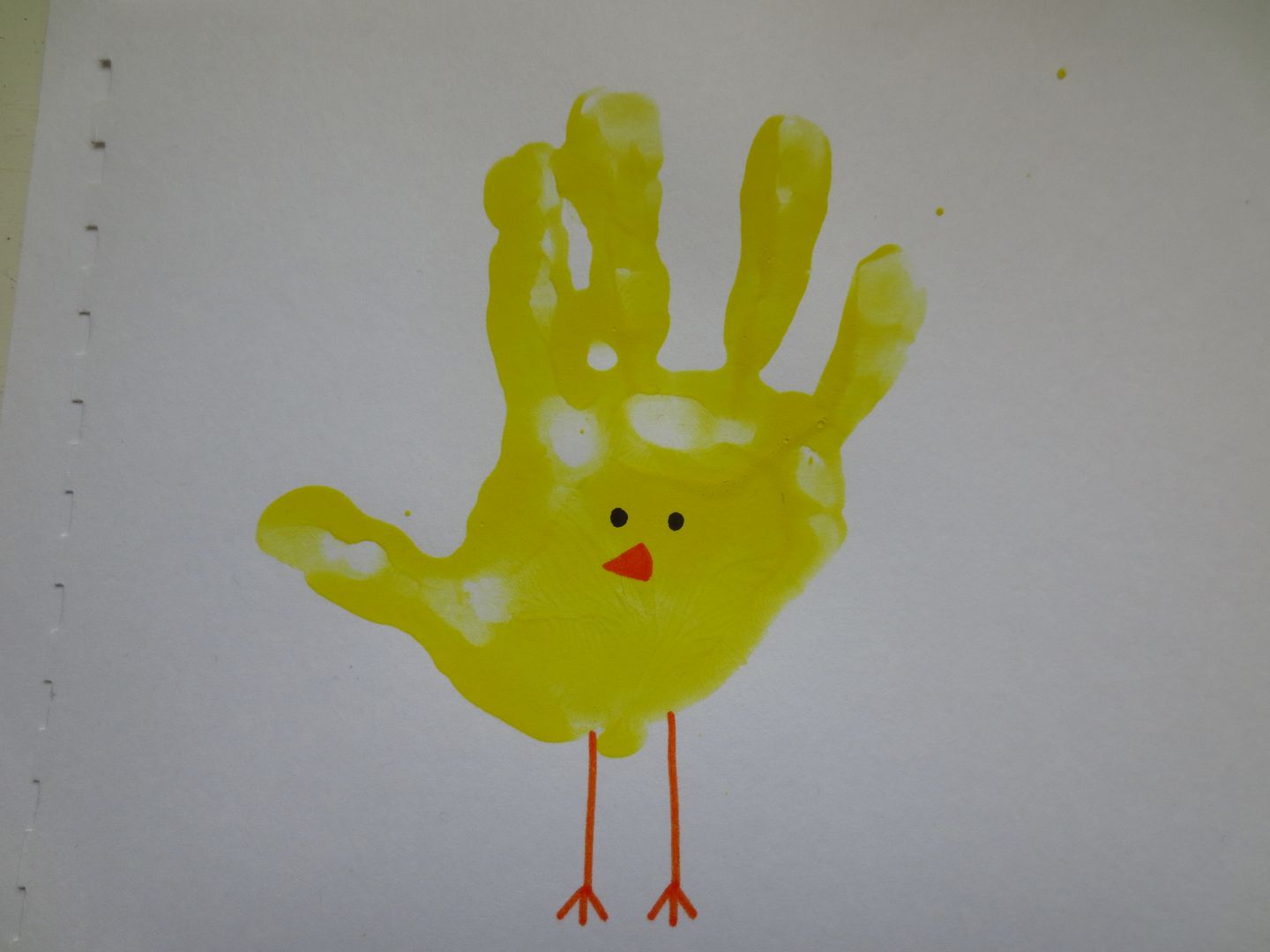 P.S TTB made Easter cards for his grandparents, how kind of him. Thanks, Pinterest.