Christmas is but a distant memory, and we've come out of those few early January slumpy days now. Andy is back at work, the decorations have been packed away and I feel zingy and ready to get on with the year ahead. First up: flowers and bulbs. I like to buy flowers throughout the year, not every day or even every week but I like to buy seasonal bunches of flowers from the market usually and I enjoy having them in the house. It makes it feel more alive, I think, and its an easy happy-maker for me.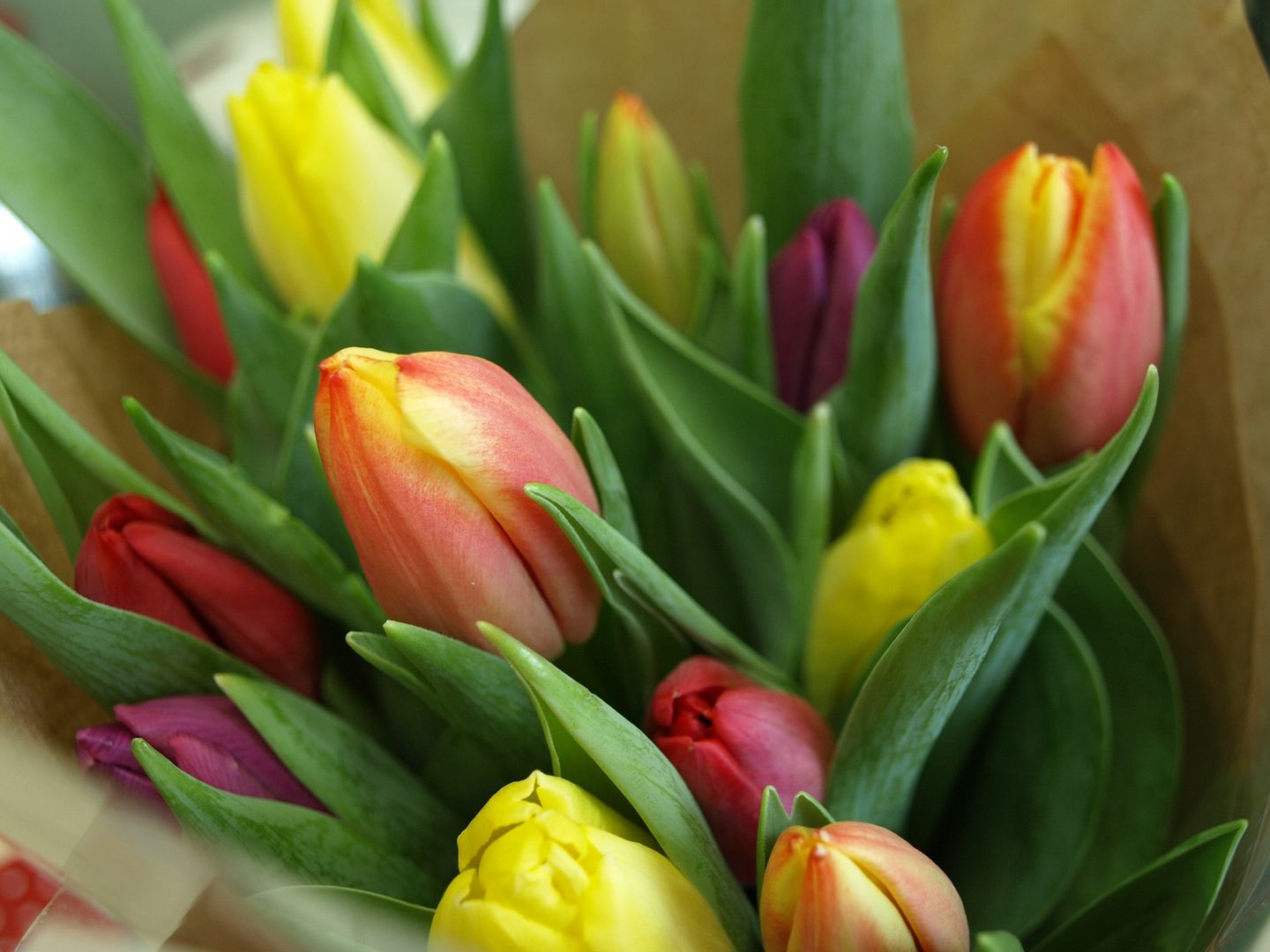 The flower stall hasn't been at the market for the last couple of weeks and I really needed (yes, needed!) some bright and cheery flowers so I dragged TTB off to the supermarket and made him choose flowers with me. Not lilies, they're too big, their pollen stains like mad and they smell funny in this house. Not freesias, I do really love them but they are a very small looking flower and I wanted something bigger. Not so big that it's a £10 arranged bouquet … aHA! Tulips. Yes, tulips is what I want. It is a bit of an extravagance, but my new justification is that I am (it's a good one) "making an enjoyable and stimulating environment at home for my child to grow up in". And you can't argue with that really, it would have been wrong not to get flowers.
Christmas has a very distinct colour palette, and for months our minds are saturated with golds, greens and glitter. And then that goes and we're just left with winter: monochrome, damp, a bit brown and mossy around the edges. Grey, mostly. These jewel coloured tulips are a beautiful, colourful treat. Yes! Let's have orange, and yellow, and fresh green, and plum and pink and red. Flame coloured blooms, all tightly closed, sure to open up, relax and go floppy within a few days of being inside. I like that they go floppy, before anyone mentions sticking a pin through the neck ;-)
The start of the year would not be complete for me now without tete a tetes in (not quite) Cornishware bowls. It's a sight I've come to look forward to and it made me happy to bring home my first pot of these last week. They've been on my kitchen windowsill for a few days but are now residing on the mantlepiece.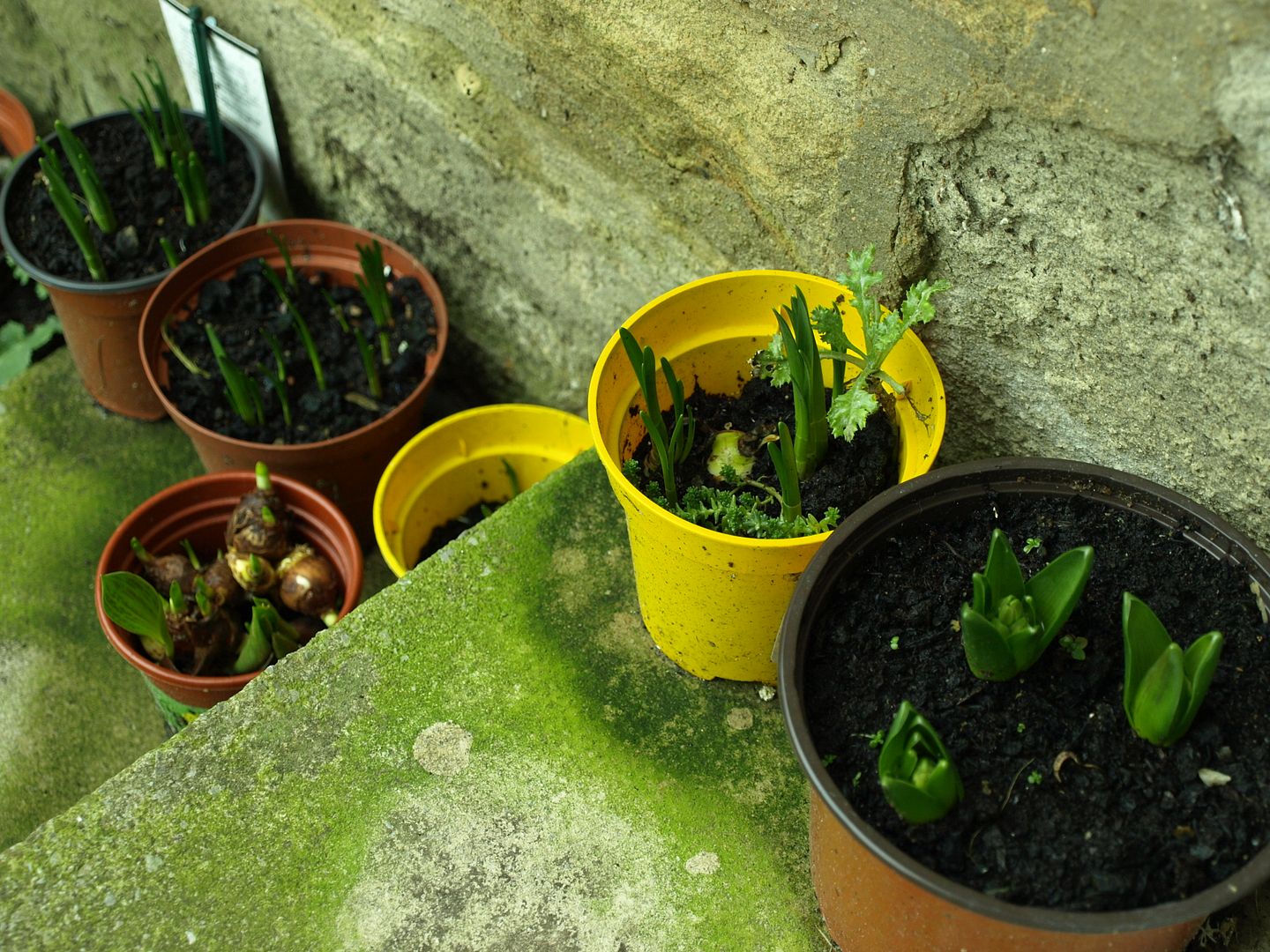 I am thrilled to find that my pots from last year have started to re-grow on the steps outside. Hyacinths, tete a tetes and some tulips too. After this season I'll take them out of these pots, store them properly and replant in some roomier pots. It's ace that bulbs aren't a one-time thing!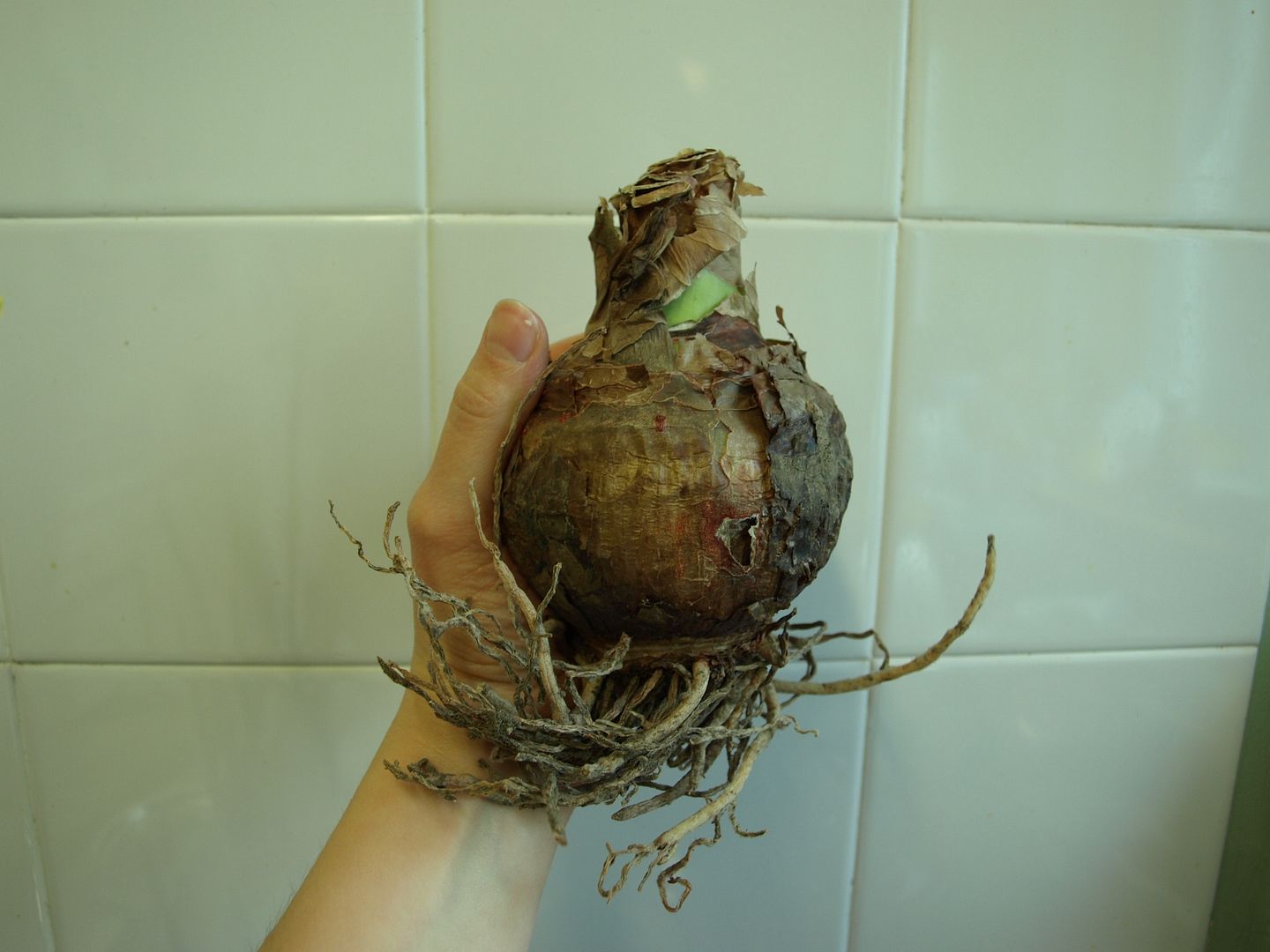 I bought an amaryllis in the sales this year and I need to get it planted up. They're funny looking things aren't they? I'd like this to go on the mantle as well but they do get very top heavy and it may not be safe. I'm sure it will be happy on the kitchen windowsill and far less likely to topple onto my toddler from there.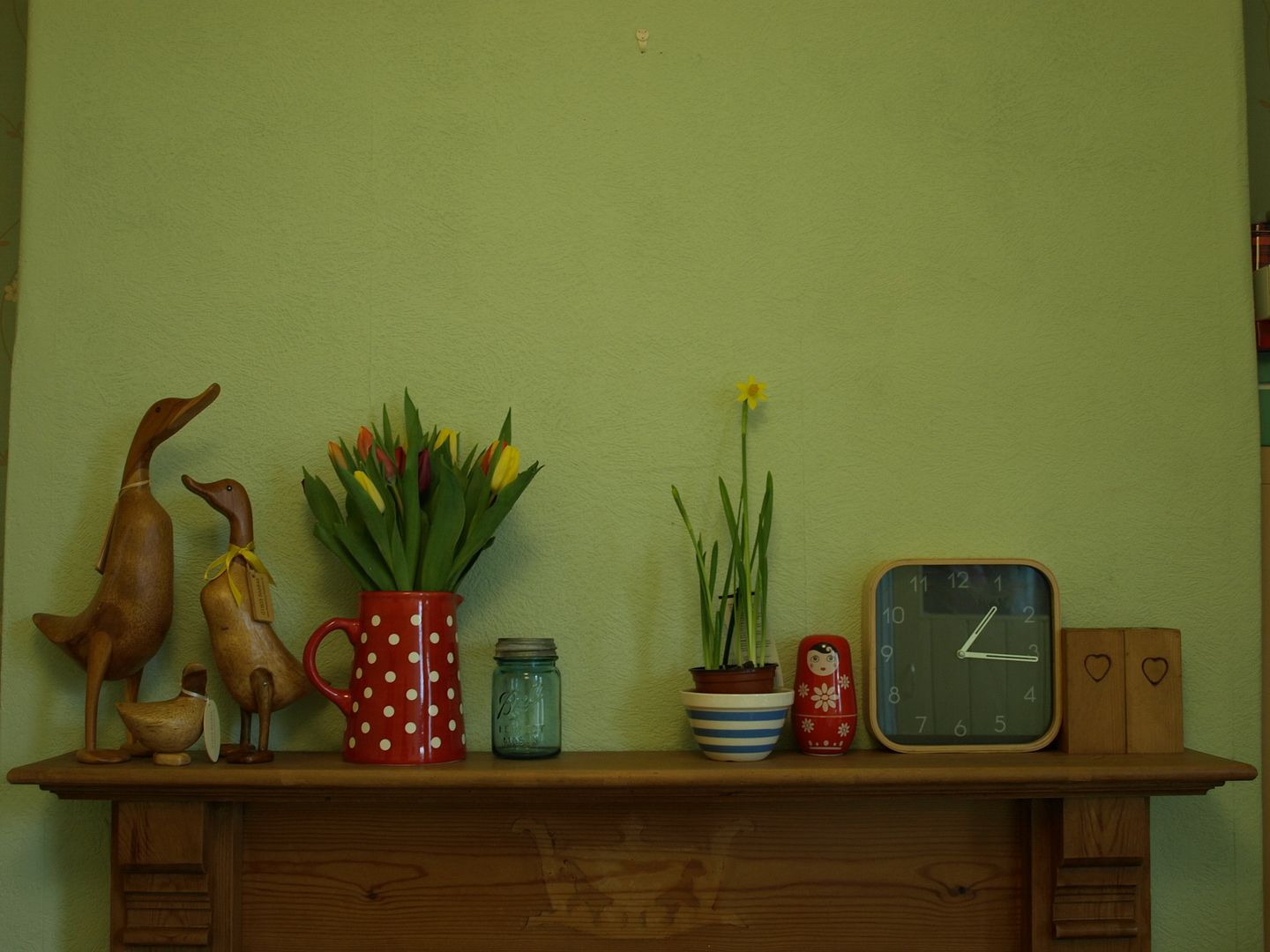 Now, the mantlepiece. I have quite a lot of bits and pieces and things that I'd like to display and previously I've just tried to squeeze everything on to here and it looked rubbish. I've gradually added things to keep out of TTB's reach and it all got a bit crowded. Clearing everything off to put out the Christmas decorations was such a relief and it occurred to me that if I can have a box of Christmas decorations that I can bring out once a year, why couldn't I have other seasonal things to display on here and rotate things rather than having them all out all the time? It would keep it fresher, be a nice thing to do now and again and wouldn't get boring. Today I've given it all a clean, removed all of the miscellaneous "out of reach" clutter (which is now piled on the table and needs sorting pronto … just displaced rather than properly tidied!) and then put things back how I wanted them. Tulips and tete a tetes; blue, red, white and wood; stripes and spots. And I love it!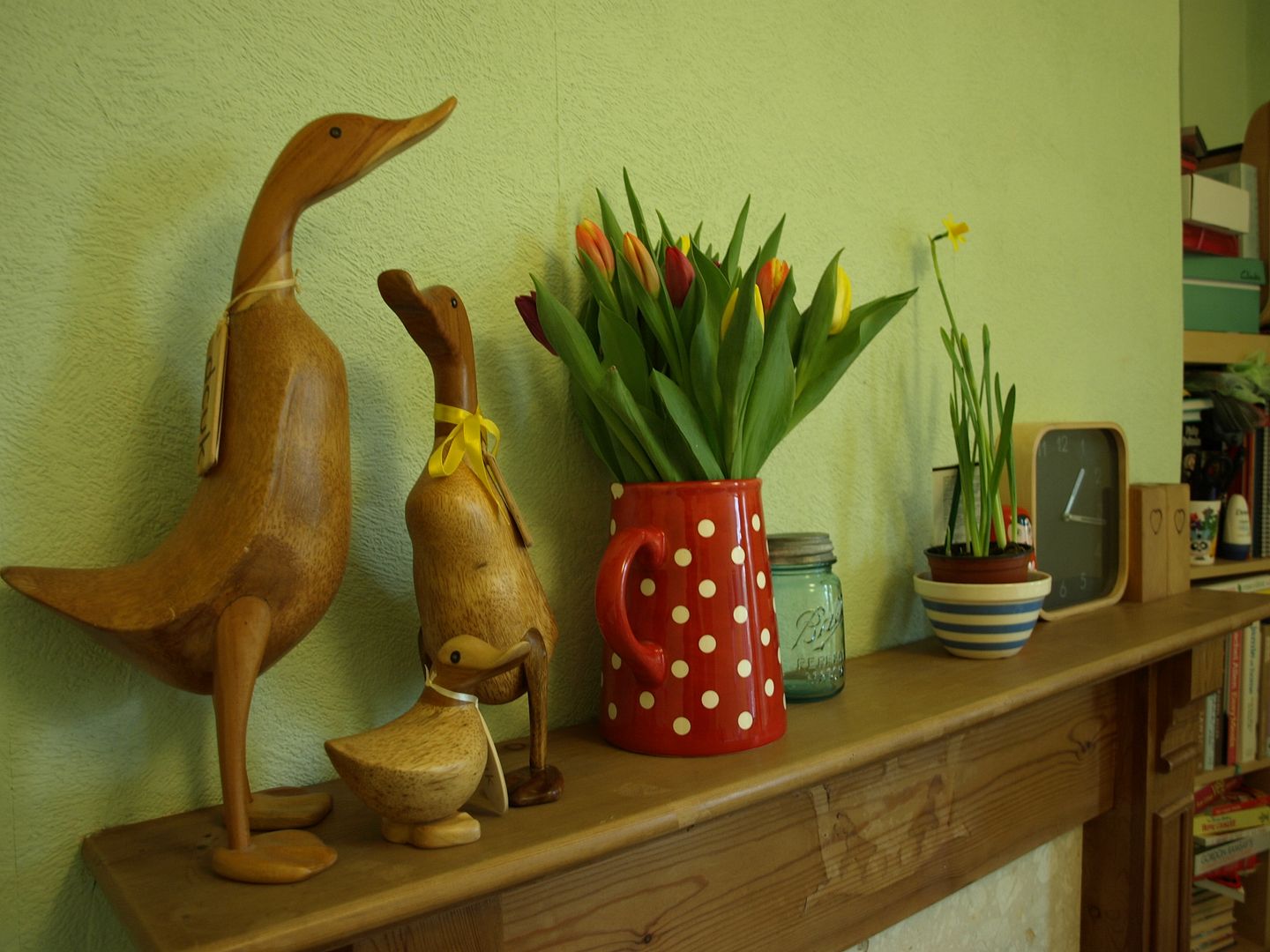 Like the rest of the house, this room needs XYZ doing to it before I can do anything like paint it and I just have to make do with the manky colour, but I can pretty it up a bit and make it tidy and right now that's good enough for me. :-) (I'm itching to get a massive mirror for the wall though, it is crying out for one.)
x