May: May saw the town celebrate the Waterways Festival, there was lots of beautiful cherry blossom and the sunniest, most perfect days ever when we walked around the meadow and the park. We went "up Dale" to see my friend's son Christened and I made the Summer Girl blanket. I went to Salts Mill with Rach and Vic, and to Leeds with Katherine where I bought the sweetest pair of dungarees for TTB and made him wear them almost every day. My mum and Grandma came to visit and we went to Bolton Abbey, TTB learnt to pull himself up to standing, took great delight in being in the baby walker in the yard, spent lots of time on the swings and really started to enjoy toys a lot more. He had his first feel of grass beneath his feet (and er, daisies beneath his fingers) and I bought lush yarn, yippee! I bought yummy apples from the market and went on lots of walks and took pictures of garden-y inspiration. I did some gardening in our yard and it finally started to feel like a homey, useable yard. At last! We even ate lunch out there a few times. I did a few rows on my never-ending Rialto stripes blanket before putting it away again, and preparations for Yarndale picked up, including me starting the biggest crochet project of the year: the Attic24 houses for Yarndale.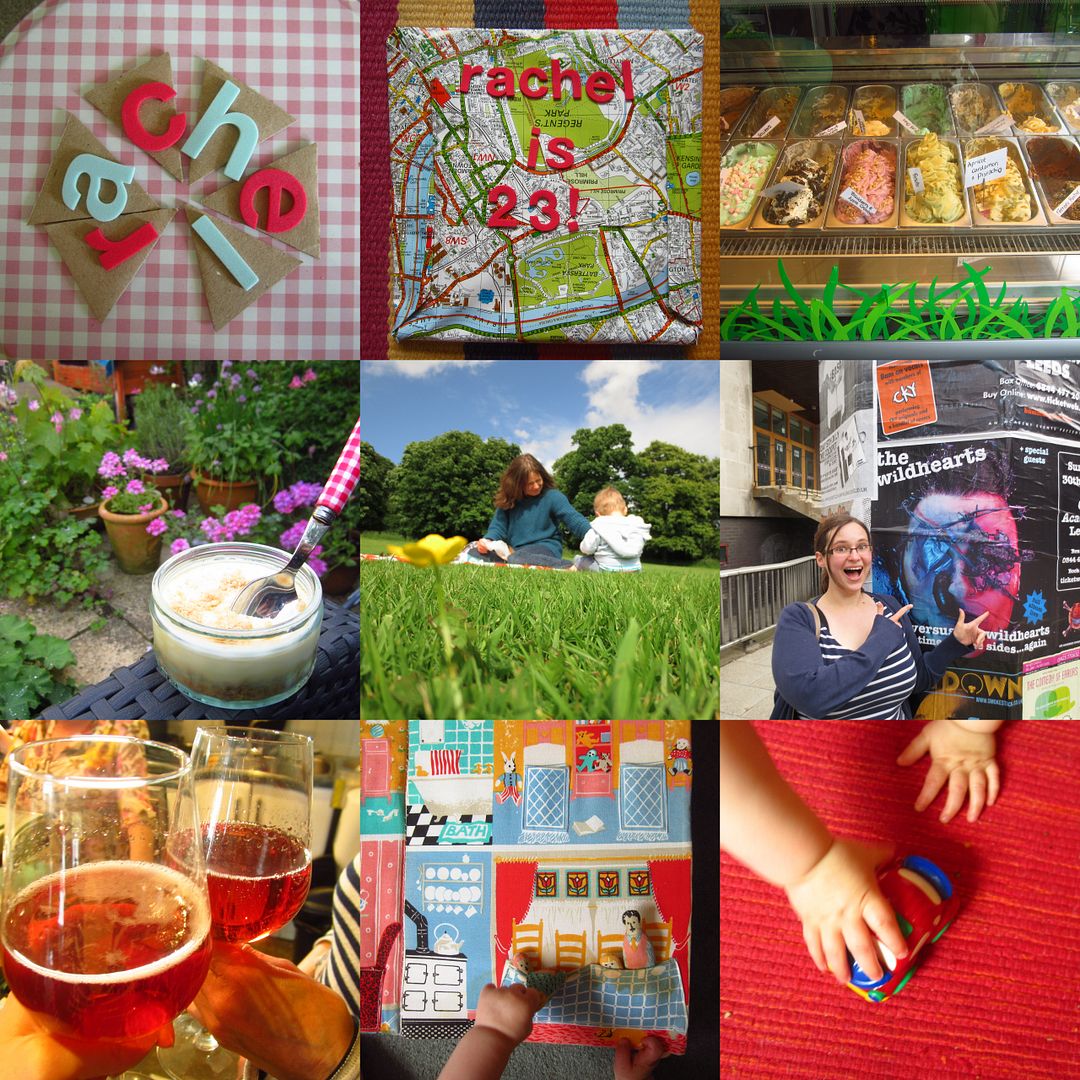 June: We took a train ride to a nearby village to play at their super duper park and we had a picnic too and I felt like a competent parent who can whip up picnics on the spur of the moment. I had an icecream on the way home, thoroughly decadent and very nice, wish I hadn't had to surrender the cone to TTB though! The weather was gorgeous and I spent lots of time in the yard with TTB (and got lots of washing dried too, fabulous.)  It was my birthday: I bought a birthday sunflower, sweet williams, and cherries from the market. I had a happy day walking in the woods, and we enjoyed a visit from my in laws. TTB played with his friend really well and it was the beginnings of him really enjoying playing with other people rather than just watching what was going on. I took the train to my mum's again and ate delicious birthday cake and "in your face pret a manger" flapjack, made by my sister. We went on some walks, watched my family do canoeing, and celebrated my sister's 23rd birthday with red peonies, a trip to Stratford upon Avon and simply super ice cream. We went to Stowe and TTB pointed at the ducks a lot. We spent time in my mum's garden and he made friends with the guinea pigs. We got our old childhood books out and had a lovely time looking at them all and reminiscing about them. One of my favourites is Gorilla, by Anthony Browne. At the end of the month my mum came up to stay with us so that we could go and see The Wildhearts in Leeds, and we went to the first Open Studio event at Tracy and Lucy's studio. TTB worked out how to put little dolls in the pockets of my sister's old fabric dolls house and discovered how to push a toy car back and forward. Both of these things felt like huge milestones!
July: My mum was still visiting and we went to Leeds and had lunch in Wagamama (mmmmm) and went on some walks around town. I took some "beat the heat" walks with TTB in the early mornings, they were beautiful. The town celebrated Sheep Day, which delighted TTB no end. Me and Lucy did an evening walk around the park to plan some of the yarnbombing. I bought a gorgeous new fruit bowl, and worked on my Big Rainbow Ripple. The market had pink peonies, we bought a new car and took a spur of the moment trip to my mum's, where we had lunch outside – lovely. I worked on my Honey & Roses blanket, TTB discovered bread (this was a BIG moment in his life), we did lots more walks and playing on the swings in the park and I got the train to my mum's again where we went to Stowe, celebrated my Grandma's birthday and had a visit from my father in law. We walked around the reservoir and I got excited about bees and butterflies. I finished my Rainbow Ripple blanket, TTB learned to walk with the aid of a baby walker and discovered just how much fun playing in a tub of water is.
August: My mum visited and we went to Ilkley, buying some treats in Betty's and then standing on top of the world (the moor). TTB turned 11 months and Panda became his most bestest toy ever. We played with Happyland a LOT, and he did lots of unloading the washing machine for me. I bought some pretty posters for his room, and spend an evening unpacking bunting for Yarndale with Lucy. I went to Leeds to see Vic, Rach and Emma, and TTB played so nicely with Violet. He played with sand for the first time. I tried out some recipes from the River Cottage baby cookbook and resolved to start feeding my family better. A pop up printing shop appeared in the town (so interesting to watch.) At the start of the month we were at my mum's (the July trip overlapped) and we had a wonderful morning in Stratford sitting by the river and picnicking. So simple, but one of my favourite days ever.