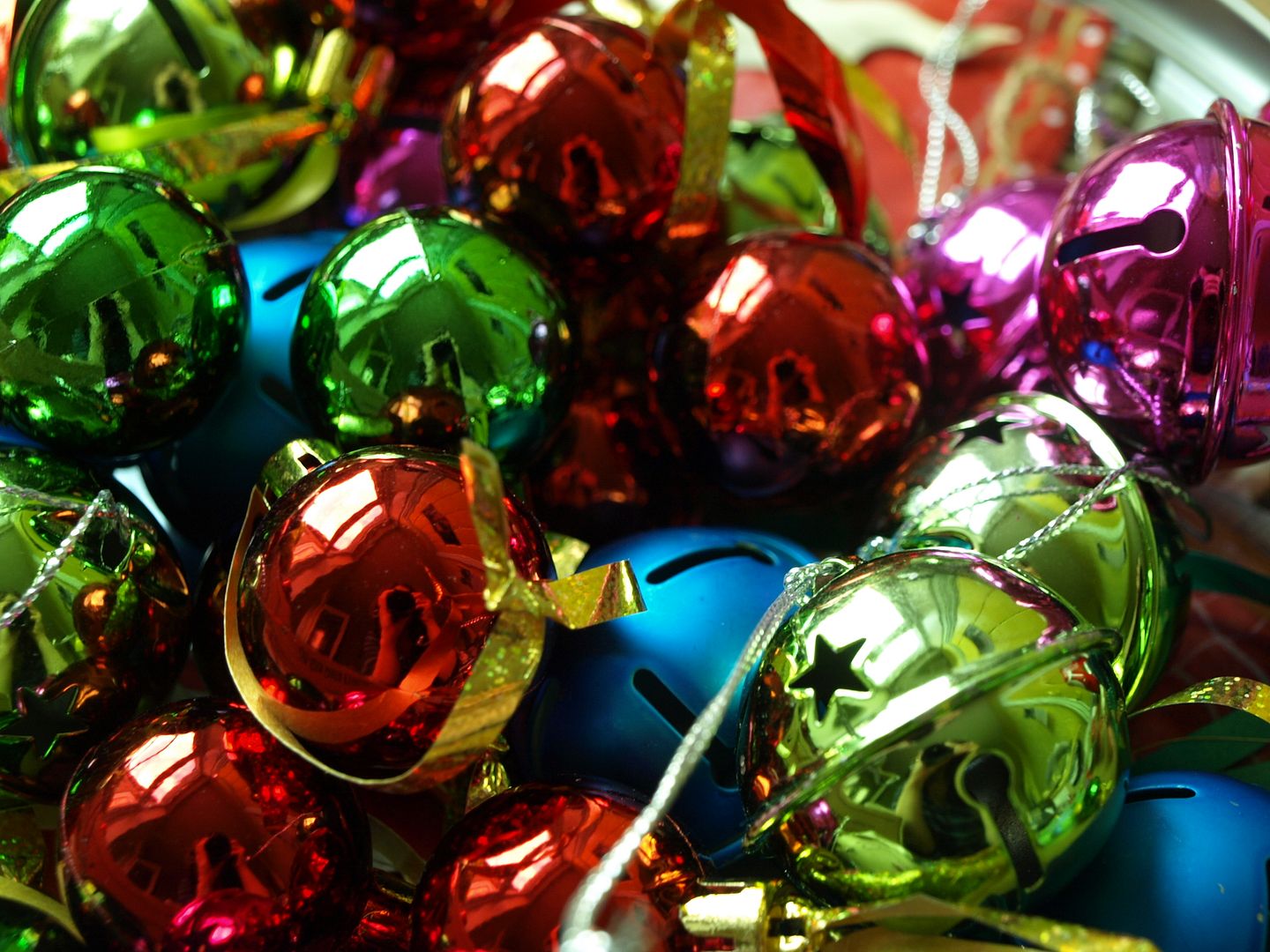 In amongst all of the tidying, sorting and cleaning that went on to accommodate my Christmas Tree, I absolutely just simply HAD to get all of my decorations out and look at them and appreciate them all. Perfect time to do it when everywhere is in chaos and your toddler is coming to the end of naptime. Perfect! I've been buying decorations for a few years now, in fact I think I've been buying them since I moved out so for about 7 years (crikey time flies) but this is the first time I've had them all out together. I have no theme whatsoever: these are all things that I Just Like. They all have different stories from when I bought them, admittedly it is perhaps a bit silly to have stories for the bits of shiny that you hang on your tree, but they do and that's that. And because this is my blog, I am going to tell you all about them. Best get a cuppa and a biscuit ;-)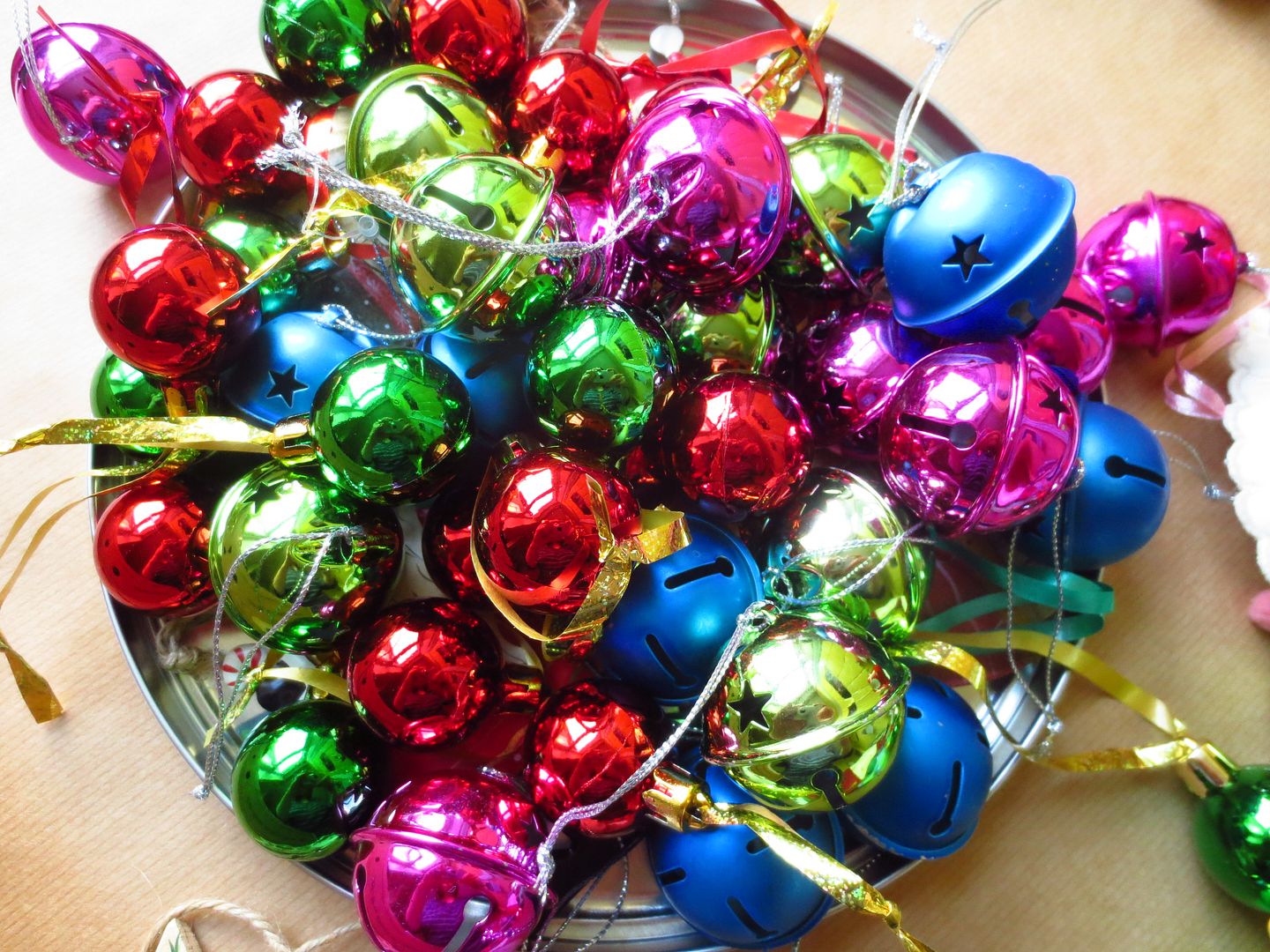 Bells and Baubles: The little baubles have the least interesting story, they're just cheapy ones from Tesco that I bought as I was convinced I could do something pretty with them despite having no tree. I couldn't, but they look pretty in with all the other decs on the tree. The bells were a bargain find in B&Q sales in 2011. We were at my mum's for Christmas and had to go and get something boring (screenwash probably) and all their decorations were 50% off. Most of it was tat but the bells had potential; they're metal, have a nice ring to them and they have stars cut in them. What's more to like? Even better, they went through the checkout at only 10% of their full price so I got about 20 bells for mere pence. Winner! While we were in there, there was the most torrential rain and hailstorm I have EVER heard. It was crazy and the hail was bouncing higher than the cars in the carpark!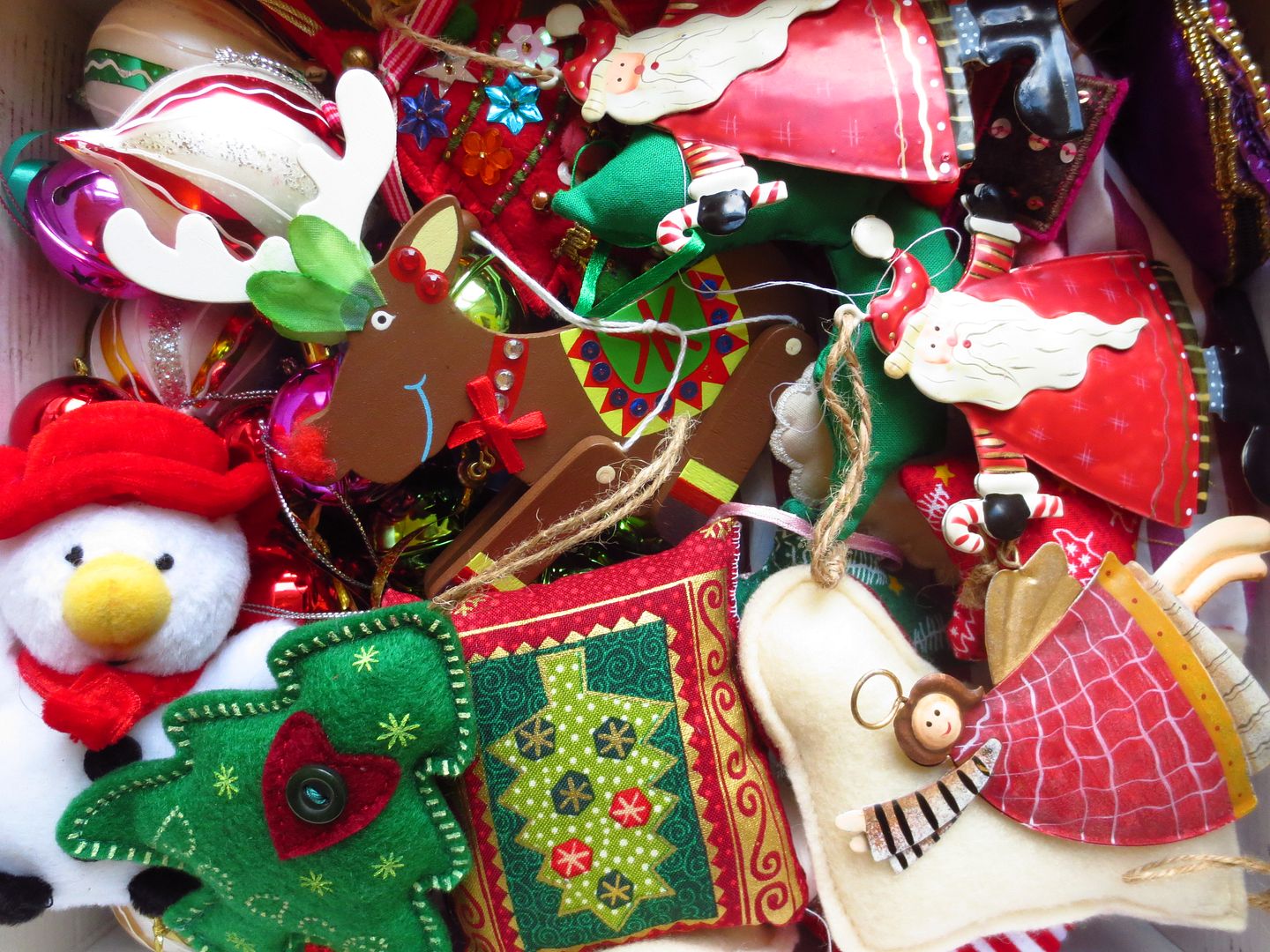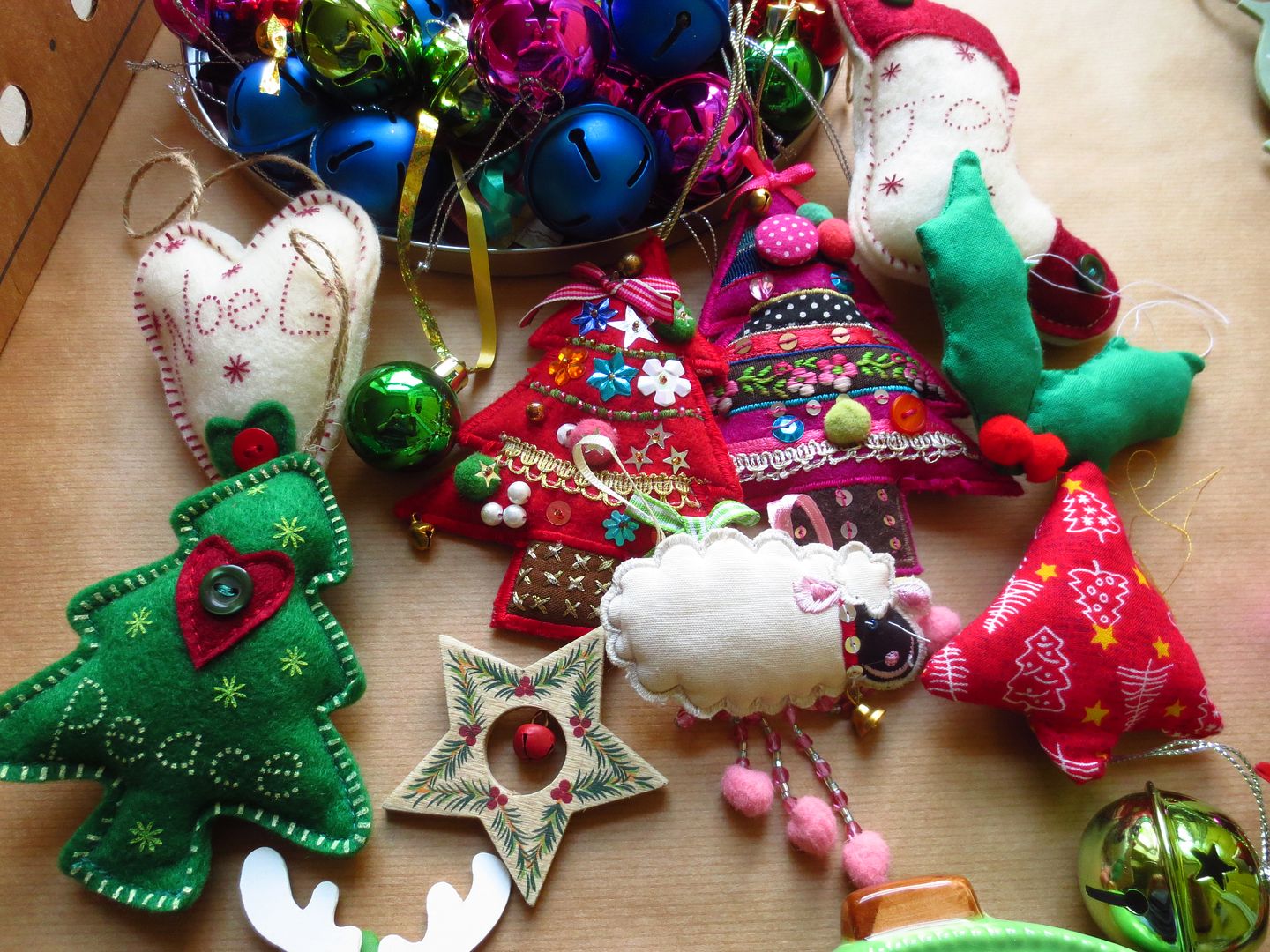 Soft Things: The tree, stocking and heart with the stitching on were from Roundhay Tesco when we lived in our first flat together in Leeds. 3 for £1 or something like that. We had a teeny tiny fake tree and I forgot to put any lights on it. These decorations looked comically huge and then the tree fell over, I lost interest and we went away for Christmas anyway. The two decorated trees are from Accessorize and I luuuuuurve them but they're quite big and a bit hard to hang on the tree. I do love them though and would happily buy more but I've not seen the same design in there since. The sheep is an Accessorize one too, I'm not sure it's technically a tree decoration but it's pretty cool. My mum put it in my stocking a few years ago and it used to live on the door handle on one of the doors in our old flat before being packed away with the tree decorations. I like it, it seems quite fitting to have a sheep decoration now that we live in sheep farming country. I made the holly and the red Christmas tree, again back in our first flat. I was convinced I could sew (I really can't) and that I could have a cottage industry making tree decorations (I really can't). I only made about 4 things, I did have another piece of holly but I think I gave it away. Can't remember who to!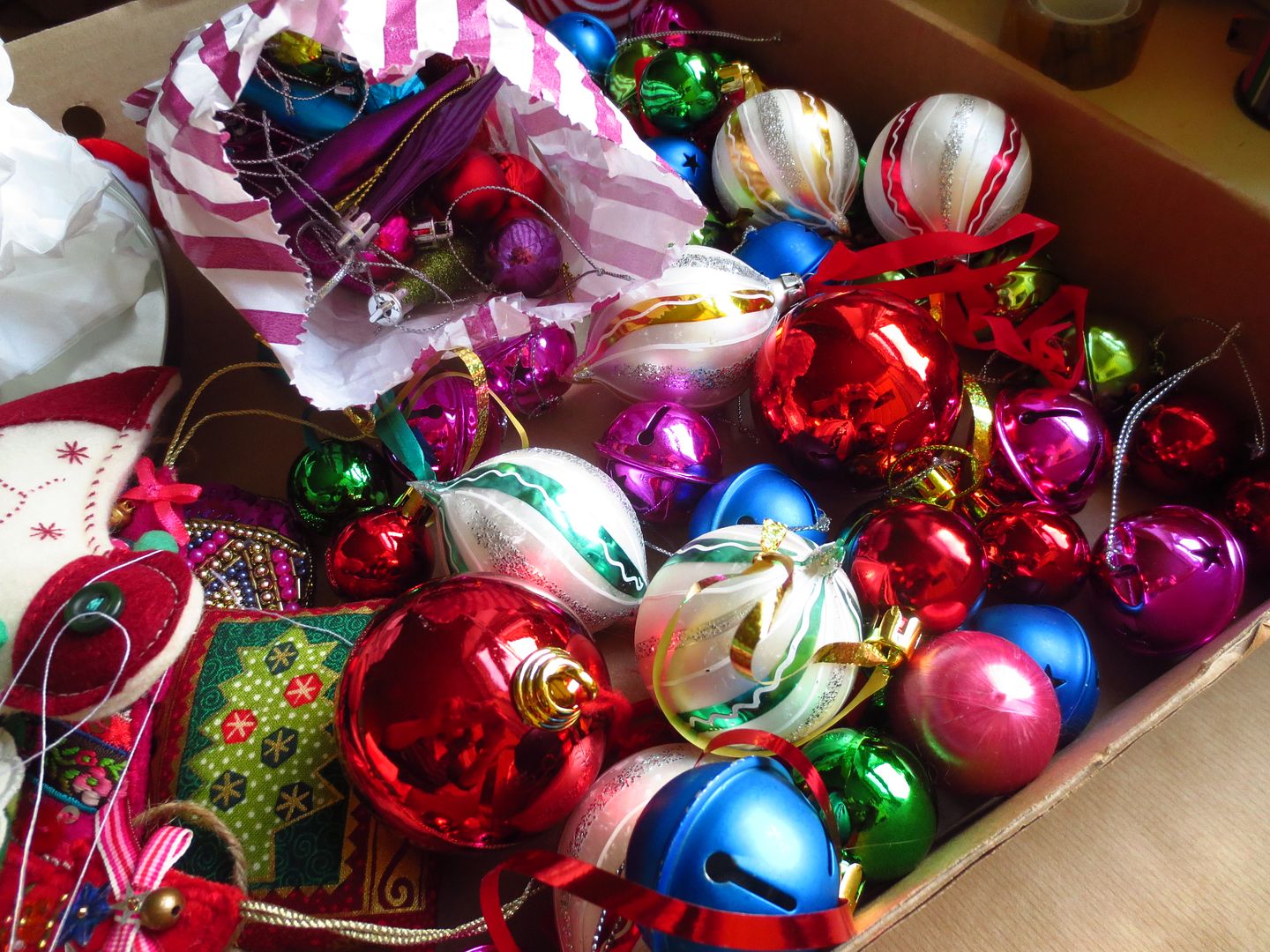 Miscellaneous baubles and stuff: (and another puffy decoration that I made) Most of these baubles were from a local charity shop last year for 10p each, that was a happy morning amongst lots of bleary early-baby days. All the glitzy ones in the paper bag are again cheap Tesco ones that again I failed to do anything creative with last year and only bought so that I could feel like I was joining in with decorating fun!
These are my favourite and best big decorations. Cecily Angel and Fat Santa. They're both handmade, Cecily Angel was made by my wonderful friend Tracy (details here: Handmade Over Yonder: Facebook / Etsy / Blog ) a couple of years ago and I really love her. I remember the first time Tracy showed me some of her work and I was bowled over at how talented she is. It's a total joy to hang Cecily Angel in pride of place about the mantlepiece.
Fat Santa was made by Snowfish (on Etsy ) a few years ago. I was a bit *eeek* about spending £14 at the time because I really was very skint, but I fell in love with the swirly beard and just had to buy him. I'm so glad I did! Most of my possessions are mass produced stuff and I really LOVE having some things which are handmade and individual. I intend to do it more.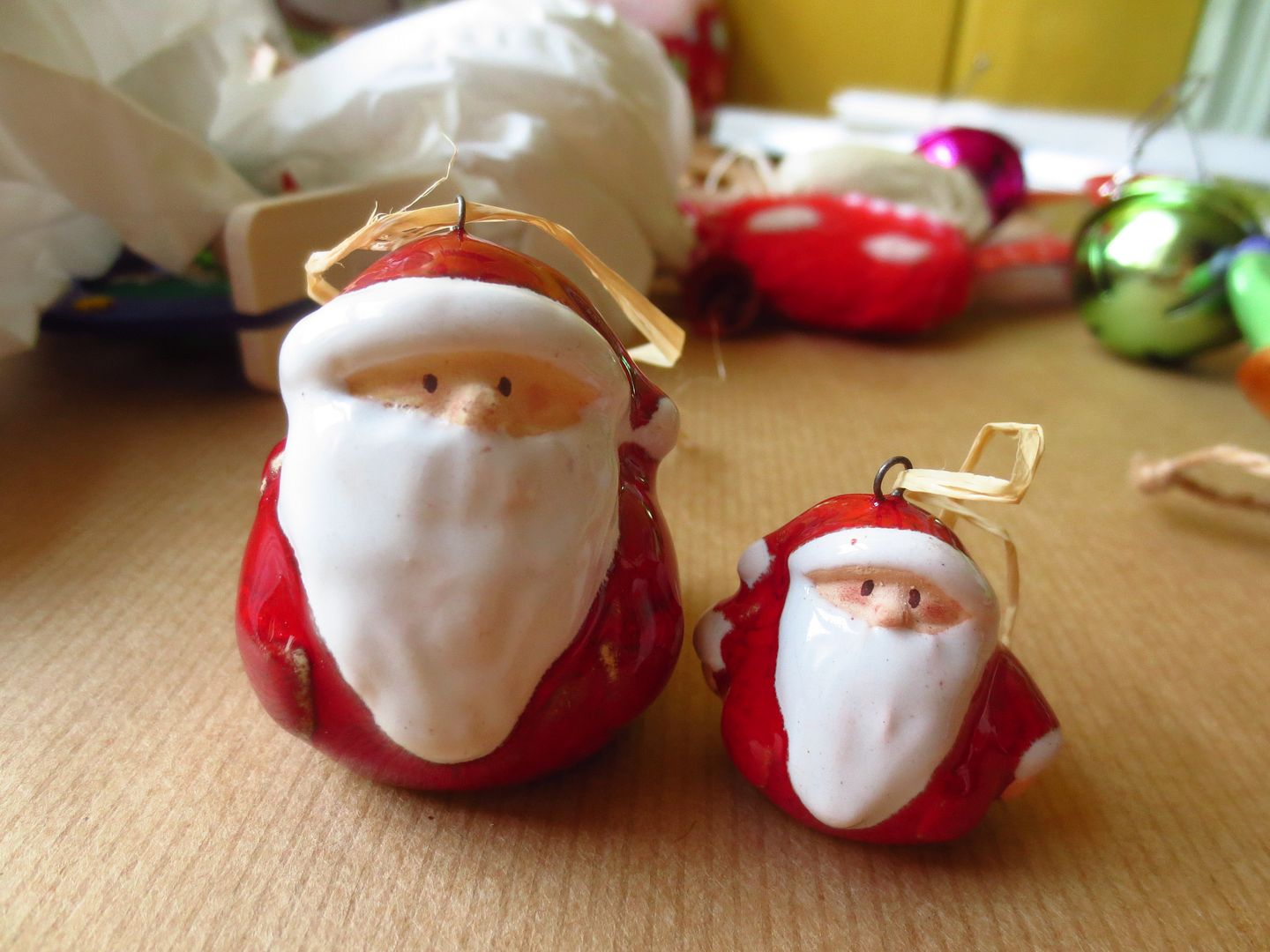 Dinky ceramic Father Christmasses: These were from the all year round Christmas Shop in York. My mum visited with my brother and younger sister when I was in uni and we went in there. I skived off my afternoon Bilingualism lecture (my lecturer was Not Happy but I didn't care, it was worth it.) to go and meet them and we had such a happy, festive time together. I don't like decorations to be too big and everything in that shop was far too big and also rather tacky. Then I found the larger Father Christmas and he was perfect. I then saw the even smaller one and he was too cute to leave in the shop. He is about the size of a £1 coin :-)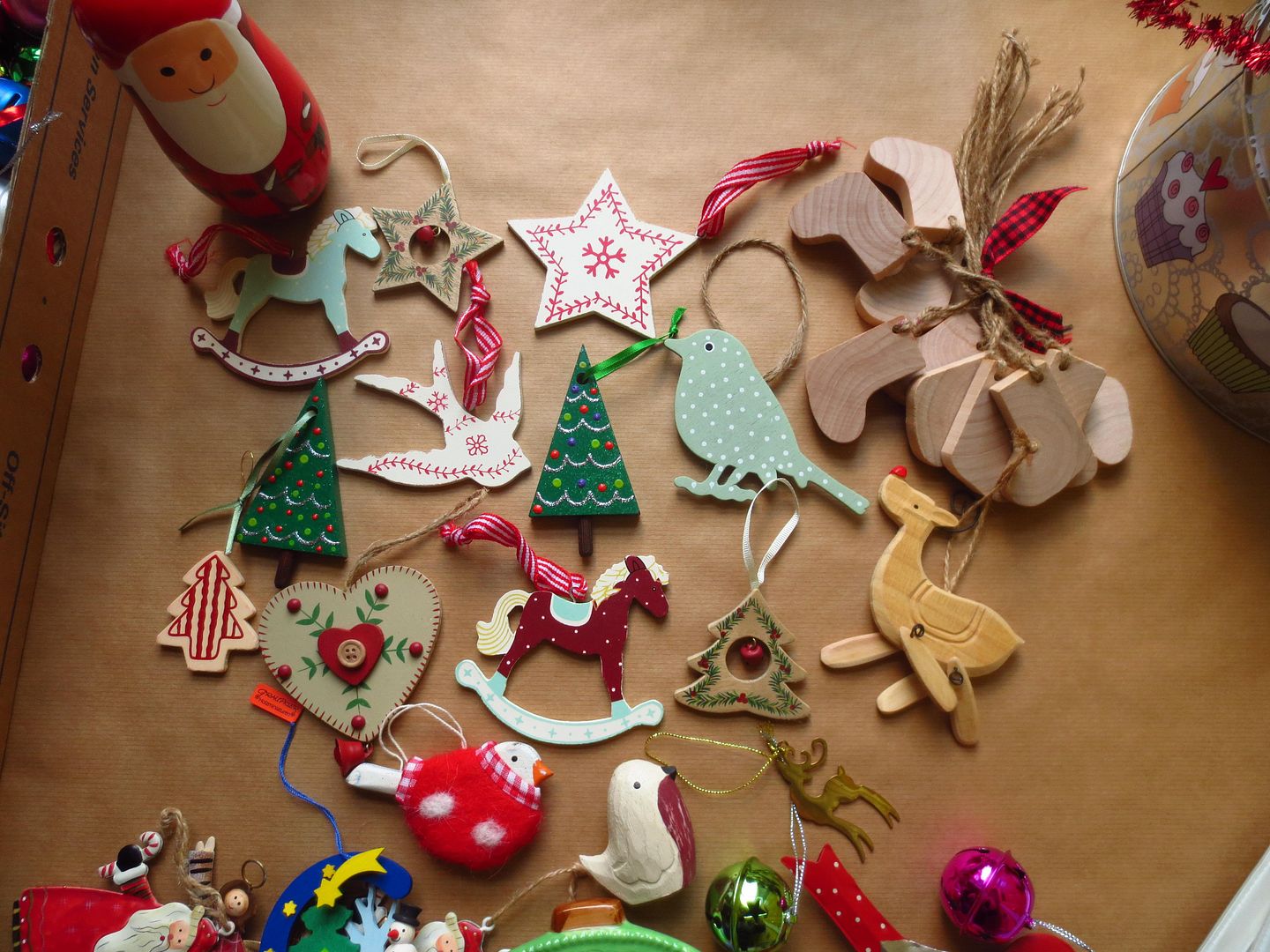 Wooden things: The Father Christmas Russian Doll set was from John Lewis and I bought it way back in 2009 (geeeez sometimes it's cringey reading back through old blog posts, I've changed so much since then.) when I was back living with my mum after Andy's redundancy. I had no income and £6 was a bit frivolous but I loved them then and I love them now so that's all good. The two green and glittery Christmas Trees were from the Harrogate Christmas Crafts (or whatever it's called) show in 2008 that I went to with Katherine, before either of us had any children which feels like a verrrrrrry long time ago indeed. They're just smooth wood, painted green and then decorated with glitter paint but they're so simple and effective. I think they may be my favourite ones. They're more sparkly in real life! I think they were made by children at a school for children with learning difficulties if I remember rightly.
The horse, bird, stars, heart and Christmas Tree with a bell in it were a very thoughtful gift from my sister Rachel at Christmas in 2010. She knew it was our first Christmas in this house and that I was dreading it – no heating, not enough dining chairs, and no decorations. She wrapped them all up in fair isle style wrapping paper and they were such fun to open :-) Really thoughtful and it makes me smile to look at them now. I'm so happy to be able to hang them on my tree this year.
The bunch of wooden stockings were from ebay a few years ago back when I was convinced I could make my own decorations. I haven't done anything with them yet but they're very tactile and I actually quite like just smoothing them with my hands! Ha. Looking at them now though I can think of a lot more things to do with them (if only I had the skills or the time eh) which is good.
Robin in a woolly jumper was from the Apothecary Shop last year, a little treat for myself. He is very sweet. Andy won't touch him because his jumper is woolly. Wimp. The white robin is an East of India one I think, I bought one and then my mum gave me one too so they both sit together on the mantle piece keeping each other company. The wooden reindeer with the ungainly legs was from Tesco in a "nice tree decorations" shocker, and the little metal one was a 10p charity shop one last year. I can't remember where the dotty bird was from, shame on me.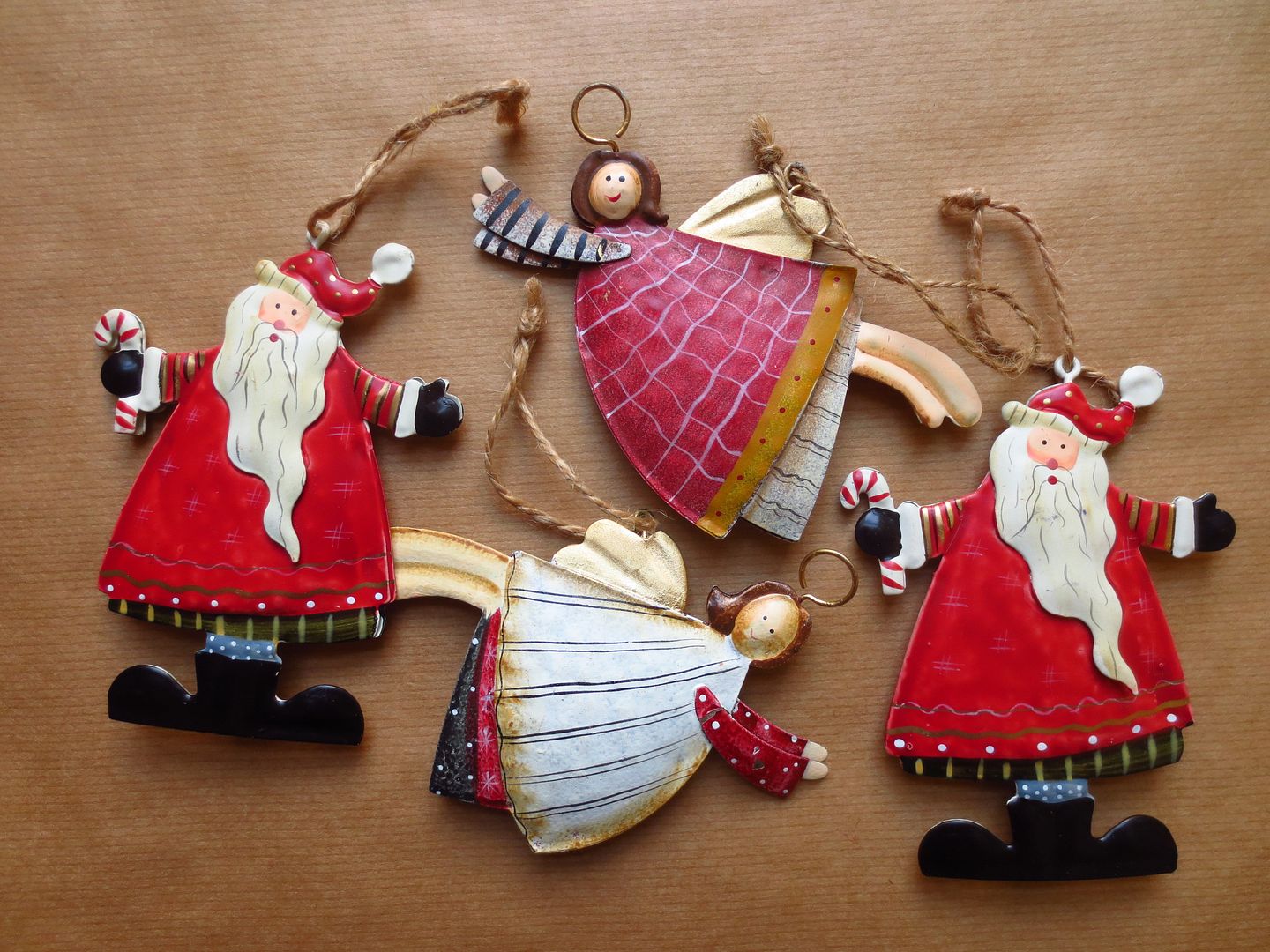 These are some of my favourite ones, they are by Gisela Graham and are made from metal, they are slightly 3d and really nice to hold. I love the style of them. They are all from my mum, given over various years. I think the shop where she works used to stock them. I wish they still did, they're lovely.
Pheeeeew!
And there is the story of my tree decorations. Are you bored now? Still here? Anyone … ?
Ah don't blame you!
x