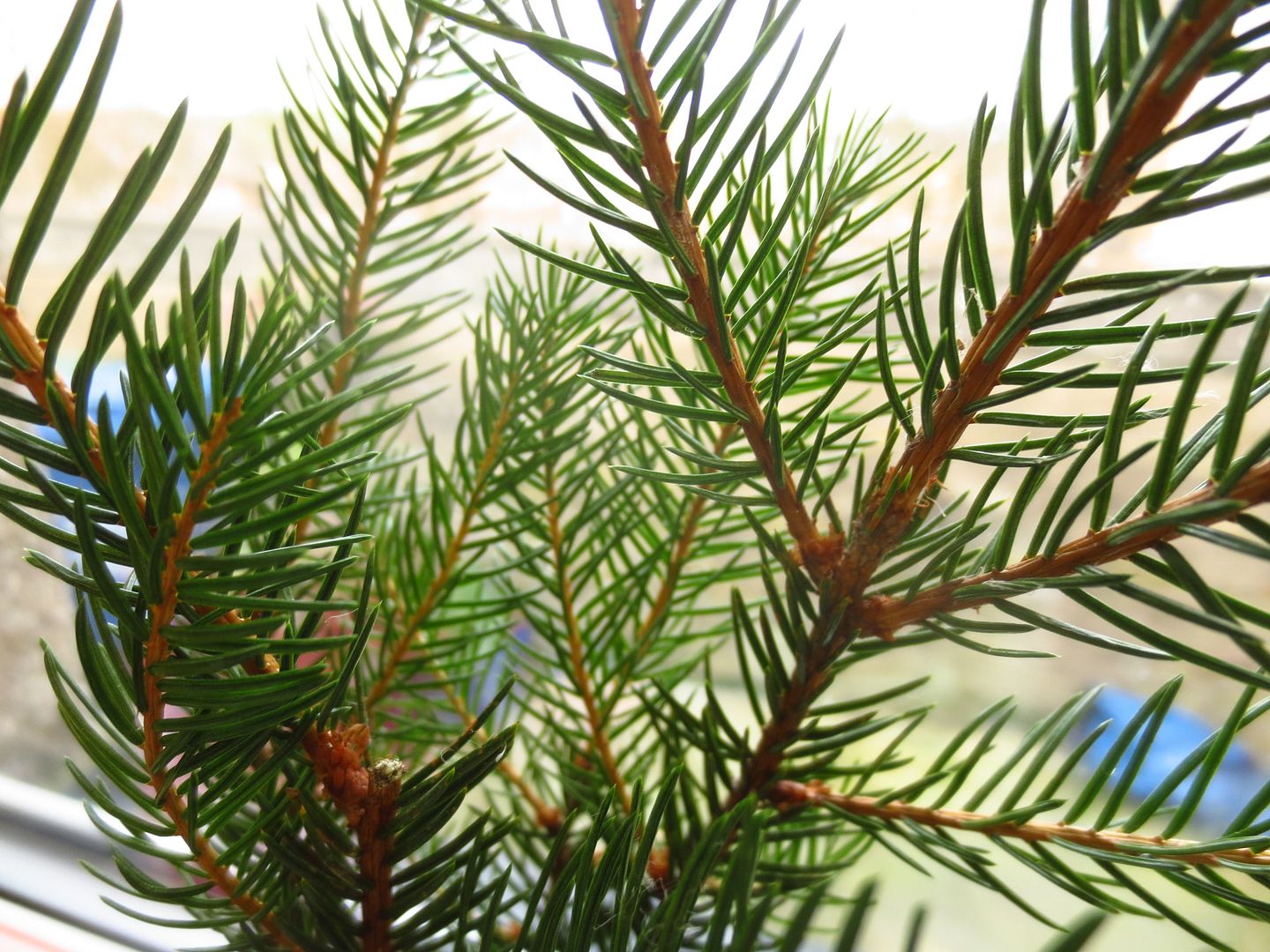 Something very exciting happened here on Wednesday. It's taken me a while to calm down enough to write about it and I'm still all giddy about it. You guys … we have A CHRISTMAS TREE! A real, live Christmas tree. This is the first tree we've had, the first time I have got out all my decorations with a view to using them. We've lived here for three years and this is our fourth Christmas in this house but the first one with a tree. If you've been reading for a while you'll know that this is a really big thing for me.
On Wednesday morning I decided: I AM going to decorate for Christmas and I am going to do it NOW. I took all of the things off the mantle piece and cleaned it. I got out my box of Christmas Things from the airing cupboard upstairs and stuck TTB behind his stairgate in his room and I sat on the landing and unpacked, choosing which things to use and which things could stay in the box because it's been such a long time since I bought them that I don't like them any more. I passed a few bells to my boy and he was happy to stand there jingling them and chattering away. I found a little jelly cat polar bear that plays a few Christmas tunes and passed that over to him too … oh WOW mummy it's a BEAR! and it plays MUSIC when I squeeze his tummy!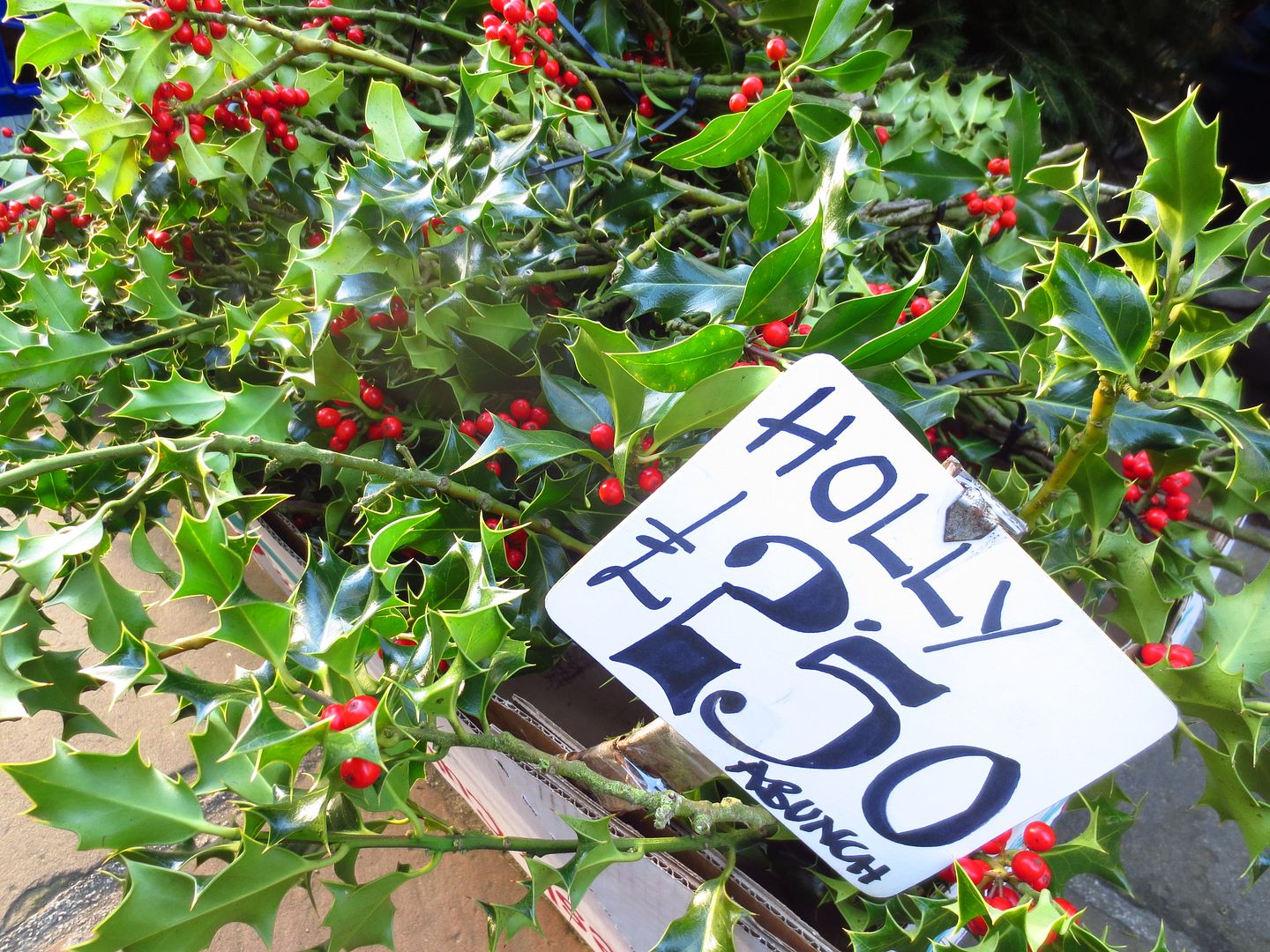 I was still a bit sad because we had decided not to have a tree, and didn't think there was anywhere to fit one in, particularly because of a certain curious toddler but I thought that we could at least have lots of holly and winter greenery on the mantle piece with some other decorations too. I wondered if perhaps the market stall would have very tiny Christmas trees in pots and maybe we could just have it on the mantle piece.
We chatted to the Flower Man but they didn't have any teeny ones. He said he'd look out for a very small one for me when they went to buy more trees the next day, and to come back on Friday to see if they'd had any luck. After I'd finished talking to him, Andy said … "You know … if we did move a few things around we probably could make space to fit one of these little ones in …" and that was all of the convincing I needed! As for Tiny Tin Bird, Christmas trees are prickly so surely it's self-deterring and he will just leave it be. Right?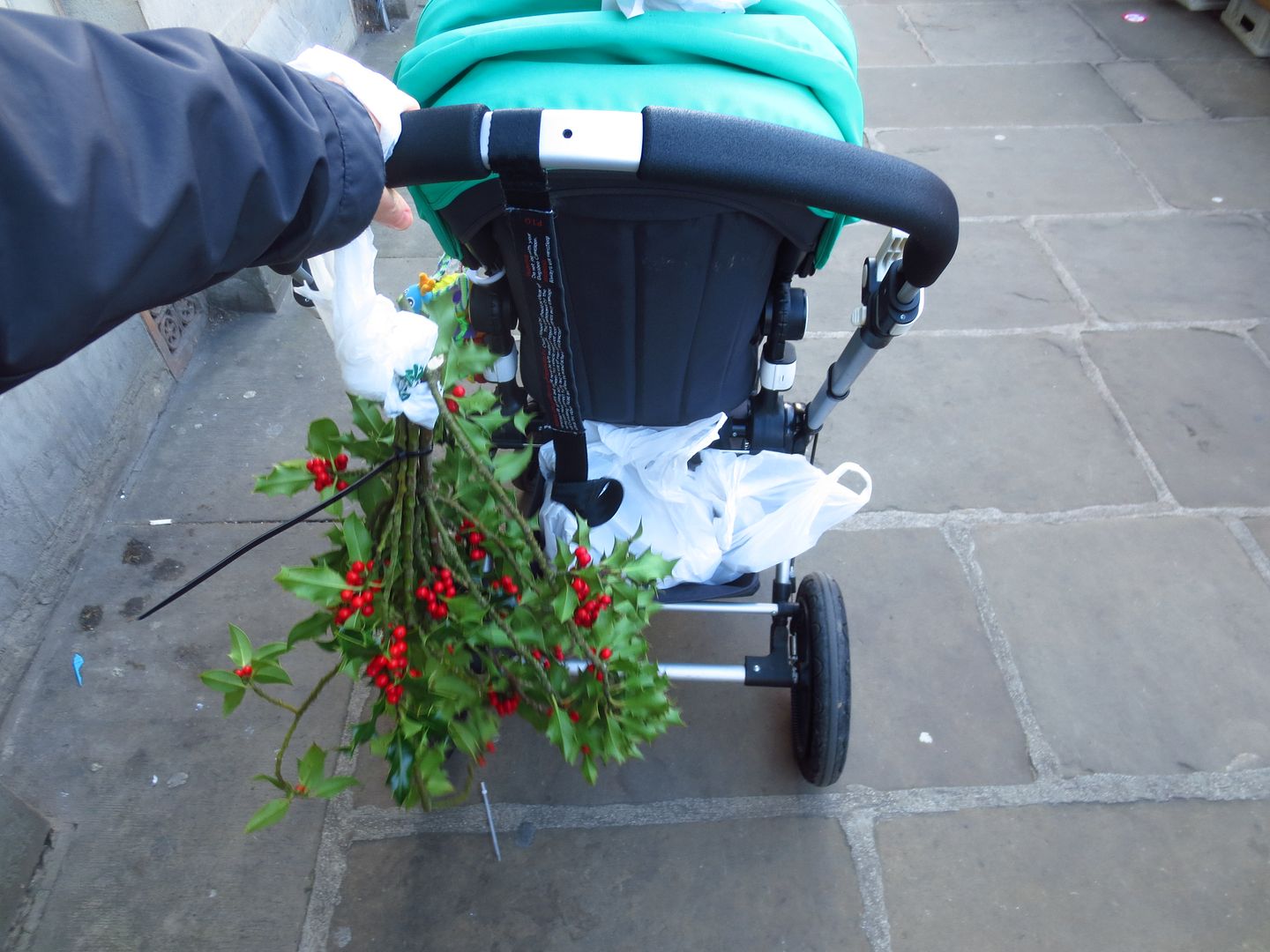 We paid our money and I skipped all the way home, pushing the pushchair and carrying my bunch of holly. Andy carried the tree! I was SO EXCITED and I couldn't believe that we actually bought one. It's in a pot as well so we are going to try and grow it and use it again next year. We stood it in the garden because we had a lot of moving-things to do before it had an indoor home: the tree needed to stand in front of the Expedit but that's where the table usually goes. We moved the table along to in front of the (not used) fireplace, but that's where TTB's toys and little chair go, along with an activity table that needs returning to it's owners so we've moved those to in front of the sofa for now but they need a better home. Then we had to scrub the floor because it wasn't very accessible when we last did the rest of the floor but it looked shocking in comparison, so we did that. All while TTB was having a nap. Confused? Yeah me too and it took a while to get it sorted! I'm getting there but I haven't sat on my sofa in two days as it's covered in everything I couldn't find a good home for. BUT. It WILL get done! Never fear, things always get done, they may just take some time.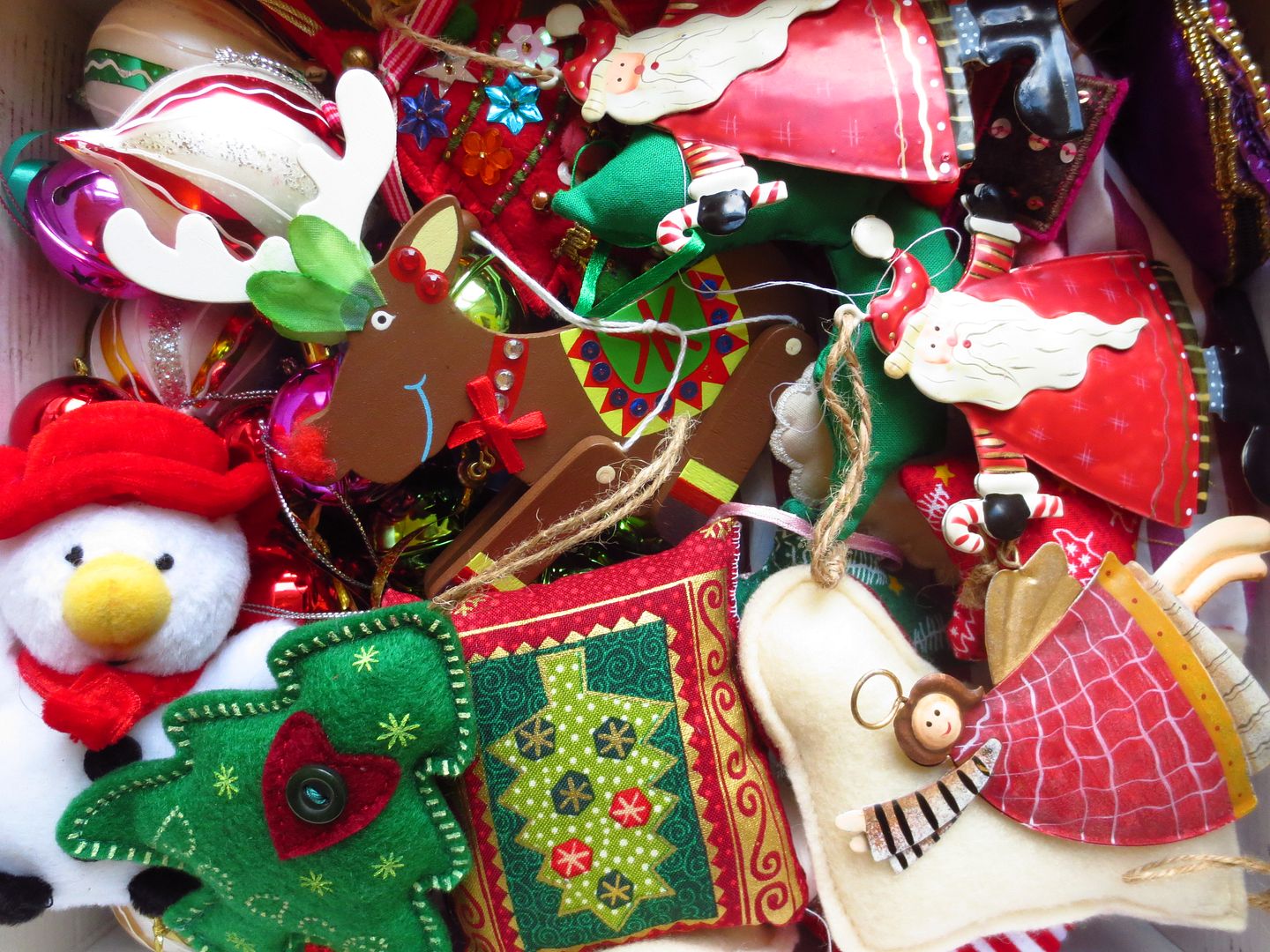 Now then, let's talk about decorating. Growing up, my family always decorated the house for Christmas just when we broke up from school. We would put all the Christmas cards that we received around the walls on lines of thread and they looked like bunting. I remember that we always had so many cards! My dad taught at the school, and then when me and my siblings were there too we just received a huge amount and we used to be able to get two rows of cards around the walls of the living room, dining room AND the hallway.
But the tree was special, and we would only decorate it on Christmas Eve. Oh we used to beg and pester to do it sooner! "Just ONE decoration, PLEEEEEEEEEEEEEEASE! Or the lights! Can't we just put the lights on? Pretty please? " but of course, we were always made to wait until Christmas Eve and it was just THE most special thing when we did it. I'm sure there was the odd bit of bickering (there were four of us children after all) but the over-riding feeling is of pure joy and excitement when the box of decorations came down from the loft and we opened it up to be greeted with all our favourite ones. We'd wait, clutching the decorations that we simply HAD to put on the tree ourselves (and not let any pesky siblings get there first) for my mum to put the lights on the tree and then it was a decorating free for all. So good. And then to sit back and just look  at the tree and absorb every little bit of what that meant: the tree was decorated! That means it is Christmas Day TOMORROW! Oh and the smell of the tree … nothing compares to that scent.
This is what I can smell, right now, as I type this. The Christmas tree behind my chair, slightly warm under the lights and exuding the most glorious sharp pine scent. Mmmmmmmmm. We weren't going to decorate it just yet, but we brought it inside because we have had a 70mph storm and it wouldn't have survived in the yard. And then, well then we were just too excited to not put the lights on it.
Soon though, soon I will dig in to my own box of tree decorations and we will decorate our tree together. Our first tree. It's so very special and I am full to the brim of happiness and excitement for Christmas this year. O Christmas Tree, you are so wonderful.