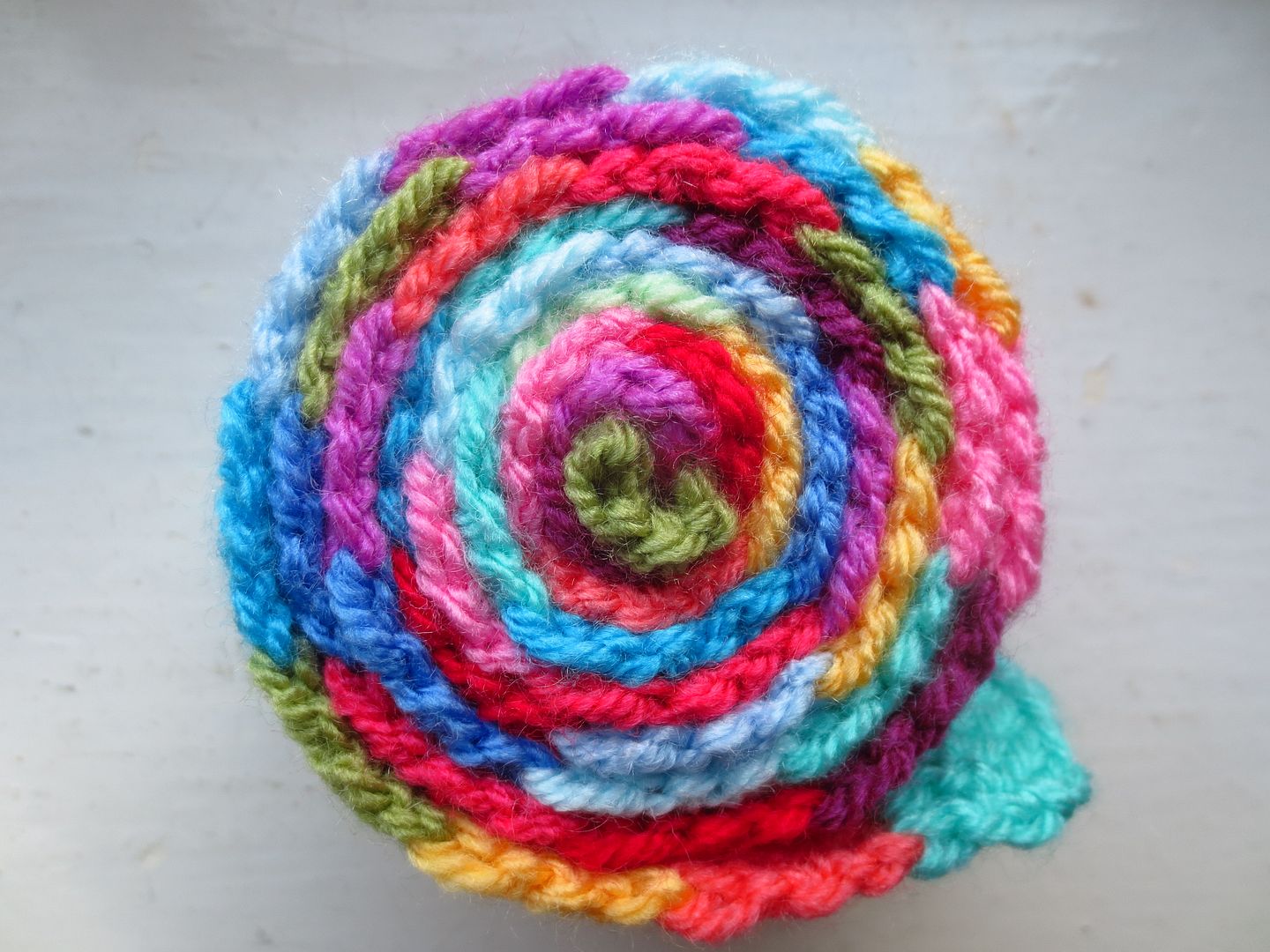 I've made a lot of crochet blankets. I've made a lot of stripy crochet blankets, and a lot of brightly coloured granny square blankets. (1, 2, 3, 4, 5) When I look at photos of these blankets I always see things that I'd like to change about the colour orders. Some of them too "too rainbow-y" when I was going for merely un-patterned stripes. Some of them have better colour order at the start of the blanket than they do in the middle, and the middle is the bit you see first when you look at it.
I've been feeling a bit "blah" about crocheting lately, and not very inspired. It's difficult to make things when you're not feeling inspired because it just feels like a chore and that is the opposite of what a hobby should feel like. I've come to feel that knitting my Boneyard Shawl is also a chore at the moment because each row is so long it doesn't feel like much of an achievement when I spend a whole evening knitting and only do two rows. Also, knitting in just one colour was soothing to begin with but now I feel that I'm aching for a bit of colour again …
I started by getting out all of my bright Stylecraft yarn and laying it out with similar colours together. It does look lovely like that. Over the next couple of naptimes I played with it for a while, laying out different colour combinations and seeing what looked good together. I naturally gravitate towards making a rainbow and I really wanted to push myself and move away from that. I tried to put hot/cold colours together and try to put contrasting colours next to each other. I did start off with a bit of a rainbowy look: lipstick, fondant, shrimp, saffron, spring green, aspen, turquoise, aster, cloud blue and sherbet but then I changed direction and put the pink fondant again.
It looked so pretty laid out along the back of the sofa and I just really wanted to crochet up a whole blanket there and then. Boom! The inspiration that I'd been looking for. I chained 10 stitches and then did two rows of each of the colours I'd selected. By the end of naptime I had done about 20 rows and I couldn't stop! In between playing with TTB I'd arrange a few more colours on the table, write down the order of them and then add them one by one to my growing stripy strip of crochet.
Then I thought … why don't I just sample a whole blanket out like this? Decide on all my colours like this before I make a blanket and then I know it'll look good when it's finished. So I did. It grew over the next day as well (I seriously couldn't stop!) and I was so happy with it, I just kept running it through my fingers, rolling it up into a spiral and teasing TTB with it (it makes a good tail and he liked to pull it off!).
So pretty! It was really satisfying to work like that and get a real colour fix. It worked up very quickly compared to doing the long rows of a blanket and it was great to see how the colours worked together so quickly. That's one of my favourite things about making blankets is seeing the colours work together.
This is as far as I've got with it and I think I might start making a blanket with it soon (possibly. We will see.) I keep thinking about all the other things I could use it for. I could make another Elmer blanket and use this as a colour map to make it easy to decide where to place the squares. I am half tempted to make something out of little stripes like this, a cushion perhaps as a blanket made of tiny strips like that would look quite busy. Imagine about twenty strips made up like this and then all sewn together … that would look amazing. Or even three or four strips but with each colour made larger, say, 40 stitches and 4 rows and then all sewn together.
I would quite like to make some really long ones and use them like tinsel on a Christmas tree but that will have to wait as I don't think we've got room to have a tree this year. (There are literally NO safe spaces now we have a toddler!)
I'm so happy to feel inspired with crochet again, I really am. I do love it and I was sad to feel like it was a chore. I am definitely going to sample all my future blankets like this, it is a lot of fun :-)
xx