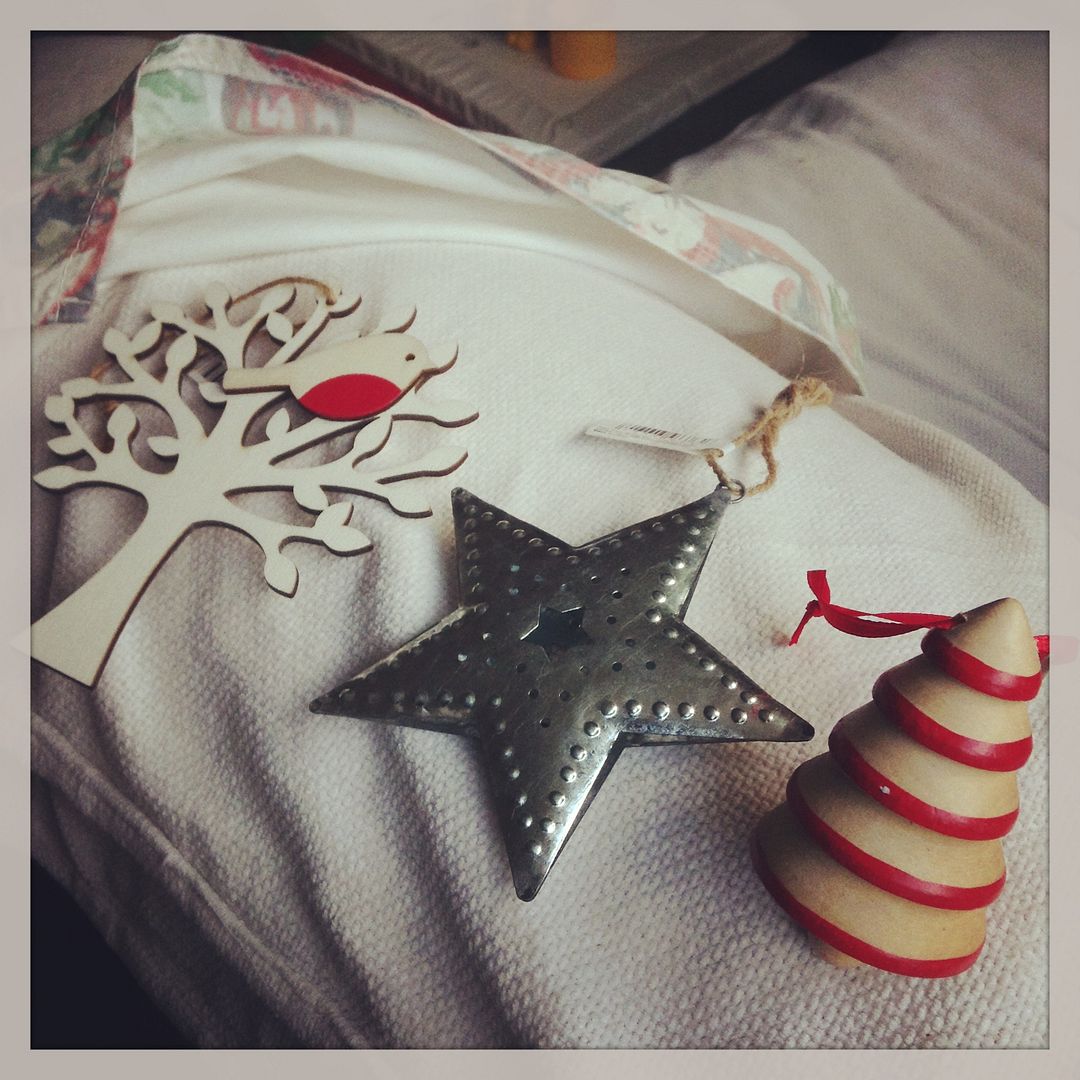 Can I say "Christmas" on a blog when it's still October?
I didn't feel excited about Christmas last year at all. I felt overwhelmed, tired, lonely and sad and that there was some kind of ridiculous pressure to do something fabulous for "Baby's First Christmas" that I didn't see the point in subscribing to. As it happened, I had a lovely day: Tracy invited us all to lunch and we stayed there until TTB really needed to come home at about 9pm and then he slept for 4 whole hours in a row which was his sleep record for approximately another six more months!
This Christmas feels a lot more exciting, possibly because I'm not sleep deprived and possibly because I can legitimately buy actual presents for TTB now. I'm making the most of being able to choose what he receives as from talking to my friends with older children, this does not last for very long and he will be wanting iphones and kindles by the time he is three or something. This year, he is getting as much Duplo as I can reasonably give without my family laughing about my Duplo addiction, among other things.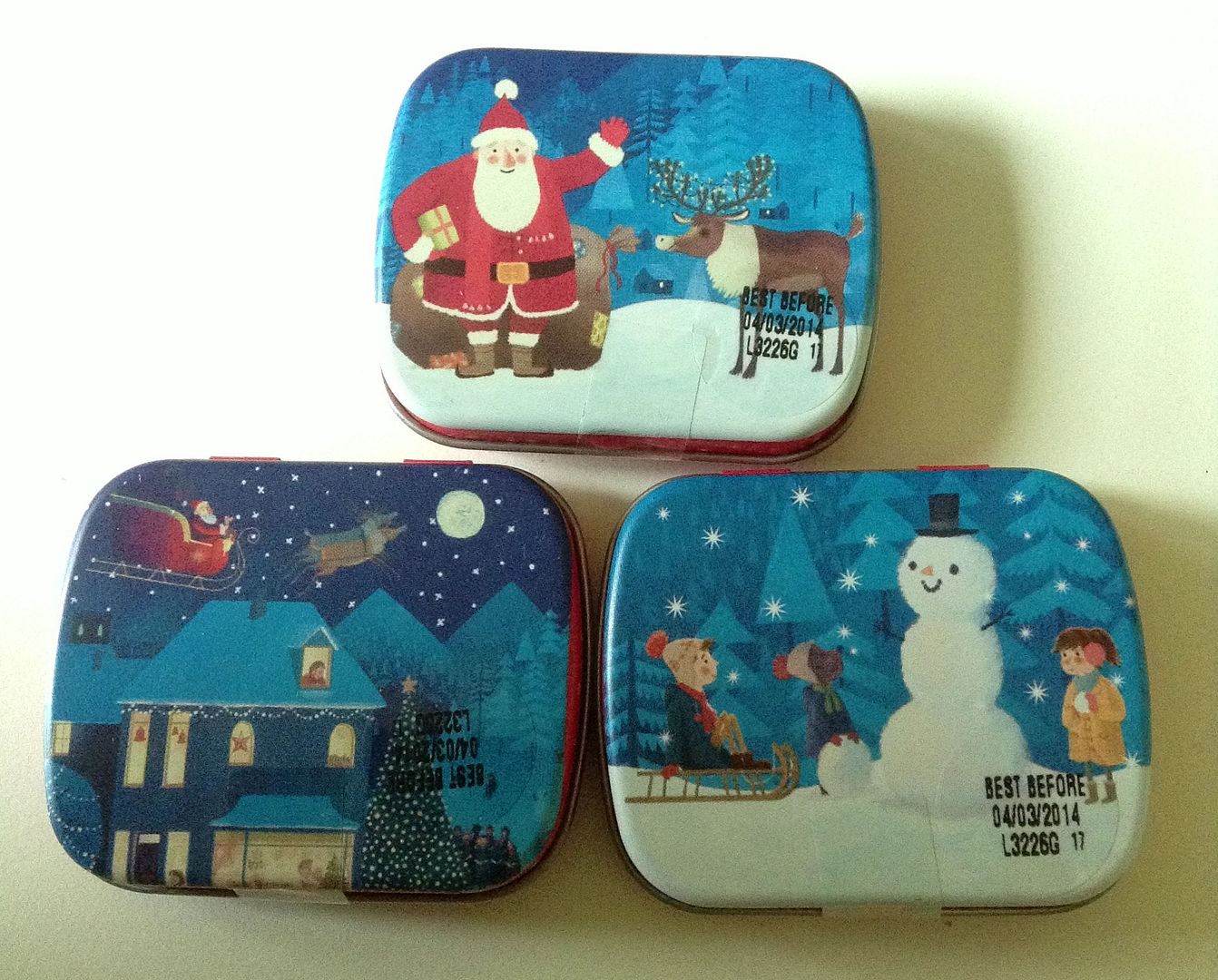 I'm ignoring all of the people who complain about Christmas things being in the shops too early. I think it's great and I love seeing what designs and themes different companies are going with this year. Marks and Spencer are winning for me with their range, the illustrations are beautiful and I bought these three little tins as soon as they came into the shops (I'm nothing if not predictable). I've bought some Christmas cards too; I like to buy a variety and send people one I think they'll like. People who I know don't care just get a non-fancy one though. I like to send nice cards to people who appreciate them really.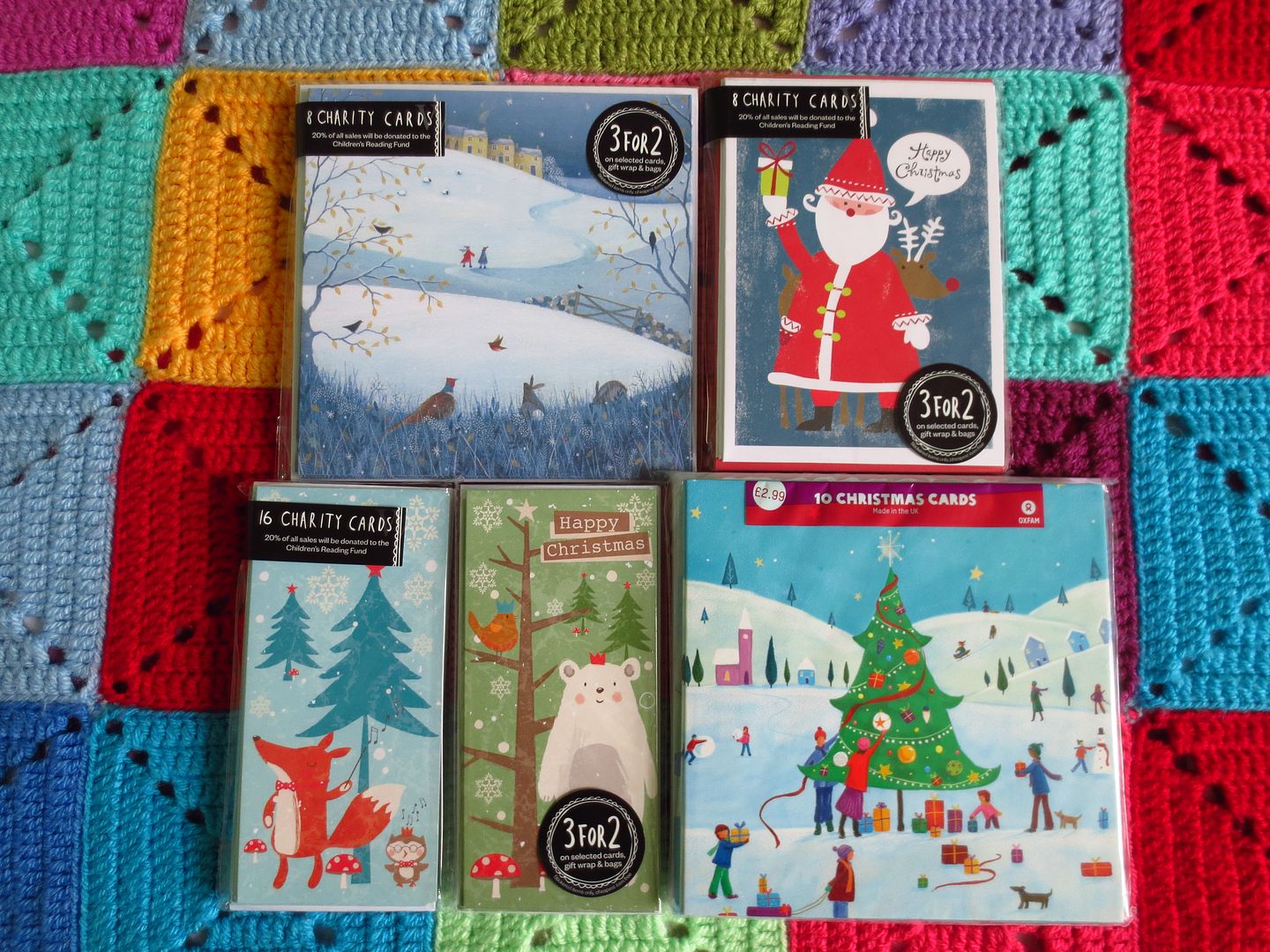 I'm sure I've mentioned before that we had a box of Christmas books as children and they'd only come out of the loft around mid December when we got the Christmas decorations out. Those books are I think my fondest memory of Christmas, really, and I've been slowly building up my own collection since I moved out. I enjoy searching in charity shops and the occasional look at ebay trying to find the same ones that are in the "family" box of Christmas books. I have three siblings and we are all fiercely adamant that no one person can have any of the books or toys from home so my mum keeps them all and TTB is allowed to play with/read them when he visits (and I get frisked on the way out, apparently). Making my own collection is satisfying though.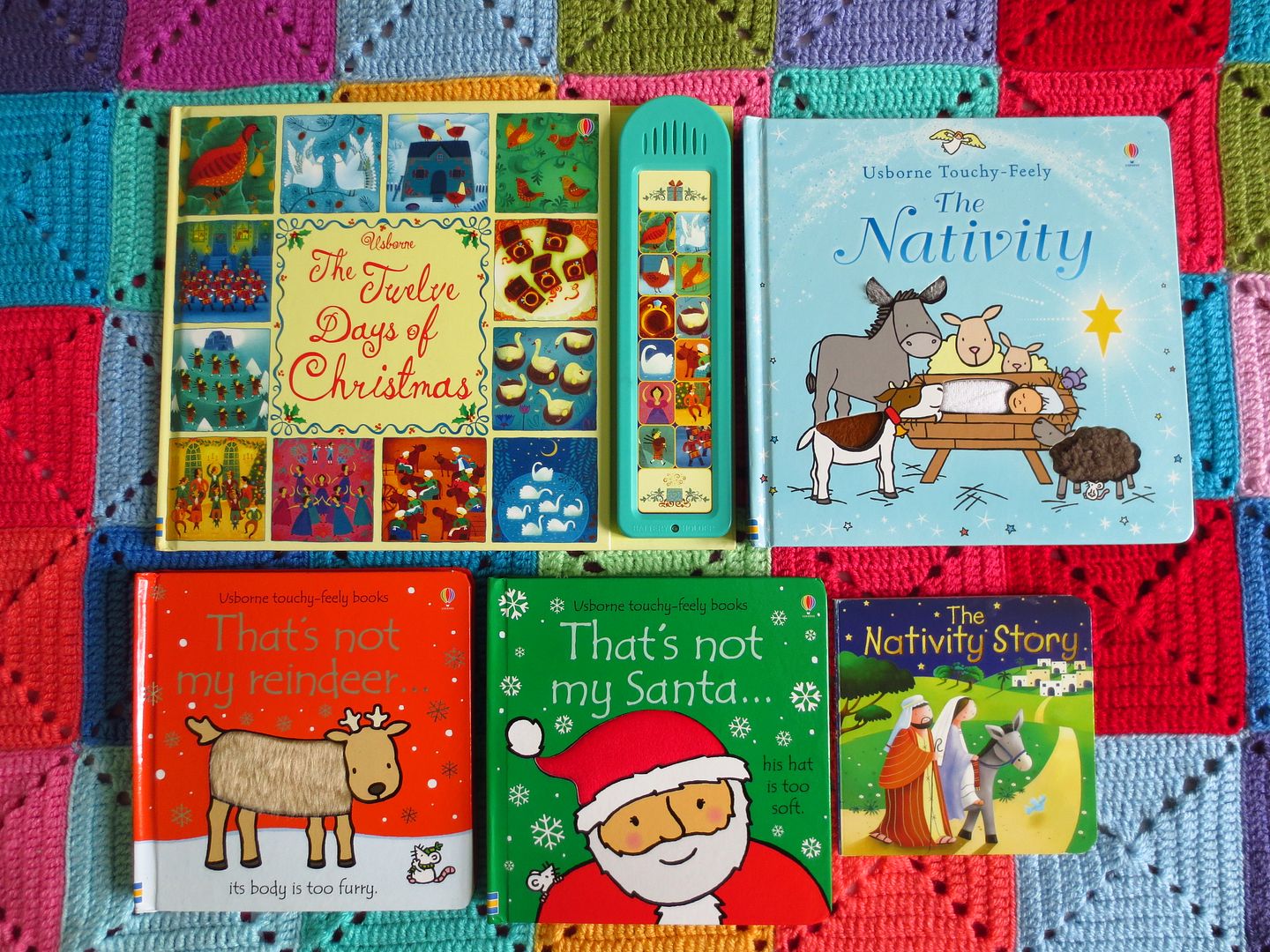 I feel quite a lot of responsibility to make sure that Tiny Tin Bird has good Christmasses. Don't worry, this is only self-inflicted feelings of responsibility. I just loved it SO much as a child that I want him to experience the same. It's been difficult for me to "break away" from my family, Christmas wise, but I'm feeling a lot better about it now and I think I've made the transition (in my head, I mean) from sister/daughter to mother/provider of the Christmas now.
Now, I know that something can only be called a tradition when it's established and whatnot but I've been thinking about what I want to do for TTB and I've decided to give him new Christmas books at the start of Advent, perhaps even one on each Sunday of Advent, I'm not sure yet. It doesn't really matter too much this year anyway and it will work out whatever way in the end. It's all very well collecting beautifully illustrated and wordy Christmas stories but he won't be interested in them right now so I've bought these ones which are more accessible to him at the moment. The sound book
 is fab despite being louder than I anticipated (or my mum, when I played it down the phone to her – the last button plays the whole song through!) and I'm sure he will enjoy it like he has been enjoying his Room on the Broom soundbook. The "Touchy-feely Nativity
" has a fairly dodgy title (I couldn't bring myself to buy "Touchy-feely Father Christmas
") but it's nicely illustrated and has tactile bits for him to touch, as do the "That's not my Santa
 / Reindeer
" ones. The little Nativity Story one is a bit rubbish and was greeted with horror by my sisters as it says "feed box" and not "manger" but I only got it so that my order on Amazon qualified for free postage so I'm not too upset about that. I've got my eye on more books but there is plenty of time to buy more and I'm trying to restrain myself a bit!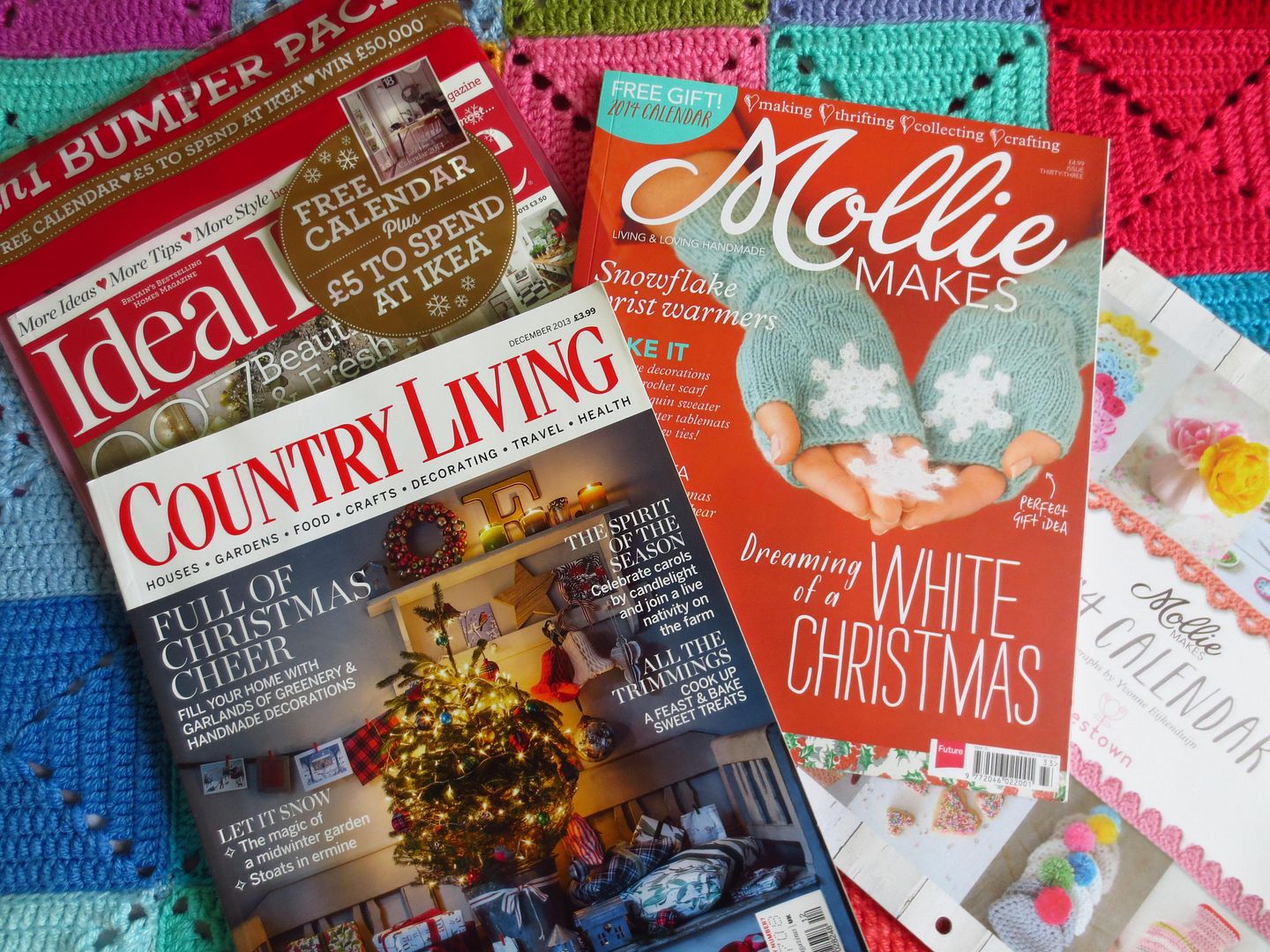 I bought myself three new Christmas decorations from John Lewis (they're in the top photo), I'm really pleased with them. I don't have a theme for decorations and prefer to buy ones I just like, really. I've also been enjoying Christmas magazines. Yay! I haven't bought magazines all year because I think they're too expensive at the moment, but my mum has really kindly subbed me to Country Living using her Tesco points (thank you xx) and happily the first issue I get as part of that sub is the Christmas one. It's all so pretty! I keep going back to this page: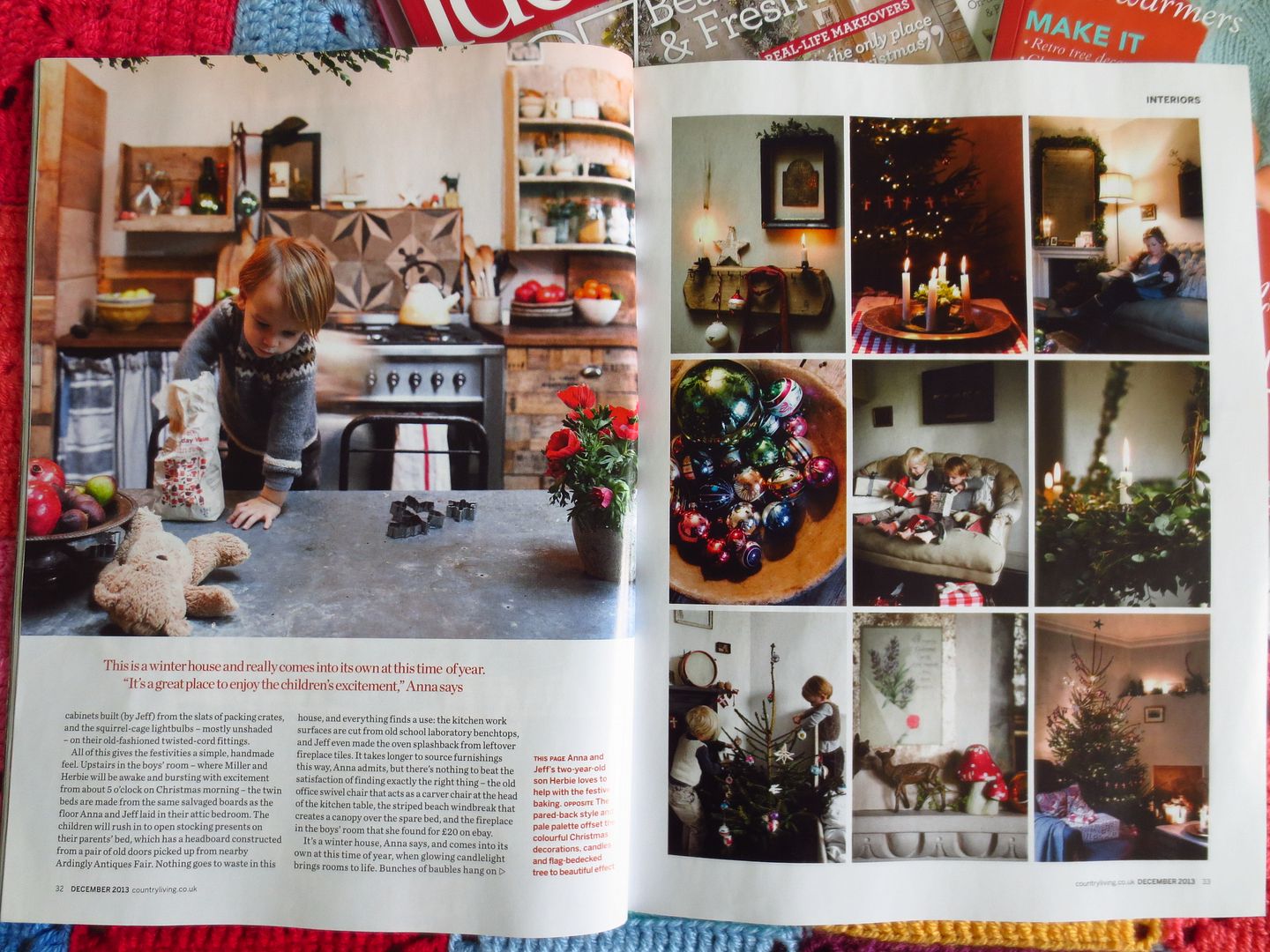 because look …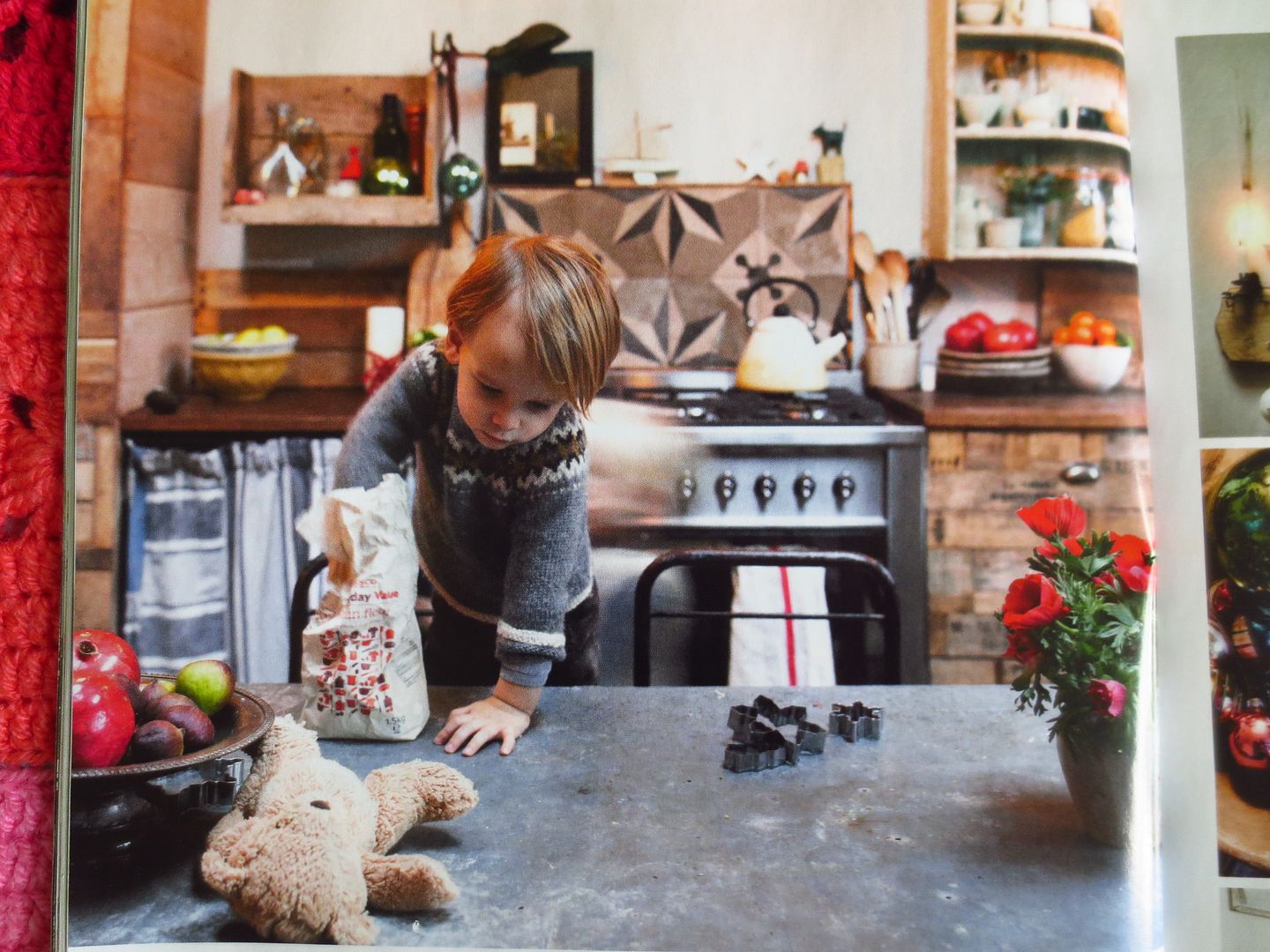 a helper! This is like seeing TTB in a couple of years time and that makes me hug myself and do a little happy dance in my mind. I feel so incredibly blessed and lucky and thankful for my little boy and my family, I really do. He's wonderful and I delight in him every single day. (Side note: today he has learned to open the door and climb onto the sofa and has realised he can reach onto Andy's desk. NOTHING IS SAFE! Still love him but man, he's a pickle. A very pleased with himself pickle though.)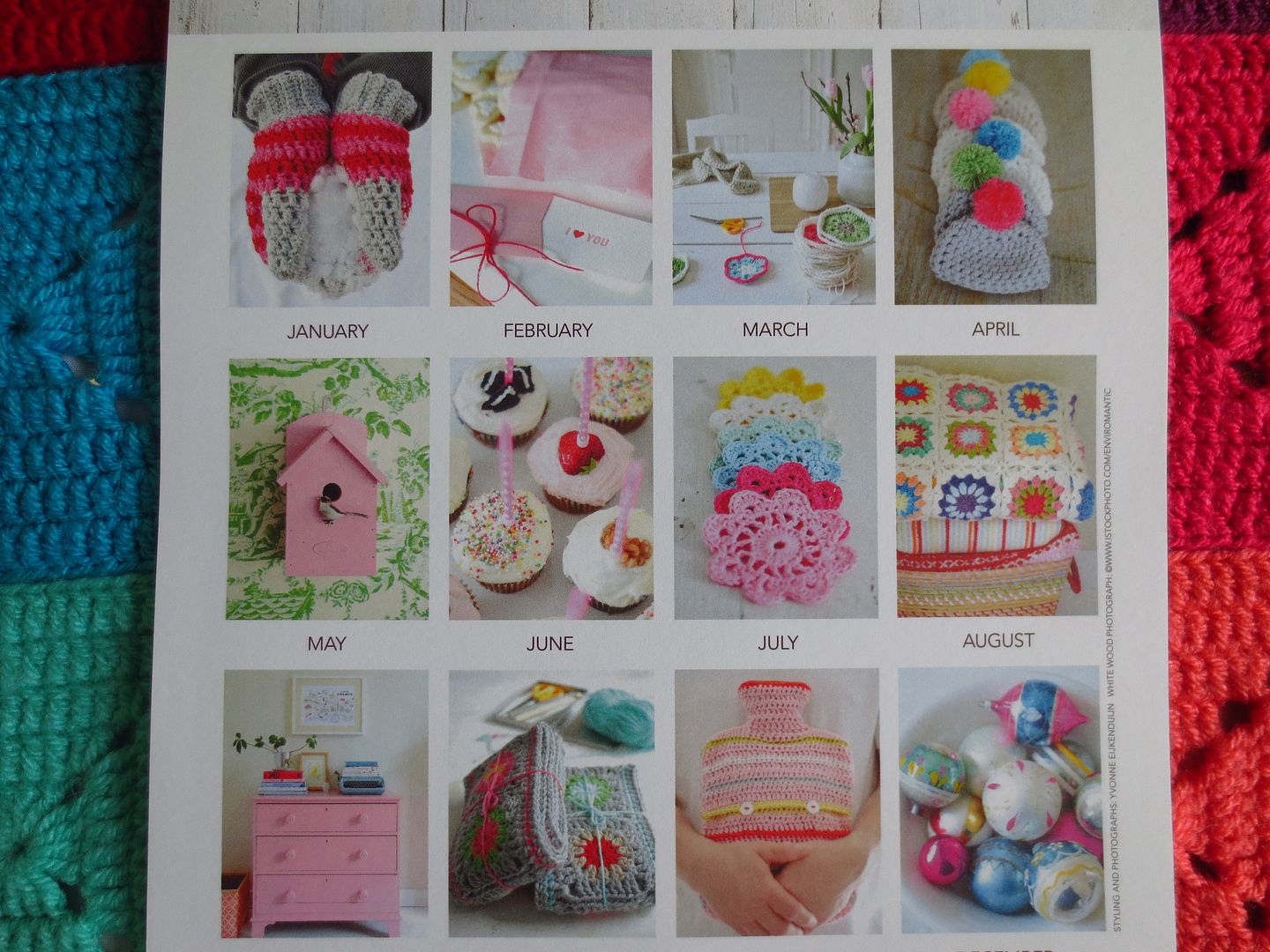 I buy Ideal Homes Christmas issue every year for the calendar because it's my favourite one. We are saving the October photo from the current one (2013) because it's just exactly how we would like to make our dining room look. Me and Andy almost high fived each other when we were looking at it because we've been looking for inspiration for this room for ages. I don't usually buy Mollie Makes because I think it is dear, but the beautiful knitted mitts on the Christmas issue lured me in and then I saw that it had a free calendar so I thought, why not. Turns out, the photos are all by Yvestown. Yes please!
I can't tell you how many times I've lusted after this cushion!
Christmas magazines are one of those simple treats that feels really luxurious. Mmmm. Yes.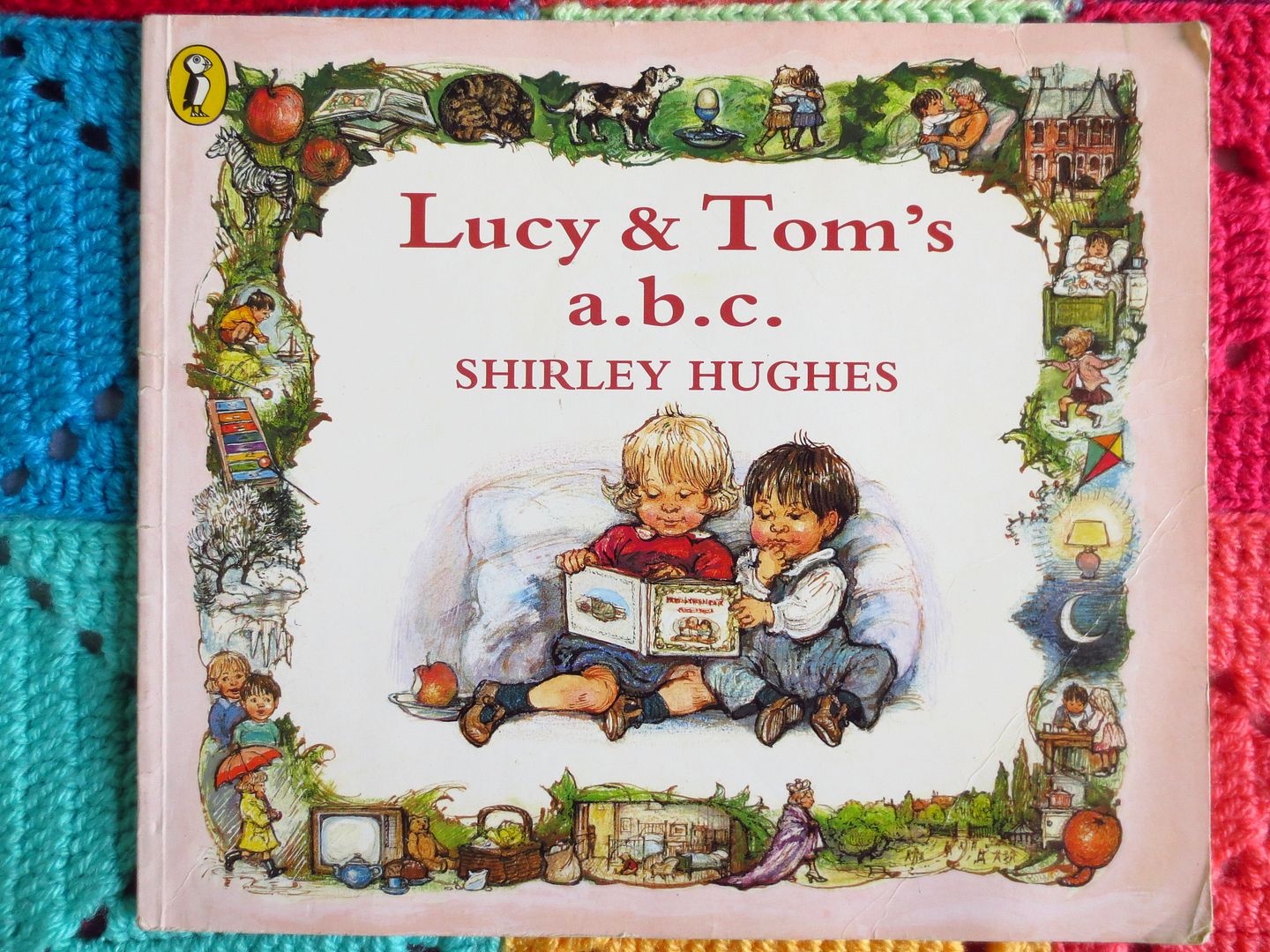 Finally, I MUST just show you this. My all time favourite Christmas book is Lucy and Tom's Christmas by Shirley Hughes and sadly it's out of print at the moment. Shirley Hughes is my favourite illustrator ever and I adore her work. I happened across "Lucy and Tom's ABC" in the charity shop last week and it made me really happy. I've not seen this one before but it's just like seeing more of Lucy and Tom's world really.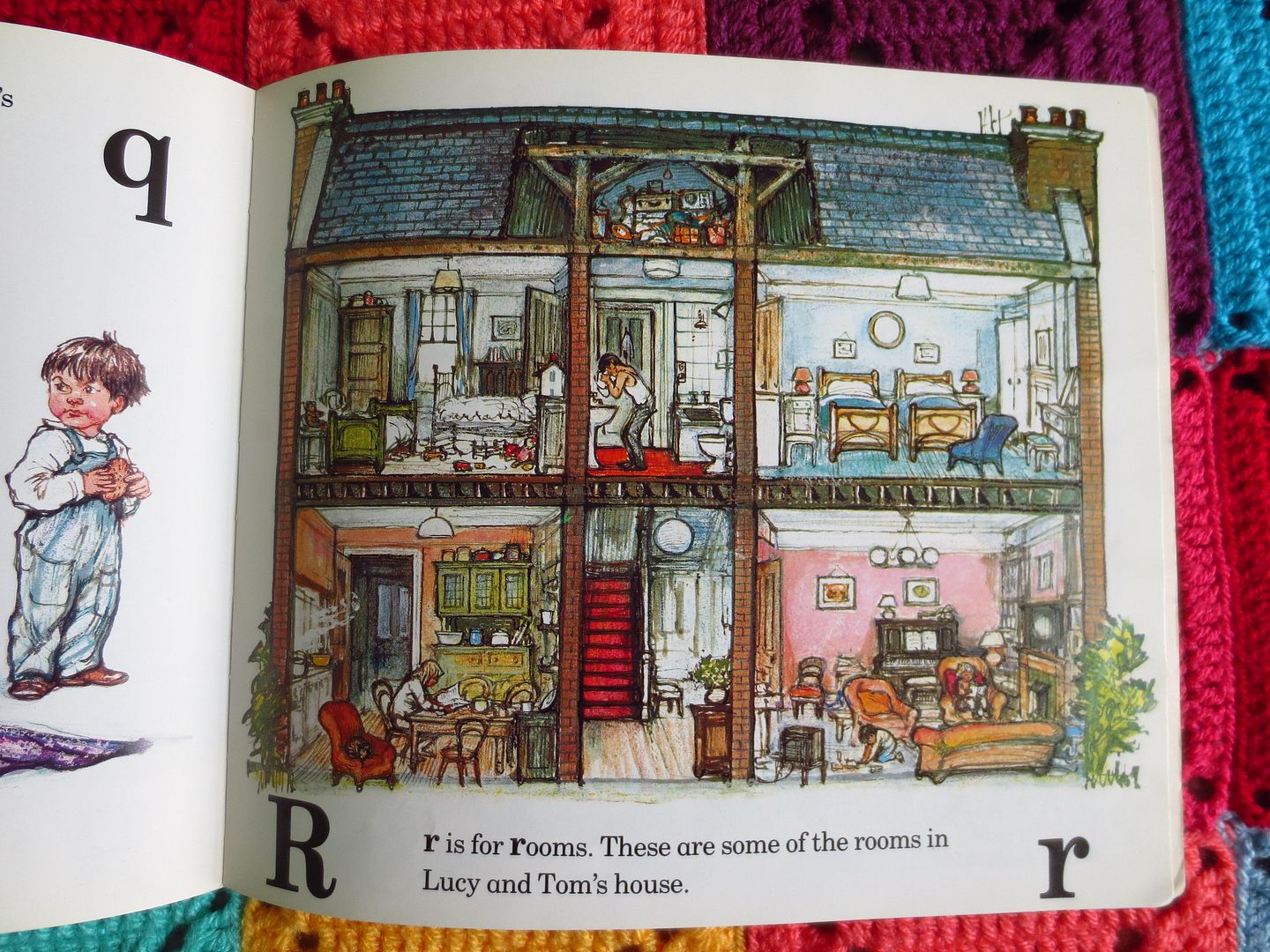 Cross section drawings (with lots of detail) are one of my favourite things. This picture is perfect. I want their house!
I think this drawing of kite flying is JUST like standing on the hill looking over our town, it's even got the church and then the hills in the distance. I can't wait to read this with TTB when he's older :-)
Ok, enough Christmas waffling. Back to your Hallowe'en pumpkins! x