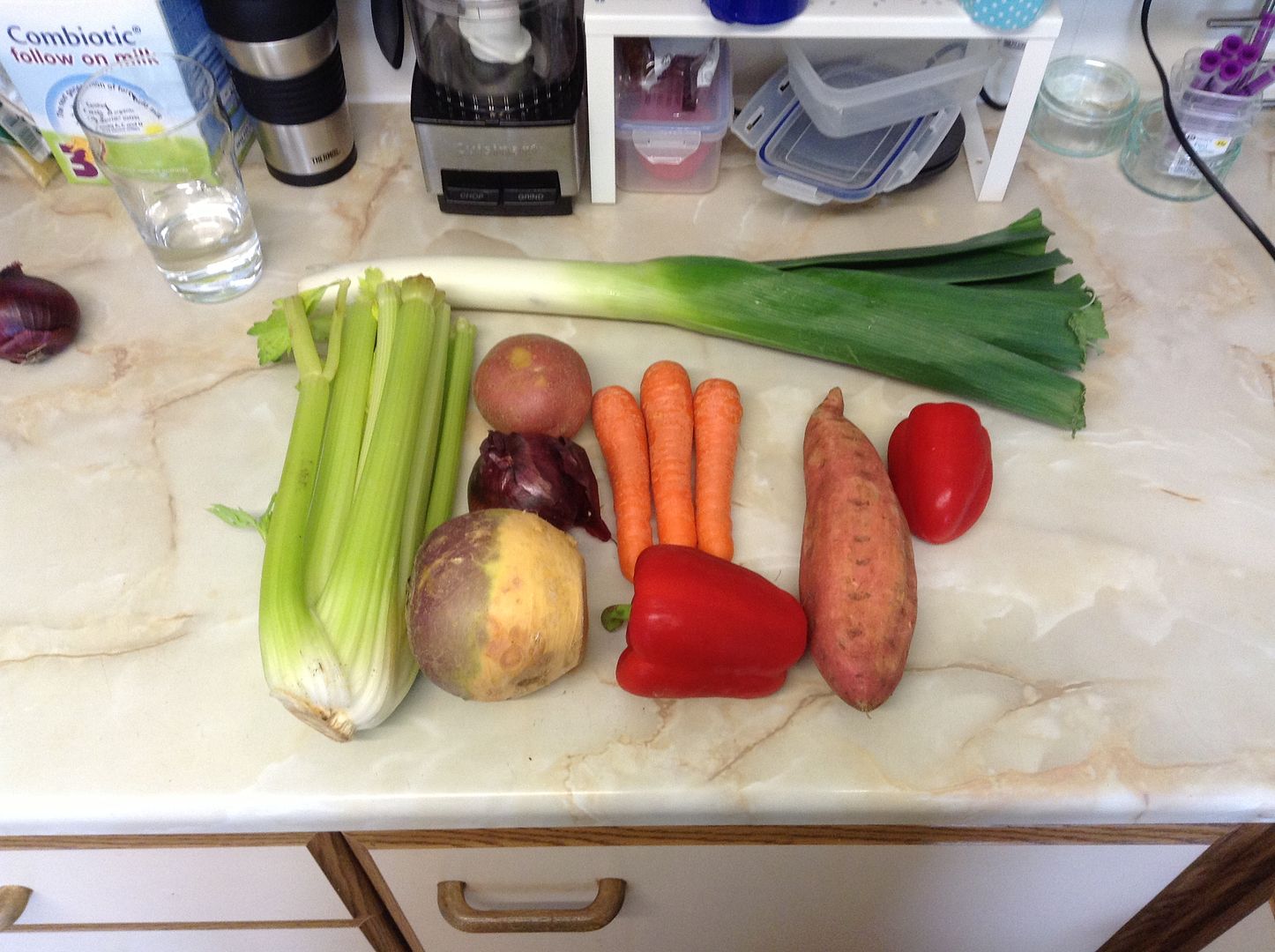 Hello! How are you tonight? I'm feeling really rather happy and chatty tonight :-) Today's been a pretty good day. I'm most chuffed with the meal we've just had though. Sometimes I find it hard to be inspired/have enough time or inclination to cook nice food that everyone will eat and we get stuck in a rut of things like Quorn mince bolognese & pasta, or jacket potatoes. Both of which are nice but Quorn isn't cheap and having the same thing all of the time gets boring. When Autumn comes round though, root vegetables are plentiful and cheap on the market and there's plenty of things to do with them. I mostly make soup with them (and this has been a real hit with TTB who wolfs it down. Tip: make the soup thick and put chunks of bread in there and your toddler can eat the soup.) but I fancied something different this time.  My mum's always made things like vegetable cobblers and vegetable crumbles so I thought I'd have a go. This was a bit out of my comfort zone because it involves making a roux based sauce sort of around the vegetables, and making scones to go on top to be the cobbler. One third of the root vegetables wouldn't fit in my pan so I chopped another onion and made it all into soup in another pan. Thrifty!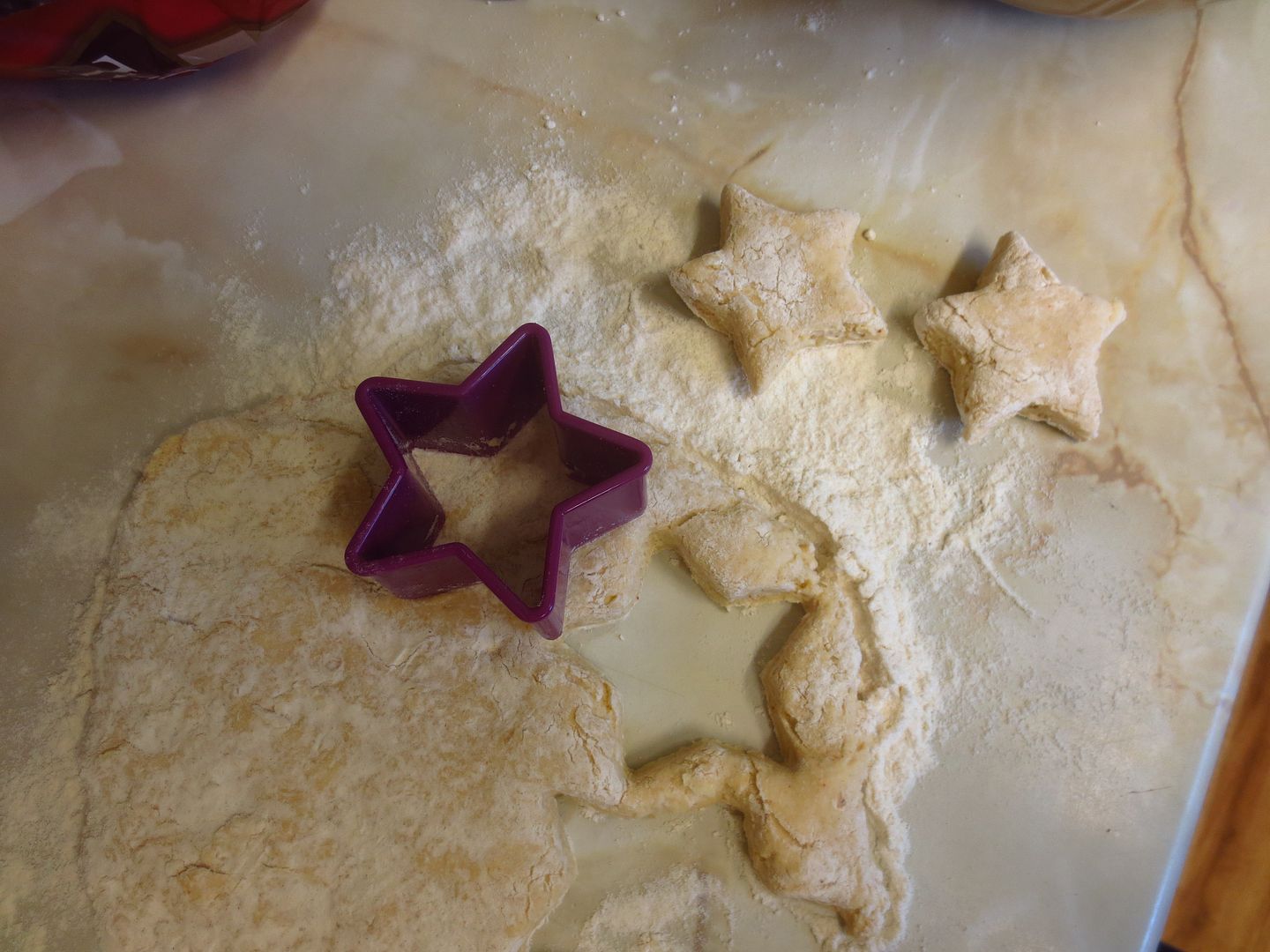 For the scones I used my fancy new star cutters: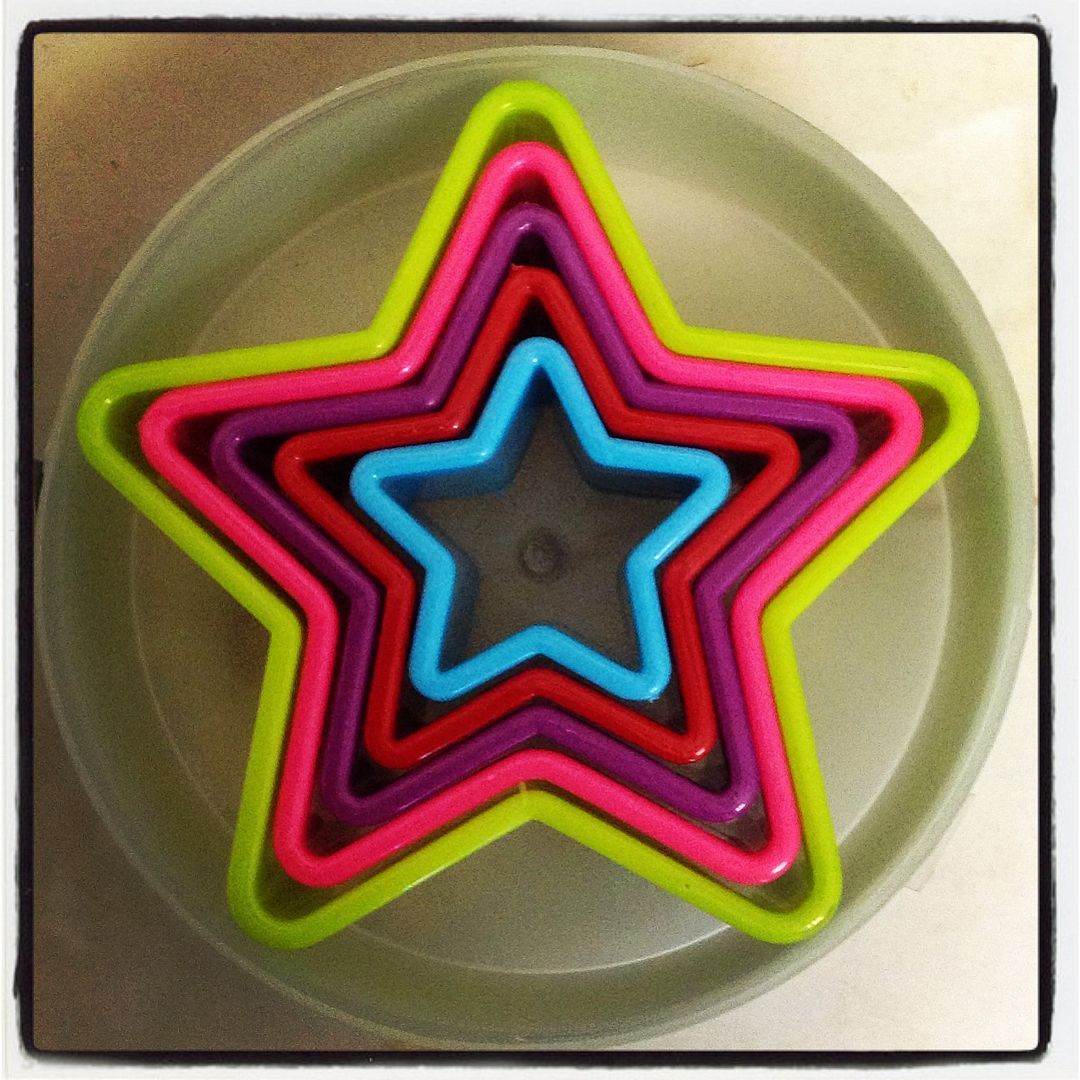 Pretty! I bought them last week when my mum was here, we made delicious Christmas biscuits. Yum Yum. I'm going to get the fluted set as well I think.
It doesn't look that appetising when it goes in the oven really and I was a bit dubious about my starry scone cobblers not rising.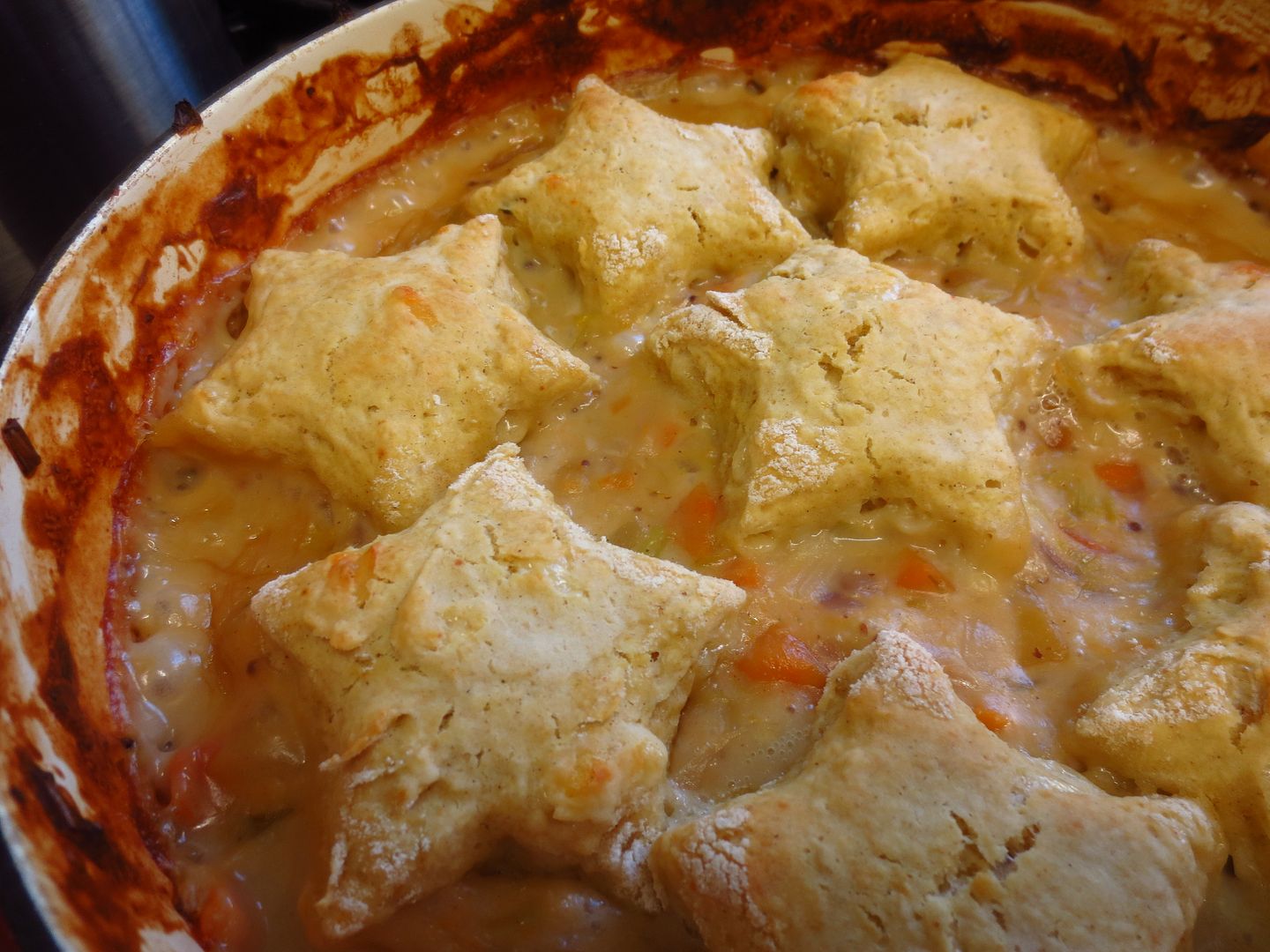 However, twenty minutes later they were PERFECT! I was so pleased and proud of them. They're the best scones I've ever made and the whole thing tasted amazing, even though I do say so myself. Andy and TTB both loved it too and TTB ate loads while saying "MmmmmmmMMMMMM!" which is high praise indeed. It feels SO GOOD to make proper food and have everyone enjoy it. When my baking actually WORKS and I get to use pretty biscuit cutters too. It makes me feel really happy!
Anyway, that's the story of the yummy dinner-that-I-made-from-scratch that worked well and was tasty and everyone ate.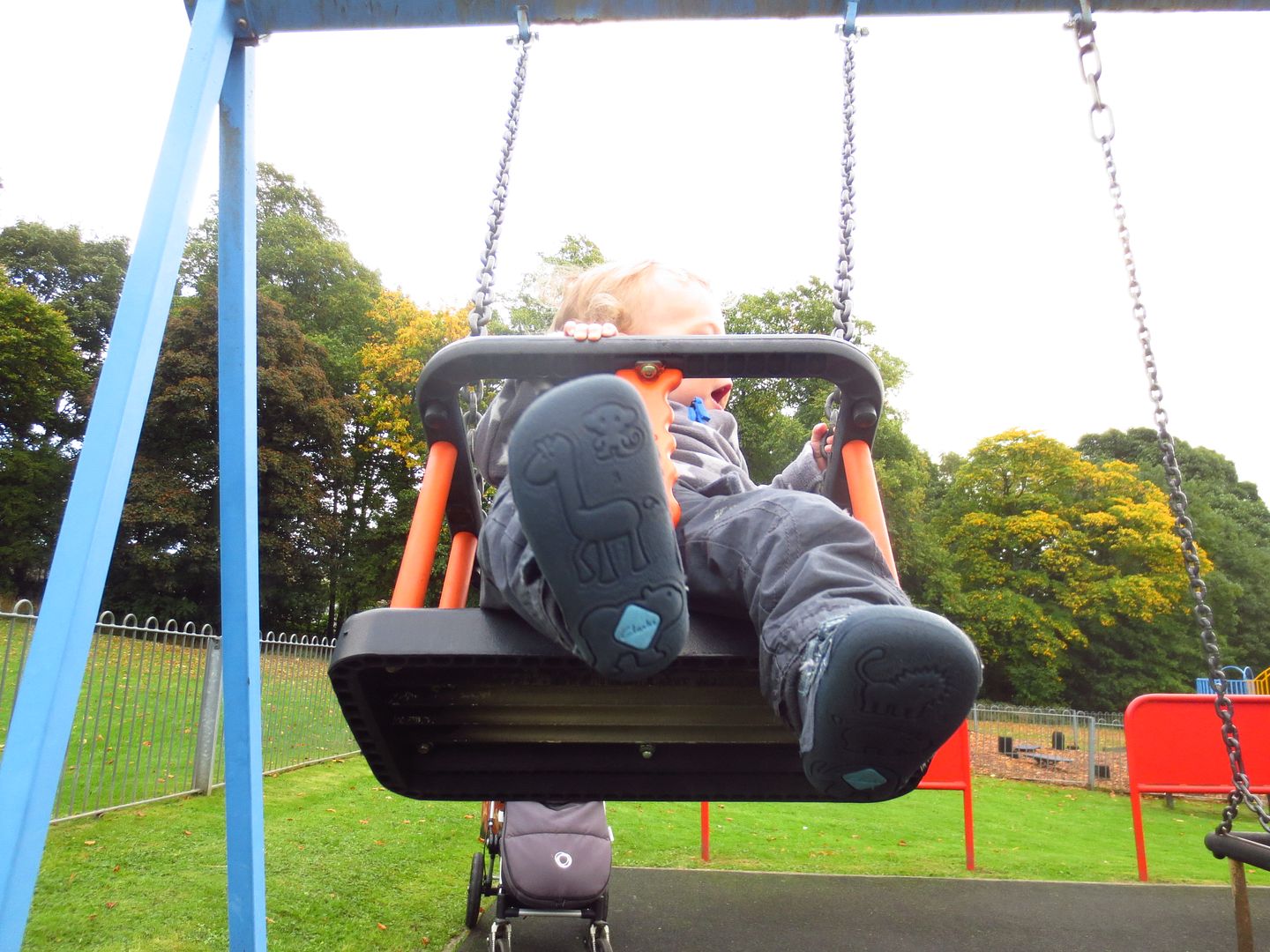 I took TTB to play on the swings earlier in that after nap time but before dinner time bit of the day. I love our routine actually, it makes the days a lot easier but you do have to remember to get out of the house at the right time or it makes the rest of the routine not work so well. Anyway, we went to the park via the canal (lots of dogs and ducks as usual) and swung on the swings and then walked around the playpark which is our newest bit of being out and about now that he can walk. I think he needs new shoes actually, they're getting a bit tight and they're only cruisers so he probably could do with some actual walkers now. He's grown loads lately!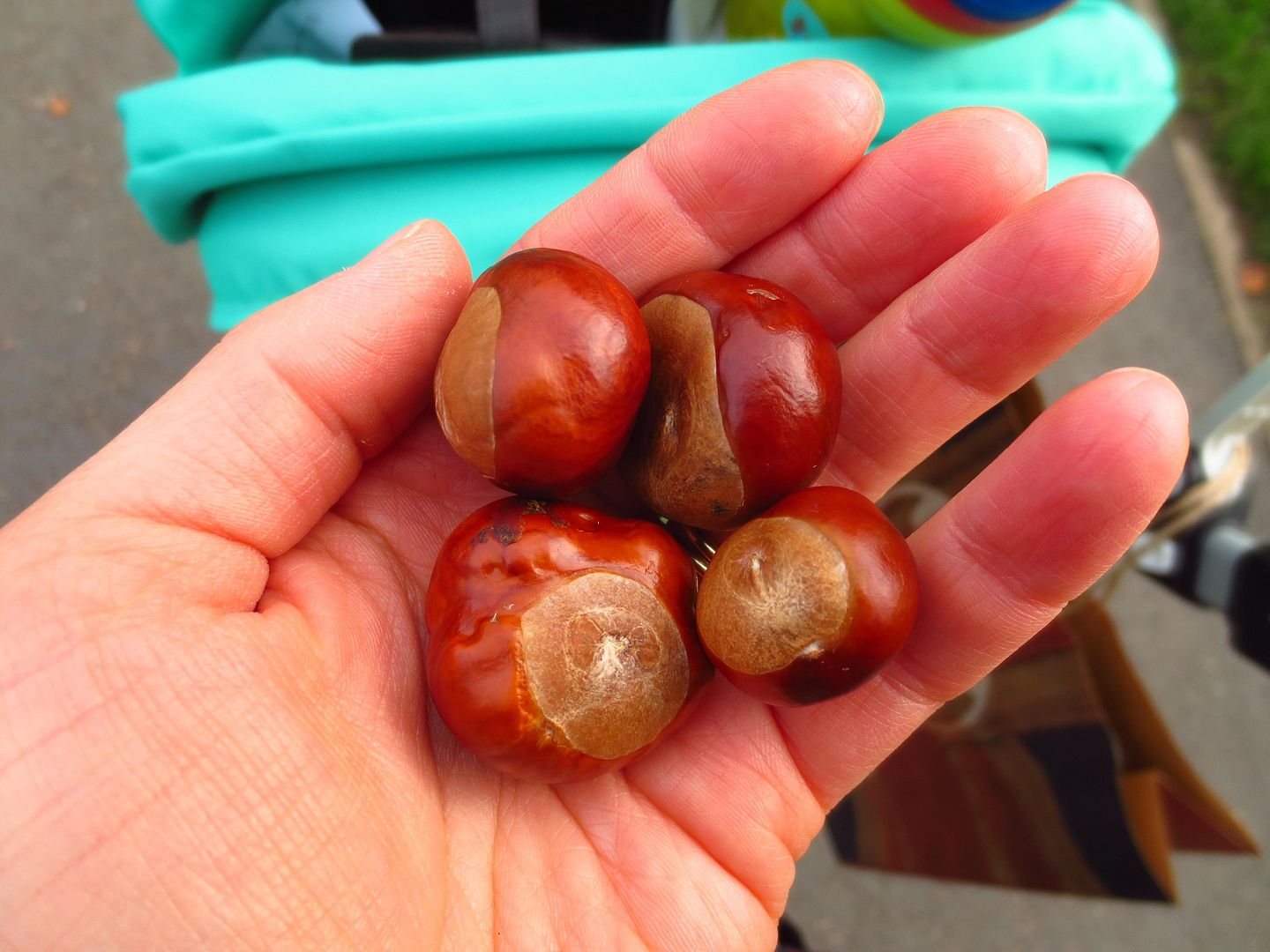 On our way back we tried to find some conkers but (that reminds me, my bag is full of acorns from last Sunday still. Must sort those out!) they'd all been swiped already. The ground was full of discarded horse chestnut shells and littered with the damage left by thoughtless conker hunting people. An old lady walked past and started talking to TTB (he is an old person magnet, an old man patted him on the head in passing yesterday) and said "oooooh are you looking for conkers for him? You won't find any, I was looking on my way through and I only found three of them!" I said that we were but more for me than him as he was too little.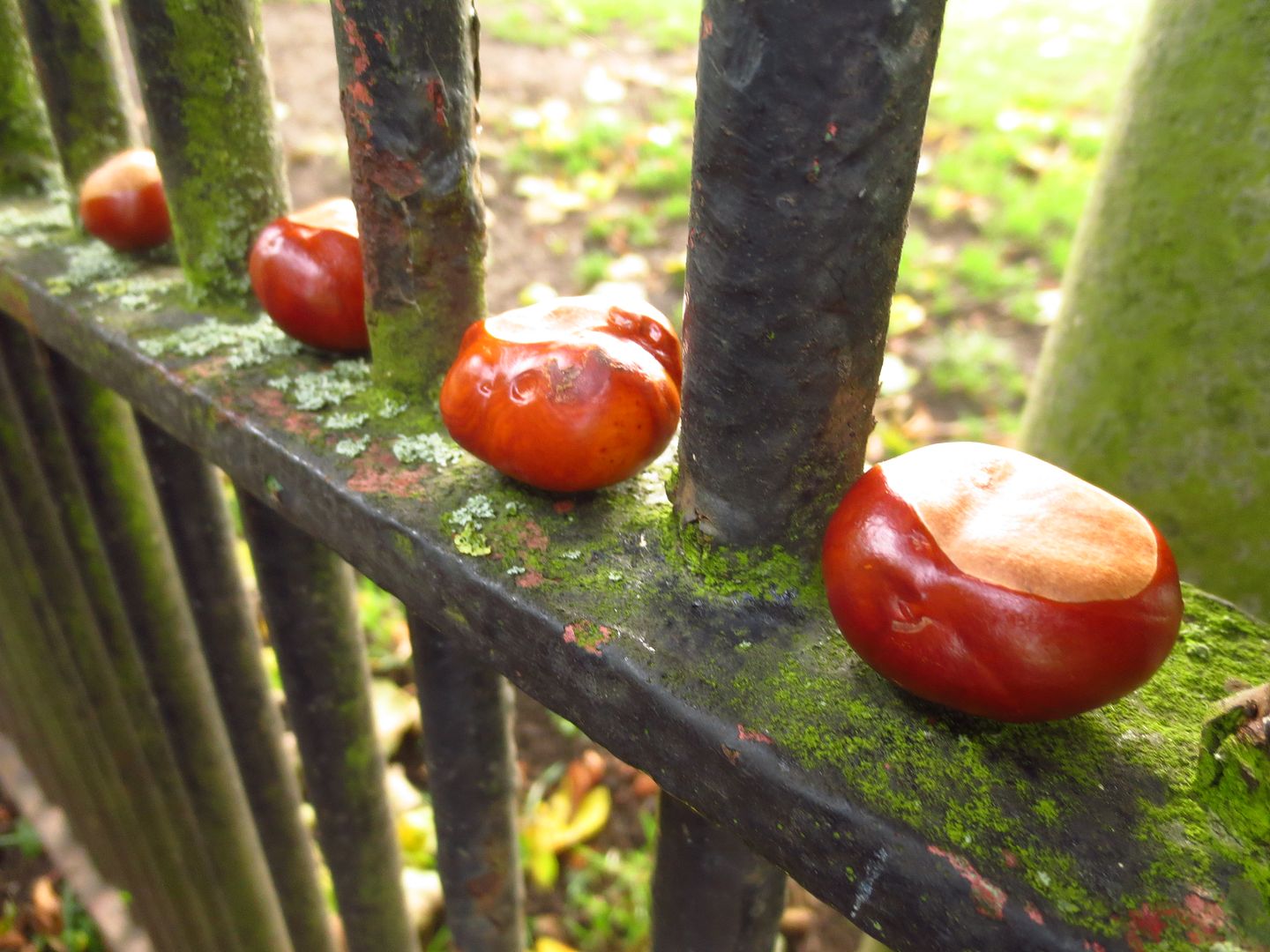 I thought she'd gone and I went back to looking under the tree for conkers and contemplating just taking some photos of the empty shells. Then she called us back and produced four conkers from her shopping bag and insisted that I take them "for him to play with". She wouldn't take no for an answer and insisted that I take them. I felt really bad because I only wanted to take some photos really but she seemed so keen for me to take them "for the baby". In the end I just thanked her profusely and then when I'd taken my photo (and she was out of sight) I lined them up on the park gates in the hope that someone who wants some conkers for more than just photos will find them. I did show them to TTB and let him touch them but he thought they were food and then got upset when I took them away.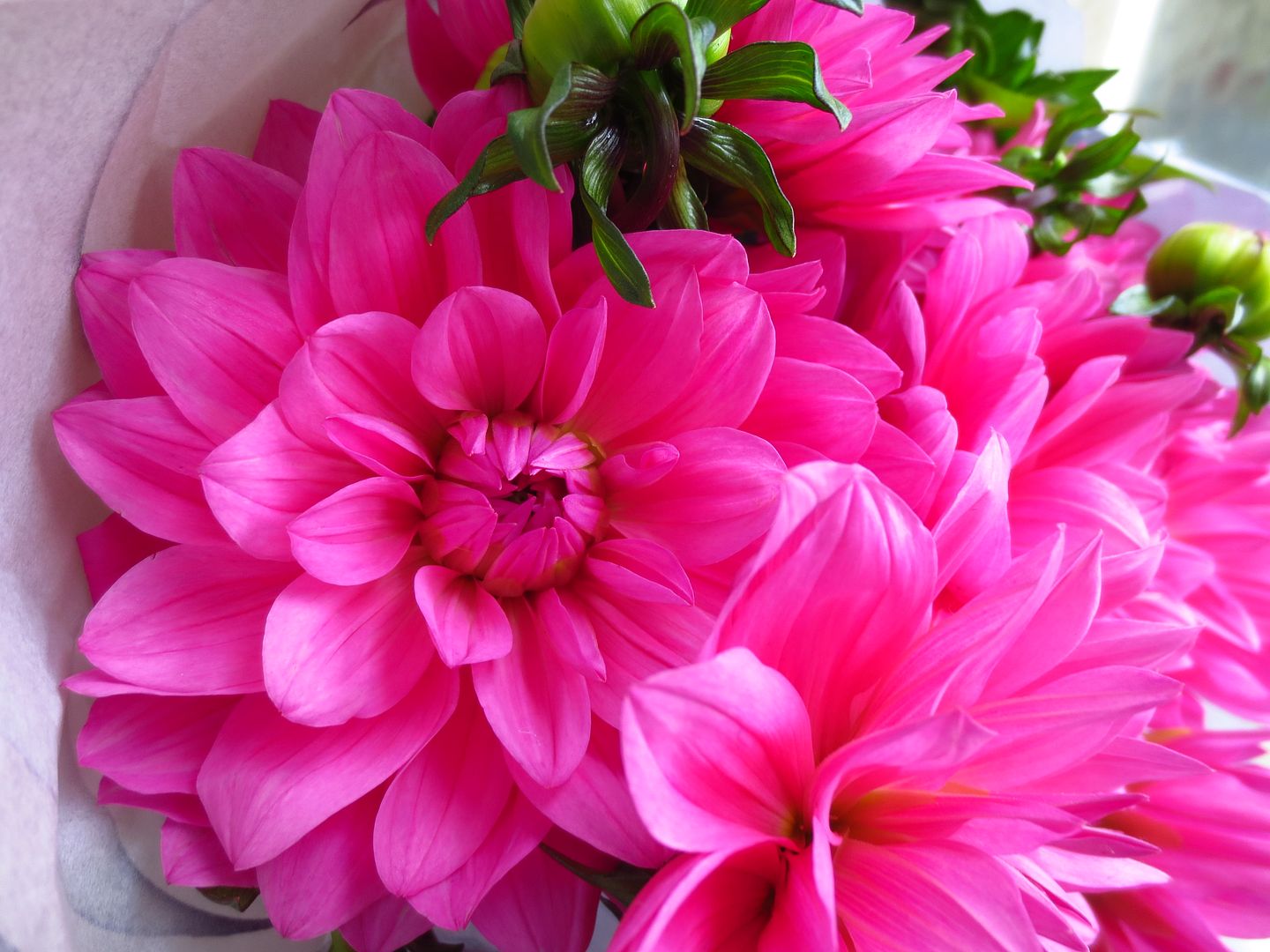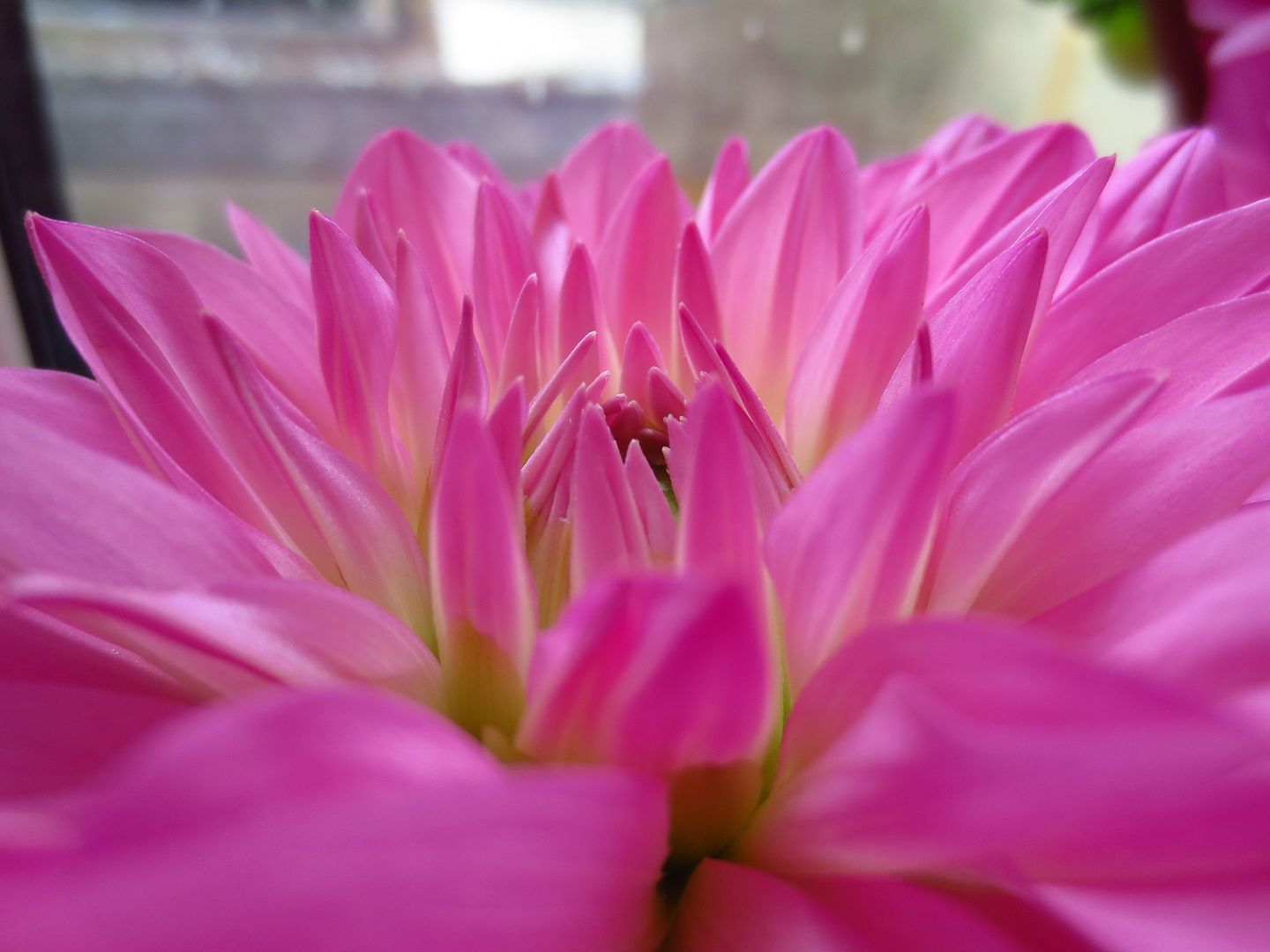 What else … well DAHLIAS of course! They are back! It's Autumn! It's September/October time! And this is the 4th year of market-dahlias for me, we moved in at the end of Autumn 2010 and I look forward to Dahlia-time every year. This first bunch I bought two weeks ago and honestly, they lasted until the day before yesterday and I still have a tiny jug full of the now-flowering were-tightly-furled buds. I bought another bunch today, they are vivid, vibrant pinky red but going to yellow at the centre. I must take some photos tomorrow, they are stunning.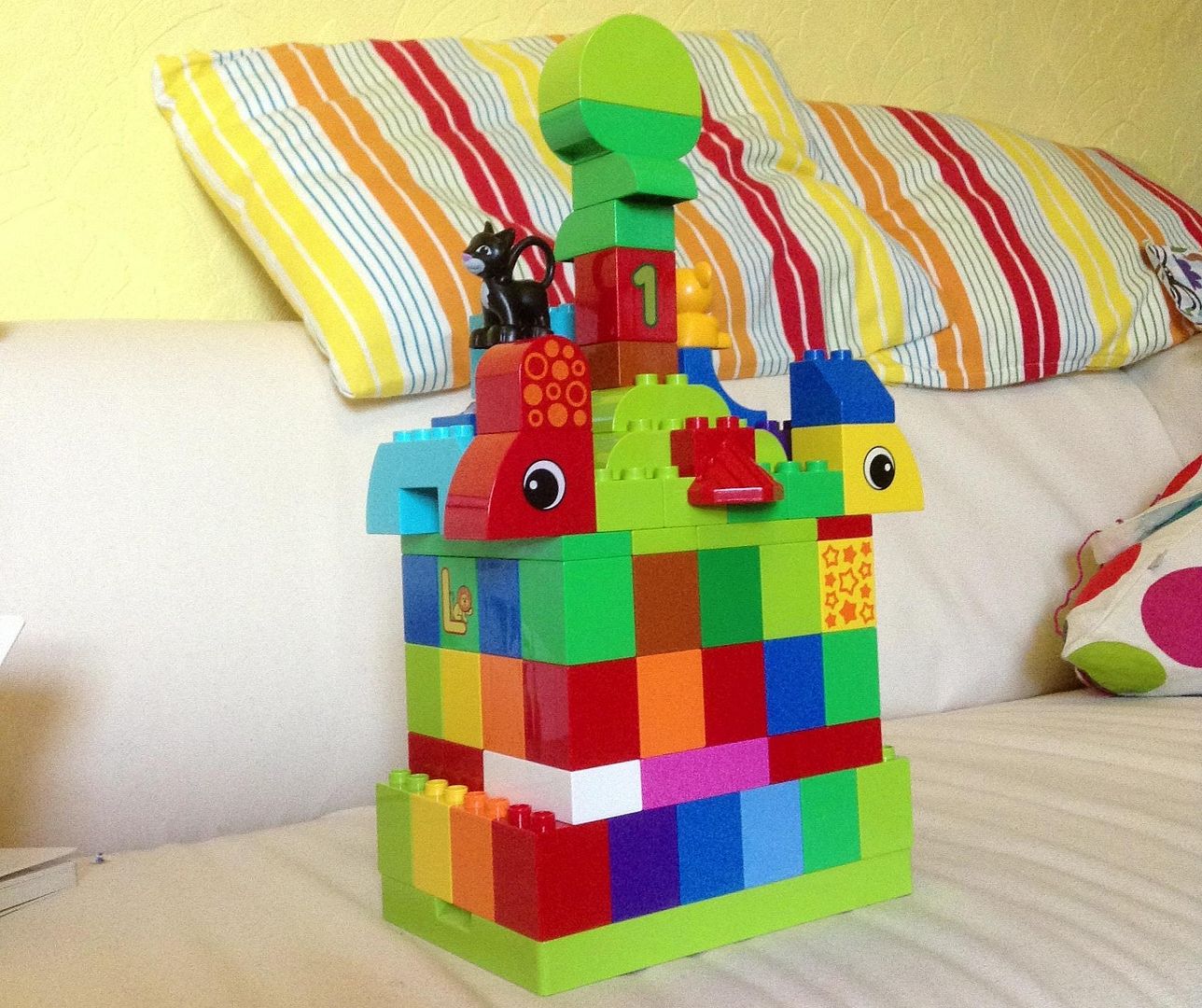 TTB is great at the moment. He is beginning to properly play with things (I could write about a hundred posts about him and his development right now but I'll try to contain my proud-mum thoughts) and I have taken full advantage of this by buying him things that *I* like. Enter: Duplo. It's SO MUCH FUN! I had to build this on the sofa though because he kept trying to take it apart. I only have enough bricks for two repeats of the rainbow though which clearly means I need to get me him some more for Christmas. In all seriousness though, I find it easier and more fulfilling to play with him when he has toys that I like and enjoy. He really likes the Duplo to, and apart from taking it apart, which he does properly rather than just bashing it, he spends ages trying to click it together and gets really happy when he manages it. He loves the cat (there is a bear, too) and as that's one of the words he can say he repeats that a lot when playing with it. Other things that we're playing with at the moment is the Playmobil Barn
, I set it all out and then make little stables from the Duplo and we drive his little dumper truck around and deliver the food to the animals and then make the horse and rider jump over the fences. I really enjoy imaginative play like this and he is captivated by it. He watches me do it and makes happy noises and then copies what I do and chatters away excitedly, "telling" me what he is doing. I wish Playmobil did more animals in their 123 series, they're really tactile and a lovely representation of the animal. I'd like to be able to buy them individually, or maybe in pairs or families or something.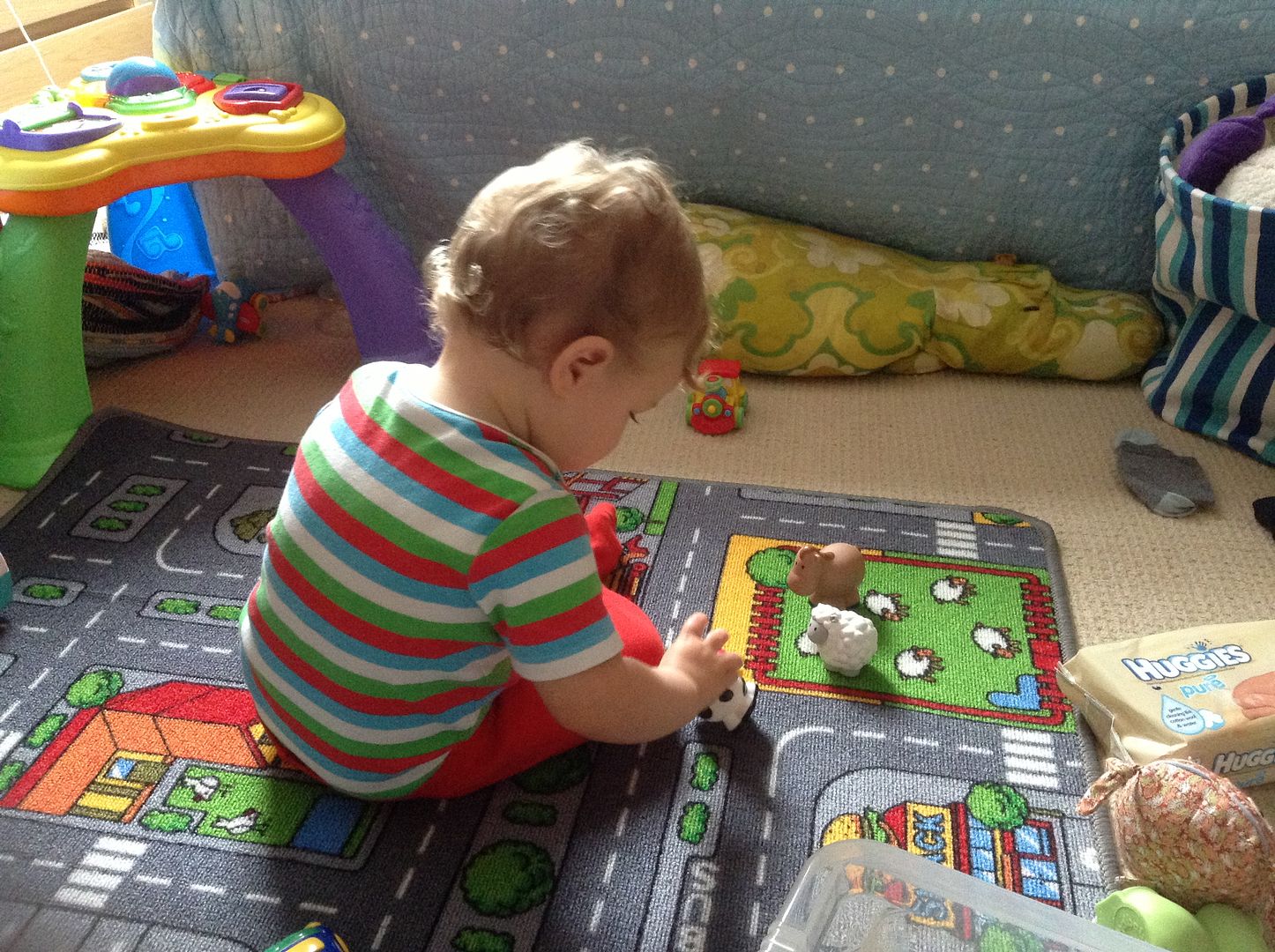 We've got a nice little collection of Happyland now as well and the last couple of days we've been setting that out on the playmat that my father in law bought TTB for his birthday. Animals in the field, children in the playground, people in the bus to push around. That kind of thing. I've not needed to be involved with that at all, TTB has been happy for ages just playing with them, pushing the bus around and putting the animals in the caravan. I strongly feel that ALL playing is "proper" playing, but when I see him playing with things in the way they were intended (like cars on the road mat etc) it makes me burst with pride. I love seeing him play and learn. I'm not going to lie, I'm also quite excited for toys in the future.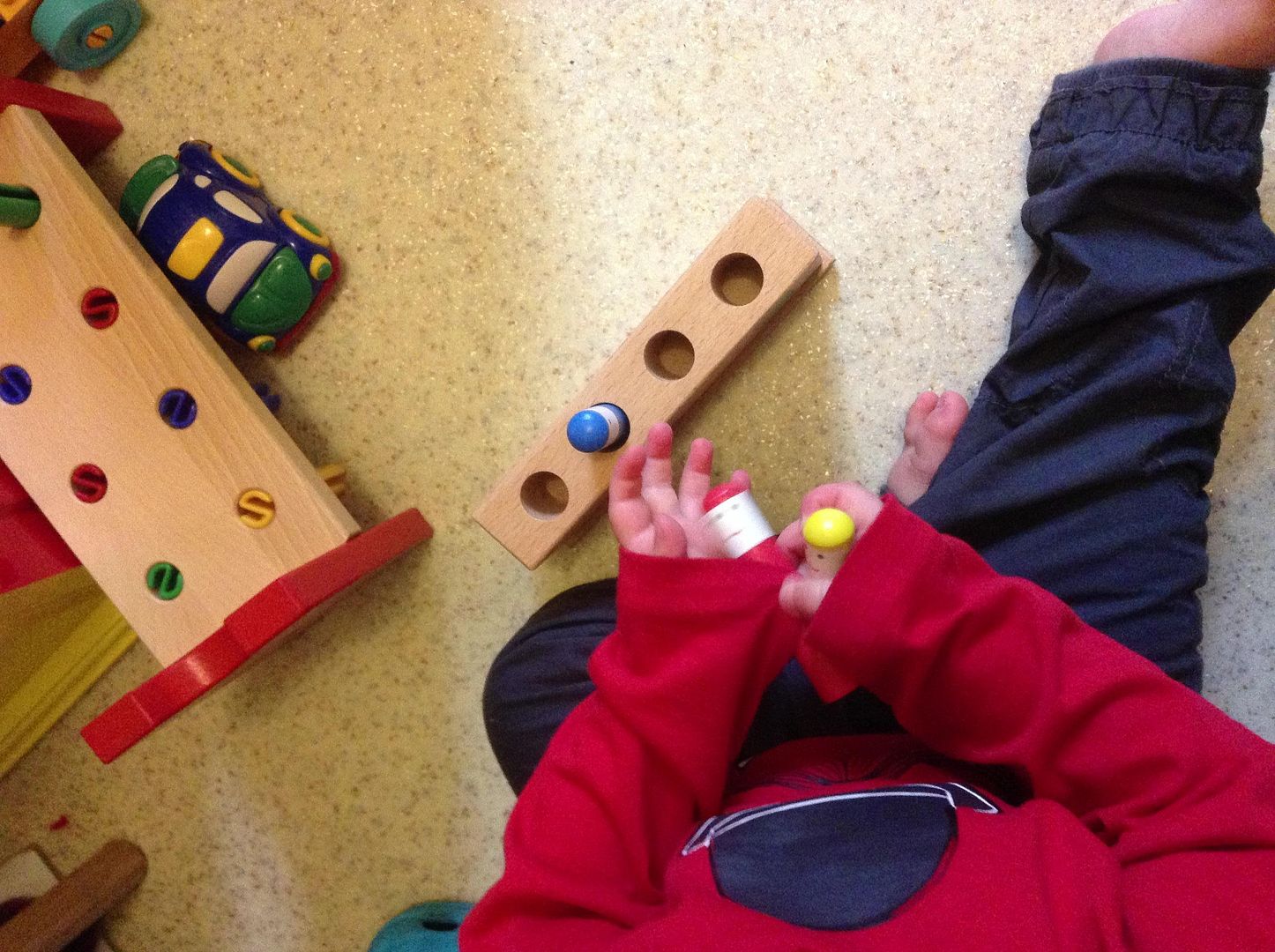 One of the best things I bought him was this Pop-Up Toy
. He LOVES it! He's only had it for two weeks and just does these massive belly laughs, sort of all consuming happy laughter when we make the people pop up and out of the base. He likes that they have faces on, he likes to carry them around and he likes to put them in the holes and take them out again. If you take one away, he moves them all along the holes, one after the other. He has learnt to pop them out himself now too! It makes him really happy.
Enough with the child talk! I could go on for hours.
I can't make this rotate now I've uploaded it, how annoying. Anyway, I am CROCHETED OUT right now. So I'm knitting. This is the Boneyard Shawl I started ages ago and worked on until TTB was born. I have picked it up again and I'm really enjoying it. My mum pointed out that I've been purling wrongly (into the back of the stitch and not the front, I think) but I need to keep going now as it will look weird if I change the way I do it mid-garment. I want it to be really big so I think I'll just keep going until I get bored and then put it away again and then do something else. It's the first thing I've made all year that I will keep, everything else has been given away! No wonder I've got hook-fatigue, it seems like I never get anywhere and that's probably why!
One last thing, do you remember my Honey & Roses blanket? Well, head on over to Rach's blog to meet her gorgeous new baby girl :-)
Phew. Well done if you read to the end of this!
Heather xx