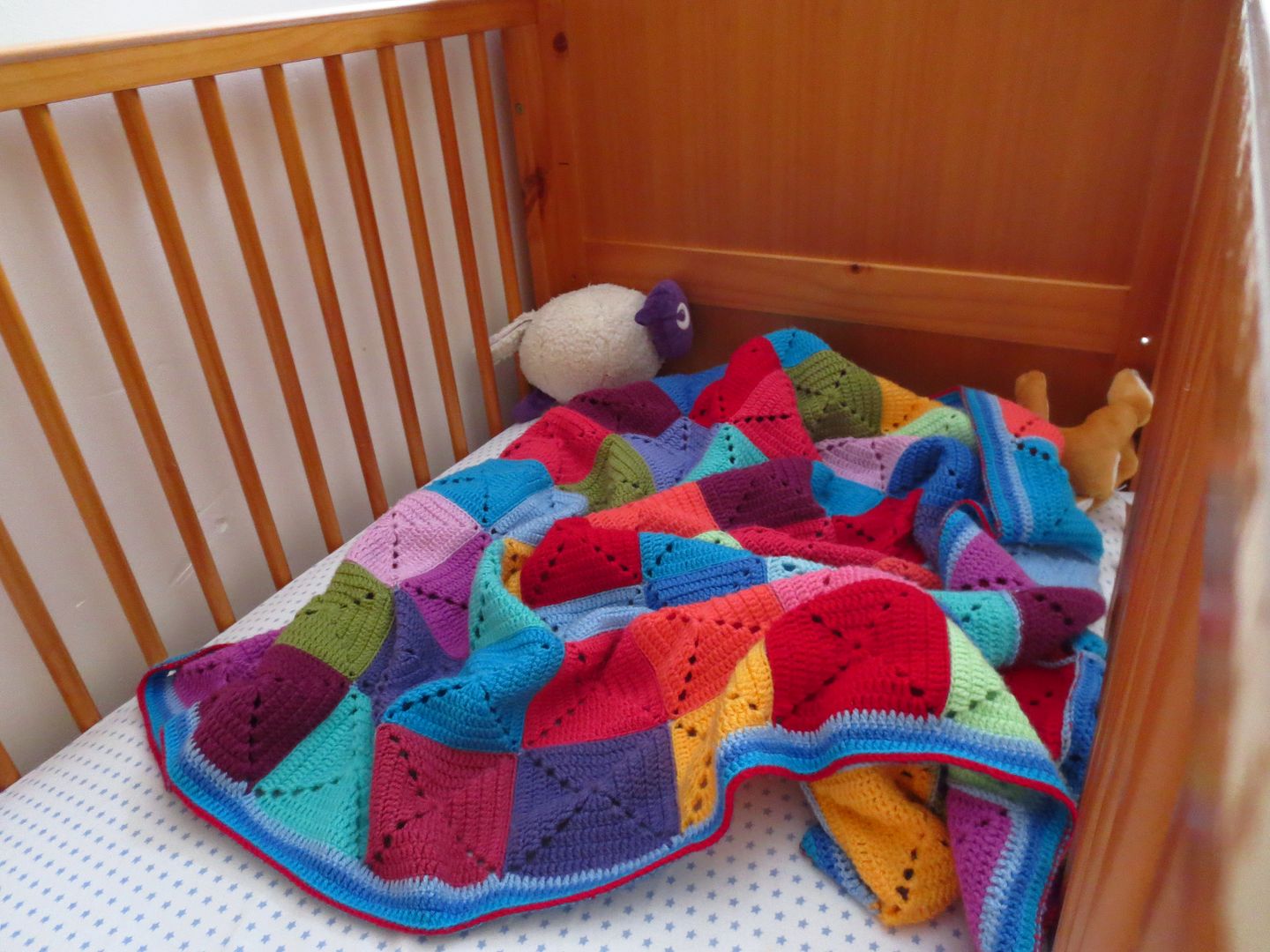 I can't shake off this feeling of PANIC and OMG and ARGH at the moment, it's entirely caused by a) the weather changing and b) my "this time last year" syndrome which are conspiring against me and making me feel as anxious and panicky as I did right after my baby was born almost a year ago. I am squashing these feelings though because they are STUPID. Things are so different now! I don't have a newborn baby, I do have central heating, I don't have so much junk and clutter in my house and most importantly I DO have a sofa.
Part of this squashing is concentrating on Good Things. Here are my current Good Things:
1. Big Elmer being used every single night & nap time.
2. Having some "help" with the housework, and by help I mean … "help"! meh, keeps him busy and he does so love unpacking things. I just have to be careful to check that he's not loaded anything sneaky before I turn it on. (Oh and I want to point out that since he has taken an interest in the washing machine, it is always switched off at the socket unless it's actually running. In which case I have to shut the door to the kitchen as he likes to press all the buttons! Once I thought it had finished the cycle but he'd just paused it an hour earlier. Good times.)
3. My new River Cottage Baby and Toddler Cookbook
 aka my new guide to life and everything. My mum bought it for me (for her and I stole it?) because I was struggling with how to feed my boy well. I've read it through properly rather than just glancing at the recipes and I'm really impressed. It actually has answers to lots of the things I'd been wondering about, such as how much fruit and veg counts as a portion, whether you should use white or wholemeal bread for babies, how to get enough protein in his (vegetarian) diet. It's not patronising, and all of the recipes with the exception of the purees, really, are just normal food that you can all eat and also feed to your baby. I really recommend it.
4. Making blueberry pancakes from said cookbook. I was very proud of myself and talked about my pancakes to anyone who'd listen. TTB wolfed them down (I've made them twice now) and Andy really enjoyed them too.
I've never made scotch pancakes before and it was really exciting that they actually worked. I don't bake very often because I find it counter productive to eating well (why bake a cake when I will end up eating said cake and I am trying to eat well?) but I found it hugely satisfying to be able to make something that felt wholesome to feed to my child. I felt good that they turned out so well, too! In addition to that, I thought about what he's eaten recently and apart from breakfast cereal and pasta (there is not enough time in the world for me to make my own pasta!), he's eaten really well lately and mostly things that I've made from scratch and thought about in advance. I even did the "getting him involved" thing the other day too, which he's a bit young for really and it was a very long process including having to not, you know, chop his fingers off/stop him falling off the chair/eating carrot peelings/unpacking the cutlery drawer etc. I think I will wait just a smidge longer before doing that on a regular basis!
One last foody thing, he stopped eating very much at meals at all and I was a bit worried: he'd just chuck it on the floor even though I knew he liked it. I thought as well that he wasn't able to feed himself with a spoon yet, but realised that I'd not actually given him the chance to do so because he'd just thrown the bowl and spoon onto the floor with everything else. Sooooo I bought him an Unbelievabowl
 (which I can't stop referring to as an Incredibowl) and it's working so far, he is eating lots more and seems happy to have a bowl all to himself. It drove him mad that he couldn't pull it off until I demonstrated how to do it and after that he is sort of ok with it but every couple of days he gives it a really shifty look and then launches a new attack.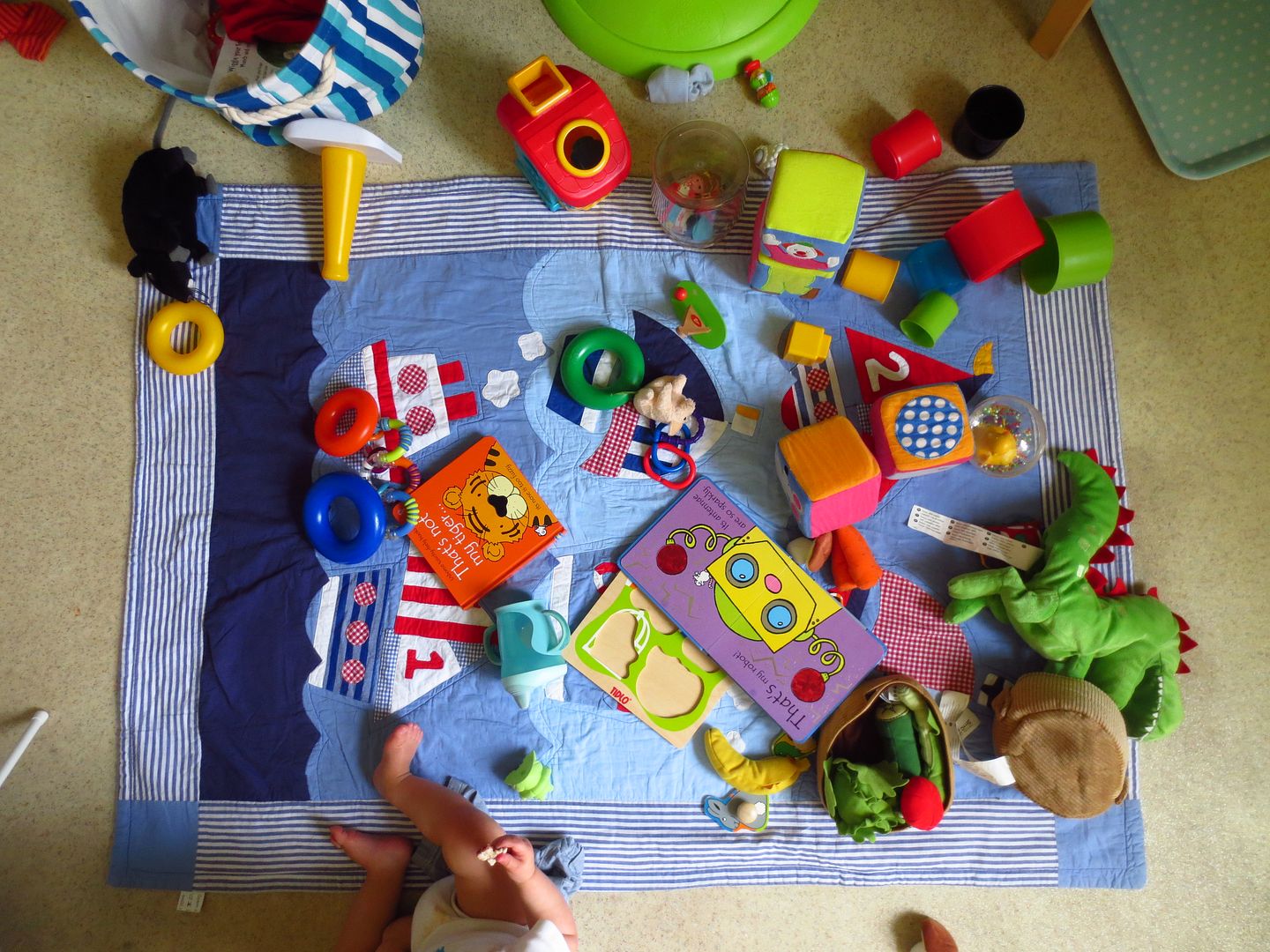 5. Playing with LOTS OF TOYS all at once. This is especially good as playing downstairs is only a recent thing. Until recently, we had a red rug on the floor, I had an armchair and Andy had a large desk. It was really gloomy, there was nowhere to put anything, the room was cluttered and cramped and I just couldn't get the rug clean. Since we've taken up the rug and replaced the chair with a Klippan sofa from Ikea and a lighter, smaller desk its given us so much more room, and it's made it into a far more practical space. TTB loves the freedom to play and is able to play quite independently for periods of time which is really good. That is, until I start to do something like crochet and then he stops being able to play independently and wants to give me lots of help with the yarn and the hook etc.
Changing this room was one of the key things I knew I needed to do in order to "survive" the wintertime. I know that sounds very dramatic, but I hate the clocks changing and the dark days and long nights and this horrible room really got me down. It's much better now and I feel so much happier about it.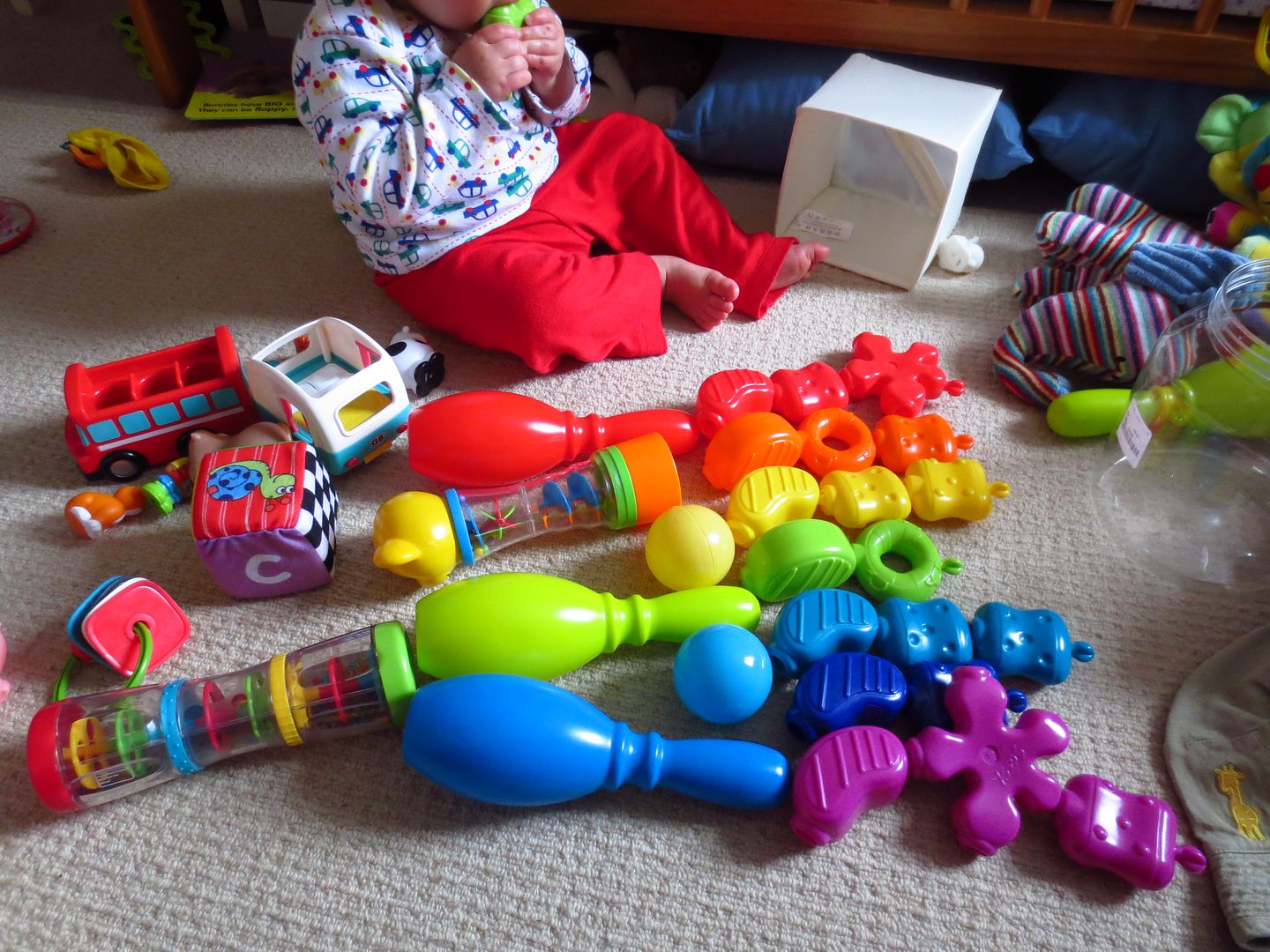 6. Putting things into colour order. I tell him what the colours are and repeat them and show him and he looks at me with a big smile and then says "Cat!" Hahaha. What a sweetie.  I just like putting things in colour order, really!
7. Putting nice things in TTB's room. (YES I KNOW that they are not straight but I am NOT DOING IT AGAIN OK. Enough said. Leave me alone. Stupid house with it's wonky walls. In my defence, the right hand one is above the cot and I can't reach it properly. I have six of these poster print/wrapping papers in all, the first two I bought in Stratford on Avon earlier in the year and I looooove them. The other four I ordered from The Square Card Company. I really love them and free postage was great but I do wish that there had been the option to pay for postage and have them sent in a tube because they were folded which is REALLY annoying when it is sold as a poster print and is clearly going to be put on a wall.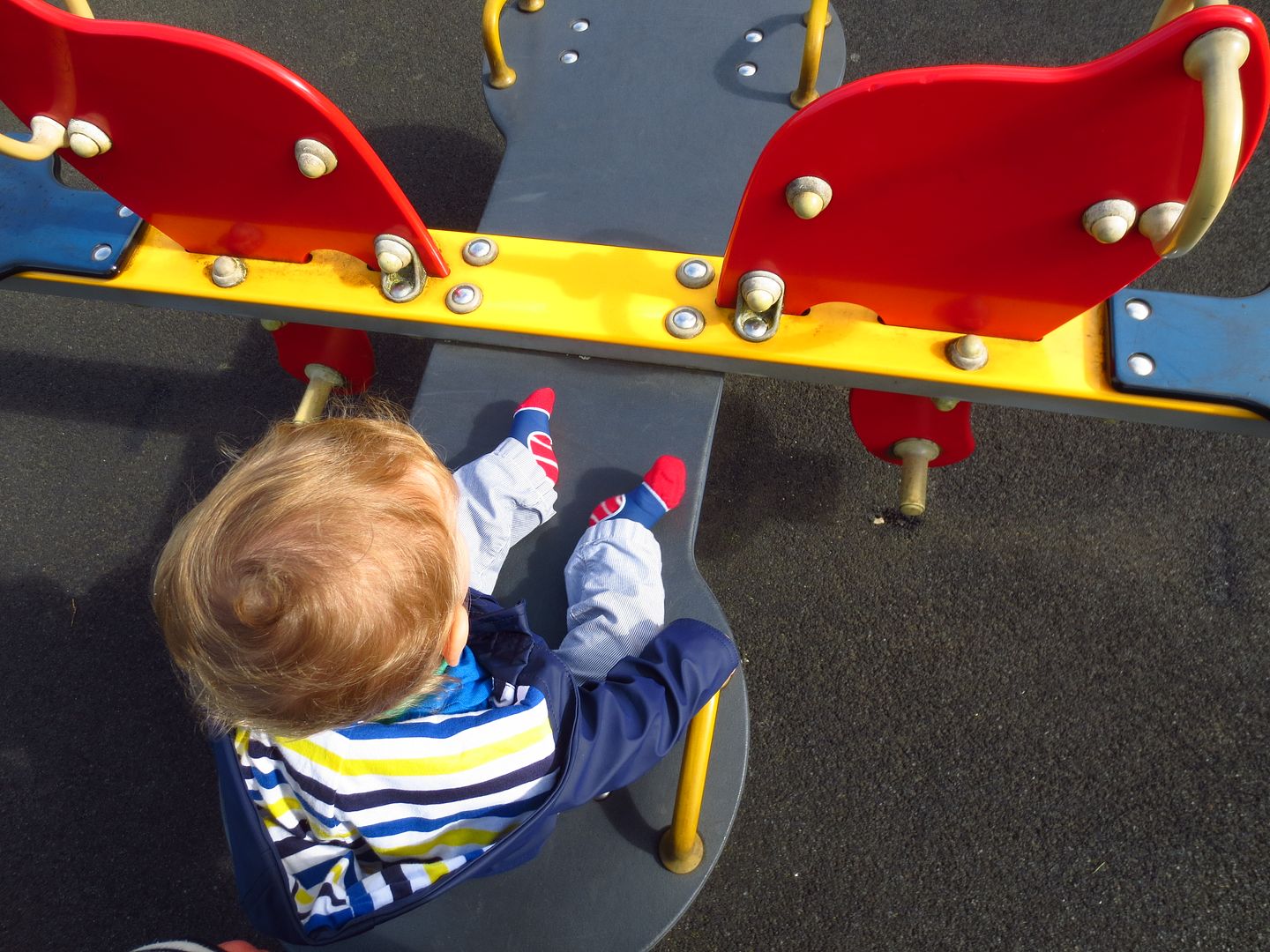 8. As always, going to the playground at the park is a Good Thing. I always feel really lucky that we have such a gorgeous park here and feel blessed to be in this place in my life: it's where I've always wanted to be. TTB continues to think the swings are the BEST THING EVER, but also really enjoyed the see saw this time and wiggled back and forth when I'd stopped see-saw-ing him to tell me that he wanted to do it some more. Aw. Do you like how colour coordinated he is with the see saw? Unplanned I assure you, it's a wonder he's even wearing trousers given his new-found talent for whipping them off at any opportunity. Don't even get me started on socks.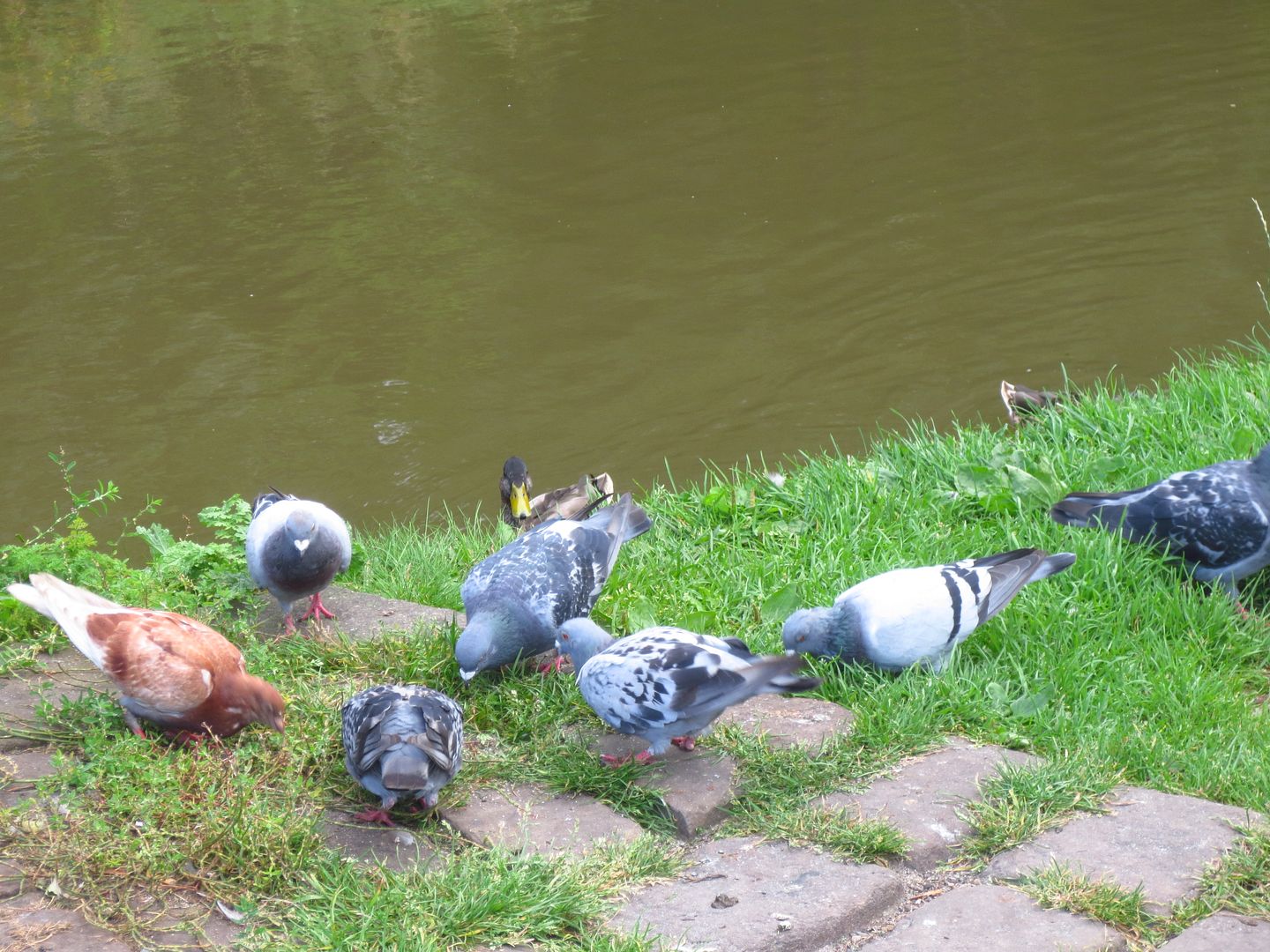 9. Free entertainment: watching pigeons, duck and swans (Burr! Duu!) and if we're really lucky some dogs as well. (Doh! Doh!) Can't beat it. I mean, I'm not too fussed about them but I'll happily facilitate TTB's fowl watching as long as he wants.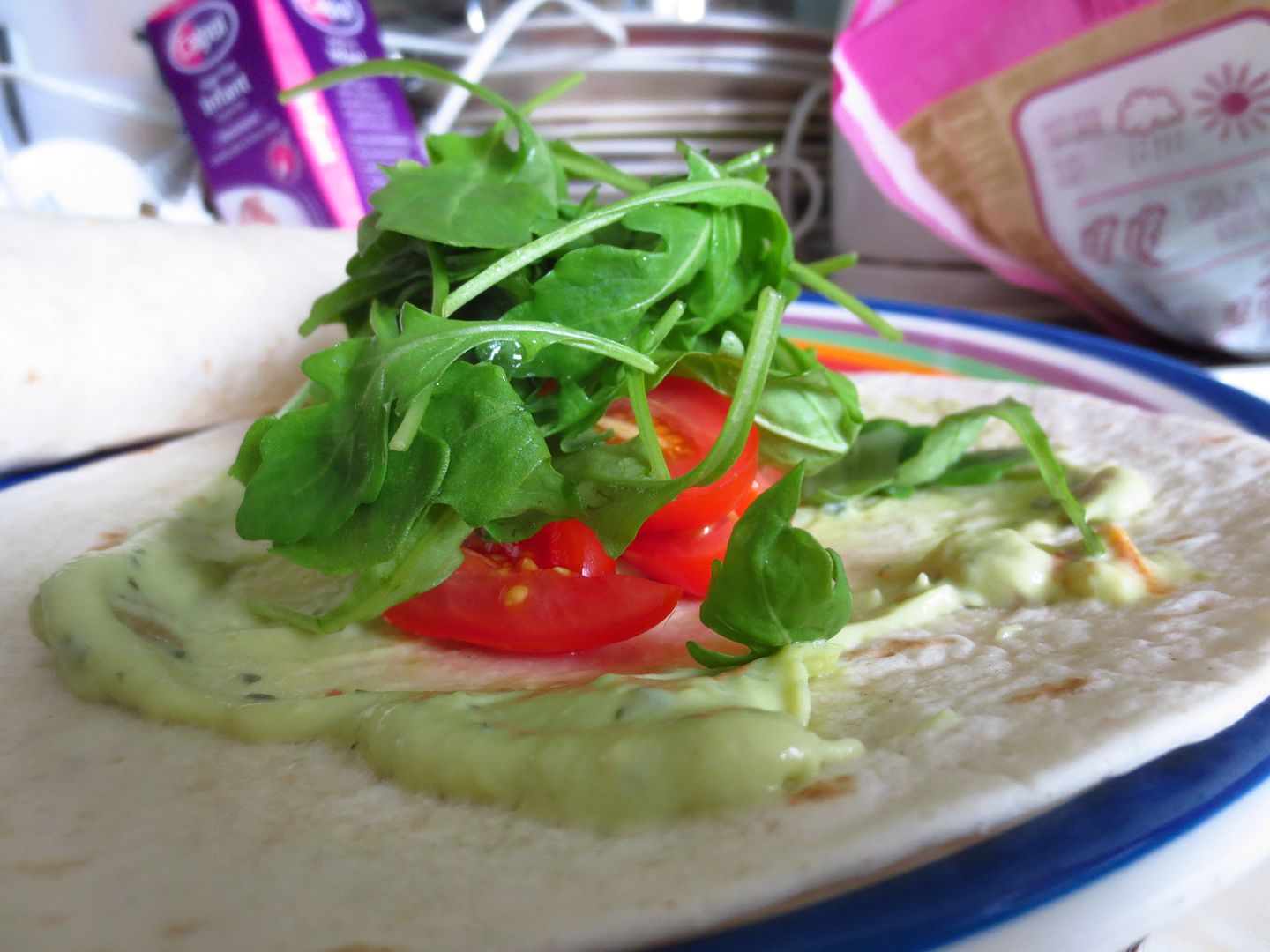 10. Easy but delicious food. Otherwise known as "How much guacamole can I eat in one day?" Wrap, guacamole, tomatoes, rocket. BOOM. Yum yum in my tum. Can I just say though, that THE most annoying thing about weaning your baby is having to share your own food? Particularly when you finally surrender the last bit of your wrap to your child who has been clamouring for it for ages and is desperate to have what you have/must have it RIGHT NOW MUM, and said child takes it, gives you an evil grin, takes it apart and drops it and then looks at you as if to say, "ahh, thanks, I was wondering what you were holding!".
There we go. Ten Good Things that are keeping me from freaking out that it's getting all Autumnal. Phew.