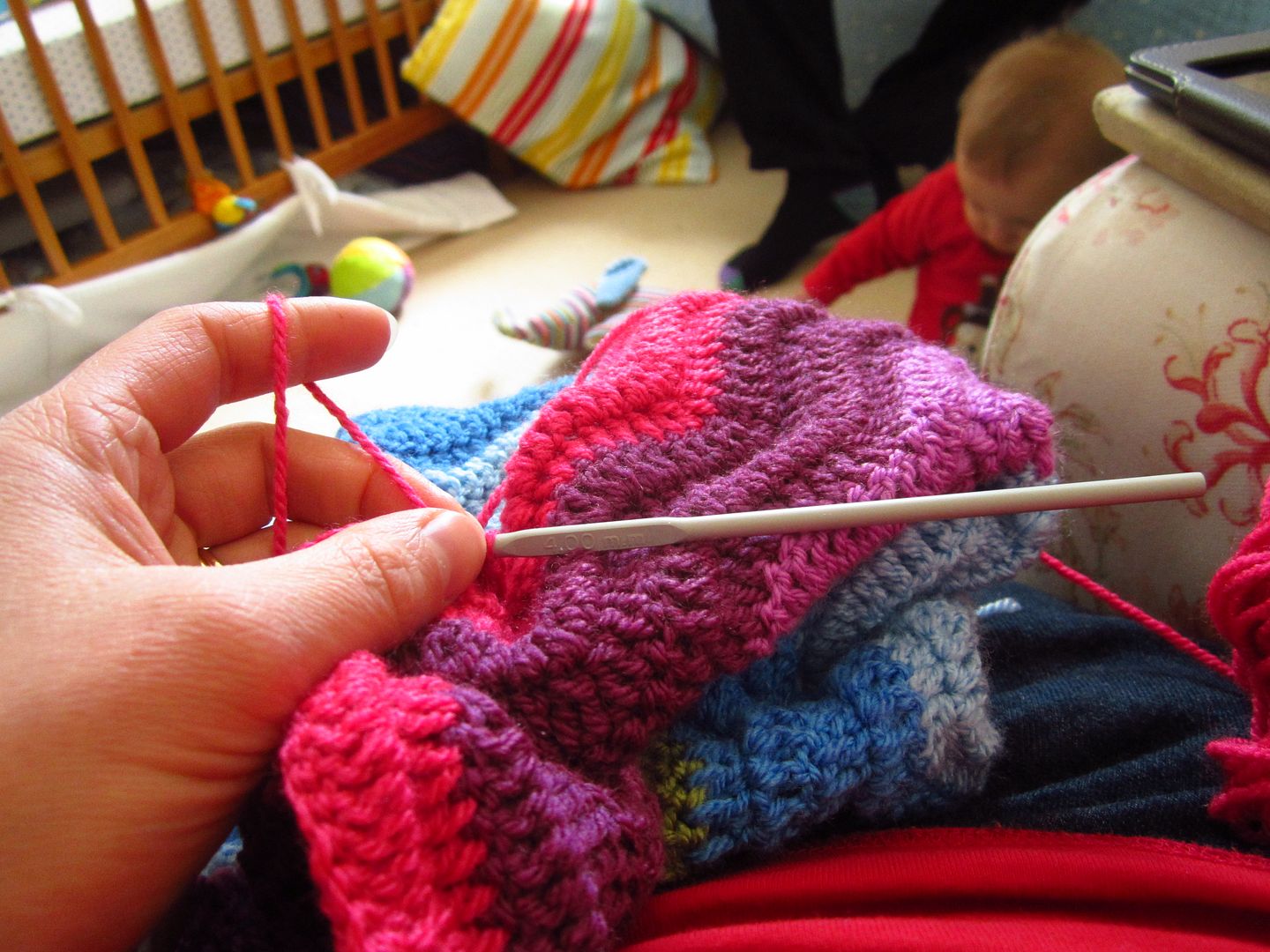 I'm running out of names for blankets. I've already got a "Rainbow Ripple" ta-daah but this one is more rainbowy than that one, but also has wider stripes so I'm going to give it the very imaginative name of Big Rainbow Ripple.
I started this blanket back in April, it was the day after we rearranged TTB's room and made it all lovely. I didn't have a project on the go and felt happy and free and just started a ripple on a whim. I knew that a friend of mine was due her second baby at the end of July and that the blanket would have a happy home.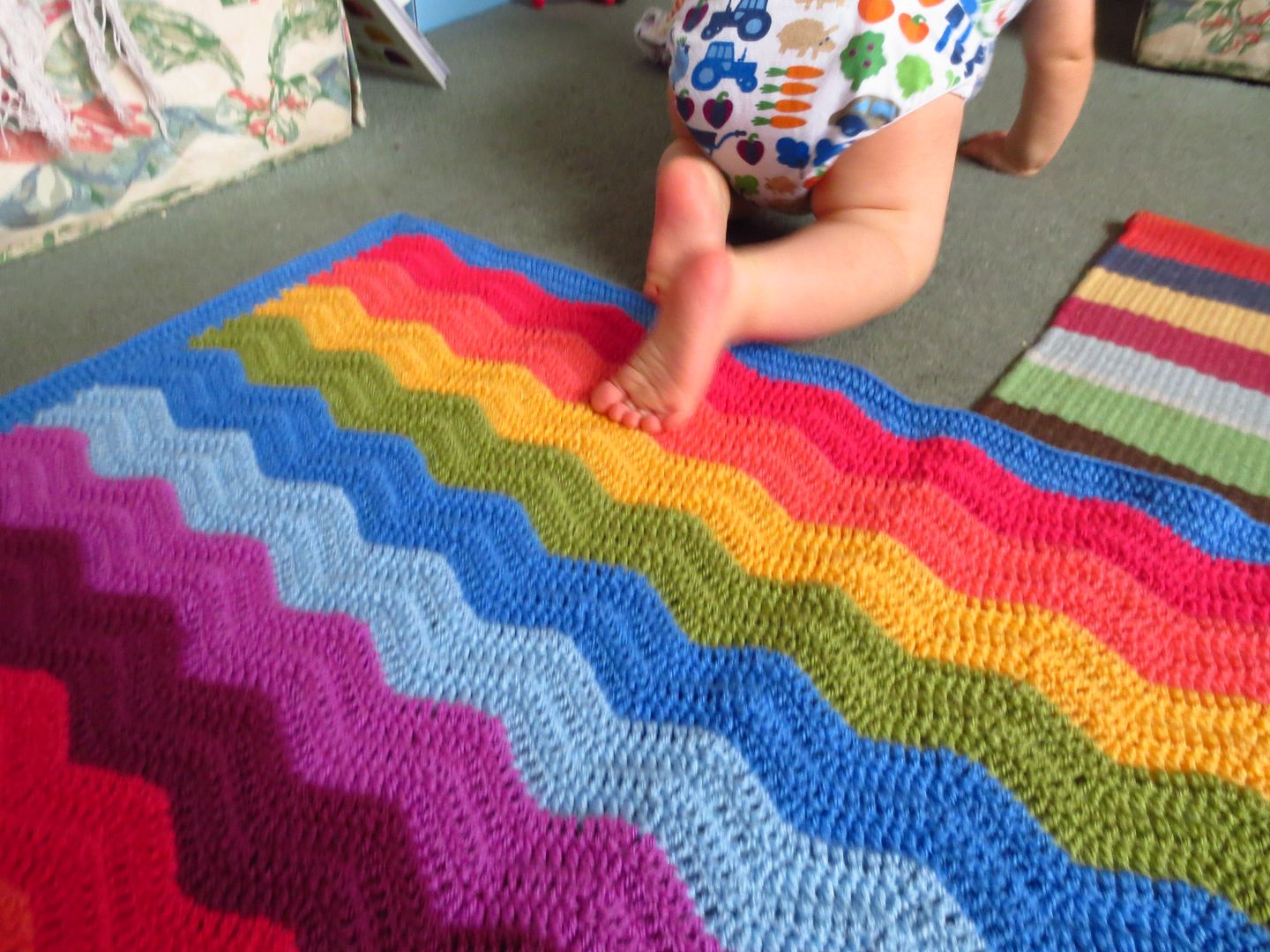 (It's impossible to photograph anything on the floor without it being crawled over at the moment …)
As usual, I used Stylecraft Special dk. I did initially select "Lipstick" but the red tone didn't suit the other colours at all and it looked wrong. I substituted "Pomegranate" to use as the red colour in my rainbow and it fitted much better. In order, the colours are: Pomegranate, Shrimp, Saffron, Meadow, Aster, Cloud Blue, Magenta and Plum. Eight colours rather than seven but I like the way the two blues look. I also like that, once you start the next repeat, you have Magenta, Plum and Pomegranate all next to each other which is a pleasing colour combination.
Four rows per stripe makes the blanket look less busy, and also meant fewer colour changes & less faffing so I could ripple faster. TTB was poorly for almost two weeks and I found that just doing crochet while he napped really helped relieve the stress of coping with his increased needs. Housework was left by the wayside but my sanity was more important!
I crocheted 3 rounds of "Aster" as the border, it's the only colour that is calming enough to "contain" the other colours of the blanket, but not so dominant that it kills them all. For the first round along the sides, I crocheted two TR stitches into the side of each stitch of the main blanket. The final two rounds were just one TR into each stitch.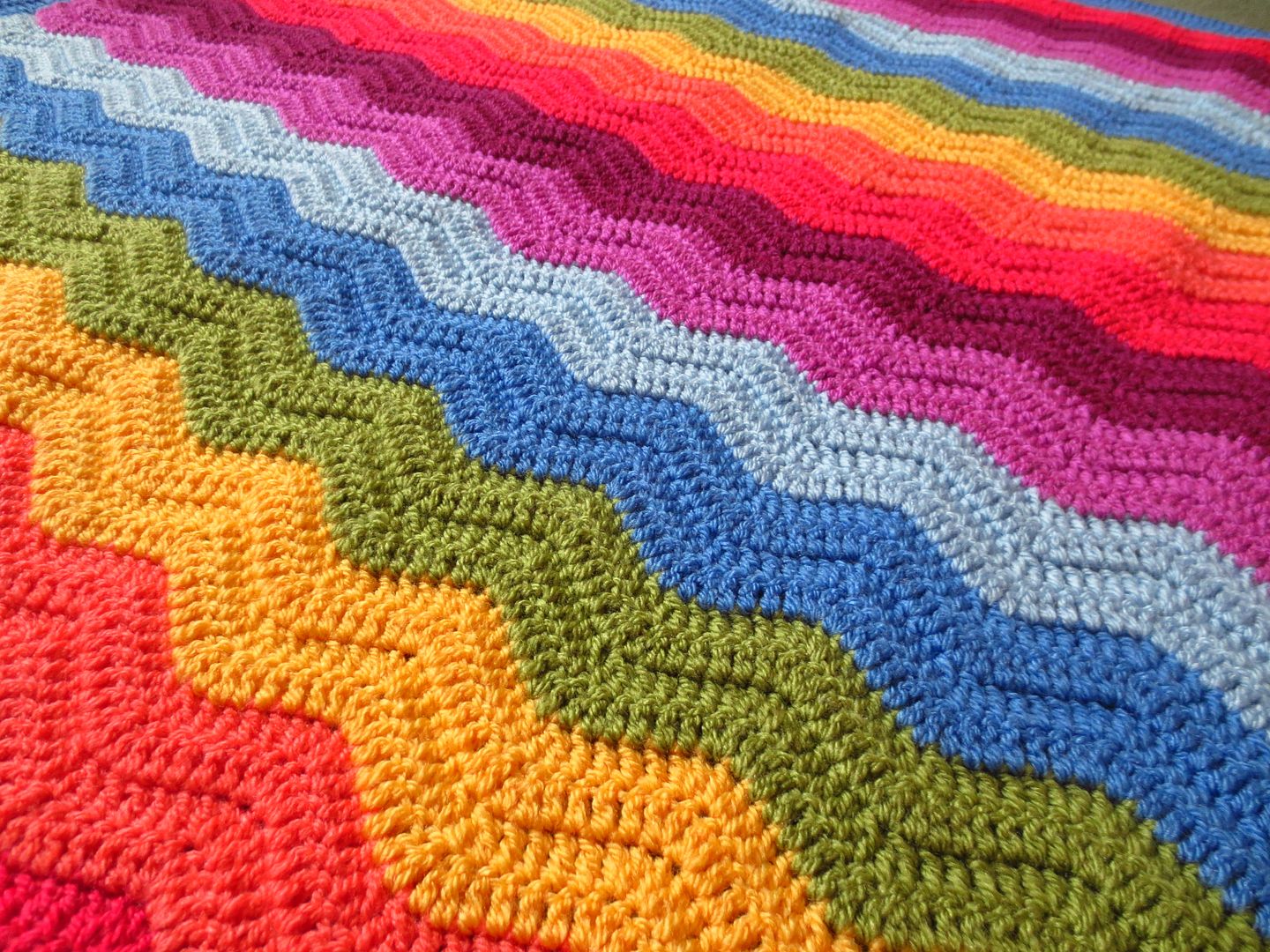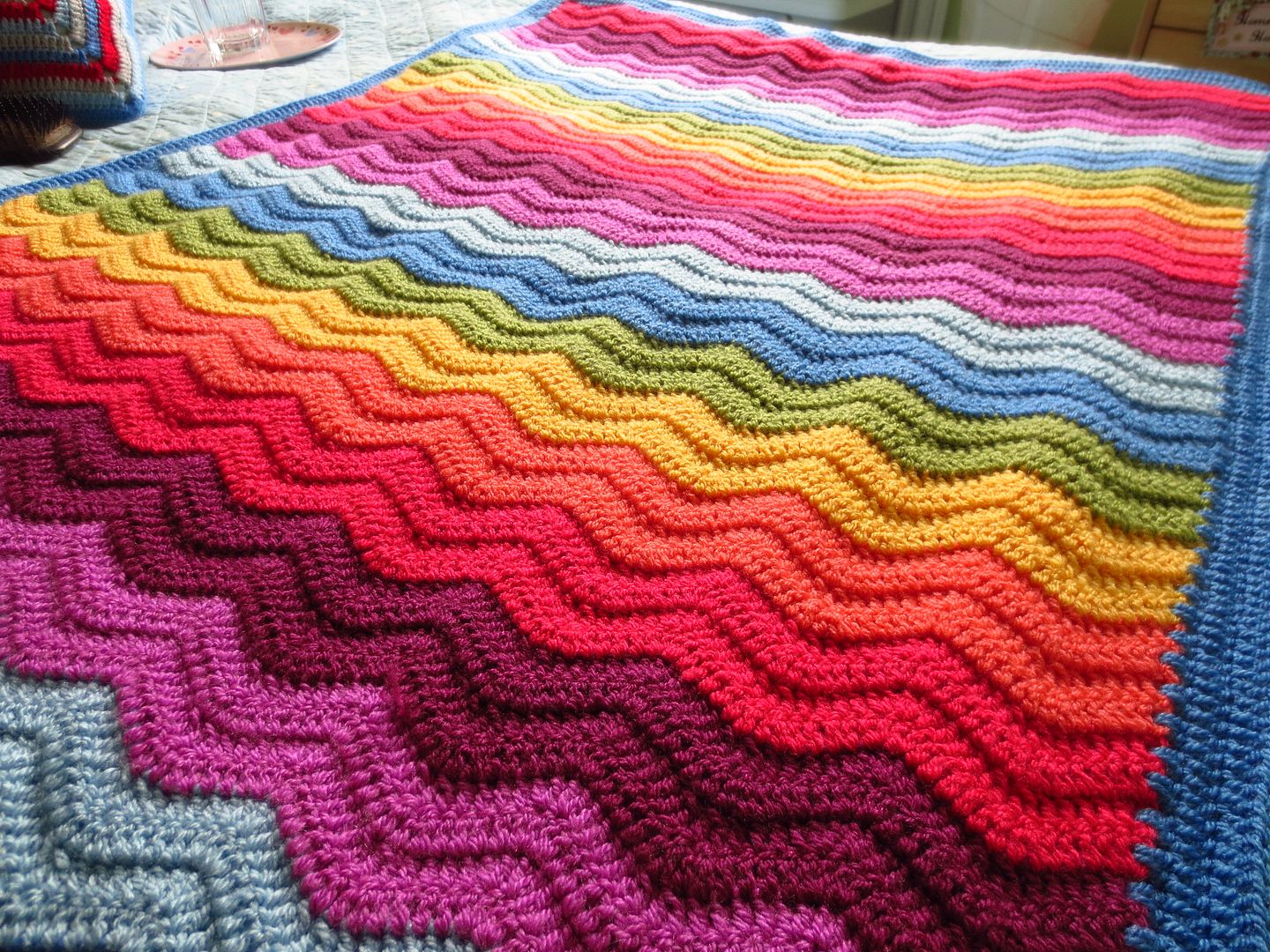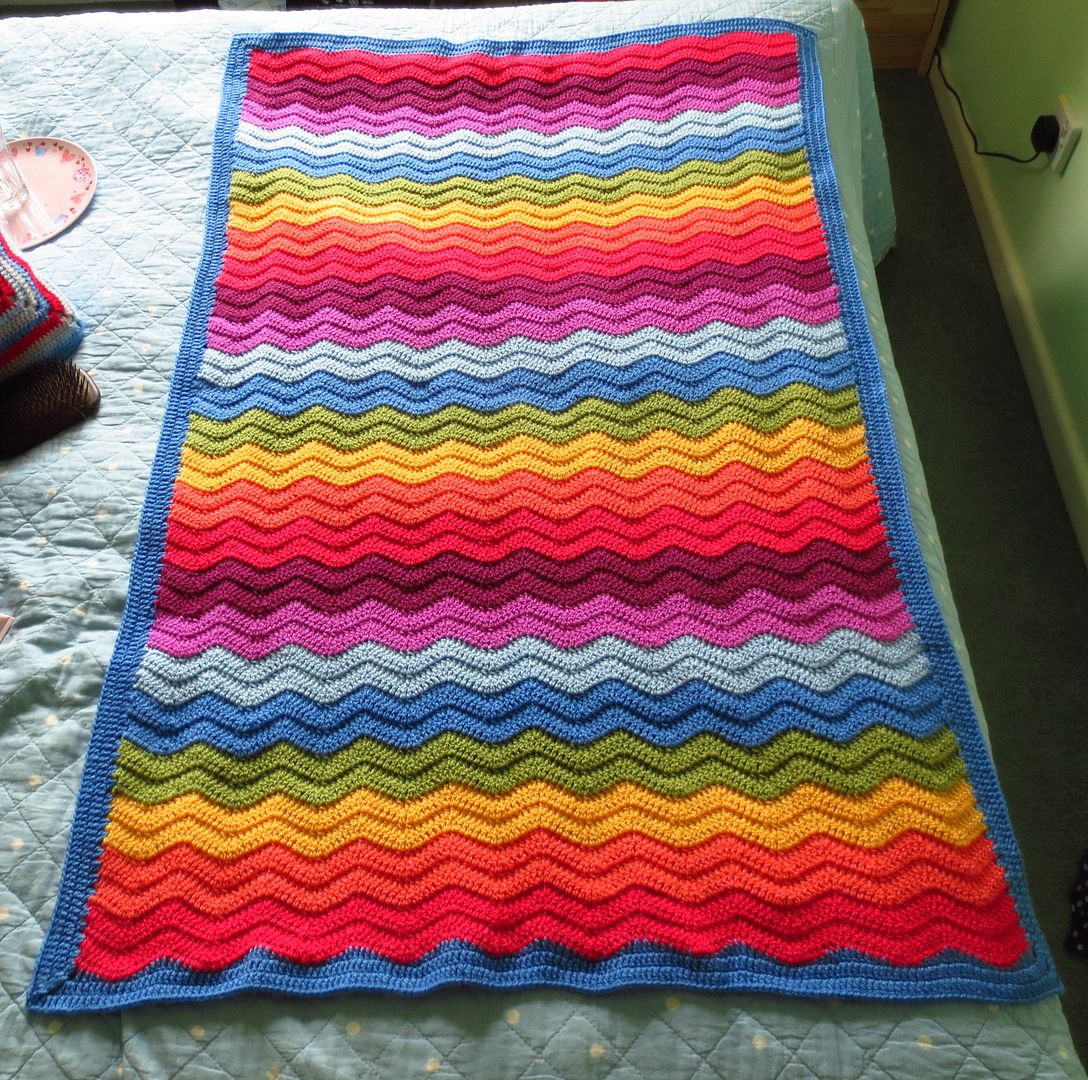 There's not much more to say really: it's a ripple for a baby, in stylecraft, in rainbow colours. It's approximately the same size as the Honey & Roses blanket, and my friend and her new baby boy loved it :-)
Edit: Pattern from HERE, straightening technique from HERE. I think I did 140+3 starting chain, and my hook was 4mm.