My mum is staying with us at the moment (WAHOOOO!!!!) and happily this coincided with the preview night of Lucy and Tracy's open studio day. We were late arriving as the start time clashed with baby-bedtime so when we got there the cafe and studio were full with people, drinks and food in hand, chatting to each other and enjoying the ambience. I didn't take many photos (we were too busy enjoying ourselves!) but I'll share what I have and I'm sure that many more photos will pop up around the web soon enough. If you went on the Saturday, let me know! If you've blogged your photos leave me a link and I'll add it to the end of the post here.
The above is Lucy's workspace, as you may have guessed ;-)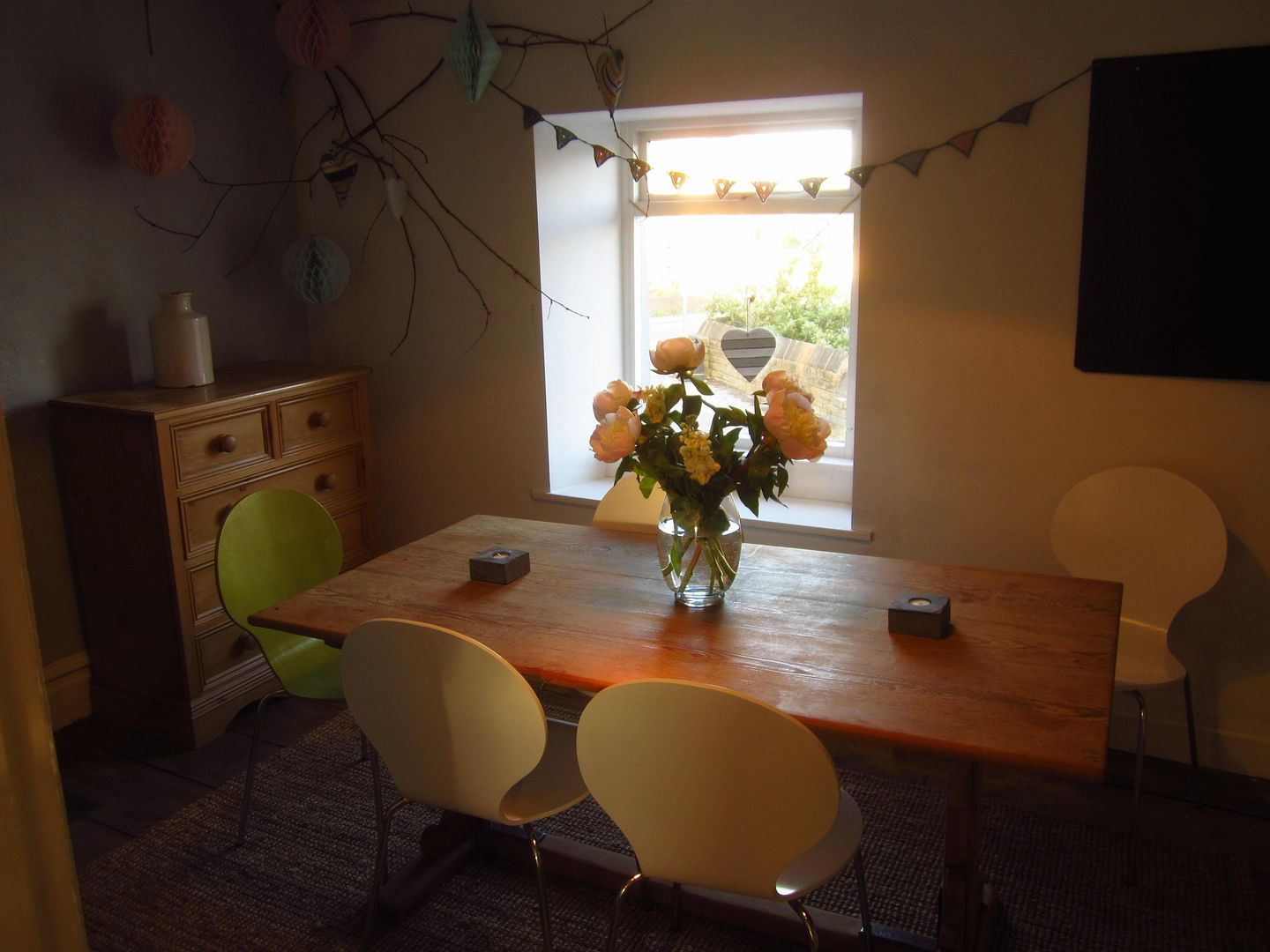 This is the room next to the studio where Lucy and Tracy are planning to hold open days and workshops including rag rugging, felt decorations, decorative crochet and needle felting. I'm not sure how I managed to get a photo of this room while it was empty as it was crammed with people for most of the time.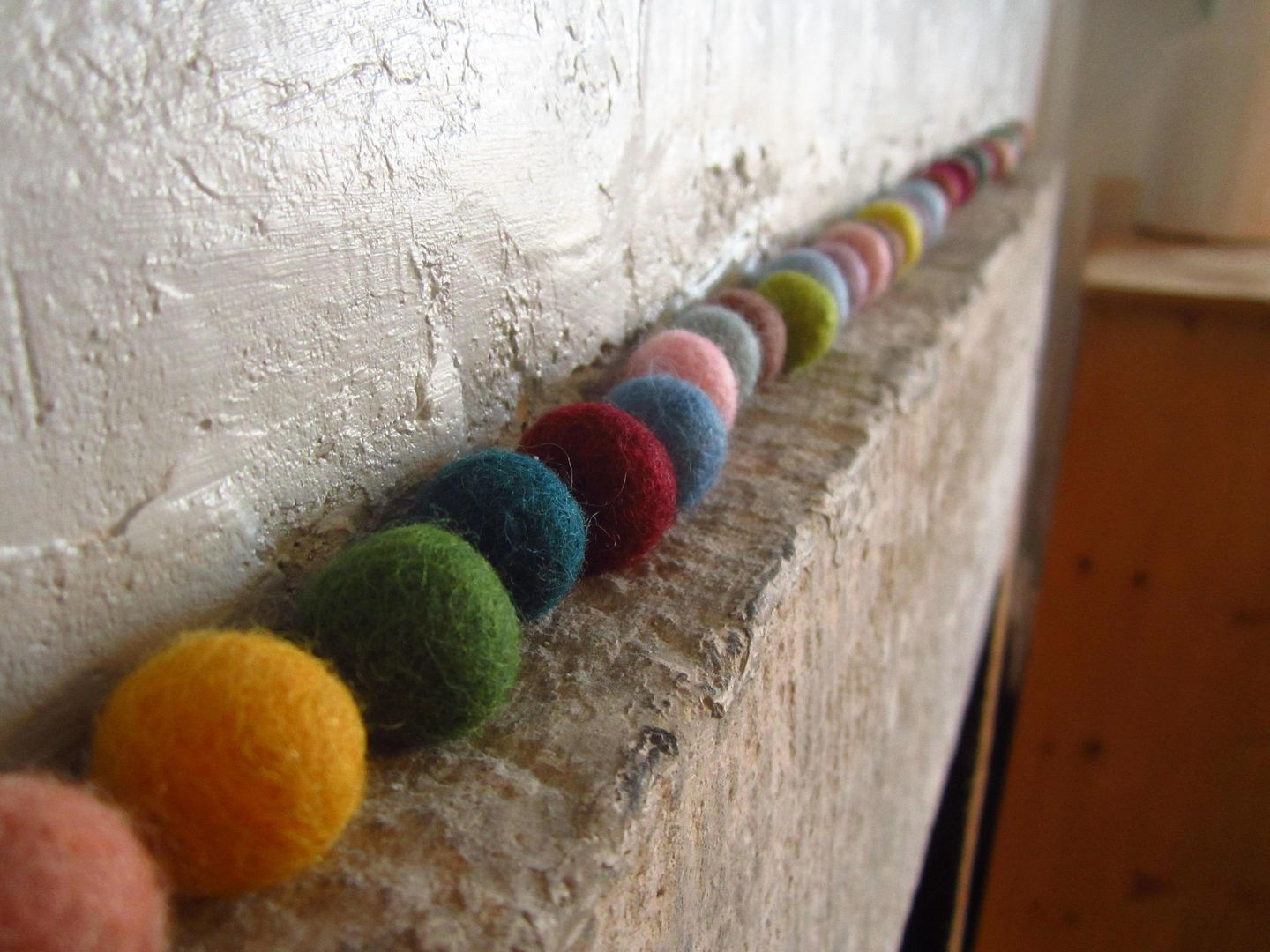 No part of the upstairs of the building remains un-prettified! This is a very Lucy-esque decoration but in very Tracy colours which made me smile.
Hiiiii! This was before the wine. There are no after-wine photos.
It rained for most of the day on Friday but in the evening the sun came out, albeit with a cold breeze and the clouds lingering threateningly in the background. This window faces West ish and the late evening light was streaming through and illuminating the stained glass and the flowers in their bottles beautifully.
We were able to sample lots of the food that Coopers Cafe-bar has on offer. My mum fell in love with the blue cheese but I managed to drag her away and take her to the other food where I tried hard not to eat all of the piri piri hummus and granary bread. Mmmmmm.
Uh-oh. Now. The last time I drank any alcohol was Christmas 2011.
There are no photos after this one!
Sometimes it's hard to find the words to do justice to what a wonderful time I had. I really haven't done justice here. I know how hard Tracy and Lucy have worked on their studio and I know how hard Tracy has worked designing and making her truly beautiful handmade hares, angels, pincushions etc. I know this is just the start of something great for both of them and I was honoured to be invited to spend their first open evening with them. Everyone there on Friday night felt the same and the place was buzzing with happiness, love, support and enthusiasm (and fizzy wine!).
If you don't already, you should follow Tracy on Facebook at her page Handmade over Yonder, and her blog Patchwork Chickens. I'm SURE you all follow Lucy already but if you don't you can follow her facebook page Attic24 and her blog too.
Oh and for us … an evening out just me and my mum … I can't remember the last time that happened! It's quite wonderful being able to tuck the little boy up in bed and leave him with his daddy and then go out. We felt like we were on holiday as we walked down to the studio!
Do let me know if you went along yesterday xxxxx
::  Read about Christine's visit HERE ::