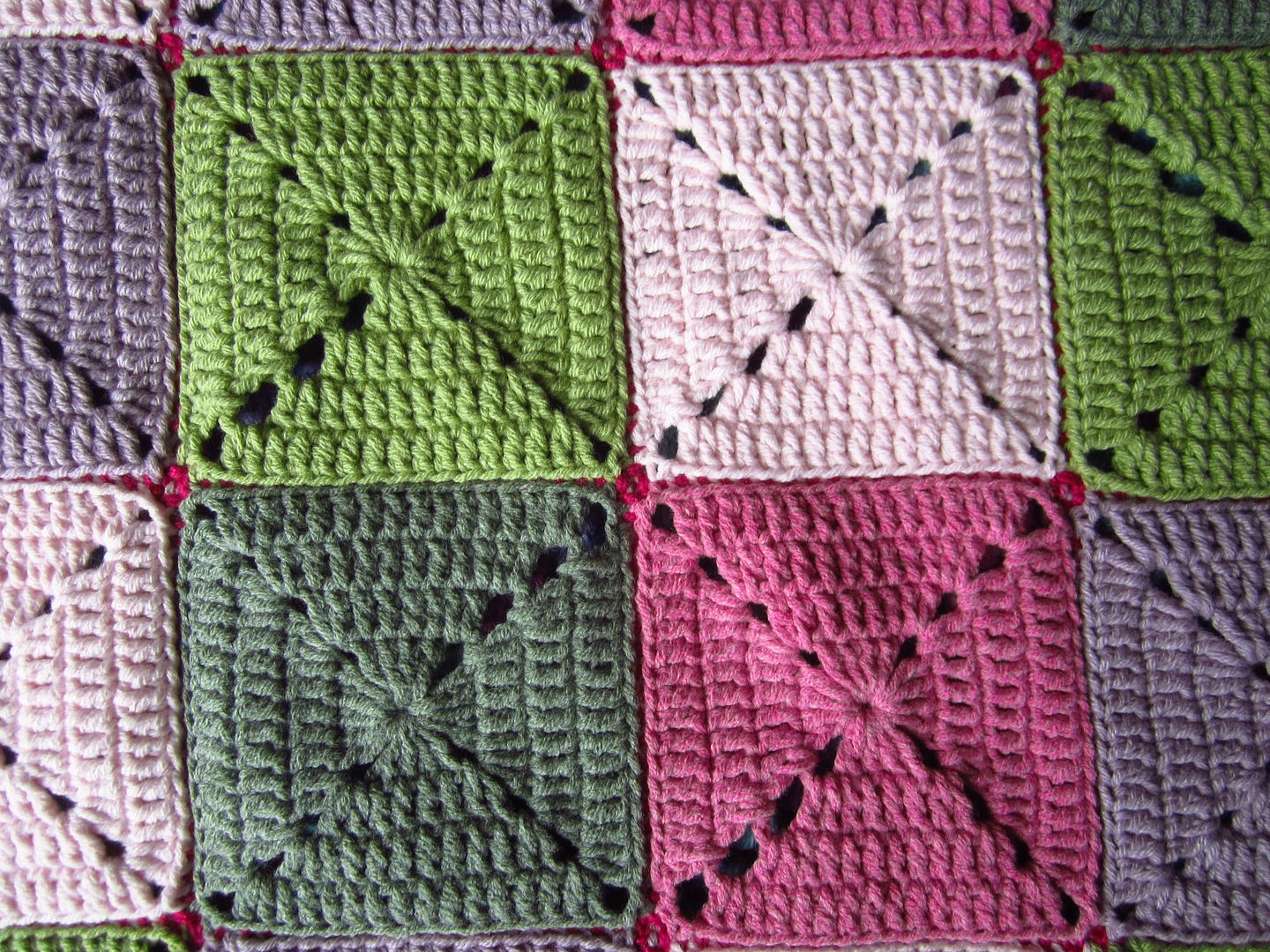 Sometimes I feel like I get hit with a big inspiration stick. When this happens, I can't settle until I get going on what I've been inspired to make. When this happens, I am very focused and very productive. It helps when it's a smallish item, such as a baby blanket, of course! I am proud to present to you today my Summer Girl blanket.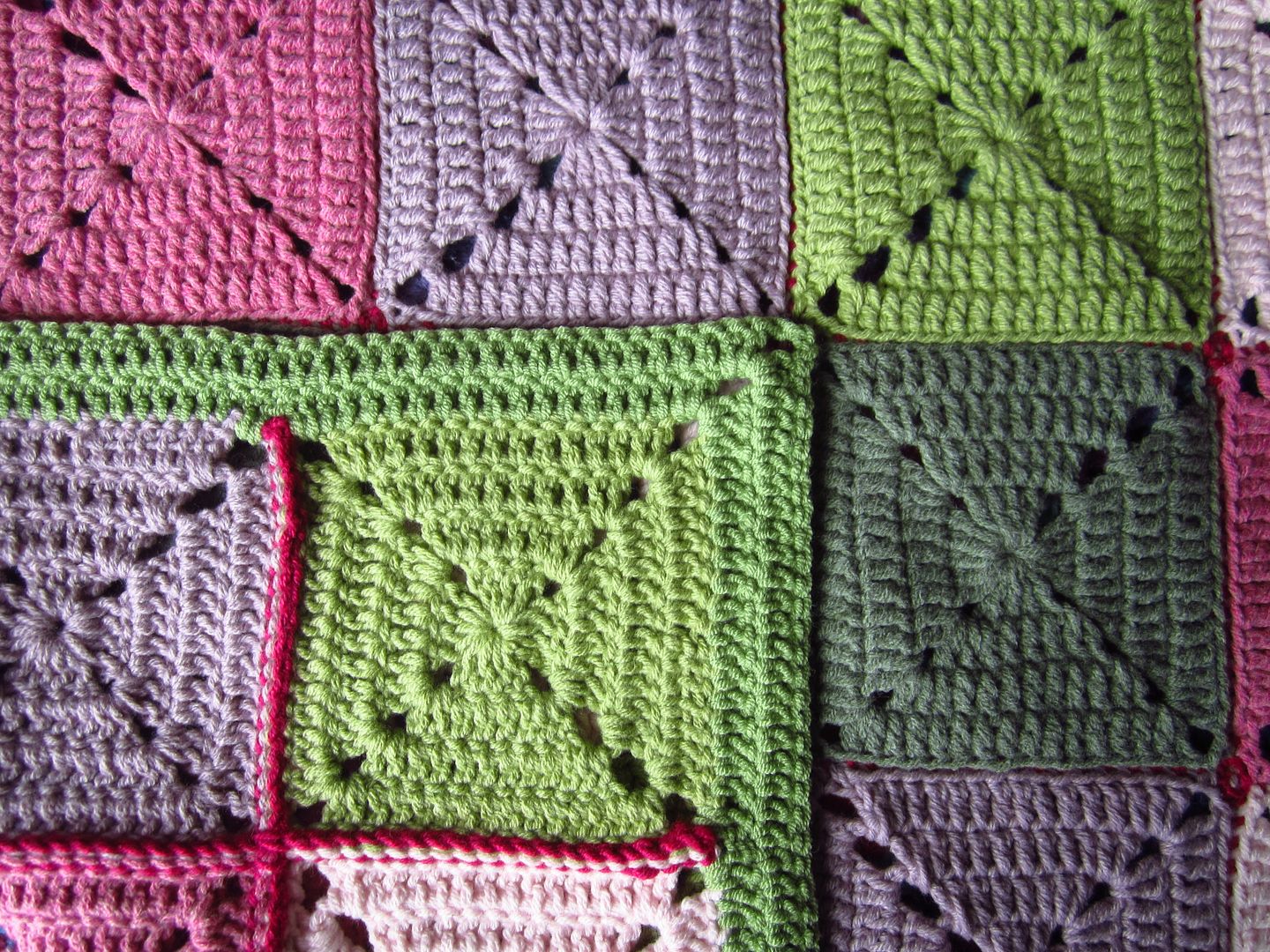 This is made from my leftover Kool Kotton yarn, with the addition of a border made of Cotton On. Cotton On is the replacement for Kool Kotton (both are James C Brett yarns) and thankfully they have decided to spell "cotton" correctly as the krazy kreative spelling was like nails down a blackboard to my mind. They are both cotton/acrylic blends and are very soft and drapey when worked up into a blanket. TTB really likes the feel of the one I made a few years ago and has adopted it for his very own (we play peekaboo with it a lot). It washes up really nicely too. I find cotton very tough to work with and the Kool Kotton does still make my hands hurt when I use it. It reminded me why I still had some in my stash from so long ago! I have knitted with it too and it's a lot nicer to knit with than crochet with. The Cotton On was much nicer to work with than the Kool Kotton and you can see why they replaced it.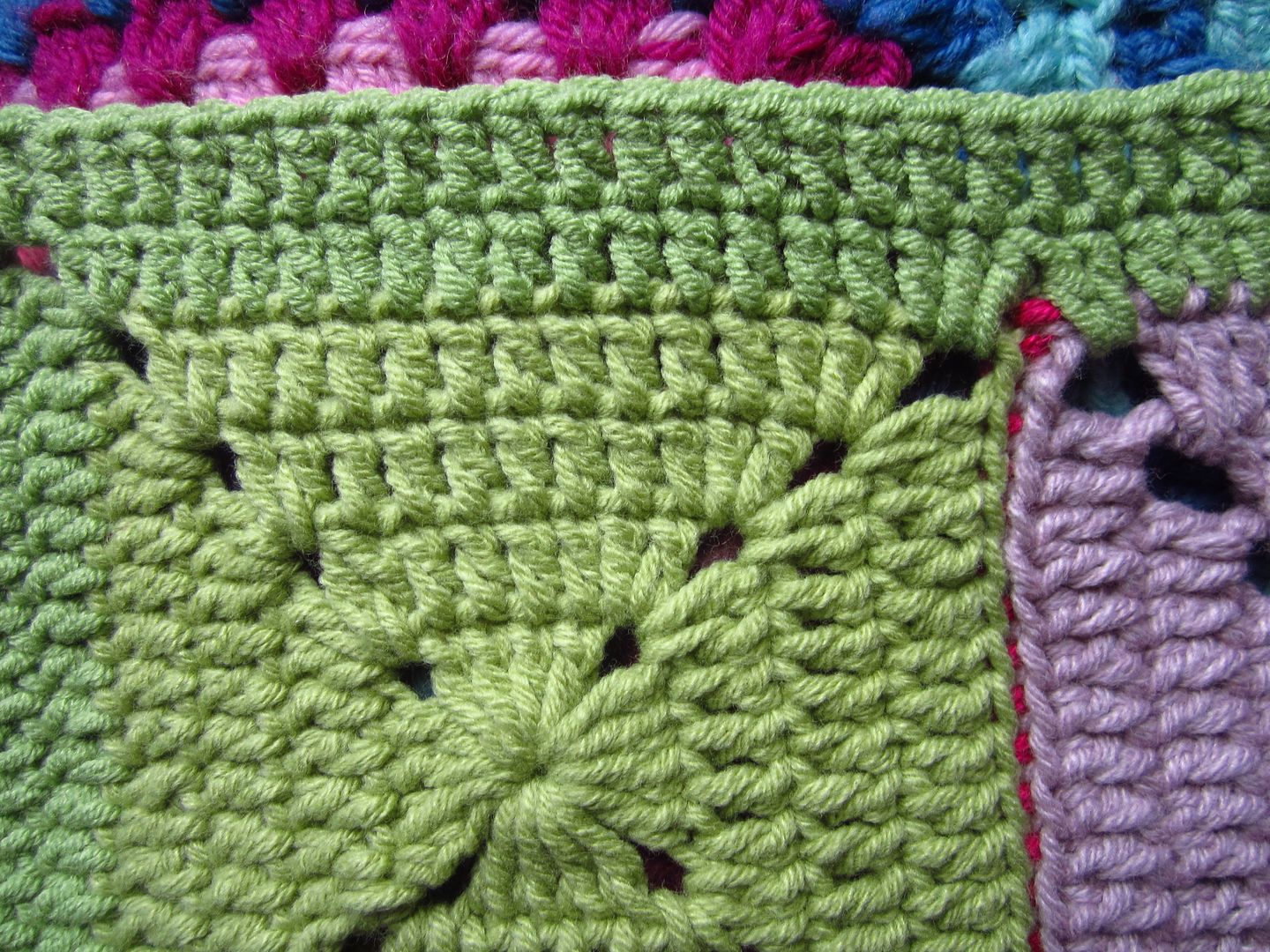 I had planned to make the blanket a little bigger, but I only had enough of the raspberry coloured yarn for six squares and if I had expanded the blanket using other colours the colour balance would have been wrong. I was aiming for the colour of roses – dusky pinks and greens. I really like this colour combination and I think that the shrimpy coloured yarn fits in well – I remember hating it at first.   The blanket is a gift for a new friend of mine, a friend really of Rach's that I have started to get to know recently. I like making new friends and I like making blankets for babies – her second daughter is due in June and I thought that a little summer cotton blanket would be a nice gift to send. It's only tiny, measuring about 70×60 cm, but after baby girl has outgrown it I'm sure it could find a home as a blanket for dollies or teddies.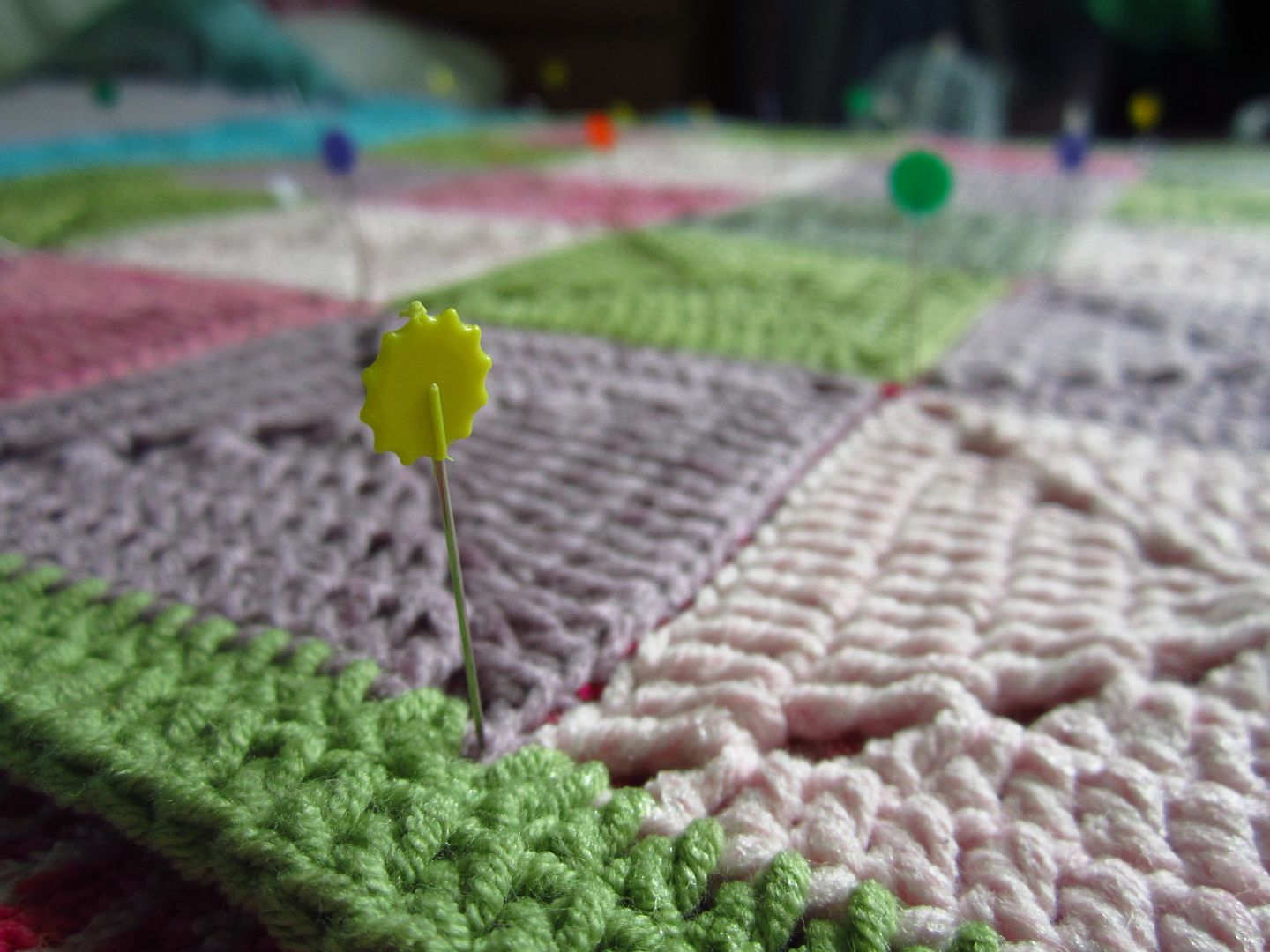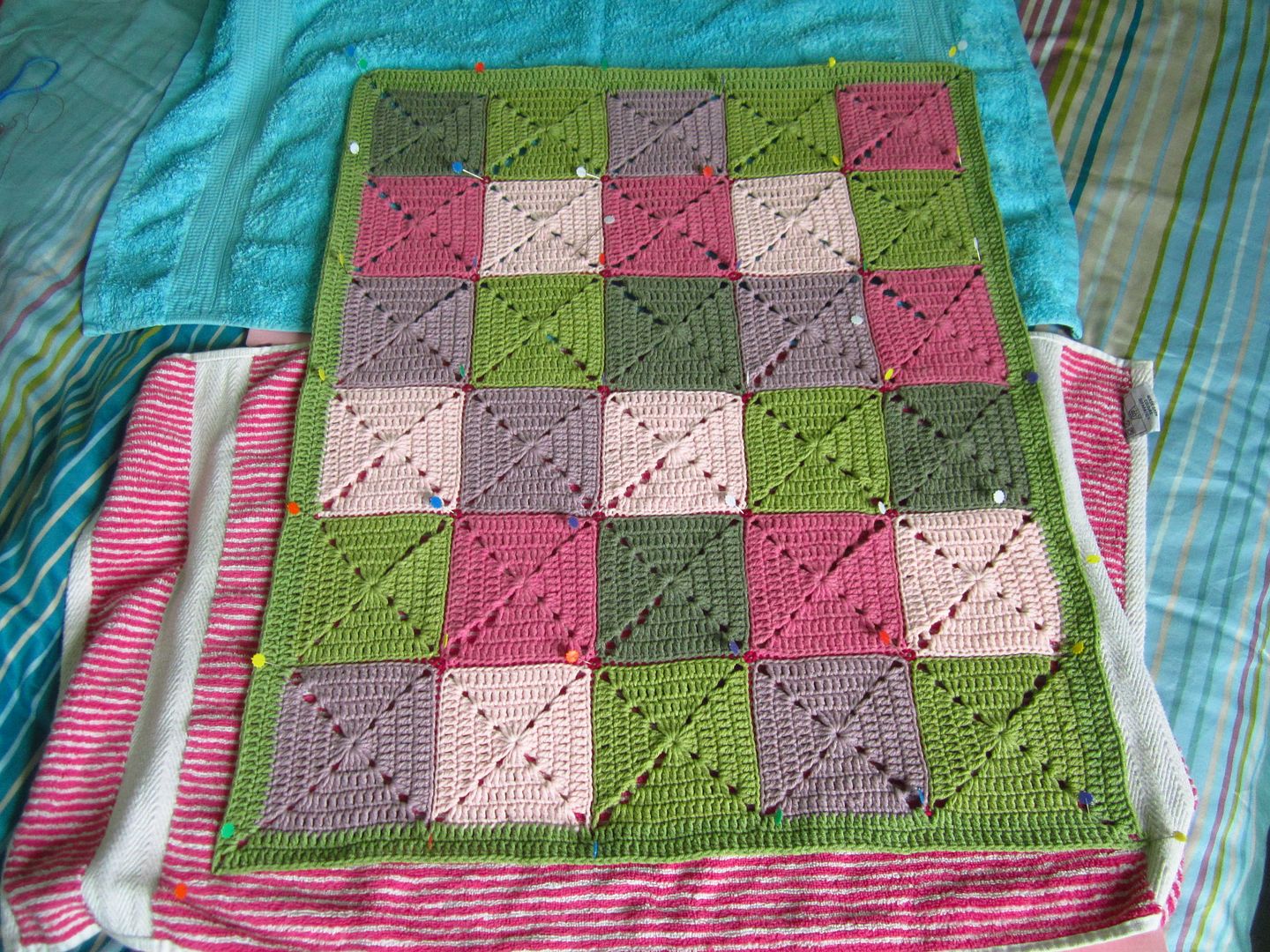 As the yarn contained a natural fibre I felt confident in blocking it (I don't want to get into the acrylic blocking/ironing debate again!) in the usual way of pinning it out and spraying with warm water. Unfortunately, Andy had pinched my spray bottle and used it for doing DIY with in the lounge (something about brick dust?) so I had to improvise and use a sponge to apply the water. The end result was a bit heavy handed and I ended up using a hair dryer on it to get it to dry because it did not seem to be doing so in the air! I love seeing the little forest of flower-headed pins when I am blocking, and it made me feel very nostalgic for the last time I did blocking. I'm sure I'll get over this incessant need to compare things I am doing now to what I did when I was pregnant or this time last year! So there we have it … if it's a small item and I'm inspired, I can make a blanket in a week. I told myself that I was in fact doing housework by working on this blanket: I need to reduce my stash quite considerably, I was using stash yarn and therefore by crocheting I was actually tidying = doing housework!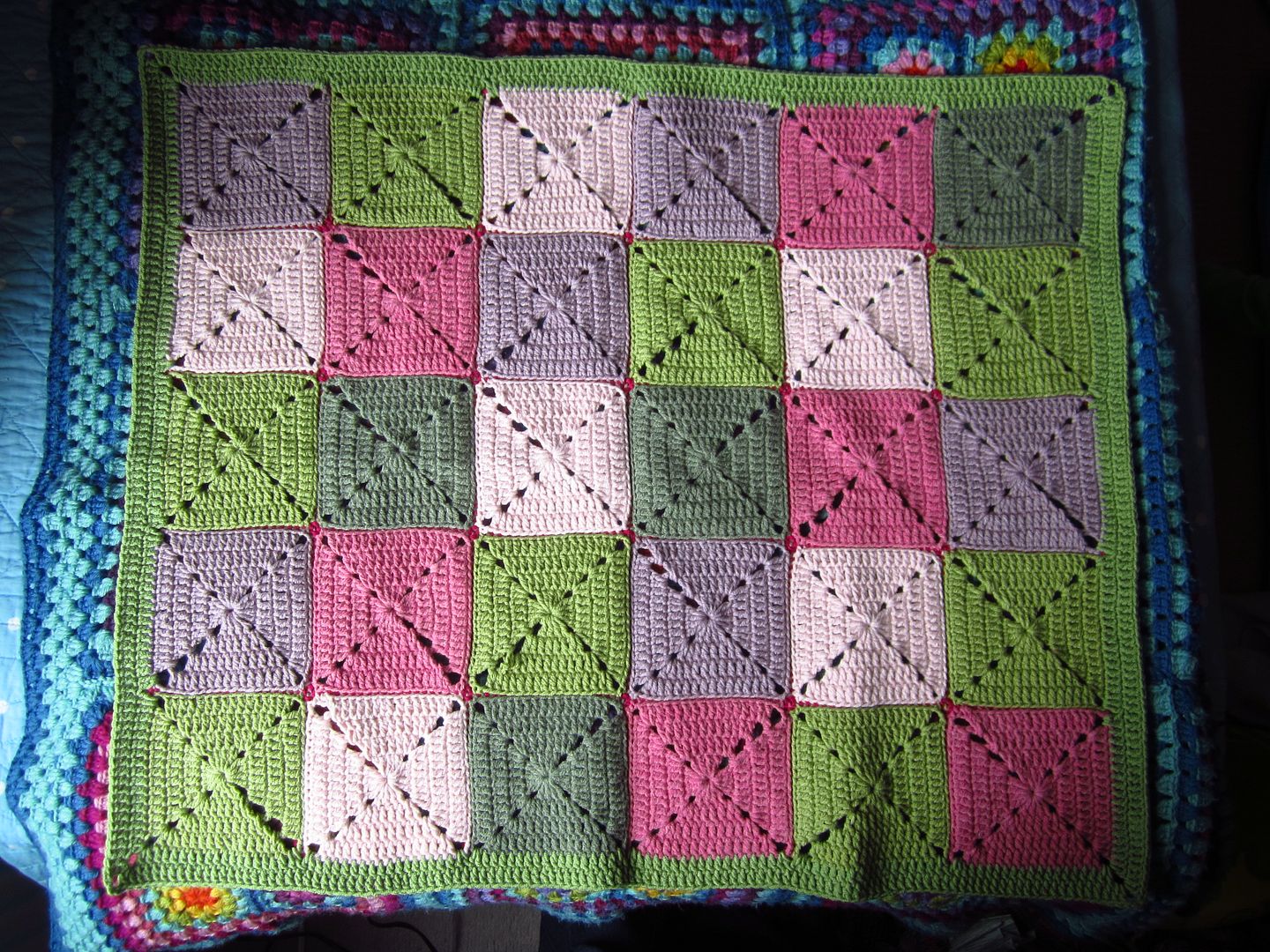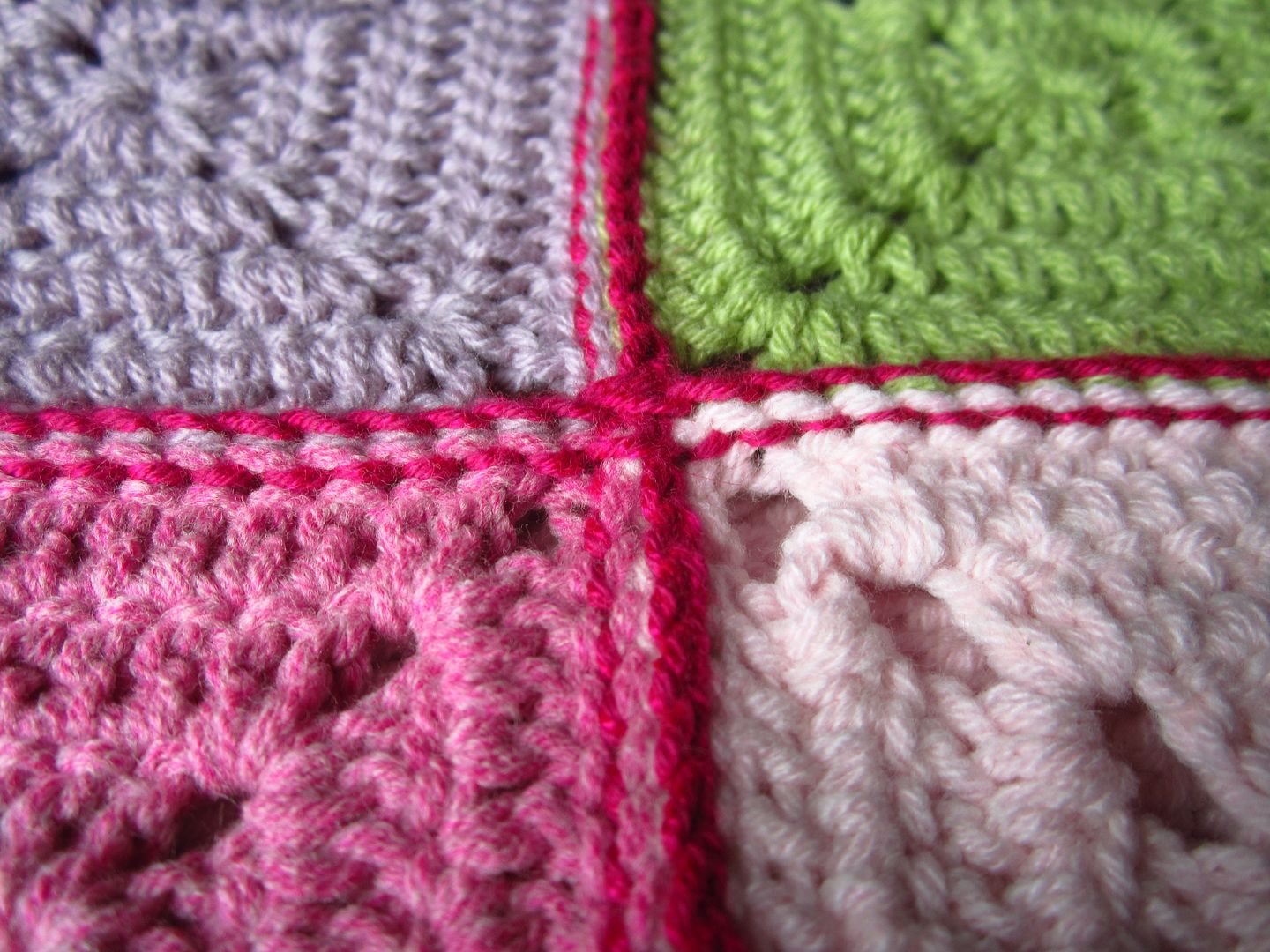 I used my Elmer Squares pattern to make the 4 round squares, and joined them using my usual method. I worked it on a 4mm hook and the yarn was Kool Kotton (discontinued) for the squares, and then Cotton On (shade 16) for the simple border. You can buy Cotton On from Texere Yarns and from HCS Crafts. I joined the squares using a bright pink yarn called Rico Essentials Cotton Soft but I've not seen it in any shops since I picked up this one ball a couple of years ago. It too is a cotton acrylic blend with a slight shimmer to it.