I bet you are thinking, "Why is Heather showing us a photo of a post? How boring and pointless." Well, it is rather boring at the moment, but it definitely won't be in September. What you're looking at here is the start of what is hopefully going to be a totally fabulously awesome incredible super duper Yarn Walk. The Yarn Walk serves a purpose too, it's not just a hooky indulgence; it's going to guide people all the way from the railway station over the canal and through the park all the way up to the Auction Mart where Yarndale is taking place in September. Isn't that a great idea? I think it's going to look amazing. It's a bit of a daunting task though! There is quite a bit to cover and you kind of need to aim big with your ideas or it will just be overwhelmed by the expanse of the park.
Edit: See more photos on the Yarndale Blog!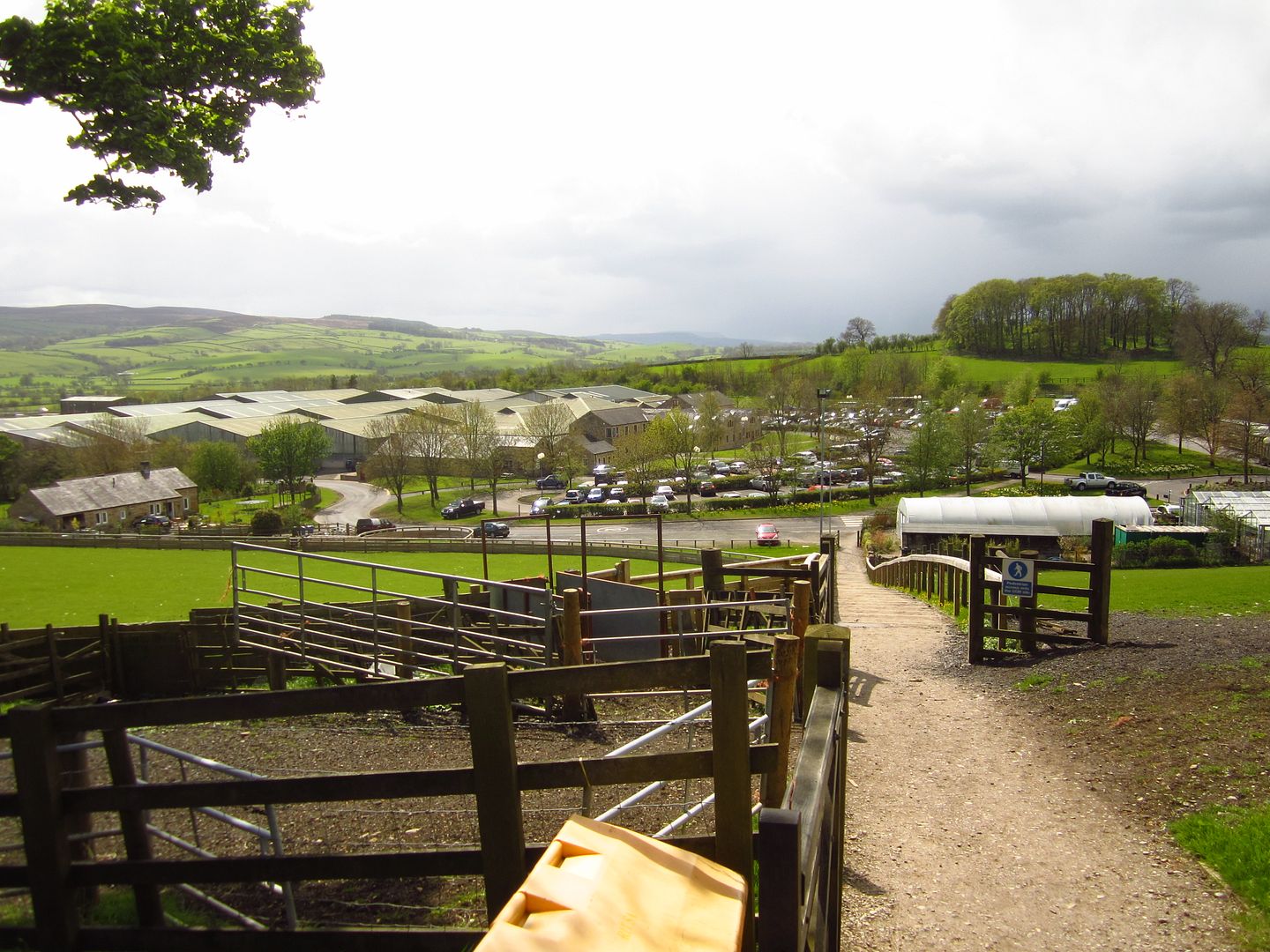 I'm not involved in Yarndale at all, not official, not involved in organising or anything like that. But I've been itching to help out in some way! Yesterday I managed to elbow my way in and help out a bit. In between rain/hail/sleet showers (what is WITH the crazy weather?) Lucy and I walked the walk from the station to the Auction Mart and photographed all the bits and bobs that we're going to yarnbomb and discussed ideas and plans of how we can do it. It was such good fun. I do now have 124 photos of fences, benches, trees, bins, steps and posts to order and sort though … not quite so fun :-/ I enjoyed stretching my brain a bit as well to work out how we can pull it off.
The helpful thing … well it might seem like I'm muscling my way in on the Yarndale action and I kind of am in a way but Lucy assures me she is grateful for the help. Honestly. And it's a relief actually because I've been trying to think of a way to pay back in kind all the things Lucy did for me when I was giant and housebound before I had TTB (visiting every day, bringing me coffee & pastry, being really supportive) and afterwards as well, visiting us in the hospital and then at home when I was just a mess and couldn't hardly stand up on my own let alone look after a little baby. I've felt very indebted to her for it and I was getting a bit twitchy that I didn't feel like I'd returned the favour. It turns out that taking photos of bins and offering to make oodles of yarnbombs goes someway to doing that!
And as for the oodles of yarn bombs … you know when you get carried away and have what seems like wonderful ideas on how to make everything look amazing? … yeah you should see what I'm trying to figure out how to put into crochet form. I'm going to keep it a secret because I want you all to be bowled over in amazement at my impressive freestylin' mad crochet skillz but also because ha, if it doesn't work out then you will never know!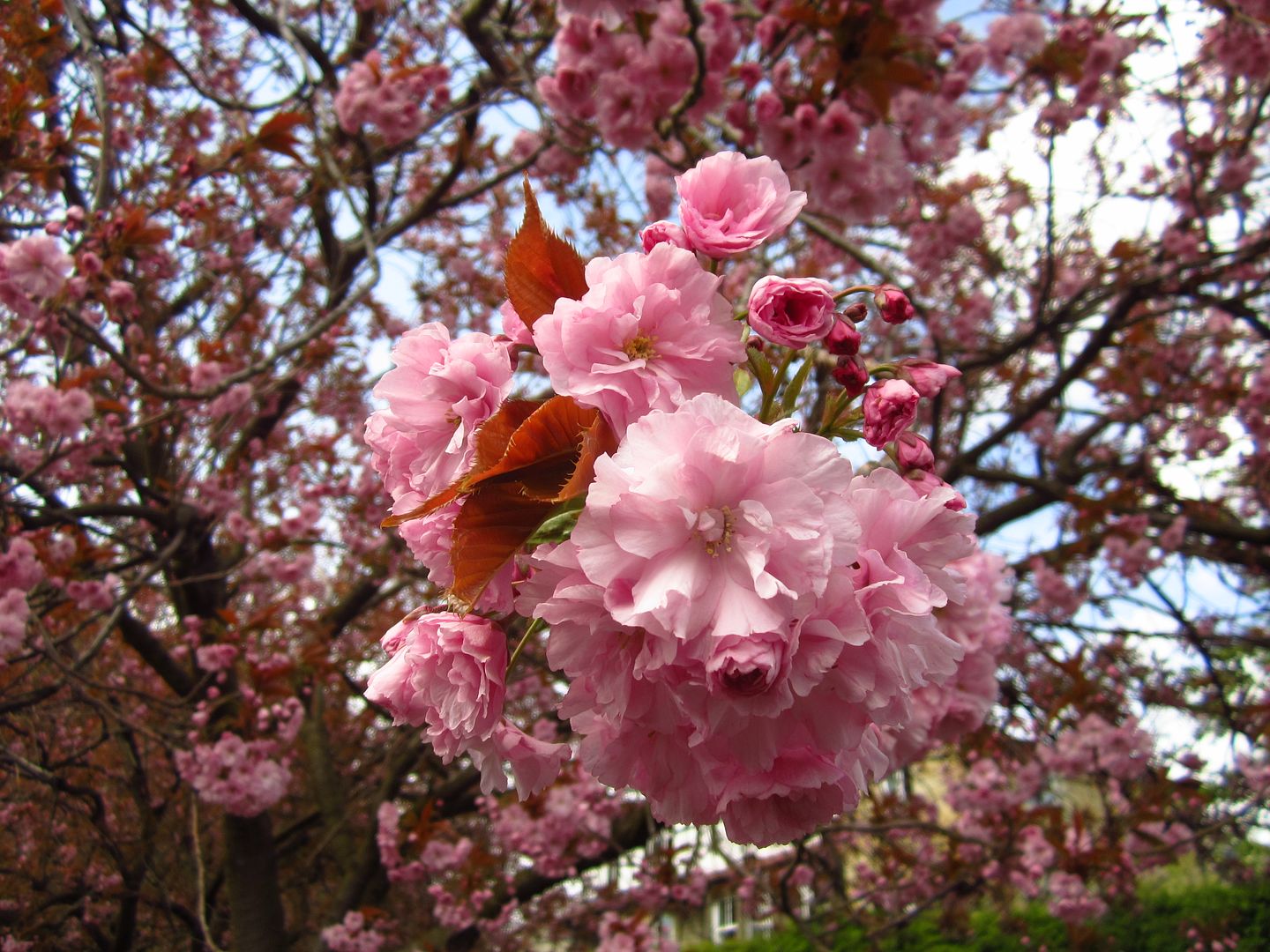 Oh and the cherry blossoms near the park are almost out too … so pretty.
(I'm assuming you've heard of yarnbombing? If not, here is the wikipedia page but there are sooooo many images on pinterest/flickr/facebook to look at. Fab, yes?)
EDIT: It's great that so many of you are coming! I am really looking forward to it and I'm so happy that you can make it. For those who can't, there will be loads of photos and I hope you can make it in 2014 :-) Also, I reckon we will be needing some help with yarny contributions so we will let you know when we've calculated what we need and what not. Thank you for offering! xx
EDIT 2: Lucy has the pattern up for Granny Bunting! http://attic24.typepad.com/weblog/granny-bunting-triangles.html