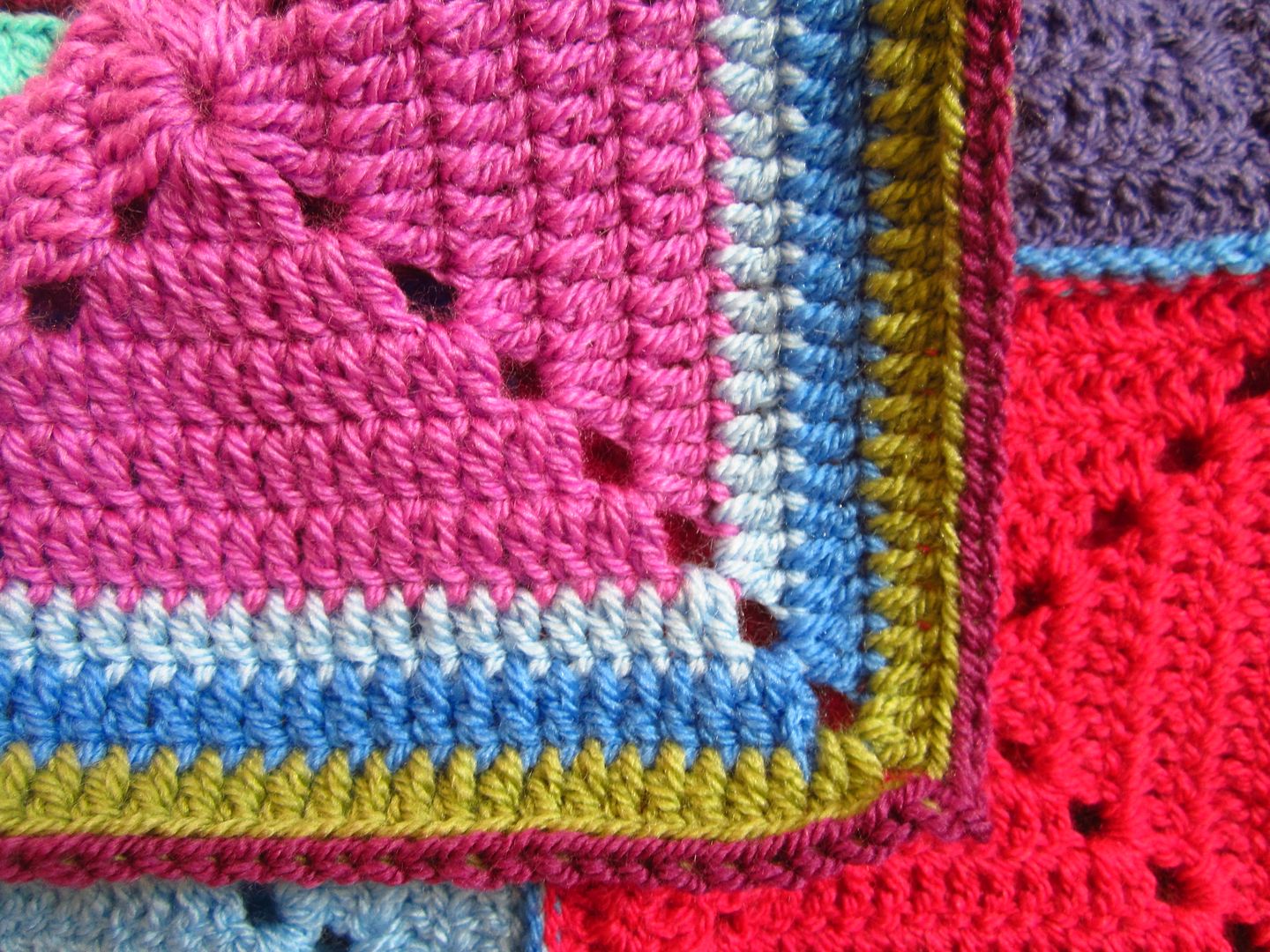 Hello there! Today I bring you the write up of the Big Elmer 2 blanket. I apologise in advance for the dreadful photos – I remembered about an hour before leaving to deliver the blanket that I hadn't photographed it at all so I took some hasty snaps. I'm going to keep this short too because you of course have already seen the reveal of the first Big Elmer blanket and it's very similar.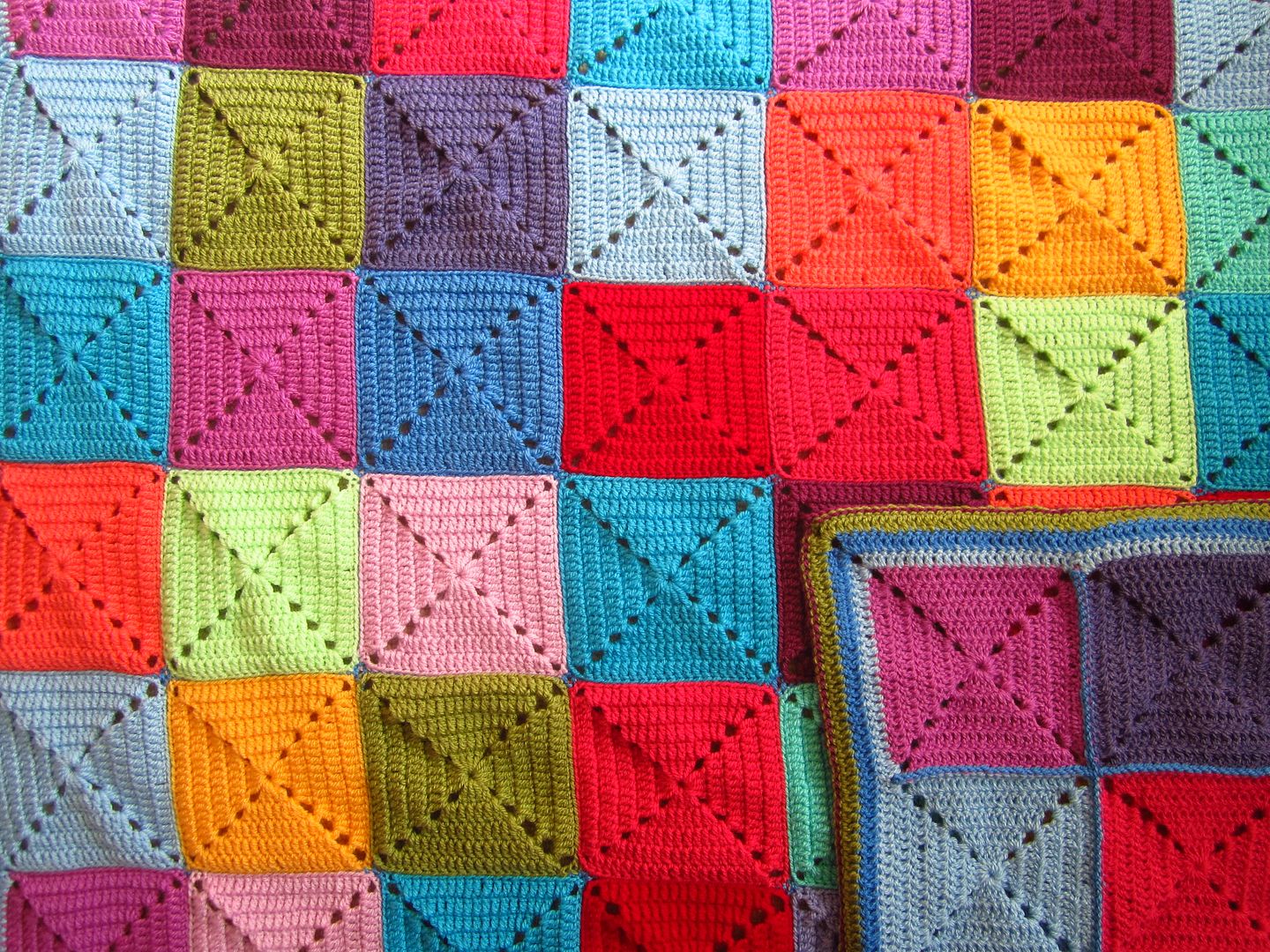 I made this for my friend Katherine, who had her second baby (a little boy) in December. She has made me many lovely things (and as always when I talk about Katherine I am going to link to her Etsy because that's what friends do: Mamafactured) and I wanted to make a special blanket for baby F. I had already made blankets for her daughter but I wanted F to have his very own one. Second born babies deserve new things too!
I made 9 squares before TTB was born but I was quite burnt out after making my own one and I lost momentum. After I had finished making the Hospital blanket I started hooking on this again and the overriding thoughts that are entwined in this blanket are of the "he's in bed! asleep!". It's a blanket made of baby sleep, what could be better eh? I made it in the evenings after 7pm after I had got TTB into his bed and suddenly it wasn't a chore making another version of this blanket and the squares flew off of my hook – I was crocheting! In my own free time! Yay!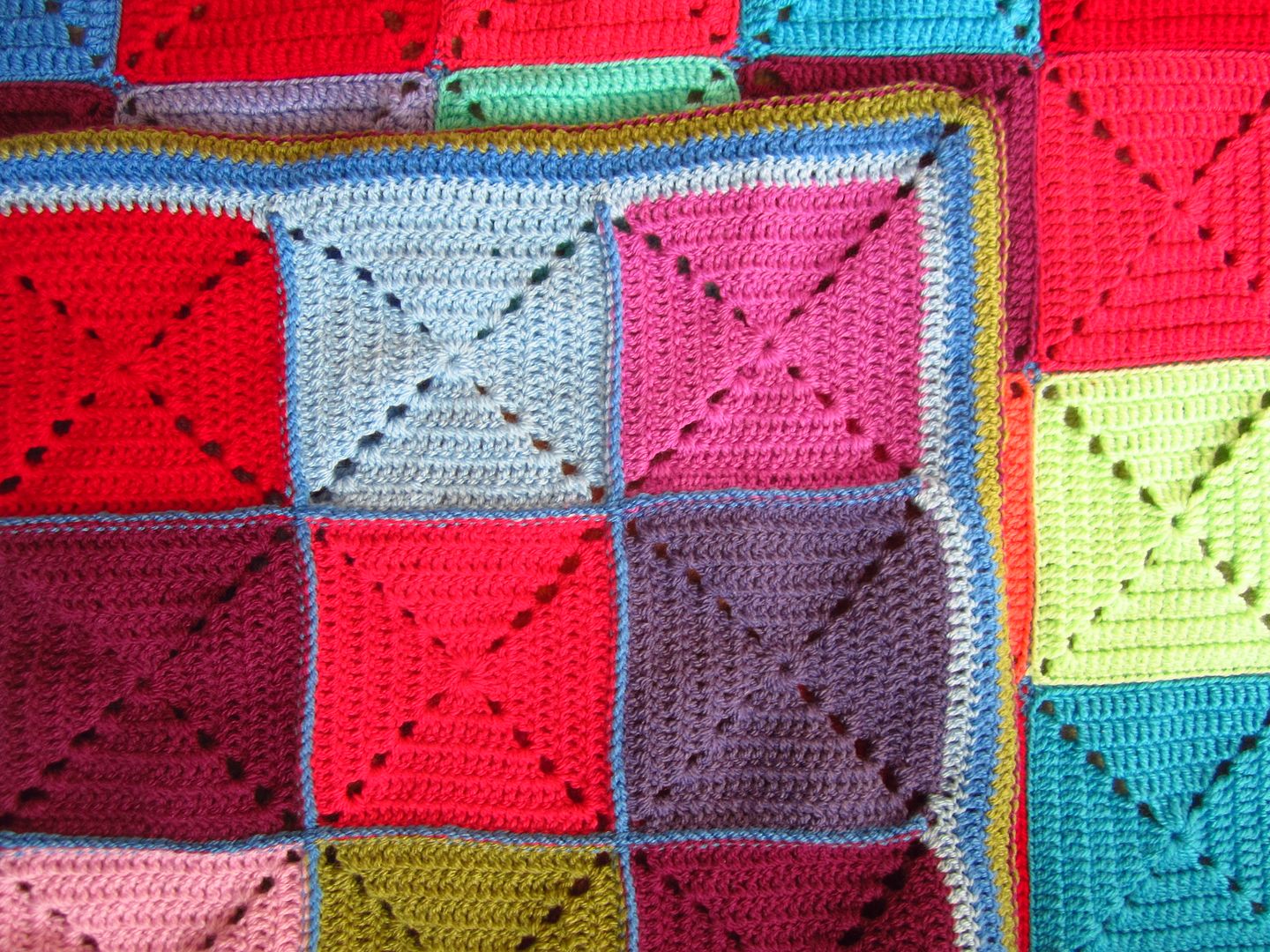 There are some differences between Big Elmer 1 and Big Elmer 2. Firstly, I joined my blanket using the colour "Cloud Blue" and I joined Katherine's with "Aster". No real reason for the difference! The final two rounds of the border are different as well, on mine I did Cloud Blue, Aster, Turquoise and then Lipstick but on Katherine's I did Cloud Blue, Aster, Meadow and then Plum. Katherine likes a different colour palette than I do and the green and purple is a nod to that. When I made the second blanket I referred to a photo of mine for reference and made a copy of it which made it lovely and easy to make as I knew which colour to make next. I always spend more time planning colours than actually making a blanket so it was fab to have a map to follow. When I ran out of a colour though I just threw in a different one so there are a few squares that are different.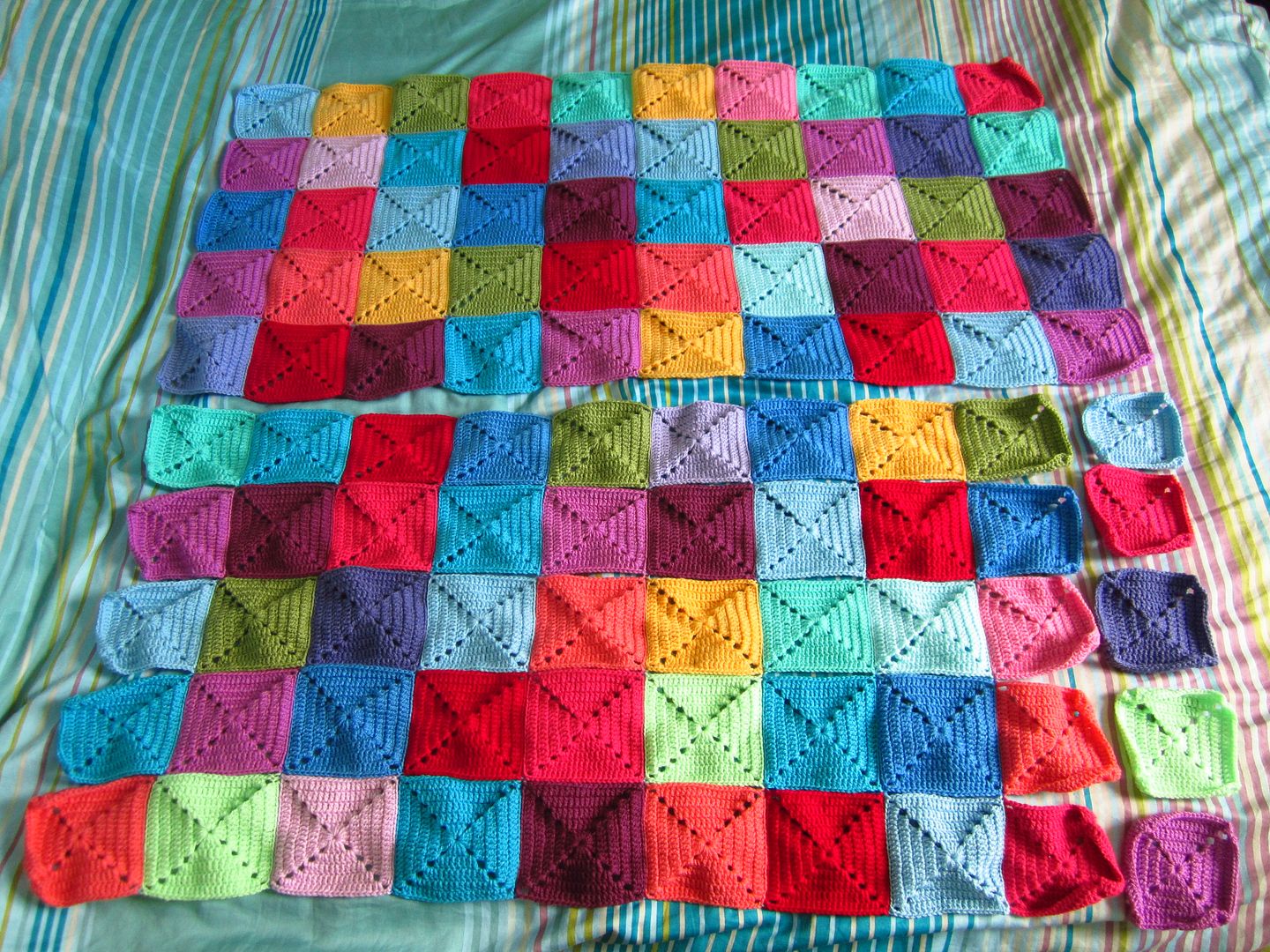 A little note on joining: I mentioned in a previous post that I was joining the squares as I went and I received a comment asking how. Well, I'm afraid it's not some special new technique at all, I am just using my normal joining method but because I already knew the order that the squares would appear in the finished blanket, I worked in blocks so that I didn't have loads of loose squares laying around. I made ten squares and then joined them in two rows of five. After that, I made the next five squares and then joined those, and so on. I joined them just on the vertical only and then when I had made all 50 squares (half a blanket) I joined along the horizontal as well. This reduces the number of ends to sew in at the end as well. When both halves were complete, I joined them together too. Can you see in the photo above …  one completed half blanket (top of the photo), then all 50 squares made for the 2nd half but the final five haven't been joined on the vertical yet, and none of the horizontal joining has been joined.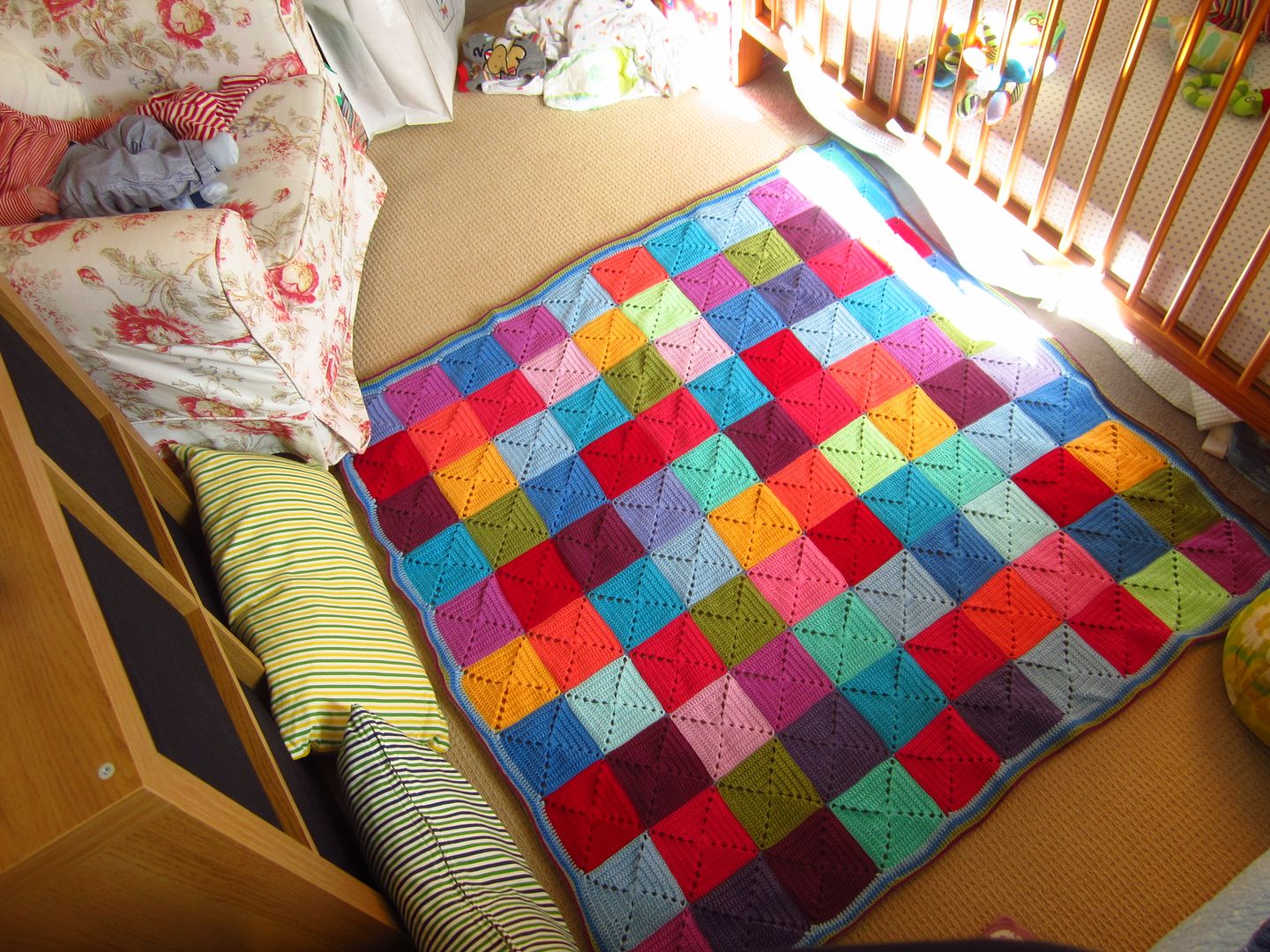 And here is the final blanket! Perfectly sized to fit in TTB's new improved room. Annoyingly the edges went a bit curly (I was really, really annoyed about it but er not annoyed enough to pull back three rounds of border to correct my tension on the second round of it. Sorry Katherine!)
I'm really pleased with the finished blanket, very happy that I made something for baby F (I received photo evidence though that it was immediately commandeered by his older sister but meh, he's going to have to fight that battle on his own!) and a bit chuffed that I managed to finish a "big" blanket since TTB arrived. And (again – sorry Katherine) I am THRILLED that it is finally finished and my itchy fingers can hook NEW THINGS now! (Ps: I am never making one of these blankets ever again. I love them, but I am NEVER making one again!)