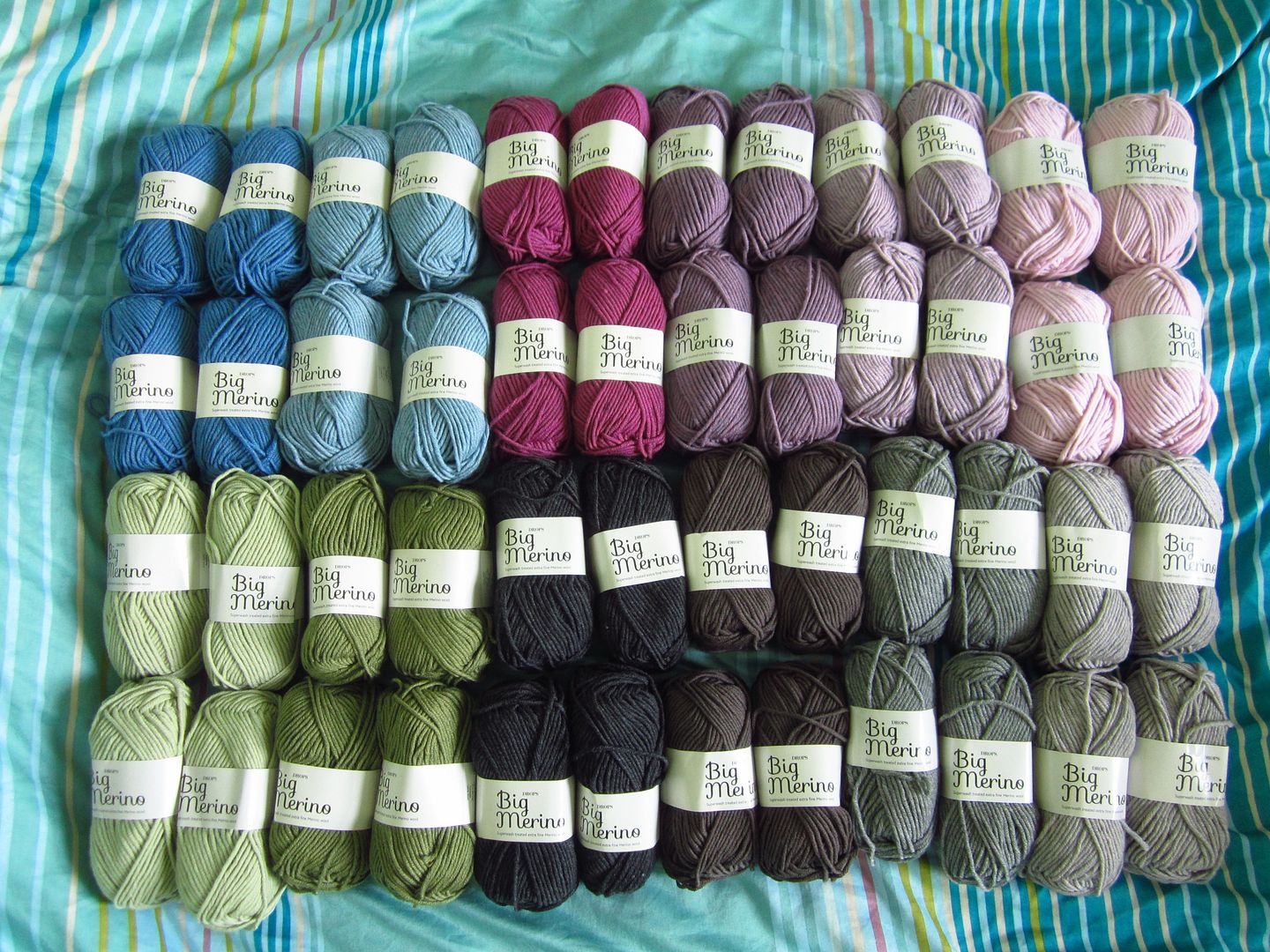 (Colours left to right starting with the blue: 07, 06, 11, 10, 09, 16 and then the next row: 20, 13, 03, 05, 02, 08)
I bought some yarn.
It's big and squooshy and soft and lovely.
It's called Drops Big Merino and it is just like the Debbie Bliss Rialto. (but cheaper!)
I bought it from Wool Warehouse in their sale. (Don't blame me if you buy some!) They delivered it crazy fast AND sent me some free stitch markers. I had heard that they delivered quickly so I skived off of babygroup so that I'd be in for the postman. I wasn't disappointed!
It's the first time in ages that I've had a parcel of yarn arrive and it feels soooooooo good. Naughty but LOVELY at the same time. I was a bit heeby jeeby like about ordering so much in one go, I had originally planned to order just a small amount to get started but then there was such a big discount that it didn't make sense to wait. I am going to make a blanket (naturally, it's me after all) for our living room – I am going to race Andy to see who will finish first : blanket or living room. I am going to give him a fair chance though as I am considering KNITTING it. It's aran weight … how hard can it be? I'll get back to you on that seeing as my knitting achievements to date are a pair of mitts which were a rectangle of garter stitch folded in half and sewn up with a thumb hole. I want to make a blanket which is subtly gorgeous rather than being "LOOK at all my COLOUR" like my other blankets are.
The reason I want to knit it is because I think that my crochet work in aran yarn tends to be quite holey/gappy and I would like it to be a snuggly, dense blanket. Also, I think crochet is more yarn hungry than knitting, so knitting it will hopefully make the yarn go further. Also, I just want to. A personal challenge to see if I can.
Do you know what though? Buying yarn is at least half the fun of actually making something with it ;-)
Huge thanks to Emma who made ten of these balls of yarn possible xx