This post may not sound like a big deal but it really, really is to me. As you know our house is hideous a work in progress and we are renovating it by ourselves. It's not a very comfortable house to live in.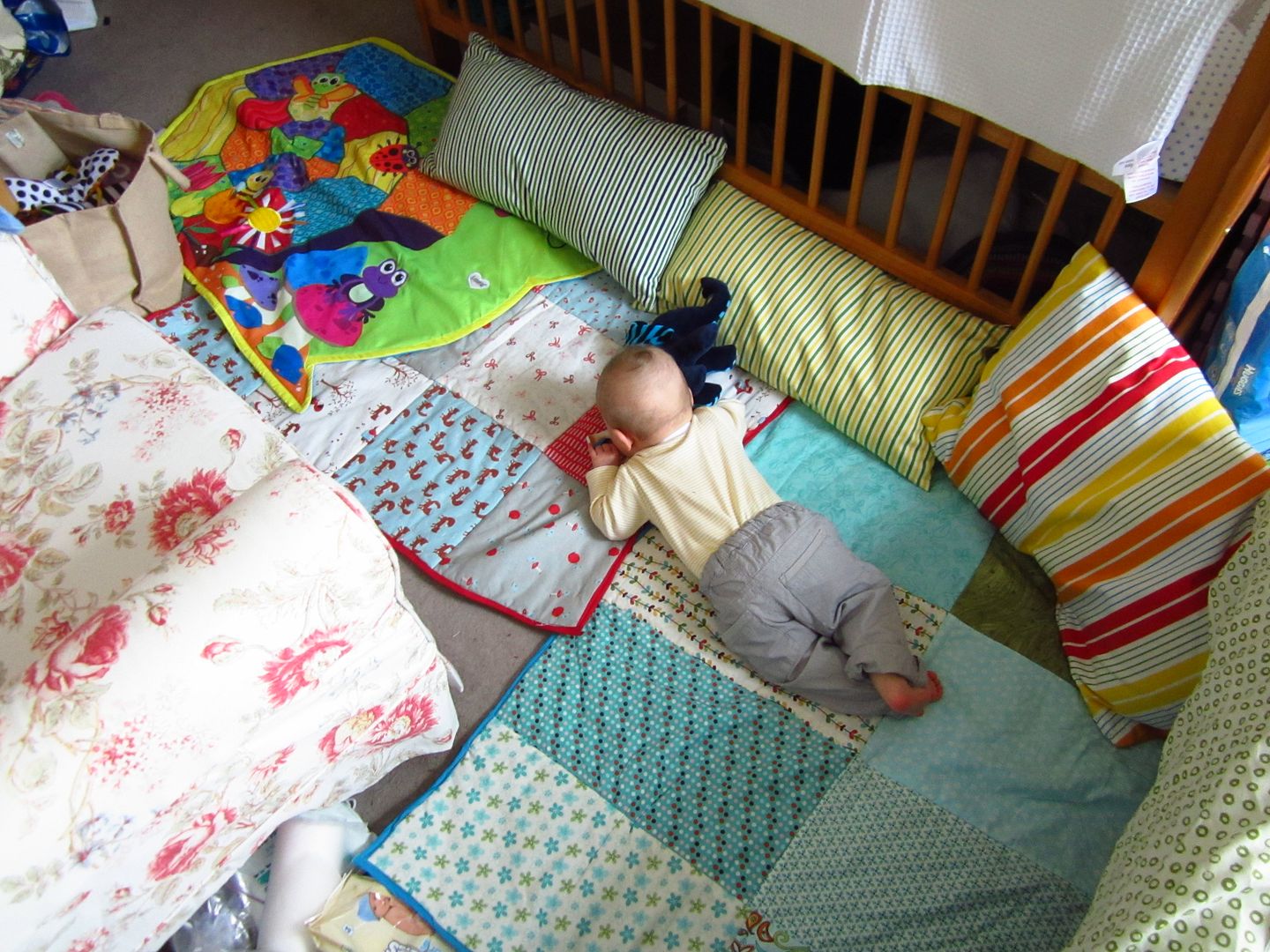 (This is the only before photo I have, as you can see, there is manky grey carpet covered in nice quilts and the chair makes it a bit cramped.)
The carpet in TTB's room is old, thin, shabby, grey, stained, cut in several places where we needed access to the floorboards. I can never get it looking clean and I was beginning to feel guilty that he had nowhere nice to play. I put quilts or blankets down for him to play on but it just wasn't nice. Also he has the nickname "Fiddler Crab" because he fiddles with everything, particularly labels and the edges of things, for example the edges of cut carpet and the rag rugs put down to cover them. And then the fiddled things go into his mouth. We plan to alter the rooms upstairs at some point, so re-carpeting right now isn't an option and it's really expensive to carpet a room. But it also couldn't stay like it was!
What we did on Saturday, was go to the local market and by an 8x5ft carpet offcut for that room. They are offcuts in standard sizes and bound properly around the edges so I suppose they are rugs. But made from carpet. It has TOTALLY transformed the room! It looks so new and beautiful. I moved the furniture around a bit and it's really opened it up and he now has a lovely place to play in. I'm so happy. It's made such tremendous difference and all for £30 and an hour's work. Not only that, we bought two long thin ones for the upstairs landing to cover the exposed, splintery floorboards. So soft and luxurious to walk on! Particularly good now that I walk along there several times a night to see to him now I don't share a room with him.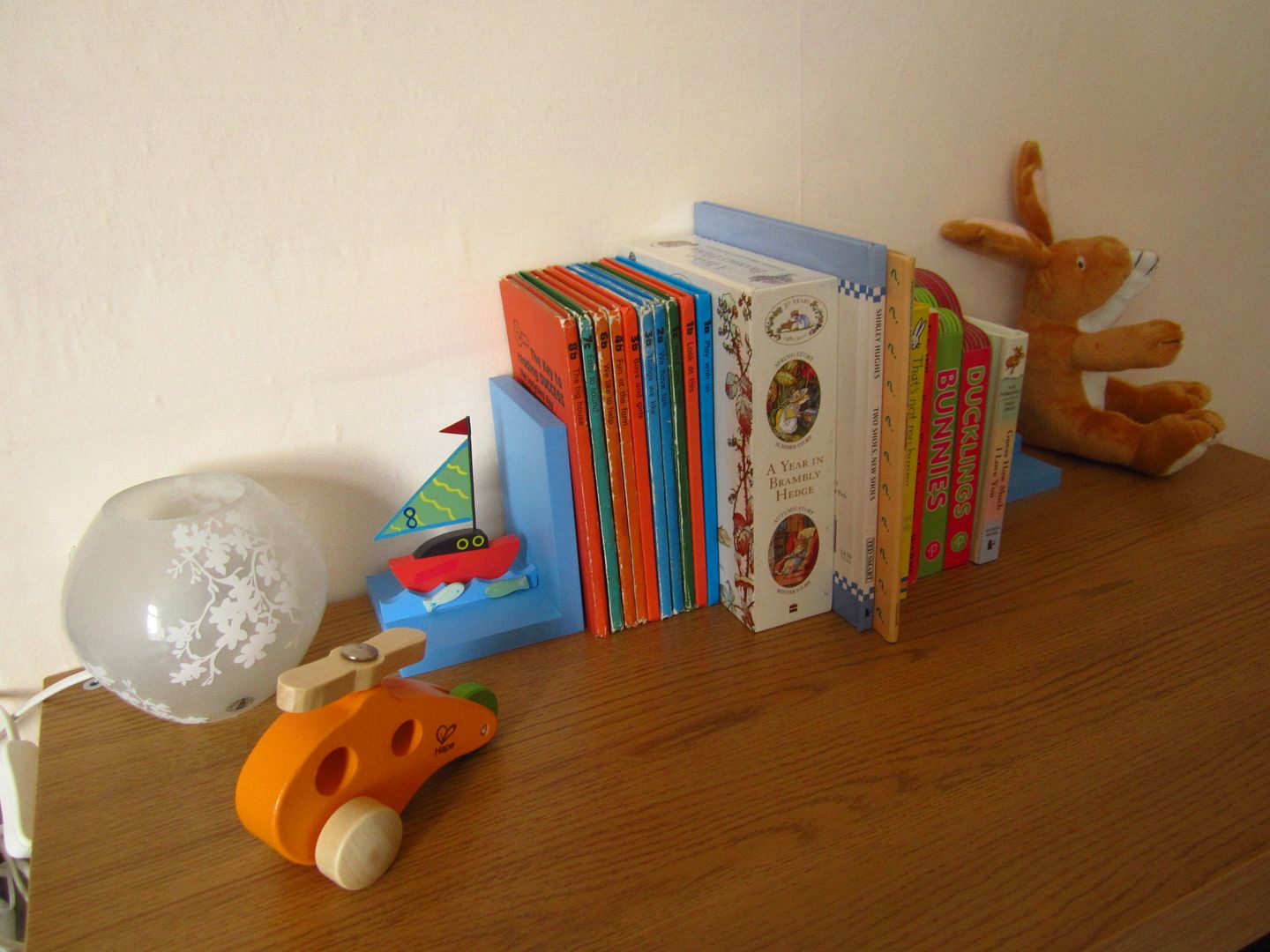 Moving the furniture around has not only made more floor space, it means I can finally use the book ends that Alice bought for TTB for Christmas. Aren't they cute? I'm enjoying being able to personalise his room more now. I don't think I blogged about it at the time as it was such a major source of stress for me (and really boring blog wise) but TTB's room was our dumping ground for everything we owned and I spent most of my pregnancy trying to untangle it and make it liveable. To this day it still has boxes in half of it, but previously you couldn't even see the floor. I donated so much stuff and was very ruthless (I loved it!).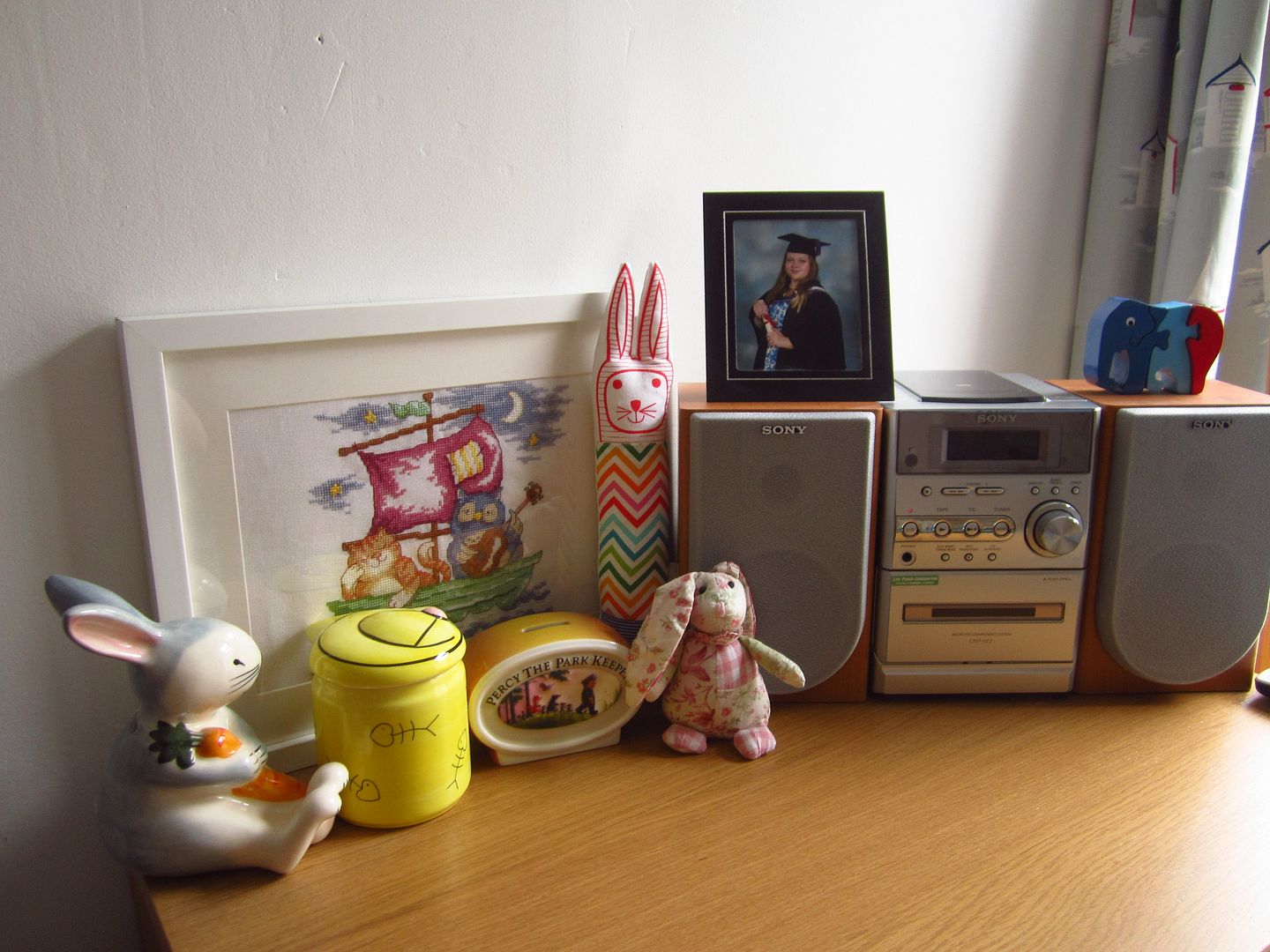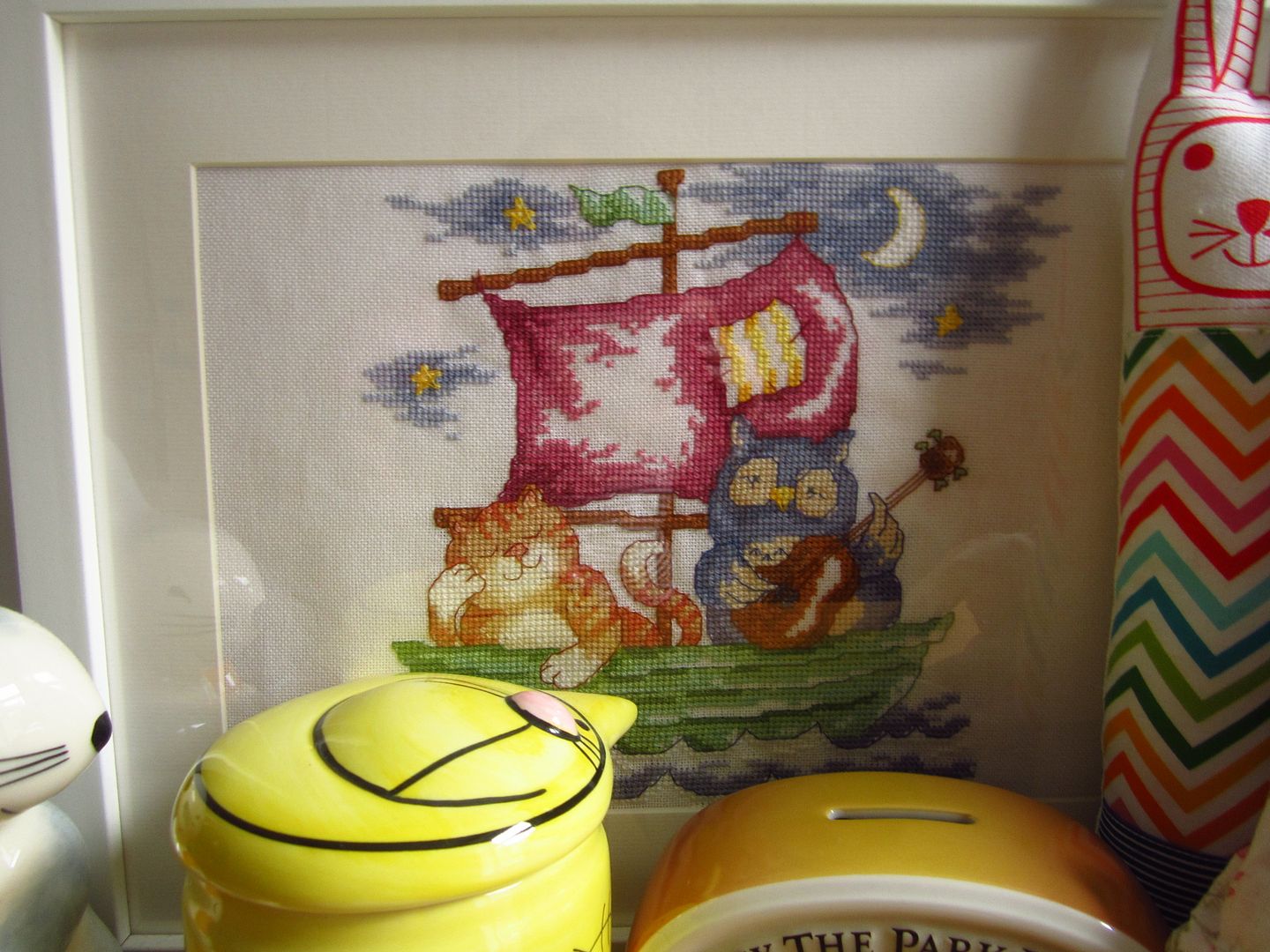 I didn't do much buying and decorating baby wise and now when I see my friends doing so I feel a bit like I missed out on the fun stuff. At the time though, I didn't have any money, didn't have any time and didn't have anywhere to put anything! Besides, I was desperate not to be looked at by other people/friends and have them think "Waste of money, you'll never use it" or "the nursery decorating is just for parents not for the baby.". Now though, I am really enjoying doing it! It's satisfying making a space functional and attractive looking and I think I'm benefiting from having lived with it being not-so-great as I know what will work better for me.
So yes, I know "putting down 3 rugs" doesn't sound like much but it's really really changed it so much for me. I long to have a lovely beautiful house that is cosy and soft and safe and warm and clean and pretty and comfortable, and that doesn't have wonky walls/ceilings/stupid floors, holes, bits that bend when you push them, ugly paint and weird wallpaper but for the time being we just have to make do. We've been making do with this for a long time and when it was just us I didn't really care too much but things change when you have a baby. And then again when said baby becomes mobile.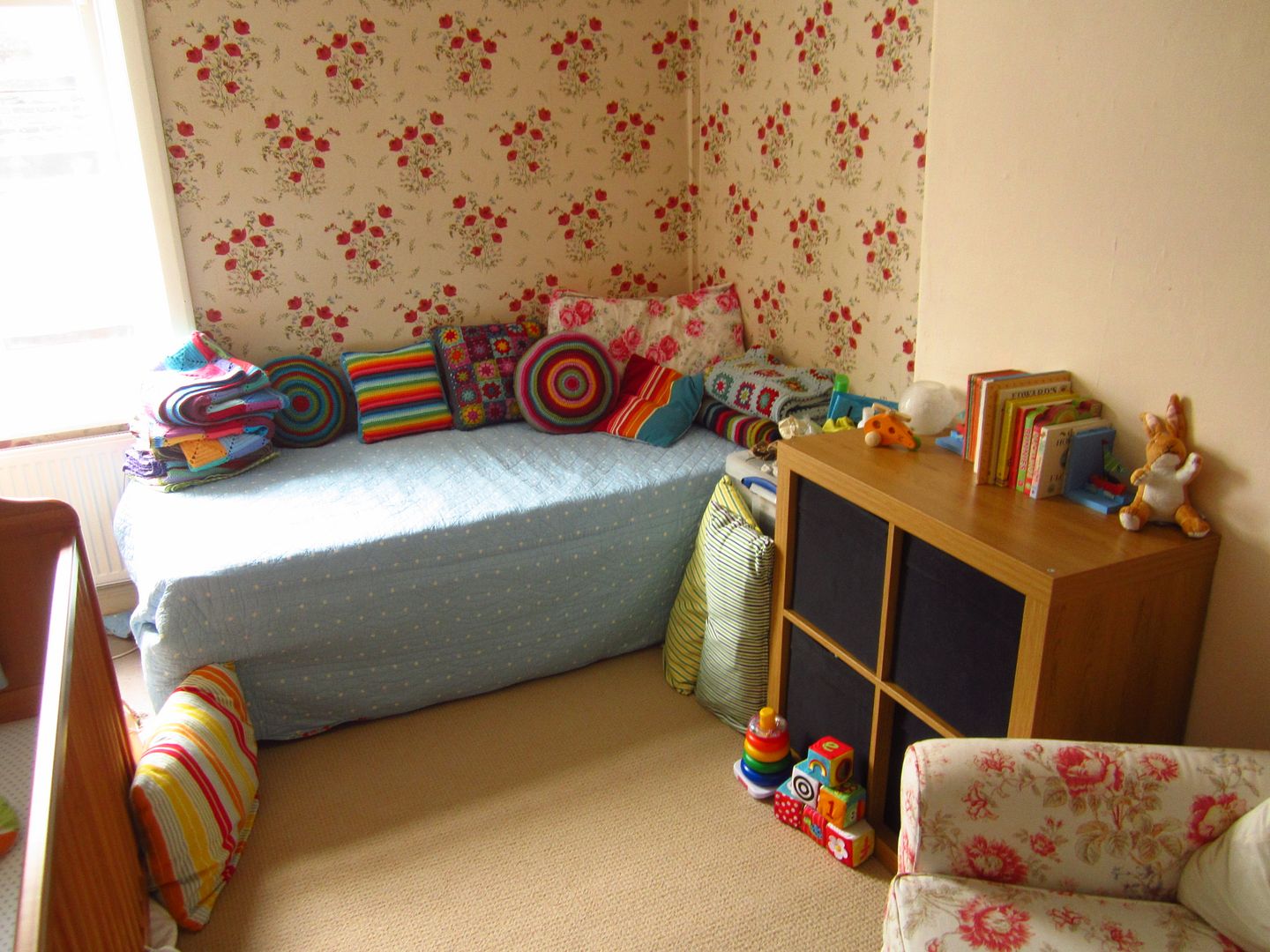 I haven't shared any photos of TTB's room with you up until now, but now it's looking really nice I am happy to :-) In the interests of honesty and realism though, I must say that I have photographed it from a crafty angle so that you can't see the huge mountain of boxes and the mess on top of the other chest of drawers.
I'm making more plans for small-but-big improvements that we can implement (I have to say, most of them revolve around "ooh let's buy another expedit from Ikea!") and it's exciting. And about time! Initially we didn't want to make temporary changes but now after two and a half years I am of the opinion that often a temporary change is very very worth it.
The beautiful cross stitch of the Owl and the Pussycat was made by The Girl for TTB
Big Elmer Blanket / Round Cushion 1 / Round Cushion 2 / Square Cushion / Granny Blanket / Ripple Blanket / Stripy Cushion
Stripy rabbit / Stacking Rings
 / Helicopter / Bookends are by Sass & Belle