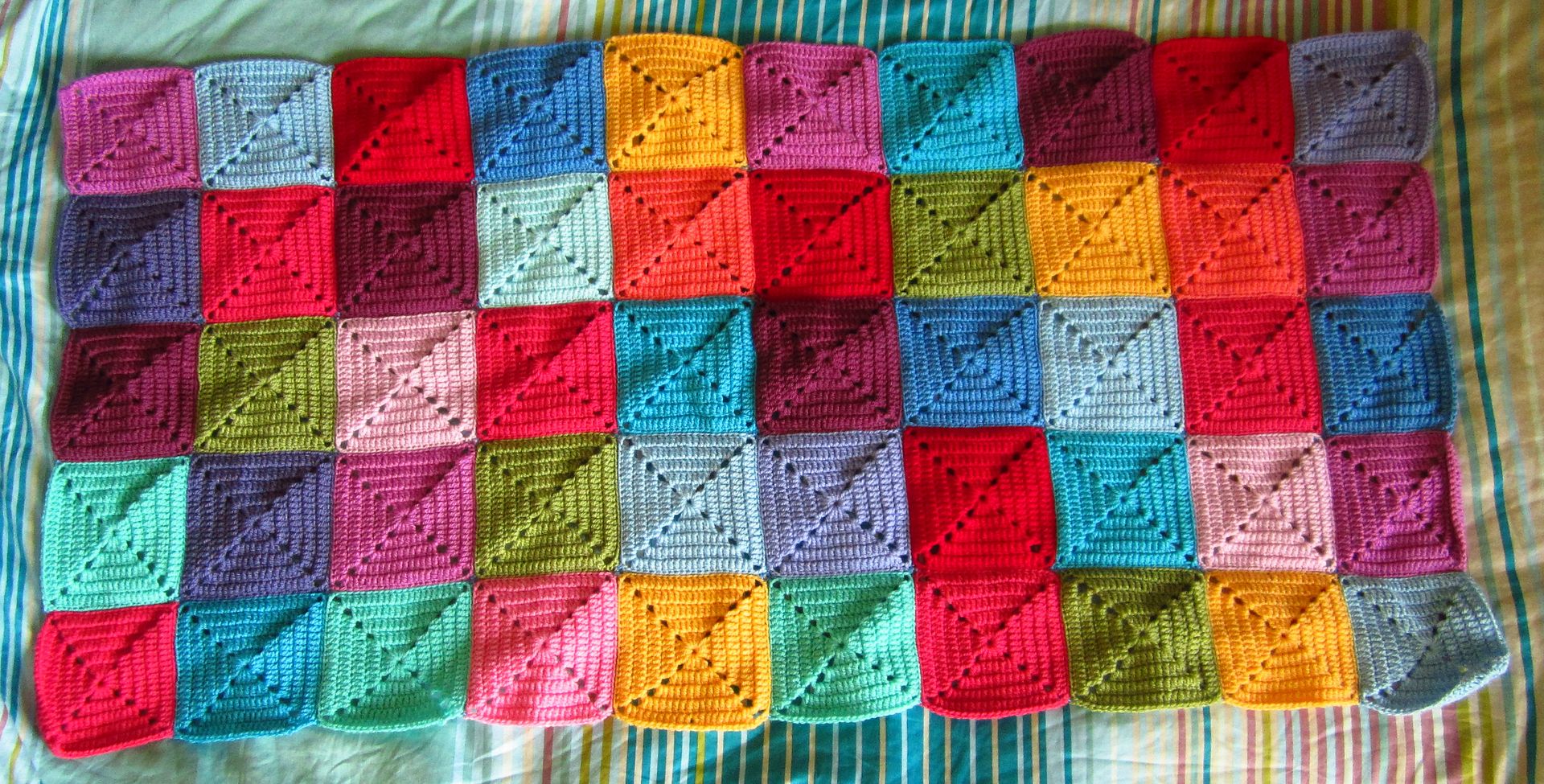 I feel like I've not shared any crochet with you on here for ages now. I do have less time for hooking now, that's true, but evening time has started to settle down a bit and so I am finding more time than I had in say, December or January time. I am still working on my 2nd Big Elmer blanket but I only have about 30 squares to go so the end is in sight! I LOVE these blankets, I really do, but I think this will be my final Big Elmer blanket, at least for a very very long time. I am itching to make other things! There are a few advantages to making a blanket with solid colour squares: firstly, only two ends to deal with and if you crochet over the first one you can just snip it. Secondly, you don't have to think about colour combinations (this slows me down more than anything!) and thirdly if you are on the go, you can just take one ball of yarn with you and make lots of squares in that colour :-)
Talking of going out …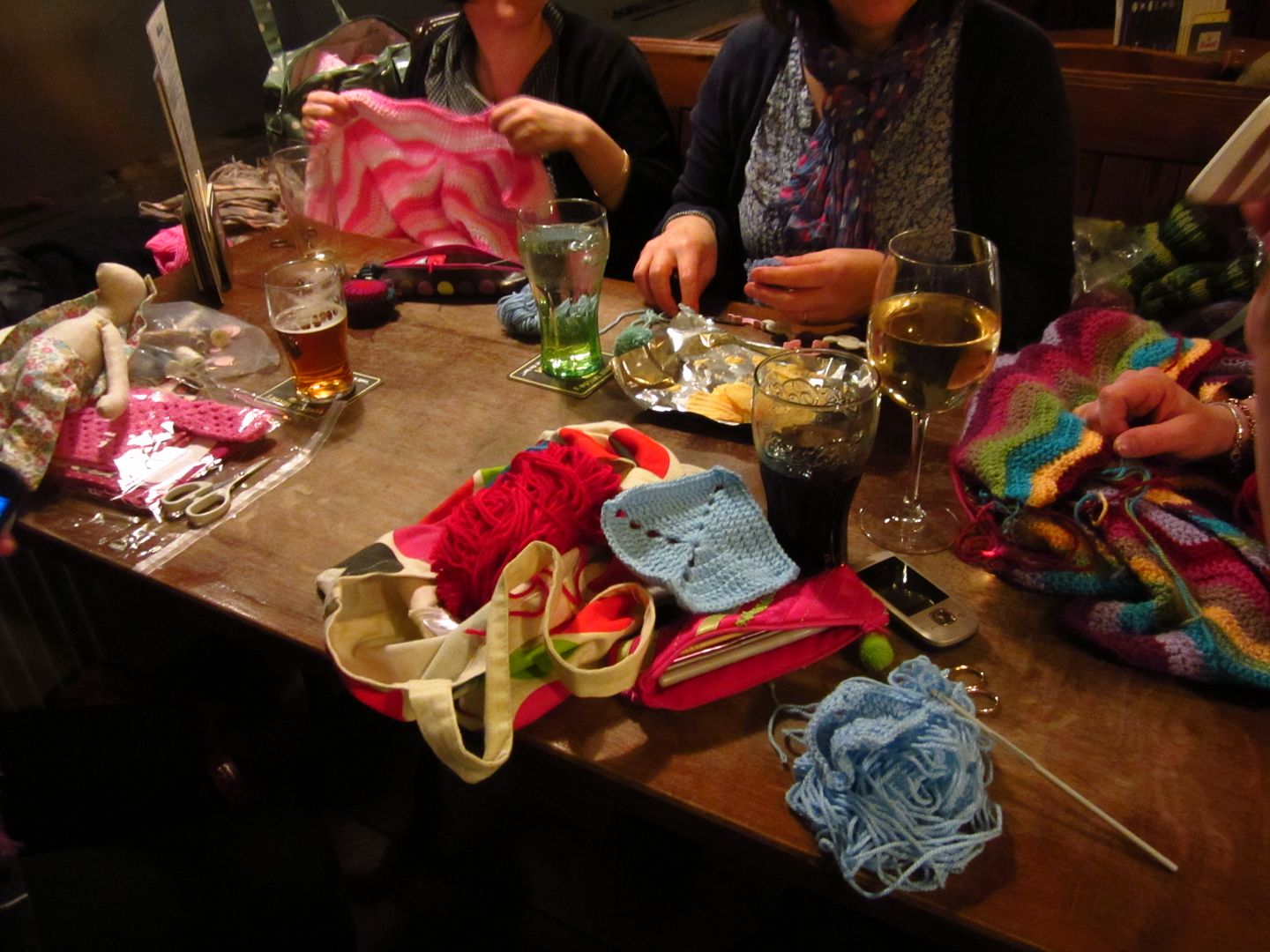 Check it out! I went out to crochet in the pub last Monday for the first time sine July when I became too big and pregnant to er, fit on the chairs comfortably. It was wonderful having a taste of freedom again. And since TTB was already asleep, he was none the wiser!
This Big Elmer blanket is a gift for my very good friend Katherine. She had a little baby boy in December and I promised her a lovely blanket for him for tummy time. I don't think I ever showed you what she made for TTB did I? Katherine has an Etsy shop called Mamafactured and I placed an order for some bandana bibs before TTB was born. When the parcel arrived, Katherine had sneaked a little gift in there as well: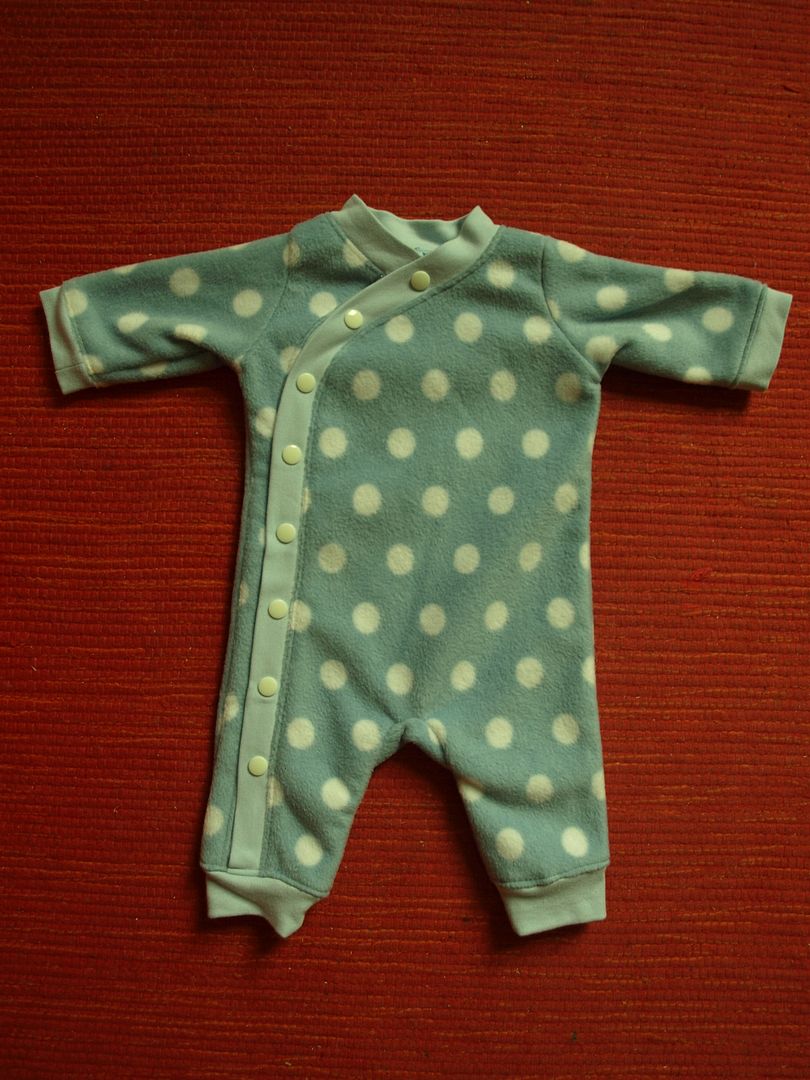 A little fleecy snowsuit! All handmade by Katherine. I'm still in complete awe of this and TTB grew out of it by the end of October. Aww. Can you believe he used to be so tiny? You can sort of see him in it in this post here. (I'm sure he was never that tiny! oh my.)
Anyway, Katherine has made some lovely things for TTB and I wanted to make something good for her baby, too. My skills are strictly limited to crochet rather than impressive sewing and so naturally I chose to make a blanket. (If you want to see the blankets I made for her daughter you can see them here  and here. I wish I had done better ta-daah posts in the past!)
In other hooky news I am trying to come up with something *new* for Rach's baby blanket (just to confirm, it's my friend Rach and not my sister Rachel who is having the baby. My sister was a bit horrified at that thought!), and I have bought some Cotton On yarn to make a striped blanket for TTB. He loves the Kool Kotton ones I made a few years ago and I wanted to make him one that's a bit bigger. I also have a friend who is due in July so I want to make her a little blanket too and I'm just waiting on finding out if it's a boy or a girl before I start. Apparently at the 20wk scan the cord was in the way! I think I will do a ripple again, in Rico Baby classic dk.
It's nice planning what to make, isn't it? I keep looking for more ideas on pinterest as well, there is soooooo much out there. Well I say I'm "looking". That's sort of a lie. I just follow this crochet board and all this crochet goodness pops up in my homepage and I steal/repin any that I really like. It's like pinterest for lazy people, fabulous.