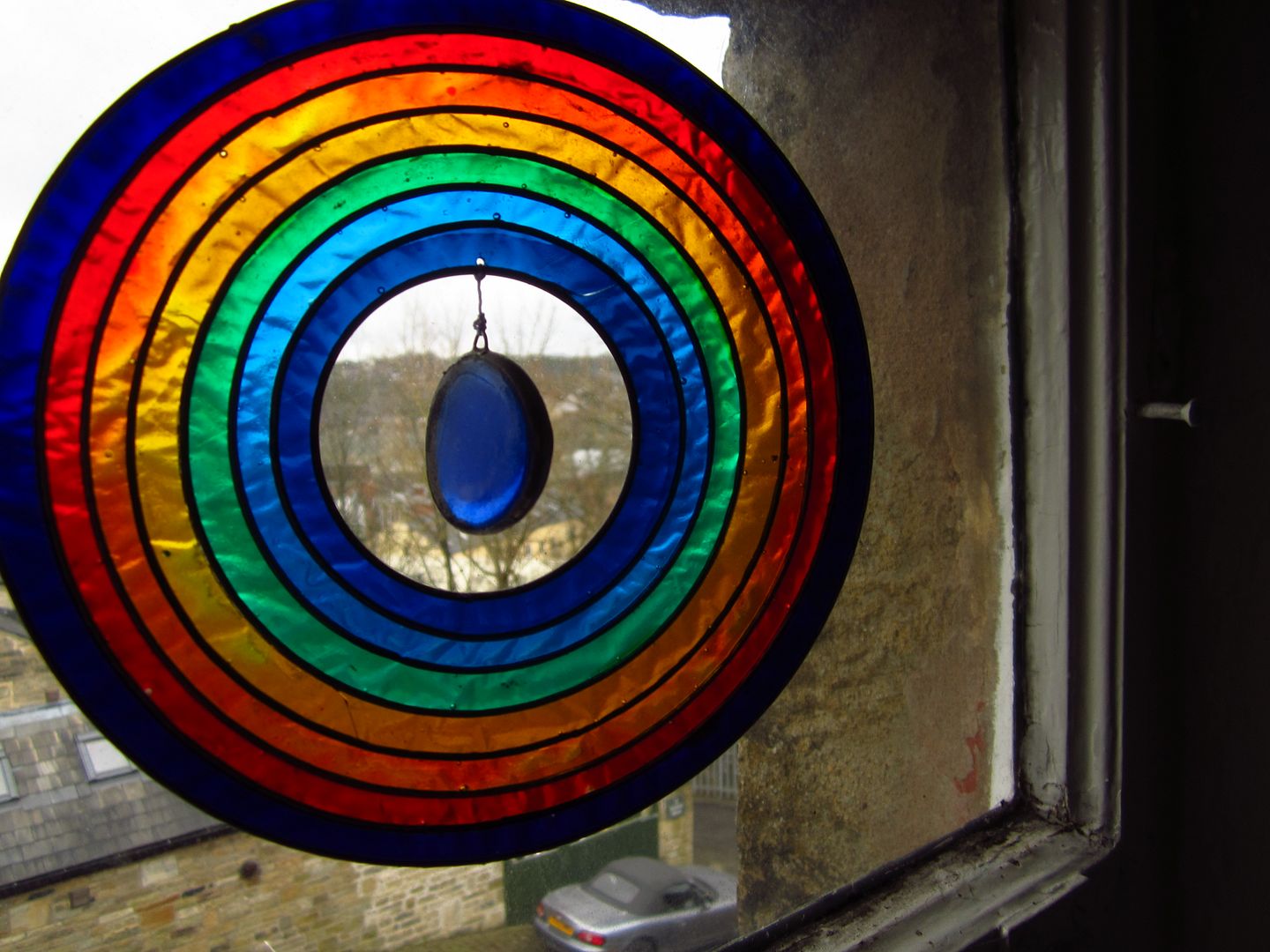 After printing my New Look order email I picked up TTB and climbed the stairs, stopping at the top so he can babble to the rainbow in the window.
I strip his covered-in-lunch clothes off of him and remind myself to take them downstairs to add to the wash that I've put in the machine but not yet turned on. Dress him in one of the other vests from the pack of three that Rachel (my sister) gave him. I don't think I ever told you about that did I? When I went home in … June? July? last year, she had a big bag of gifts waiting for me, all labelled with things like "When we found out you were pregnant" "When you had your 12 week scan" et cetera and she had bought a gift at each major point in my pregnancy! It was so so lovely. These little vests were from John Lewis, stripes and boats and they are so soft. Stripes are my favourite thing EVER and I only want to dress TTB in stripes from hereon if I can. Anyway, they were size 6-9 but he is an odd size, he is very tall but quite slender and is in 9-12 for most clothes now despite only being 5 months. These were too wide for him for ages but now they fit him PERFECTLY so I make him wear them every day because I love them so much and want to get the most wear out of them.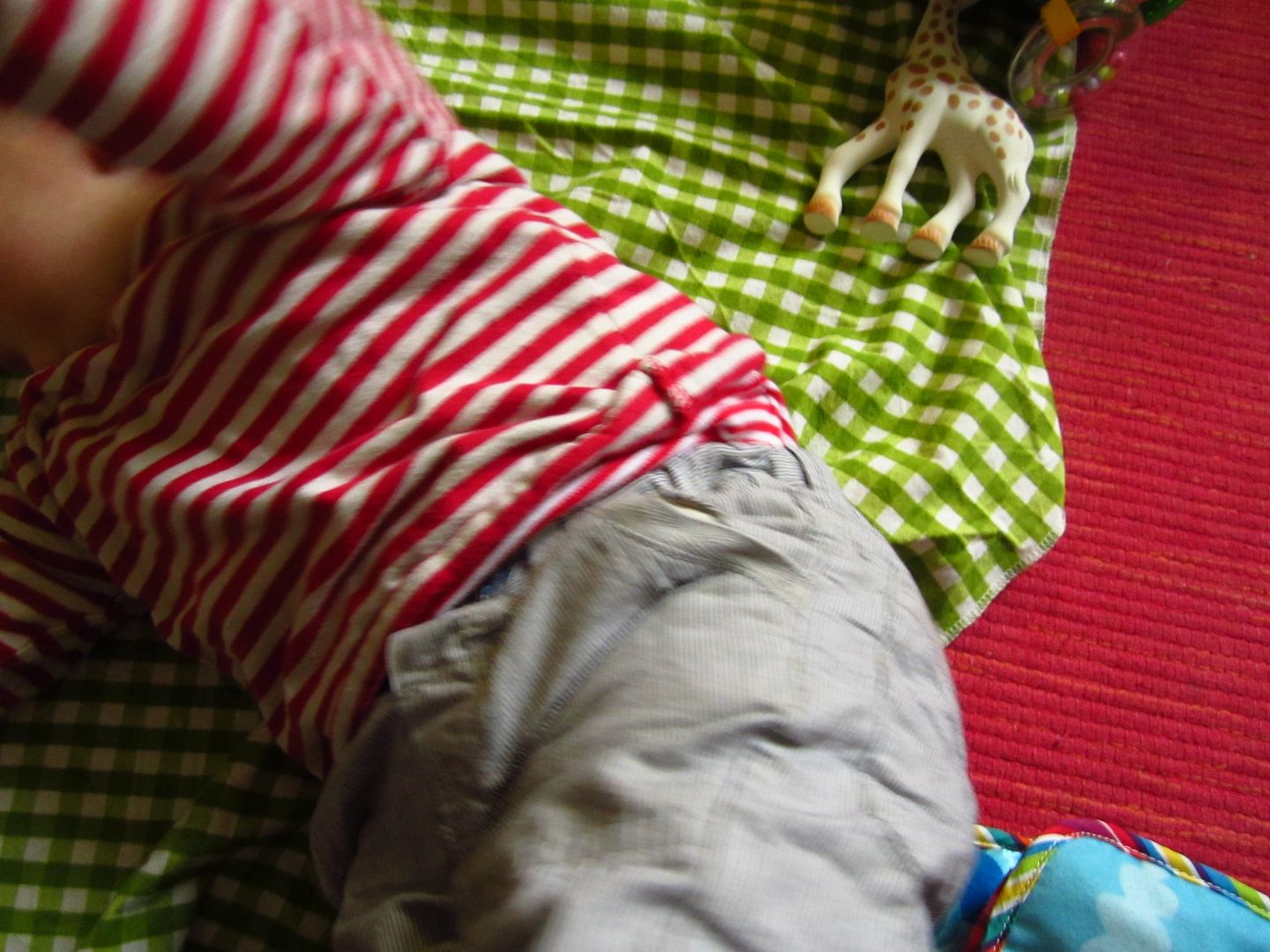 Take TTB downstairs and finish getting him dressed. Try to get him into his bear coat to go out but he rolls away and finds something to play with. Eventually wrestle him into his coat and strap him into the Ergo. See that it is raining. Take TTB out of the Ergo and look for umbrella. Find umbrella. Strap TTB back in Ergo and remove his hands from my hair and my hair from his mouth. Wrestle had onto reluctant baby, put parcel & email confirmation into bag. Get coat on, shoes on, scarf on and finally make it out of the door. Feel happy that I am in plenty of time for Rhyme Time and that we will get a seat and not be late. Walk to Rhyme Time feeling smug for being ready and prepared. Arrive at Rhyme Time only to discover it's at two and not half two so we are actually 15 mins late. We get there just as the percussion instruments are being passed around … uh oh. "Can you make a BIG NOISE A BIG NOISE A BIG NOISE?!" prompts Julia. YES they certainly can! TTB's face crumples and he emits a loud scared wail and cuddles into me. Oh poor love. "Can you make a small noise …" and he stops crying only in time to crumple and wail again for the next big noise. Instruments go away. Crumple & Wail returns for the first couple of animals on Old MacDonald's farm but by the time the mice come out (with a squeak squeak here) he has found a small child behind us to watch and is happier. We hover at the back for the duration in case we need to make a quick exit. His eyes light up and he hooo hooos when we sing the Pirate Ship Song (I don't think he can believe his ears that so many people are doing it WITH ACTIONS rather than just me and my half hearted bottle full of rum to fill me tum.) (Not a real bottle of rum, that sounds a bit dodgy. It's a line in the song!)
Rhyme Time ends. We leave. TTB tries to fall asleep in the Ergo. He is pulling a stupid face here because he is trying to turn around to see the camera. He doesn't really look like this. Go to New Look, collect dresses to try on. Explain that I had to order two sizes to the lady on the checkout (she doesn't care) because I can't try them on in store (she really doesn't care). Go to Post Office to post parcel to Rach. Ask if this is the new pricing for parcels. Am told quite rudely that it's always been £2.75. That's not quite what I meant.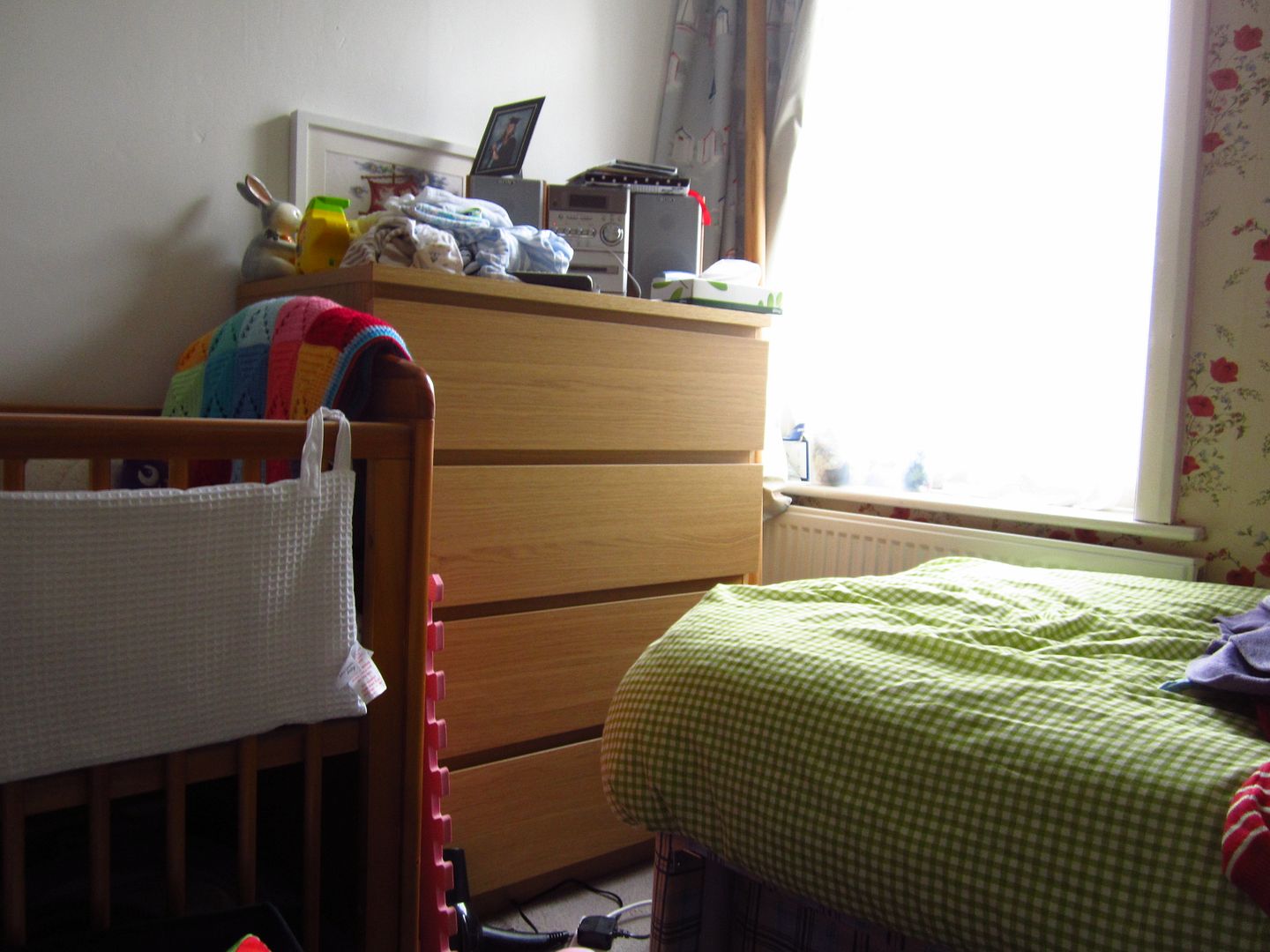 Arrive home. Extricate baby from Ergo, go upstairs to bedroom.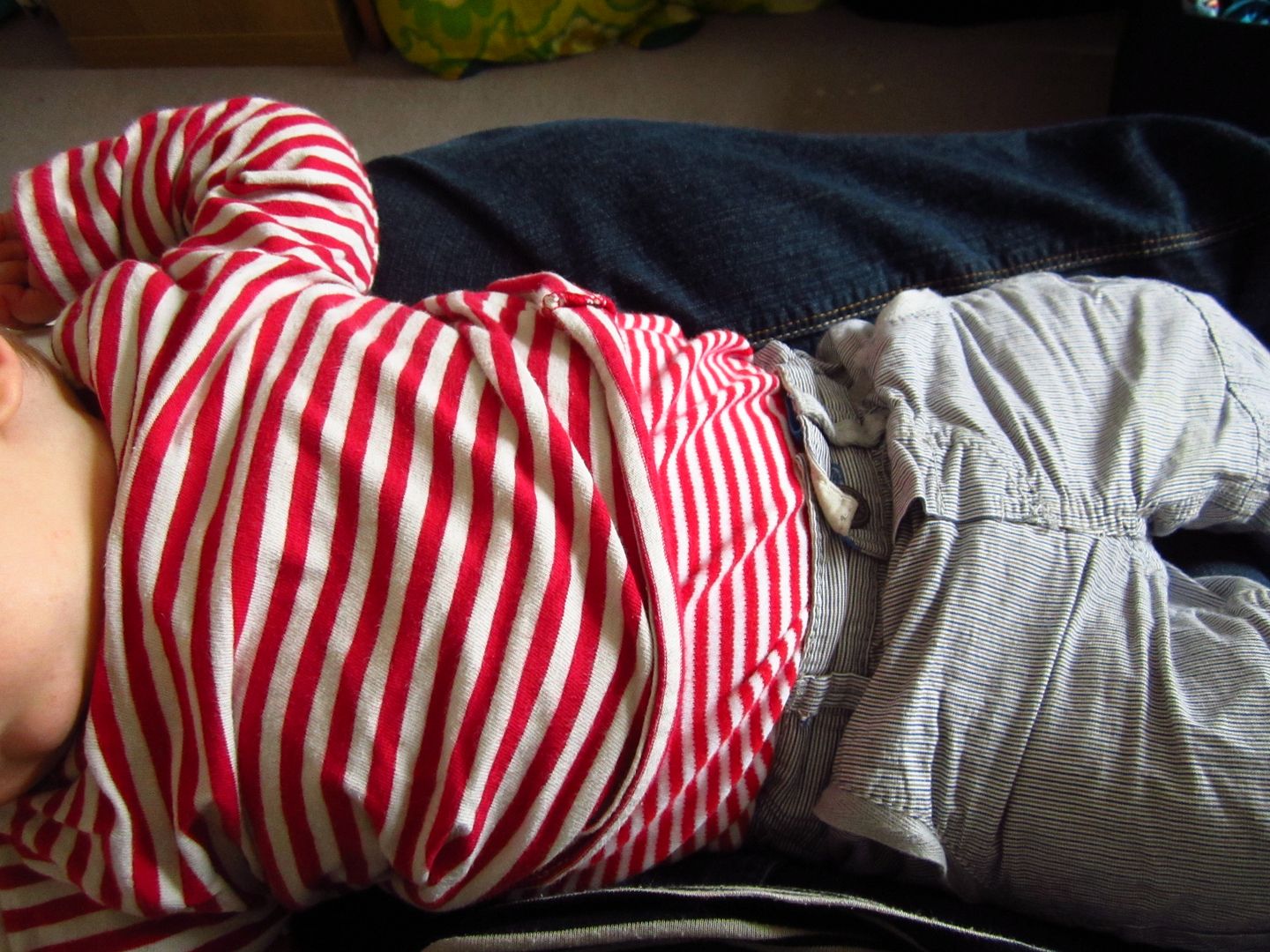 Feed TTB. TTB falls fast asleep while I'm feeding him and I can't rouse him. I never let him do this anymore and I think about how much I miss him sleeping on me, and how much he is growing and that I'm actually really going to miss breastfeeding when I stop. Take a lot of photographs of him stretched out in my lap to remind me of it.
Move TTB to my shoulder and he snuggles in and makes himself comfy. He doesn't really fit well up here now but he used to spend a lot of time snuggled up like a pudding. In the night he still tries to snuggle up like this but has to bring his knees right up in order to do so. Bless. Debate with myself if I should let him sleep here or if I should put him in his cot. I don't have things that I NEED to do, I COULD sit here and let him sleep. I decide to put him in his cot.
Put him in his cot and lay a blanket over him as I can't get him in his grobag when he is already asleep. Wonder how long nap will last as he isn't used to having a blanket on.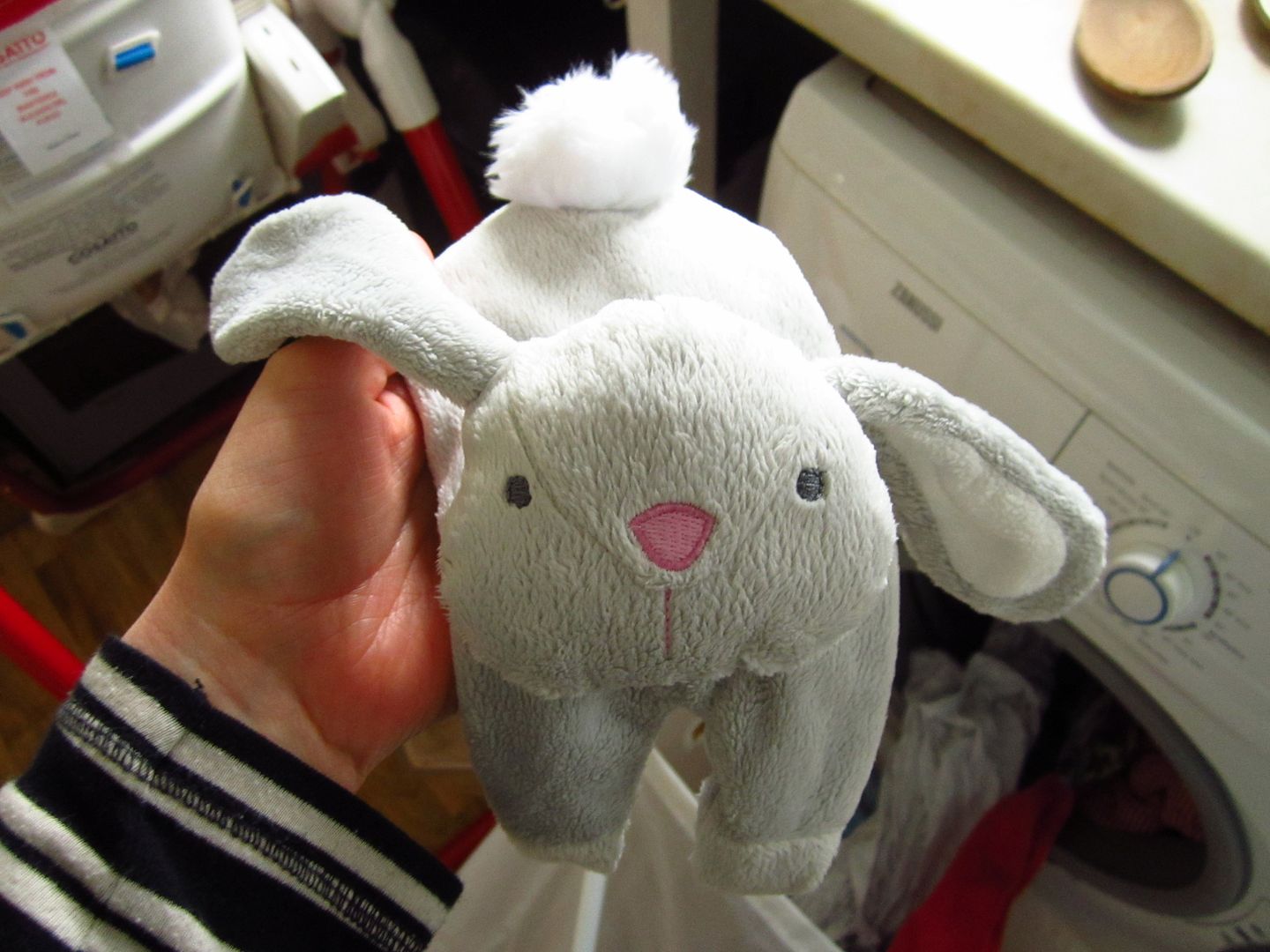 Go downstairs and unload washing. Happily, Silky Bunny has survived the wash! I put him on the radiator to dry off. Separate all the non tumble-drier-able things (anything I own basically) and put it in the tumble drier. (Well first I got out the first lot of tumble drying from earlier, dumped it on the bed upstairs and used the basket to transport the second lot from the washer to the drier.) Feed rabbits.
Sit down and call my mum. Chat for 23 minutes. Baby wakes up. Baby cries a lot and is clearly still in need of a longer nap. Attempt to put baby down for another nap. Baby not impressed but after 15 mins of wailing (he has a "going to sleep" cry, it's not just crying if you see what I mean) he falls asleep. Use the 15 minute to put the fresh bedding on Andy's bed.
Faff around for half an hour until baby wakes. Feed baby. Sing lots of songs with baby who laughs and laughs and laughs. Take baby into bathroom so I can try on new dresses. Lament post-baby body. Tell baby it's all his fault. Baby smiles. Forgive baby. Decide to wait until my mum comes next week to pick between the two sizes.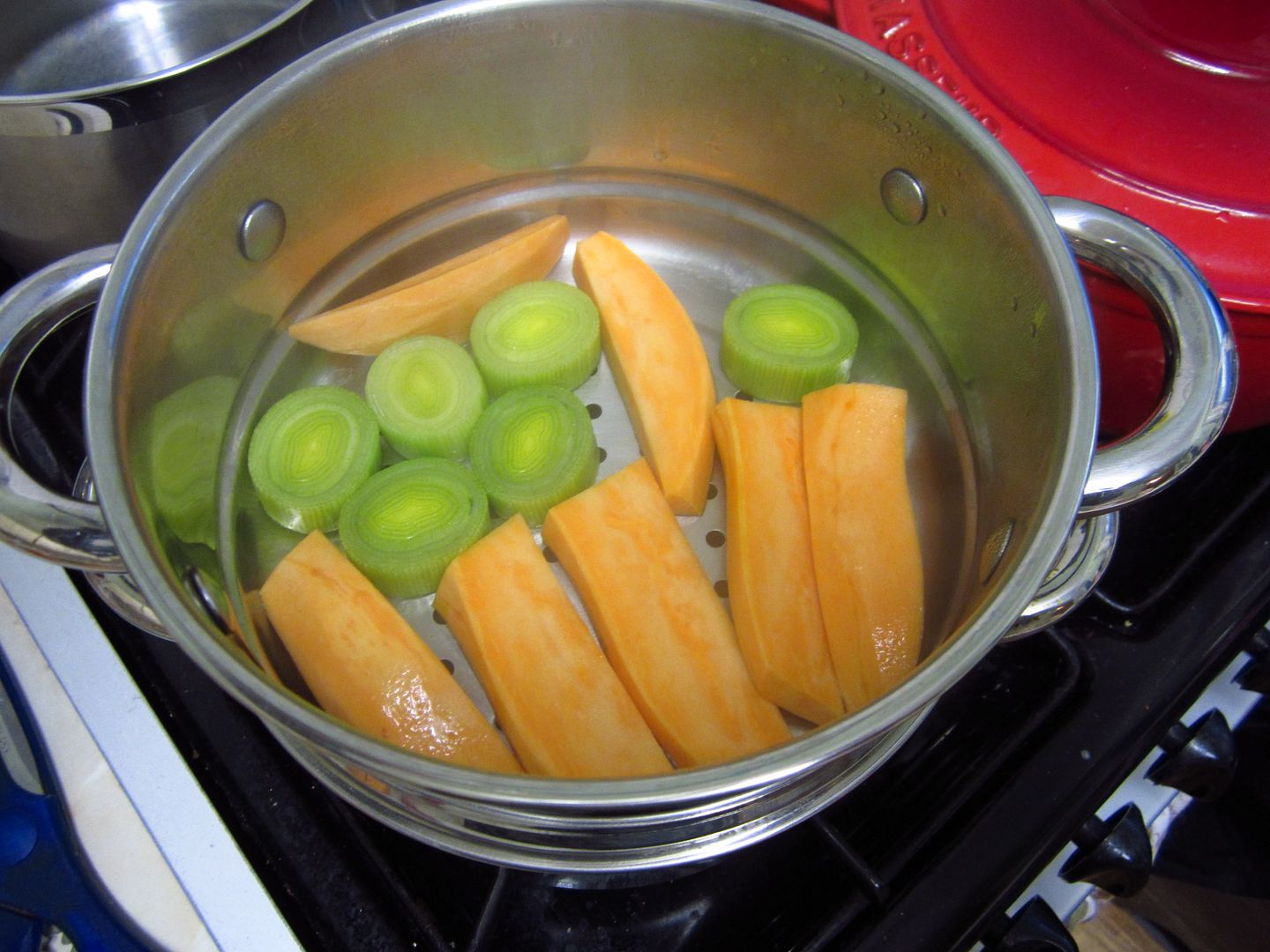 Continue weaning adventures. Asparagus VERY VERY GOOD, dried apricots GOOD, cucumber STILL GOOD, leeks GOOD but a bit chokey, sweet potato STILL BAD.
Continue lessons in drinking. Mixed success. (He can do it now though, as of this morning! He likes me to do it for him but does actually drink with minimal face pulling.)
Andy arrives home. We all stay in the kitchen and TTB smiles big loving smiles at his daddy. Check clock. Bathtime! Thank goodness, he is v grubby now and is covered in yoghurt (bad face). Strip yoghurty baby out of yoghurty clothes and take upstairs to bathroom.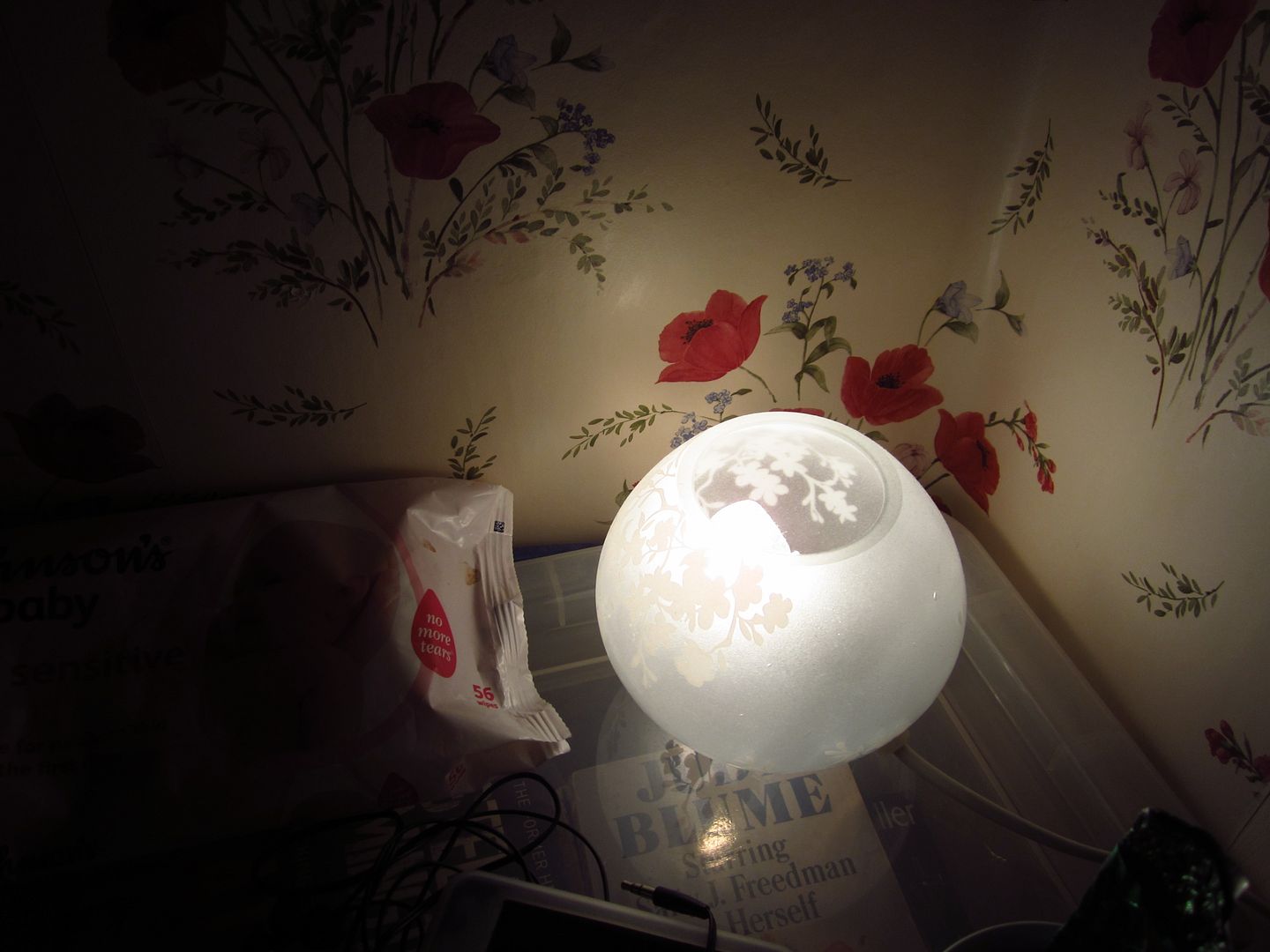 Andy plays with TTB while I make the room into a bedtime bedroom.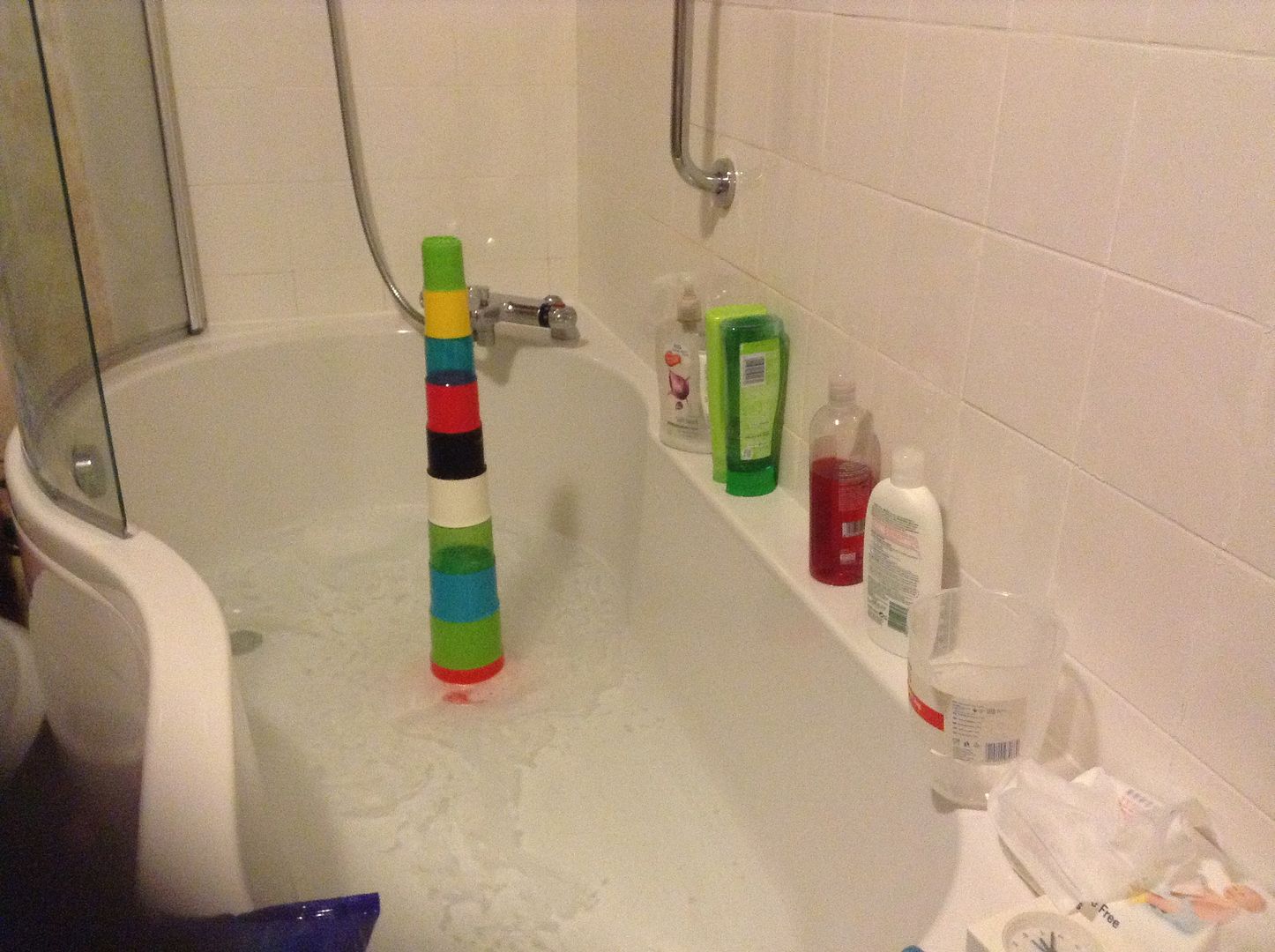 Bathtime occurs. Fun is had. Get baby out, dry baby. Baby does not like being dried. Sing pirate ship song, baby happy. Do nappy etc. Take baby into bedroom (while carrying changing mat and sudocrem to put away) and put baby into pyjamas (you can imagine how well this goes down.) Feed baby big bedtime feed. Read "What The Ladybird Heard
" again in an attempt to incorporate a book into our bedtime routine so that when we eventually stop feeding then there will be another bedtime "indicator". This has the effect of making him wide awake and consequently he does not want to go to sleep.
Realise that the bedtime star thingy (we have this one
) is sounding rather poorly and the lights aren't moving. Listen to a very droopy version of the lullaby while shushing patting rubbing and trying to convince baby to sleep. Stand with hand on back to prevent rolling.
Leave baby and make it downstairs by 19:17. By 19:20 I am back up there because he has rolled over. Pat him with ever decreasing pressure until he drops off. I'm free! Dash downstairs to find that Andy has cleaned the highchair and is emptying the draining rack. Yay! Ask him if he'll collect the tumbledrying, he agrees. Make dinner. Wash up while dinner is cooking.
Eat dinner while uploading photos for the first part of this post.
Make two granny squares and write part one of this post. Baby wakes at half 9. Andy goes up. Baby inconsolable. Google night terrors in babies. Consult facebook. Go up to baby. Allow baby to settle on me and put baby back down to bed. Feel a bit of dread for the night to come. Go and change into pyjamas and brush teeth. Go back downstairs. Andy cross as he forgot tumbledrying and now has to go out in the cold. Get glass of water etc and go to bed. Try to sneak into bedroom without waking baby. Fail. Spend 30 minutes trying to settle baby. Fail. Give up and feed baby despite it being about an hour before the point I try to get him too. Repeat to myself that he is only a baby, and I must be flexible and understanding. Baby falls asleep on me and I manage to get him back into his cot. Ease self into bed very slowly so as not to make a noise on springs. Fail. Baby wakes. Settle baby. Slide into bed. Sleep until 1:30 am. Baby wakes. Feed baby. Go back to bed. Wake at 2:26 am. Baby wants to feed. Try to explain that it has only been an hour and that he surely can't be hungry. Baby feeds. Wake up at 4am with baby snuggled on me. Put baby back into his cot. Slide back into cold bed. Baby wakes at 4:47am. Baby feeds. Change baby's nappy as I know he can't go a full night on just one (owing to over feeding I know.). Baby very awake now and making conversation with the night light. Try to snuggle baby into shoulder and face the other way to make him sleepy again. Baby very strong and determined to chat to nightlight. Know there is no chance of baby sleeping in own cot now. Take baby in with me. Baby talks to wallpaper and pats the poppies. Shush and pat baby to make him go to sleep. Baby objects. I go onto autopilot and fall half asleep while patting. At some point baby falls asleep. Have weird dream about there being a troll in the toilets of my old school and we have to evacuate. My mum and sister are there, I have TTB. Everyone heads for the buses but I can't take TTB on because he is a baby. Wake up a bit. Ease myself onto my back because my side has gone numb. Baby stays asleep thank goodness. Sleep until 07:37 when Andy comes in to say goodbye. Wake up slowly and start the day again.
There you have it …  a day in the life of me and TTB! I have missed out bits such as nappy changes and a couple of feeds, and some random playing etc but that's a pretty detailed account of our Thursday. :-)
xxx