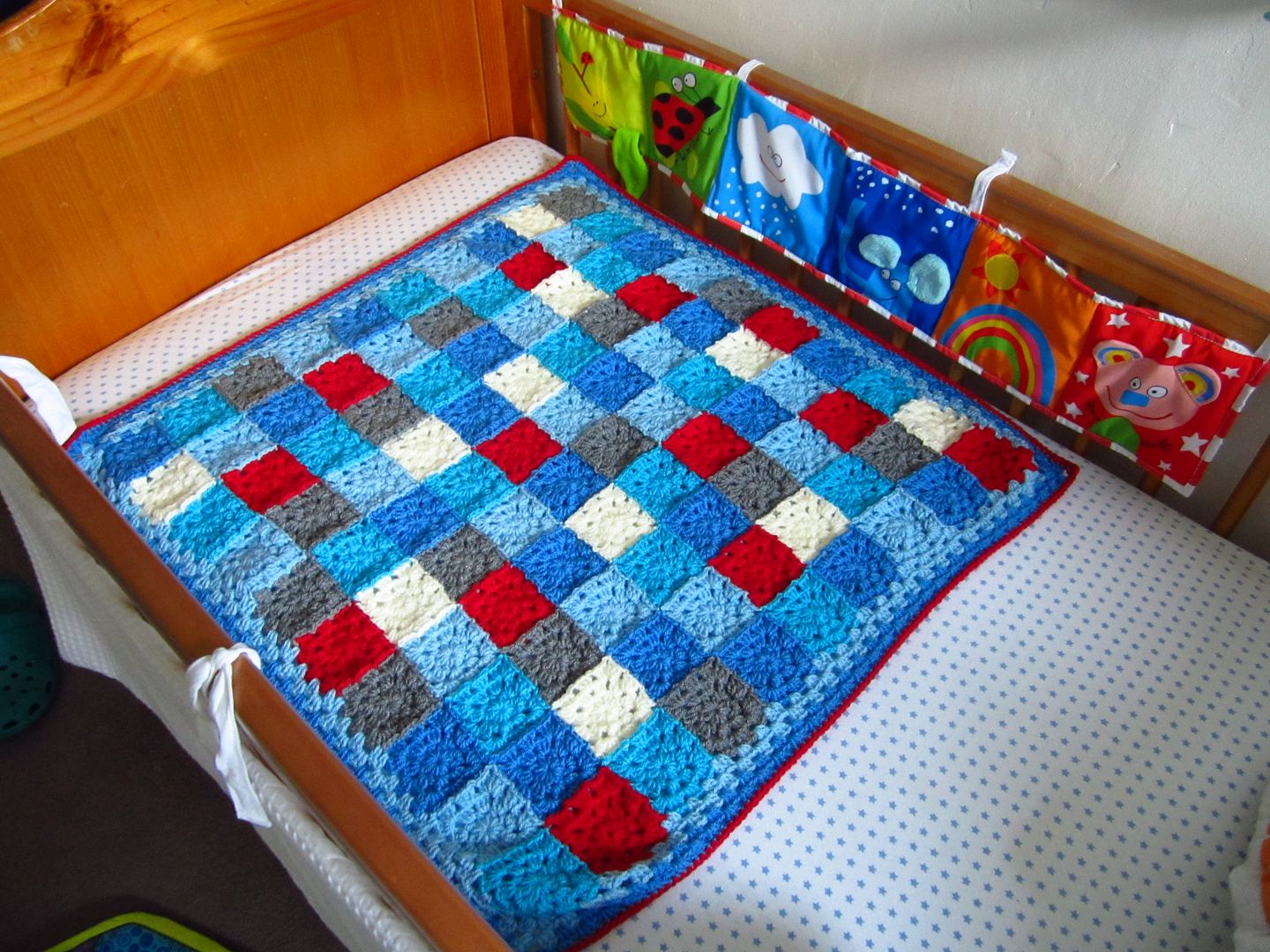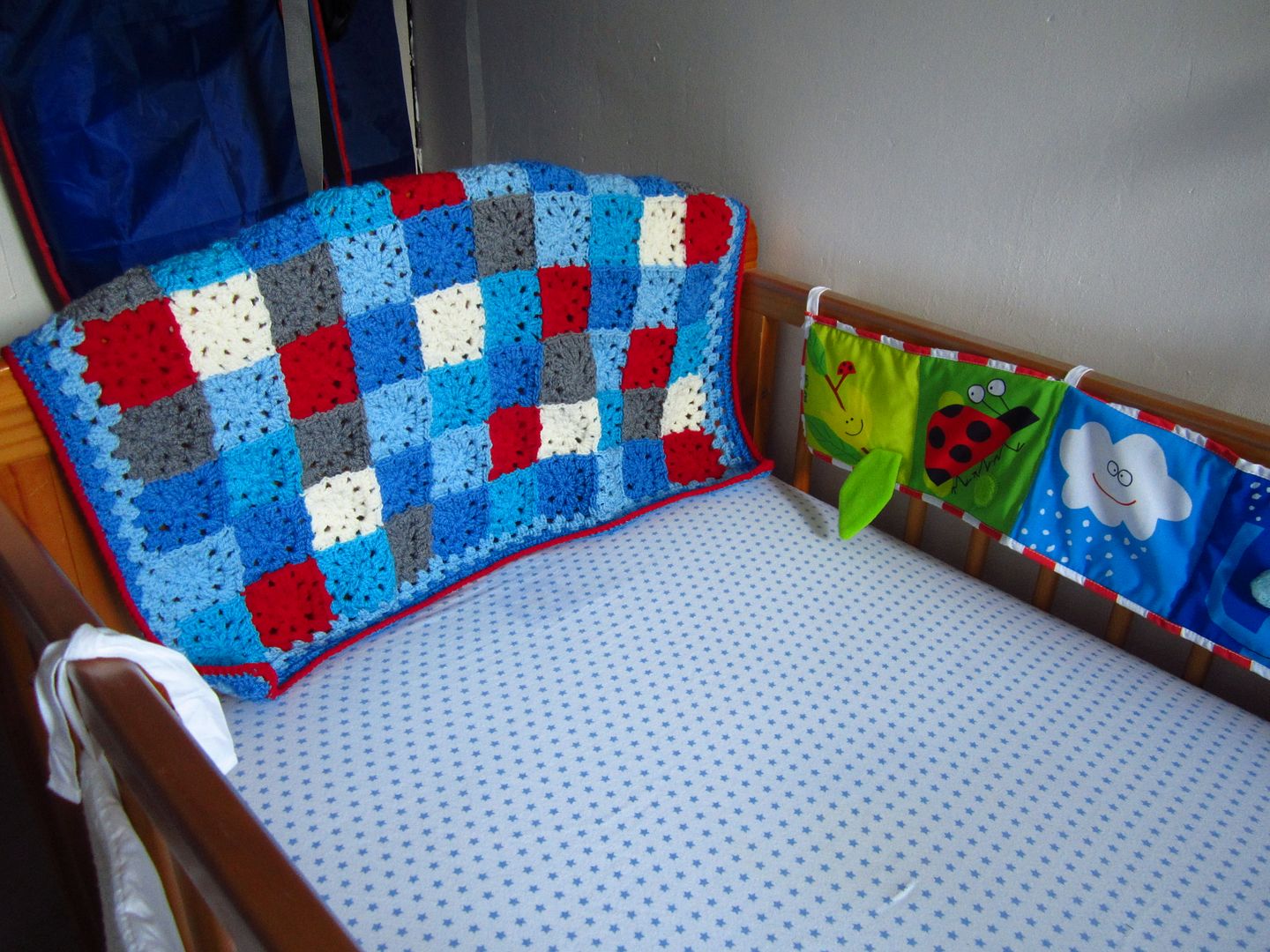 Ooooooh my, this blanket was a DREAM to work on. An absolute DREAM. I really do love making all my squares first and joining them together but just occasionally I get a real longing for join-as-you-go, and I've had this image from Jacquie's blog in my head for a while. 22nd January was the date I started this blanket and I finished it on the 13th February – 23 days. Such a fast blanket, it just flew together. I loved that I was only using 6 colours because there was very little colour choosing to do when making it and my only rule was that two squares of the same colour couldn't be next to each other. I worked it at random other than that but when looking at the blanket as a whole there is a loose order to it that I have done without thinking about it.
For the border, I did two rounds of "Cloud Blue" and two rounds of "Aster" in treble clusters and then one round of dc in "Lipstick" just to finish it off. It does have curly corners because I can't block acrylic like I can with wool/cotton yarns and I don't want to take an iron to it really. However, I do not think that curly corners affect the use of the blanket at all so I'm not too worried.
Size wise, it is approximately the same width as TTB's cot! Which is about 70cm square. Just right for a pram, carseat or moses basket. I haven't given it to my friend for her little boy yet as I've not seen her but I hope she likes it. I love it, it's one of my favourites.
Blanket facts:
Yarn: Stylecraft Special DK in Aster, Turquoise, Cloud Blue, Grey, Cream and Lipstick.
Hook: 4mm
Pattern: Summer Garden Granny Square
EDIT: Thank you for your comments! I don't iron anything at all, least of all crochet – I know that a lot of people find this unacceptable and think less of me for doing so. I believe that life is too short to be ironing! Yeah if something NEEDS ironing then I will iron it, however I don't own any clothes that would need ironing … so there is no point. I am happy this way. If you enjoy ironing then fair enough, you go for it! But I don't, and therefore I don't do it. Judge away!
I have never blocked Stylecraft because I believed that the only way to block it was to kill the acrylic with an iron and I don't like the look or feel of it when that's been done. Also, see above comment re ironing. To be honest, I was just happy to have a) made a gift for my friend, b) done any crochet at all and c) finished 3 baby blankets since actually having a baby myself. The curly corners don't bother me or the person who received the blanket and the reason that it looks like the squares have ridges between them is because I did join-as-you-go. This is why I usually prefer to crochet the squares together.
Sorry if that comes across as a bit snappy, it's not meant to be snappy, I think I just took it to heart a bit last night when I got your comments. I was v pleased with the blanket.
p.s I had curly corners on a previous blanket as well but I purposefully did not photograph them … hehe.