Look at that big strong boy in is big boy dungarees. It's not hard to believe that he is 20 weeks old, he is wonderful at being 20 weeks old. It's hard to believe that it has been twenty whole weeks since I had a baby.
Over the last three weeks he has had a developmental explosion. It's quite incredible. On the 23rd of January he managed to roll onto his side, and also started trying to reach his feet. The next day, he had both feet fully grasped in his hands and was trying to eat them. He has not stopped since! On the 24th January he tried to pull a toy towards him while laying on his back. The next day, he was on his front and pulled his caterpillar toy towards him and started chewing on it as if he had always been doing so.
On the 26th January I took him on the train to stay with my mum for 2 weeks. During our time there he has grown a whole lot more hair, has learnt to roll over from his back to his front (towards the left only), is almost almost able to sit up unaided for a short while, although you have to sit with him with a hand either side because he isn't steady for long at all, is happiest when he is standing up and even tries to walk. When he stands, he holds tightly onto my index fingers and uses them only for balance. His weight is all on his feet and he holds his head and back strong and straight. If he sees someone he loves like Andy or my mum or one of my sisters, he makes an excited noise and tries to walk towards them. He can actually do this while holding my hands. (Just want to point out here that this is all his choice, I never force him to do this and his first action at the moment is to pull himself up on my hands into a standing position. I facilitate by supporting him but I never force him.) He can stand at the rabbit cage and hold onto that and support himself too.
Vocally he has come on in leaps and bounds too. We'll gloss over the fact that he has learnt to shriek like a banshee (hideous) and concentrate on how he can blow raspberries and say "boo". I say "aaaaaaaah BOO!" at him a million times a day and he has started to imitate me. He'll be laying on the floor going "bu bu bu bu", it's so cute. He realised just before this that he had a bottom lip and spent all day sucking on it and making a humming noise. It's a bit like beat boxing when he does all of these in succession. He tries very very hard to communicate; when he is feeding he stops and looks up at me with such an earnest expression on his face and chats to me. He even uses rising intonation sometimes as though he is asking a question. He can say "aaaaaaaiiiiiy!" which sounds just like "hi" and he smiles and smiles after saying it. We're pretty sure that he tried to say "daddy" as well on Saturday when he saw Andy for the first time in two weeks. He did the same utterance three different times that day and one the next when he was with Andy. Hmm. Early, but, it was very clear.
What else … he sat in a high chair for the first time and actually fitted and was happy in there for the whole meal time. I was so proud! He is still trying to grab food and is now even making chewing motions when I eat. I'm hanging on as long as possible with weaning though as I want to do baby led and that's 6 months. Not long now!
He is a very loving little boy and also a bit of a joker. He has brilliant recognition of people which pleased my mum, grandma and sisters no end. He gives kisses and has started blowing raspberries on my cheek now as well, to his evident delight. He's a little flirty charmer and everyone who meets him loves him. He's been to Birmingham on the train to see his cousin and even the commuters were smiling at him and waving to him as they got off the train.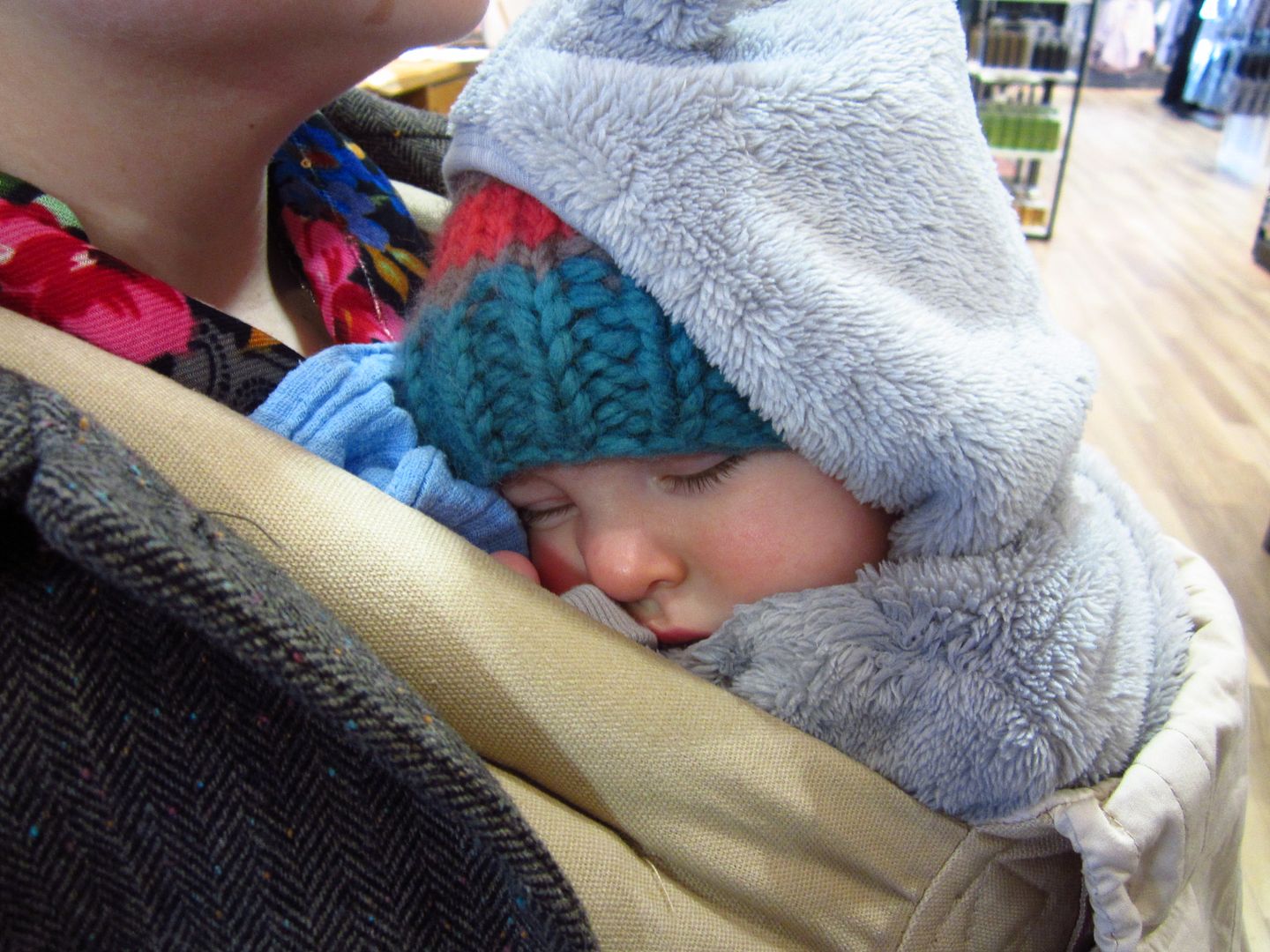 I've started using the Ergo with him because he has decided that he doesn't like his pram anymore because he can't see out. Unfortunately this occurred while we were away and on three occasions I ended up carrying him (in my arms) and also pushing the pram because he wouldn't stay in there. The Ergo is great but he is quite a hefty baby! Also it does encourage the "please sleep on me" thing that I'm trying to wean him off. On the plus side if he does fall asleep in there he doesn't wake up when I take him out and lay him down in his cot so that's good. He really seems to enjoy being able to see everything that's going on!
I can't believe that I've only had this determined little boy in my life for 20 weeks (well, you know, born!), I feel as though I've known him all my life. Over the last few weeks though, he has stopped being "scary" and now I can step back slightly in my thoughts and think "Wow, you know what, I am actually DOING THIS. I am being a parent and I am actually doing ok and enjoying myself." He's very good company really. Banshee shrieking aside …
———————————————–
Littletinbird has been nominated for "Best Baby Blog" in the MAD Blog Awards. The way to vote is to nominate my blog – the four blogs with the most nominations in each category go through. The link is here, if you would like to nominate me I'd be very grateful :-) http://www.the-mads.com/vote/ thank you.