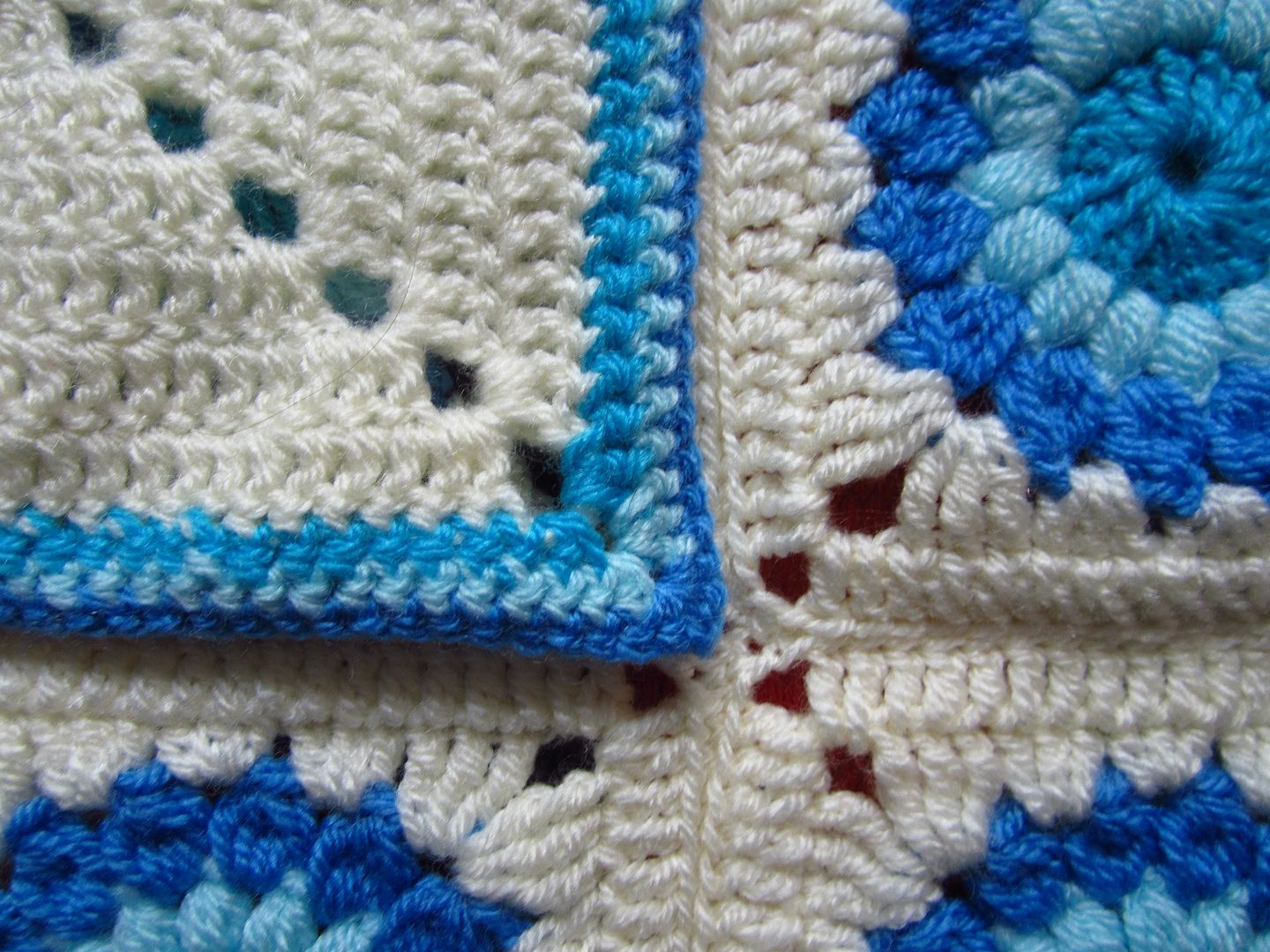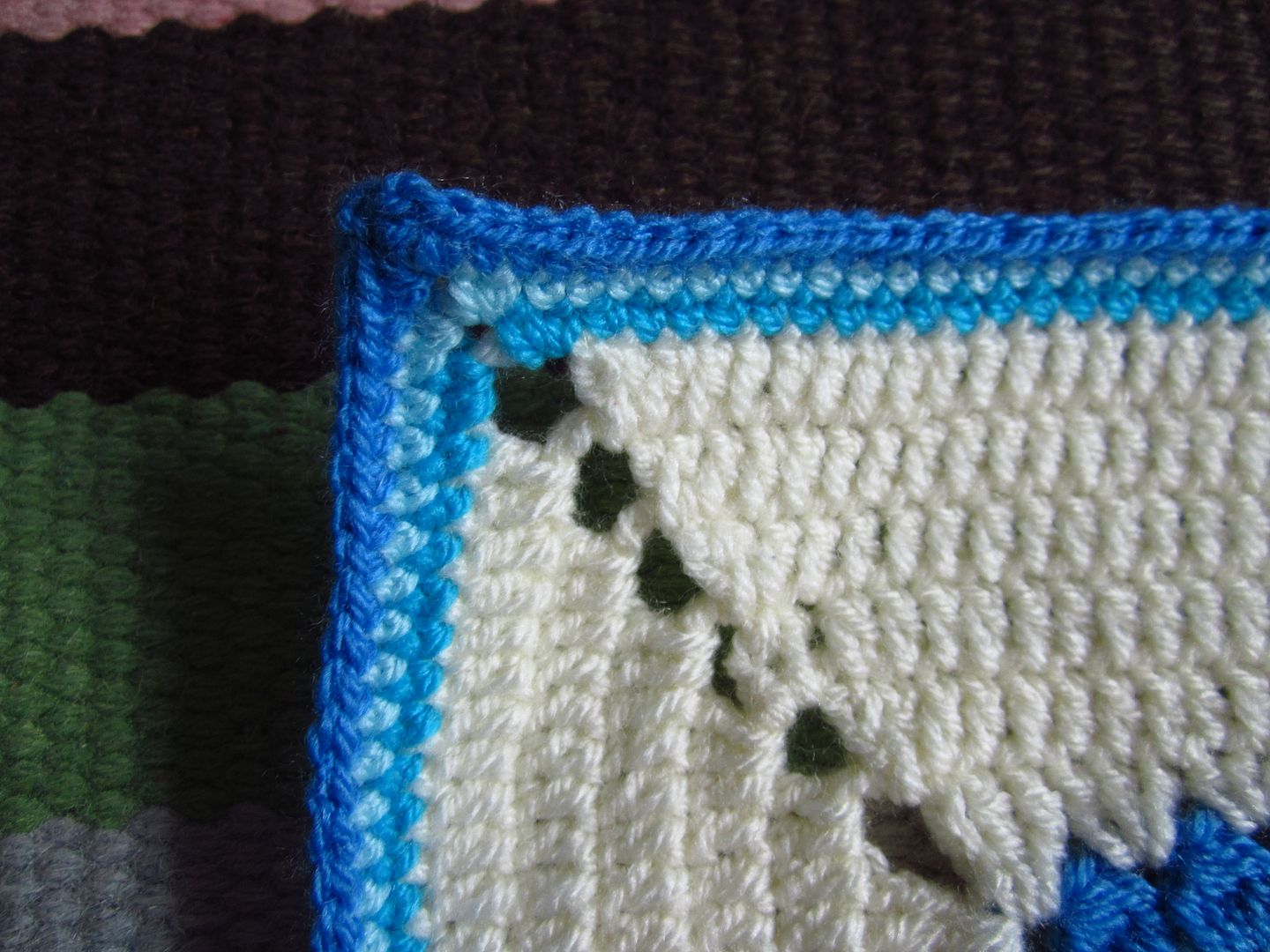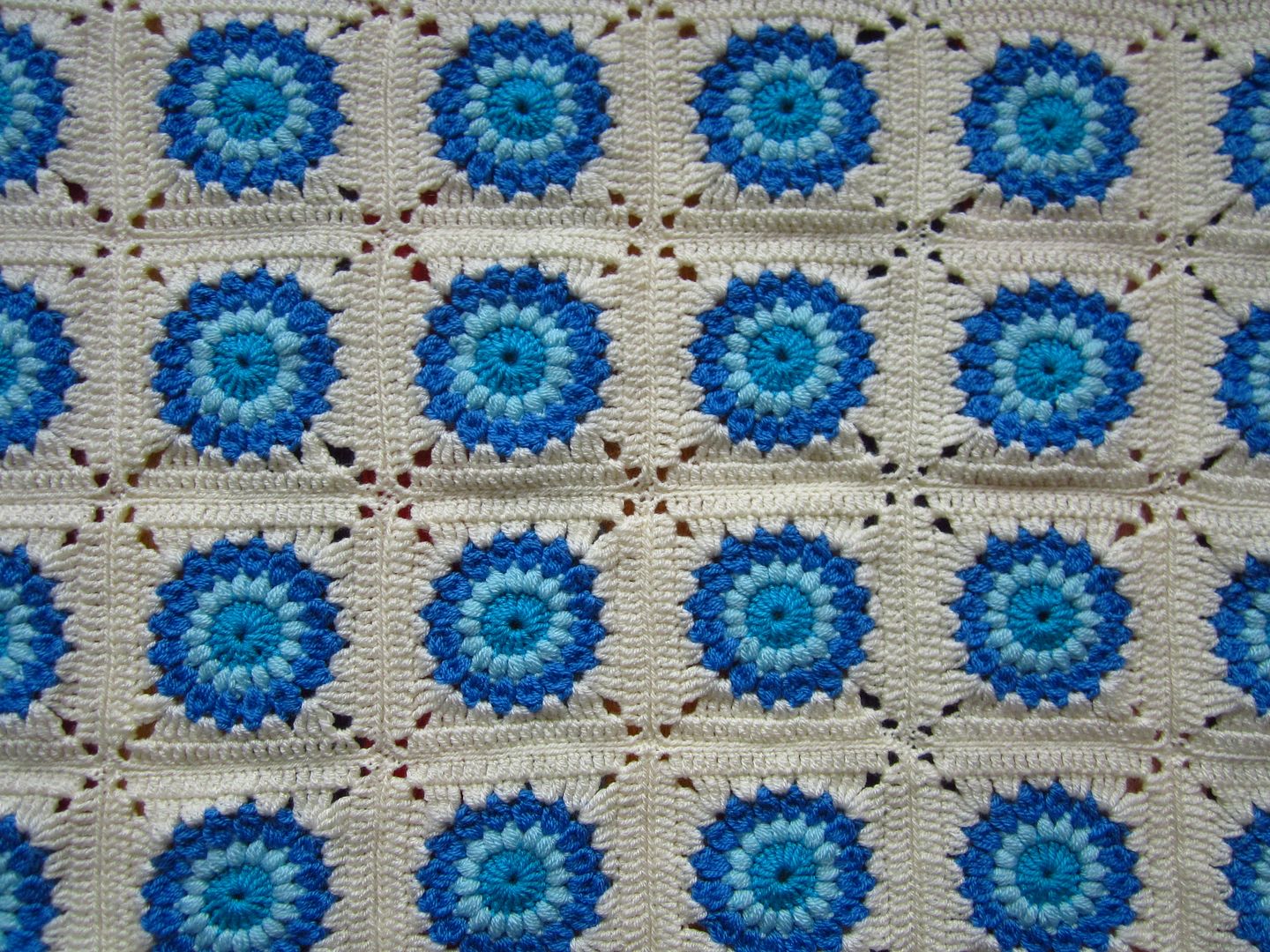 Now then! TTB and I are back home safe and sound and he has just gone down for a short snooze in his cot so I am going to share with you the crochet that I promised you AGES ago. I have been working on this since the 4th of November (or so my photo archive informs me). I had a sudden urge to make a Sunburst Granny Square (pattern is HERE) and really rather liked the colour combo that I threw together just for the practice square that I did. I think it looks like peacock feathers! This little blanket is the brother of my Pink Daisies blanket, my friend's little boy is due to be born very soon and although I started this a while ago it took a back seat to the Hospital Blanket and also to the Big Elmer Blanket that I'm working on for Katherine. As the New Year arrived I realised that I ought to get a move on! I finished it just before I went to stay with my mum and I've left it with her to pass on to the recipient.
At 6×4 squares its a little longer looking than I'd like but it's still just right for a pram or a carseat blanket. I wanted to make it in the same proportions as the Pink Daisies blanket so that they would match.
As always, the yarn used is Stylecraft Special DK in (from centre out) Turquoise, Sherbet, Aster and Cream. I used a 4mm hook and the pattern can be found at this link. I joined the squares together like THIS, and then the border is 4 rounds of creme in TR stitches and then one round of each blue colour using DC stitches (UK terminology.) I like to keep borders simple, and also I am usually in a rush to finish! I think this one says "Yes, I have finished this blanket" and that's enough for me!
You can buy Stylecraft Special DK at Wool Warehouse (this is my affiliate link).
I so enjoyed working on this. I did it all in stages and used "stolen time" to make most of it. I took it on the train with me to Leeds a few times because TTB slept well on the train and it gave me 40 minutes each way of time where my baby was sleeping and I couldn't do any housework because I wasn't at home! Lovely. I also hooked in the coffee shop with Andy, at Rach's house and then any time in the evening when TTB was in bed. Thoroughly pleased with myself for having finished 2 items of crochet before TTB turns 5 months old. If I get my Boaty Blanket finished before the 21st, (just the last bits of border to go) it will be three items and that thought makes me feel all fizzy inside. Fizzzzzzz.
Oh boy, I have so much blogging to catch up on! I think I am going to have to make myself a spreadsheet and schedule to get it all done. I can't even count how many "52 weeks of happy" I have missed now! Best get started I suppose :-)