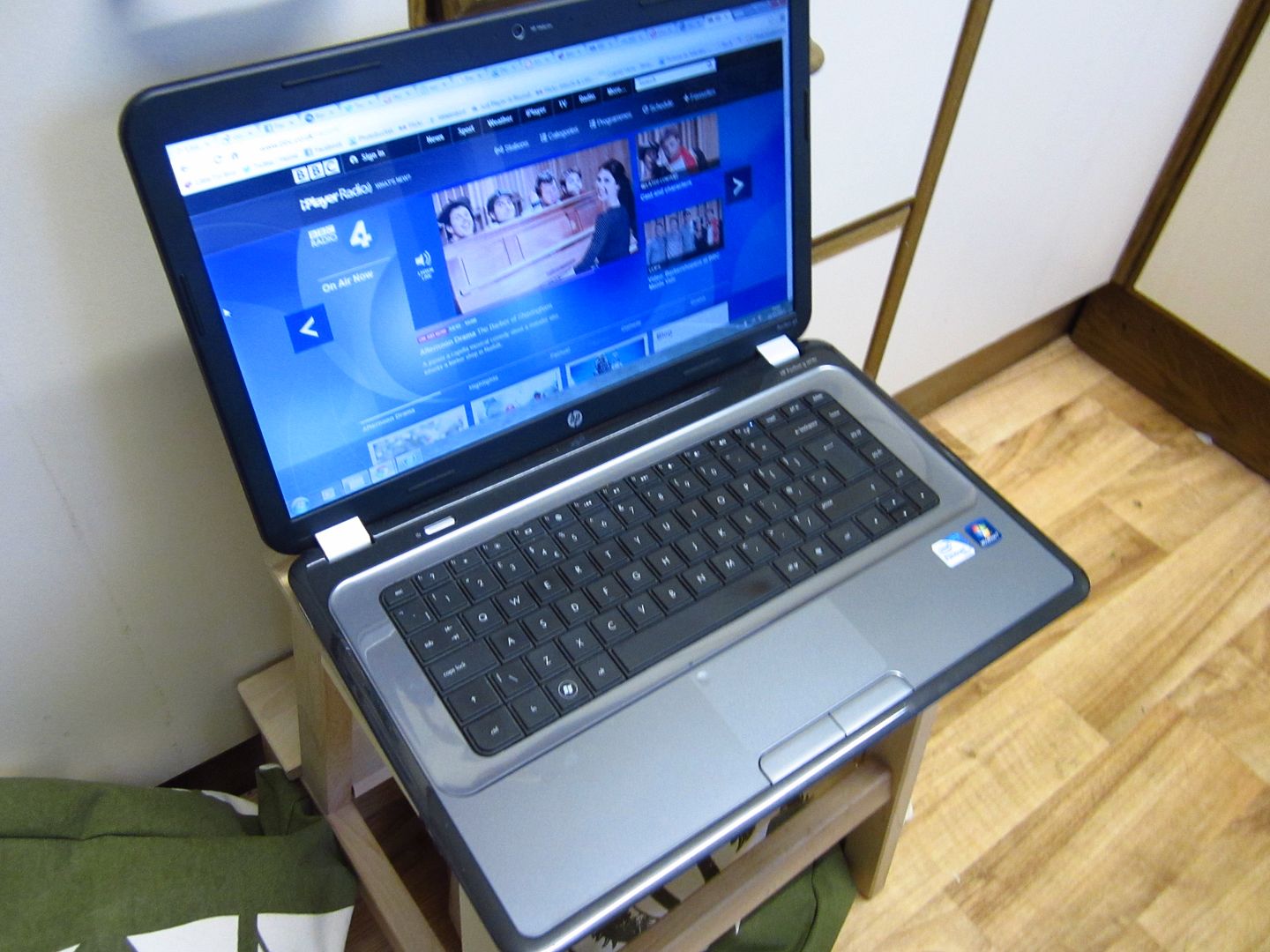 I hadn't been feeling particularly Christmassy or festive this year. I do love Christmas and usually I get really into it but this year I just felt a bit unbothered about the whole thing. Partly because we weren't going to spend it with my family, and partly because I find it hard just keeping up with housework at the moment let alone decorating for Christmas, cooking a dinner, and un-decorating again afterwards. I felt a bit bad because there seems to be a lot of pressure to do a wonderful "Baby's First Christmas" shindig (he's 3 months old – he doesn't care!).
Christmas Eve, Andy was working and it was just me and baby. I took him to the Health Visitor clinic to get weighed (15lb 07oz!) and that was nice but after that it was very … just us. I'd planned to go into work with him as we finish work at midday and then have drinks and snacks but he decided to have a bout of random screaming and then conked out on my shoulder so I didn't go. The one thing I really wanted to do on Christmas Eve was to listen to 9 Lessons in Carols from King's College Cambridge on Radio 4 and fortunately TTB went down for his nap at quarter to three. Hurrah! Struck by a sudden inspiration I hurriedly washed up and cleaned the kitchen surfaces, took my laptop on it's little stool out to the kitchen and made a hasty batch of mince pies.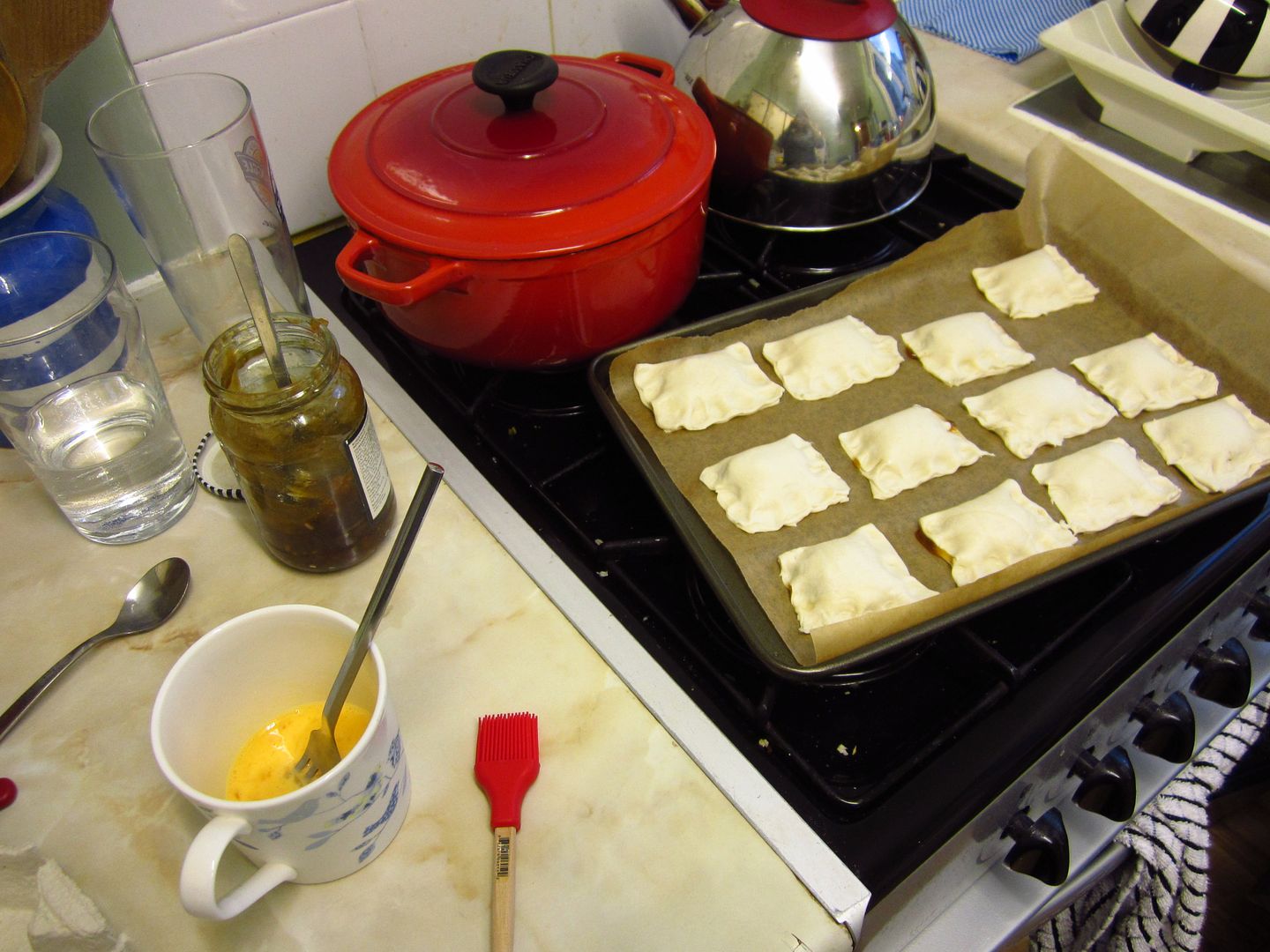 Very very CHEATING mince pies! I had a packet of ready rolled puff pastry in the fridge and I'd bought a jar of mincemeat the day before so I just cut the pastry into 16 little rectangles, put a dollop of mincemeat into each one and folded them over into little parcels. I egg-washed the tops and sprinkled demerera sugar onto the top. Baked in the oven until they looked done, perfect.
While I was making the mince pies I listened to the carols. I felt quite sad that I wasn't doing this at home with my mum and sisters but quite pleased with myself for actually doing something festive because I wanted to!  Sometimes I need to remind myself to do things "because I want to" rather than "because they need doing" – most of my time is full of baby care at the moment and there's not always time for me to do things unrelated to that.
TTB woke up when the pies went into the oven so we listened to the carols together and I tried to tell him about the story of Christmas. He wasn't that interested in my storytelling though! We phoned my Grandma instead to remind her to listen to the carols. She was on her own as well so we cheered each other up :-)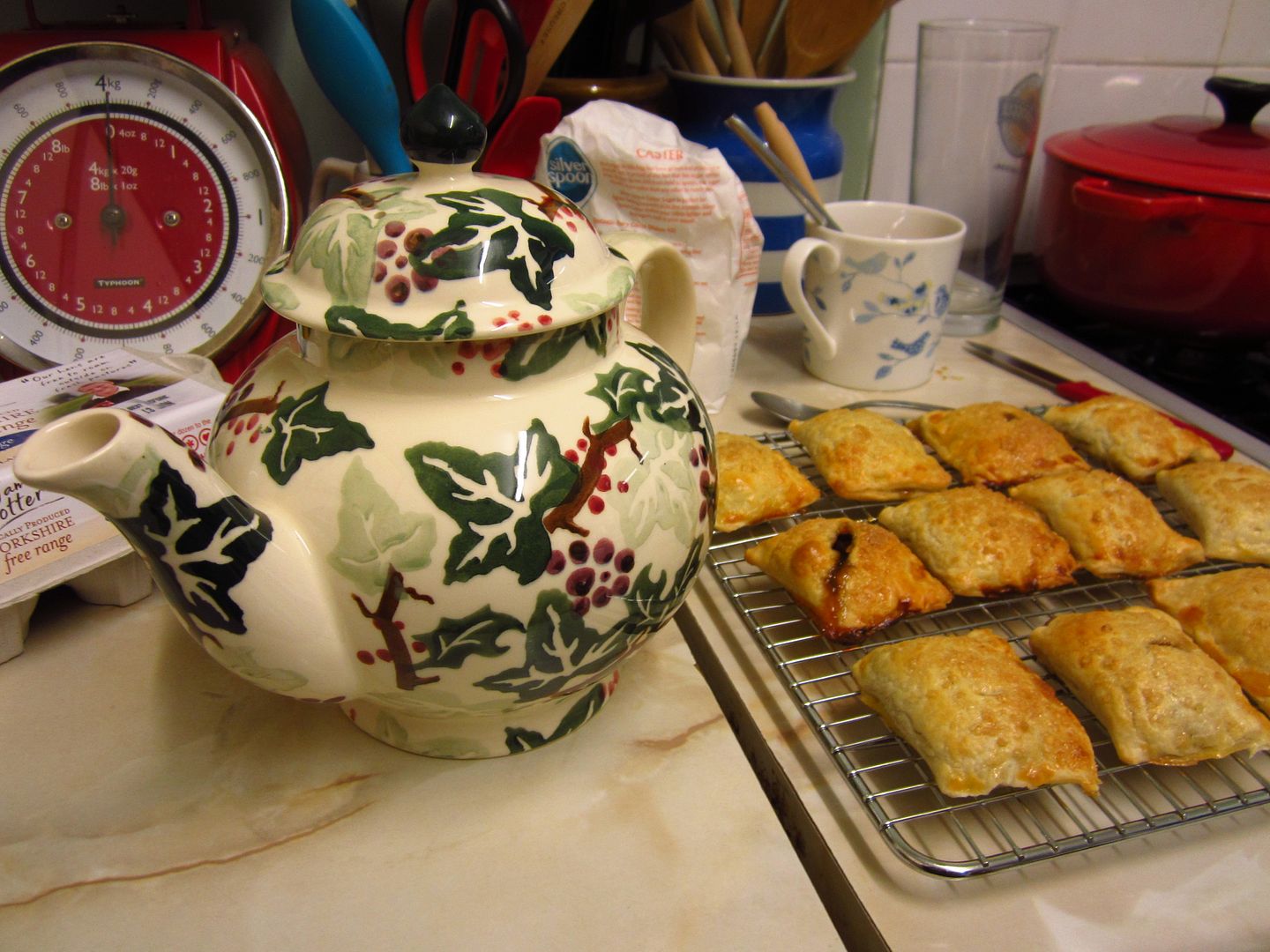 Voila! 16 puff pastry mince pies.
I was setting them out on the cooling rack when I realised I had a text on my phone, from Andy, saying that he was on his way home. Yay! So much earlier than I expected! Best of all, he'd sent it 40 minutes previously and his commute is 50 minutes so he was nearly home! Double Yay! I made a pot of tea in our Christmas teapot (this was a gift from my mum 2 years ago but it's the first time we've used it) which made me really happy to do and then when he came in we each had a mince pie and declared them SUPERB. I was so pleased they turned out so well that I dreamt about them all night long and am determined that they will be something I do each year now. Oh and Christmas Eve night was fab too, I have been having sleeping problems with TTB but that night he actually slept in his own cot for two hours at a time and it was BRILLIANT.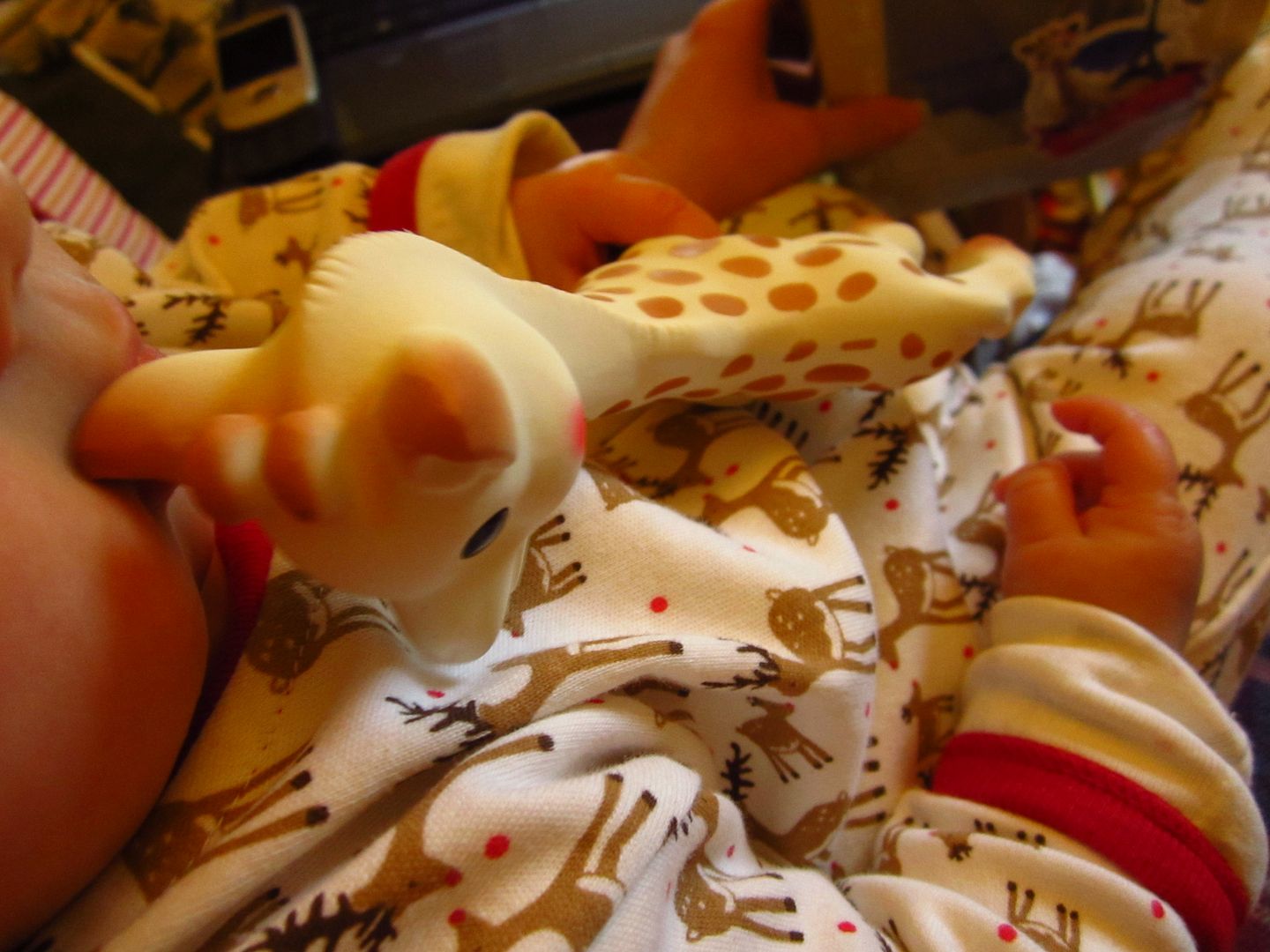 Father Christmas brought TTB a Sophie Giraffe this year (well it was from my Mum) as well as a new stripy elephant which he seems pleased with.
Our best gift though was being invited to Tracy's house for Christmas lunch! We had been expecting to be on our own so it was such a lovely, lovely surprise to be asked around. We had such a great time and it made our Christmas. I am so lucky to have such great friends and I am grateful for all the help and support my friends have given me this year. (Thank you! x)
Today we are just relaxing and trying to entertain a baby who wants to just chew and chew and chew on our hands. Hello, teething! Hope you're having a good time too :-) xxx