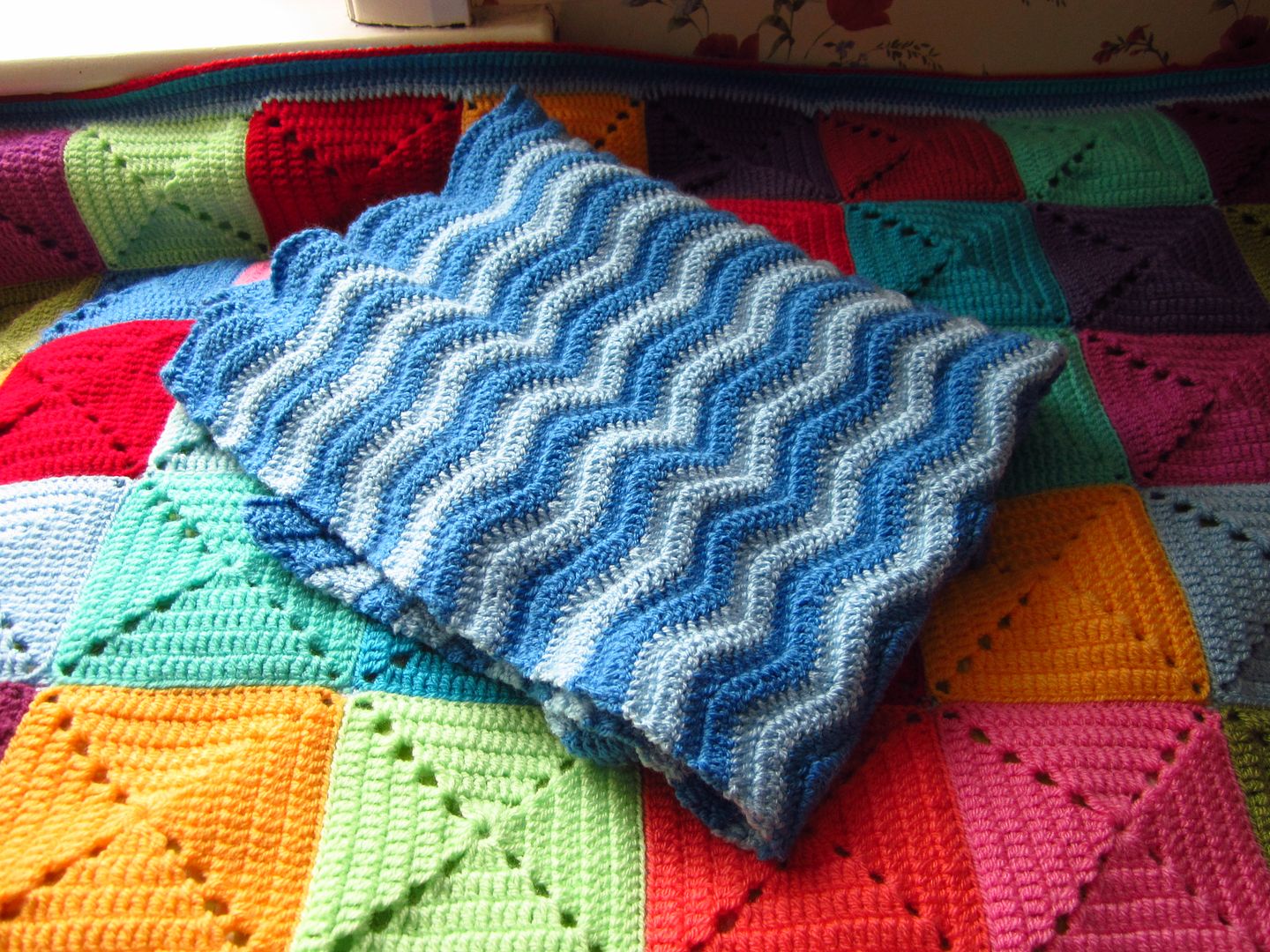 When I was in hospital in labour with TTB, there were two hand knitted blankets in the crib waiting to snuggle him up. They were both blue; one had a pattern of tiny repeating cables and one was in basket weave stitch. We used those two blankets for the whole time we were there (in addition to the stripy crocheted one that I had taken with me that is.)
It occurred to me when I was staying there that it would be a nice thing to do to make some blankets and send them back to the hospital to say thank you. It felt good to use a handmade blanket than just something standard hospital issue – more personal and special. I started this blanket in October when TTB was about 4 weeks old. I managed to get a row done here and there and somehow a blanket appeared. It has taken me eight weeks to make this little piece of crochet which is a long time in previous Heather terms (pre baby!) but not too bad going in post-baby terms.
For a while this blanket was a bit of a crutch and I felt like it was a healing process to help me get over the whole thing and it has helped with that to an extent. I like the thought that someone will snuggle up their newborn baby in a blanket that I've made and perhaps feel a bit better that it's a nice stripy one rather than a boring old cotton cellular blanket. There is a trust fund for the labour and maternity unit that you can donate money to (this paid for things like clip on cribs which were great for me as I couldn't stand up for ages) but I don't have spare cash for that. I wanted to do something to say thank you because aside from the fact that me and TTB would have been in a bit of a pickle survival wise without the labour team, we were very well cared for by the maternity ward staff and although it's their job and they are paid to do it, it's always nice to say thank you and show appreciation.
So, blanket details:
Neat Ripple pattern, and I think the starting chain was 140+3
4mm hook
Yarn: Stylecraft Special dk in Aster and Cloud Blue
It's approximately square, no idea what size but big enough to go around my big baby boy so it should be fine for a newborn.
I didn't do a border and I didn't make it straight because honestly I don't think the hospital will care, and I didn't have time. I just did two rows of Aster at the top and bottom to indicate that it had been finished.
I must get round to posting it! I half wonder if anyone from the maternity unit reads my blog, you never know do you? If you are and you see this blanket on one of your shifts then you'll know it was from me won't you? Hehe.
xxx