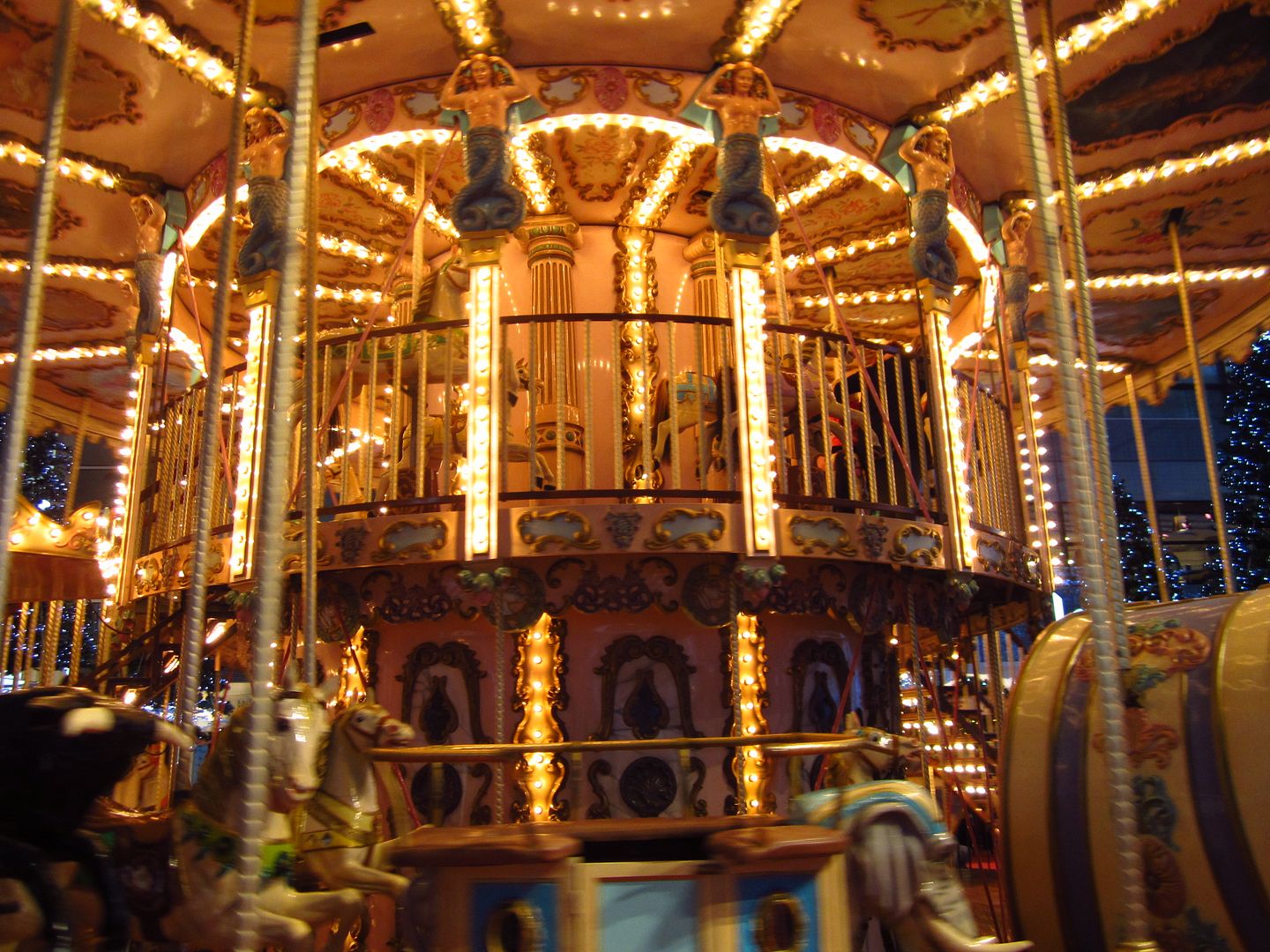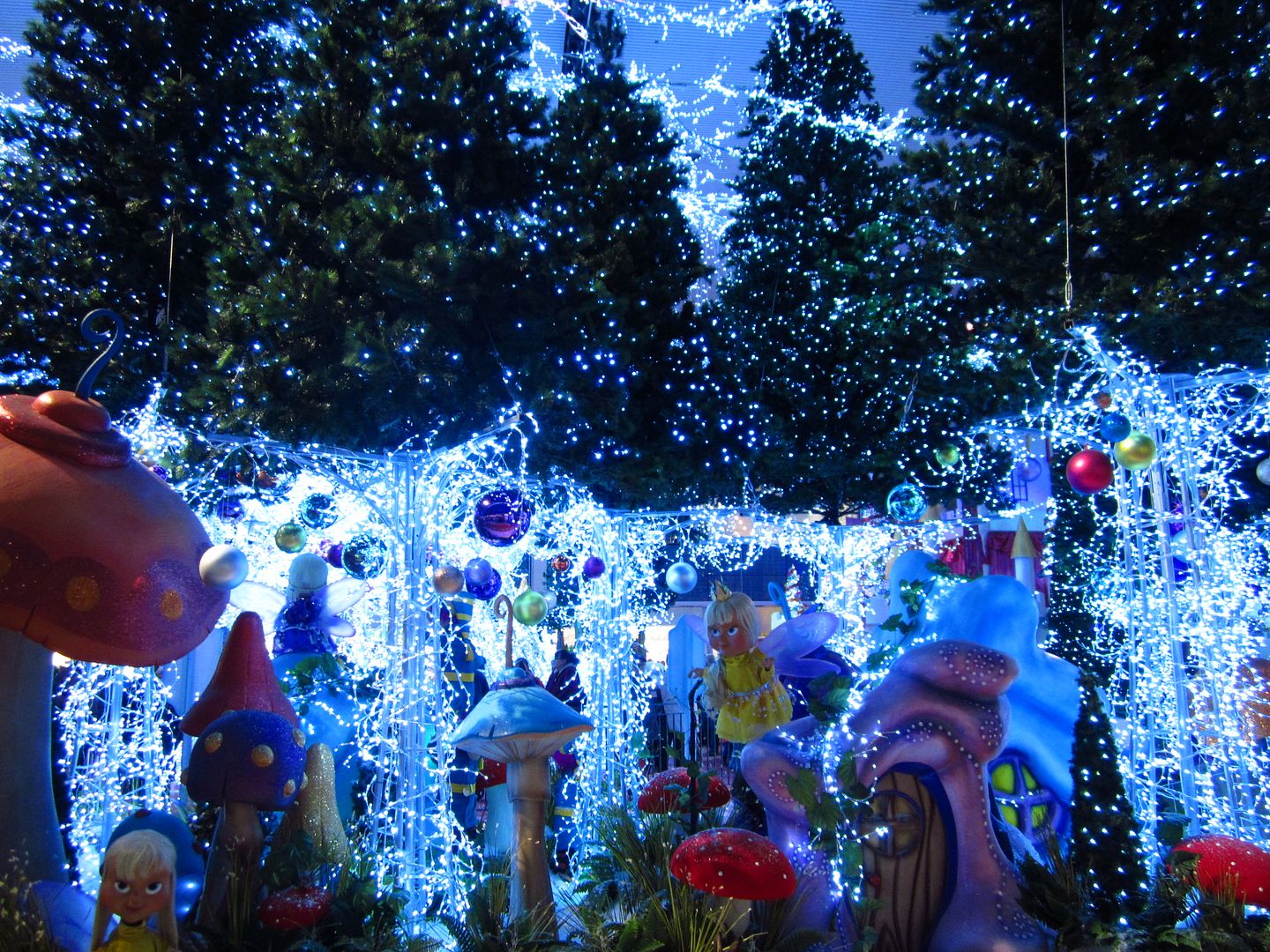 In the hall outside John Lewis in Milton Keynes there is a Christmas wonderland. It is there each year in different forms but there is always a wonderful carousel, a little train and thousands and thousands of lights. I have always thought it would be so magical to take my child to see this, when said child was about 4 or 5 – I would take them through Next so that they wouldn't see it straight away and they would just have the full effect of all of the Christmassy-ness in one go. It's one of those things that I've always thought would be really fun to do.
We went to Milton Keynes last week and after we went to Costa for coffee we thought … I know TTB is only tiny and doesn't know what Christmas is but I bet he would like the lights. So we took him out and oh! how he loved the lights. He was simultaneously excited and a bit overwhelmed … he clung really close to me whilst "hoo hoo hooo"ing at the lights. Then he had a cuddle with Auntie Rachel and watched the carousel go round with a very fascinated look in his eyes. I can't wait to take him on it in years to come. That will be our special Christmas treat. My mum held him while he looked at all the lights on the way back. She was stopped by two ladies who told her how beautiful he was (this happens quite a lot, he is v pretty boy) and then just as she was being approached by some salesmen from Love Film, he threw up all over his stripy cardigan! Turns out that this is a good preventative for avoiding a Love Film sales pitch. Fortunately we were outside Mothercare and they have changing facilities.
Whilst on the subject of facilities, it's always important to have in mind where you can feed and change your baby when you're out and about. We were having a look in John Lewis and I said that I'll feed TTB when we have coffee in Costa but that I'd just pop to the loo in John Lewis while my mum looked after the pram. John Lewis in Milton Keynes has recently been refurbished and I noticed as I walked to the loos that it had "baby feeding area" listed as a facility. Hmm. A quick peek and WOW there were two little rooms with comfy chairs, magazines and soft lighting – one for bottle feeding and one for breastfeeding, plus a drinks vending machine and a water cooler, along with a lovely changing area with mats, sinks and mirrors etc. Just brilliant! I was so impressed. I thought I'd try it out so I went and wrestled my baby away from his adoring grandma and auntie and took him for a very peaceful, calm, private feed. Just lovely. I don't mind feeding him wherever he needs it really but it made such a difference to do so in a place where it doesn't matter if someone sees your tummy and nobody is going to frown at you for daring to feed your baby without a bottle. Of course, the little stinker wanted feeding AGAIN and I had to feed him in Costa anyway (by gaw it's harder on a dining chair!) but that's not the point. Top marks, John Lewis, top marks.