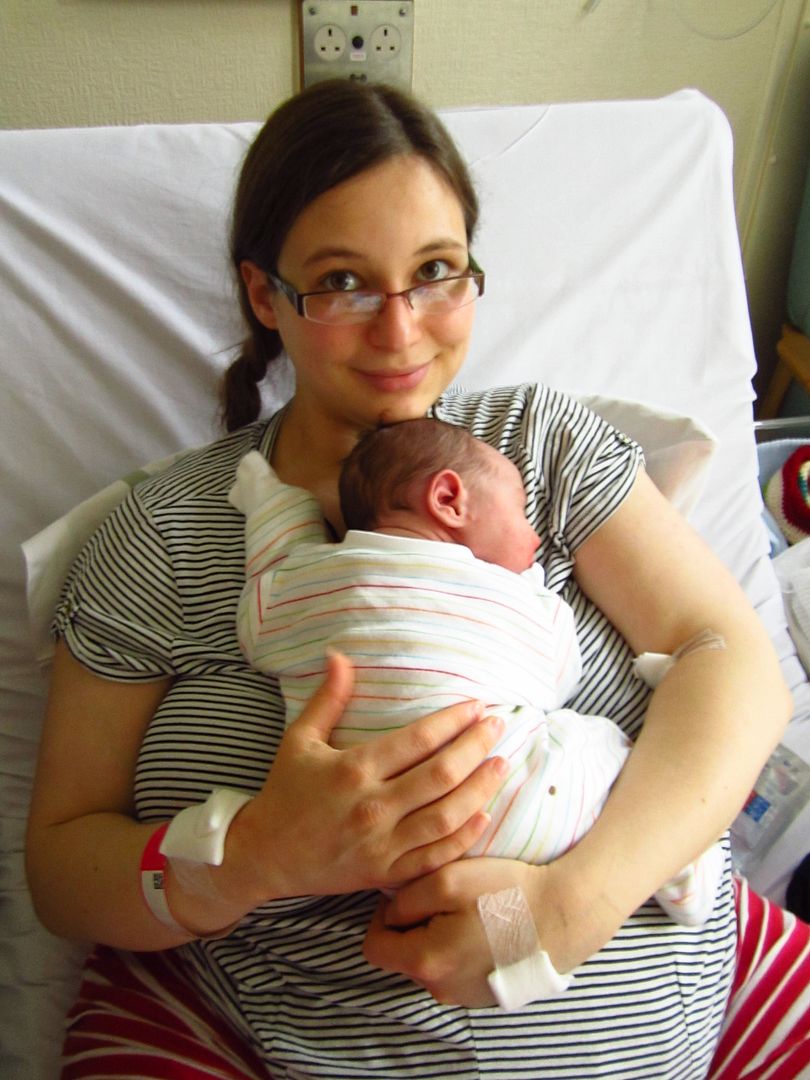 So then. 2012.  It's hard to do a review of the year without mentioning having a baby. I know, I know, I bleat on and on about it but it is a pretty huge event in my lifetime. 2012 has been all about the little blue line, the wibbly grey and white scans, the ever increasing belly and then finally the baby. Oh the baby. Then learning to care for said baby and learning to be a mother. We found out at the very very start of the year so there has not been one day without thinking about TTB.
I said to my mum a couple of weeks ago that TTB was two months old. I couldn't believe that he had grown to be TWO WHOLE MONTHS OLD, but at the same time I couldn't believe that I had only been doing this baby-caring lark for two months because it's not really a very long time. Surely my whole life has been spent wiping, feeding, snuggling and not sleeping? My mum said to me, "Just think how much you have learnt in that time." Listing all of the things here would take ages and would cross over from the "me/craft" blog into "mummy blogging" territory though. I don't want that really.
**at this point I realise that this is not a very good 2012 review post and is just another "talk about the baby" post**
Let's move on.
Things I have enjoyed in 2012:
Going to Stratford with my mum and sister on her birthday.
Going to the seaside/my cousin's wedding.
Playing hours of "catch" in the garden with my mum and siblings.
Spending time with Grandma – it makes her so happy and I really love her.
Building a wall in the living room (at 40 weeks pregnant!)
Going to London for work.
Having the London meeting cancelled and an afternoon to do as we pleased for free in London!
Making blankets.
Spending time with and appreciating my friends.
Going to see Ginger Wildheart in York.
Having a good clear out of junk from the house.
Making plans for future renovation work on the house.
My last day of work before maternity leave.
Quoting from Gavin & Stacey, Friends, Futurama and Despicable Me with Rachel and Alice.
Getting new glasses.
Having central heating fitted.
Seeing four friends welcome new babies.
My Grandma coming to visit for the first time.
Finally getting a shower fitted in the bathroom after 7 weeks of washing in a bucket.
Christmas with friends.
And I just cannot top the following moments:
The positive pregnancy test
The first scan
Feeling him kick
Hearing his heartbeat
The second scan
The start of labour
Hearing his cry for the first time
Holding him for the first time
Feeding him for the first time
Each time he laughs and smiles at me and looks at me as though I am the Best. Thing. Ever.
There is also nothing so special as seeing Andy be a father, my mum be a Grandma, my siblings be aunts and uncle and seeing my Grandma hold her great grandson. It's humbling. He feels as though he has been a part of our family forever.
There has been sadness in 2012 as well. I don't want to omit the loss of our lovely great aunt, we miss her so much and I am so sad that she never got to meet TTB, or her own great grandson (my cousin had her first baby in April). I'm grateful that we found out about my pregnancy early enough that we could tell her before she died.
Low points that deserve a mention are the shower breaking and the ensuing 7 weeks of washing in a bucket, all that RAIN, massive massive preggo feet, and trying to help Andy plasterboard the living room ceiling (and failing hugely).
2013 can never live up to 2012 in terms of huge life events, but doesn't mean that it won't be a good year. So, from me and my gorgeous boy, Happy New Year :-)