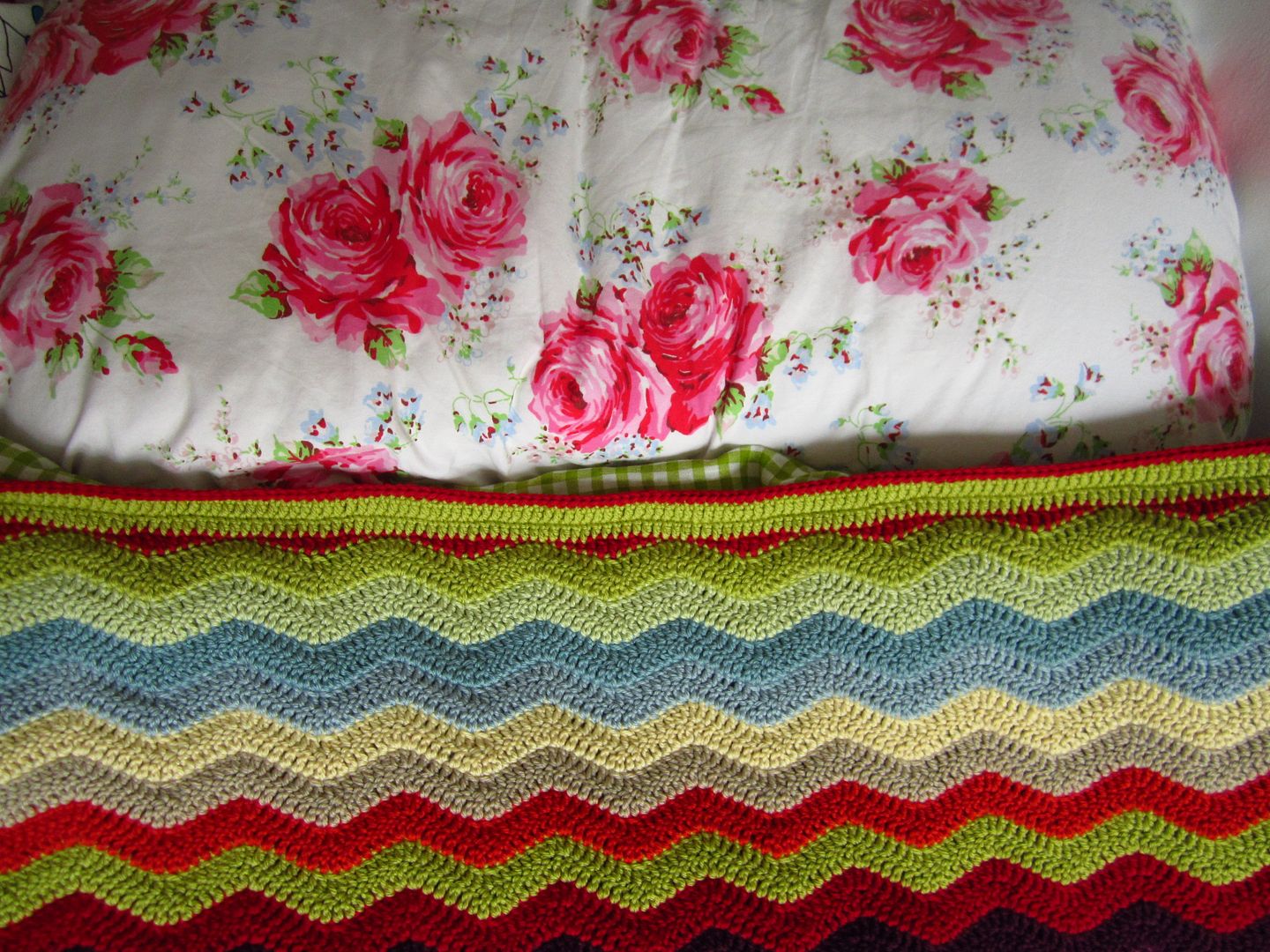 TTB is snoozing in his pram so I thought I'd dodge the washing up for now and write this post that I've been wanting to write for ages. I took the photos before TTB was born! I wanted to post it before it became a year since I started the blanket, but I have missed that deadline by a fair amount. This is the ta-daah moment of my Cashmerino Ripple blanket that I started last September in a ripple-along with Lucy. You can see the original post here, and it has all of the colour information for the yarn used as well.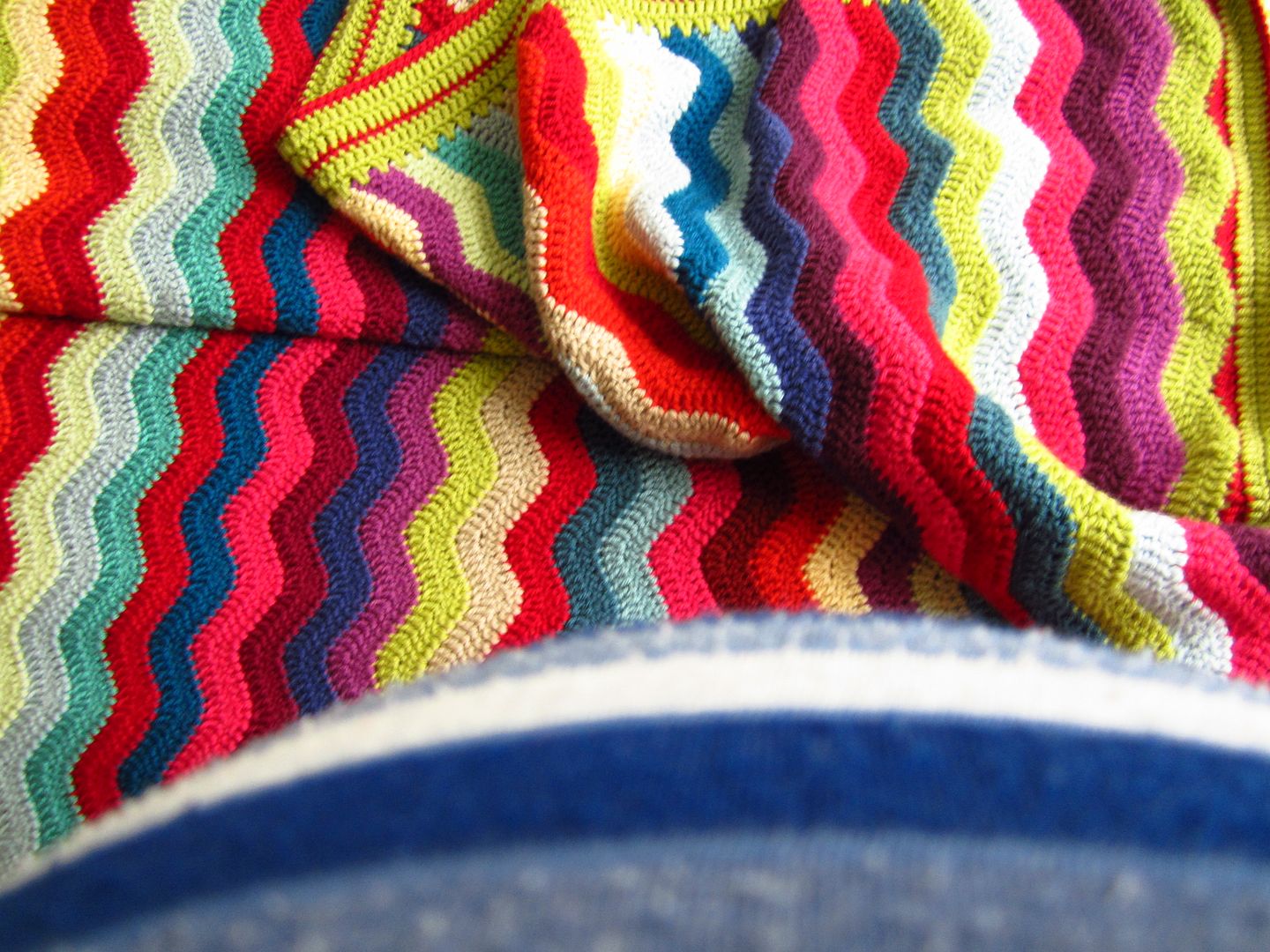 This blanket was a long time in the making – I started stashing the yarn for it in 2010 before we bought our house. That was the only way I could afford to make a blanket in such gorgeous yarn! I also asked for yarn (or John Lewis vouchers) from my family for Christmas and birthday presents in order to make this blanket. I started hooking the blanket in September last year, I remember it was the weekend Andy stayed with some friends in Bradford to watch The Scaramanga Six and I stayed up late, sat in bed and watching Calender Girls on iPlayer.
I took this blanket home with me when we went for Apple Day, I took it to Preston when I visited Jenny, to Leeds when I visited Rach and was just generally very in love with this snuggly blanket. I worked hard on it in the new year and did eleven stripes in just two days but then my interest turned to the three baby blankets that I made earlier this year and the ripple got pushed to one side until Easter time when I thought that I had finished it. It was lovely working on it over Easter, I sat on the bed with it, stroking my bump, listening to the rain outside while Andy and his dad tiled the bathroom.
(These are my two favourite colour sequences on the blanket)
I thought I had finished it, but when Lucy borrowed it to photograph with her own ripple blanket it was about a foot shorter. Ah. Then when we got a bed in the baby's room and I laid it out on there, it didn't come anywhere near the pillows. Ah. So instead of adding a border and finishing the blanket off as I had intended to do, I rooted around in my bag of yarn and pulled out any full balls that I had left (I was making the Granny Square blanket with the leftovers at this point) and managed to add nine more stripes to the blanket to make it come up to the pillows on the bed. I did this very quickly as I kept trying to lure TTB out by saying "You can't be born until the ripple is finished!" (this didn't work.)! Then when the stripes were done, I added the border. I had grand plans to make a tutorial on how to make a ripple straight, but I am afraid that it will have to wait!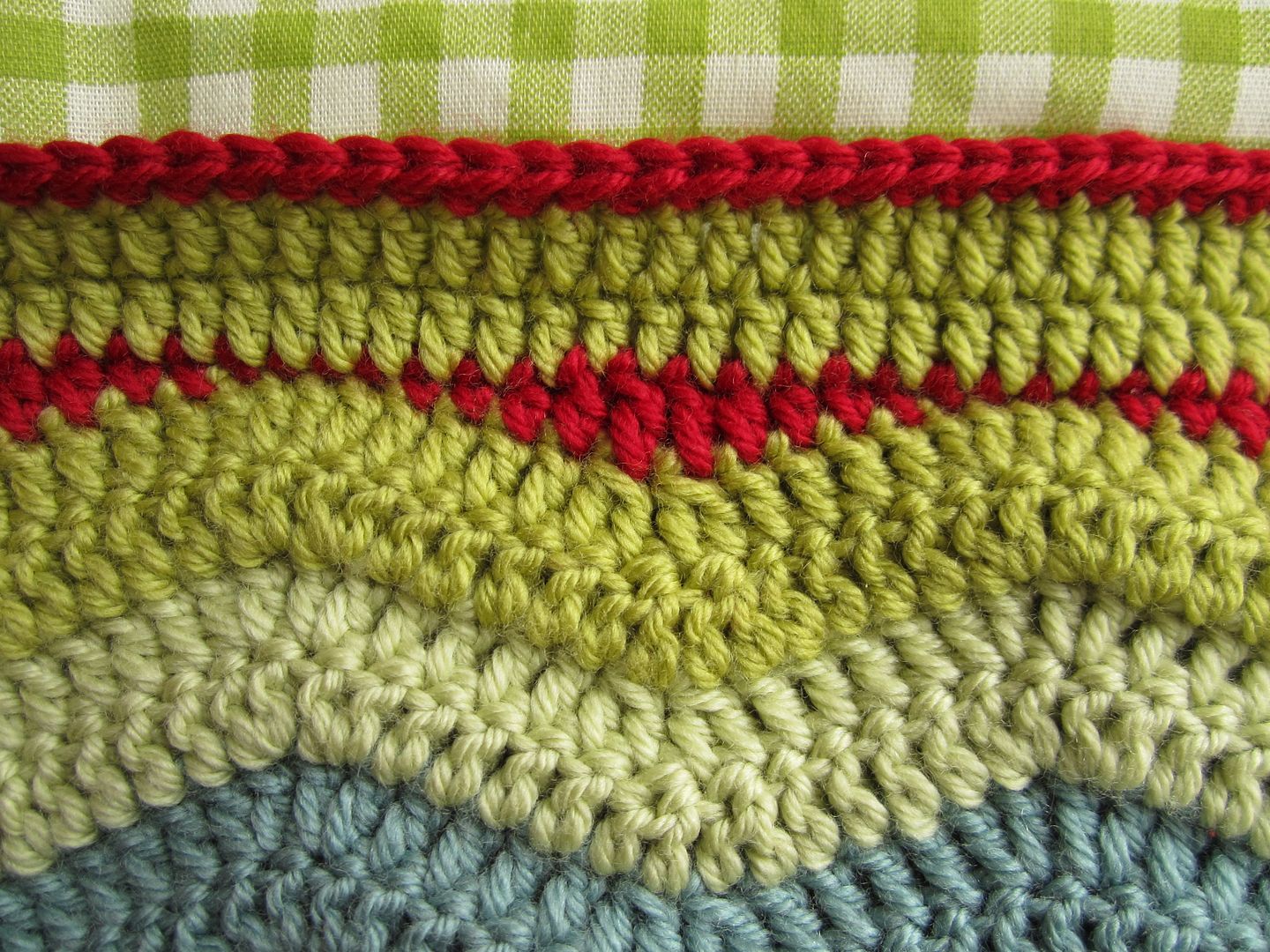 I straightened the edges using red yarn, then did two rows of TR stitches up the sides in green, then another round of red yarn (HTR stitches), two more rounds of green around the whole blanket, and then finally another round of red (HTR). I was pretty desperate to finish it by this point! I think the border could be better, but I was pushed for time and I just wanted it finished. I do love it though.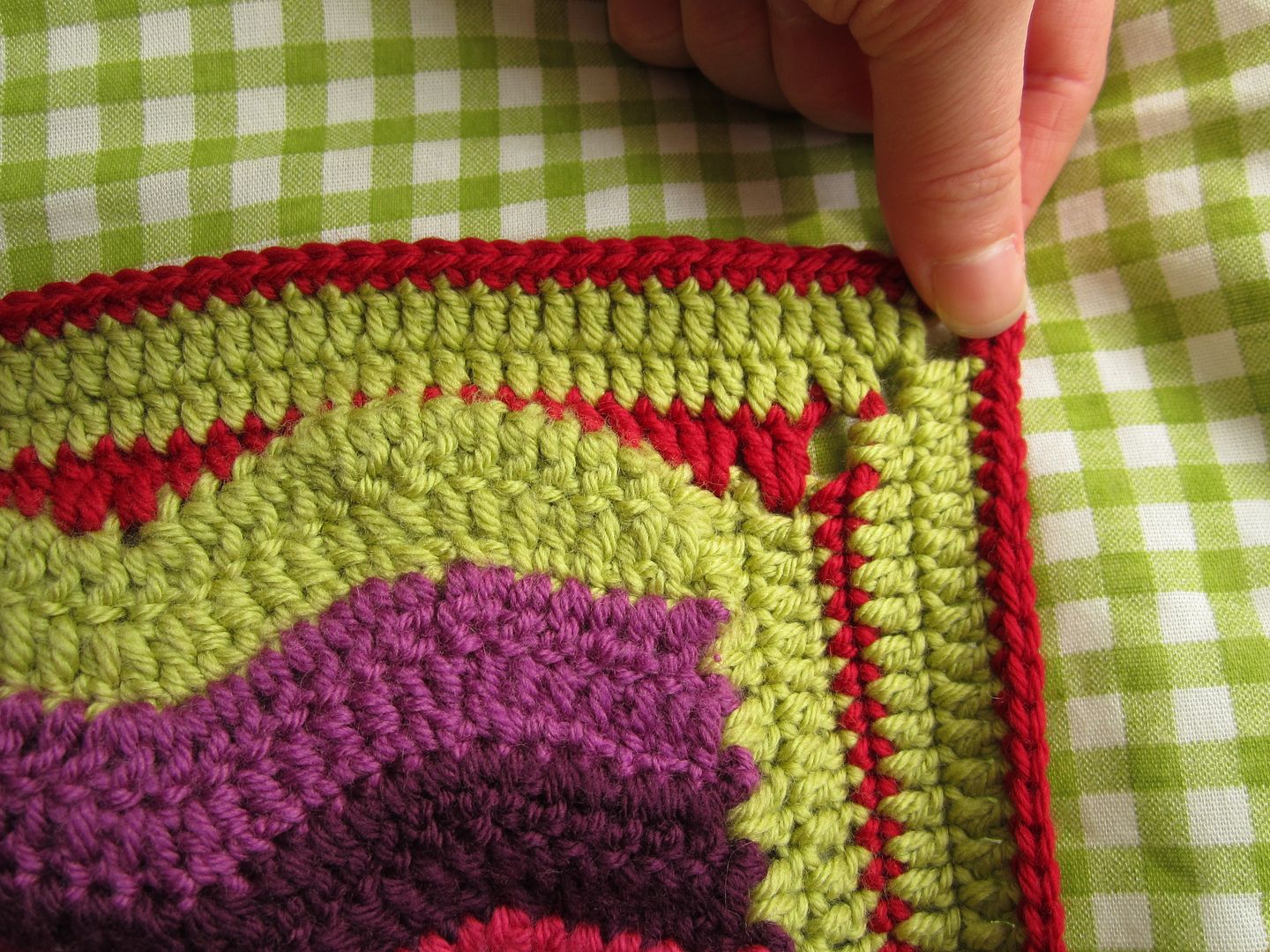 And here is the finished blanket … tricky to photograph but you get the idea!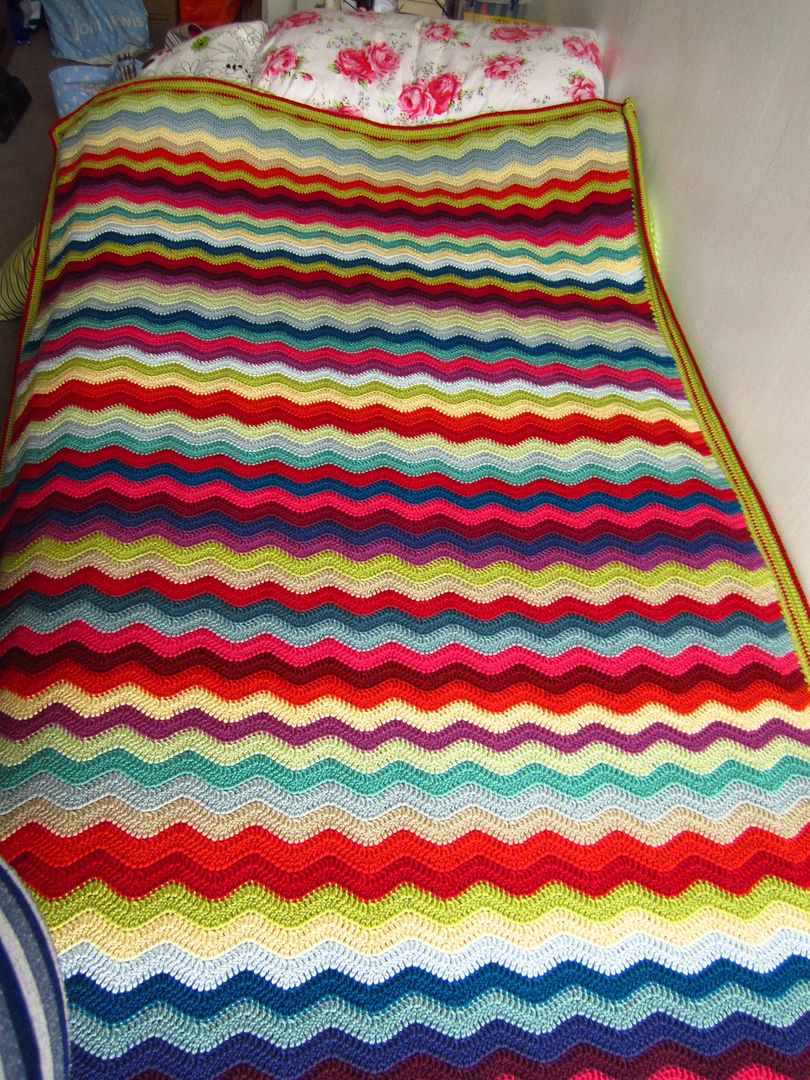 It seems like SUCH a long time ago that I took these photos! At this point I was sleeping in that bed with a massive bump and using lots of pillows to prop myself up.
I've just checked the datestamp on the photo and it was taken on the 17th September. Oooh Heather, that was the day before it all started off! If only you'd known.
I miss my CK pillowcases. TTB puked on them once so I have put them away until I'm back in the proper bed again. They're too nice to be used near a baby!