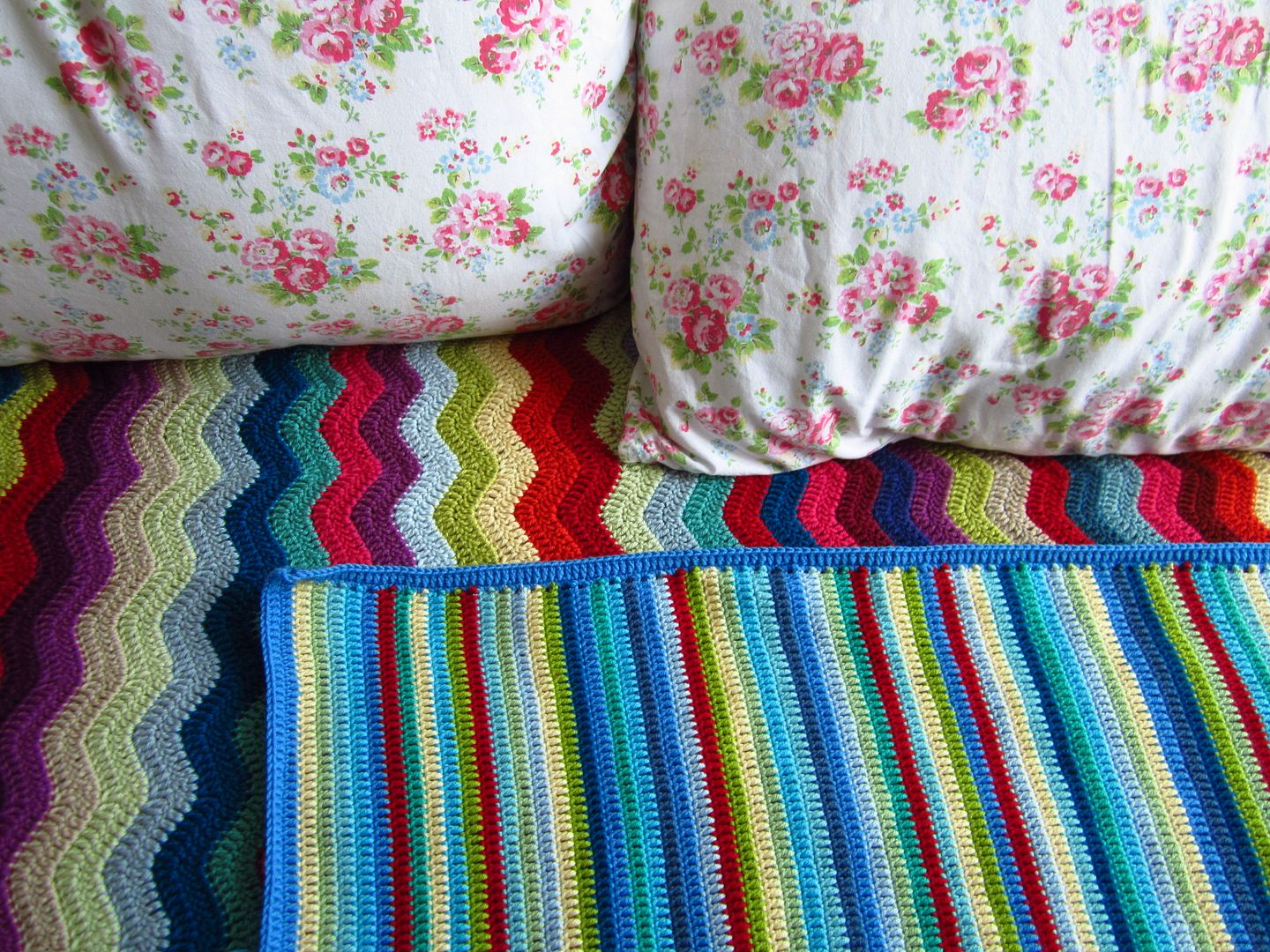 It goes without saying that one of the most exciting things about having a baby is the blanket making opportunities it provides. I have loved making blankets for my friends and their babies, but oh my it's just such a thrill to be finally making something for your own baby. I have made four blankets for Tiny Tin Bird now and today I am excited to share with you my pram blanket.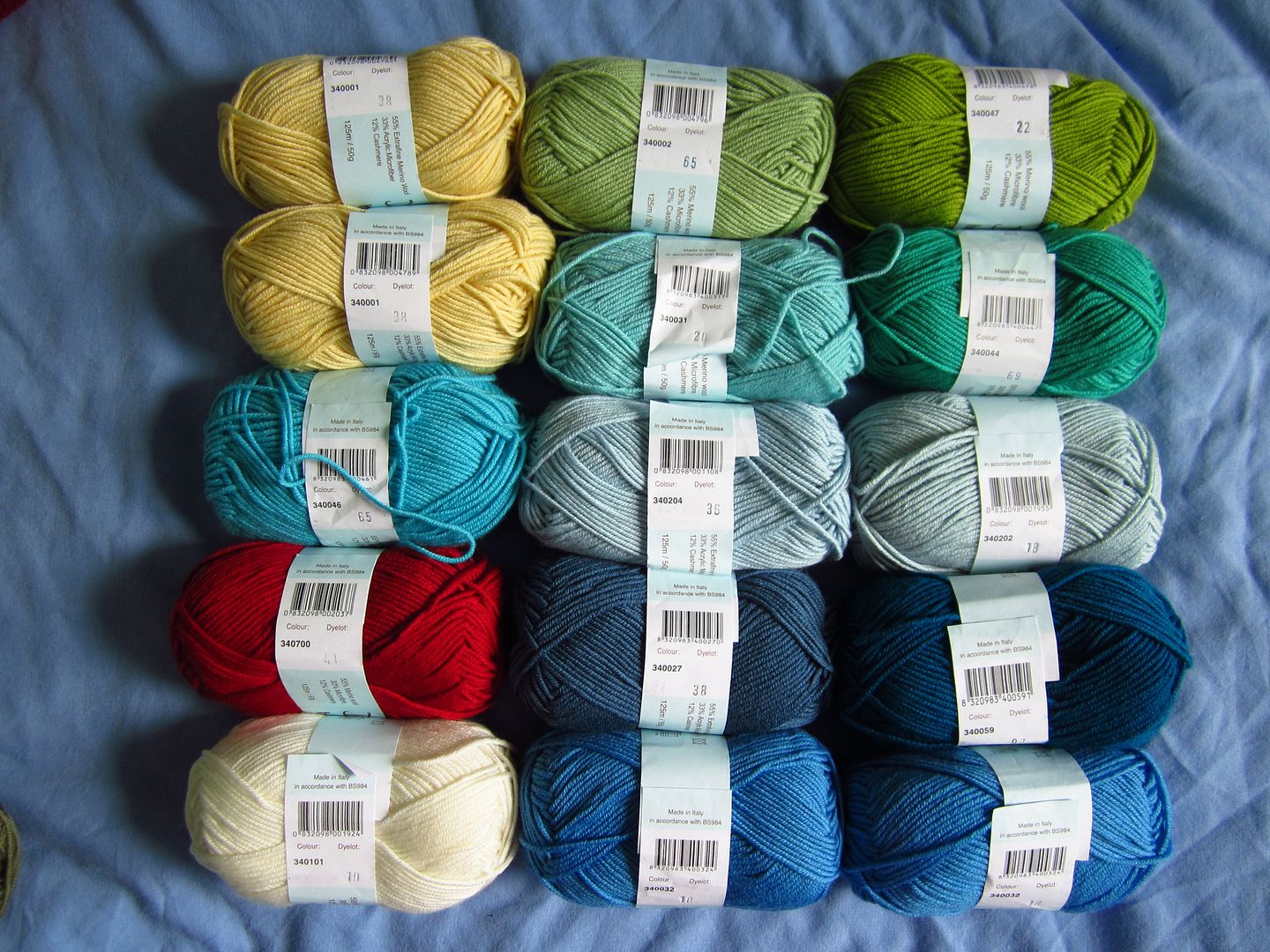 I've had this blanket in my mind for months now but lacked the necessary funds to purchase the yarn for it. I was too busy saving for the pram for the blanket (and baby of course) to go in! Then I received an email from a very kind lady named Emily who was setting up her own yarn shop and wondered if I wanted some yarn in exchange for some thoughts on yarn types to stock that I'd given her earlier in the year, during her "shop planning" stages. I am a bit shy about receiving gifts as I hate feeling grabby or entitled or anything, but after checking and double checking that Emily was happy to gift me some yarn I said a big fat YES with open arms because let's face it, free yarn is the ultimate gift! You can visit Emily's shop here: London Wools.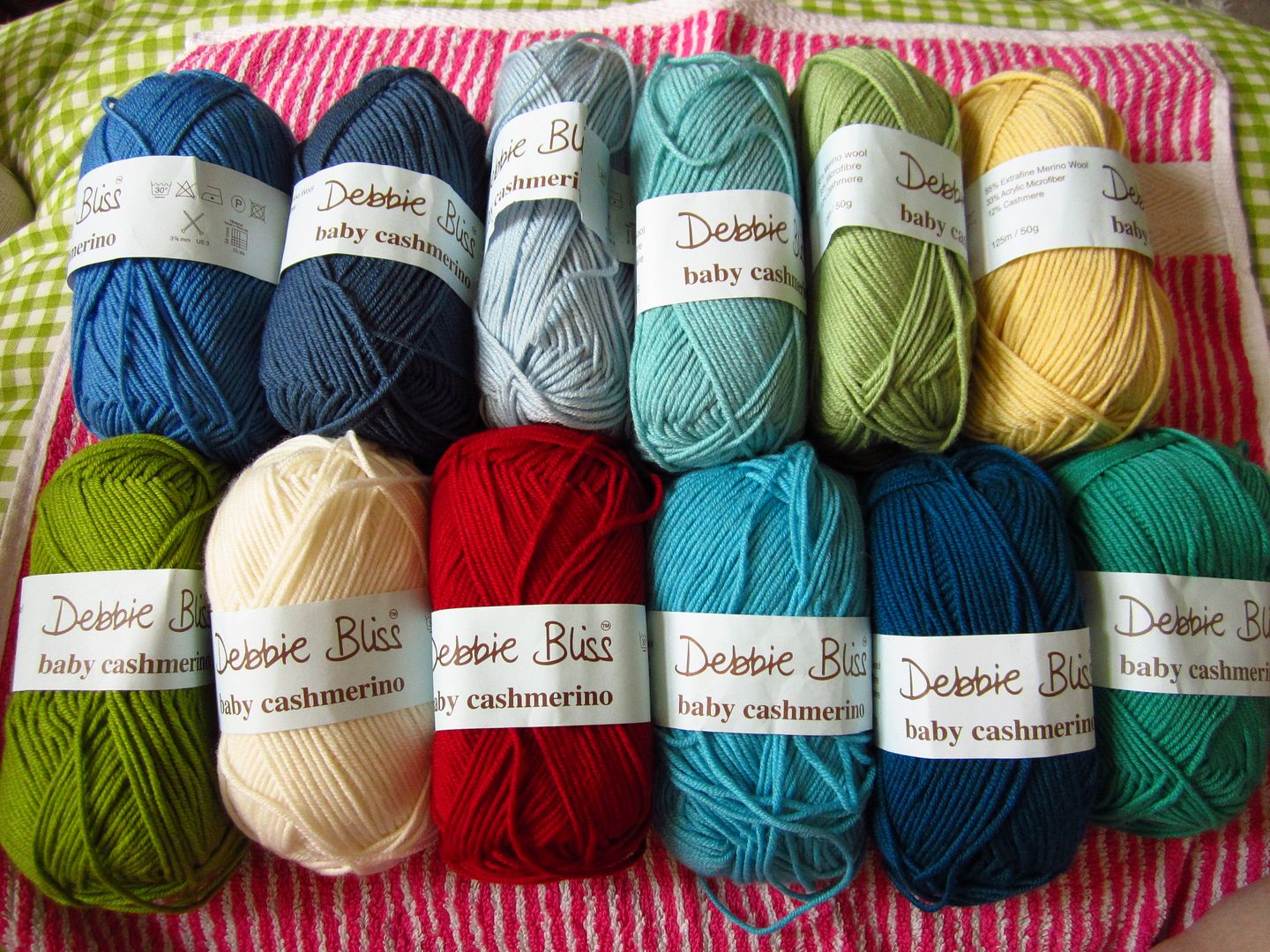 Emily sent me six balls of yarn, and then I added to these to get the palette that I had envisioned. I wanted a blanket that was all different shades of blue and green, with stripes of red and yellow running through it. I was able to afford the other shades because I cancelled the TV Licence (such a stupid thing but we've not had a TV since we moved in here two years ago but I thought we would and kept on paying the licence, but came to my senses and am now saving £12 a month AND got a refund on the unused quarters) and used some of the refund money to order the yarn. The package arrived in my first week of maternity leave: I LOVE getting a package of yarn!
N.B as I worked the blanket the cream didn't fit very well with it so I pulled those rows back and didn't include it after all. I do have other plans though and it won't go unused.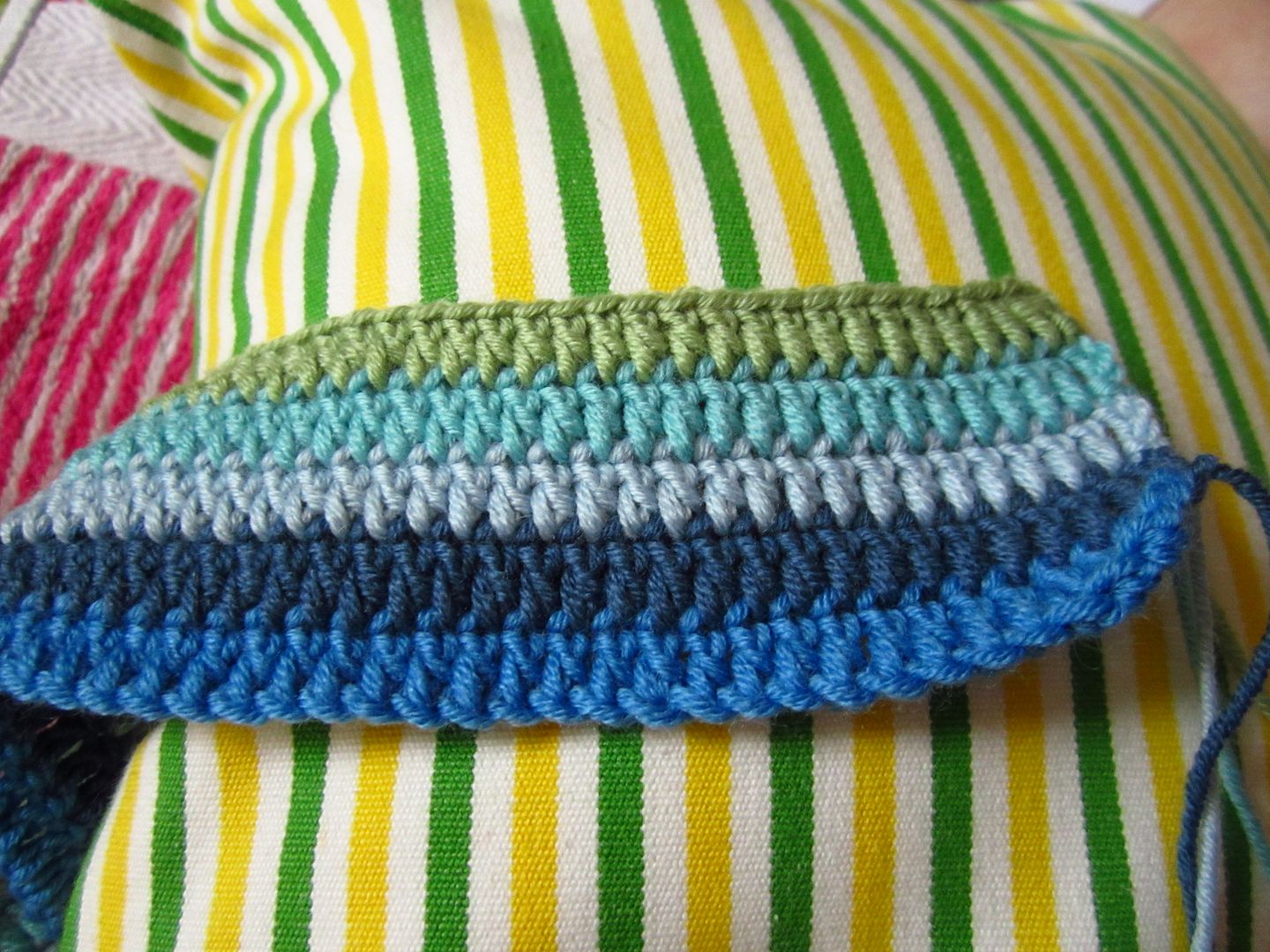 The concept for the blanket was simple: just plain stripes of UK treble crochet. Single stripes, and not turning the work each time. This makes all the rows the same height (I talked about this a bit in this post: Spring Colours Baby Blanket)
This worked well up to a point, but I noticed that the blanket started to lean one way even though I had the right number of stitches on each row. I think this could be blocked out but I am not going to bother: It's not a huge problem and it's not going to be noticeable when it's being used that it's a little parallelogram shaped rather than a rectangle.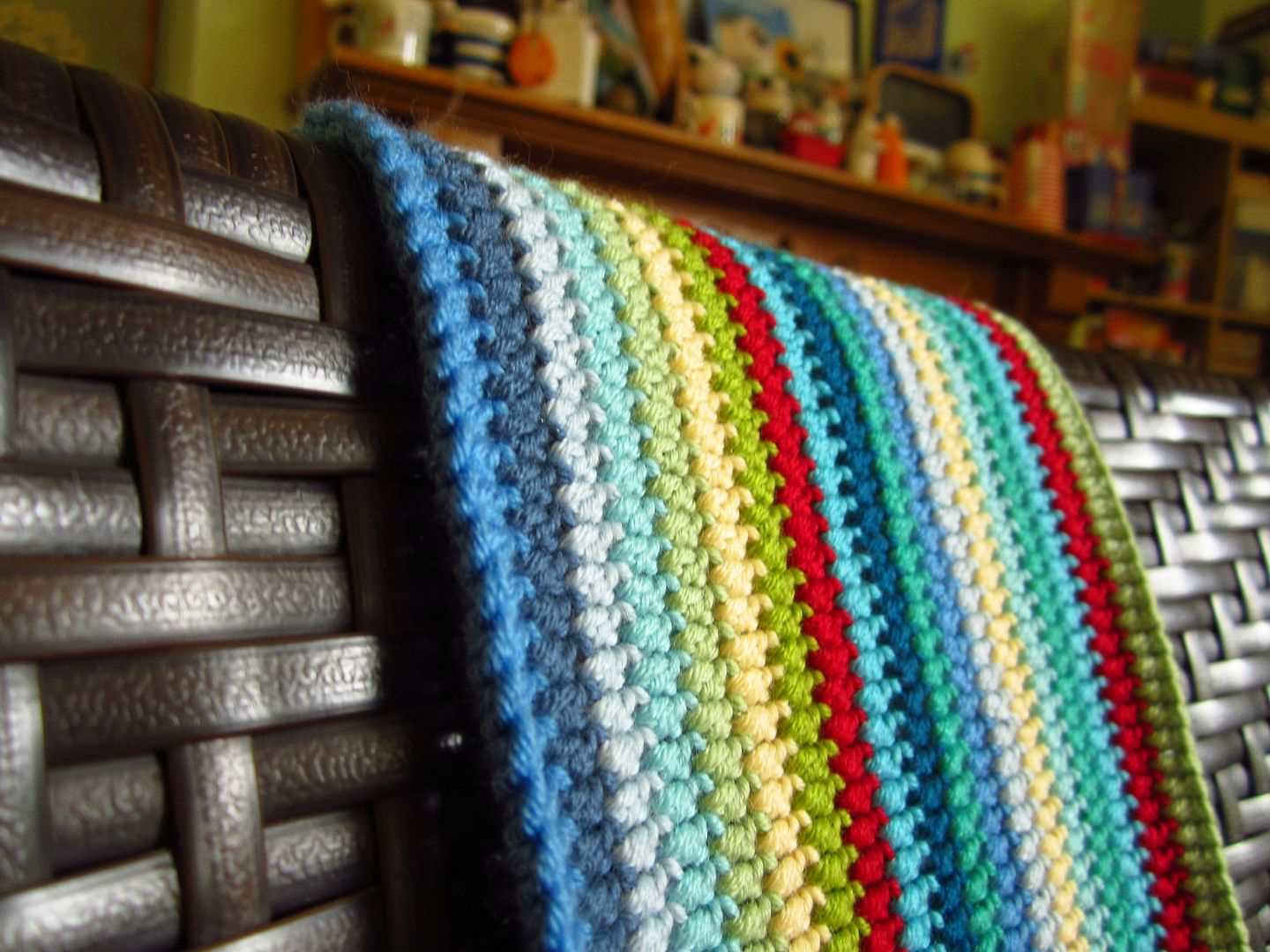 I started this blanket on the 15th of August, and took the photos of the completed item on the 30th of August. I didn't work on it during the time that my mum and sister were here, so that's about 4 or 5 days making a total of ten days to make this whole blanket which is quite impressive until you think that I didn't do anything except crochet and watch the Hairy Bikers on iPlayer during that time as my feet were so swollen I couldn't walk!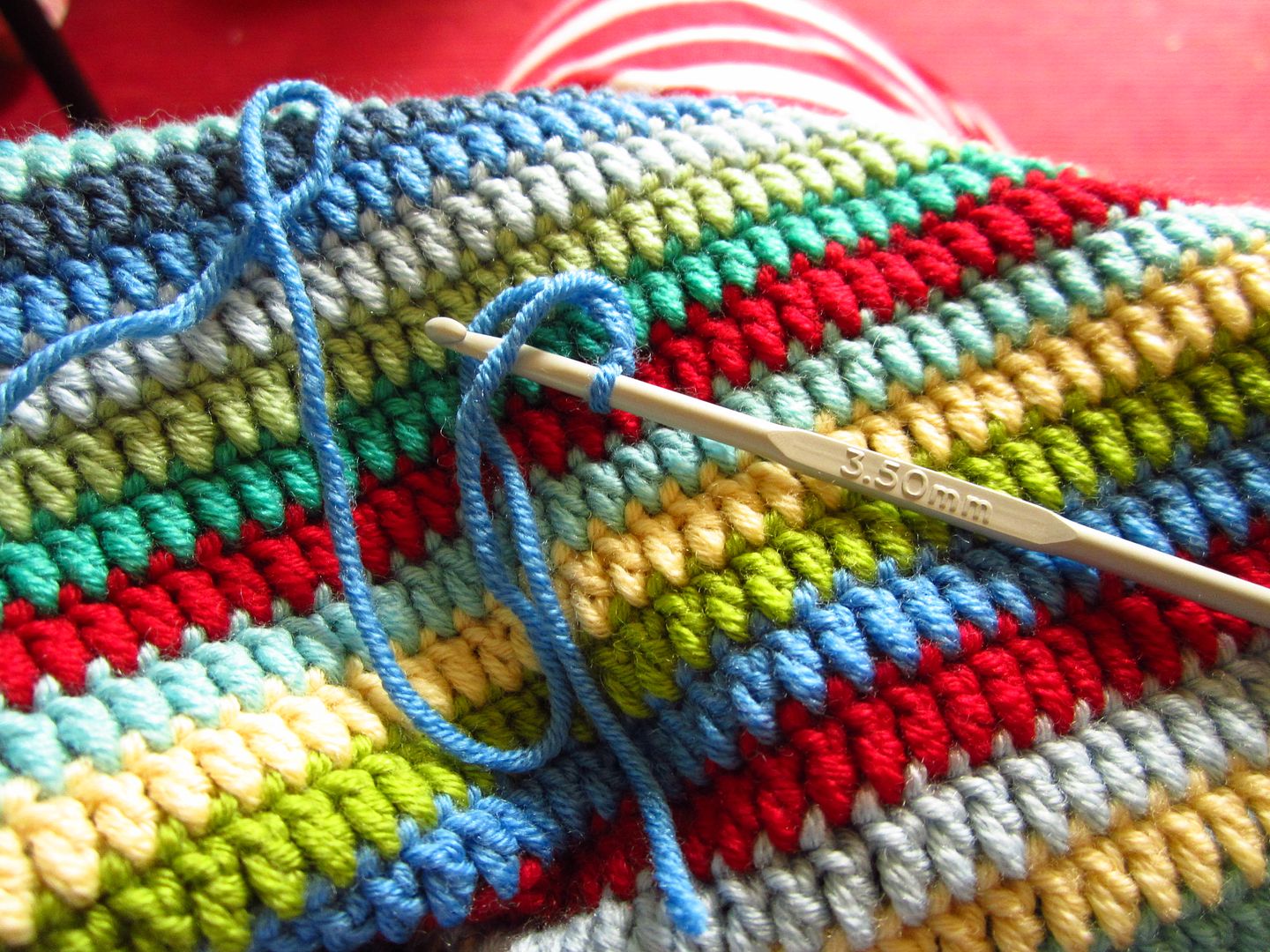 I worked a little bit on my granny blanket at the same time and it make me laugh to see how similar the colours were. I'm so in to red, blue, green and yellow at the moment!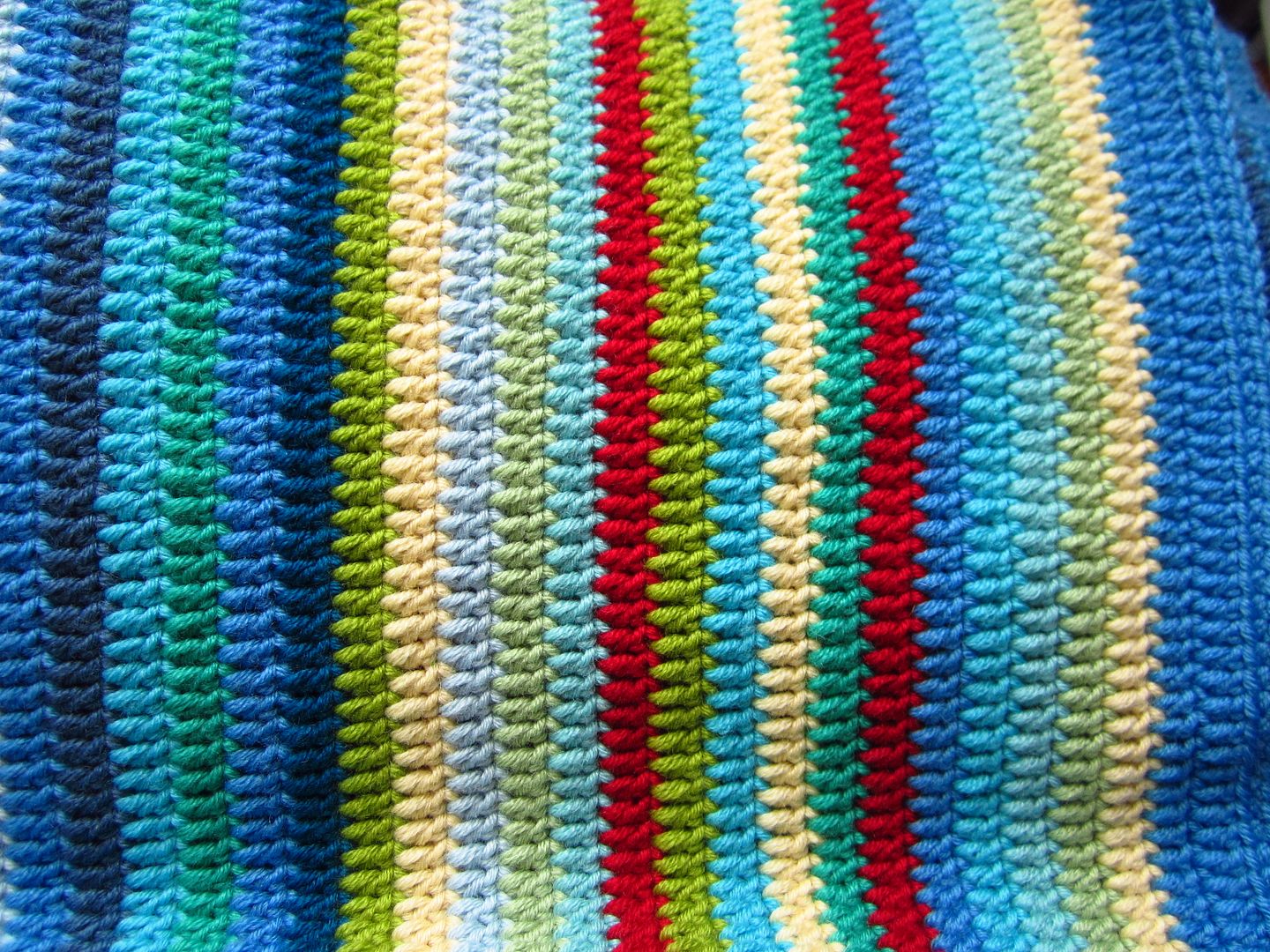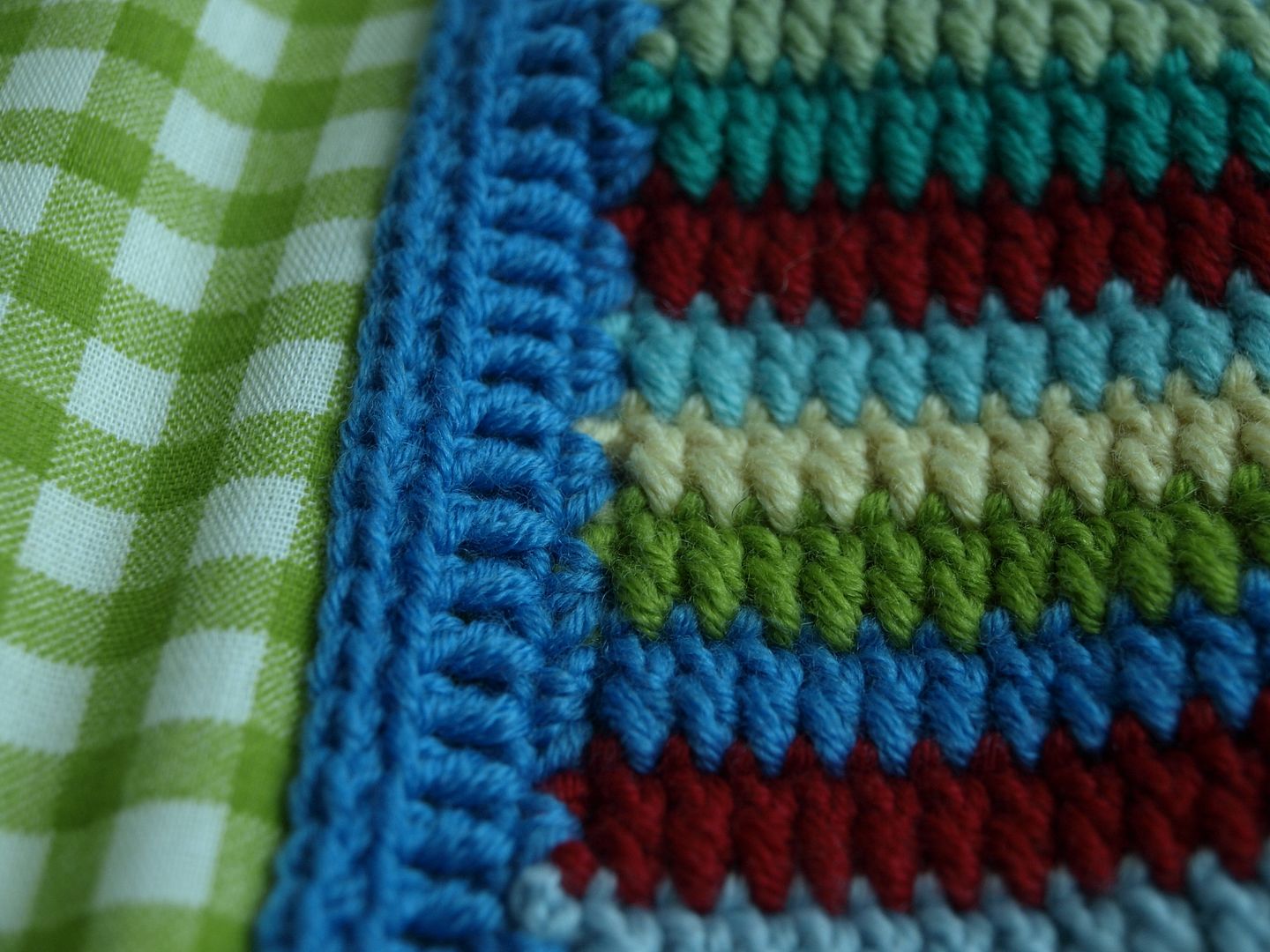 I decided on a simple border for this blanket because the main focus for me is how lovely and stripy it is and I think a fancy border detracts from that. I worked two UK double crochet stitches in the end of each row (but not the top and bottom edges), and then did one round of uk treble crochet around the whole blanket. I did put a pointy picot edging on it but it was far too fussy and I didn't like it at all so I pulled it all back. The benefit of the pointy picot edging is that it stops the blanket from curling (as it is worked in the back loops only), so to get the same effect I did another round of double crochet working in the back loops only and it seems to have worked really well.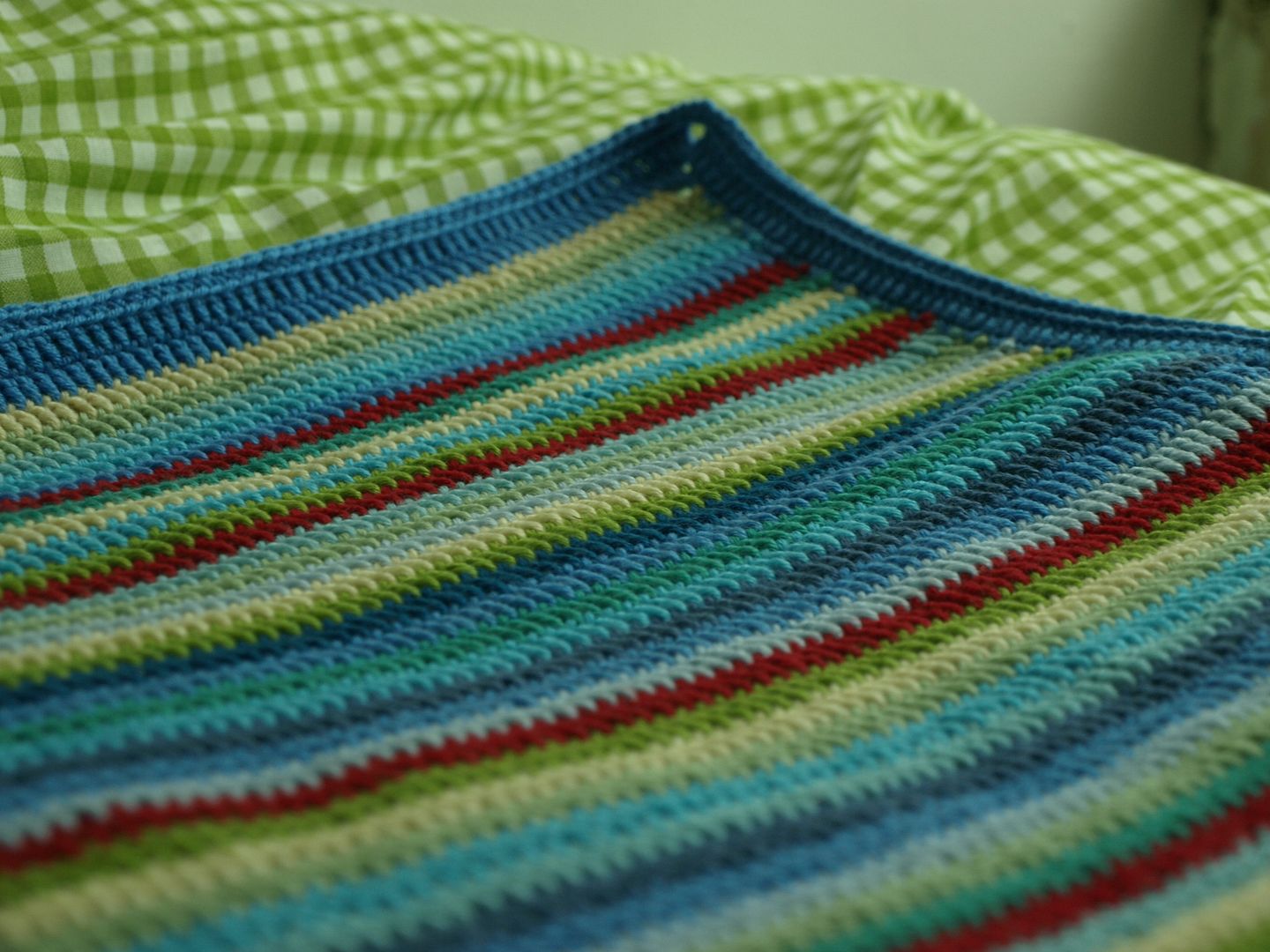 I also made sure that the first row I made when making the blanket was the colour that I was doing the border in, and I made the final stripe in this colour too.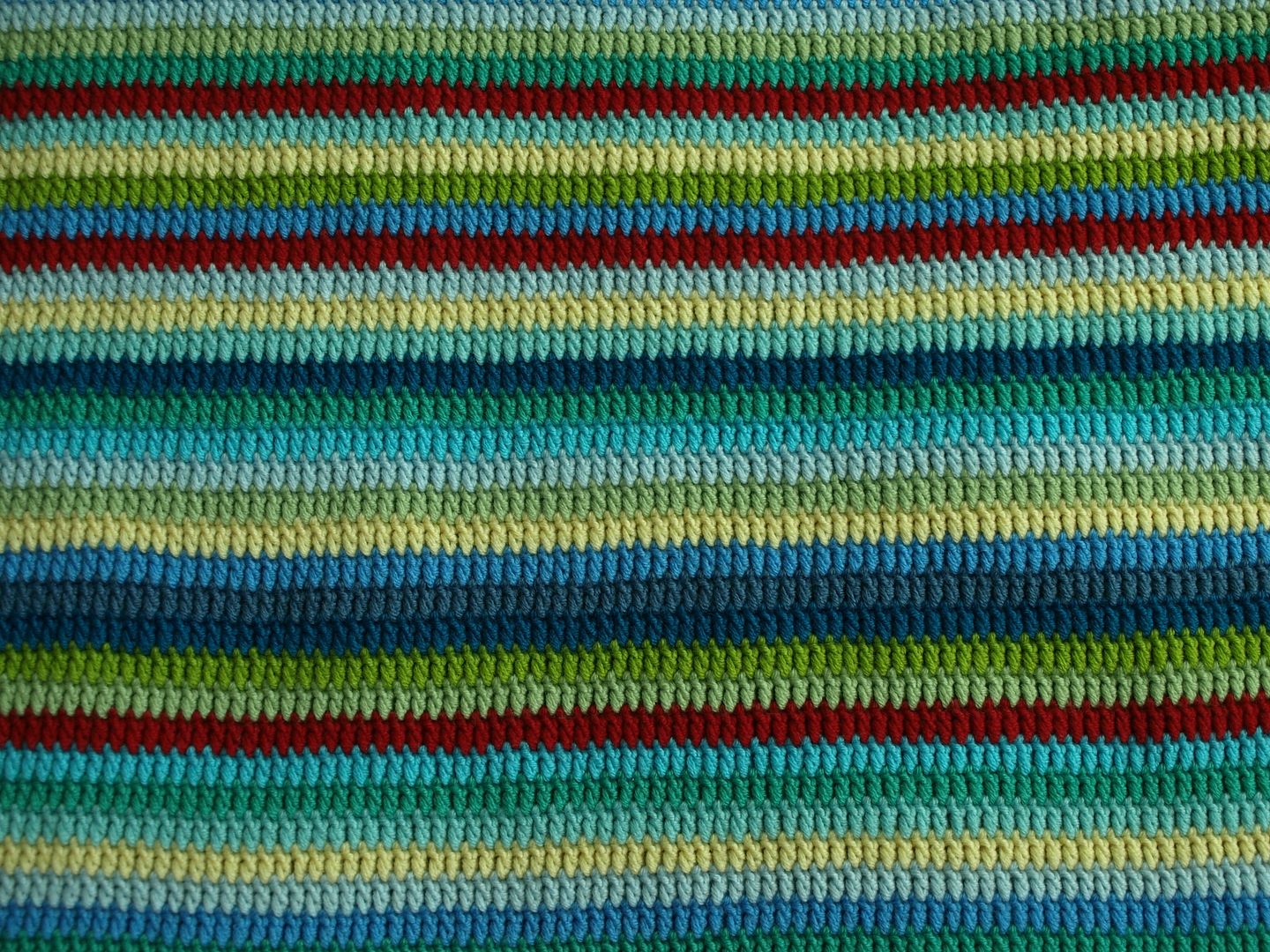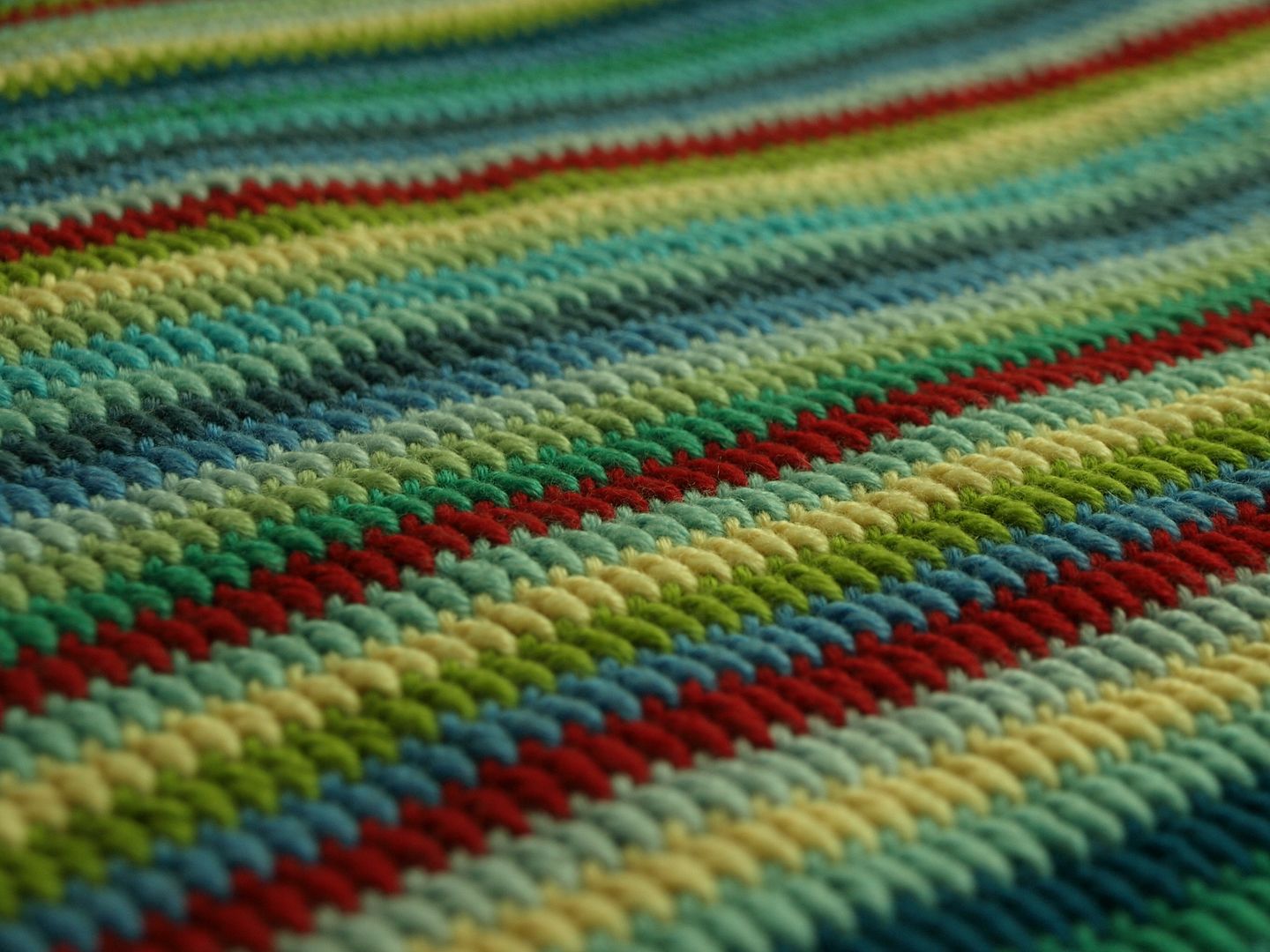 And here is the finished blanket: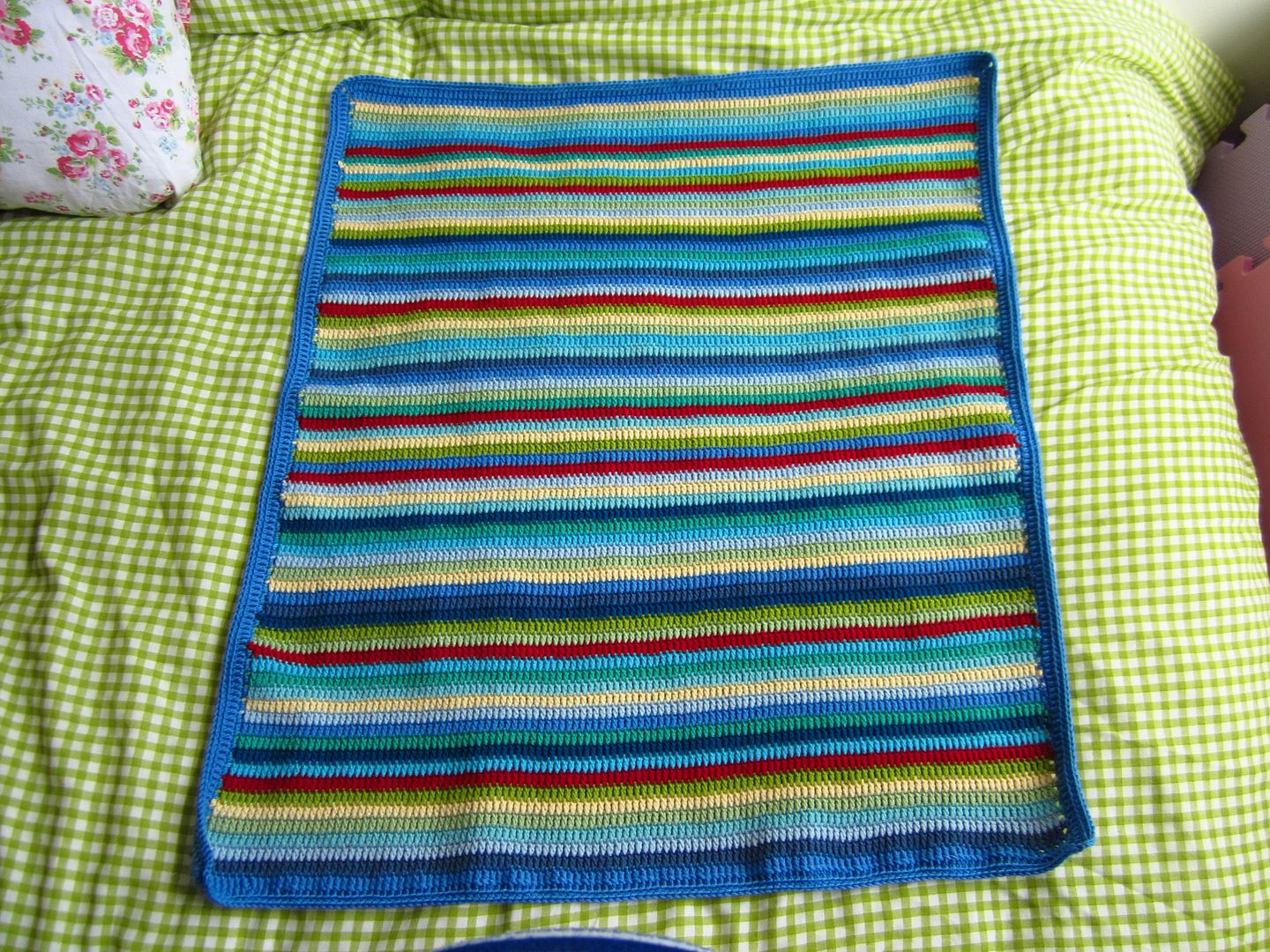 There is no repeating pattern in this blanket. I set out the first 11 colours before I made the blanket to give me a starting point and then after that it's just a case of choosing each colour as you go. I hesitate to use the word random as I know it's mathematically incorrect but I just kept an eye on the colours to make sure I didn't forget any, and to keep the darker shades spaced nicely. I think when you have a striking colour like red in a blanket like this you can either choose to have them equally spaced, or you take the plunge and make them deliberately uneven as I have done here. The thing with unevenly spacing them is that you have to make it look deliberate by leaving very different gaps otherwise it just looks like you can't count. I also tried not to repeat any salient sequence of colours so that it didn't look like I had a repeating pattern that went wrong.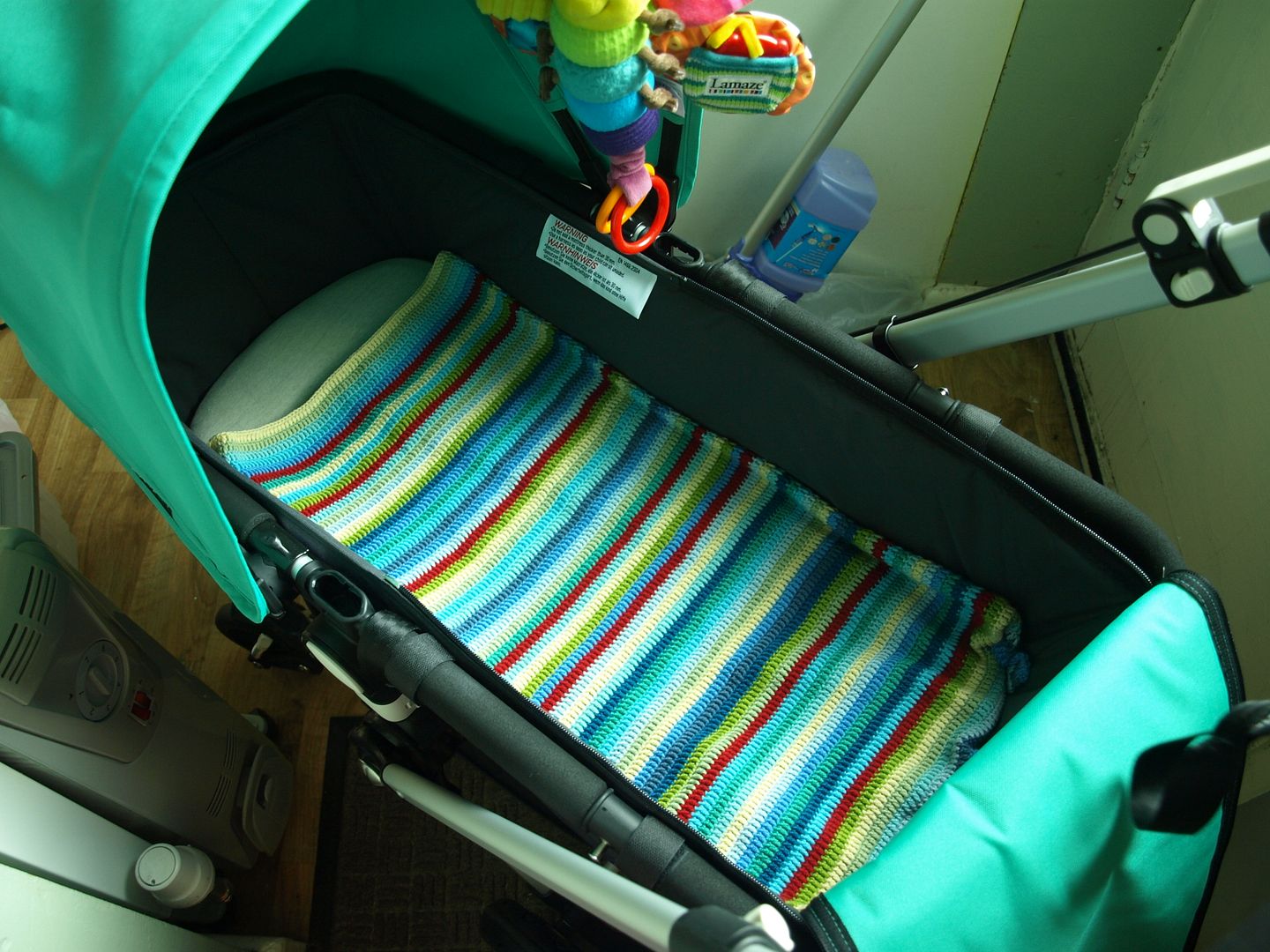 I love how it complements my pram, and that it's wide enough to tuck around baby and under the sides of the mattress. It is also long enough that it can be folded in half and still keep baby snug.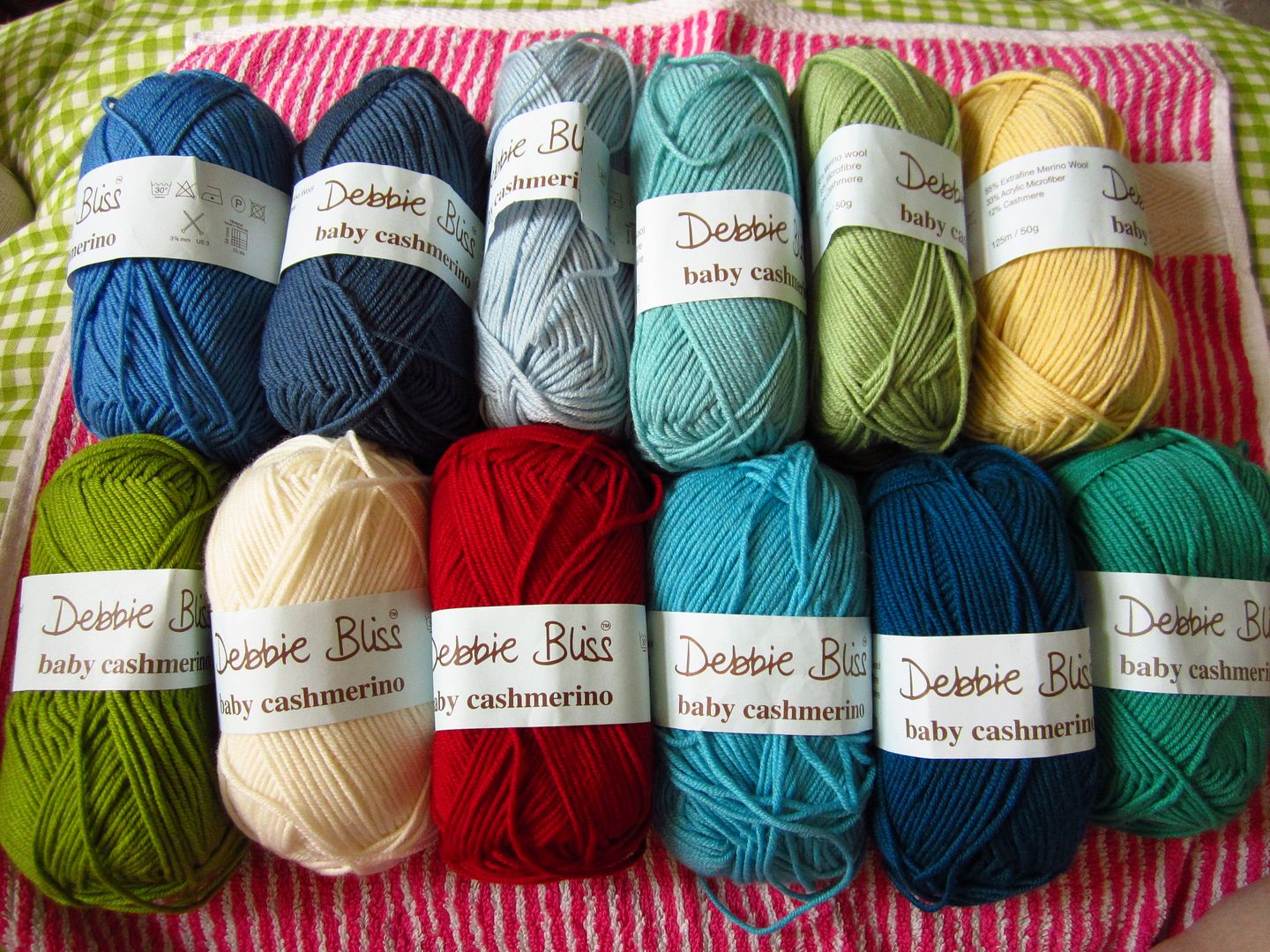 So, let's try to fit all the stats for this blanket in here:
Yarn used: Debbie Bliss Baby Cashmerino in shades (top row L-R) 32, 27, 204 (or 202, can't remember), 31, 001 and then (bottom row L-R) 47, 101 (cream not used in the end), 700, 46, 49, 44
Hook size: 3.5mm
Starting chain: about 128 I think
Time taken: 10 days ish
Measurements: 58 x 71 cm approx
—————————————————————–
I LOVED making this blanket. It's the first time I've used the Baby Cashmerino and I hope it won't be the last. It's a beautiful yarn to work with and the overall fabric of it is so smooth and warm but still light. It was quick to make, simple to make but with the added excitement of choosing the colours as you go along. It turned out exactly how I wanted it to which is very satisfying. The best part for me though is sitting and hooking it with my mind full of thoughts of the teeny tiny boy that it would soon be keeping snuggly warm in his pram. Being able to make a blanket to keep your baby warm is priceless, and I shall treasure this blanket forever.